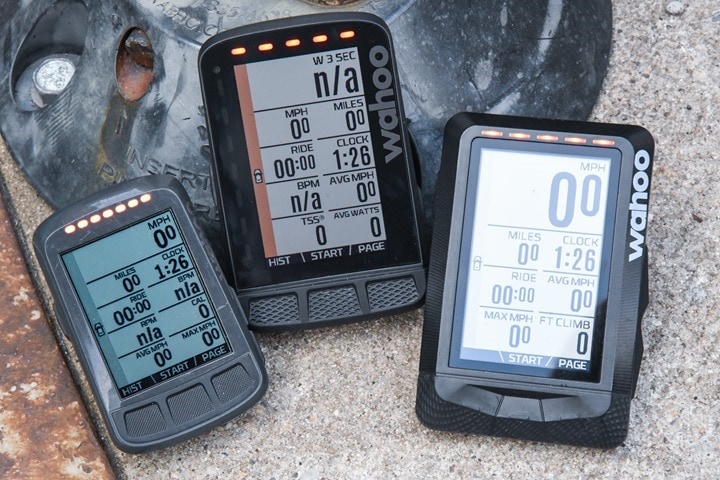 Today Wahoo has rolled out support for ANT+ radar units to their entire lineup of GPS bike computers, including the original Wahoo ELEMNT, the BOLT, and the new ROAM. For the 7 people still rockin' the old school RFLKT, you're unfortunately out of luck. On the bright side, at least you have a museum piece for your kids. Oh, and no MINI support either.
Support for Garmin's Varia radar series continues to be one of the most popular requests I see come across the site, and back in May, when the ROAM released, many of you were disappointed at the lack of support. It didn't take long though for Wahoo's CEO to commit to it, in the comments section of the review no less, and they've now delivered on that promise (earlier than expected in fact).
This update allows you to see on your Wahoo bike computer cars coming up behind you, complete with notification for multiple vehicles and high-speed cars. And on the ELEMNT and ROAM which have side LED's, you can also use those instead of the screen. More or less the feature works the same as on the Garmin units.
Speaking of which, while Garmin is currently the only maker of cycling radar units, it actually follows the ANT+ Radar Device Profile, so anyone can produce a radar unit – or radar support. And in fact, last month Stages committed to adding ANT+ radar support in their next Stages Dash firmware update due out this fall (also in the comments section of my preview post).  With that, let's get into the details.
Setup & Options: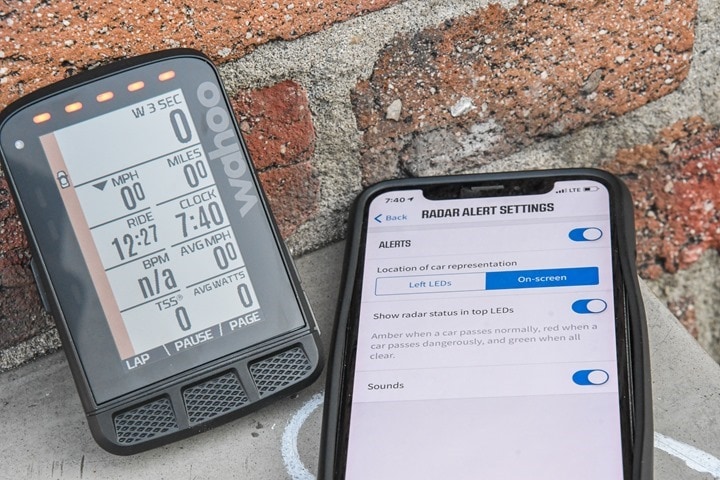 Sometimes when I write all the steps out people might presume it takes a long time to setup. But seriously, this takes like 7 seconds. Simply turn on the radar, and add it as a sensor (just like a heart rate sensor), and you're done. For realz. I'll do this mostly on the ROAM, but it's identical here on all of them. But here's the steps nonetheless.
Note that you can use either of the two Garmin Varia radar units here:
A) The older Garmin Varia RTL-500
B) The newer Garmin Varia RTL-510
Either of them work just fine:
On your ELEMENT/BOLT/ROAM, go into the sensor pairing menu by holding the left-hand button and selecting Add Sensors. Then let it do its sensor finding thing: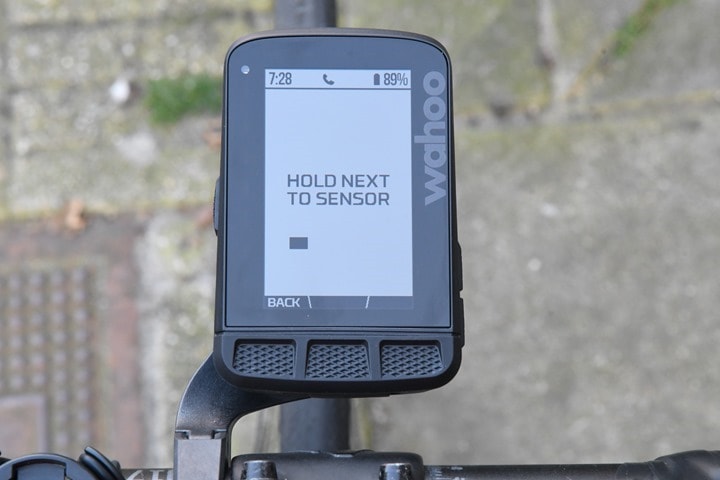 It'll come back with a list of nearby things. Wahoo stashes the radar sensor within the 'other' sensor category. Which, if I were to nitpick anything – it'd be this. Seriously, just create a category called 'Radar'. Ironically, this is also where trainers and tire pressure sensors go too. Just seems silly to me.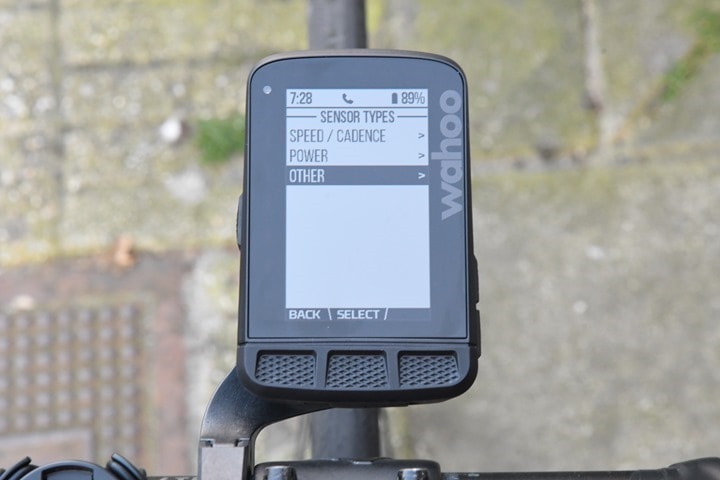 Once within the other sensor category, then select your radar device: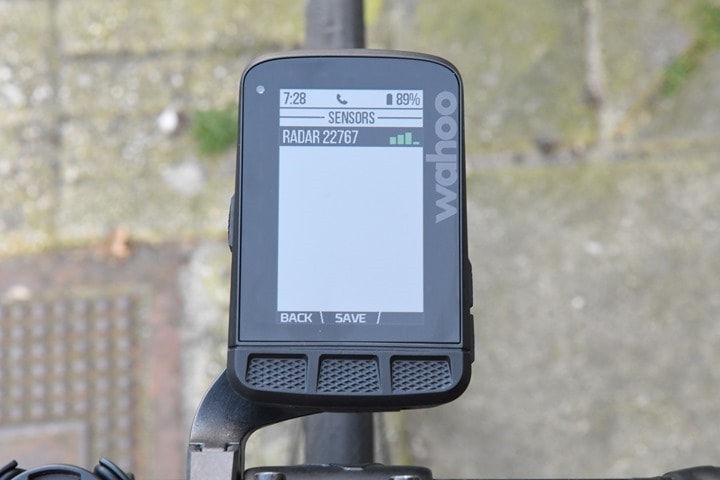 When you do so it'll give you two pages of warnings that tell you that if the radar fails it's either your fault or Garmin's fault, but that it's definitely not Wahoo's fault.
And you're done. Now, you can also do this setup from the Wahoo app as well if you'd like instead. Speaking of the app, there's a few radar specific changes you can make, depending on which unit you have.  If you crack open the app and go to the 'Settings' menu', then look at your sensors list and tap the bike radar sensor. After that, hit 'Alert Settings'.
It's here that you've got three options:
A) Turn on/off alerts, effectively disabling/enabling the radar
B) Change from on-screen alerts to using the LED's [ELEMNT/ROAM only, not BOLT]
C) Turn on/off sounds.
You can see below that when you toggle from 'on-screen' to 'left LED's', it turns off the secondary option to display a warning on the upper LED's. So it's one or the other there, which is fine.
Finally, if you want, you can toggle the alerts on/off on the unit itself by going back to the radar sensor menu and changing the 'alert mode' option.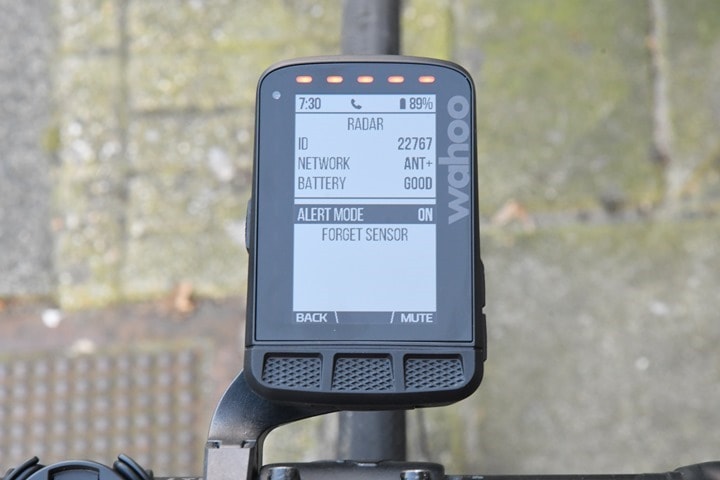 With that – let's go and ride!
Out on the road: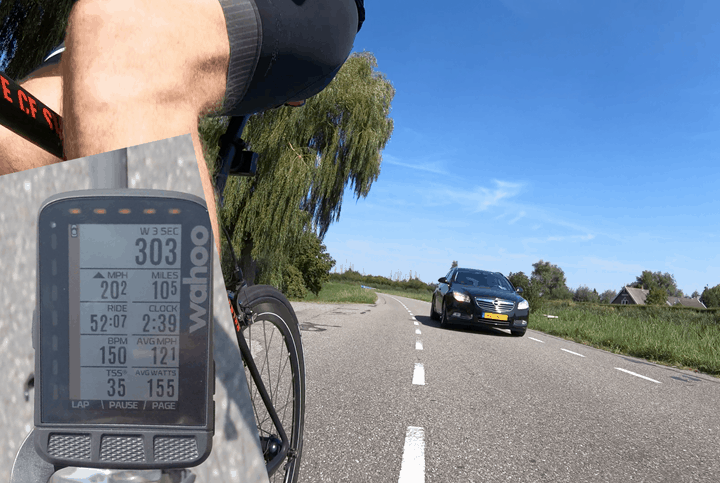 Now, first, a quick two-second primer on the Varia radar series. In general, there's two trains of thought to people with the Varia radar:
A) People that have tried it and love it
B) Everyone else
Seriously, it's the *only* product I've ever reviewed here that everyone who has bought one loves. No joke – go look at the comments section of either review.  It's nuts. No…really…go!
The people who think the radar is stupid are the ones that haven't ever used it. Still, there are some considerations on how it works.
A) It's not ideal for city usage, it just beeps too much
B) It's awesome for roads where traffic is infrequent or even rare, reminding you a car is back and snapping you back to reality
C) It's primarily aiming to show you objects (cars/bikes/mopeds/trains/planes) that have an overtaking speed on you
D) It generally won't trigger for cyclists matching your speed (such as in a group)
E) It'll show one dot/car for each thing it sees on the road, though sometimes multiple cars can 'hide' behind each other.
Got all that? Good. If not, check out the full review for all the details.
The default mode on the Wahoo units is to display vehicles using the screen (versus the LED on the ROAM/ELEMENT), so I'll show that first. When there's no cars approaching, you'll see the left-hand green strip, when means that it's all clear: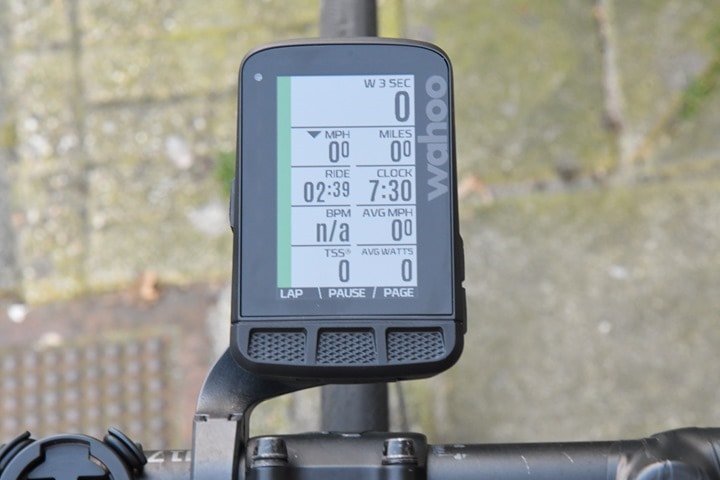 This strip will always be there – unless your radar disconnects (such as the battery dying). If that happens, the radar strip will disappear – which is an indicator to you that the radar either was stolen by a magpie or the battery died. It'll also give you a 'Radar Low Battery' message in the event you're @#$#@ fortunate enough to go and take photos for this post and have the radar die mid-way through. Just sayin'.
Also, the strip displays on every page on your unit – including the map pages, Strava pages, extra data pages, etc….
In any event, once a car comes you'll see a single dot for each car that the Varia radar recognizes.  In addition, you'll get orange lights on the top LED's. Further, you'll get an audible chirp.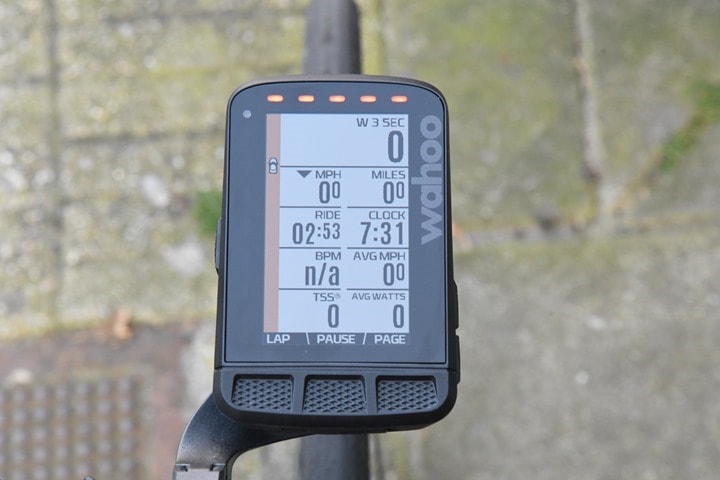 In the case of the ELEMNT and ELEMNT BOLT, you won't get color on the screen, but just a left-hand strip with the dots. You will, however, get the color in the LED's at the top: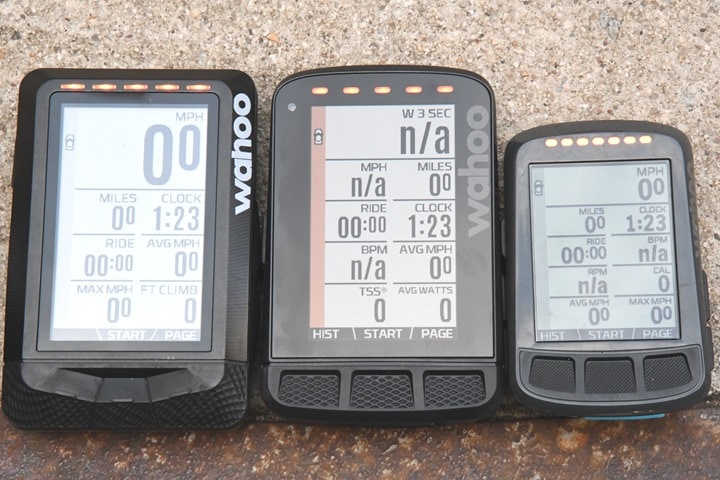 The side strip shows you the distance until the car catches up to you. This matches precisely to the Garmin units in terms of distances as well. Generally it'll trigger for cars as far back as at least a few hundred meters.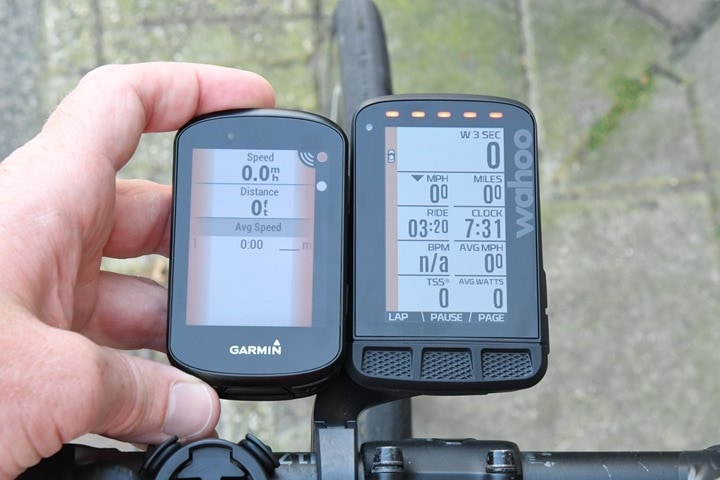 In the event you get a high-speed car, it'll be red instead of orange. I've been trying to get this around Amsterdam, but seriously – cars just don't pass cyclists at high speeds or 'dangerously' according to the minimum threshold specs. Fear not, I flew to America, walked outside my hotel and got it triggered immediately: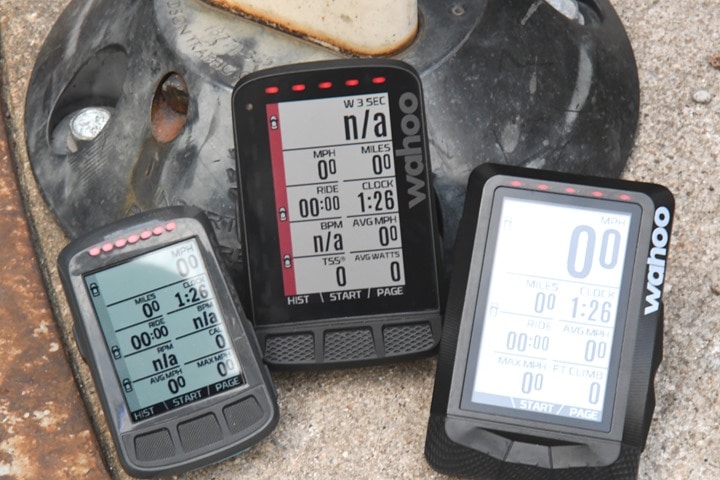 Once a car passes you'll get the all-clear green side panel again, another chirp, and then green on the top LED's.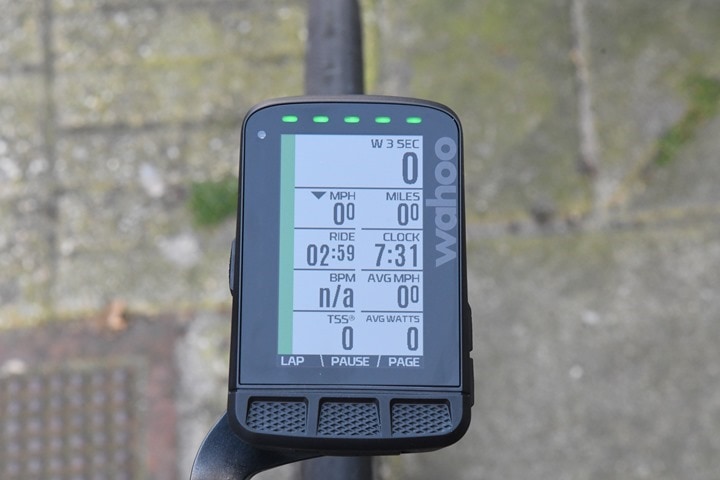 One of the things I appreciate here is that Wahoo didn't re-invent the wheel on this. Their formatting and such near-perfectly matches Garmin. This isn't to say Garmin made absolutely perfect design choices – but I think when it comes to safety features it's good that companies more or less standardize on display. It makes it so that tutorials and such that people create all over the internet match, no matter the brand.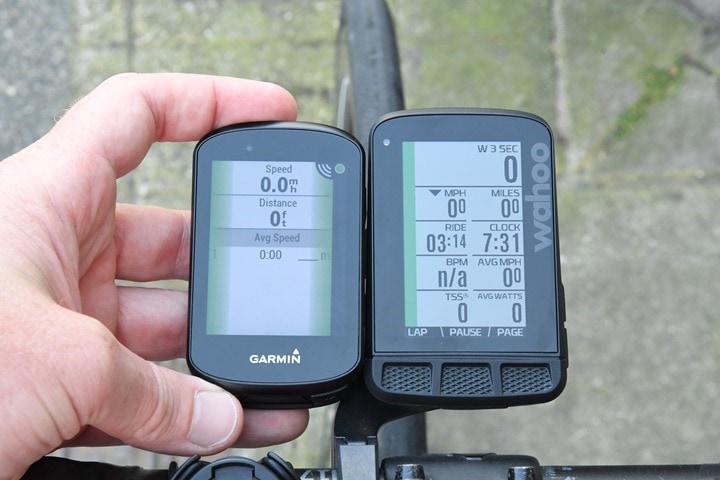 Now, what if you go back to the app and toggle the option to utilize the left LED's instead (ROAM/ELEMNT only)?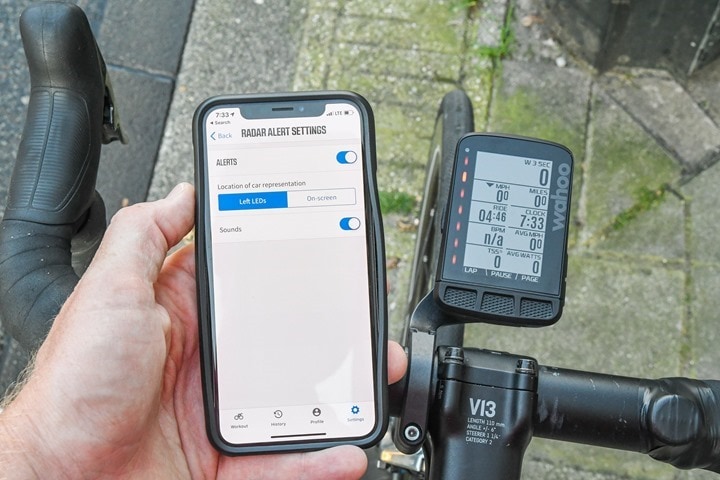 Then it'll go ahead and do exactly that. The left radar panel on the display goes away and it'll display status using those left LED's. It won't show anything on the top LED's anymore: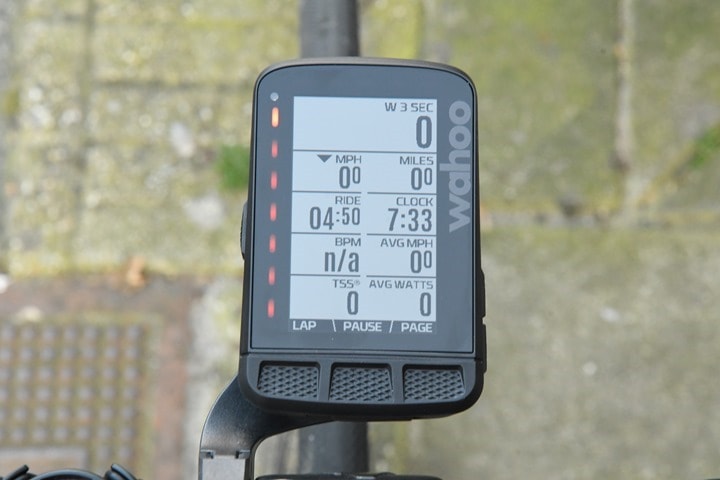 And here's what that looks like on the ELEMENT & BOLT: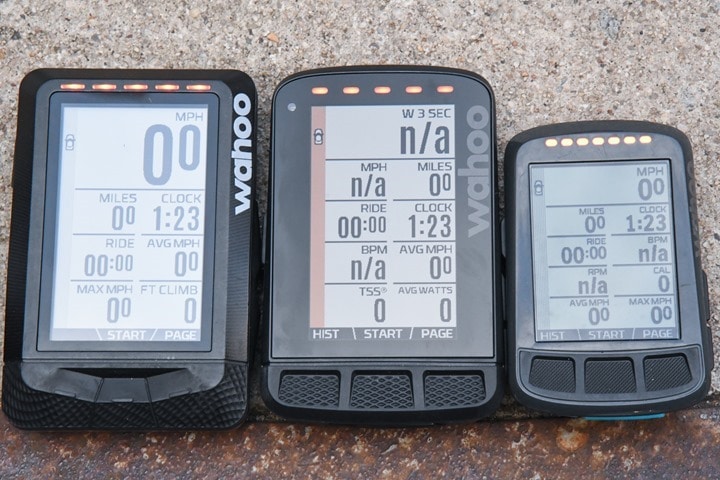 And here's how that looks side by side with the Garmin, which doesn't have such an LED option (because it doesn't have LED's). Though, Garmin can alter which side of the screen the radar notifications display on, and has those notification colors disappear after the cars go away:
With that, you know everything you need to know about the radar in one tidy section. Go forth and use it!
Oh – and one minor tidbit – Wahoo's Varia support does *not* extend to the ANT+ lighting networks. So there's no support here for any ANT+ lights at this time. It's unclear if that's coming or not, though that'd be a logical next step for sure.
TrainerRoad Outside Integration Coming: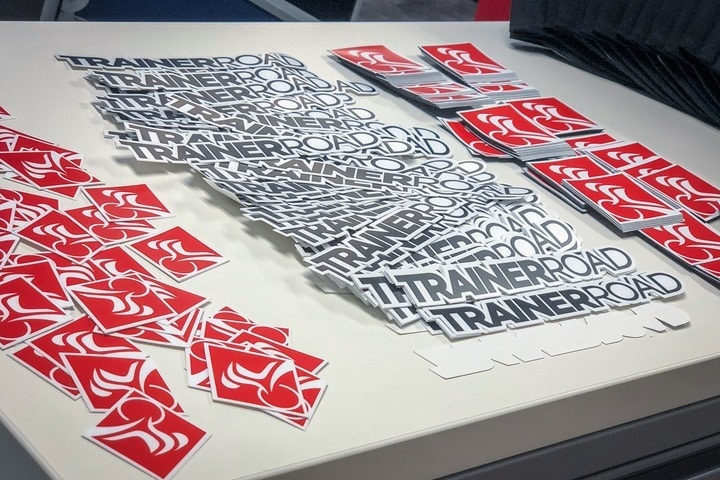 Now this next section will be very brief, because…it's not ready yet.
Starting in September, Wahoo devices will support integration with TrainerRoad workouts. This will enable you to execute TrainerRoad's newish outside workouts on your Wahoo ELEMNT/BOLT/ROAM units, identical to that of how you currently ride planned/structured workouts from both Today's Plan and TrainingPeaks.
I haven't seen this feature yet in beta, so I can't give you any detailed specifics of how it works, but Wahoo's saying it should basically match the existing functionality, just simply expanded to TrainerRoad.  This is, of course, all spurred on by Garmin's structured workout API they announced back in April, which TrainerRoad was one of the early launch partners for. At the time CEO Nate Pearson announced that they were going to roll it out for Wahoo devices soon.
I'm not entirely sure if he had consulted Wahoo prior to that moment, but, it worked…and we'll shortly have it on Wahoo devices. Perhaps a little bit of the sometimes better to ask for forgiveness than permission and all that. Things you learn in the corporate world on getting stuff done. #Winning
With that – thanks for reading!
—
Update: Since so many of you have been now buying the Varia Radar, here's a link that helps support the site. You've got two options – either via Clever Training which gets you 10% back in points you can spend right away (plus free fast shipping), or via Amazon.
For European/Australian/New Zealand readers, you can also pickup the unit via Wiggle at the links below, which helps support the site too! With Wiggle new customers get 10GBP (or equivalent in other currencies) off their first order for anything over 50GBP by using code [Currently Disabled] at check-out after clicking the links below.
Garmin Varia RTL520 (EU/UK/AU/NZ – Wiggle)