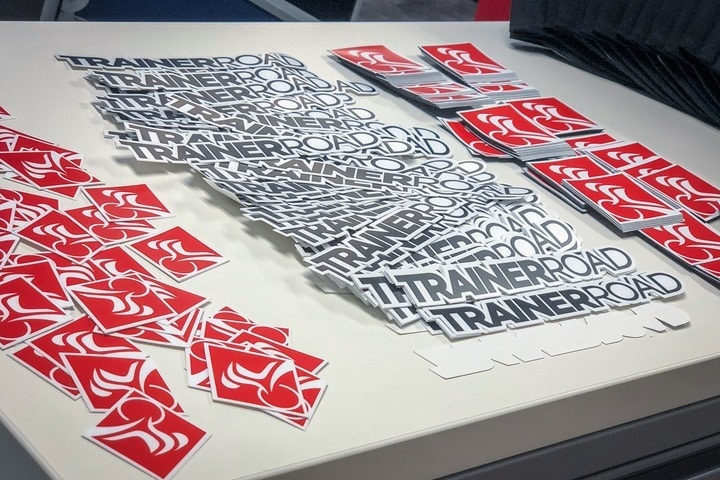 Last week TrainerRoad semi-quietly announced outside workouts for some of their structured workouts. I say 'semi-quietly' as they announced it on their popular forums. It's there that they detailed how it works, as well as allowed anyone to join the beta program.
The overall concept is relatively simple at first: Enable you to execute simplified versions of their structured workouts outdoors. Initially, that's via providing a less complex version of the workout instructions that you can print (or read off your phone). Down the road though, that's via legit technology driven instructions on your bike computer (first on Garmin, and then at some point on Wahoo) – just the same as other pre-planned workouts.
How it all works:
While the obvious overarching goal is to allow you to take one of their inside workouts outside, the nuances of that are more detailed.  For example, they've created 'outside' variants of hundreds of their workouts, aiming to simplify them to the realities of trying to execute a workout outdoors. While on a trainer you've got things like ERG mode that's virtually robotic and automated in nature – pounding you to the second-by-second specifics, while outdoors you've got stoplights and cars to juggle.
Within their explainer guide they use the 'Richardson' workout as an example of one that they've simplified. To start (after enabling your account for the beta feature, something that 1,100 people have done already), you'll see the workout on your calendar: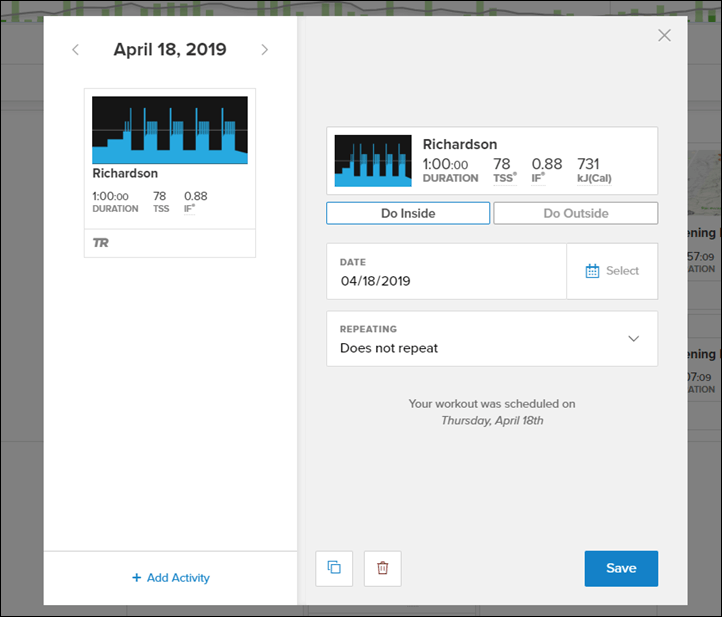 First, let's see what it looks like with the 'inside' option selected:

Put into plain words, the descriptor below the inside version of the workout says as follows:
"Richardson is 4×5-minute race-like efforts beginning with a 30-second surge at 165% FTP and closely followed by 4 minutes of repeats where you're either working at 125% or "floating" at 88% FTP.

Each effort is separated by 5 minutes of recovery."
And obviously, as expected, if you read through those words you'll see it matches the jagged lines of the workout above it. All good, right?
Now let's go back and toggle the workout to be 'Outside' instead. Here's what happens when I do that. You'll notice how the power-based description below it changes quite a bit. It no longer shows a structure below it (compared to two screenshots up from here), but instead just shows the now previous indoor version as a small icon to the left. Whereas on the right it shows 'Mount Custer'.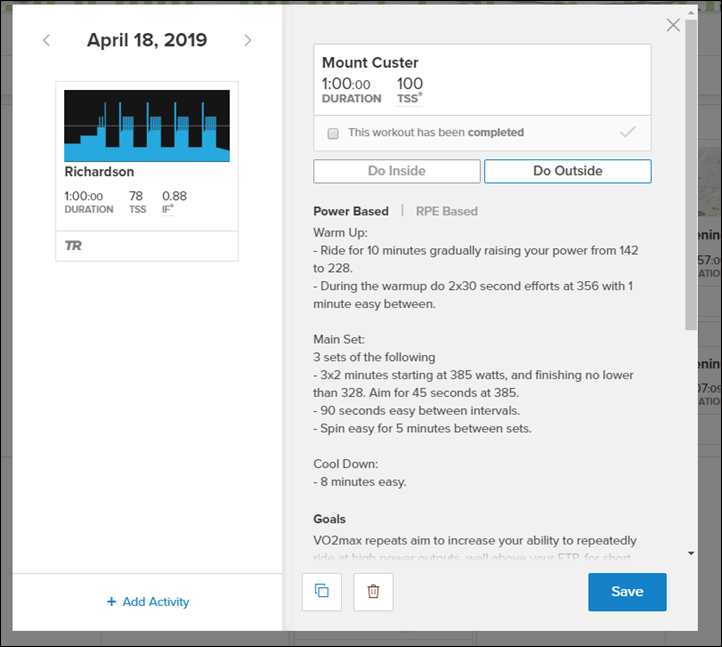 Comparing those two workouts, again, here's the text bit for the two side by side…err…one atop the other:
Indoor Variant:

"Richardson is 4×5-minute race-like efforts beginning with a 30-second surge at 165% FTP and closely followed by 4 minutes of repeats where you're either working at 125% or "floating" at 88% FTP.

Each effort is separated by 5 minutes of recovery."

Outdoor Variant:

"Warm Up:
– Ride for 10 minutes gradually raising your power from 142 to 228.
– During the warmup do 2×30 second efforts at 356 with 1 minute easy between.
Main Set:
3 sets of the following
– 3×2 minutes starting at 385 watts, and finishing no lower than 328. Aim for 45 seconds at 385.
– 90 seconds easy between intervals.
– Spin easy for 5 minutes between sets.
Cool Down:
– 8 minutes easy."
And here I'll try and give some (super simplified) quantitative differences between the two of them:
Warm-up: The indoor one has some 15 minutes of warm-up, building in 9 distinct power levels, including 2×15-second hard efforts, whereas the outdoor one is 10 minutes of progressive build where you simply do 2×30-second hard efforts mixed in there.

Main set: The indoor variant has four sets of 5 minutes each, with 18 power changes per set and mostly surging in 15-second increments. Whereas the outdoor variant has 3 sets of 6 minute intervals, where you've got 2 minutes at a harder effort indoors followed by 90-seconds of rest. Both have 5 minutes of recovery in between sets.

Cool-Down: The indoor variant has 5 minutes of cool-down, while the outdoor variant has 8 minutes of cool-down.
If you imagine buckets of different power zones, both workouts are aiming to have you fill the same rough quantities of power zone buckets. The difference is that indoors there's more variability, whereas outdoors they make you hold each power level for a longer period of time individually. Both are targeted at improving VO2Max, but one is easier to execute on the road.
What you'll have noted though in the outdoor variant is that it automatically converts the %FTP values to actual wattages using your known FTP. Again, see this snippet within that where I've highlighted the yellow: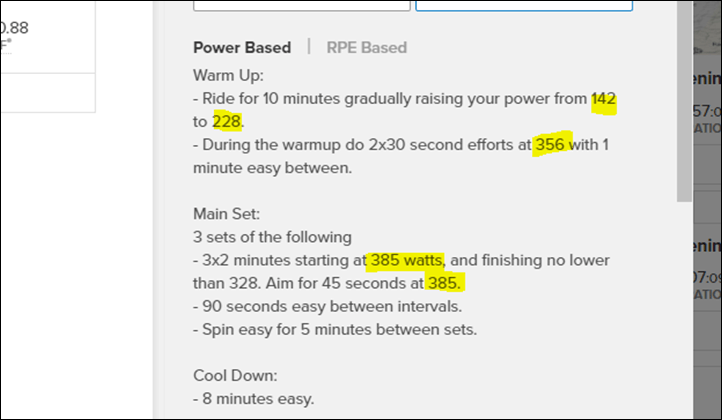 Cool stuff, and nice touch (also from a geekery perspective semi-interesting from a programming standpoint how they mix and match whether to append 'watts' after it for each numerical reference).
At this point you can use a device known as a printer, which takes electronic things and puts them on a material called 'paper' (it's not typically waterproof however). While rarely used in this decade, it ensures that in the event of a phone battery consumption failure, you can still read your workout.
Of course, you can also use your phone to look at these workouts as well, as the instructions are there too via the TrainerRoad mobile app:
Oh, and while everything above assumes a power meter on the bike, they also generated a [rate of] perceived effort (RPE) variant of that as well: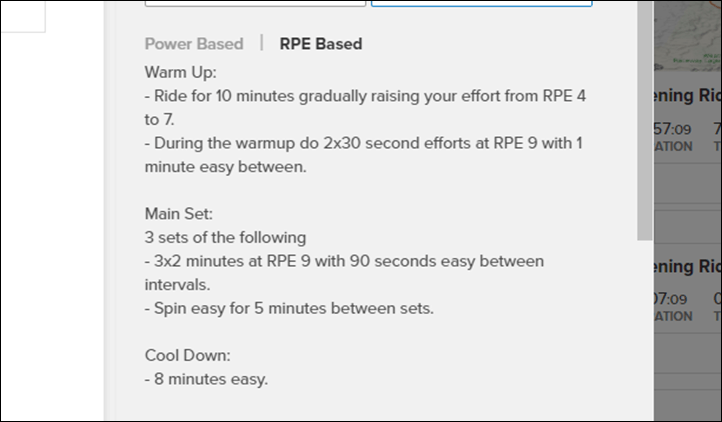 Once you've gone outside and completed that workout, it'll automatically sync back to their calendar and associate the two together. So if you sync from either Garmin Connect or Strava to TrainerRoad, then that magic will simply occur automatically, marking it as 'complete' on the TrainerRoad calendar.
Next, in addition, if you've added a TrainerRoad training plan to your calendar, you can specify a given day of the week as outside (or multiple days). This is great for those of us that like to ride our bicycle contraption outside our living rooms at least once a week.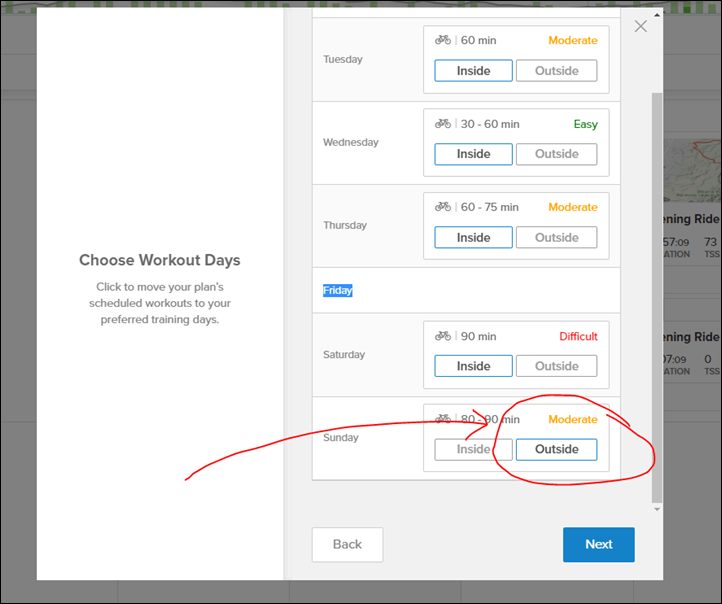 And thus behind the scenes they'll automatically ensure the workout for that day of the week is an outside variant.
What about bike computers?
Of course, if you're like me, then the first question you'd be asking is 'Well that's great, but I don't get it. Who really wants to print out workout instructions when most people have fully capable bike computers these days?"
(No, really, that's exactly what I sent to the TrainerRoad folks two weeks ago when they first outlined this)
Well, the good news is that they've got plans to do exactly that (push them to bike computers). See, you may remember last week's Garmin Connect IQ Summit, and the news announced of a new Training Plan API.  This enables companies to automatically push any .FIT file workout to any compatible Garmin device (even devices upwards of a decade old).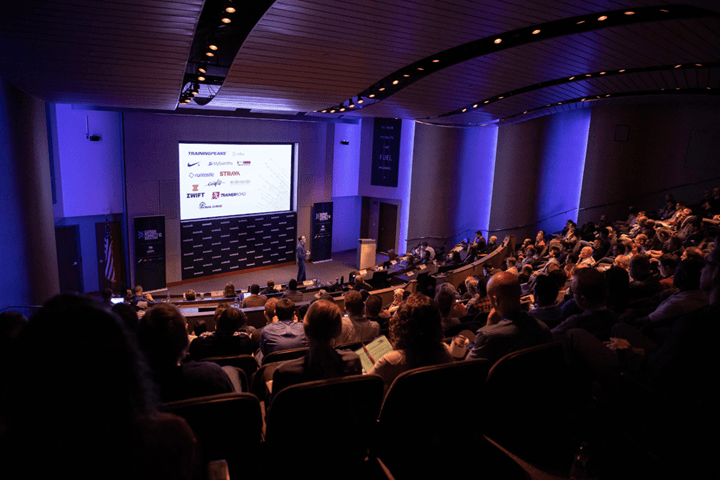 (Note: The above slide shows logos of sport companies connected to Garmin's platform, not of the Training Plan API bits. It's just the closest photo I could find in the bucket of photos Garmin has of the event. As such, photo not mine.)
While during that event I got to see the TrainingPeaks implementation of that, the reality is that other companies have also been working on it behind the scenes – and one of those would be TrainerRoad. Unfortunately, they just couldn't say as such until Garmin announced their bits. Once Garmin did though, TrainerRoad took to their forums to note the same.
The way that works is that once you link your TrainerRoad account to your Garmin account, they'll automatically populate your Garmin Connect calendar with scheduled/planned workouts from TrainerRoad. If you make changes on the TrainerRoad side (such as moving a workout to a different date), it'll automatically update on the Garmin Connect side. In turn, it'll then push those workouts to your device and keep them in sync.
When TrainingPeaks demo'd this functionality to me, the sync/change process occurred within seconds. Pretty cool. Of course, TrainingPeaks has a bit more experience with creating structured workouts for Garmin devices specifically, so that's an area we don't have a lot of clarity on from TrainerRoad. Nuances such as how you set targets in a structured workout matter (for example, do you set a target power 270w, or a range of 265-275w). Minor things, but stuff I expect we'll probably see TrainerRoad iterate a bit on once they start pushing that out.
The most important part of the Garmin Training API that TrainerRoad is leveraging is that there's no Connect IQ limitations (in fact, Connect IQ isn't used at all). This means as long as your device supports structured/planned workouts, it'll work. Even going way back to devices like the Edge 510 or Edge 500 should work just fine. Super cool.  Keep in mind however that if you have something like the Vivoactive 3 that supports structured workouts, but doesn't support power meters – that doesn't change the lack of power meter bit. That piece still won't work, but RPE would.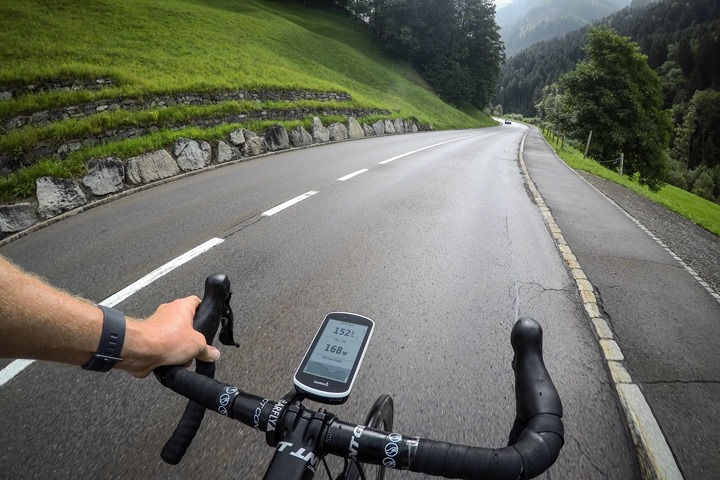 While TrainerRoad hasn't announced a specific date yet for when this will be implemented – I don't expect this to be a long-term wait. Given they were already working on this prior to Garmin's announcement, I suspect we're talking weeks and not months. Though, we'll see.
Still, it's super cool – and right in time for the warmer months. Here in Amsterdam, today marks the warmest day of the year, with the next week of weather scheduled to be warmer temps outside than inside (which is my basic definition for a warm day or not). So looking forward to transitioning more rides outside for sure.
With that – thanks for reading!