I'm currently at 34,999ft cruising over the Atlantic, nearing the coast of Newfoundland. But prior to that I was home in Amsterdam for the weekend – however, much of last week I spent in Chamonix, doing a bunch of meandering around the Alps.  I've spent virtually every waking hour the last (and this entire flight too), working on the 21 product-related posts and videos that'll convene starting tomorrow and for the following 10 days. However, I suppose I should at least show you some of the awesomeness that is the backdrop for UTMB coming up later this week.
So let's dive into some of my time those days. Note that I often escape to Chamonix for testing devices. I've got a long history of things I've tested here over the years from a variety of companies. From drones to action cams, watches to bike computers, and accessory for all everything else. While Chamonix can be incredibly expensive at peak winter holiday season, it's actually rather inexpensive if you're not paying for a lift ticket and just go with last minute hotel deals.
It's a mere 65-minute drive from the Geneva airport, which is only an hour flight from Amsterdam (and Paris before). And it's got tons of variety in terrain that's unforgiving on both humans and devices. But today it's about devices. For that, you'll have to wait. Instead, it's basically about pretty views.
Hiking to the Glacier:
I landed early morning in Geneva and after spending 45 minutes getting my rental car (with only one person in line) I zipped up to Chamonix and straight into the parking lot near the main Aiguille du midi cable car. I had no intention of using such cable car (been there, done that). But it floats right above the main trail up that side of the mountain.
My plan for day 1 was to hike up to the glacier, also known as Mer de Glace. I assumed it'd be about 9-10 miles (15KM), at least according to route planning. The route could roughly be divided into three chunks. The main climb with an average of 20% gradient, initially in deep forest and then the tree line occurs and it gives way to alpine meadows. After which you traverse forever, followed by the last chunk of a climb and then a descent to the glacier.
The trees were nice and quiet – with virtually nobody around. I think I only saw 3-5 people on the way up.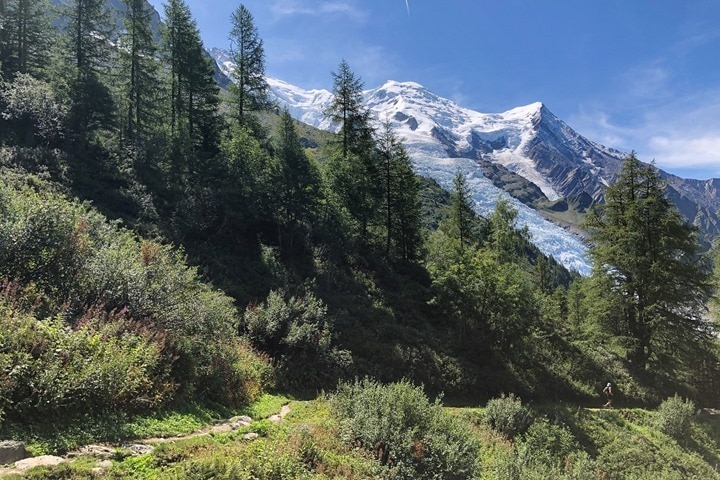 I did see one guy descending down trail running at unreal speeds, clearly training for UTMB. And by 'training', I mean, tapering for his plan to win. I've never seen someone run so fast on trails before, let alone descending across rocky terrain. Like gliding on air.
Shortly after that point, I arrived at a chalet near the midpoint of the mountain at about 2,310m. A short hike away is where tourists shift between two different tram systems to get to the 3,842m (12,604ft) peak adjacent to Mont Blanc. It's also where lots of folks then do hikes across the traverse section to the glacier, taking the train down.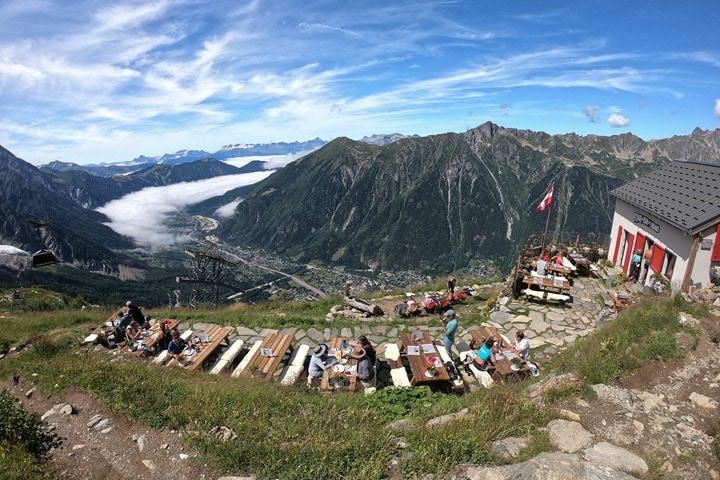 I had lunch here on a random rock. I had picked up a few things at the village grocery store: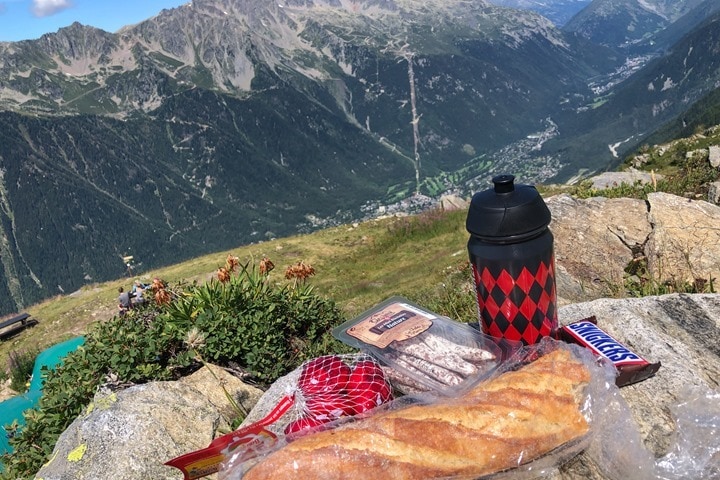 After that, I made my traverse across for a couple of hours. This was a bit slow going, mainly due to slow people. I did find though that by switching over to trail running, people got out of your way quickly – so I did that in sections. Versus if you were just hiking fast, they didn't move out of the way.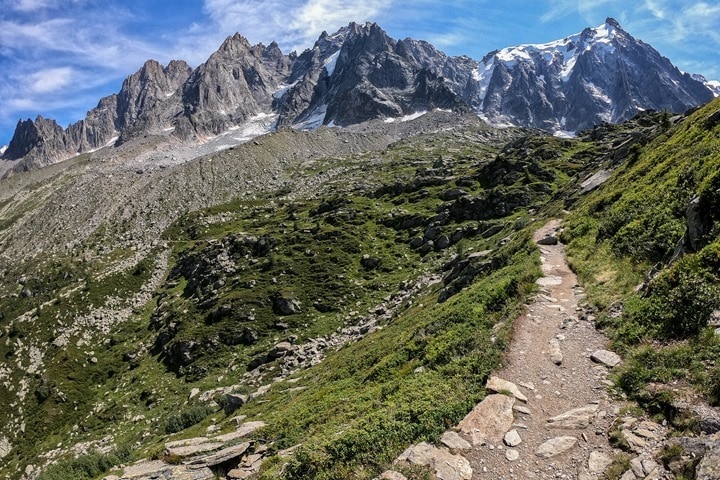 Finally, I reached an overlook down to the glacier and valley below: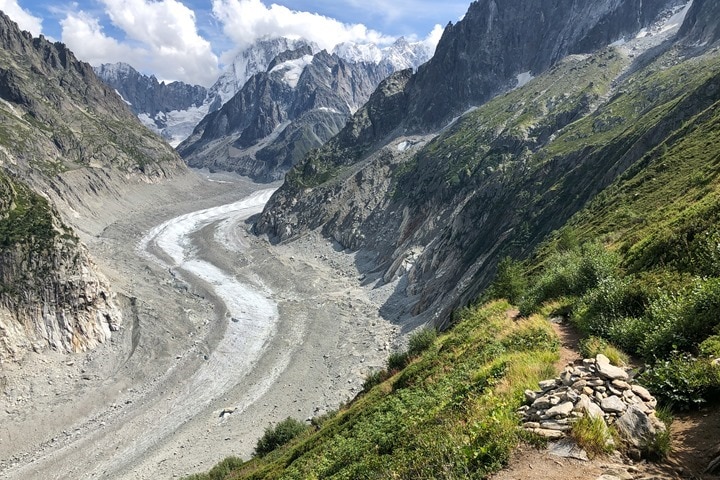 Now – at first you might presume the glacier is only the white part and gone. And while it's true that global warming has mind-bogglingly shrunk this glacier over even the few decades, most of what you see in the above photo is glacier. It's simply covered by dirt and rocks from landslides on the side of the hills. In fact, as I stood in this very spot a big land-slide came crashing down from the right side, complete with a huge plume of dust that lingered for a while.
That said, once you get down to the train station they have photos over the last few decades showing how much the glacier has shrunk – even one dated from August 30th – mere days difference, but a few decades apart (thus to compare summer to summer). Looking at the above photo, the glacier used to be another 100-150m deeper (so all the way up to the green parts), and numerous kilometers longer.  We're talking entire sky scrappers taller here in depth.
My goal was to get down to the glacier, but first I had to sans-chairlift ride. But it appeared those trails were closed. The route I initially went dead-ended unless you had climbing gear. Perhaps there was another route I didn't see, but it didn't appear so. You can see the chairlift base though down below, where skiers (like myself a year or two ago) can get out of the glacier at the end. But it also serves to get people down to the glacier. I didn't want to go down that badly.
Just to illustrate how big the glacier is, start with this photo – which is already zoomed in: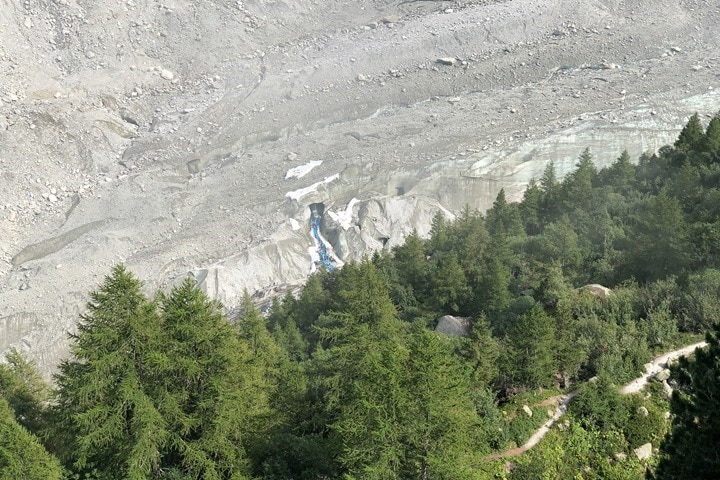 Now see that blue splotch? That's actually blue carpet where tourists can go inside the glacier. Think of that carpet roughly akin in size to the carpet at the finish line of a race. Now let me crop in again: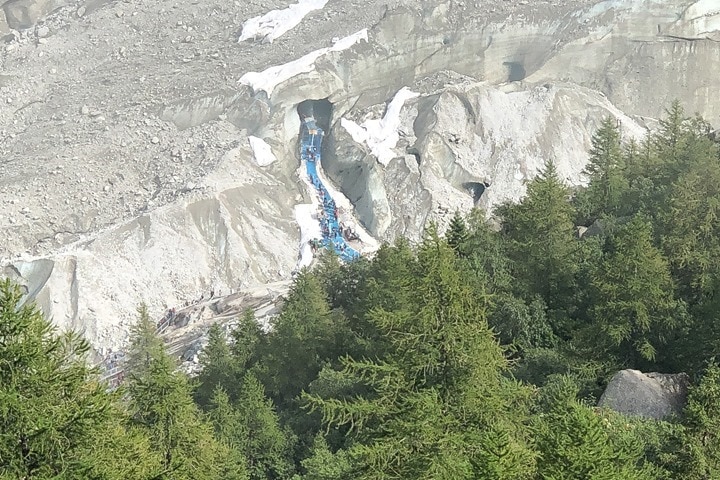 Now you can see humans on it. Now scroll back up twice to realize the gigantic size of it. Here's a photo I took a few years back with my brother skiing on it. See the bottom of the ski lift up there (half-way up there!), that's the level of where the ice was just in  1990, compared to where I'm standing.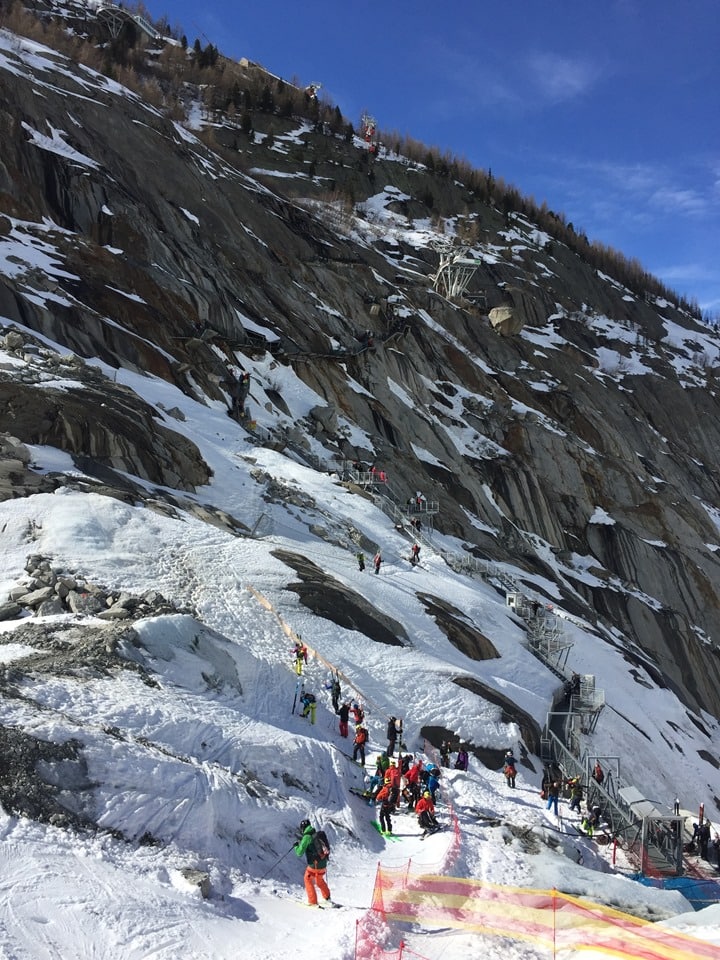 The 2003 level, in case you're curious, is about 2/3rds the way up to the lift. Meaning, it's disappearing faster and faster. Another great story on it here with more photos.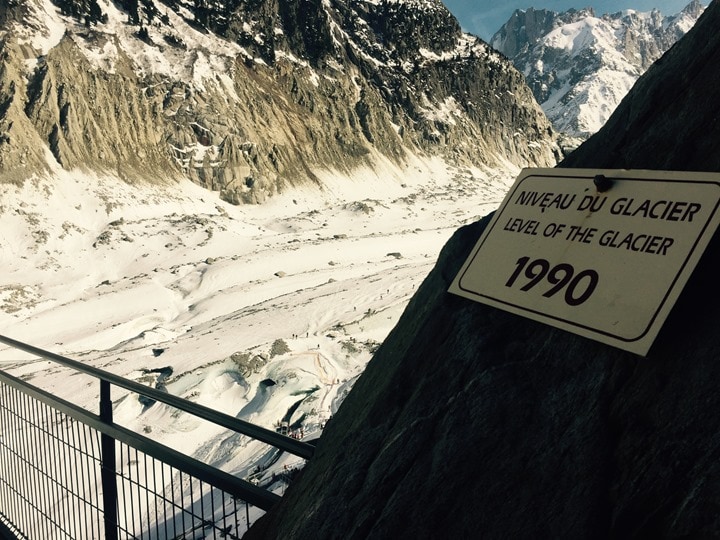 In any case, at this juncture, I could have hiked back down to the base, probably another 2-3 hours. Maybe 60 minutes running. But I had a much longer hike planned for the next day – and if there's one thing I learned is that it's not the hiking up that kills your legs: It's the going down.
Given I live in a place that somehow has less elevation gain than a sheet of paper, I knew that if I did the descent on day one that my legs would be immediately shot for the rest of the week. So instead, I took the nifty train back down: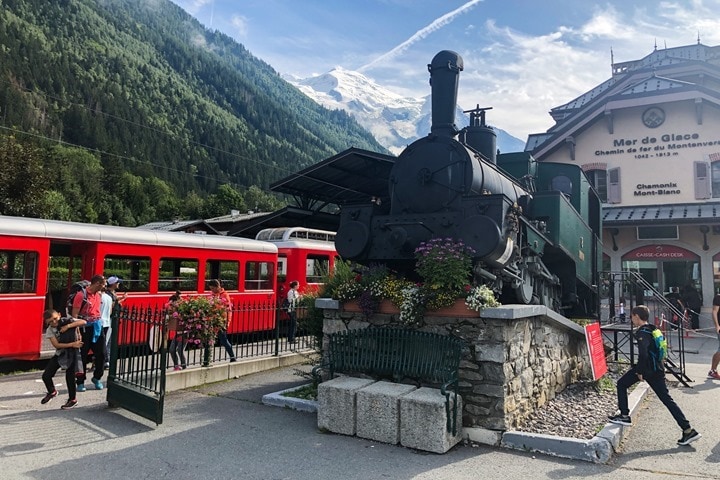 It takes 20-25 minutes I think and brings you right back to the village. Perfect! Total stats for the day were 9.13mi/14.7KM and 4,613ft/1,406m of elevation gain. Here's the Strava activity.
The Entire Ridgeline:
The route I was most excited about was a much longer hike the next day. This was slated for 13 miles (21KM), with a crapton of elevation gain over non-ideal terrain.  It's funny, as a road-runner I see 13 miles and my mental-math running calculator says 1hr 30min to 1hr 45mins, donezo. Except, that's not trail running time. Nor is it time dealing with thousands of feet of elevation. Nor dealing with ladders or rock slides.
In any case, I walked from the village and zig-zagged my way up under the gondola, as I've actually done many times before – both running and hiking. I started from below the UTMB start/finish banners, which were being put up for the race later this week. Check out my past post on spectating that, it's incredible.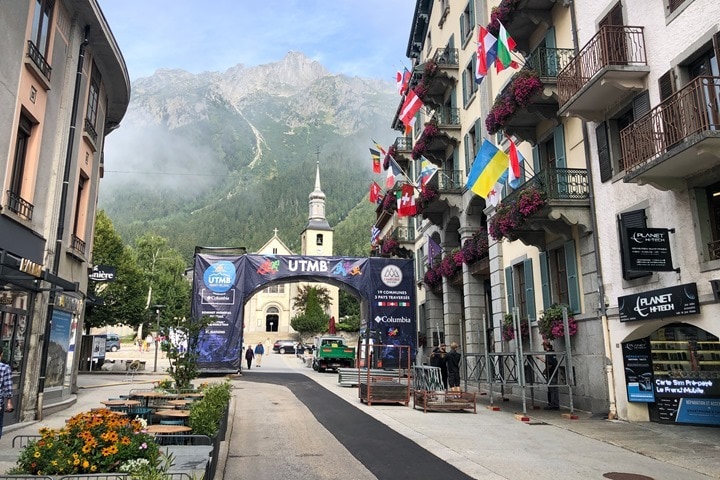 Once I reached the first plateau about 90 minutes later, I would begin my transition from easy walkable terrain to less stable stuff. It wasn't horrific, but it wasn't fast going either.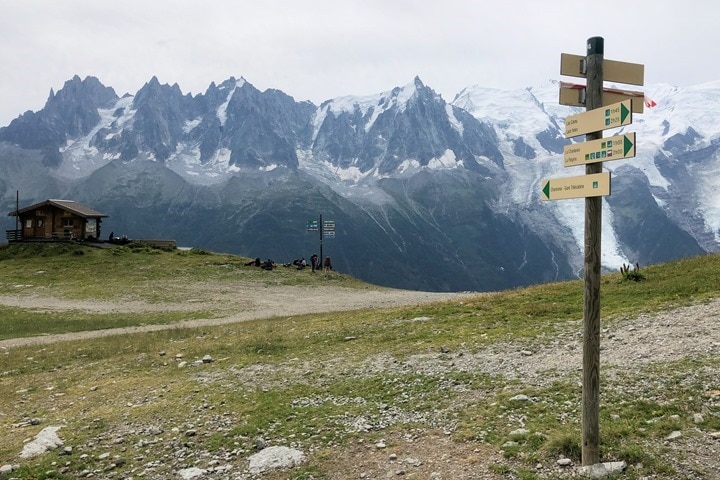 At this point, you're still actually ascending, working your way up to the top of the pinnacle looking ridgeline, just weaving in and out of all sorts of rock slides, cliffs, and other things that would hurt to fall on.
Eventually I got to my lunch spot for the day – overlooking some lakes. There were a number of folks here enjoying lunch as well, also, some goats down below. Most would turn back at this point, as the trail gets considerably more difficult and there isn't another 'exit' for about 10KM (due to chairlift closures this summer). So you've gotta commit.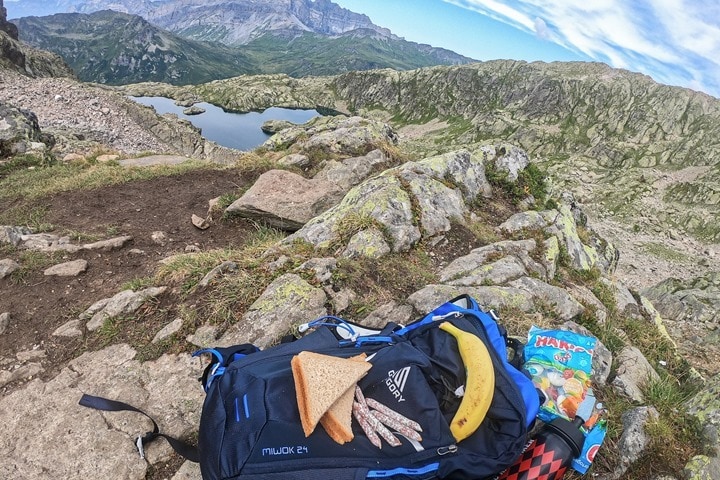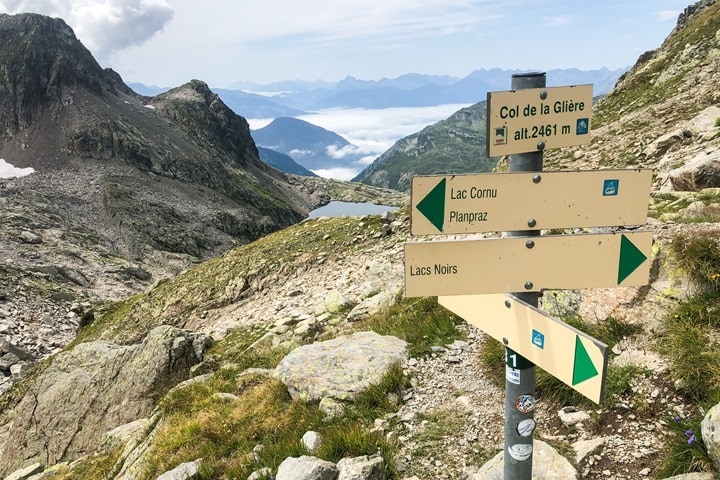 It's shortly after this point that I was super glad that I picked up new trail running shoes at Decathlon. I know, they aren't fancy or a major name brand like Salomon, but they worked for how little I'll use them. Worked really well.
Wait, you're confused on where the trail is? It's in there. Again, don't fall.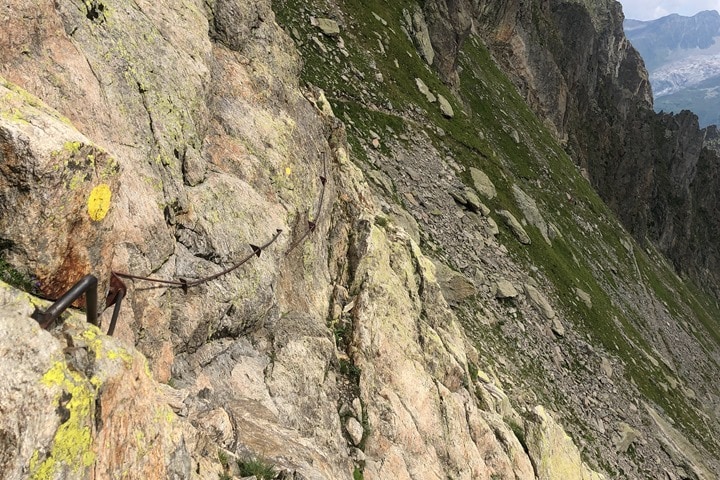 (The trail starts by holding onto the metal railing on the left, it then wraps around the cliff/rock where eventually it connects to the rockslide where you can make out the faint etching in the above photo of the switch backs.)
A few hours of silence later, I arrived at my main goal: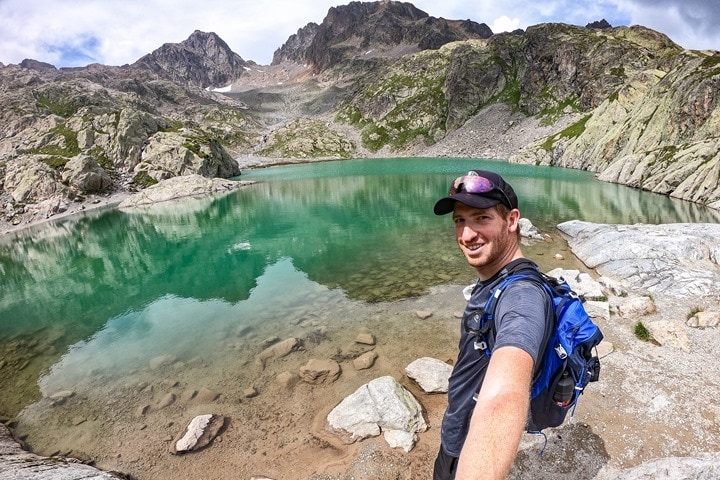 Super pretty spot, complete with a chalet to get things to eat if you wanted. In my case though I still had a few more hours to go I figured. So I didn't stay long.
Instead, I began my slow descent back down. A descent that would include all sorts of ladders: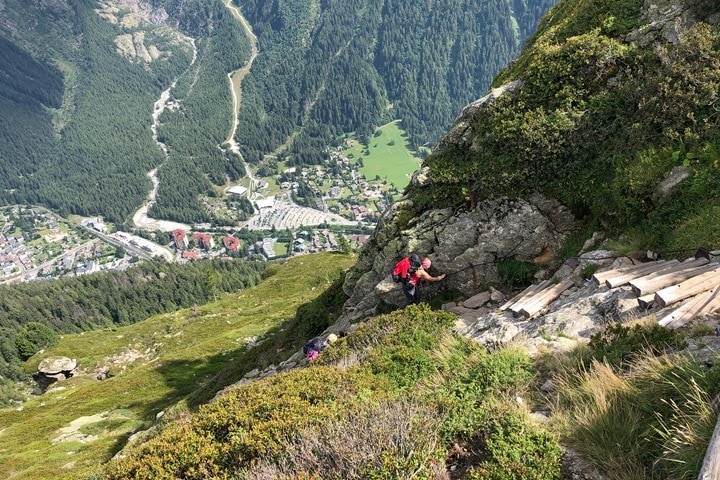 Some like the above were pretty tame, whereas others like below had numerous ways you could have things go horribly wrong quickly. I was pretty glad it wasn't raining out, or snowing (a legit concern even in summer). I had packed gear in my bag for both though, just in case. But that doesn't mean I wanted to deal with it.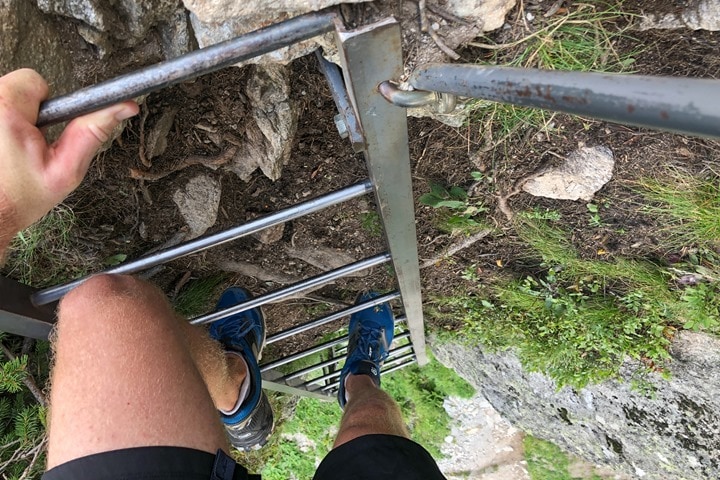 Just to put things into perspective – I came down the middle of that mess below. You can try zooming in, but yes, that ladder is actually angled sideways. Thanks for asking.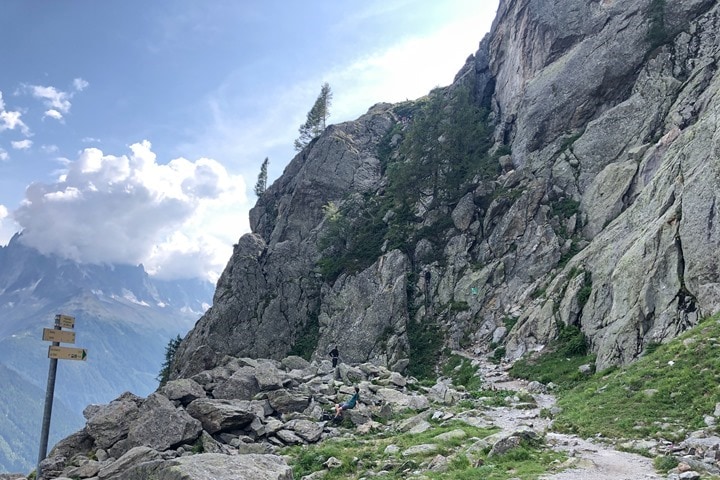 Finally, some 7.5 hours later I descended the last switchback and was back down in the valley – albeit many miles from where I started. So I walked across the street and took the train back to the main village: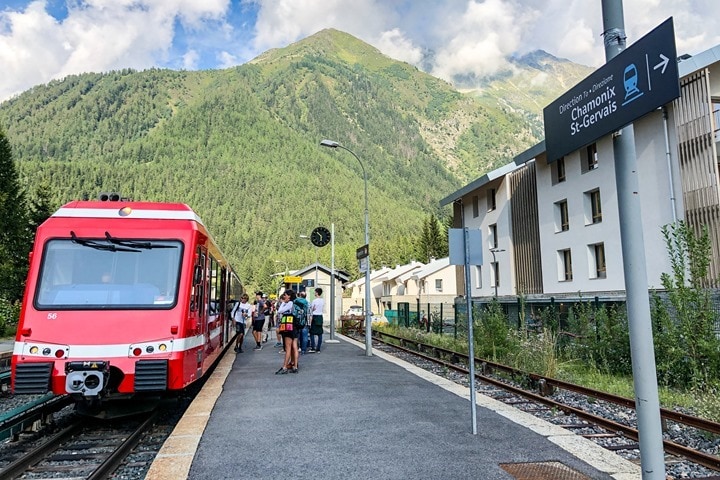 Total stats for the day were 13.3mi/21.2KM and 6,225ft/1,897m of elevation gain. Here's the Strava activity. I would strongly recommend this hike – it was super cool. There are ways to make it easier and avoid the ladder situation, fwiw. I would not recommend this hike on a rainy or icy day though. It'd be miserable.
A Swiss Quickie:
For my last act, I wanted something a bit shorter. Not because my legs were on fire (surprisingly, they weren't horrific), but because I would set aside much of the afternoon for final filming. I generally prefer this to be my last thing, specifically around the 'A-roll' (the parts where I talk). Whereas I usually collect b-roll constantly. For the video I edited today, I've probably got 50-60 minute of b-roll captured and I might use maybe 5-6 minutes in total. Maybe, at best.
In any case, over to La Tour I went. This resort is at the end of the valley and is one of my favorites. None of the mainstream tourists go here (either summer or winter), with it mostly being locals.  They have some great mountain biking, and also a lot of great open terrain for drone testing. I've tested numerous drones here over the years.
I created a route that basically was straight-up, and then along a ridgeline before a dip down and then ascending back up to touch Switzerland. I got off to a slightly later start than I expected due to some conference calls, which is of note later on. In any case, up I went: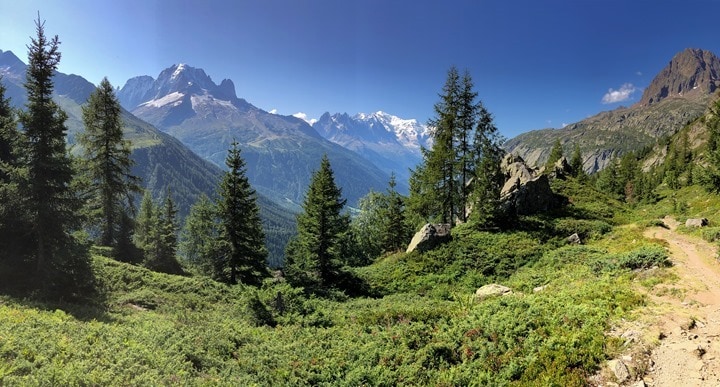 The reason I wanted this specific trail was actually to get some ridge running shots on the upper edge. And this would have been an epic route for it. But alas, by the time I got up there, there was just too many people around for my desires. I prefer to fly drones when nobody is around or within earshot (for a variety of reasons). So instead, I just got some selfie shots.
Or proper Instagram style, looking all stoic like off into the distance. Or something.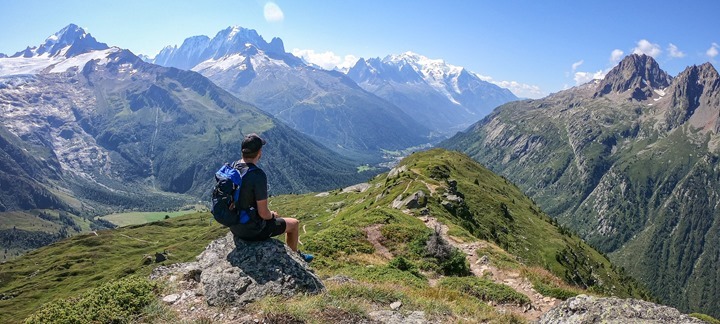 Turns out the ground is covered in small blueberry plants. Well, the plants aren't so small, but the blueberries are. Roughly like the size of green peas. I picked a few like everyone else, but it kinda fell into the 'not worth it' category. You'd spend forever getting one tiny handful of blueberries.
From there I headed back up again, this time to Switzerland, and towards the chalet at the top: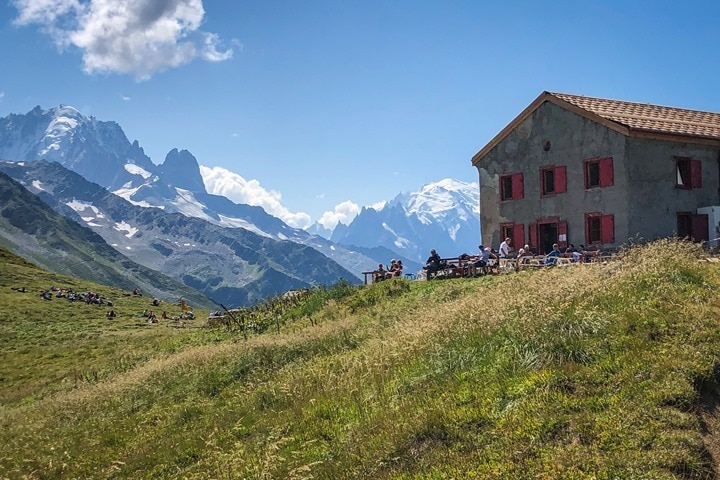 It's here I got the lunch of champions: Coke & Snickers. I normally have Diet Coke, but they were all out. 🙁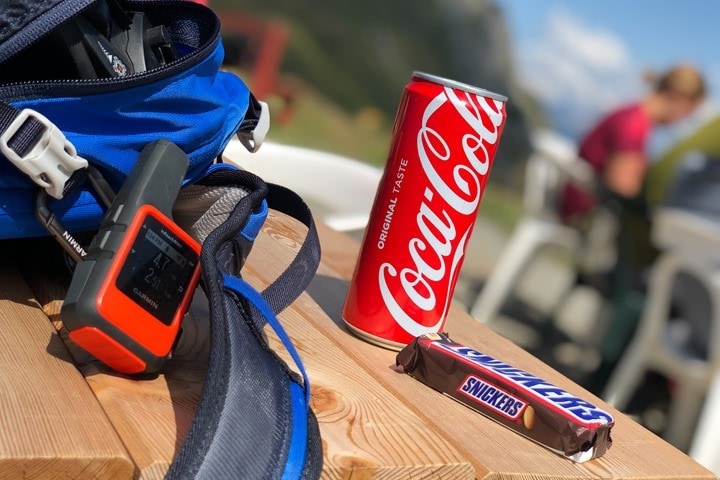 The guy at the table next door was rocking an old school FR405. Props man, props!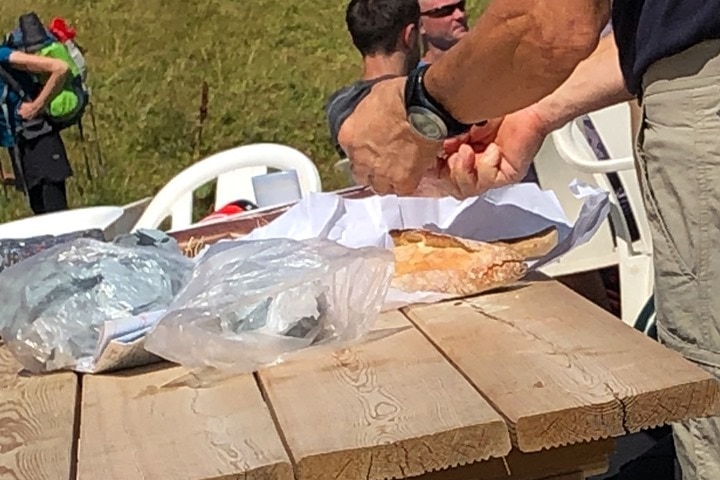 This point at the top near the chalet is a bit of a major crossing point, and there's tons of different ways you can head from here. It's also the border of France and Switzerland. There's no border control here though. You can go back and forth a million times if you want, albeit with a passport stamp.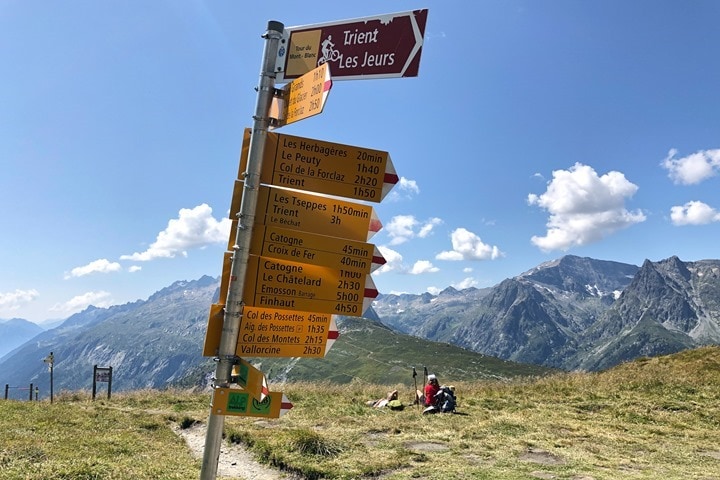 I know, some people (as in, all people) were getting beer or wine up here. But I figured it'd be less than ideal if I got drunk before starting all my filming. My luck I'd have it totally out of focus, mics turned off, and somehow upside-down.  Or I'd forget half the things I was supposed to talk about.
It's alright, I'll catch-up on that front once Eurobike & IFA are over.
With that, I did the first half of my filming up top for an hour or two, and then I took the chairlift down: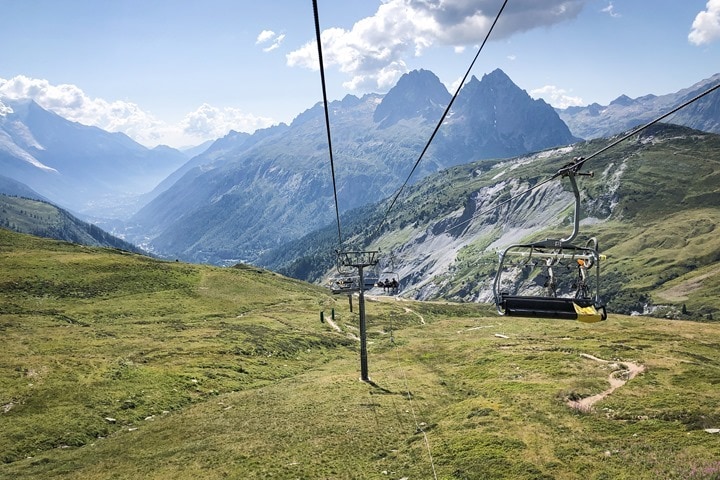 I could have easily taken the trails down (which are very tame here), and actually some awesome fairly nice trail running routes to get back down that aren't super technical either. Just sorta gliding down. But I didn't have the time for it. Here's the Strava activity though! Some 10KM gaining 3,229ft/984m of altitude.
Once down at the base I spent another hour going and shooting photos and b-roll for a variety of products. Then it was a quick jaunt back to the hotel to use their pool shower facilities before zipping out to the airport. I got there in plenty of time: They were just starting boarding. Anything more is wasted hiking time.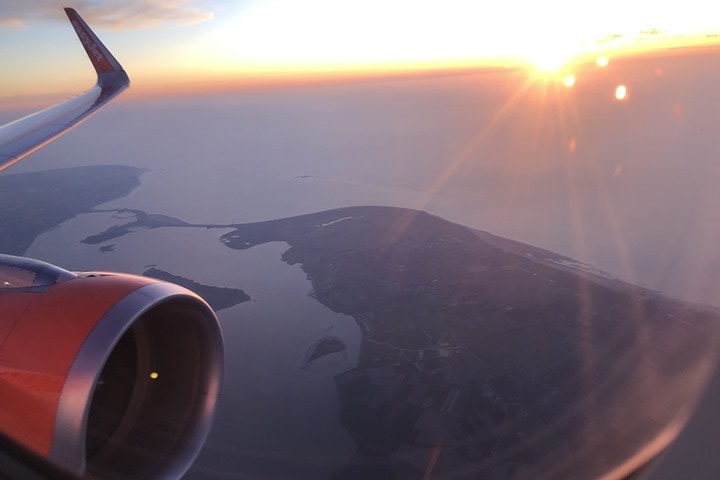 With that – thanks for reading, and hold onto your hats for things to get a bit busy around here
Have a good week ahead!