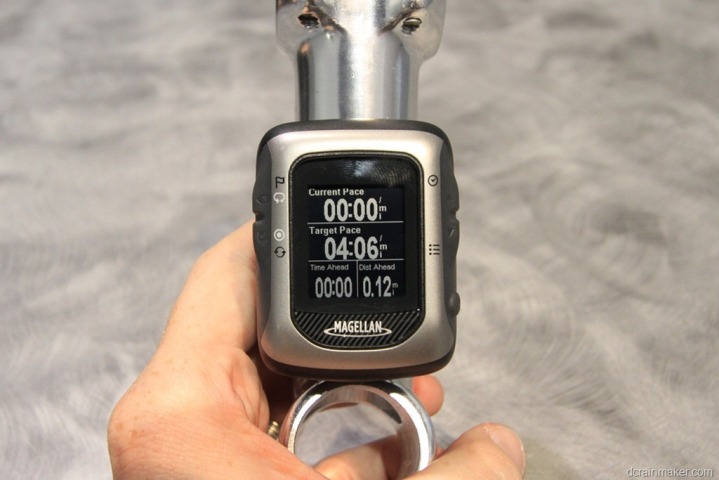 Last week at CES I got the chance to sit down with the product development leads behind the newest multisport watch in the market – the Magellan Switch (or Switch Up depending on the model).  This unit will be available in the coming months, and aims to compete with the likes of the Garmin FR310XT, FR910XT, Polar RCX5 and Timex Global Trainer – as an all-in-one multisport device.  Though, Magellan prefers the name 'crossover' device, so you'll tend to see that more in marketing speak.
Because the device was just announced, and won't be available for a bit of time still, I wasn't able to just take it for a run or bike ride – so my experience may change once I get some outdoor time with it.  My time was limited to a private room in the middle of a convention center.  But in the meantime, this serves as a good placeholder on how the device works, and the functionality contained within.  I should be getting a unit pretty soon here to start understanding a bit more, so then I'll be able to really dig into it.
With that – let's get cooking!
Size, feel, unit comparisons:
When you look at some of the images released to date of the Switch product, you may come away with the impression that the unit is thicker and bulkier than it really is.  Coming into the meeting, I expected it to be much bigger than it really was.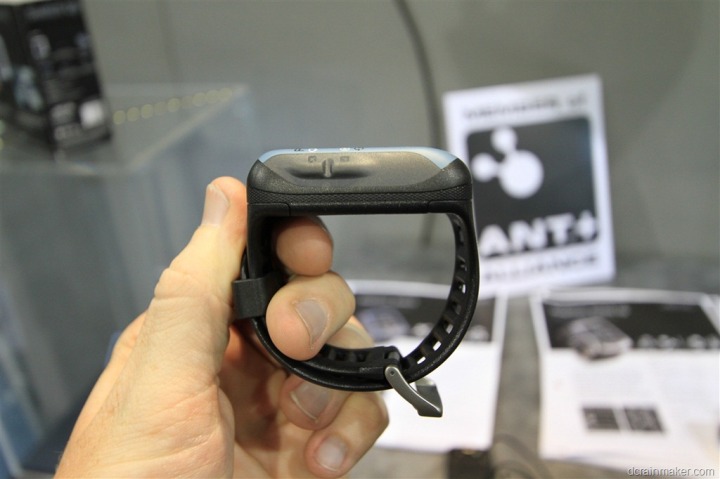 So let's start off with a few shots to put things in perspective, starting with some on my wrist:
You'll note that the unit doesn't look too big – a bit smaller (width) than the FR310XT or FR910XT, though about the same height.  It's probably a bit larger than I would wear as a day to day watch (which it can do easily for three weeks) – but I know some folks don't mind the larger size.
Here's one on The Girl's super-tiny wrists, which may help give you an idea on a small female's wrist: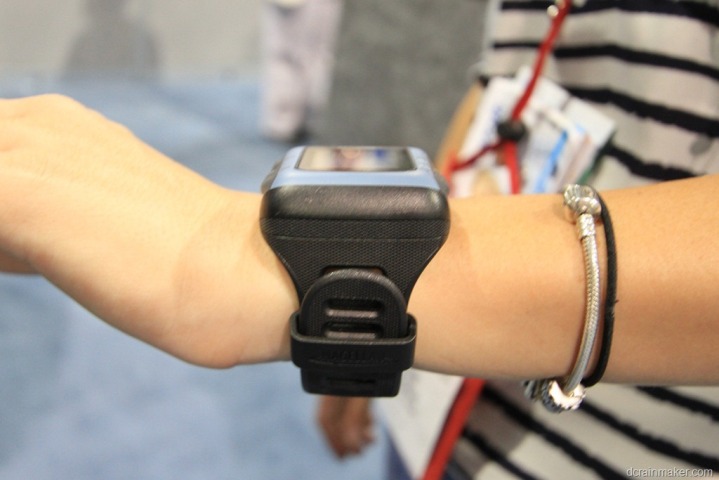 And finally, here's one comparing a Garmin FR610 to the unit, just to give you a better impression of size.  Once you see it compared next to that, it's really not much different actually in width – but a little in overall height: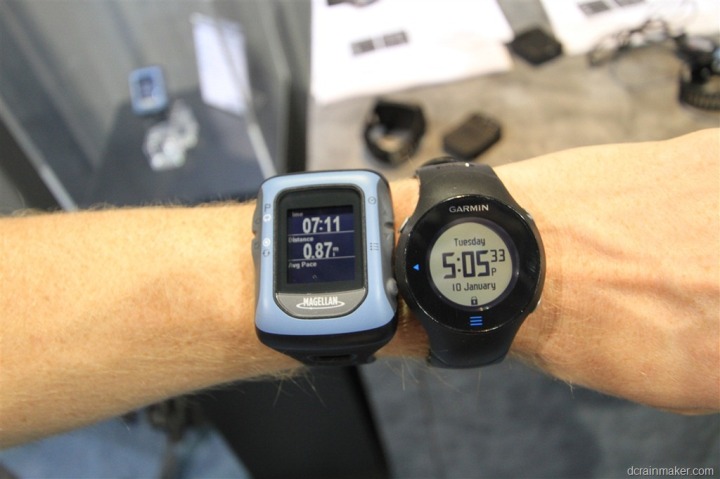 The depth of the units are pretty similar though: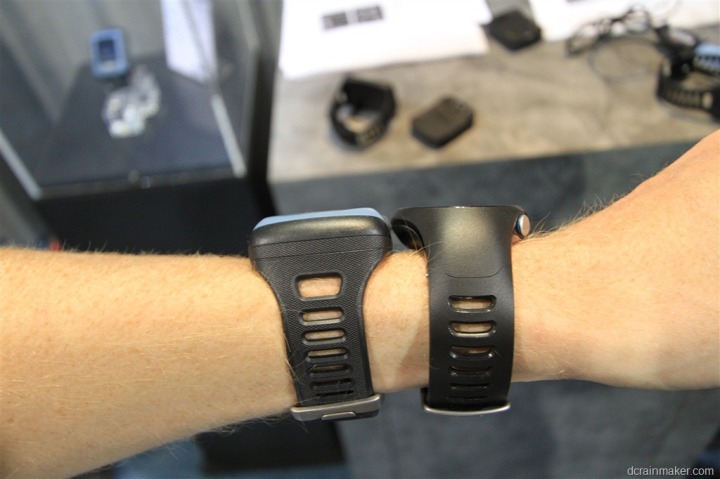 Note, here you can see the difference in height that the quick release kit makes – with the standard Switch on the left, and the Switch Up with the quick release kit installed on the right.  The difference in height is solely the quick release kit addition, and not any inherent differences between the Switch and Switch Up.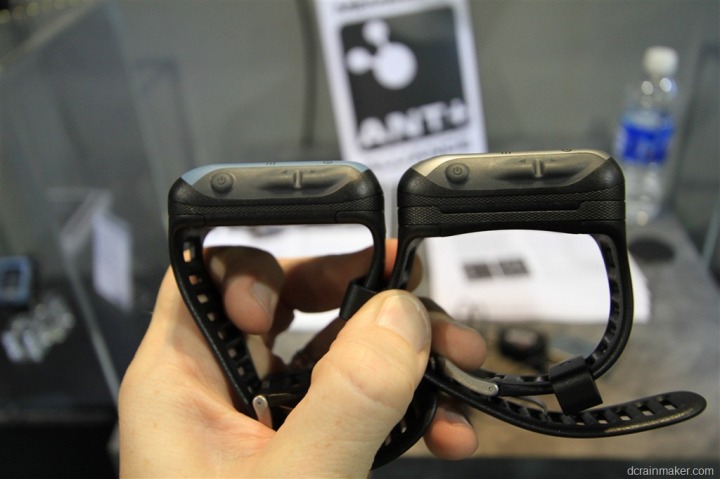 Now you may be wondering what the difference is between Switch, and Switch Up (besides $50).  In short, the Switch Up product has the barometric altimeter (whereas Switch has a GPS based one) and a temperature gauge, vibration alerts, and Switch Up comes with the quick release system.  Note though that you can always upgrade the regular Switch later with a quick release kit via their accessories if you want, but you can't upgrade the internal chips providing the barometric altimeter or temperature gauge.  In general, I find the barometric altimeter worth it if you run in the mountains a lot, or if you're doing longer rides.  I still have yet to find a use for the temperature gauge that's been included on the Edge series units I use.  If it's cold, I know it, and if it's hot, I know it.  Someday someone will give me a good training reason for it…
Features: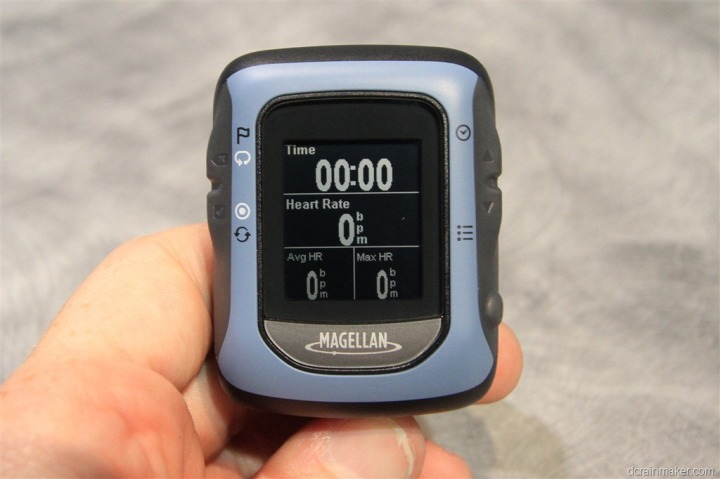 When I first started to talk to the Magellan folks about Switch, it was actually more than a year ago.  One item we discussed at the time was what I heard from all of you, which is that if you're introducing a new product to the market, you have to have it 'do everything everyone else is doing, and then do a bit more' – and these guys actually took it to heart.  If you take the FR310XT, or the Edge 500 for example – this unit does pretty much everything major and most minor features that those units do.  But it also has some unique features, and those are the areas I want to focus on.
Estimated Arrival Time/Estimated Pace Differential (aka Activity Pacer):
First up is a different twist on the Virtual Pacer concept, which Magellan calls Activity Pacer.  Typically a Virtual Pacer will simply only tell you how far ahead/behind you are at a given pace, in other words, that you're running 2 minutes ahead of your 8:30/mile goal.  But what it won't tell you is given a specific distance (i.e. 26 miles) – how much you can slow down and/or speed up to hit that goal with the remaining distance left.
If you look at the marathon example, I can't count the number of times that once you hit mile 15 or so, ones ability to do basic pace math calculations hits the crapper.  This allows you to display a field showing what pace you'd have to run if you still wanted to hit your goal (either high, or low).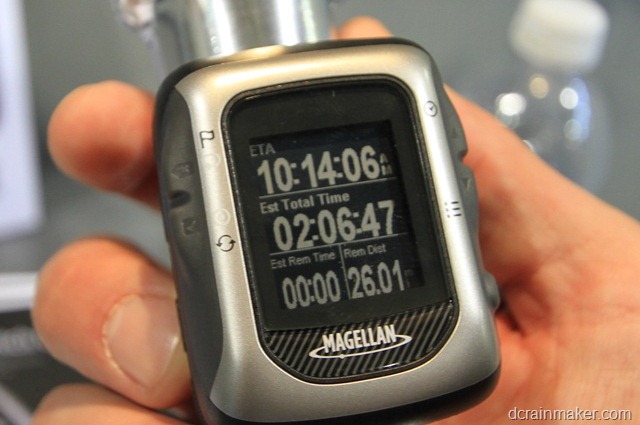 Additionally – and this is where things get really cool – what your estimated arrival time is.  For example, given your current pace, and your desire to do a training run 20 miles, exactly what time you'll be back home.  Here's a good screenshot of that function: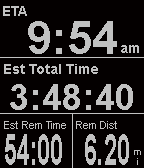 Now only if we could automatically broadcast this via cell phone to our friends and family…
Custom Data Field Types:
Typically in a sport watch you have fields for running, and cycling – and everything else falls into those two categories.  But with Switch, you can create up to 9 different sport profiles, with each one having different data screens (even stuff like Cross Country Skiing).  It's crazy cool actually.  Further, you can even mix different types of data formats.  For example, you can have a screen that shows BOTH data fields in kilometers and miles.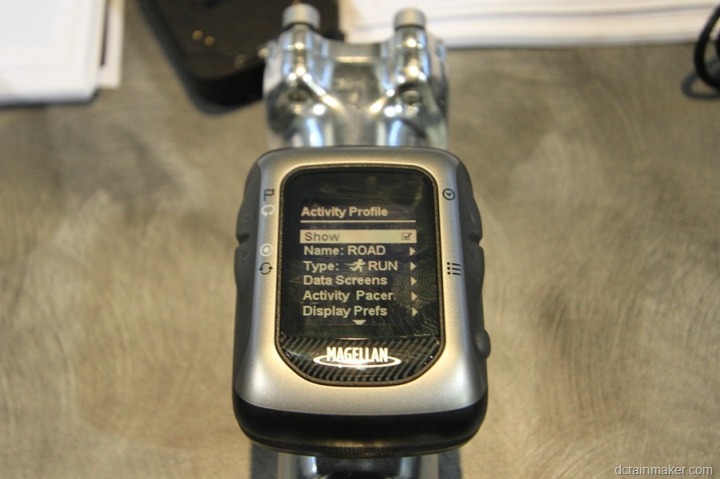 For fun, I got the guys to get me a list of all the data fields.  By the way, in case your curious, normally when I produce those big charts with all the data fields, I actually just sit with the device and manually write them all down.  But since it was approaching 6PM and these guys wanted to eat – we agreed this was a wee bit faster.
So I took their listing and put it into my standard format – hopefully I didn't make too many typo's in the manual conversion:

(Updated 2:23AM 1/19/2012)
Obviously, you'll want to click to expand to view it better.  As noted, all of the fields can be either offered in US or Metric.  For example, MPH or KPH, or minutes/mile or kilometers/mile, or feet or meters.
You can customize the number of data fields on the unit itself, up to 8 per screen.  You can see some of the different data field layouts throughout this post.
Wireless ANT+ Downloading to Wahoo Fitness:
Switch will be the first non-Garmin Forerunner product to support wireless activity downloading to Wahoo Fitness via their ANT+ dongle.  This is notable because while the Switch normally downloads over USB, they will be supporting the ability to send the .FIT files wirelessly.  Pretty sweet!
Also, as some of you may have just picked up on – the unit will support the .FIT standard for activities, which means that existing applications should work just fine with Switch without any need for re-code.  I'm glad to see someone was listening to my presentations the last two years at the ANT+ Symposium on supporting common data platforms like .FIT and .TCX.  Thank you!
ANT+ Sensor Types:
The unit will support all of the common triathlon related ANT+ sensor types, including ANT+ Footpod, ANT+ Power Meter, ANT+ Speed Sensor, ANT+ Cadence Sensor, and ANT+ Speed/Cadence Sensor.  Maybe I can convince them to be the first to market to also support the Continuous Blood Glucose Monitoring ANT+ device profile as well…
Openwater/Lap Swimming:
The unit is fully waterproofed to 50m deep, so no worries about swimming with it.  But like most other GPS watches out their, it doesn't tend to give very accurate distance on your wrist while in the water.  The best bet here is the back of your swim cap.  Unlike the Garmin FR910XT, it does not have an accelerometer in it, thus it's unable to provide any sort of swim stroke data.
Training Log Website:
Once you get your Switch connected to your computer with USB, you'll be able to upload your workout to Magellan's site.  Additionally, you'll be able to easily get the workout exported to a number of 'leading 3rd party websites', including TrainingPeaks.
Additionally, Magellan will be offering an API out of the gate for other companies/apps wishing to pull data from them (or even push it to them).  They really stressed to me how much they want to make the platform open in this respect, allowing easy access to your data – without any barriers or fees.
Map/Courses:
The unit will support courses, and basic track views in a breadcrumb style, similar to what is offered on other multisport products in the market.  It won't offer street by street directions though (i.e. turn left on Maple Drive) – but will keep you from getting hopelessly lost.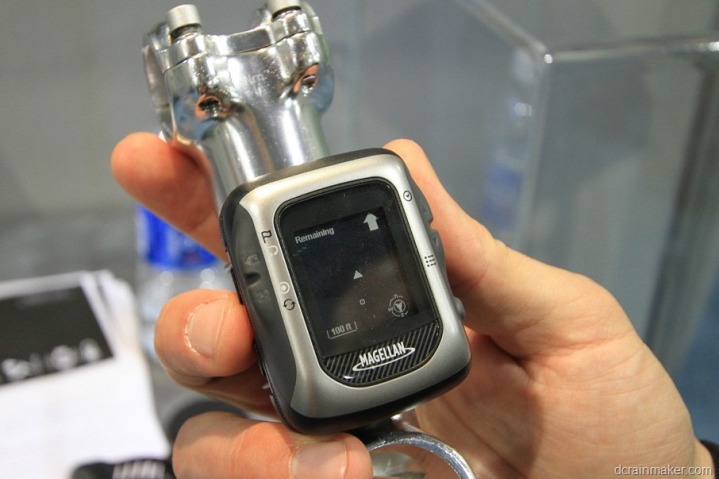 It can also do all of the usual tricks around routing back to the start of the course, etc…
Things that didn't fit in another category section:
This is just a list of random notes that didn't quite deserve their own category, but are definitely worth noting:
– The unit includes both audio and vibration alerts (vibration alerts on Switch Up only)
– The units firmware can be updated (the team plans firmware updates with new features, and/or bug fixes)
– The unit supports Heart Rate and Power Zones, as well as alerting on those
– The unit has a backlight, similar to that of the Nike+ GPS Watch, meaning it's fairly crisp and clear (it was hard to get a photo of the backlight in the well lit convention center)
– The device supports both a GPS on and off mode (i.e. for indoor training)
– Without an external battery, the unit lasts 8 hours with GPS enabled and multiple ANT+ sensors connected.  However, in regular watch mode (standby), it'll go the distance – 3 weeks worth of time!
– The unit does support multisport mode, which means that it knows how to record the individual segments of a triathlon, as well as the transitions – with each chunk being recorded with the appropriate sport-specific information and ANT+ sensor pairings.
– Recording rate for files is 1-second.  The unit can store up to 60hrs of data at 1s recording.
Accessories: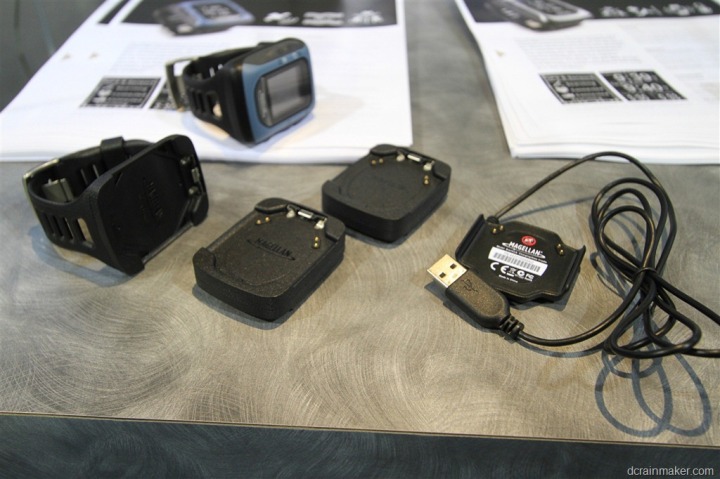 There's a slew of accessories for the Switch product line, let's quickly run through them:
Quick Release Kit:
This kit allows you to snap it onto your wrist, as well as your bike.  The unit snaps into it, and is definitely more stable/secure than the FR310XT quick release kits, so I'd have less concern with using it on my wrist during a swim (ignoring the data distance aspect).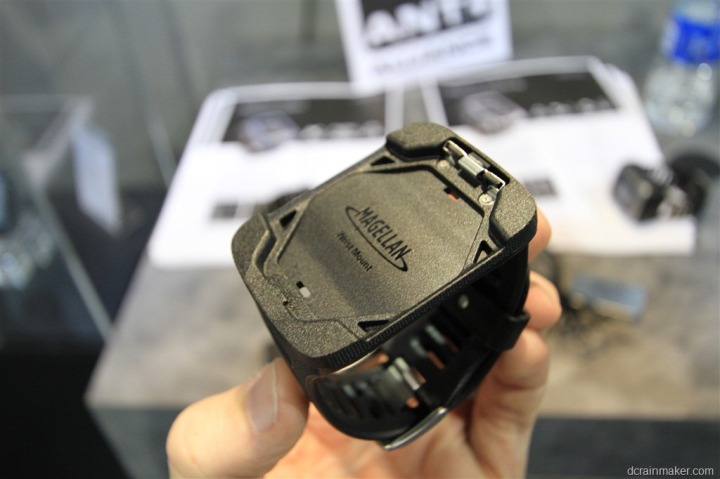 Bike Mount:
This enables you to connect it to your bike via the quick release locking aspect.  The kit uses industrial strength rubber bands – similar to that of the Garmin Edge series, though the locking mechanism is much different between the two, so they're definitely not compatible.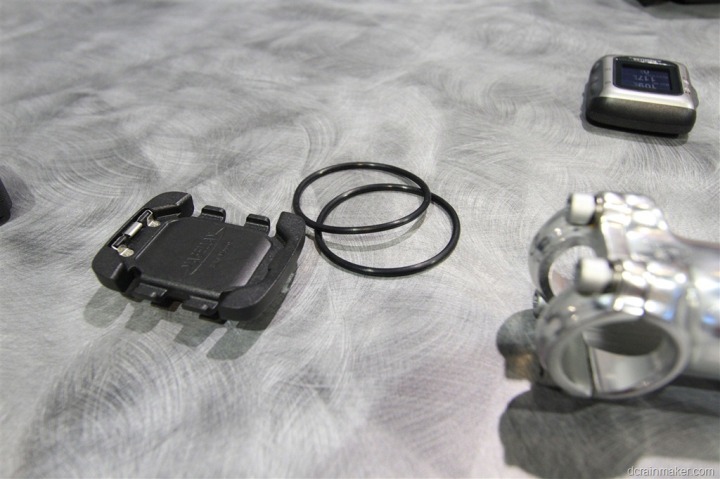 Extra Battery:
The Switch enables you do get another 16 hours of battery life by attaching a removable battery.  This battery in turn can attach to an existing mount.  This is primarily targeted at the Ironman crowd, or the 24hr racing crowd.
Note that while the battery is attached, the unit will be powered directly from the battery.  So using simple round numbers for an Ironman – if you swam for an hour, then got on your bike with the removable battery pack on your bike for 6 hours, then started your run by removing the unit from the battery – you'd be starting with effectively 1hr of use on the unit (and thus 7+ hours to go for the run).  Hopefully I explained that in a functional fashion.  The point being that the unit drains the external battery before draining the internal battery.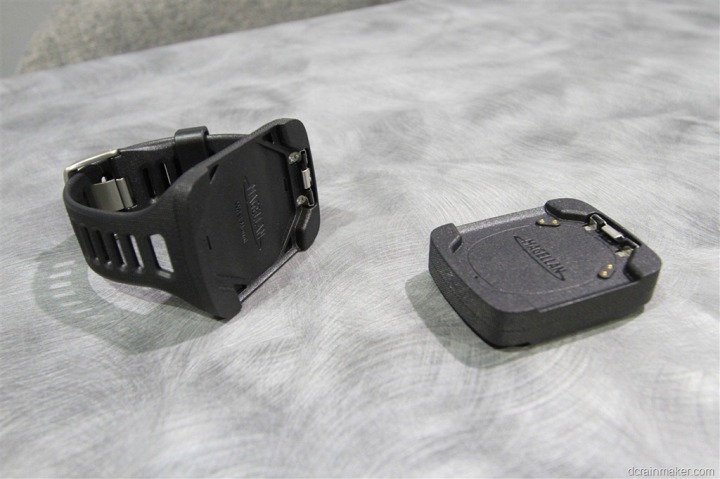 Additionally, you can hot-swap batteries, so for folks doing relays or ultra running, you can simply get more than one external battery and rotate through them.
Charging/Downloading Cradle:
The unit will be charged and workouts downloaded via USB.  This simply will plug into your computer, or the included AC wall adapter:
Video Overview:
In order to give you a good walk through of the product, the menu's, and how the unit reacts to the human touch (responsiveness), I let the guys run through a quick overview of how it all works.  It's just a few minutes, but will probably give you a pretty good feel for things.  Take out the popcorn and enjoy!
Magellan Switch and Switch Up, hands on
Summary:
I think the Switch team has a pretty interesting product on their hands.  Those with really good memories may remember or note that the team leads for Switch came from Garmin, and actually prior to that – came from Motion Based, so they have a pretty keen understanding of how to design fitness products.  And that experience clearly shows in this product.
The units retail for $250 and $300 each (Switch and Switch Up), and will be available 'this spring' (it's the favorite phrase of companies at CES).
I'm looking forward to giving the unit a whirl here in the near future and trying it out for myself outdoors on the road, I think it offers a pretty compelling lower-cost alternative to some of the competitors on the market (about $100-150 cheaper).
As always, if you've got any questions – I'd be happy to try and get them answered below in the comments.  Thanks for reading!