Just a quick note to apologize for the DC Rainmaker outage earlier today.  For reasons a bit unclear to me, BlogSpot/Blogger decided that it wanted me removed from the universe.  Perhaps my recent request for WordPress developers to assist with a new site design agitated the well oiled machine.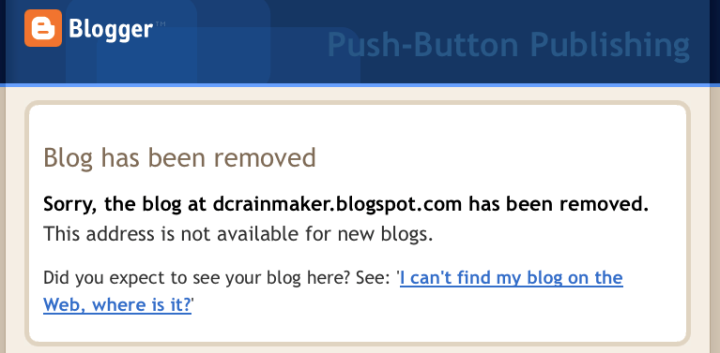 Now, to be fair, as I've always said – BlogSpot has been good to me for the past four years, so I can't complain too much about 2 hours of mysterious (and heart attack inducing) downtime.  Of course, the fact that my blog was flat out removed was of a wee bit bigger concern.
Nonetheless, a few e-mails through a few folks seems to have quickly resolved the issue and brought DCR back to life!  So I'm greatly appreciative to those behind the scenes made some magic happen, and brought back some happy.
Speaking of happy, all of your various SOPA related jokes Tweeted to me during the time period were pretty funny – and at least made the experience a bit light hearted.  Plus, as a bonus – for those two short hours, the ratio of inbound e-mail to outbound e-mail was finally in balance.  Short lived that was…

Again – thanks to everyone who e-mailed, texted, Tweeted, FaceBooked and just about every other method on earth to let me know it was down, I really do appreciate it!  And – for those curious, I have indeed got a ton of awesome WordPress developers that came forward with some really cool portfolios, and am working through them all now.
Have a great weekend!  And as always, thanks for reading!