From Friday evening until Sunday evening, virtually every hour of my weekend was accounted for down to the minute.  It isn't until now that I've had a chance to really sit down and do anything.  It started with a redeye flight from Vancouver on Friday night (more on that super-quick trip tomorrow), arriving home early Saturday morning.
After a few more hours of sleep to top off the sleep tank, I headed south to Prince William Forest park for a ~14 mile trail run.  Well, about 2/3rds of it in the trees on trails, and the remainder on the road.  The perfect blend for Alcatraz coming up in a few weeks.
Before I headed out though, I did a monster unboxing session of all sorts of new gadgets that arrived on Friday.  It was like national-gadget-review-arrival-day.  Except, only a holiday I celebrate.  We'll start with the Magellan Switch and Switch Up.  They are essentially the same product, but the Up offers a few more features like a barometric altimeter, vibrating alerts, temperature gauge, and quick release kit (for triathlons).  Think of this as a competitor to the Garmin FR310XT/FR910XT and Timex Global Trainer.  Check out my post (linked a few lines above) for the low-down on all the features in the watch.  Obviously, a review is forthcoming as it nears retail availability in June.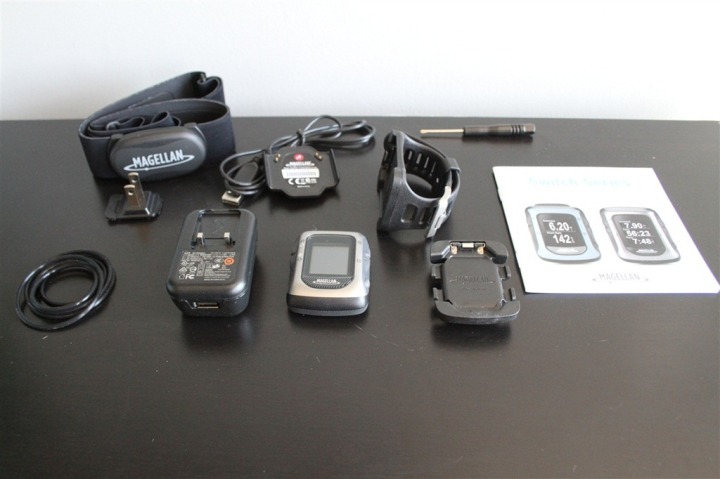 So, off to the trails I went.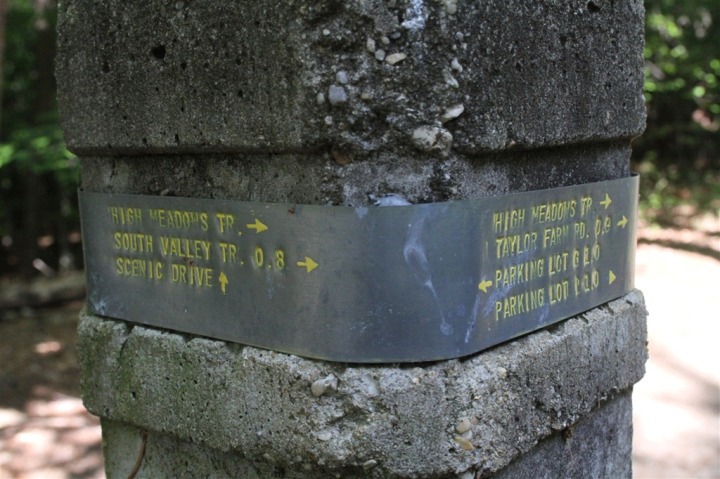 The first three miles were along the roadway.  It's sorta nice to get warmed up on the lightly rolling flats before diving into the trees.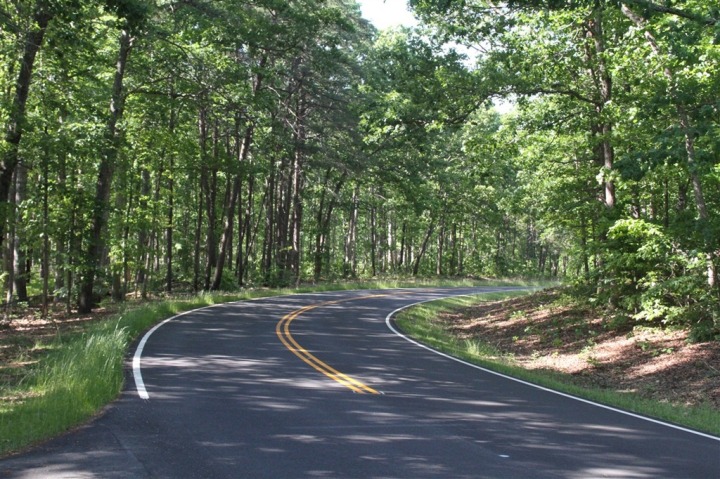 Since I was doing two loops, I left a water bottle at the 1.0/3.0/7ish/9ish marker.  Made it easier than carrying a camelback.  Then another bottle down in the trees.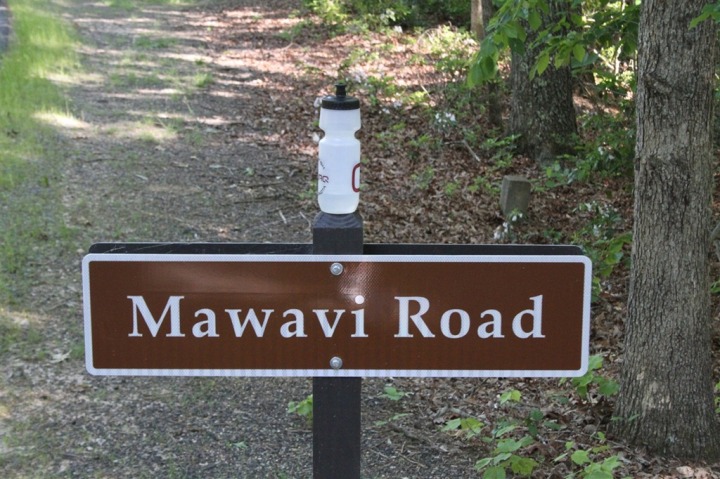 Soon, I found myself down headed into the brush.  At times, I was out in the open (though still on a trail), like below. Super-bright then.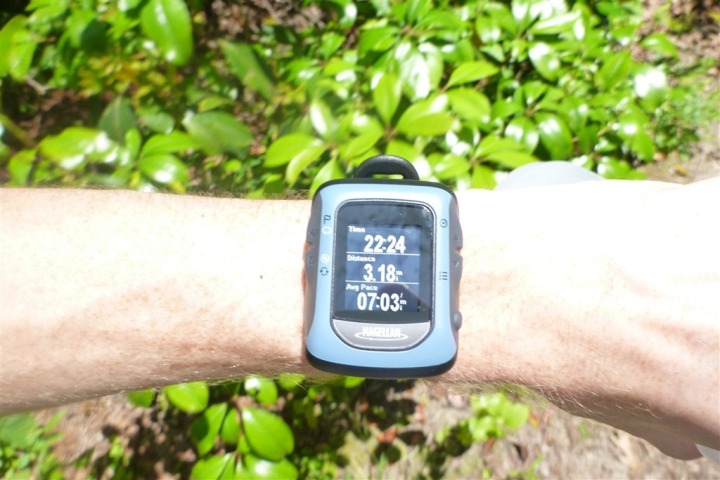 And other times, in the fairly dense trees: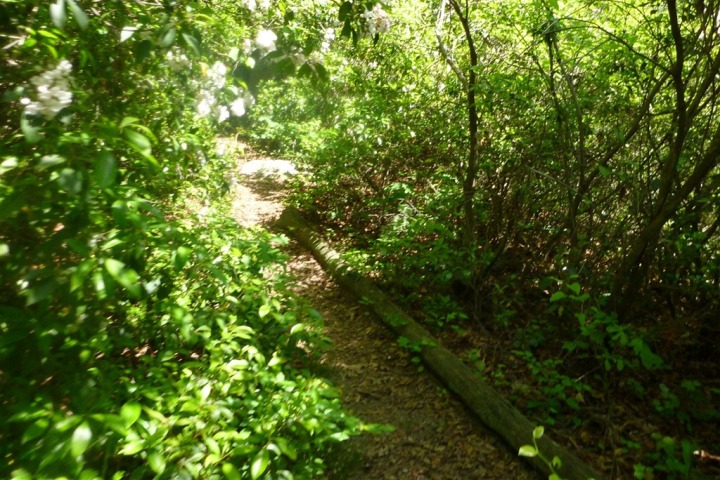 It's in these trees that I stumbled upon something I never would have expected: A wedding party getting their photos done.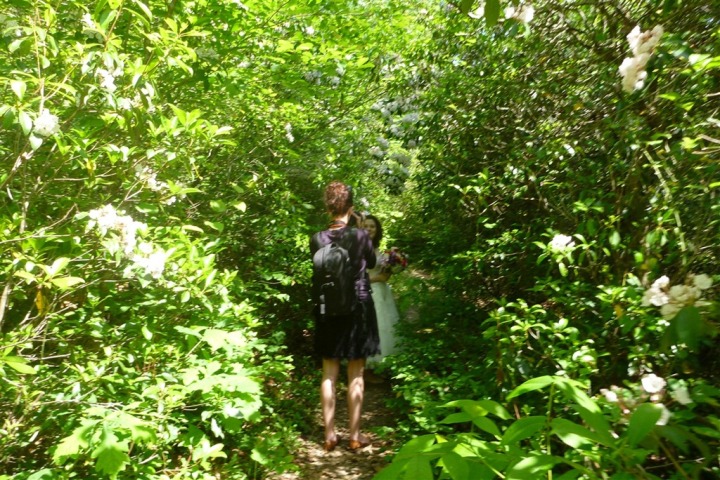 I was reasonably certain I was about 1.5 miles from the nearest roadway, but perhaps there's some back entrance I'm not aware of.  Bride, groom, and the bridesmaids/groomsmen, plus the photographer.  Crazy!
But, the nearby area was fairly nice, so I could see some nice places in there to get photos.  I'm just not sure I'd want to be all dressed up in the woods on a fairly hot and humid day with the bugs and stuff.
Finally, just shy of 14 miles later, I wrapped up my run.  I continue to have to remind myself how much different paces are in the trees.  Sometimes the paths are quick (like in the above photo), and sometimes they are downright awful slow (like the rock gardens).  Definitely toys a bit with my time estimates, as I can't use my simple pace time math (usually I just about about 7-7:30/mile for most runs, which works out).  Here, it's close to mid-8's in the trails.
The two units (FR910XT vs Switch) were within the ballpark of each other (13.77m vs 13.62 miles).  As is almost always the case in the woods, it's very difficult to know who was correct.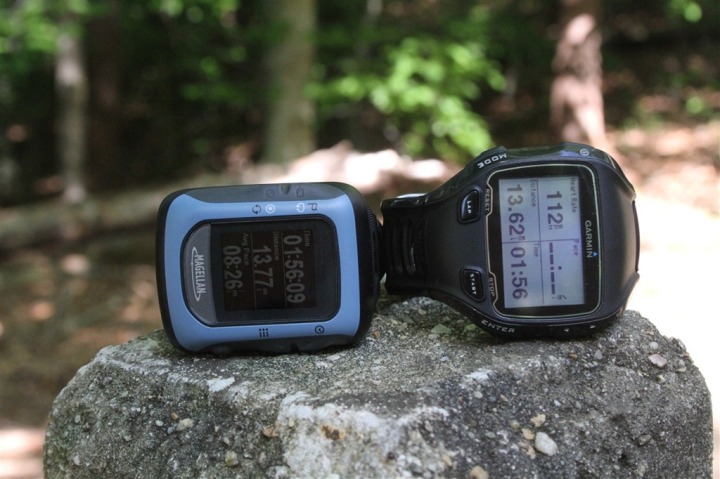 With that, I zipped back up to DC for an evening celebration event before eventually running out of energy later that night and falling sleep…the redeye always catches up.
Sunday morning, I was up by 5:35AM, headed out the door for my long bike.  In preparation for this, I unboxed a bunch more stuff.  This included the new Timex Cycle Trainer (GPS) as well as the Quadlock iPhone case.
Ultimately, the Quadlock case lost the battle for handlebar real estate – because quite frankly, I had none left:
Another case…another day.  You'll get your chance, fear not.
By time I got out to the mountains, it was just after 7AM, so I got on the bike as quick as possible.  And nearly right away I saw my first deer of the day.  It would end up I'd see quite a few more.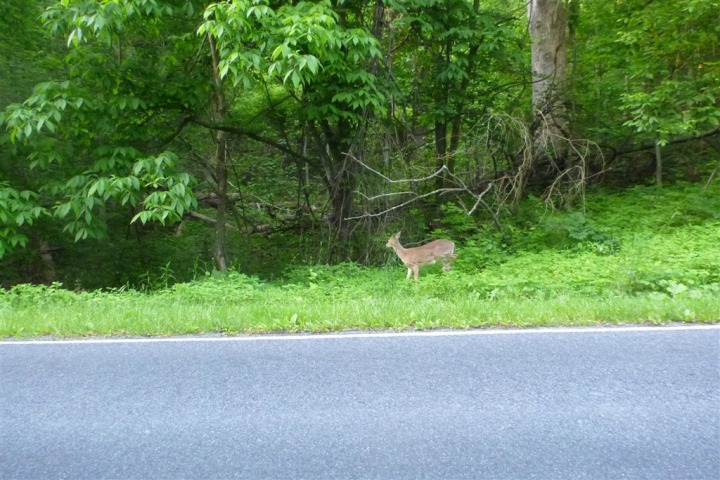 A couple minutes later I saw a pair of bunny's.  Though, my photo makes them just look like a bush, so, no bunny photo for you (or bunnies for The Girl).
Since I was out there super-early, it was pretty dead quiet.  All-in I probably had a dozen cars pass me going the same direction as I in my 2.5 hours of riding.  I had to cut my bike a few minutes short at the mid point of the out and back, as I had to rush back to be at work by 11AM (yup, on a Sunday).  I mostly made it…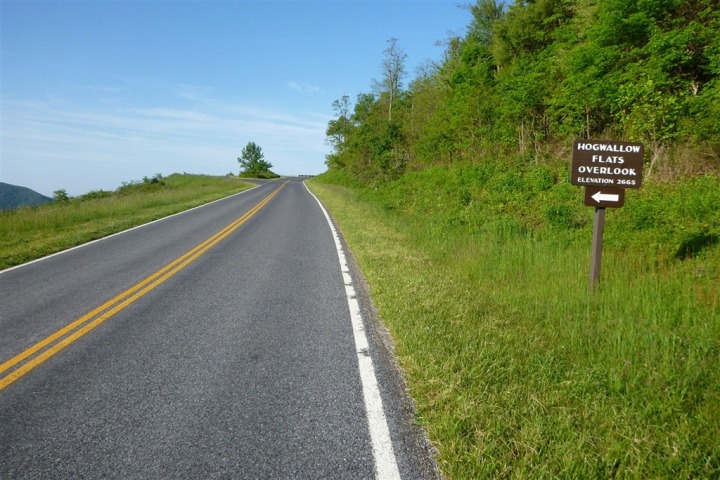 But, still an awesome morning to be out there, even if it did mean waking up that early.  On my way back as I neared the end of my ride, there were tons of cyclists heading out.  By the boatloads really.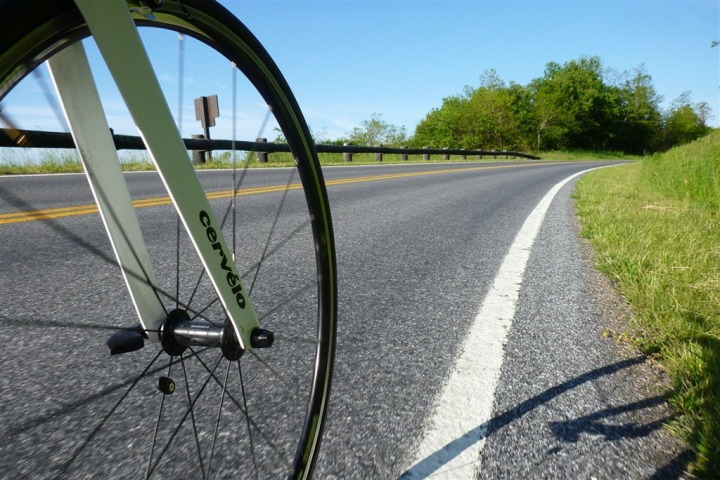 Here's the view early-on.  Always thought it was cool to see the ridgelines of the mountains, one wave after another.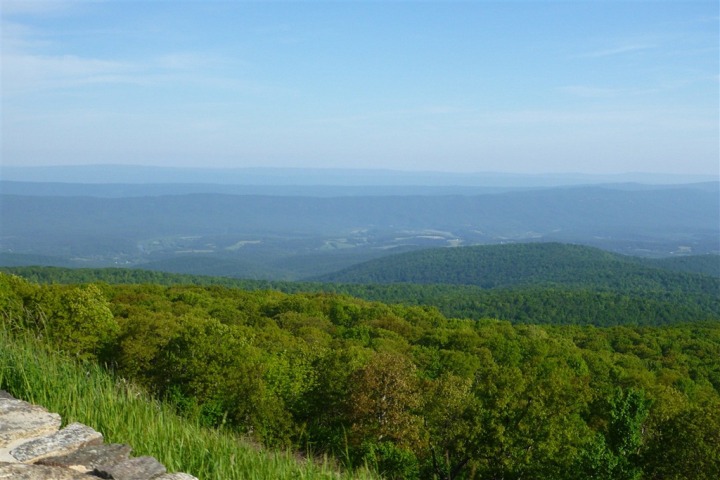 Here's a couple of pics of the Timex Cycle Trainer 2.0.  The altitude was pretty close to spot-on the entire time with the various park service markers (which are at the top of every climb).  Good to see that.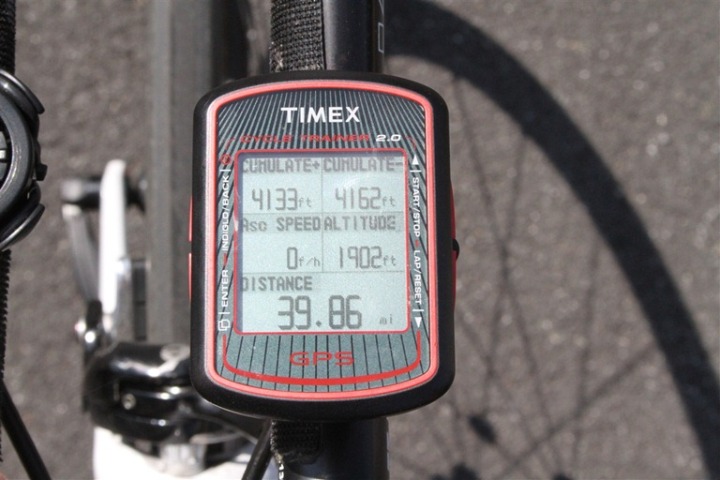 The mileage was a bit short of what the other units said.  Not too much in the grand scheme of things as far as GPS accuracy goes, depending on which unit was most accurate (upwards of about .25 to .70 miles).  But it's something I'll keep an eye on as I test it.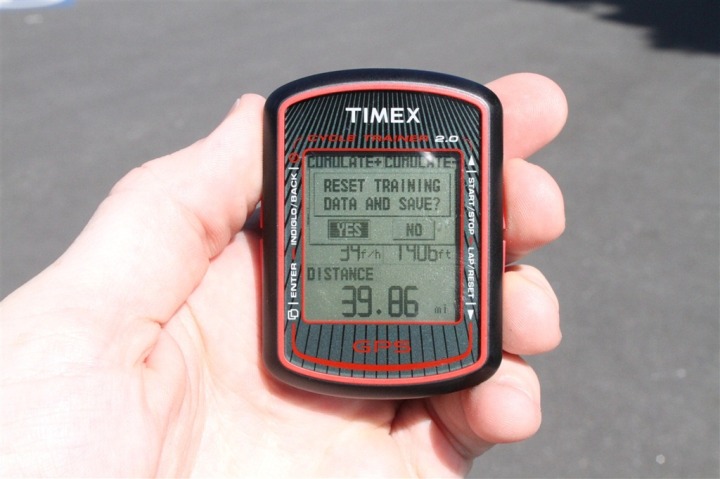 The Cycle Trainer is fairly similar to the Edge 500 in a lot of ways (size, data options, etc…) – so it looks at first glance like a viable alternative to that unit.  Again, I've gotta spend a bit more time with it beyond my time on the road this morning.
With that, I'll 'save' you photos and details of all the other new gadgets that came in – as it's been packed full of them lately.  Soon though, soon. 🙂
Thanks for reading, and hope everyone had a great weekend!