This week at Outdoor Retailer, Mio has quietly unveiled two new units based on their Mio Link product.  The first unit, the Mio Fuse, adds in both a display as well as a 24×7 activity monitoring.  While the second unit, the Mio Velo, caters to the bike crowd and contains an ANT+ to Bluetooth Smart bridge – enabling one to get ANT+ accessories onto Bluetooth Smart capable apps and watches/head units.
Both products are based on the smaller form factor Mio Link optical heart rate unit that Mio unveiled earlier this year at CES in January.  This means that both products contain an optical sensor to measure your heart rate, while each product has a separate set of non-overlapping functionality and features beyond that of Link.  Let's dive right into them.
Mio Fuse: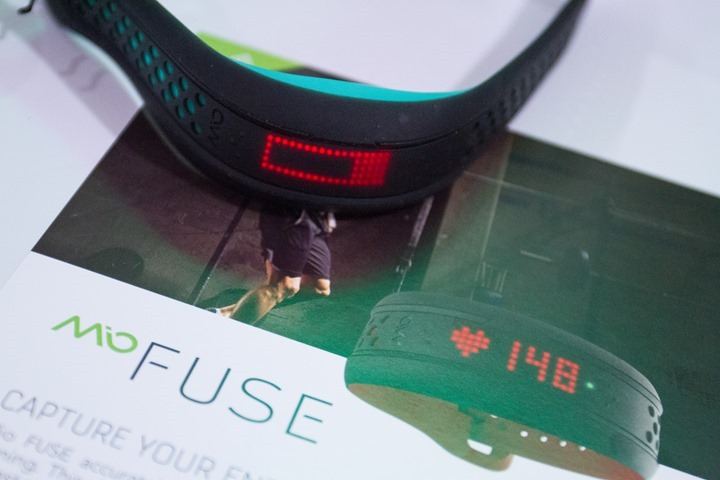 The Mio Fuse is Mio's first daily activity monitor that combines the same Mio Link optical HR functions while also adding in activity tracking with metrics like steps, distance and calories using a newly added accelerometer.  Further, as you can see above – it contains a display (which the Mio Link does not).  The sensor under the band looks very similar to that of the Mio Link, though there have been some minor tweaks to improve upon some of the lessons they've learned from Link that aim to increase performance (new Link units have also incorporated those tweaks after beta testing from a bunch of users, mostly DCR readers).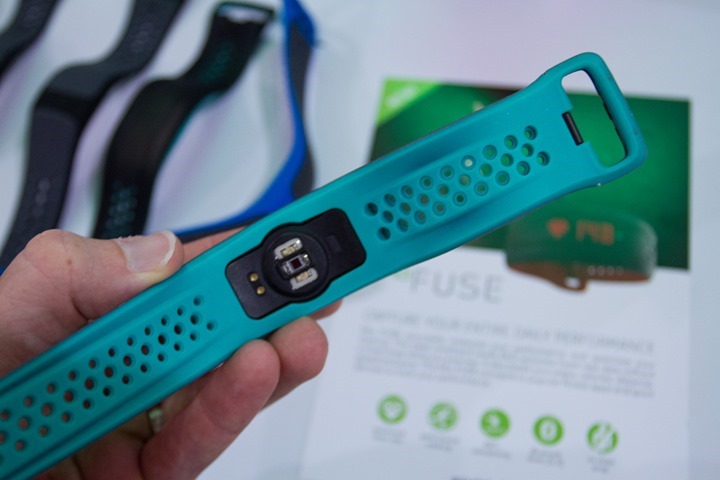 The Mio Fuse's two components are split into the activity tracking piece, and then the workout tracking piece.  In daily activity tracking mode it'll track your steps, calories, and distance.  This is similar to most Fitbit and related products. This information is then displayed on the display when touched: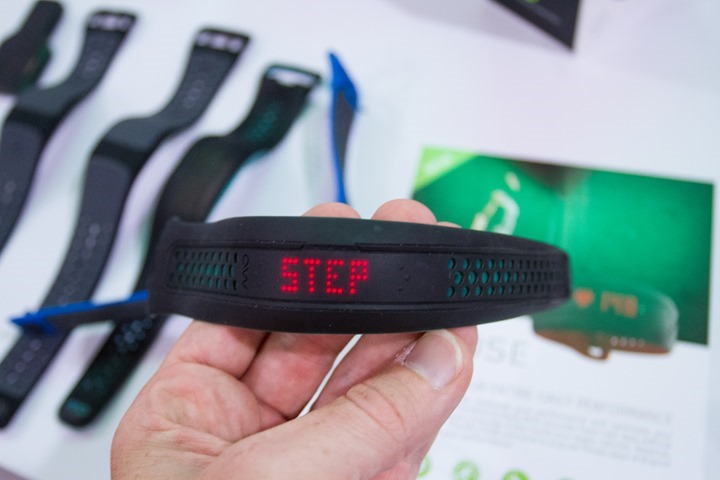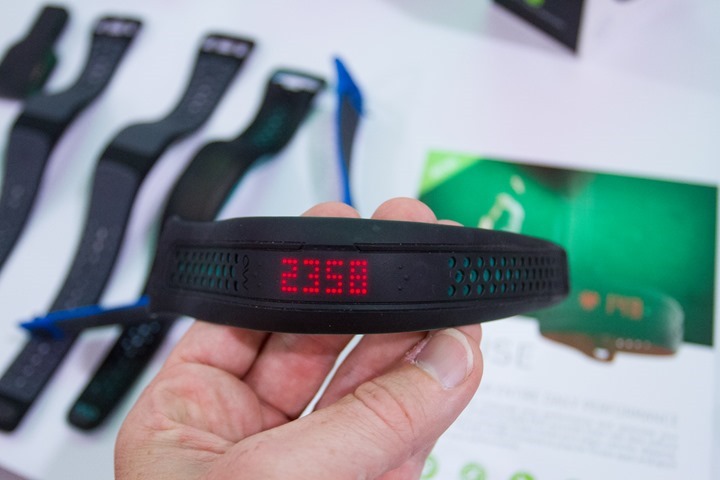 You can tap the little button to the right of the screen to change the data shown on the screen: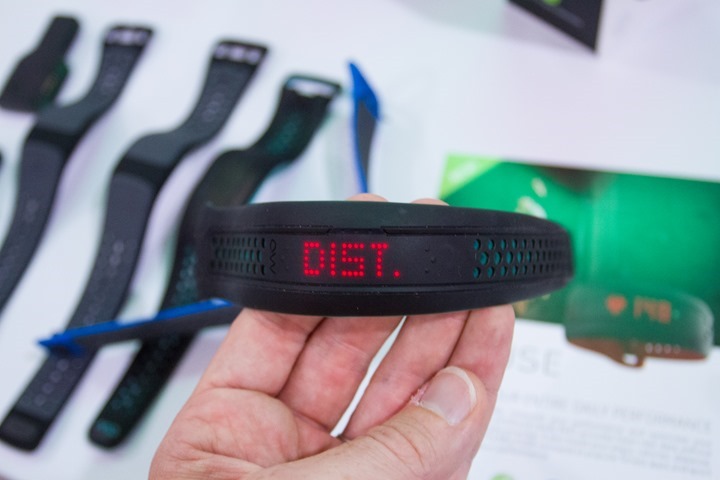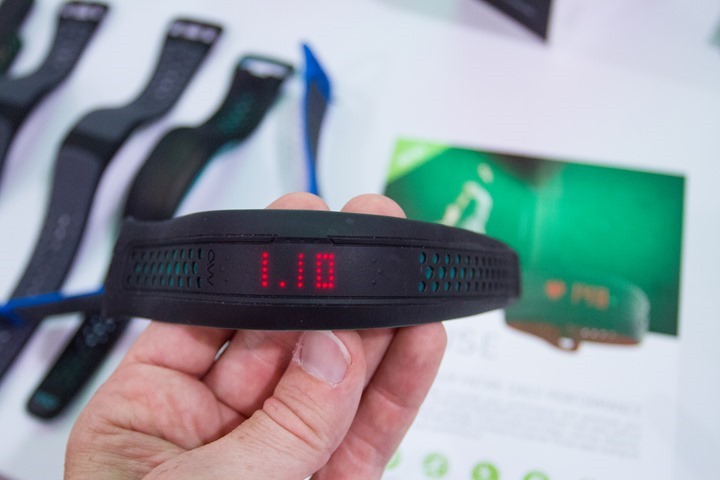 All of this data is then uploaded to your smartphone app (planned for both iOS and Android, though iOS will launch slightly ahead of Android).  The unit will store about 2 weeks of daily activity tracking data before you need to sync with your phone.
You can also configure daily goals – targeting steps, calories or distance.  This is then shown on a progress bar on the unit: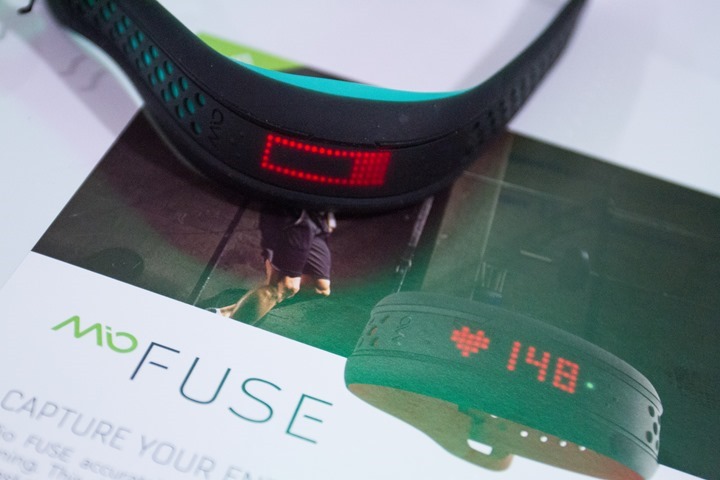 They're looking at establishing partnerships with some of the major online tracking sites in order to ensure you can get that data to your preferred site.
As for sleep tracking with the optical sensor they can go ahead and periodically enable it and start tracking resting heart rate while you're asleep – so that's something they're looking at adding via firmware update after launch.
Note that in daily activity tracking mode the unit doesn't enable the optical sensor, otherwise it would burn though battery too quickly.
Next, you've got the workout mode.  In this mode (primarily for running), it'll enable the optical sensor for heart rate tracking.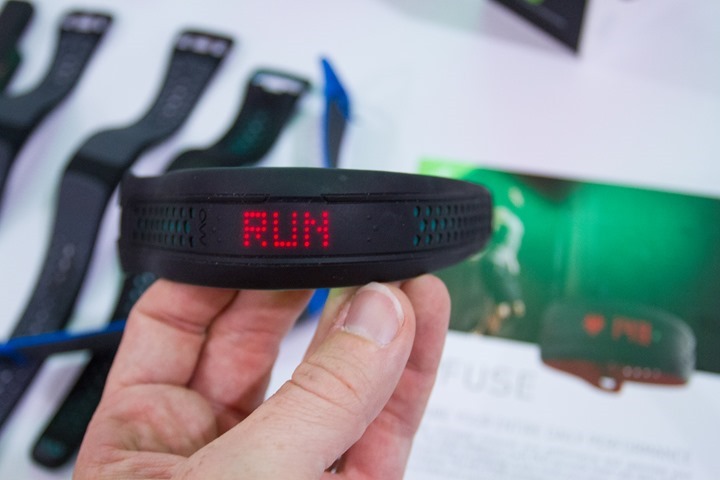 Additionally, it'll leverage the accelerometer to estimate distance and pace.  It also has a simple timer so you know how long you're working out for.  This data is then saved automatically so it can be later uploaded to the Mio App.  From there the app can upload it to 3rd party sites like MapMyFitness and Strava.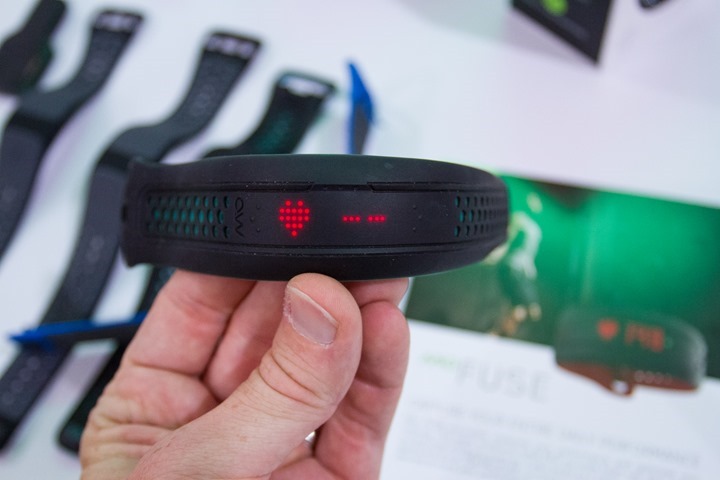 The unit will store about 30 hours of workout data before it needs to be sync'd/uploaded to the app (recorded at 1-second rate).
Note that the Mio Fuse does not contain the bridge functionality I describe next in the Mio Velo section – though Mio says they're open to adding it if there's demand for that functionality.  Personally I think that it makes for a really interesting scenario for cyclists that want an activity tracker – since it ticks off numerous major boxes while giving them flexibility on newer cycling head units and sensors.
The Mio Fuse will be available around the holidays for approximately $179 (exact price isn't 100% finalized).
Mio Velo: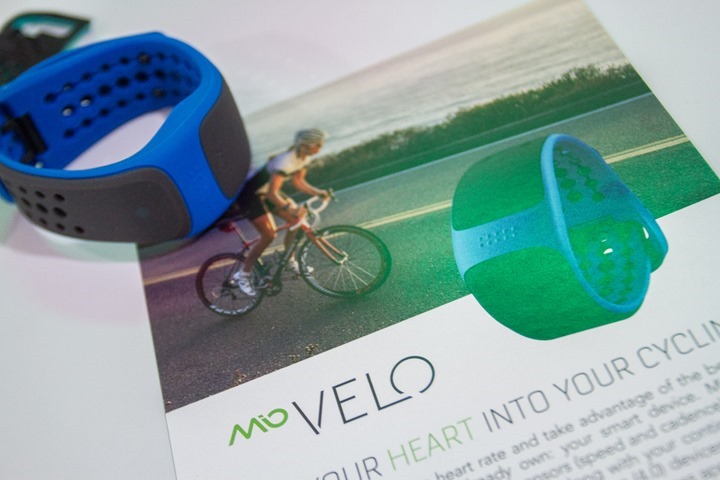 Next up we've got the Mio Velo.  This unit effectively takes a Mio Link and adds in ANT+ bridge capability.  The bridge relays existing ANT+ devices and re-transmits then over Bluetooth Smart.  This is ideal for cyclists who want to use newer Bluetooth only devices that also only support Bluetooth Smart sensors.
For example, the new Polar V800 (watch) and Polar V650 (bike computer), as well as the Suunto Ambit3.  All three of these don't accept ANT+ sensors, leaving users with existing ANT+ devices in a bit of a pickle.  By adding in a bridge however, it'll rebroadcast those over Bluetooth Smart, effectively making your ANT+ Speed & Cadence sensor now a dual ANT+/Bluetooth Smart Speed & Cadence sensor.
This is very similar to what 4iiii's did with their Viiiiva heart rate strap previously.  The core difference being that the Mio Velo is measuring optically on your wrist, whereas the Viiiiva is measuring more traditionally on your chest.  Though, due to the optical battery drain, the Mio Velo gets about 8 hours before recharging whereas the Viiiiva gets many months before requiring a new coin cell battery.
The Mio Velo will re-transmit both ANT+ speed and cadence sensor types, while concurrently also broadcasting your heart rate (measured optically on your wrist) to both ANT+ and Bluetooth Smart capable devices.  At launch they are not rebroadcasting power meter data, but are planning to add it in a firmware update shortly after release.
The unit will store/remember 4 sets of ANT+ sensors (so if you have different bikes you can pre-configure them), which are setup using a Mio app that will be available on your smartphone.  A set is comprised of speed and/or cadence sensors and then later a meter.
The Velo will be available around the holidays for a price of $129US.
—
With that, thanks for reading and as usual if there are any questions feel free to drop them below and I'll try and round-up some answers.