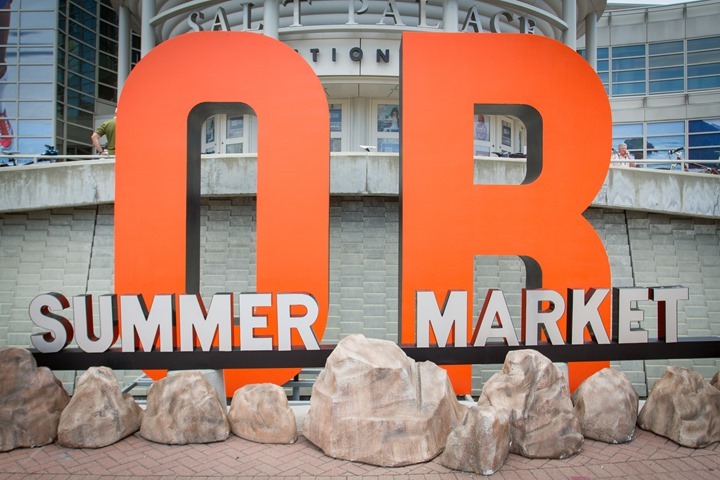 It's been a busy week at Outdoor Retailer (Summer edition), albeit slightly less frenzied for me than something like Eurobike or Interbike.  That's mostly because there's just less swim/bike/run-focus at Outdoor Retailer for me to track down, and instead far more non-tech focus (which I don't follow too much).  Things like apparel, hiking gear, and even pet supplies are all big tickets here.  Of course, as you've seen over the past few days there's been plenty of new products in the sports technology arena announced at the event that I was able to cover.
Here's a handful of things that I stumbled into that didn't quite make the cut for a full post by themselves, but were interesting or noteworthy enough to post here.  Some sports-tech, some not so much.
goTenna: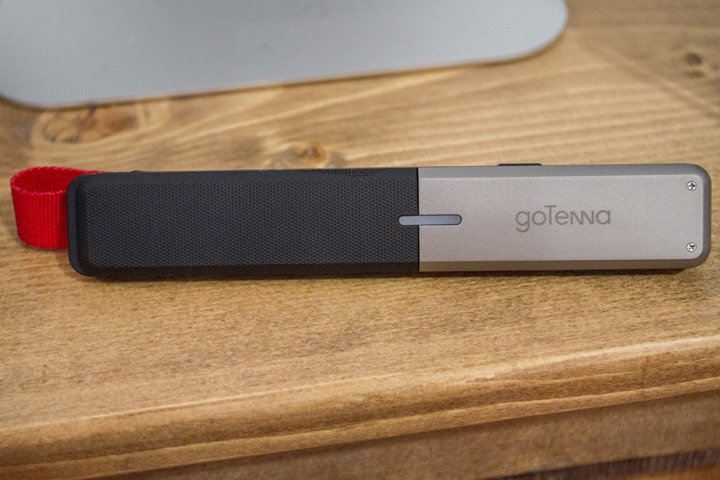 First up in the random things I stumbled into was goTenna.  This little double-pen sized unit that weighs 2oz allows smartphones to communicate with each other, even if there isn't cell phone servers.  Now unlike a device like the Spot, it doesn't use satellite, but rather instead works more like a conventional radio would (such as CB radios).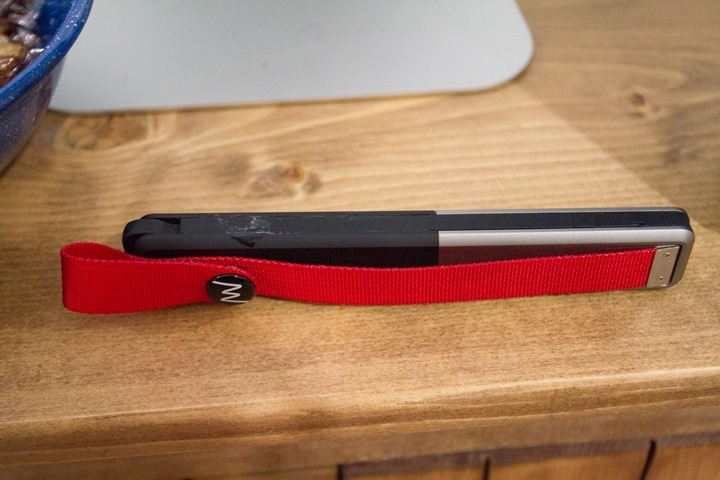 Depending on the particular topography of the area it has a range of upwards of 4-6 miles in relatively open areas, and down to about a mile or so in more mountainous areas.
To communicate you'll use an app (iOS or Android) that allows you to send either text messages or coordinates.  The messages though will queue up in the small stick, in the event your phone isn't turned on.  The stick has a 3-day battery life, but can be charged via micro-USB.  Like most things, it'd be easy enough to charge via a simple solar charger if in the wilderness.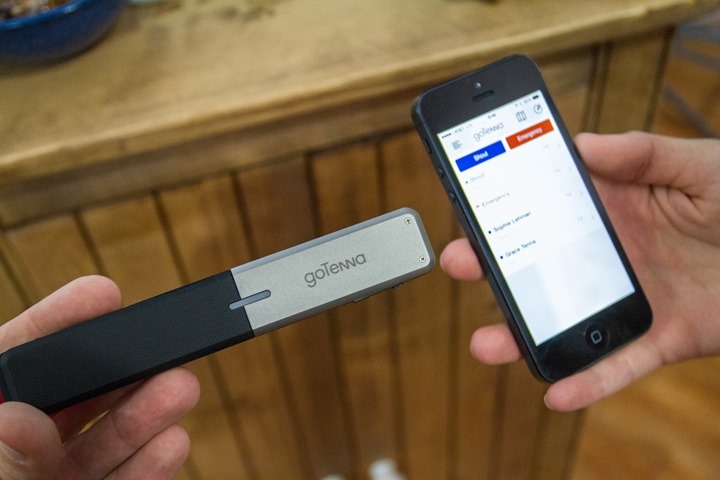 The unit can send direct encrypted messages as seen above between defined contacts (individual or group), or it can send 'shout' broadcasts to anyone in range.
In addition to chatting you can also send your location using the app – which can then be overlaid on cached maps of the area you're hiking in.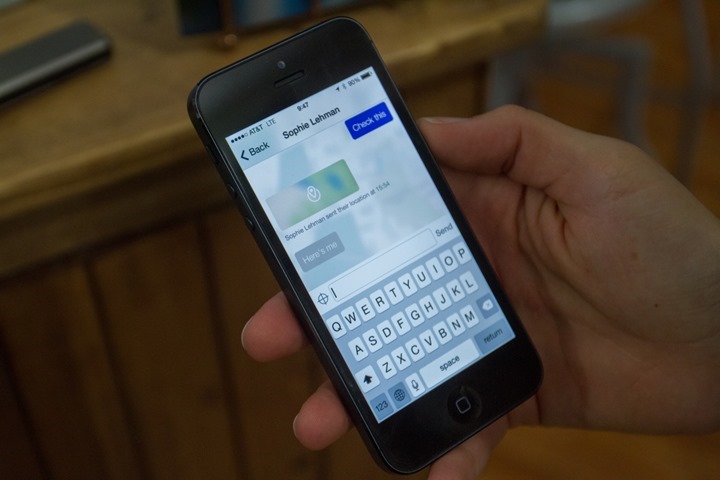 You can see below the unit is in airplane mode and pulling up the cached maps: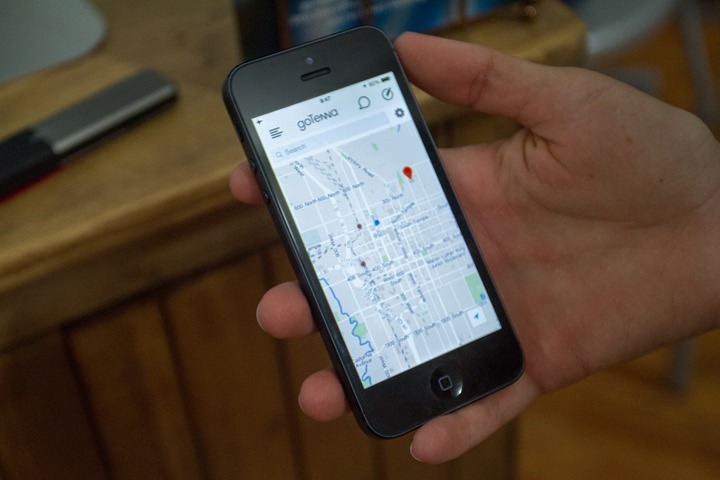 Now the models I was shown appeared more like 3D printed units than actual functional hardware, but the company says they'll be delivering products later this year at a price of $149US for two units (obviously having one unit is kinda useless).  The use case here is pretty simple in that it's ideal if you're hiking in wilderness areas without cell coverage and want to be able to communicate between parties.  I could see this also being used in some of the adventure races where you might have a team – in case members get separated.
iFit Active activity monitor: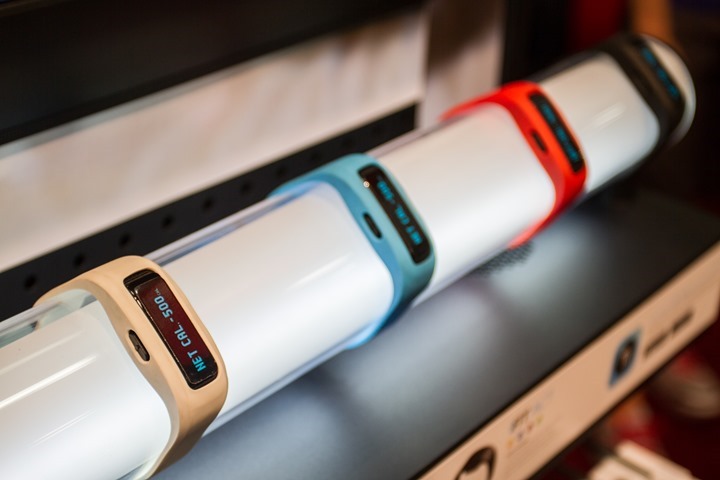 Next up is the iFit Active ($129US, available now), which is an activity monitor from iFit, whose parent company is ICON, who makes those fancy ProForm treadmills.
The iFit Active is pretty similar to most other units in that it tracks calories, sleep, steps and distance.  The associated app also tracks calorie consumption (manual input).
The actual band/pod design looks virtually identical to that of the Garmin Vivofit once removed.  Though unlike the Vivofit it includes a vibration motor.  Further, the screen is used to display alerts and messages from the iFit app – which are generally geared to update you on status of not only your day – but also contacts within the iFit platform.  For example, if The Girl was wearing a unit and was ahead of me in steps that day – it could let me know.  This is a cool concept that takes the social sharing aspect and elevates it directly to the wrist.
The unit has a 7-day battery life during which you'll sync with your phone for upload of data (iOS or Android).  From there it'll tie into the iFit.com platform, which also contains your data from compatible treadmills and/or gym equipment if you've uploaded from one of those units.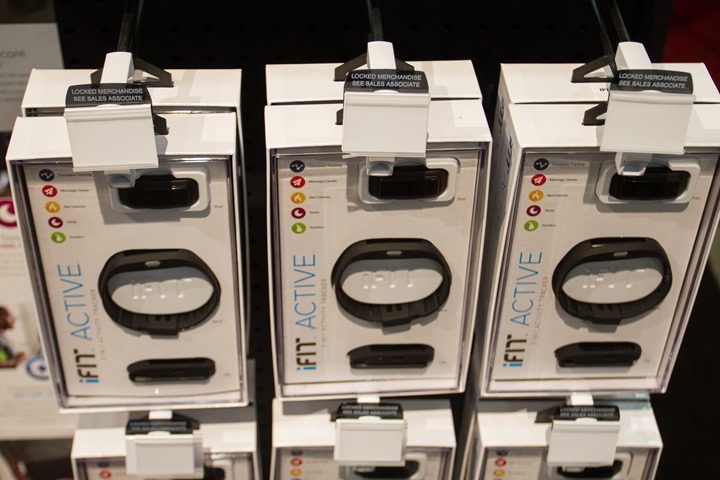 The company does not have any partnerships today with any other platforms for data, so your data is basically on a little island.  As we've seen with other companies that have activity trackers – this doesn't really pan out long term.  Users want to use apps like MyFitnessPal and other major platforms to store and track their data.
I do wonder whether or not the lack of partnership is in any way tied to the fact that parent company ICON has pretty much sued (or rather, tried to) about half the sports technology companies at one point or another.  Having talked with many companies that have been on the receiving end of ICON's legal ambitions, I could see how they'd be extremely hesitant to do business with ICON.  Plus, it's a small world in the sports technology business.  Most people move around between the companies with surprising frequency.
On a related note, despite my relative dislike for such practices, I've actually been trying to buy one of their treadmills (no, not the crazy overpriced Boston Marathon one).  The challenge is that the ProForm treadmills that are available in Europe are about a decade behind those in the US.  They lack many of the more advanced features and screens that the US models have.  Out of curiosity I asked about that – but they dodged the question a bit and never really gave a useful answer.
Finally, I had heard through the grapevine from a few people that Altra (who shared a booth, both owned by ICON), was in the process of launching some technology for their shoes which tracked a bunch of metrics at the shoe level.  It was described to me as somewhat similar to Scribe Labs and their system.
Unfortunately, they didn't want to talk about it, and instead said they'll be launching it at the Running Event in Austin, TX in December.  Hopefully said project does not follow ICON's data-islanding practices though, as that'd be a deal killer.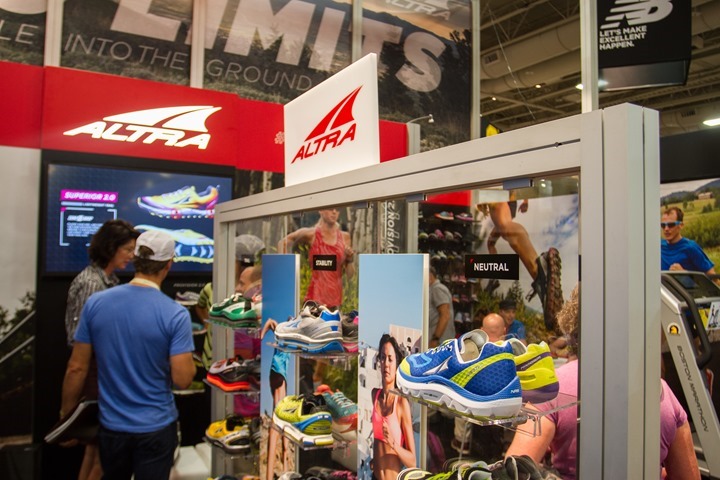 Asics Treadmill Running Contest:
At shows like Interbike there are numerous contests going on in booths, usually for prizes that the company itself makes.  For example a free Garmin or similar.
However, Asics takes the cake for the best contest and associated prize I've seen at a show.  Outside in the Pavillion area they had a flatbed truck setup with a large treadmill on it.  Said treadmill went one of two speeds depending on if you were male or female.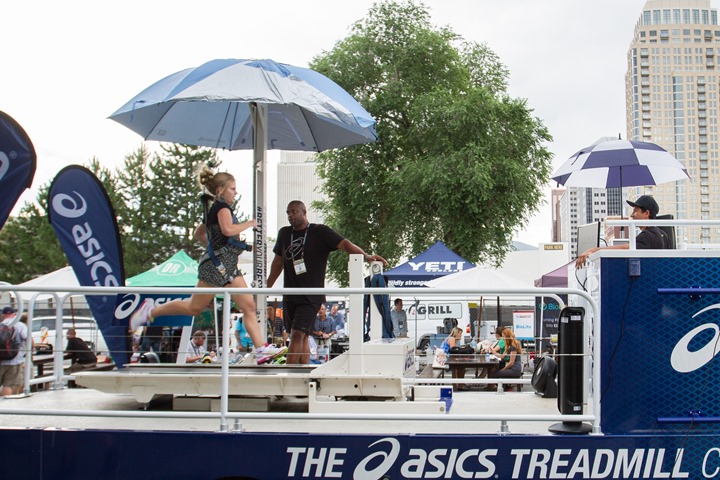 For men it went 12.6MPH, or 4:46/mile (2:58/KM).  This pace correlates to Ryan Hall's US Marathon Record time.  For women it cruised at 11.3MPH, or 5:18/mile (3:17/KM), which correlated to Deena Kastor's US marathon Record time.
Oh, and don't forget the elevation of Salt Lake City is an aerobic starving 4,226ft (1,288m). Yup, fun times ahead.
The premise was simple: The person who stayed on the longest won a free trip to Paris to run in the Paris Marathon next spring.  No annoying 'wait till the end of the season' type clauses or the sort.  Just straight up longest time during the show won.
I checked in on occasion throughout the show as I walked back and forth past it between the Pavilions and the main convention area.  I actually managed to almost always walk past as someone was upping the record.  For example, the women above was at 3 minutes and 43 seconds – a record at the time…yes, despite running in the onesie.
And the guy below topped it out a bit beyond 5 minutes.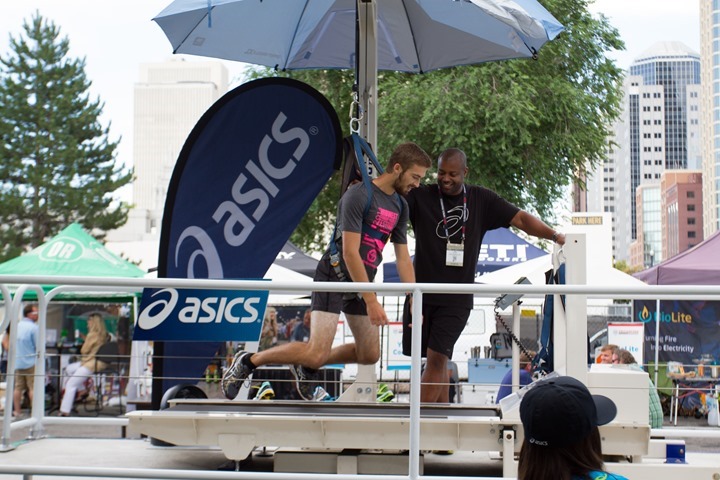 It  was just as I had finished up a meeting on Thursday afternoon that I walked past as the below individual (named BJ) had just cruised through about the 7 minute marker, looking pretty darn effortless.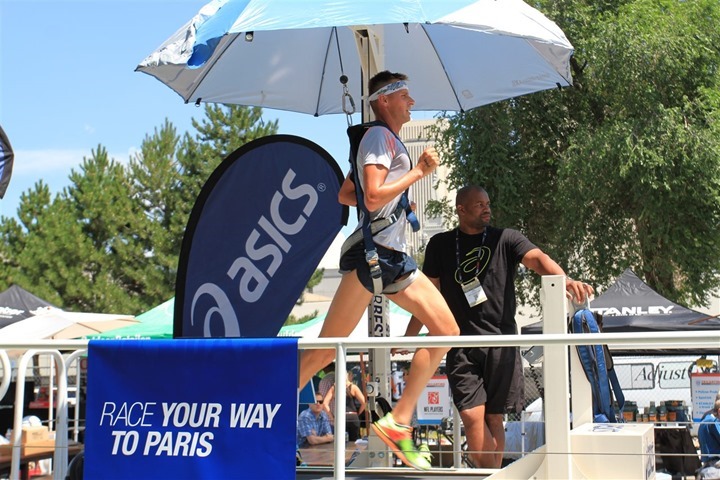 It was clear he was out for a free trip to Paris, and meant business.  So I stayed to watch, curious how long he'd go.
I know of course that all it would take to win this contest is a collegiate or post-collegiate 5K or 10K runner coming by.  One had to have a show badge, but realistically that wasn't terribly hard – especially if you were a sponsored runner by any one of the running companies (all of which were there).
He easily cruised into the teens and past the earlier record of 10 minutes.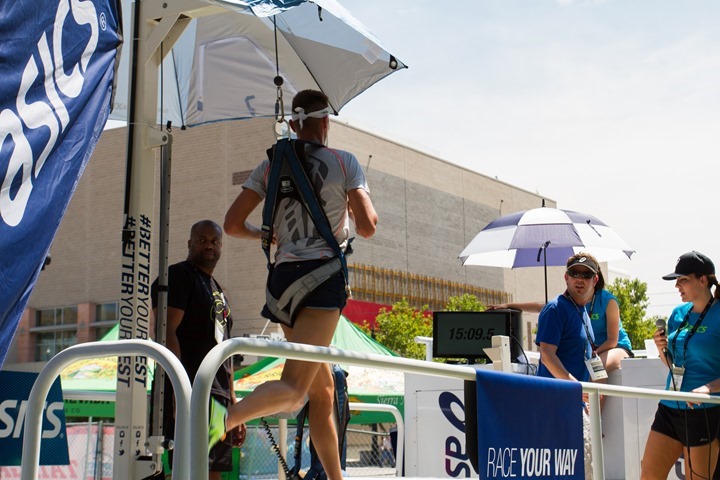 At this point it was just a case of how high a watermark he'd set.  The show technically goes through Saturday, so that left at this point a fair bit of opportunity open for a higher time.
I asked one of the Asics PR reps the longest they've ever seen – and was told it was nowhere near 10 minutes.  He guessed this was because previously at shows they'd just give out a pair of shoes or the like, which wasn't really enough to motivate someone to completely throw-down for a sustained period of time.
But a free trip to Paris?  Yup, definitely (well, for everyone but me I suppose).
It's too bad that most of the crowds walking by didn't quite realize what was going on as BJ just kept on cruising.  Here's a video of him around the 18-minute marker:
Ultimately, he ran all the way to 25 minutes and a few seconds.  It seemed based on this running form that he had a preset time in mind and ended things then.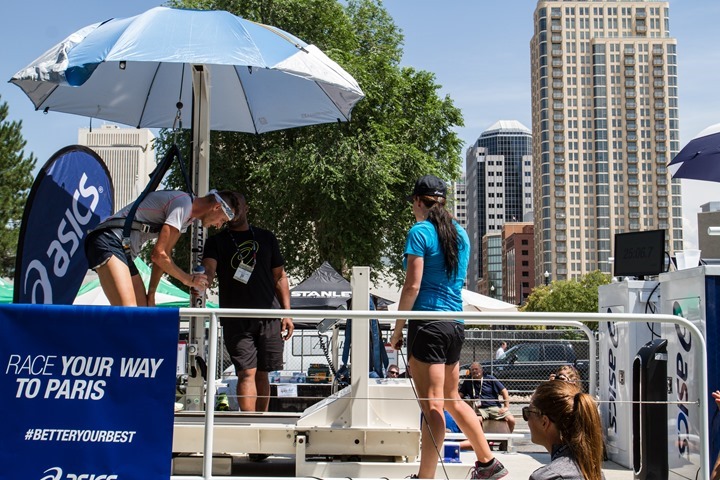 He celebrated by jumping up on top of the truck.  Of course, whether or not he'd win a trip to Paris would have been dependent on whether or not another runner toppled his record by the end of Saturday.  Hopefully a reader can find out and drop a note below (since I flew back Friday afternoon).  A search on Twitter using above hash tag doesn't seem to find anything.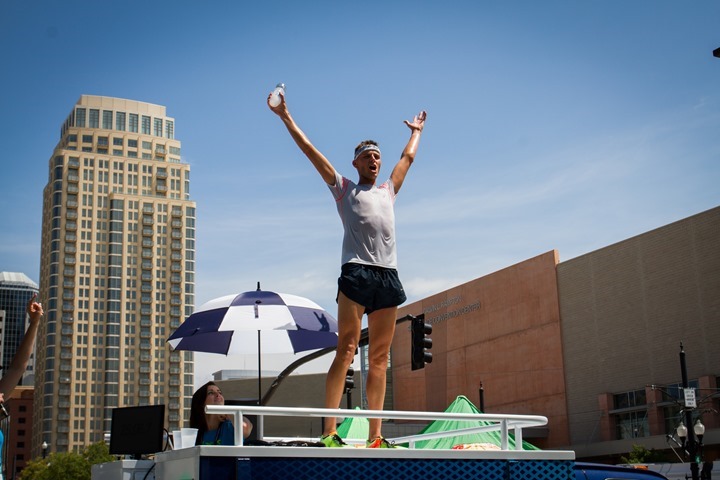 Random Photos From Around The Show:
Of course, being an outdoor focused show, the vast majority of it has nothing to do with technology.  For example, stand up paddle boarding, which has become incredibly popular in recent years.  They had setup a giant pool in the parking lot, which was used for demonstrations non-stop.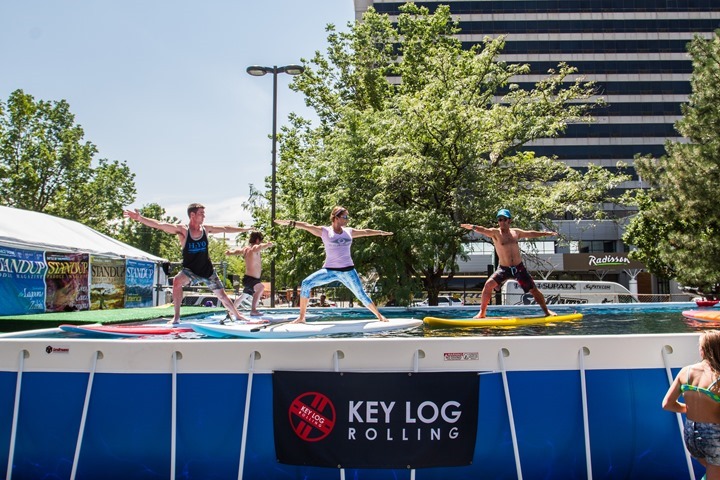 Even in the occasional rain storms there was someone out there – in this case, doing Yoga on the board.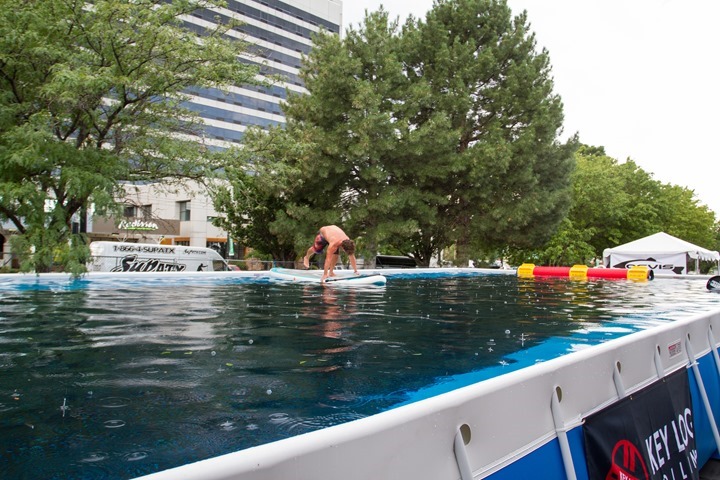 Thankfully it was mostly sunny.  Though, when it did rain it went whole hog coming down.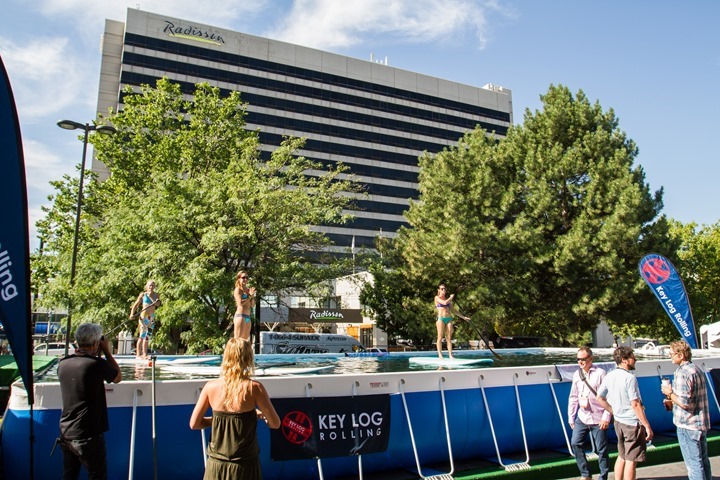 In addition to the swimming pool there was also a very shallow (like, a couple inches deep) pool for casting.  Though, for the most part there was very little fishing (or even hunting) focus at the show.  Really just a handful of booths outside in the Pavilion area.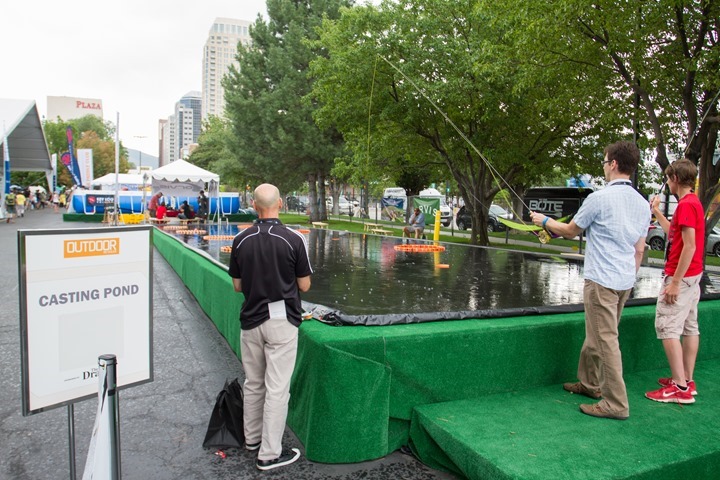 There was also a giant tent city, where you could wander through and check out hundreds of tents setup outside on the grass.  Given this area seemed deserted every time I went by (as in less than one person around), I seriously contemplated an afternoon nap inside a random tent.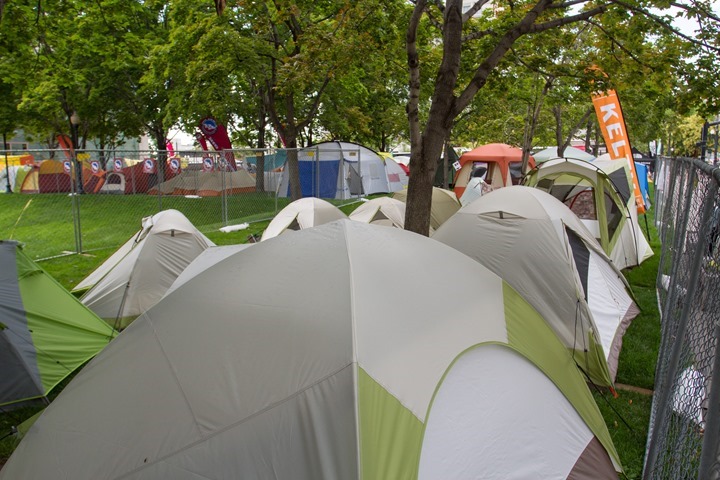 Once you picked out your tent, you went inside to go negotiate your price.  By 'inside, I mean inside the tent inside the giant pavilion tents.  Like tents-squared.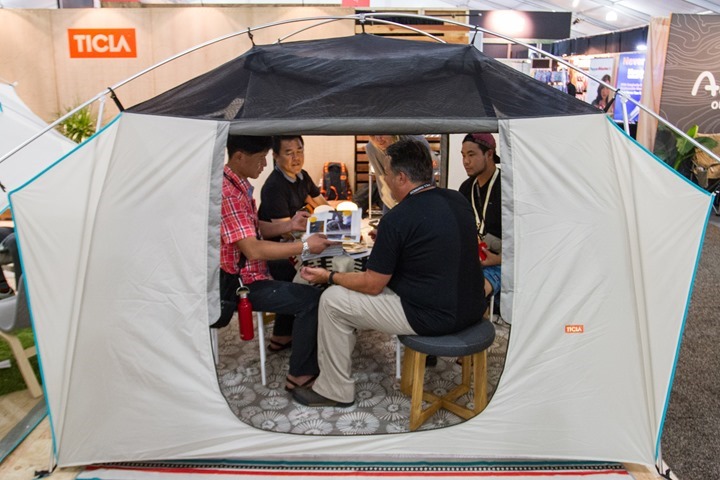 Alternatively, you could just waste the time away watching the world go by.  The show had just opened about 2 minutes prior this morning, and these four were clearly in no hurry to go anywhere – coffees in hand and lounging.  In general, this show is far more relaxed than Eurobike or Interbike.  The companies in general are smaller and less corporate, and there's simply far less money on the line.  Further, the crowd tends to be a bit more grounded.  Sorta more 'island time' kind of mentality.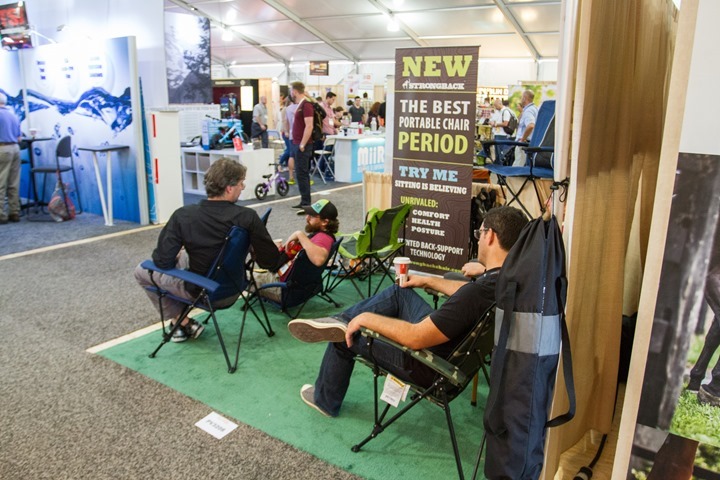 Of course, there are no doubt major brands like Columbia and the likes, with massive and sprawling booths.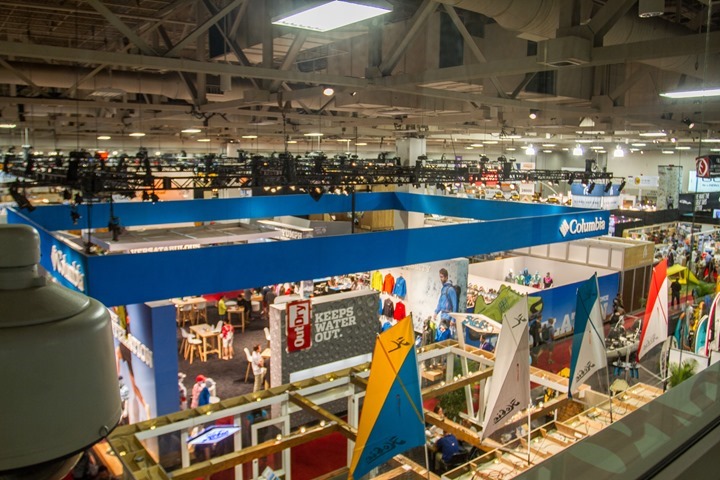 Some even rising entire buildings inside the show floor.  But in general, there's only a handful of these monster structures.  It's not like CES where this booth wouldn't even count as a low income housing.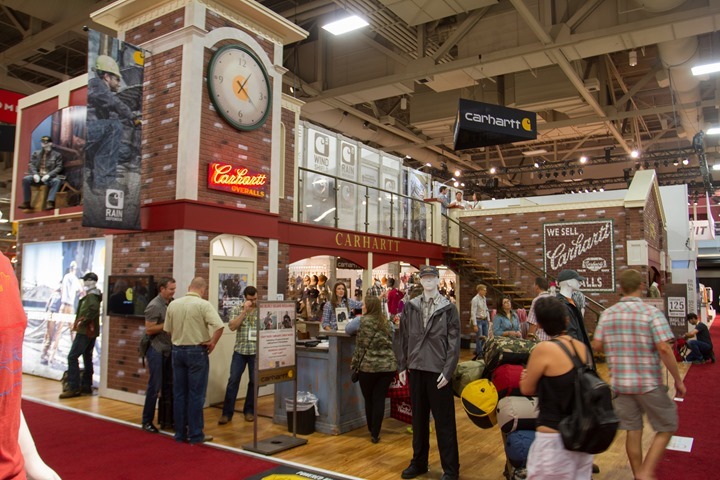 Like any show, the crowds ebbed and flowed.  Less busy at lunch hours – thankfully because the food selections on and around the convention center grounds were vastly superior to those found at other shows.  Lots of food trucks were onsite.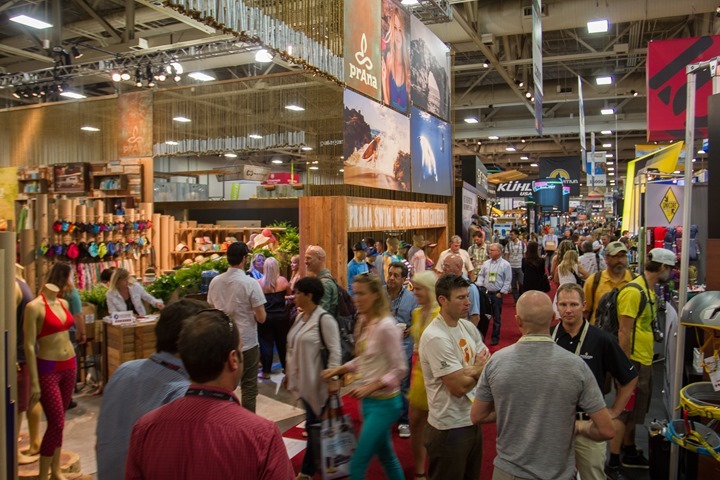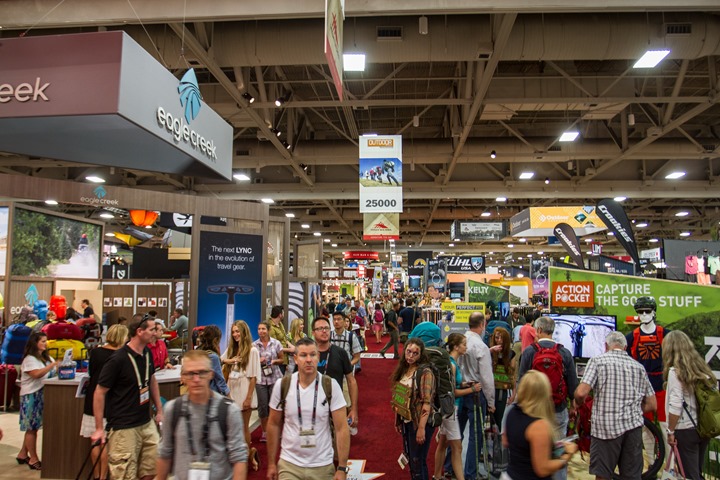 Alternatively, you could almost feast off of samples if you played your cards right.  There were tons of hiking food places, from bagged burritos to trail mix.  Some of that was food vendors, and some of it was vendors selling things that helped you prepare food in the (semi)-wilderness.  For example, this dedicated pizza grill: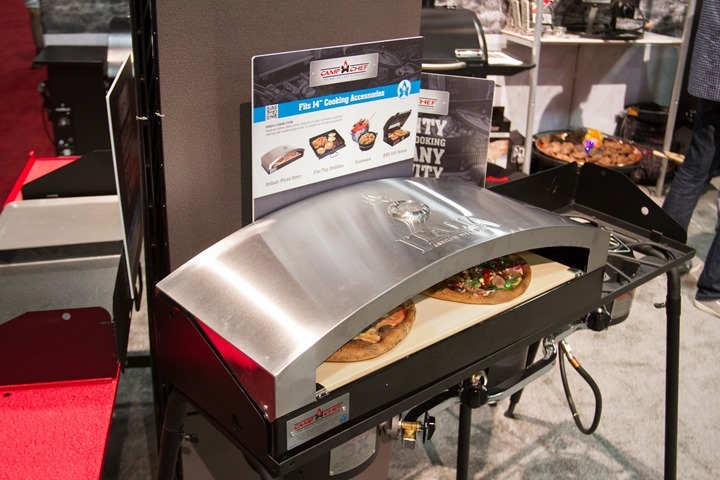 Alternatively there was this Kickstarter initiated project – GoSun, which is a tube that uses the sun to cook things at around 500°F.  Pretty crazy.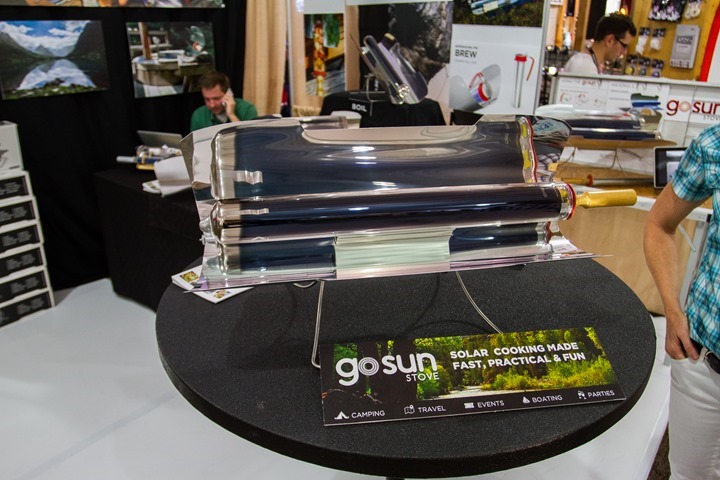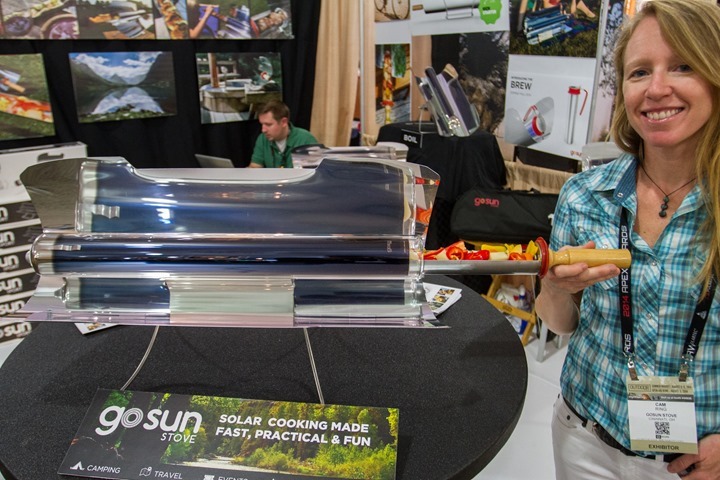 Unlike CES and their booth babes, if you wanted to get someone's attention in this crowd you turned towards more environmentally focused icons.  Like this hawk that was a mainstay at one booth many times I passed by: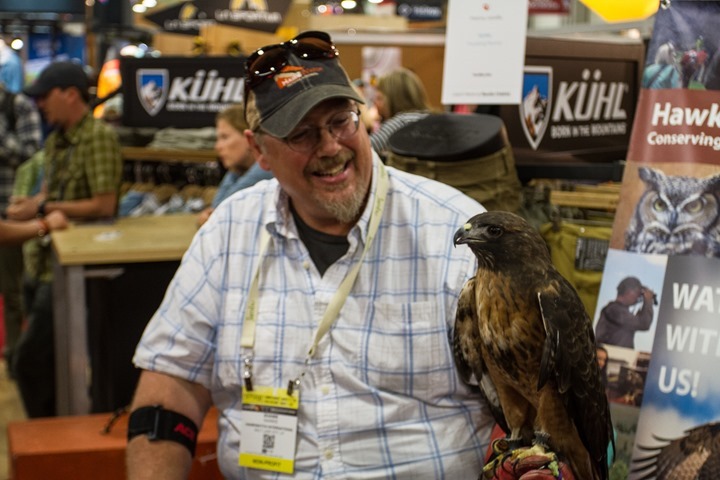 Though, on the whole there were very few booth distractions.  Err…wait, there was this thing: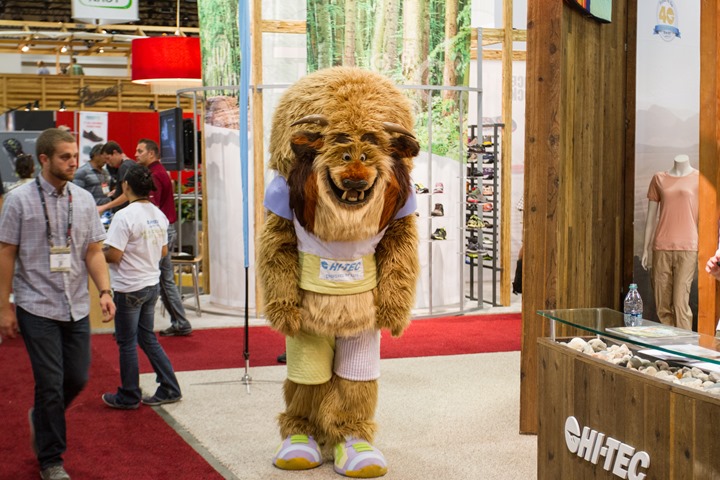 Which, seems like a perfectly appropriate place to wrap-up my Outdoor Retailer coverage for this year.  You can swing back and check out all my Outdoor Retailer posts here, or, just the list of them below:
Hands-on with Epson's new Pulsesense optical heart rate activity trackers
Hands-on with new Timex One GPS+, a 3G connected watch requiring no phone
Hands-on with Timex's new Move x20, Run x20 GPS, and Run x50+ fitness units
First look at the new Magellan Echo Fit
Knog releases new Qudos dual GoPro and bike light system
Mio shows off new Mio Velo and Mio Fuse optical heart rate units
Thanks for reading!