While no doubt everyone associates Epson with printers, the company was at Outdoor Retailer and there was clearly no printer in sight.  Instead the team of very fit looking engineers was demonstrating the first two fitness devices they're bringing to market, the Pulsense PS-100 and PS-500.  Both of these units contain Epson's in-house developed optical sensor for measuring heart rate via your wrist.  And aside from a screen, both units are basically identical functionality-wise.
I was lucky enough to get to take the units back to the hotel for the night and spend about 15 quality hours with them, including a test run.  Here's a first look at how they work and the functionality they bring to the marketplace.
PS-500 Activity Monitor with Optical HR Sensor: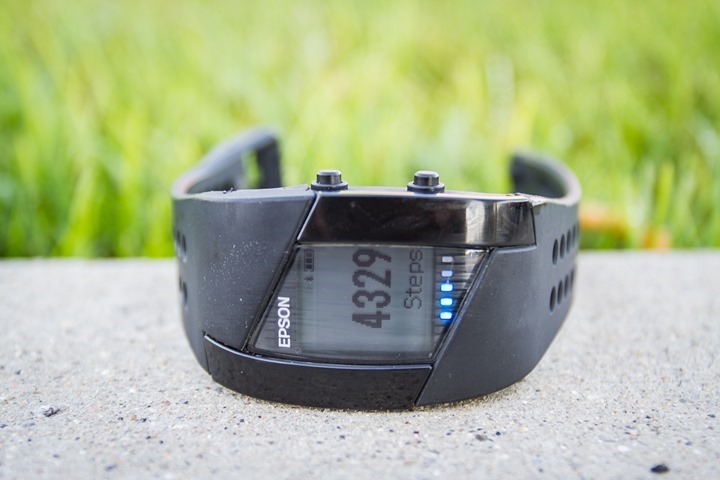 First up is Epson's display-capable unit, the PS-500.  This unit (seen above) includes a small screen that shows your activity over the course of the day, as well as a bunch of metrics during a workout as part of a separate mode.
During the day you'll be able to track data like most other activity trackers, including steps, sleep, distance, calories as well as time of day.  All this information is available directly on the device itself, but is further sync'd to their app.
Of course, the most differentiating aspect of the PS-500 (and PS-100) is the inclusion of the optical heart rate sensor on the back of the unit.  Very few activity trackers have this these days.  The first was Basis and their B1, and the second is the Mio Fuse that was announced last week.  I personally don't really count the Samsung variants, since they don't really work.
The optical sensor in the Epson is a tiny bit different than those other company's optical sensors.  First, it's built by Epson (not licensed from anyone).  And second, it has a much longer battery life at 40hrs of optical-on (albeit transmitting every 5-seconds).  The Epson engineers explained they're able to get a much longer battery life than most other sensors on the market due to the company's manufacturing and chipset experience learned in other areas (read: printers).  Meaning that because they own the entire chain from design to manufacture they have more flexibility to design to their specs.  Of course, there's also the reality that when you're a larger company you can afford to make bigger technology bets than smaller companies.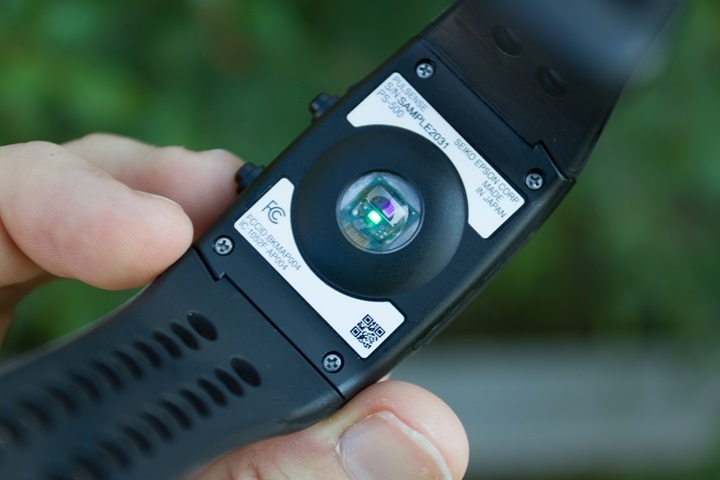 During my time with the unit I went out for a 5K run (3-miles).  The unit was easy to start in terms of beginning an activity.  My heart rate showed up in just a few seconds on the screen.  Below the heart rate you'll see five little squares, these are my zones.  In this photo, I'm below any of the specified zones so they aren't filled up yet.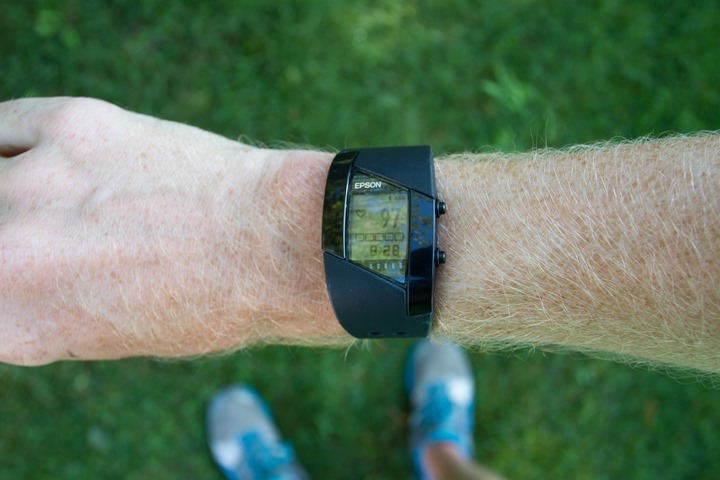 Once I was running it showed me my heart rate as well as distance and time.  Most interesting though was actually the LED lights on the front.  Given I was running without any shade in some rather bright sun I was very impressed with how bright the LED's were.  Some units these days offer more faint lights – but this was an all-out spotlight.
Below you can see my heart rate (mid-run) at 149bpm, and the LED lights below that.  Sorry it's a bit fuzzy, I neglected to remember to charge the camera battery I was running with – so only got about 3 shots before it ran out of juice.  And this is one of those award winning shots.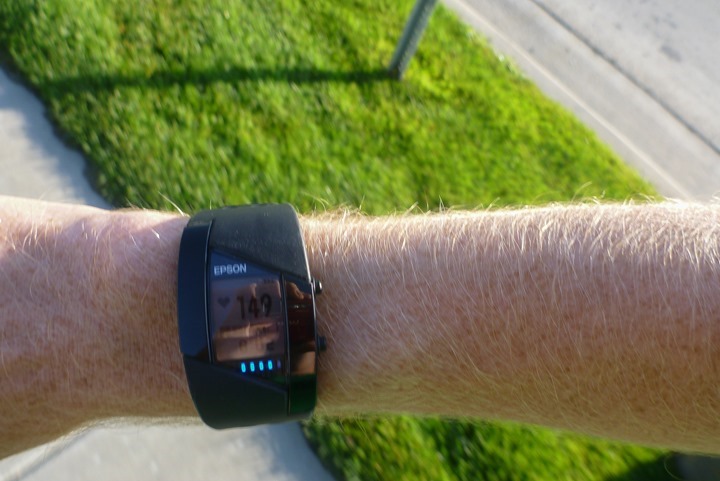 Interestingly, Epson told me the next day that they found in testing some people didn't quite like the super-bright lights in certain work settings (yoga), so they offer the option to simply turn them on-demand briefly via a quick tap (which was how the PS-100 was configured for me).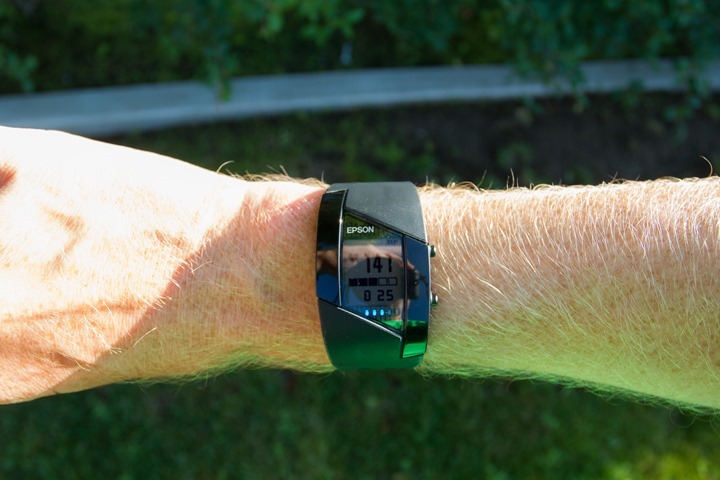 Like most activity trackers these days I found the distance accuracy while running so-so.  On my 3.15 mile journey (measured by multiple GPS devices), it clocked 2.4 miles.  Again, this is what I see for most other devices in this market as well.
In addition to showing the steps/distance/heart rate, they also show time in zone – for each of the zones you've established.  This is shown live on the display.
In the below case you see a super-low zone (because I'm just standing there taking a photo at 66BPM), but it's showing I've spent 2 minutes in that zone.  It'll change to show me the correct zone info depending on which zone I'm in.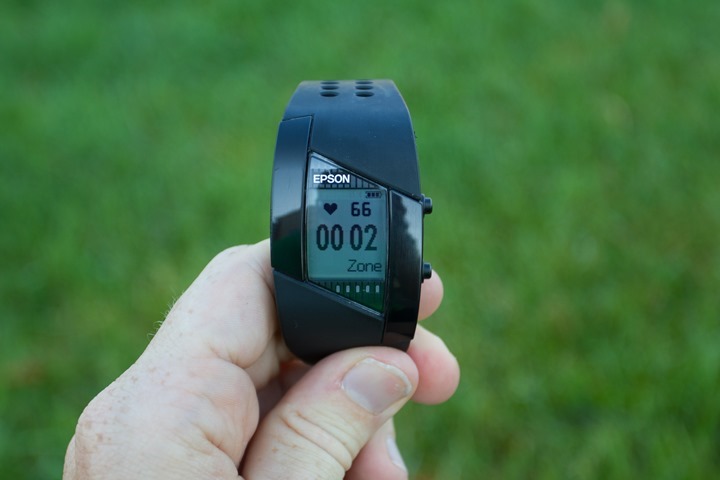 Now unlike other activity trackers the unit actually will have an SDK (Software Development Kit) to interface directly to it from apps.  This is in addition to a website API (Application Programming Interface) to access data within the Epson cloud platform.  This is great for consumers as it could potentially ensure there aren't data islanding issues (when a company basically holds your data hostage).
The PS-500 is planned to be available on October 1st, for $199US and will be sold both on Epson.com as well as various sport-specific retailers (i.e. running shops and sporting goods stores).  Apps will be available for both Android and iOS.  Note that in non-heart rate enabled mode the unit will get 5 days of battery life (with the optical sensor on, it's 40 hours).
PS-100 Optical HR Sensor Band: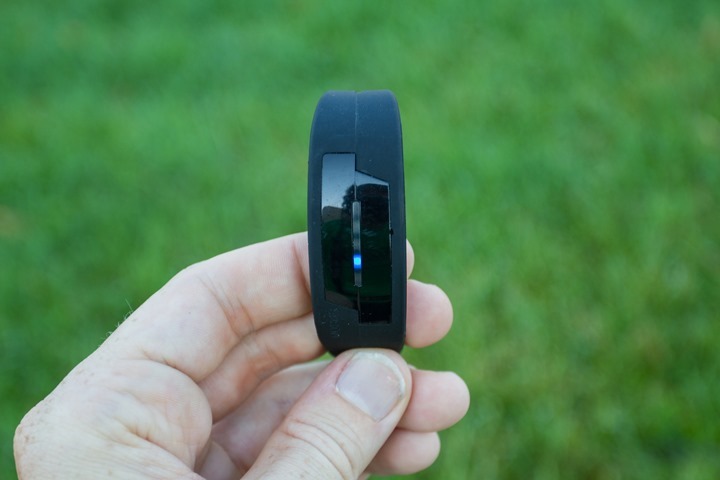 Next up we've got the PS-100, which is under the covers identical to that of its bigger brother the PS-500.  The core difference though as you can see is the lack of display.  Otherwise, it'll track all the same metrics in terms of activity and workouts.
In order to start a workout you just tap it a specific number of times, which enables that mode (same for stopping the workout mode).  Once in this workout mode it'll then turn on the optical heart rate sensor on the back of the unit: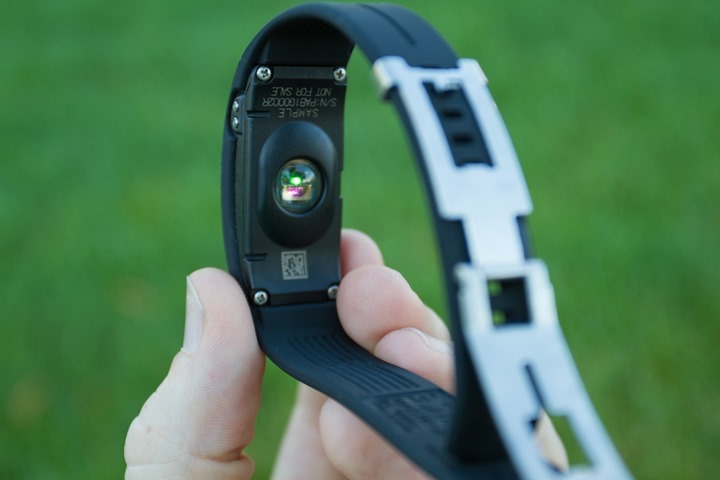 During an activity, you can use the light bar on the front to view your heart rate zone status.  Assuming you've pre-configured this prior to the run/bike/gym workout you'll then get a simple band indicating your heart rate relative to zone.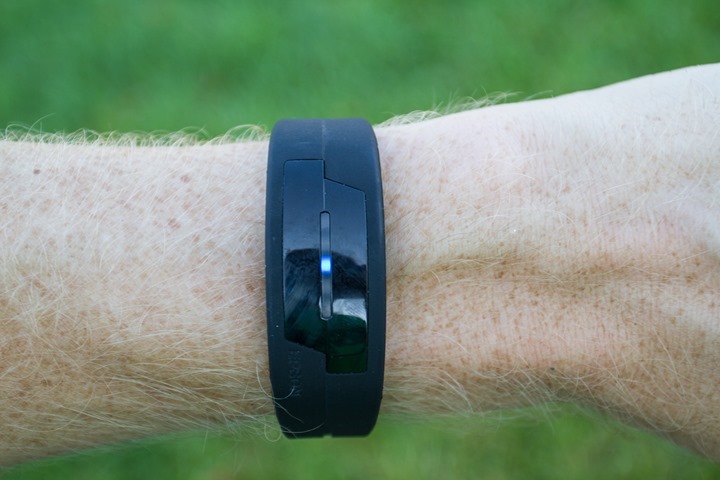 Additionally, behind the scenes the band is also tracking your distance and pace during the workout which are uploaded to the app afterwards.
During my run with the unit I found the placement on the zone correlated quite well to my rough perceived effort.  I didn't have a way to double-check the exact values for this unit afterwards on a chart, so I won't be able to say for certain.  But what I find with most other optical devices is that when it's off, it's rarely off by just a few BPM (beats per minute), rather, off by vast amounts (i.e. 60BPM).  This is because when most units have issues it's either picking up the run cadence (noise) or has just lost track entirely.  So given I never saw it that far out of whack with respect to the light bar, I think that's a good sign.
Now – what's cool here is that both the PS-100 and the PS-500 models allow for re-broadcasting of your heart rate.  This means that you can connect to it via Bluetooth Smart from any capable BLE device – such as your phone.  Here's me pairing it with the standard Wahoo Fitness app: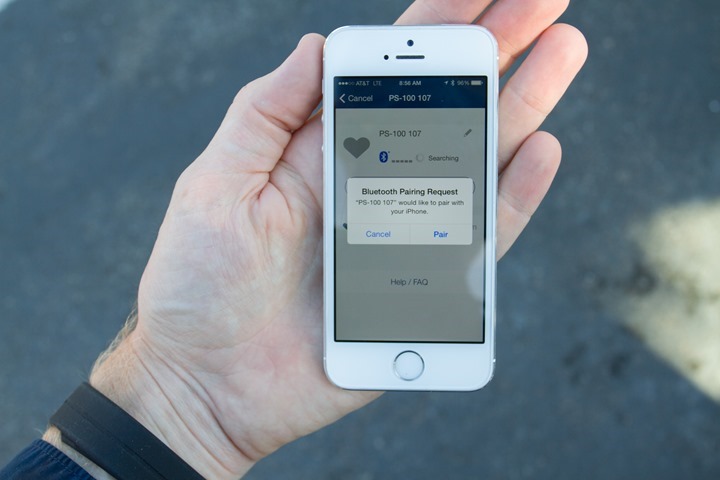 And now you can see the heart rate displayed within the app (72bpm, in the middle of the page).  Pretty cool.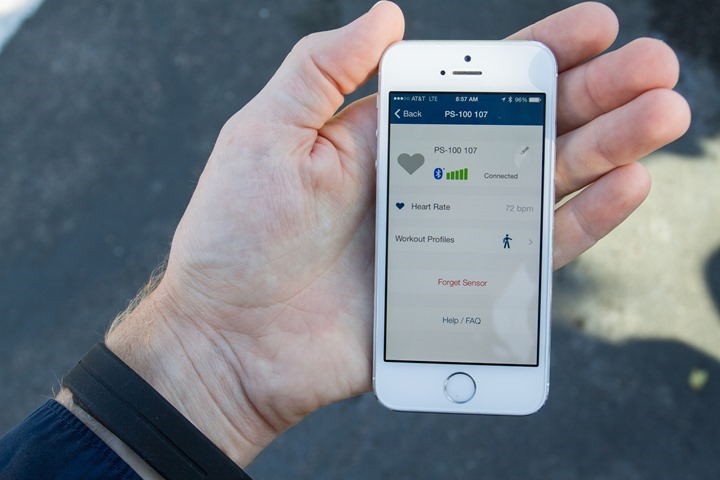 This is perfect for those cyclists that want an activity tracker but also want to be able to track heart rate with a different device.  Of course, cycling head units with Bluetooth Smart support are only just beginning to hit the market – but this definitely gives you some options.
The PS-100 is scheduled to be available on October 1st (just like the PS-500), with a price of $129US.  It uses the same apps for iOS and Android, and will be available in the same sports-focused places.  It has similar battery performance of 40 hours with optical on, and 5 days of regular activity tracking.  And, like the PS-500 it also has an API & SDK for accessing its data/device for developers.
Note that both units can store 480 hours of activity data before needing to sync.
—
Overall, I'm really interested to see what accuracy on both these units looks like longer term (in testing).  Still, given they were willing to part with them for the night and let me do anything I wanted is a good sign.
Now while I like the technology behind both units and the amount of stuff they've packed in there, I'm not quite as jazzed about the look of them.  They just aren't as sleek looking at other units on the market.  But, it's what's on the inside that counts.  That's what they say, right?
For me personally, I actually think the smaller of the two is more interesting since it rebroadcasts your heart rate in a smaller package while also being a daily activity monitor.  Of course, that also makes it pretty similar in functionality to the new Mio Fuse units.
As one can see – it's definitely a busy time in the optical sensor world.
Thanks for reading!