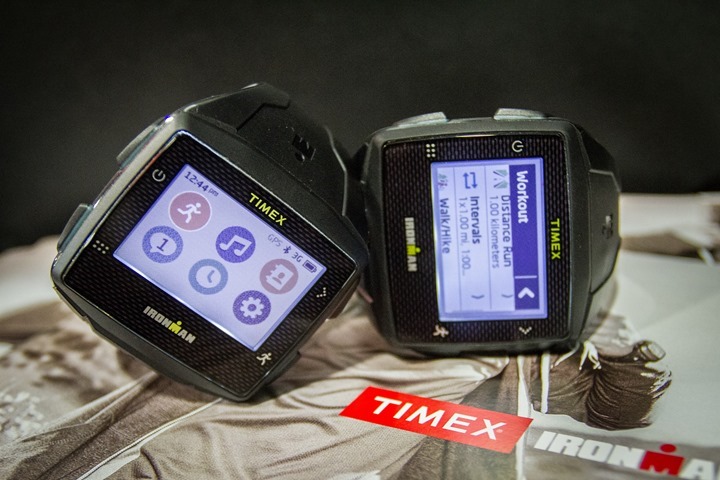 Today at Outdoor Retailer Timex has announced a slew of new products into the fitness and outdoor market.  The four new products range from $99 to $399, and cover everything from basic GPS functionality to a high-end integrated live tracking running watch with music capabilities.
For this post I'm going to focus on the Timex One GPS+ unit, which is their new flagship GPS running watch.  Later today I'll circle back with more detail on the other three fitness devices (updated: available here), which include an activity tracker, a basic GPS running watch, and a smartphone connected running watch complete with push notifications.
I've had good hands-on time with all four of them, so let's start for now by diving into the Timex One GPS+.
Overview of key features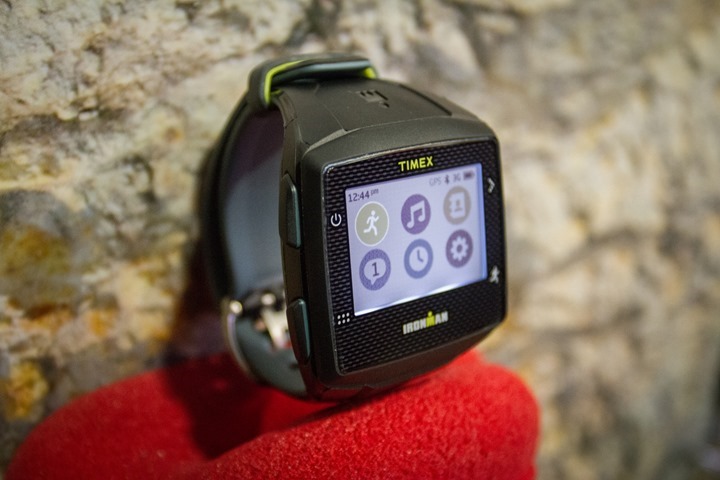 Without question this is Timex's most advanced running watch to date.  It breaks through new areas not offered on any previous GPS running watch – Timex or otherwise.  At a glance, here's the significant new features:
– Embedded 3G chipset in the watch itself
– Live Tracking via 3G (no phone required)
– SOS Mode (safety alerts, no phone required)
– 4GB of Music storage space
– Instant messaging application (no phone required)
– Bluetooth Smart sensor support
– Touch screen
As you can see, there's a huge emphasis on the connected side.  But more than just connectivity – connectivity straight to the internet, without the need for a phone on your person.
To enable this Timex has partnered with AT&T and Qualcomm, where AT&T has lit up much of the connectivity based scenarios.  This is somewhat unique in the sports tech world as most sports tech companies tend to 'go it alone' when it comes to product development, rarely (actually, never) interfacing with telecom partners in a true partnership.  Proof of that was evident as the head of AT&T's mobility division was actually in the booth when I visited.
3G Connectivity – Livetracking & Safety Alerts:
On the unit itself you can see the continual 3G connectivity icon displayed at the top – just like your cell phone.  Though, just like your cell phone you can also put it into airplane mode should situation warrant.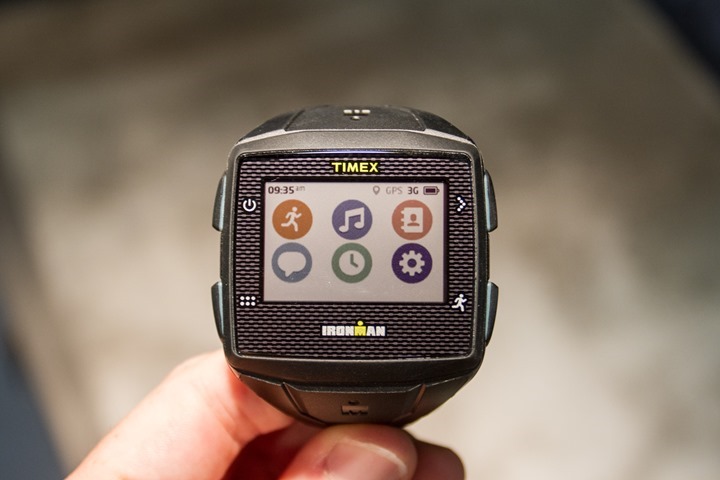 Despite the AT&T partnership the unit will work overseas just fine, via service provider roaming partnerships.  Such roaming costs the consumer no additional money, as it's all handled behind the scenes by AT&T.  For the first year the connected services will be free – though after that there will be some form of monthly charge via the telecom company.  The exact pricing isn't determined quite yet, but will fall in line with adding a second device to an AT&T plan.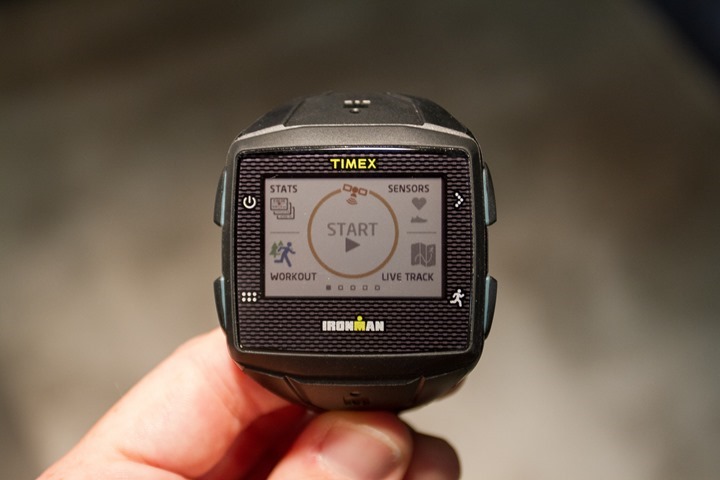 Note that initially the unit will only be offered for sale within the US & Canada.  Or, more specifically, only to those with a US/Canadian address for purchase.  Timex is working to quickly make it available internationally though that does require more hurdles from a regulatory standpoint due to the 3G connectivity.
The core features that are enabled via the 3G connectivity are live tracking and SOS alerts.  Live tracking works by you first defining contacts to share your position with.  These are configured within the Timex phone app (iOS/Android), which serves to configure the majority of the settings on the device.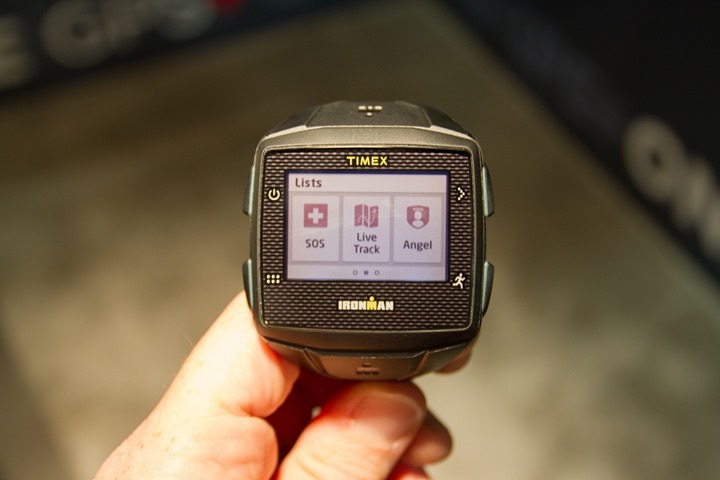 Once you've started a session your predefined contacts will automatically receive tracking information and a map where they can watch your positioning.  This live tracking will also include sensor data from a Bluetooth Smart heart rate strap if being worn.  The update rate online is every 60-seconds, though it'll backfill all the data over the past 60-seconds to the online site.
In addition to live tracking the unit also can send out SOS alerts.  These alerts can be triggered in the event of some sort of issue.  For example if you run off the edge of a cliff while trail running, or simply can't find an ice cream stand – both critical issues warranting immediate phone a friend support.
The SOS alerts can be customized ahead of time as well, so you could have defaults such as "Fell off cliff, bring rope or helicopter!" to "Bring me ice cream, stat!", and then sent to your contacts along with your location information.  This information is relayed via both a smartphone app that the contacts (aka 'Angels') can install which pops up a smartphone notification, alternatively they can be concurrently sent just via e-mail.  While it doesn't send text messages, almost all mobile providers offer the option to have an e-mail address that sends you a text message – so it's easy to configure that too by yourself.
The SOS functionality is similar to what Bia Sports has done with their unit, though just taking it to a new level with more customization and more flexibility.
Building on the connectivity scenario the unit supports the ability to receive e-mails through a specific unique external e-mail address.  When a message comes into this address the watch will allow you to respond via a small instant messaging application.  So think of it more like text messages than true long-form e-mails.  Meaning, you wouldn't get photos from something like your weekly Victoria's Secret e-mail.  Rather, it's for short-form communications.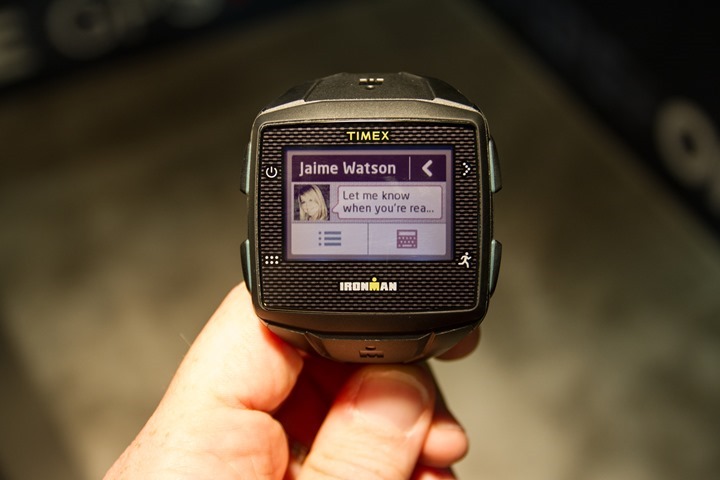 You can respond via a small keyboard that also allows for templatized responses – such as 'Leave me alone, I'm running!'.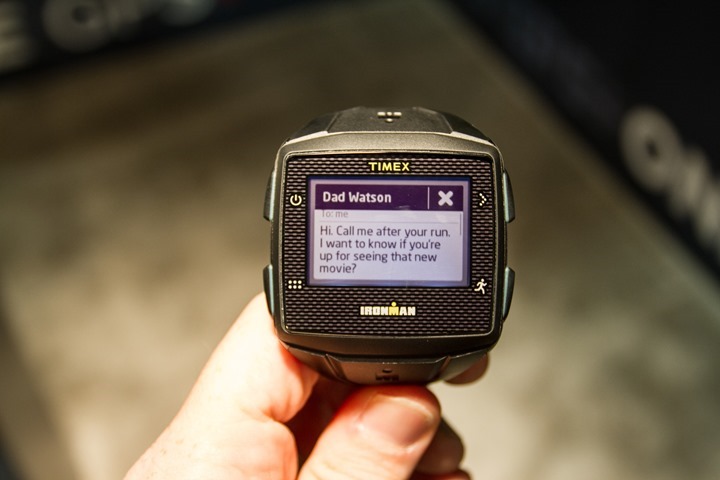 Messages can also be sent to your contacts, which are sync'd from your phone: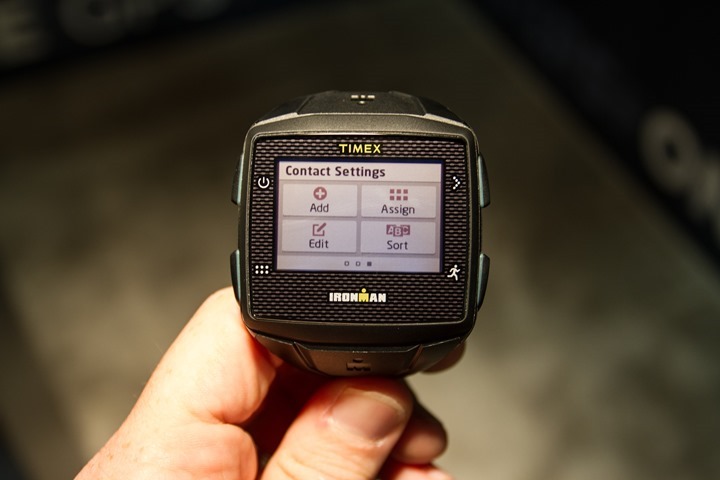 Note that the unit isn't integrated like a typical smartwatch however, meaning, it won't get text notifications or the like from your phone directly.  So while there is some integration at the phone to device level, it's mostly for configuration rather than continual communications.  The communications are really meant more to transit 3G instead.
Music Playback:
Building on the new functionality front is the inclusion of 4GB of music storage.  This music can be loaded via USB from your computer, where the device will enumerate as a standard USB mass storage device: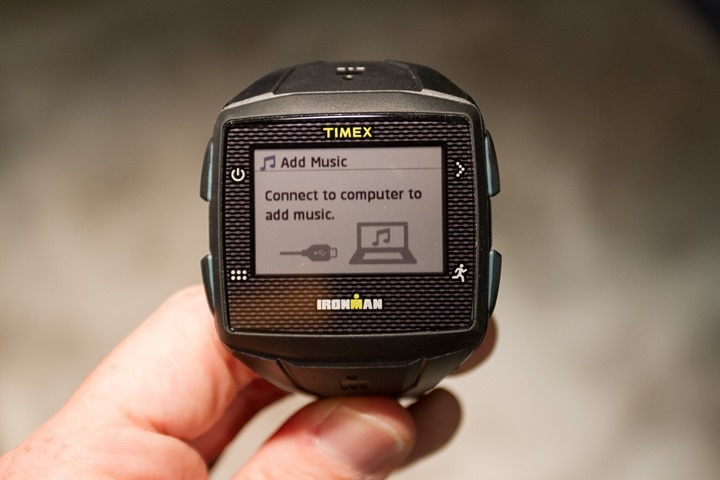 From there you can playback music and see album covers and song information.  This music playback occurs via Bluetooth, to devices such as wireless Bluetooth headphones or other Bluetooth music playback units (such as a Jawbone speaker).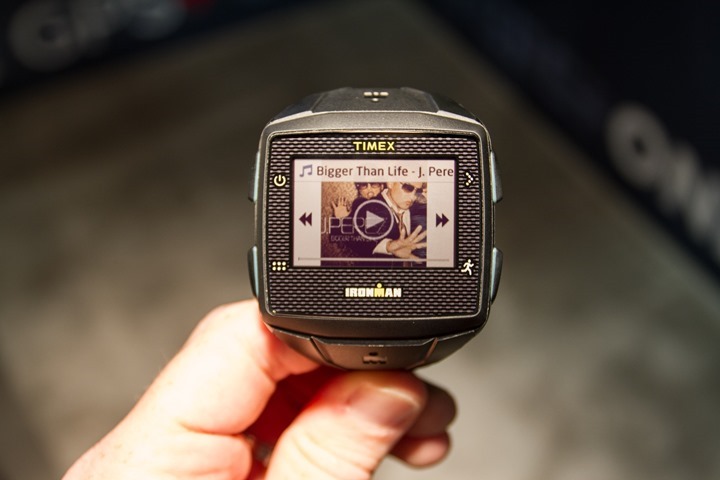 Core Running Functionality:
Of course, at the core of the unit is the running capabilities.  Ultimately, it's a GPS running watch.  The unit can be customized for a few different modes including a free running mode as well as goal-based modes – such as running a specific distance.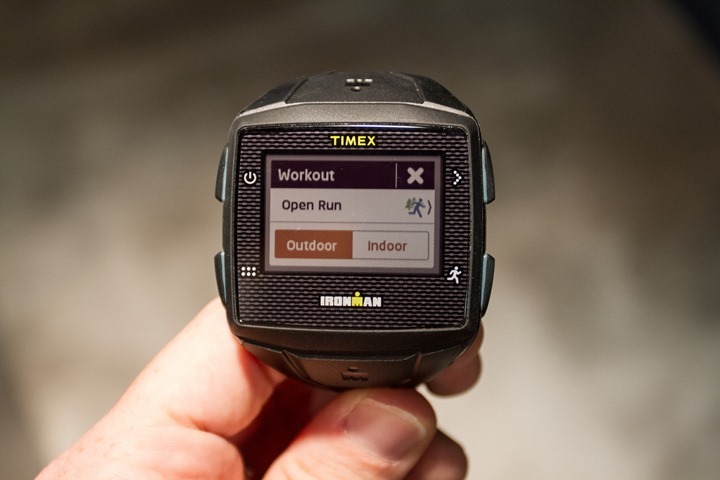 Further, you can also do full interval workouts, including defining all stages of a proper interval workout.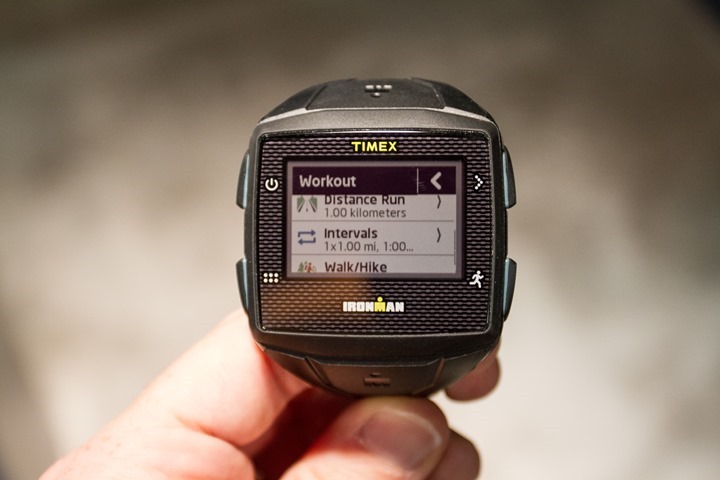 And you can also setup alerts for areas such as pace and heart rate: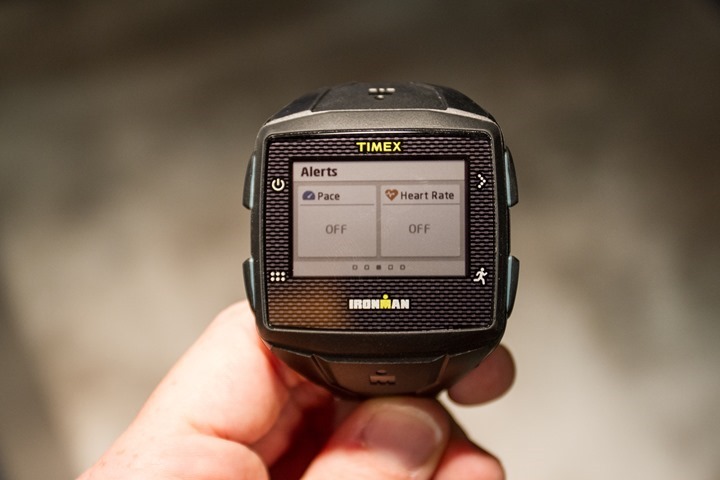 While running, you can pair to a Bluetooth Smart heart rate strap.  The unit doesn't contain ANT+ sensor compatibility at this point.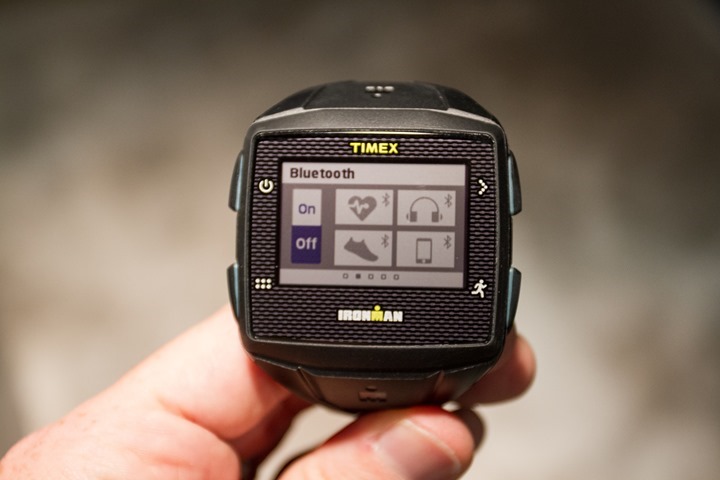 Like past Timex units, the device also supports features such as auto lap and the ability to configure data pages.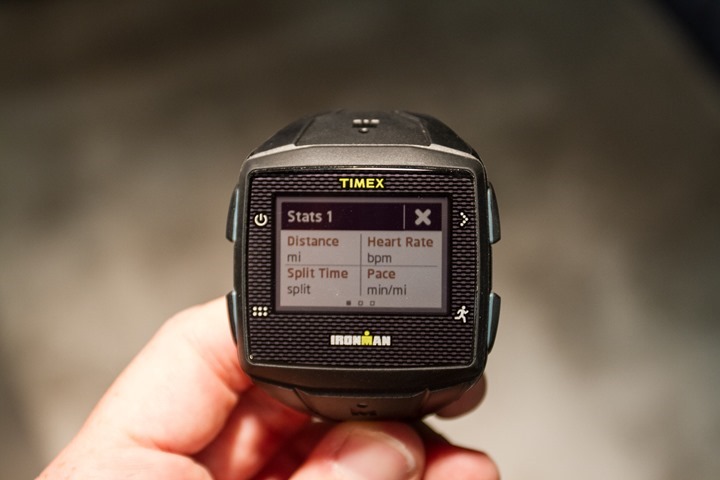 You can configure three data pages, each with 1-4 data metrics per page (of your choosing):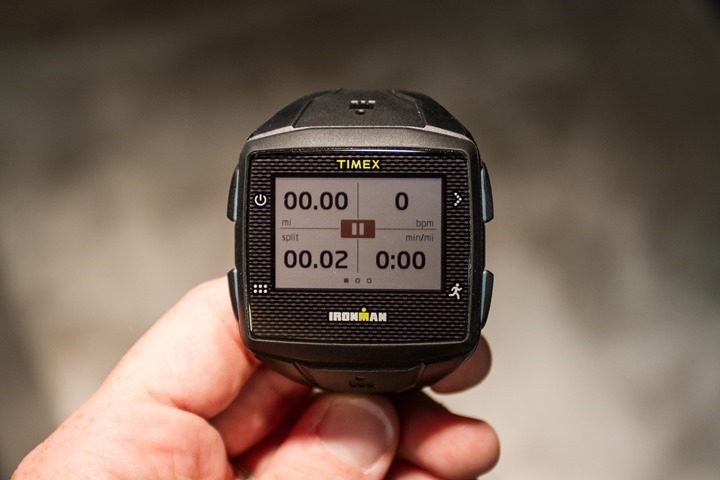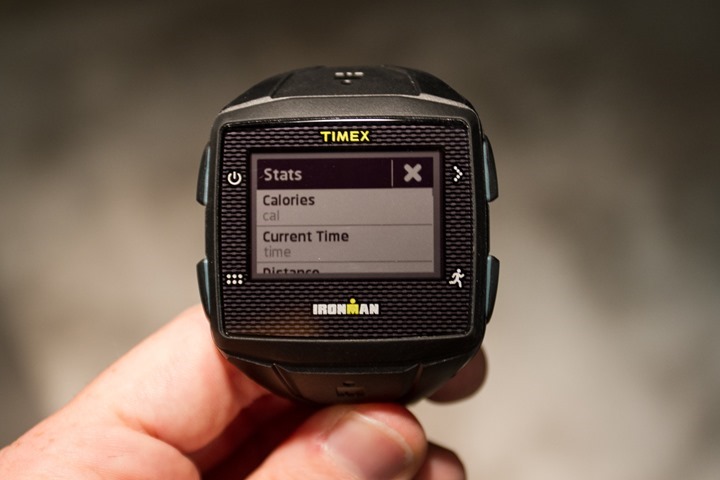 Additionally, you can choose to invert the screen should you want white on black instead of black on white.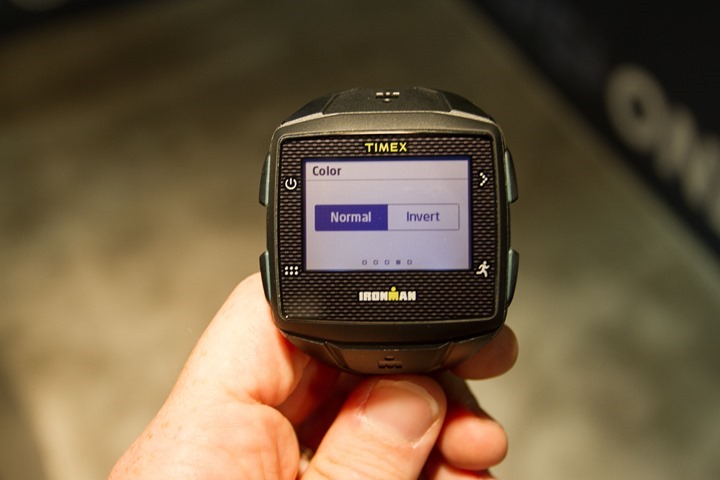 When you complete a run it'll automatically upload the workout to a Timex cloud platform:
From there it can be configured to automatically be pushed to major platforms including MapMyRun, Strava, and Runkeeper.  They do have a business partnership API into the Timex platform, though they're also working with other companies to establish partnerships as well.  They expect more partners than just those three at launch.
Today the unit is focused on running, though down the road via firmware updates (which occur over the air via 3G) they expect to add some form of cycling support.  That could potentially open the door further to some form of multisport mode, but that'd be a longer ways off.  Of course with 8 hours of active GPS battery life it'd be tough to complete a full Ironman with the unit, so it'd likely be targeted at those wanting to complete shorter events.
Speaking of which, today Ironman (as well as USAT) do indeed ban communication devices during a race.  But Timex seemed confident they'll be able to work out the rules issues there, especially since Ironman (well, WTC) has been very involved with the development of the product from the very inception and bringing together the key parternships, including AT&T.
Lastly, the watch also works as a normal day to day watch, getting approximately 3 days with GPS off but 3G enabled.  You can also go into airplane mode and get even longer, though Timex hasn't finalized testing there – though expect it to be significantly more than the 3 days with 3G enabled.  You can configure watch faces as well as alarms directly on the unit.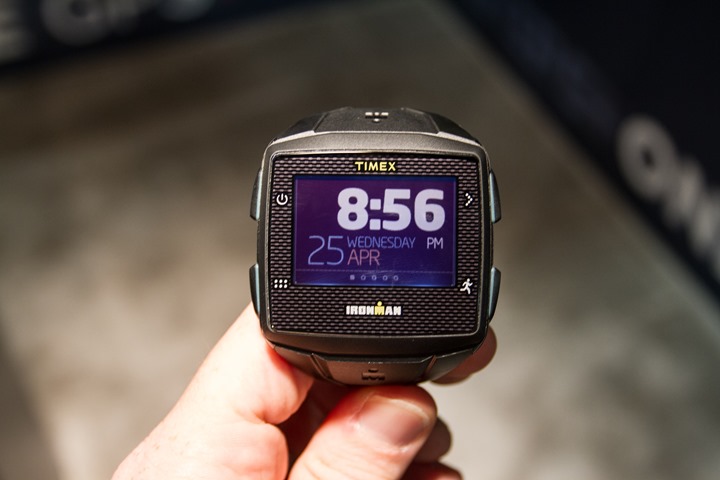 Initial Thoughts: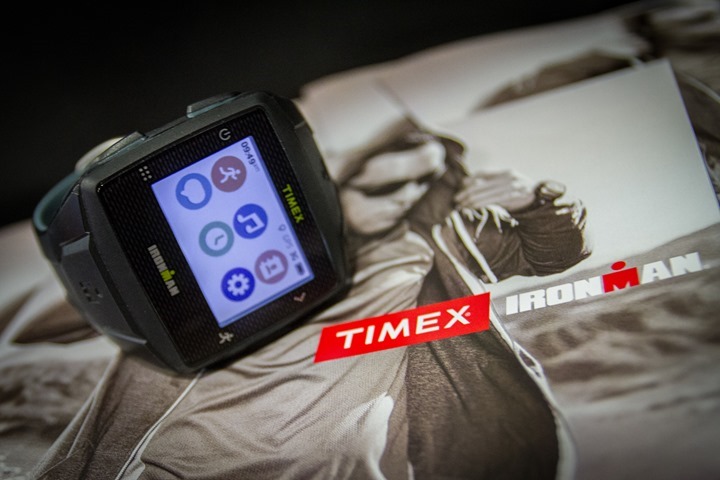 Overall, I'm really impressed with the functionality contained and promised in the unit.  The core areas I'll be looking at down the road in an in-depth review will be the final responsiveness of the touchscreen and usability in adverse conditions (such as rain, but also at the end of a hard track workout set) – as well as how well the connected features like live tracking work.  While the unit is definitely a bit larger than most running watches on the market (slightly smaller than their Timex Global Trainer GPS), it is 50m waterproofed.
The ability to simply have your runs immediately on sites like Strava without any additional phone required is great, but the live tracking could be a ground breaker in areas where folks don't want to drag a phone with them.  For cyclists having a phone has never been a huge issue, but for many runners taking a phone with them has always been a bit of a pain (while no doubt for others, taking a phone along is completely normal).
Lastly, the unit will be available around the end of October for $399US (or $449 with a HR strap), and will be available both via traditional sports/retail stores as well as the AT&T stores.  As usual, expect a full in-depth review from me once the final hardware and software is ready, likely within a week or so of the retail availability.
Note: Timex has also released three other watches/products today as well, my post on them can be found here.
—
Update: Clever Training now has the One GPS+ available for pre-order (as well as the three other watches they released).  I've just recently added all four products into the product comparison database as well.  And here's all the pre-order links that help support the site.
Timex Ironman Move x20
Timex Ironman Run x20 GPS
Timex Ironman Run x50
Timex Ironman One GPS+
As usual, note that Clever Training is typically conservative in their estimations of product arrivals (read: realistic) – mostly because most watch companies are overly optimistic in their product release estimates.  So it sorta balances out.
Feel free to drop any questions below though in the comments.  Thanks for reading!