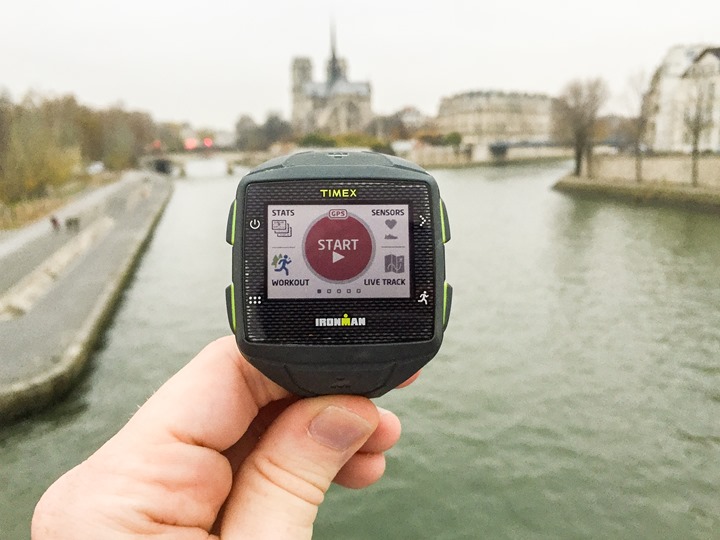 Yesterday I had the chance to go for a brief (and cold) run around the city with the Timex One GPS+ watch. This watch, announced back in August at Outdoor Retailer, contains a 3G chipset within it that enables it to connect straight to the internet and do everything from instant uploads to Strava, as well as live tracking functionality for friends and family. It also contains 4GB of storage for music playback via Bluetooth.
The watch is a partnership between Timex, Qualcomm, and AT&T. Each of the companies had a pretty significant hand in it, with Qualcomm providing much of the core hardware, Timex adding in their sport expertise and finishing touches, and AT&T assisting on the connectivity front (since it directly talks to cellular networks). One of the leads from Qualcomm was in town for other meetings, and offered to head out for a run with the unit. Of course, while it'll be launched in the US on AT&T, they're working to establish partnerships in other countries for availability shortly thereafter. And obviously, as seen here, it works globally.
For the run I was was supplied with a test unit, as well as wireless Bluetooth headphones to listen to music on. Though, since we ran together I saved the music for the end. Following the run, the unit continued its European trip with the Qualcomm individual (meaning, I didn't get to keep it).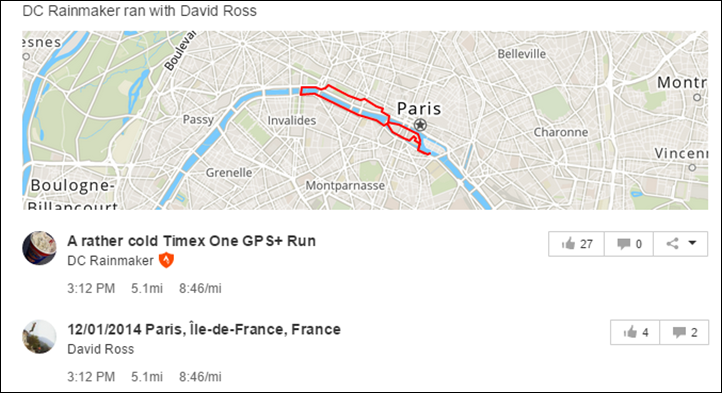 For the run I just selected a simple ~5mi route around Paris. He had just landed about 3 hours earlier from the US, so I figured a 10xMile Repeat interval workout might be a bit…rough.
To get started we went outside and picked up GPS reception. It took less than 15 or so seconds for both of our watches to find GPS. In his case, he was wearing a Bluetooth Smart HR strap, though in my case I was not.
The One GPS+ supports Bluetooth Smart accessories, though not ANT+. I asked about that, and he noted it wasn't so much a case of specifically being against ANT+, but simply that when they first started development there wasn't dual-capable chipset (which, is true, and was a major limiter on products in this segment over the past few years). So the chipset they needed for some of the Bluetooth functionality didn't have ANT+ as well (at the time). Given it's targeted at the running market, it's likely less of an issue than if it were targeted at triathletes or cyclists.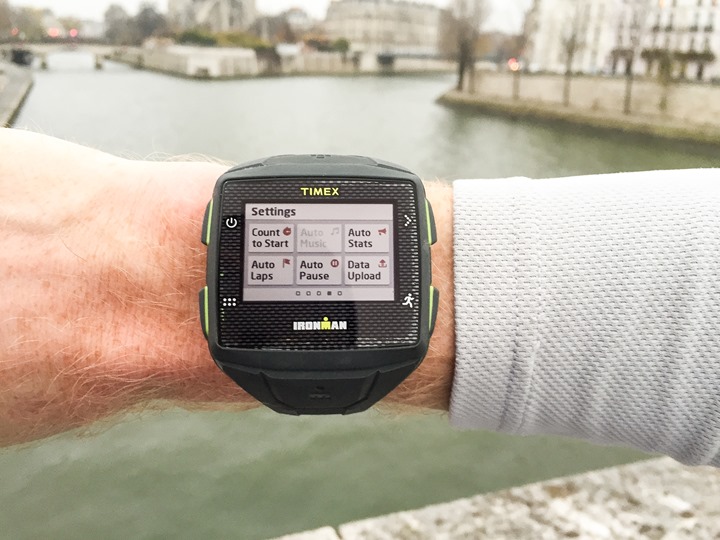 With GPS all ready, we tapped the start buttons and off we went. Given the chilly weather, we both had gloves on, and for the most part the screen seemed to respond to that. Not perfect, but OK. It seemed like by the end of the run I had mentally figured out the slight nuances that you find with any small form-factor touch screen and I was pretty much successful with every swipe/touch. It wasn't raining, nor was I terribly sweaty, so it's hard to say how that would react.
During the run, the unit was configured to display standard metrics like pace, distance and time. It had three different pages setup, and I could swipe left/right to change the pages. While running we compared total distances as we went along numerous times, and the two units were pretty close to each other, ultimately ending only .03 miles apart (on 5.00 miles). I also had a FR920XT, but it was in my pocket, which would slightly impact GPS performance (and I had the Basis watch on my other wrist).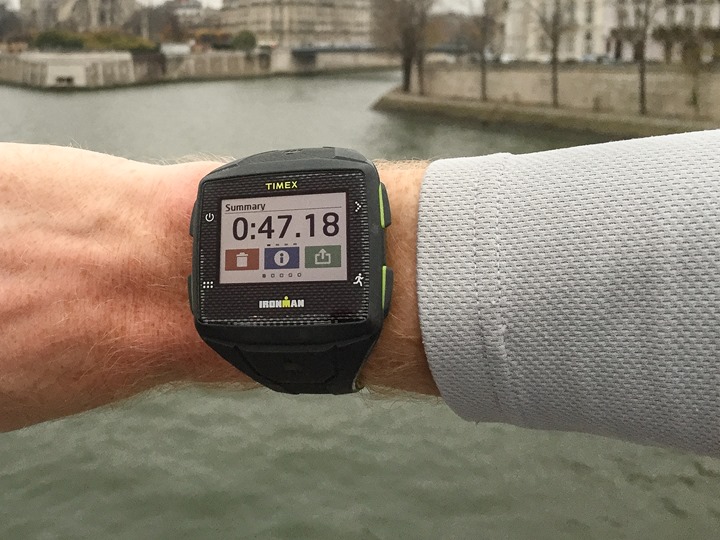 During the run the pace seemed fairly stable, though we were running a bit slower than my normal running paces – so of course seeing pace stability across a broad range of paces is important. On the flip side, most GPS watches do better the faster you run, so given it was doing fairly well at the easier paces, that bodes well.
At the end of the run I did get to put the wireless headphones on and give music a shot. Music is downloaded to the unit's 4GB storage hold, and then played back wirelessly via Bluetooth. When I used the interface to change songs it seemed to respond instantly and was fairly easy to use. Of course, as I've seen with other units that support music – ensuring that over a longer run you don't see connectivity dropouts is key. And that'll be something that'll have to wait for future tests.
Upon completion, we were able to save the run and it automatically uploaded directly to his Strava account. It also published to both of his Endomondo and MapMyRun accounts. They were seemingly quite open to any other platform, via the API's those platforms have in place to allow connectivity. For example, perhaps Sport Tracks or Training Peaks down the road if those companies are open to it.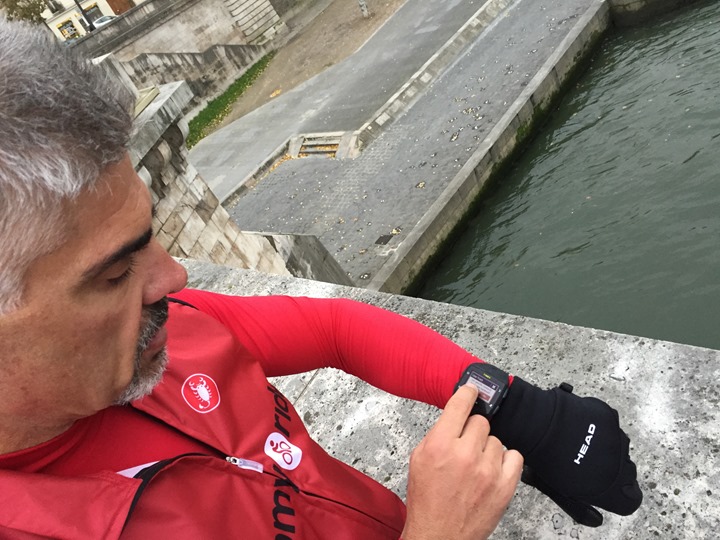 You can dig into the Strava track here (they sent me the .TCX file so I could also upload it to my account). Track-wise things actually look quite good based on where we ran. This particular route varies on the difficulty scale between easy and hard, depending on the section. Some sections, such as the run through the park – are easy as it's largely wide open with little vertical blockage. You can see here how it very nicely tracked as I wandered around obstacles and worked our way out of the park.

Yet other sections of the run are more difficult as I run through the massive stone buildings of the Louvre, into interior courtyards.
Similarly, towards the end of the run I had to run inside a building to grab an item before continuing home. I didn't bother to stop the watch, and the whole thing took probably 30-45 seconds.
The cool part is that you don't see any wonkiness in the track at that juncture. Many times when GPS units lose signal and re-gain it, they'll use a reduced accuracy rate initially, which can result in a data point 30-100m away from the actual location. In this case, it looks entirely seamless. And, the actual track itself is within about 1-meter of where we were.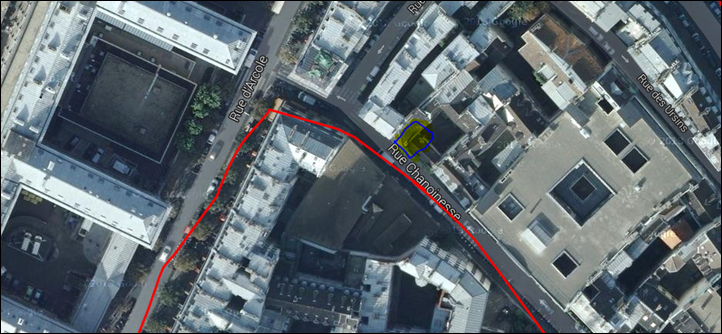 Of course, it's just one run. Sometimes devices luck out on a first run, and other times they crap the bed. That's part of the reason I do numerous activities with devices over longer periods of time. In this case, it seemingly did quite well.
In the case of the One GPS+, it'll be a bit longer until I'm able to do more activities. They announced over the past week or so that they're delaying the release/availability of the One GPS+ until early next year, potentially as late as spring – but ideally sooner. The reason for the delay was software focused. They noted that some of the software features simply weren't implemented yet at the level that they deemed ready for release.
While that can be frustrating for a consumer waiting for the device, it is at least promising that the company isn't just rushing out a half-baked product in order to hit holiday sales. I think too many companies do that these days hoping that future firmware updates can fix issues. But usually the consumer suffers as the company attempts to deliver updates.
Once released though, in the case of the One GPS+, future updates will automatically be delivered via 3G connectivity upon charging the watch. That 3G connectivity is bundled as part of the first year cost, and then subsequent years is $40/year, inclusive of Live Tracking and SOS (Emergency Help) features, as well as the ability to receive messages on the device.
Since the run was short, I'll keep this post short as well. You can dive into all the technical details of the watch itself, including many more photos, in my previous post from August. I cover how the unit works, and answer a ton of other questions in the comments section.
With that – thanks for reading!