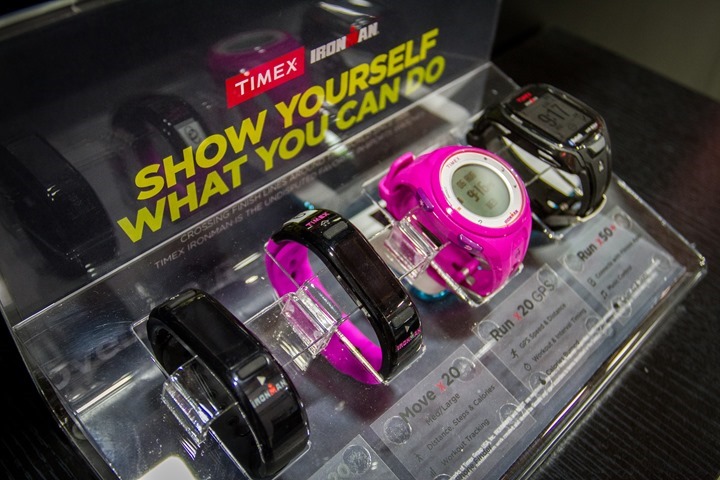 Earlier today I covered Timex's just announced flagship running watch – the Timex One GPS+, which contains everything from music storage to 3G connectivity and live tracking.
However, that wasn't the only unit Timex announced today.  They also released three additional units, all of which are less than half the price of the One GPS+ unit.
They range from an activity tracker that counts steps and sleep, to a sub-$100 GPS watch, to a smartwatch that doubles as a running watch and integrates with popular apps like Strava.
Here's the full rundown all three.  Like the One GPS+, I'll do full in-depth reviews sometime this fall as the different units reach full public availability.
Timex Run x50+ Overview:
First up we've got the Run x50+.  This unit is a phone dependent smart watch that integrates with running apps on your iOS and Android phones via Bluetooth to display metrics such as pace and distance.  These metrics utilize your phone's GPS unit to determine the pace, distance and location.  This concept isn't new, and is very similar to that brought forward by Magellan within the Echo and Echo Fit units.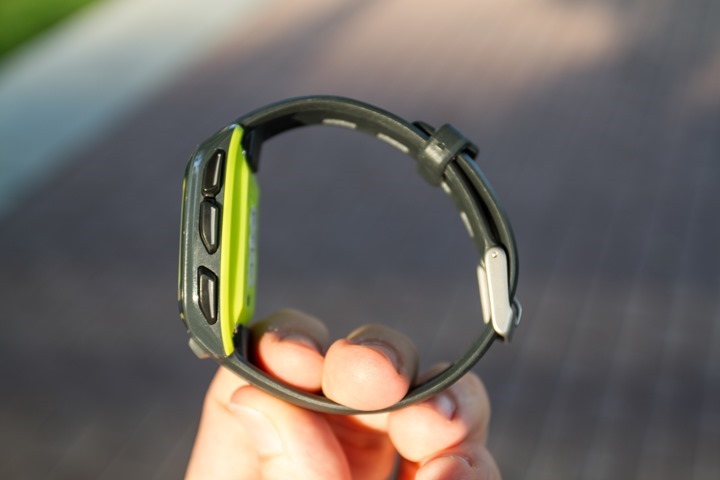 In fact, the x50+ leverages the same Wahoo Fitness API platform as Magellan does with the Echo, albeit with some minor device display enumeration differences that may require app vendors to slightly tweak the display formatting in order to properly display information pages on the x50+.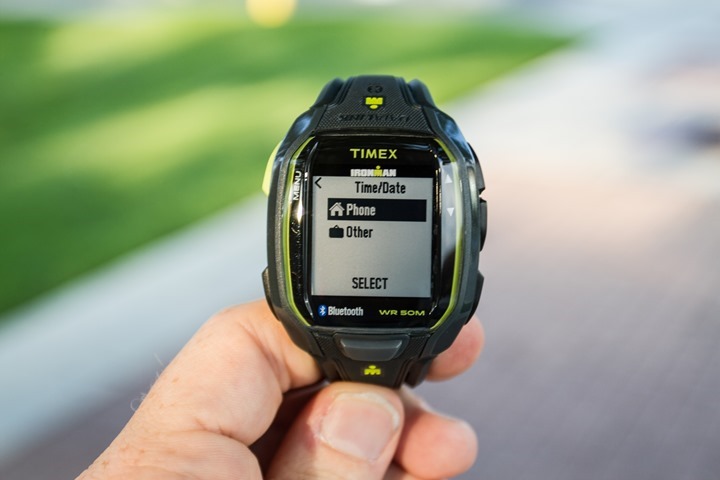 The x50+ differs from a traditional GPS watch in that the GPS isn't contained within the watch itself but rather dependent on your phone's GPS.  This means that in order to use the unit in a distance/pace tracking manner you'll need to have your phone nearby.  Without a phone it'll display time and date, but can't be used for workouts showing distance (though it can for just basic timer functions).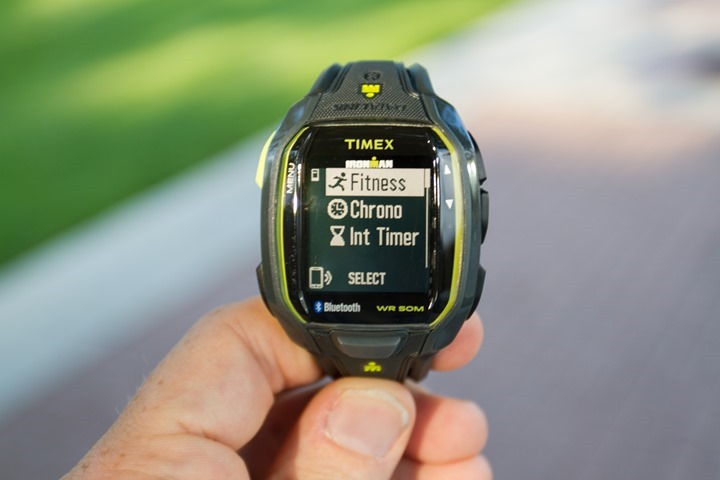 The phone integration drives through to other areas though as well.  For example it can display notifications from your iOS/Android device, such as those from text messages and calls, but also anything else using the notification center like e-mail, Facebook…or your Uber taxi arriving to pick you up mid-run.
Like the vast majority of Timex watch products, the unit is fully waterproofed to 50m as well – so there's no problem with swimming with it.  Though, keep in mind that unless you're swimming with your phone, it won't really be of much use there from a swim metric standpoint.  Though it could be used in the timer/interval mode described next.
The x50+ does come with a workout timer and interval timer mode, which can be used without the phone. This data is saved and then uploaded to the Timex app, which can be the further uploaded to 3rd party apps like Strava (of course, without GPS data since it would have been unavailable at time of recording). Additionally, the unit can be set into an airplane mode which enables it to operate without the phone for basic time-based tasks.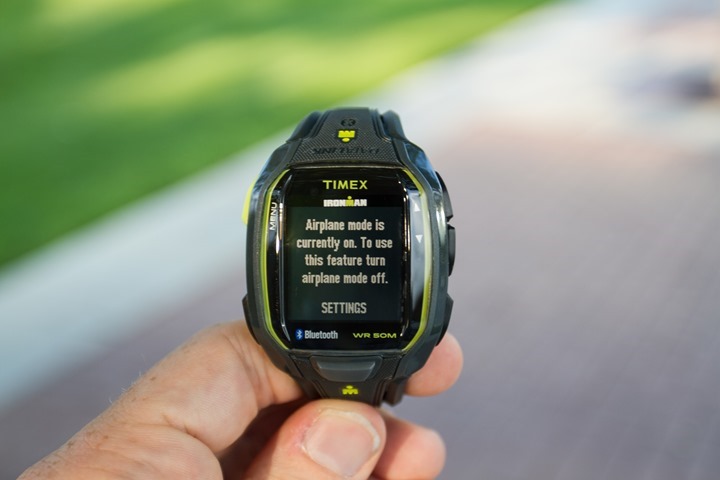 Data from usage with GPS connected via your phone gets sent up to apps like Wahoo Fitness, which in turn can upload the data to numerous sites such as Strava, MapMyRun, RunKeeper, and many more.  These apps also can define how the different display pages show up.  So the number of metrics and how they appear will vary from app to app.
The x50+ will be available in late October for $199US (or $249 with a Bluetooth Smart HR strap).  It comes in two colors – a black/lime and black/red variant.
While the functionality is strong, I think the current planned price might be a bit challenging, due to competitor Magellan Echo having similar features at $129US (starting next week) and with full notification center support by November.  Further, at $149US there's the Magellan Echo Fit, which has all that plus daily activity tracking – which the x50+ lacks.
Timex Run x20 GPS Overview: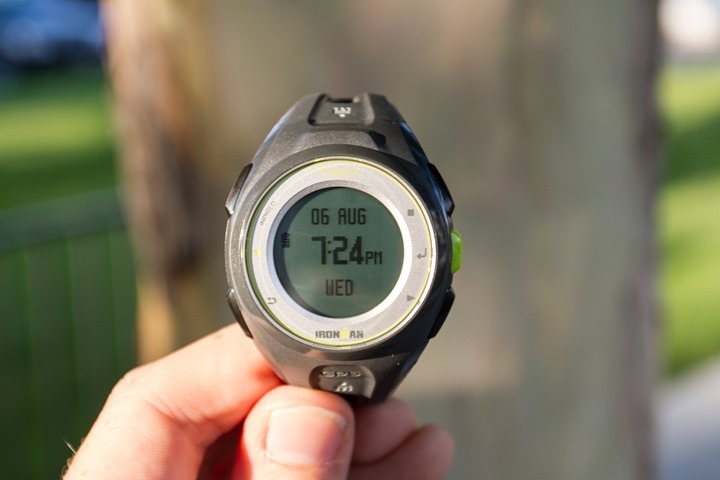 Next up we have Timex's updated budget GPS watch, the Run x20 GPS.  This ultimately replaces the Timex Marathon GPS watch, which is their sub-$100 unit.  The sub-$100 GPS marketplace has exploded over the past 1-2 years, with many similar units (or identical as is often the case).
The x20 is updated in that has a greatly simplified menu system and also adds in some clear workout modes – including interval support.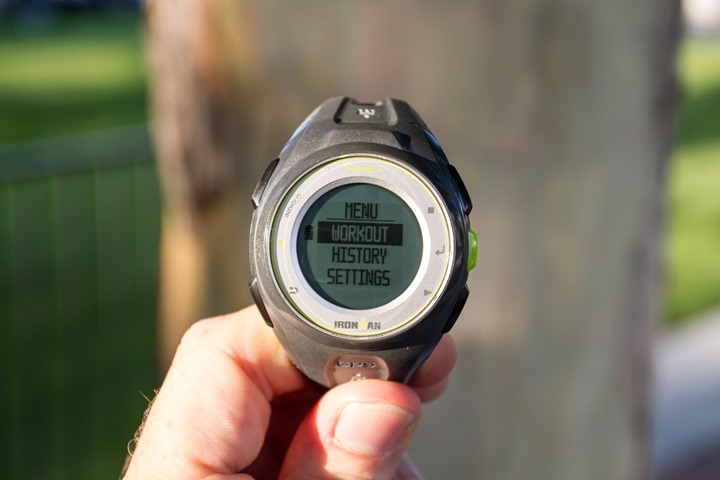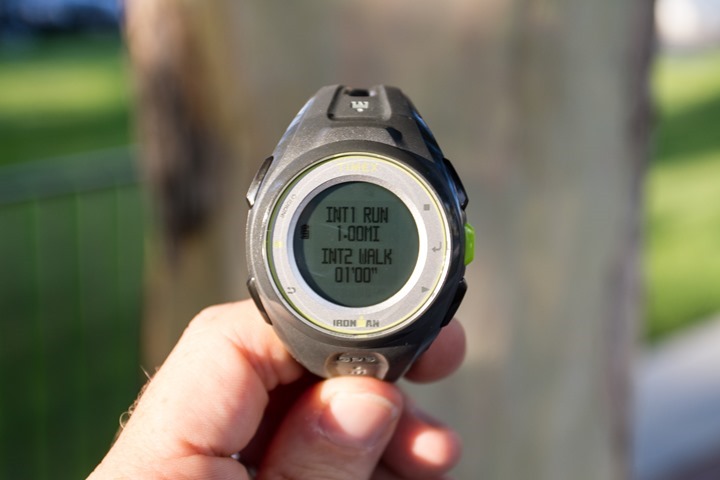 It also adds in alert functionality, such as pace alerts.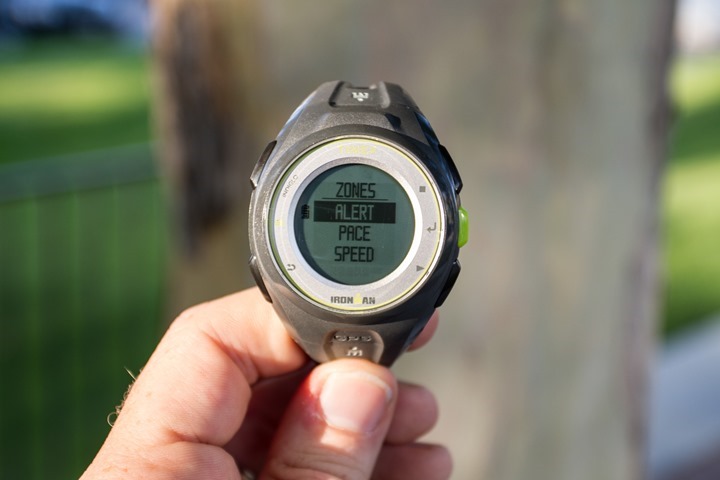 Further, the display fields are much improved and far easier to read than previous units.
The previous confusing user interface system was one of my (and many others) chief complaints when it came to the older Marathon GPS unit.  However, this new system is far easier to understand and navigate – very much following the simplified flow of something like a Garmin FR10 or FR15.  It's has a high 'just works' factor.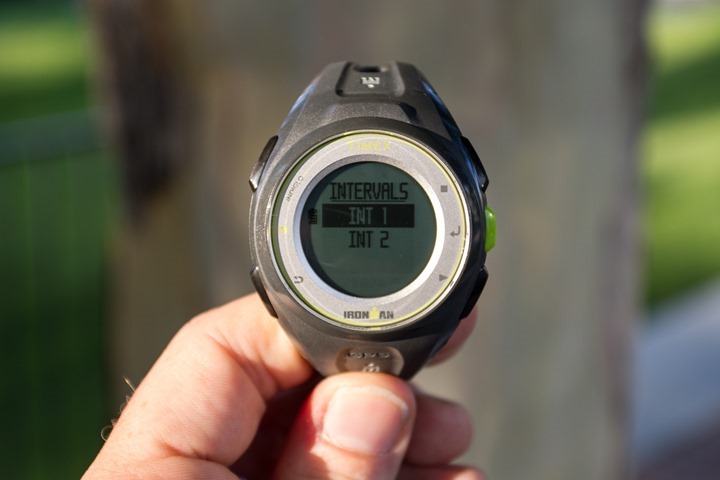 Just to be clear, unlike the Run x50+ unit, this does indeed include GPS internally.  However, it lacks any of the connected features such as phone integration.  Or for that matter, any data uploading at all (USB or otherwise).  It's an island unto itself.  So there's no method to get data off the watch to an online training log (other than manually writing down your totals).
But for many people, that's perfectly fine.  Though, I do think that from a competitive standpoint, given the more advanced feature set (including intervals and pacing alerts) that Timex could probably make an interesting play against the $129US priced Garmin FR10, by undercutting it and adding basic Bluetooth Smart transfer support to the upcoming Timex app.  While that would have a bill of materials increase (which I suspect would be almost nothing), it would make it extremely appealing in terms of being able to cheaply record runs and upload them to any 3rd party site I'd want to.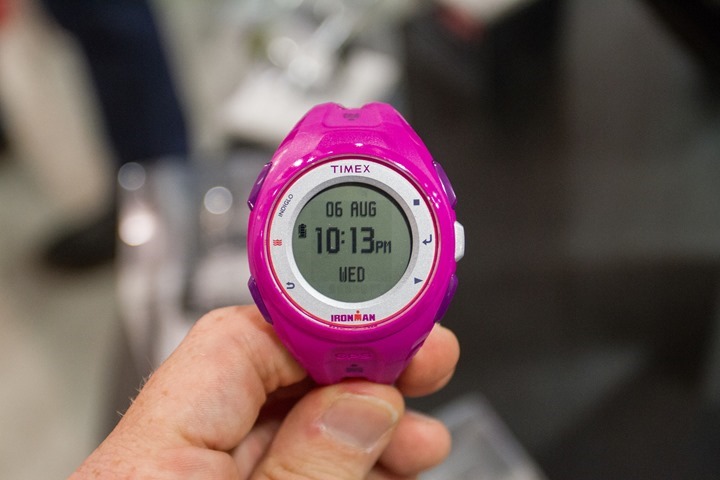 Finally, note that it is not compatible with a heart rate strap.
The Run x20 GPS will be available in late September at a price of $99US.  It comes in four colors: Lime green, charcoal (black), teal, and magenta.
Move x20 Activity Monitor Overview: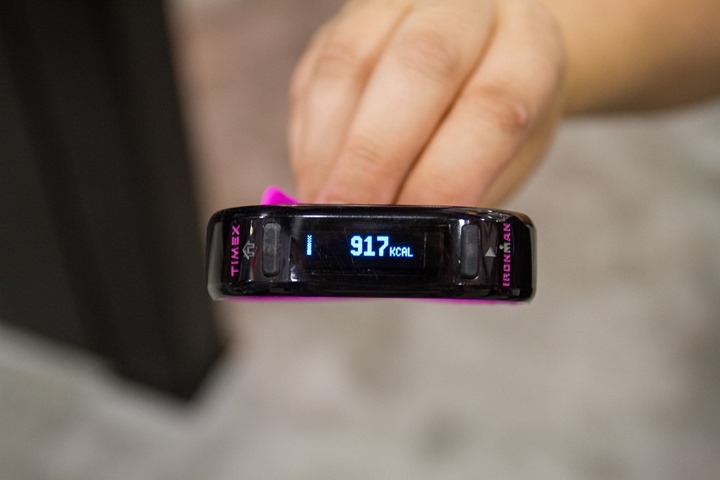 Last but not least we have Timex's first activity tracker – the Move x20.  This unit is a combination of activity tracker and minimalized smart watch.
To start, on the activity tracker side it'll track distance, steps and calories: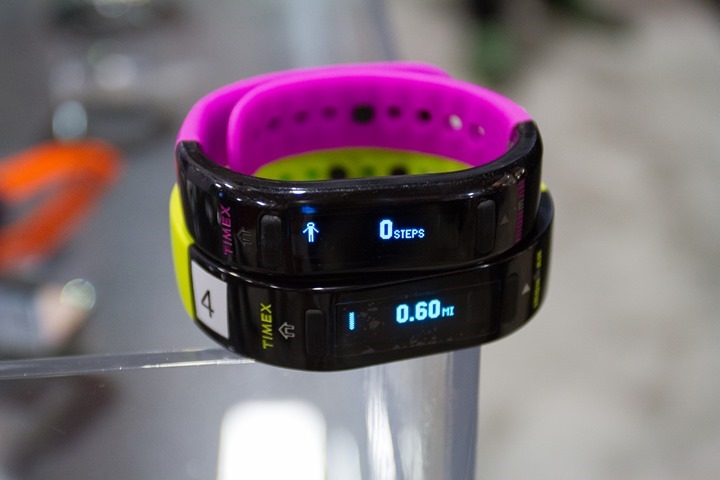 You can also begin a workout (such as a run), which will delineate out those activities from regular steps once connected to the app later on: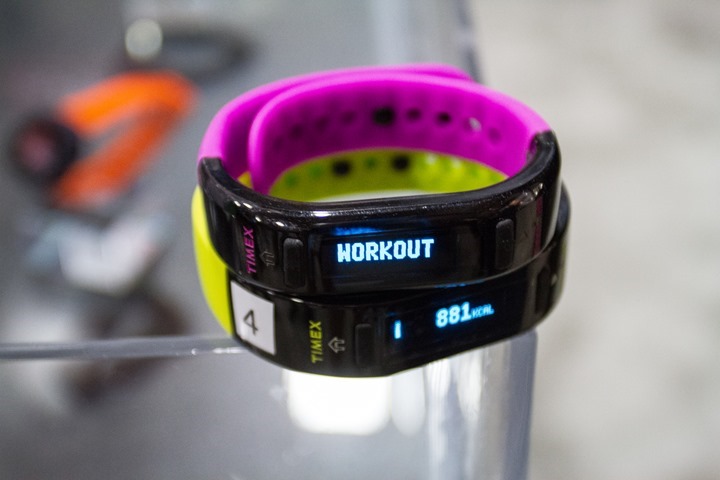 Here's the upcoming app (available on both iOS and Android).  You can see the current step total at this point in the morning (2,189 steps), along with the distance (.95 miles).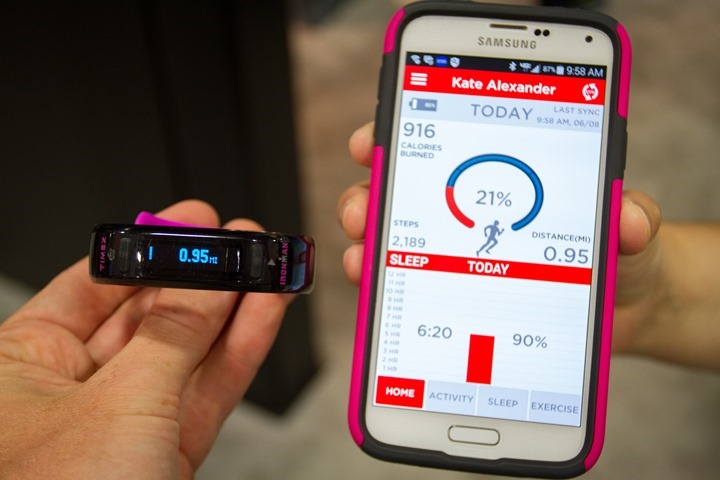 You'll also notice sleep information as well.  The unit tracks sleep, which is manually toggled on/off on the band itself.  While I normally prefer for units to automatically determine sleep – the enabling/disable of the sleep in this case was much cleaner and more clear than some units.  Meaning, there was little ambiguity that you were in sleep mode versus non-sleep mode.  Beyond sleep time, it'll also give you a sleep quality number which leverages the accelerometer in the unit itself to determine sleep quality.
The Move x20 contains a few additional phone-connected features that differentiate it from many other activity trackers.  First, it pulls weather from the phone based on the phone's current GPS location.  This is then relayed and displayed on the unit.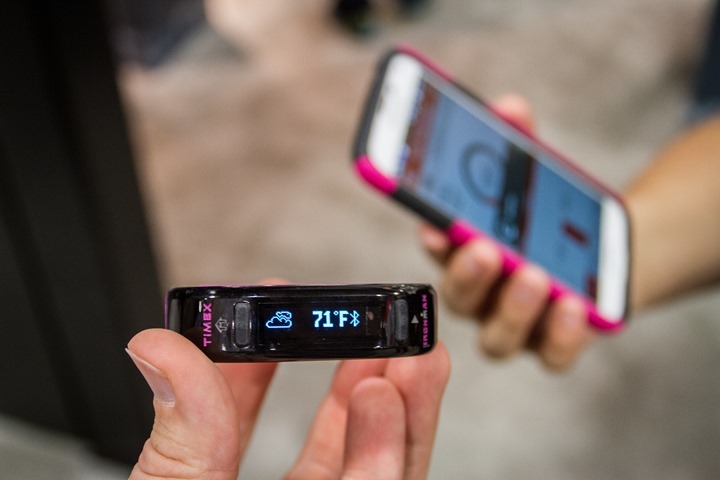 Second, the unit can be used to find your phone.  So as long as the phone is in range of Bluetooth, it'll trigger an audible notification/alert on the phone – thus allowing you to play hot and cold with where your phone is under the couch cushions.
Lastly, it also will display caller ID information about the incoming caller as well as incoming text messages.  Both of these functions seem to be on the fringe of becoming mainstream on various activity trackers – such as was planned for the now defunct/recalled FitBit Force.
Now to some, this unit may seem familiar…mostly because it is.  It's virtually identical to that of the Soleus GO Activity Tracker (at the same price).  This is somewhat common for Timex, who also followed a similar pattern of leveraging an another vendor to supply the hardware for the previous Timex Marathon GPS (which was indistinguishable from certain Soleus running GPS watches, and also the same watch used by New Balance and others).
For Timex, the differentiation may come though in the form of not only the app – but potential site partnerships.  Meaning, Timex has stated they are talking to major app/platform companies (such as those in the realm of MyFitnessPal), which could enable data upload of metrics like calories/steps/etc… – ultimately offering a key advantage in the rather crowded activity tracker landscape.
Finally – the Move x20 will be available in late September in four colors/sizes (Lime, Smaller Black, Smaller Violet, and regular/large black).  The price point is $129US.
—
With that – thanks for reading!  I'll be planning in-depth reviews of all products as they become available.  Likely the Move x20 and Run x20 GPS first, since I have the Move x20 already, and then soon the Run x20 and ultimately the Run x50+ and One GPS+.
Update: Clever Training now has all three units (well, four if you count the Timex One GPS+) available for pre-order.  I've just recently added all four products into the product comparison database as well.  And here's all the pre-order links that help support the site.
Timex Ironman Move x20
Timex Ironman Run x20 GPS
Timex Ironman Run x50
Timex Ironman One GPS+
As usual, note that Clever Training is typically conservative in their estimations of product arrivals (read: realistic) – mostly because most watch companies are overly optimistic in their product release estimates.  So it sorta balances out.
Feel free to drop any questions below though in the comments.  Thanks for reading!