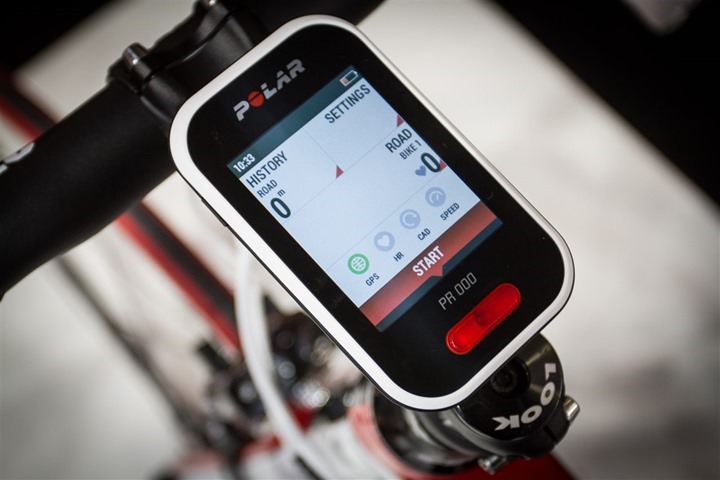 Today Polar announced their first dedicated GPS bike computer – the V650.  The unit combines integrated GPS with a full color touch screen, it also becomes the first bike-specific computer to be Bluetooth Smart sensor capable.  This marks the second major unit that Polar has announced in the last three weeks – the first being the V800 triathlon focus GPS watch.  Like the V800, the V650 won't be available until later this spring – in May (the V800 is in April).
As such, the unit wasn't yet in a usable form for me to evaluate on a bike.  That should happen though in the next few weeks.  Until then, you'll have to make due with my impressions off-bike in poking at the unit.  Given that, don't take this walk-through of what's in the unit as anything more than that.  Polar tells me the hardware is now locked and final, it's just the software that's still being refined.
Which brings me to the following point:  This isn't a review.  Yes, for real.  These are my standard In-Depth Reviews.  This post is just a first/early look at the unit, well before everything is done.  Come back later this spring for the full review.  Ok, let's go!
Size and Form Factor:
Let's start with the basics – checking out the front, sides and back of the 120g unit.  First up, a full frontal: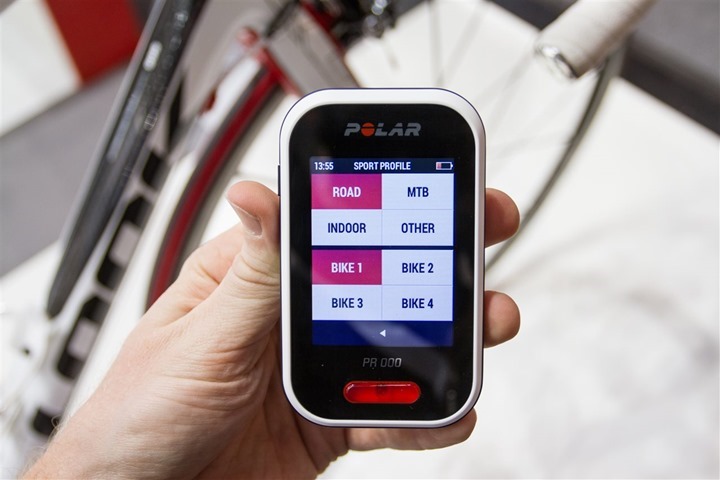 Then, the side view: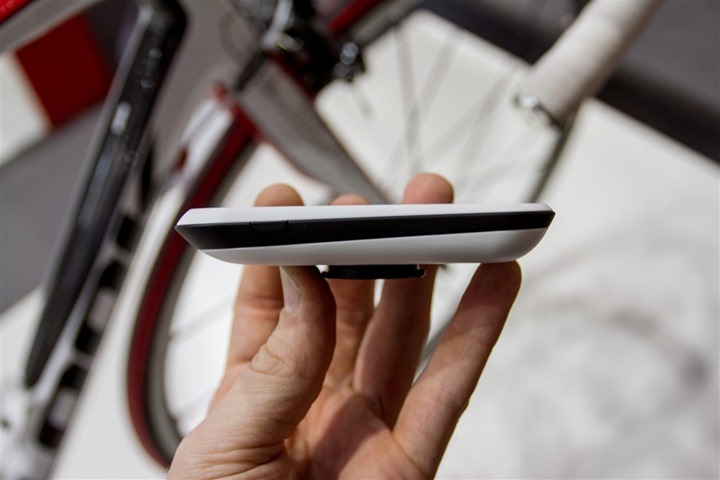 And finally, the backside.
Above, you'll note the quarter-turn mount, which is different than Polar's past bike mounts and is not compatible with those older mounts.
Polar is releasing two mounts for the unit. The first is the little rubber mount set seen below: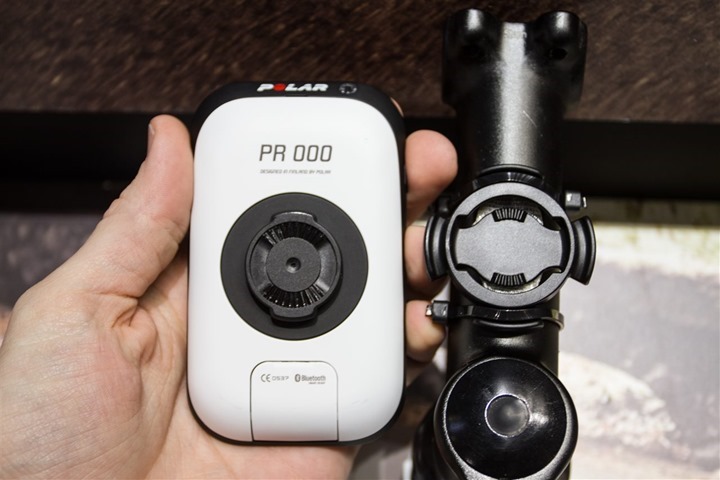 The second is an aero mount, designed for time-trial & triathlon bikes.  That mount will be available "later in 2014".
Just for fun, I went ahead and tried to connect it to a 3rd party Garmin-compatible quarter-turn mount (such as the BarFly ones).  No dice.  The Polar notches (wings) are just a tiny bit large (like, a millimeter at most).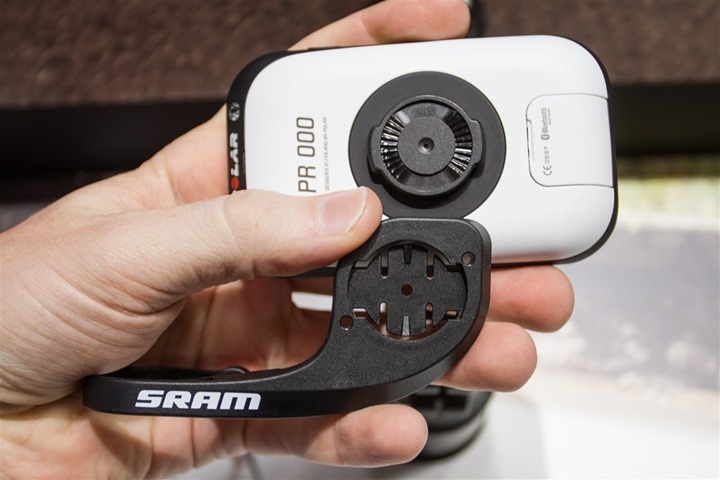 While I understand Polar's hesitancy to make it compatible with Garmin, there are other companies doing so without issue.  And ultimately, Polar has basically copied the design without copying the part that makes it so popular: Full compatibility with a slew of mounts, even bike-integrated mounts.  Perhaps one can simply take out some sandpaper and make it fit though (I was sorta hesitant to do so with their prototype units, I figured that might be frowned upon).
With the mounts out of the way, let's look at comparison shots.  I figured I'd go with the most common units on the market today: The Edge 500, Edge 510, and Edge 800/810.  Keep in mind the Edge 800/810 share the same physical external specs, it's just different software and a different chipset internally.  But externally, they're identical.
First up, the view from the top.  In this case you can see the sizes from smallest (Edge 500) to medium (Edge 510) to large – Edge 800/810, then the Polar V650 to the right of that.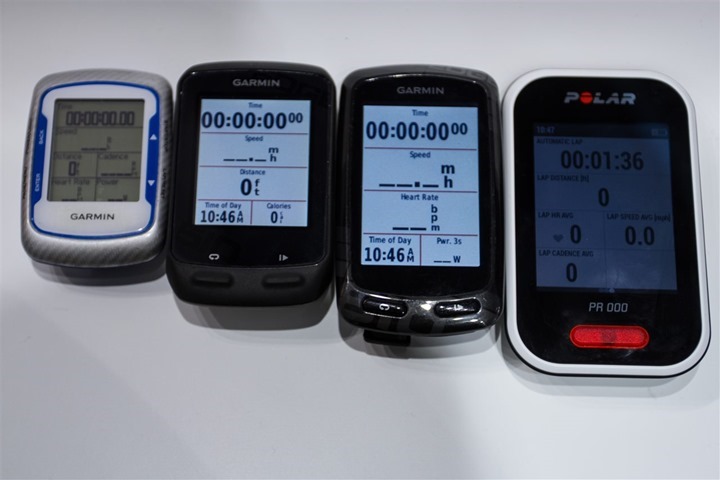 As you can see above, it's definitely the biggest of the bunch.  It's fine sitting on a bike stem, but I think it's a bit more awkward sitting on the bars, or especially even triathlon TT/aero bars.
On the bright side, it is the thinnest of the bunch: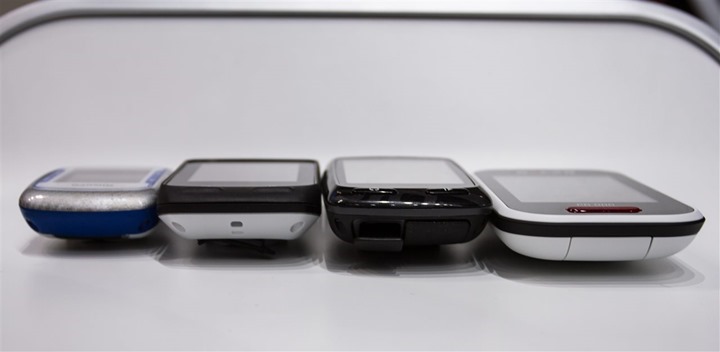 With the runway show out of the way, let's start poking at things.
User Interface and Touch Screen:
The unit is navigated fully by touch – similar to your phone, except using a touch-screen that's suited to water and glove usage.  Starting off at the main menu, you'll have options to go into 'Settings', 'History', and to start a ride.  For those familiar with the Polar Beat app, this looks rather similar in styling.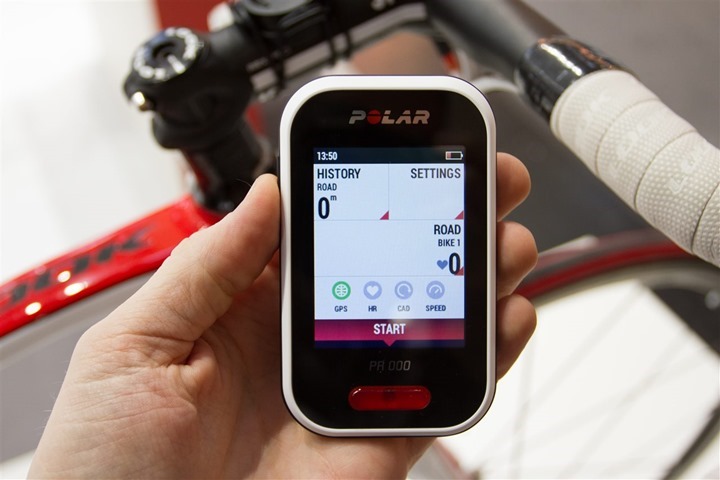 Meanwhile, along the left side you have a single button that flies out to provide sensor calibration and to turn off the unit or lock the screen.  This sensor calibration includes not only things like power meters, but also GPS calibration.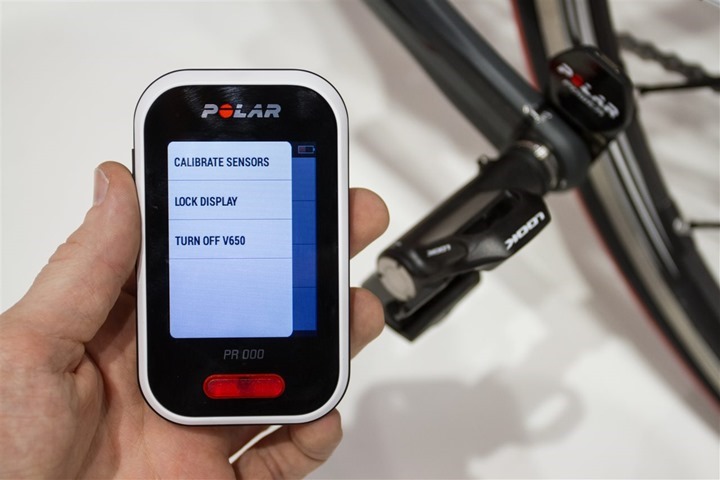 On the bottom of the unit is a single red button.  That red button acts as a start/stop and lap trigger.  If you haven't started yet, then pressing it will start the activity.  Meanwhile, if you have started then pressing it will trigger a lap.  You'll long-hold it to stop the activity.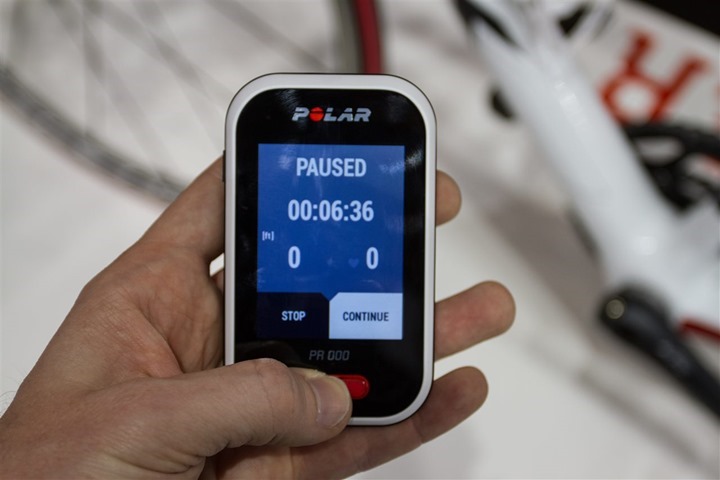 At any point in the menu you can 'swipe-down' from the top or bottom of the screen.  If you do so you'll get settings information such as backlight and front light configuration and brightness, as well as sound/audio levels: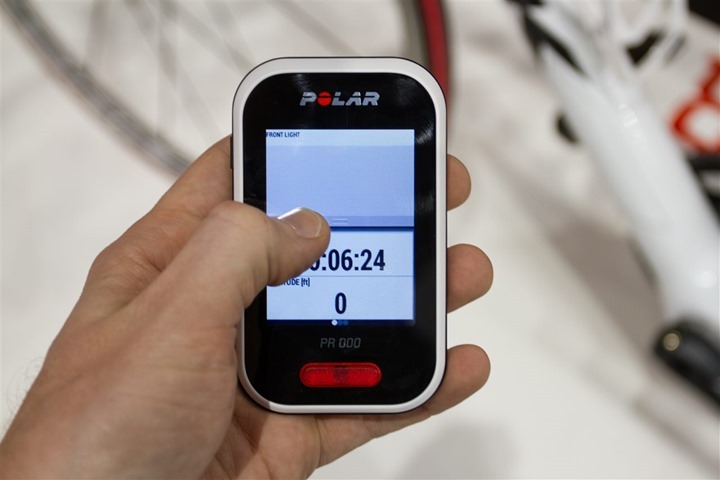 Looking at the data configuration side of things, the unit allows you to configure up to 6 data pages, with each data page containing between 1 and 8 pieces of data.  Here's how that looks: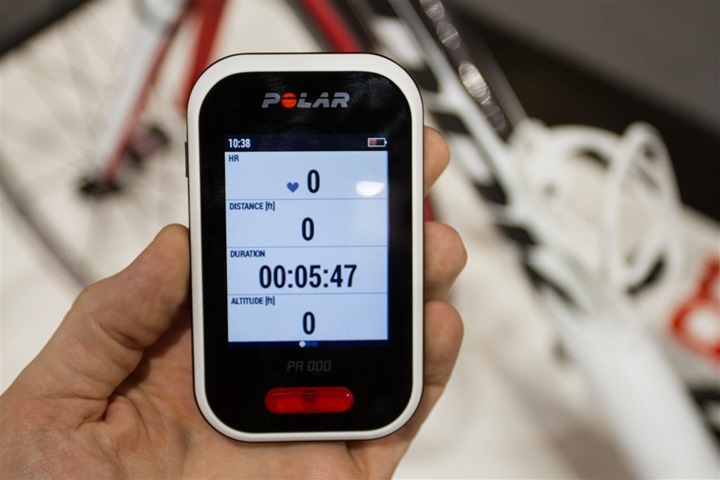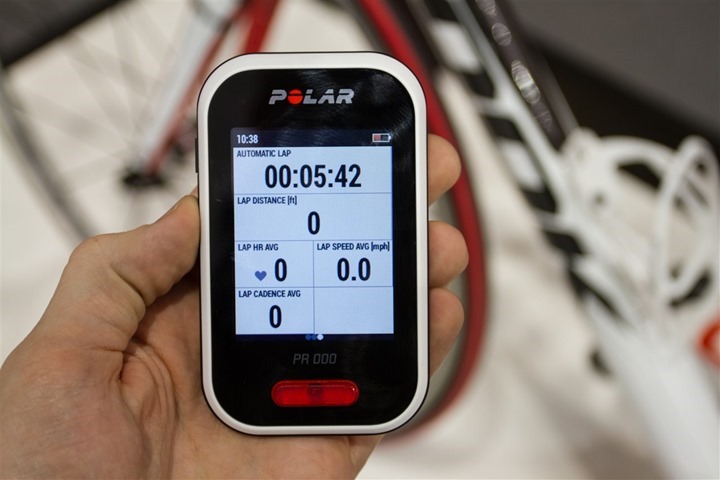 You can swipe left and right in order to change data page views.  The view configuration can be changed either on the unit itself, or on Polar Flow.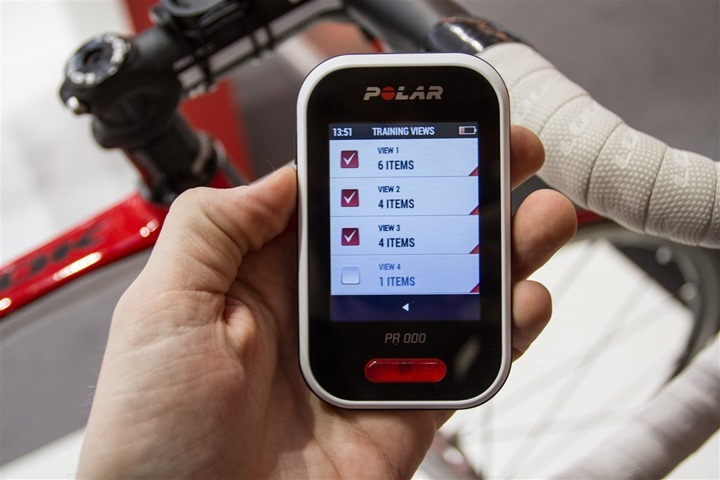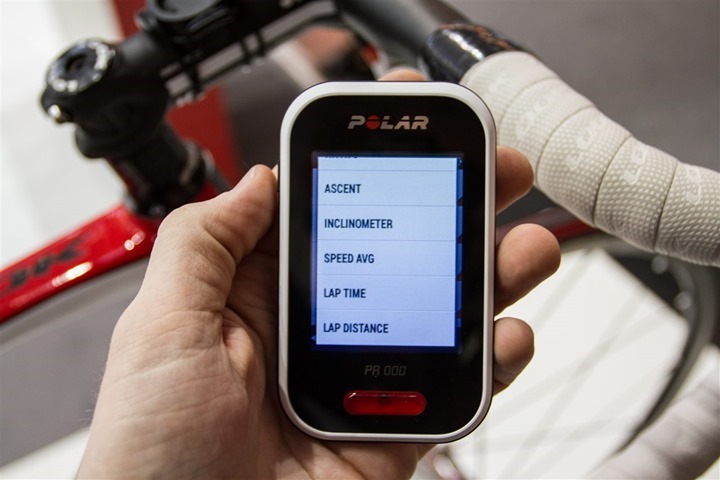 Finally, there are four sport profiles – currently named 'Road', 'MTB', 'Indoor', and 'Other'.  These sport profiles control activity settings.  For example, you may want different auto lap settings, or distance displayed in a different format.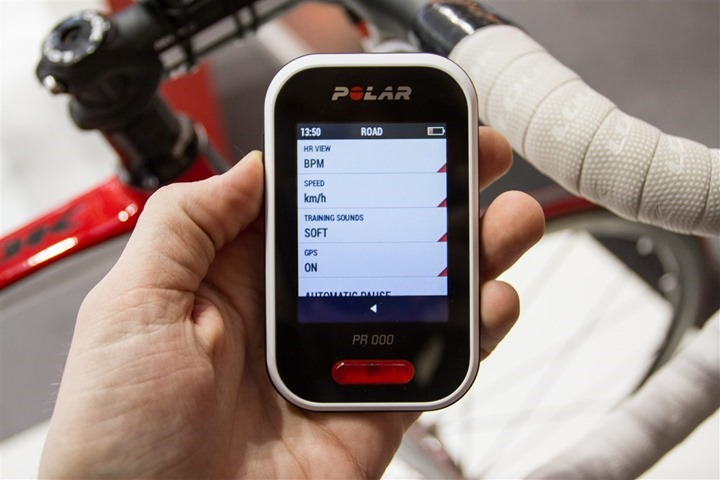 In addition to sport profiles, you have bike profiles – simply named 'Bike 1' through 'Bike 4'.  These are not currently changeable, but Polar hopes that down the road after launch they'll allow you to set these names to custom names (such as 'Cervelo P2' or 'Trek Road').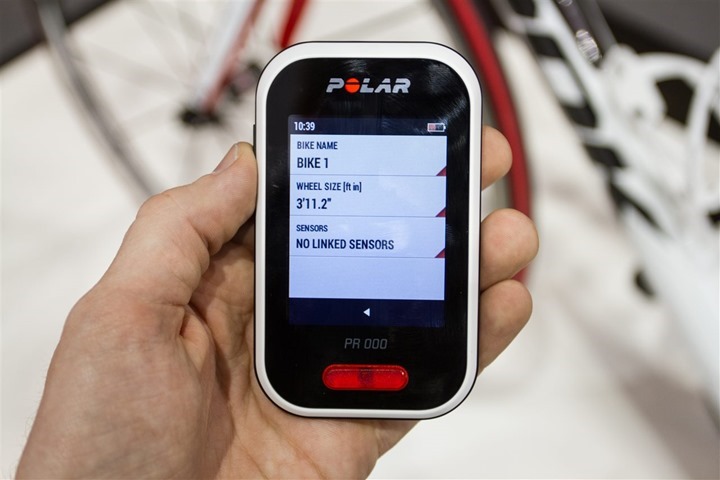 Each bike profile has a separate set of sensors that can be paired to it.  Sensors are paired globally, and then from there 'attached' to any given bike (or multiple bikes).  Below, you can see some of the sensors paired globally.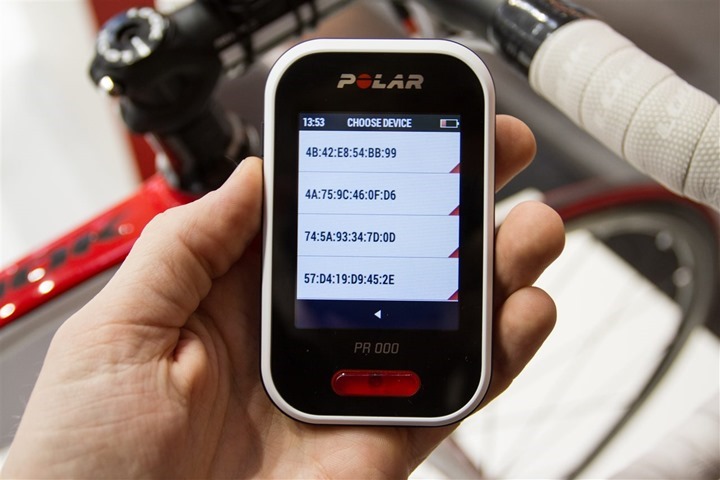 I'll dig more into the sensors though in a little bit in the Bluetooth section.
Built-in Front LED Safety Headlight: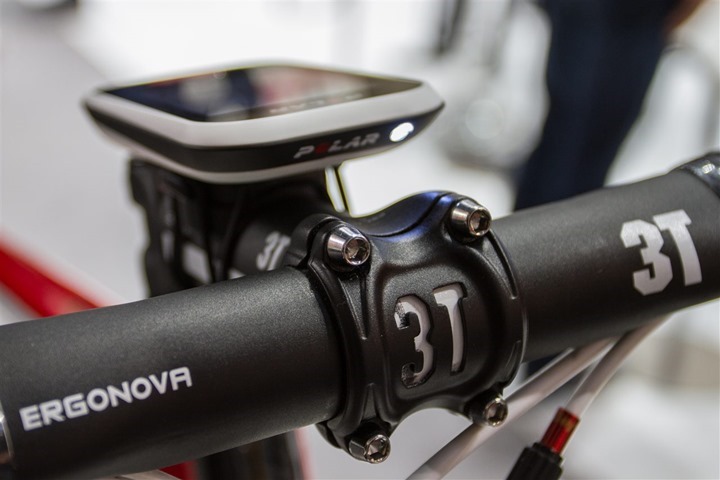 Probably the most unique feature on the unit is actually a front LED headlight.  This light is designed not so much for illuminating a dark road, but rather to make you more visible to others.  Thus, think more safety and visibility rather than darkness assistance.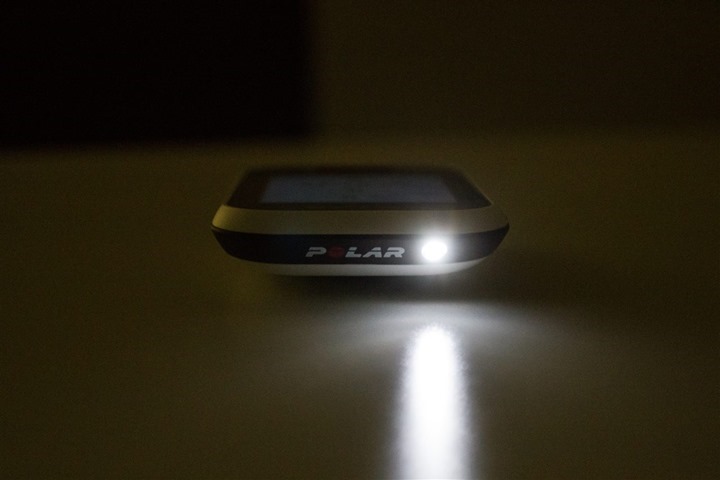 The headlight supports two modes: Constant on and flashing.  You can change the two modes within the settings depending on what you want.  In general, constant flashing tends to capture people's attention better.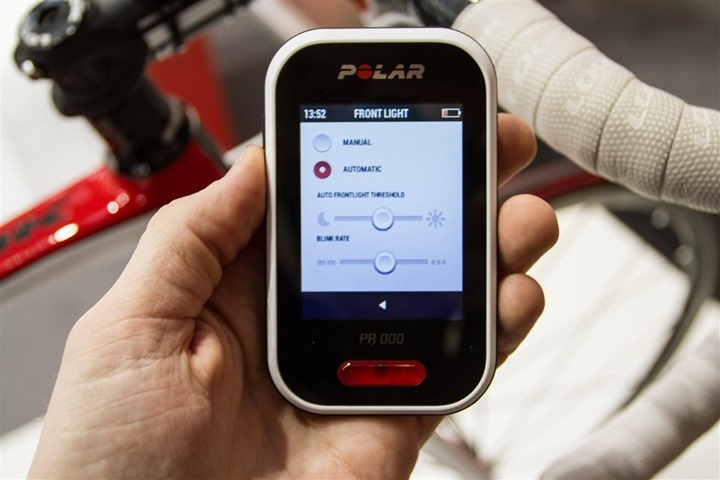 The light can be automatically triggered based on the unit's light sensor, which determines how bright it is outside.  You can set a minimum threshold where it'll trigger above that point.  For example, if you were riding in the day and went into a tunnel, it would automatically trigger.
GPS Integration & Barometric Altimeter: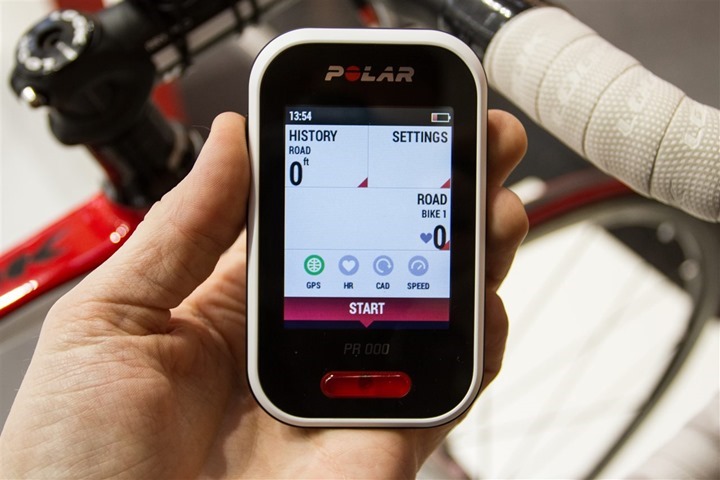 As one would expect for a high-end cycling unit on the market today, the V650 includes an integrated GPS chipset within it.  With the GPS on, the battery will get about 10 hours with 1-second recording rate.  This would be inclusive of any sensor data such as cadence, heart rate, or power meter.
Like the recently announced V800 GPS unit, it includes satellite pre-caching capabilities for up to three days.  This means that if you sync your V650 unit every 3 days it'll pre-populate expected satellite location information and dramatically increase initial satellite reception each time you turn it on.  The satellite pre-caching sync process would initially be completed by FlowSync (the PC/Mac desktop app), but down the road it'll also be included within the mobile app.
Within the V800 unit I'm seeing satellite reception after travelling thousands of miles down to just a few seconds.  It would be my expectation that this unit would perform similarly (of course, such video results will be included in my review).
The unit includes a barometric altimeter within it, which will give you accurate elevation information while riding.  It will also give you ascent/descent information as well as vertical ascent in meter/hours (VAM) information.  VAM essentially tells you how fast you're climbing.  Like the V800, the elevation information will contribute to altitude compensated calorie information, which is designed to increase calorie burn stats based on elevation.
Bluetooth Smart Sensor Connectivity: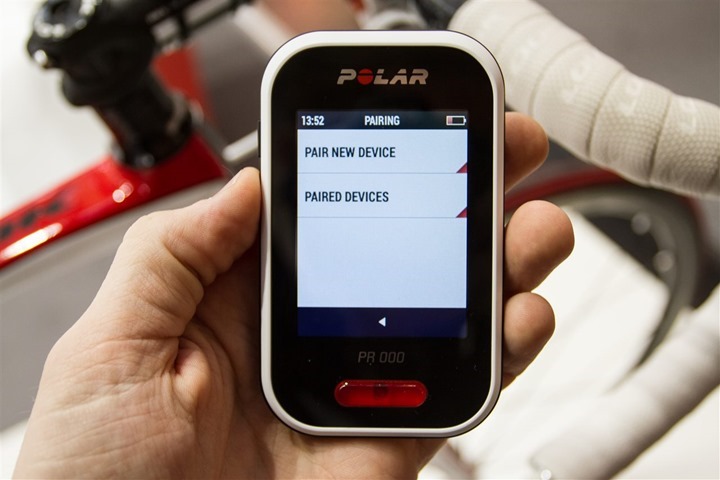 The V650 supports Bluetooth Smart sensors, which means it can connect to standard Bluetooth Smart cycling sensors.  Such Bluetooth Smart sensors started hitting the market 2 years ago with the Wahoo Blue HR heart rate strap.  That was then shortly thereafter followed by Polar's H7 Bluetooth Smart HR strap.  And then beyond that, we've seen many more Bluetooth Smart HR straps.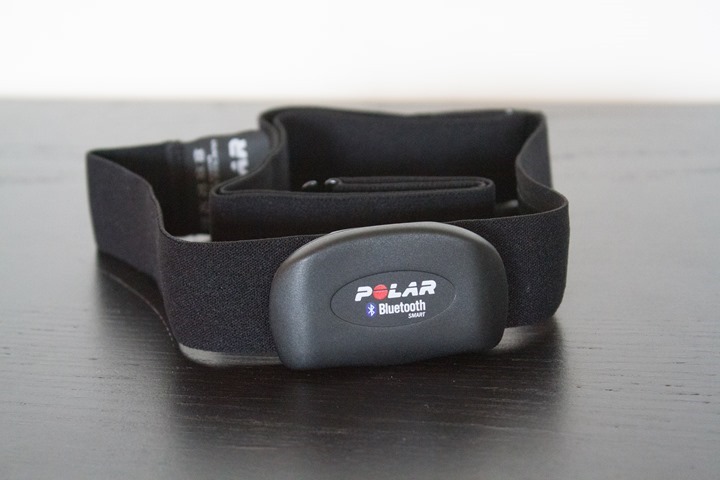 After the heart rate strap flood, we started to see Bluetooth Smart speed/cadence sensors hit the market, about 18 months ago starting with the Wahoo Blue SC.  This was a combo speed & cadence sensor, meaning it could measure speed using a wheel magnet on a trainer (or outdoors), while also measuring cadence with a magnet on the crank-arm.  These sensors (like the heart rate straps), followed the standard (and at the time just published) profile specifications on Bluetooth Smart speed/cadence sensors.  In doing so, it means that any sensor could communicate with any compatible head unit.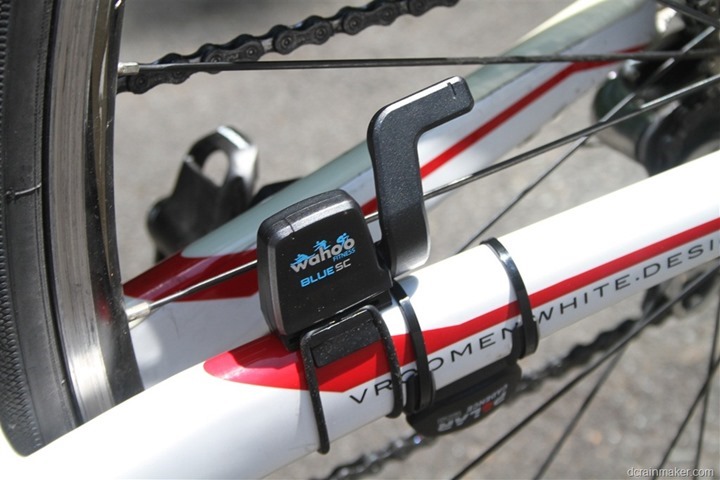 Finally, we saw our first Bluetooth Smart power meter a year ago with the Stages power meter.  This unit transmitted both ANT+ and Bluetooth Smart concurrently – making it perfect for folks who may want to transition from an ANT+ head unit to a Bluetooth Smart head unit.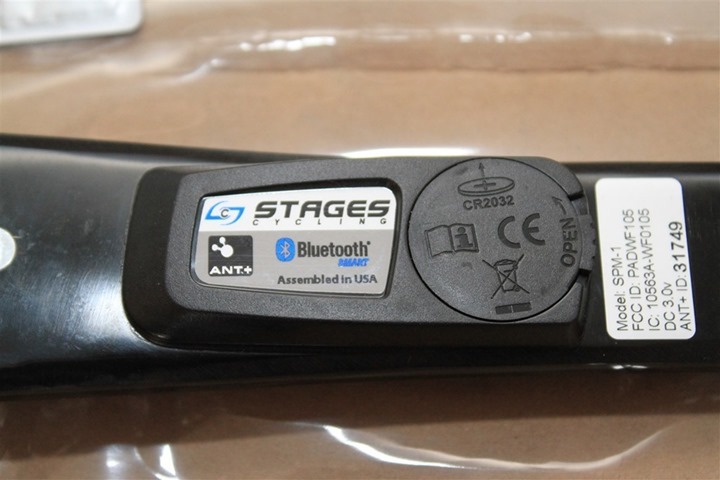 Which, takes us to today with the V650.  At launch, the V650 will support the heart rate straps, the speed/cadence combo sensors, speed-only sensors, and cadence-only sensors.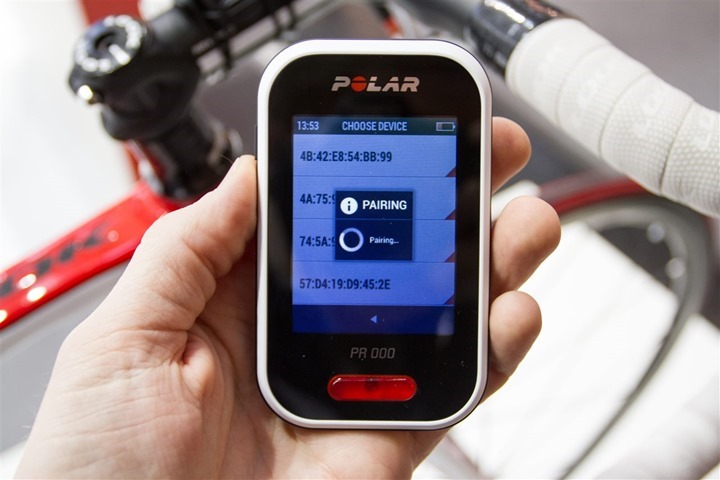 Polar will be making both speed-only and cadence-only sensors, modeled after their existing sensor units, just with new communications guts inside.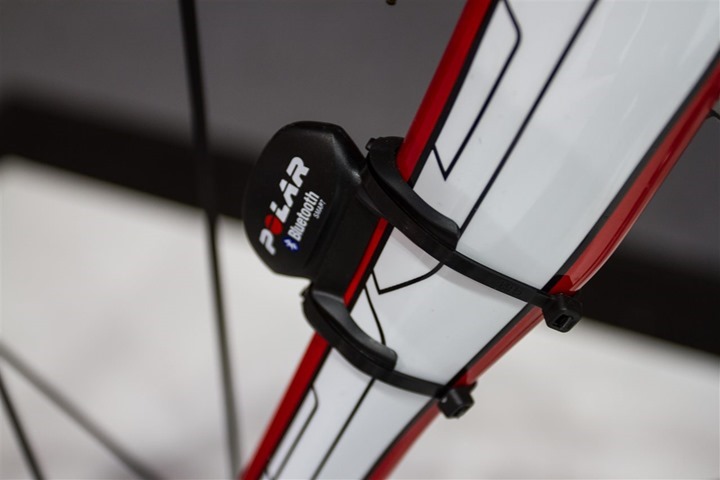 Moving forward, in June 2014, Polar will start supporting the Bluetooth Smart power meter profile, which is timed to their release of the Bluetooth Smart communications pods for their Polar/Look Keo power meter.  That power meter runs on W.I.N.D. today and is not compatible with the V650. Getting compatibility with the V650 will simply require swapping out the communication pods.  Polar hasn't quite decided what the price for such a swap will be, but the goal is for it to be 'relatively cheap' – likely in the $100 or less range.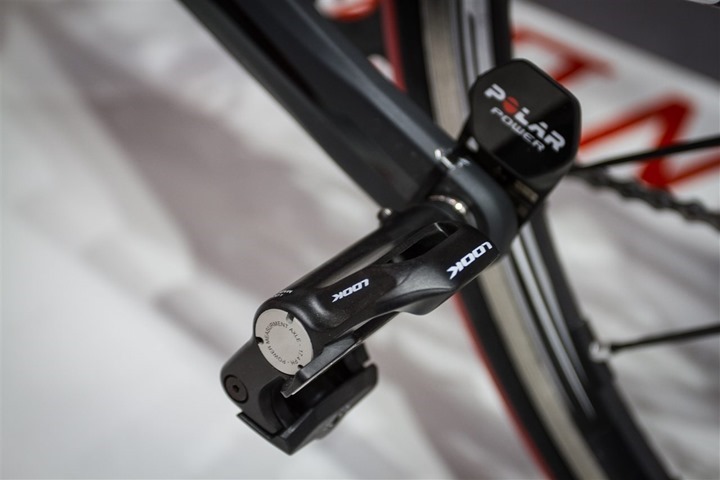 To recap, here's the plan:
Supported sensors in May 2014:
– Bluetooth Smart Heart Rate Strap
– Bluetooth Smart Cycling Speed & Cadence Combo Sensor
– Bluetooth Smart Cycling Speed-Only Sensor
– Bluetooth Smart Cycling Cadence-Only Sensor
In June 2014, Polar will add support for:
– Bluetooth Smart Cycling Power Meter Sensor
Next on the Bluetooth side it's worthwhile pointing out that while the unit does actually include a full Bluetooth 4.0 chipset, Polar will only be leveraging the Bluetooth Smart Smart side of things, which means that it will require a Bluetooth Smart compatible phone.  On iOS this means the iPhone 4s and newer.  And on Android, it requires a phone with Android OS 4.3 + compatible hardware.  Now, even with that hardware – the V650 will not support connecting to a phone to upload workouts in May.  That functionality is coming "later in 2014".  Polar hopes that will be 'sooner' rather than later, but declined to publically state an exact target.
Once that update comes though, the unit will allow you to automatically upload workouts to the Polar Flow web service upon completion.   Once online you'll get ride overview, details and analysis capabilities.  Further, while online using the service you can customize bike profiles and view configuration (such as data field displays).
Of course, the details of all of this remain a bit hazy since the unit doesn't contain such functionality today.
Finally, it's interesting pointing out that technically speaking Polar could add support for the Wahoo KICKR and other Bluetooth Smart trainers (such as the CycleOps PowerBeam Pro Bluetooth Edition).  Meaning, that Polar and Wahoo (or CycleOps) could collaborate together to enable you to control the trainer directly from the head unit.  If they did that, it'd make the unit incredibly compelling – especially if it could control both trainers.  Obviously, neither company has committed to such – but it's all within the realm of possibility…
Training and Coaching Functionality:
The V650 includes a bit of a mix of different training-focused functionality.  Some of it is there from past units, but much of it appears to be pushed until a later release.
On the list of things it does have today, it includes the color-coded zones (such as time in zone), which are enumerated onto the screen based on your current zone information.  Historically this has only really been seen post-workout on the computer, or in non-color-coded form on the unit itself in much smaller sizing.  Polar didn't have this working on the screens at the time since there wasn't enough mid-activity data, so here's a screenshot of what it should look like: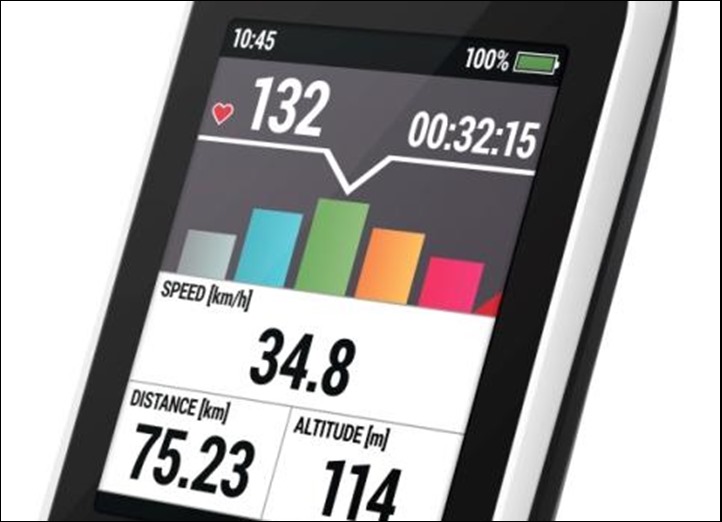 As it stands today, the unit upon launch will not have any form of workout, interval or structured training guidance.  From a workout creation standpoint you'll be able to create a workout online with Polar Flow (that's the website), and then sync it to the unit.  Initially this sync will occur via USB cable (once rolled out sometime in the future), but once that feature and the mobile app are present, you'll be able to do it that way as well.  But again, there aren't any timelines for that functionality.
The unit will record RR/HRV (heart rate variability) information during a workout.  That information is used to help determine VO2Max estimates.  Further, the unit then takes much of this information and transmits it to Polar Flow, which will display details about training load and recovery.  Based on the individual workout impact and combined with your historical load data, the site can better predict recovery times.  Below is an example of how this information will be displayed on the site.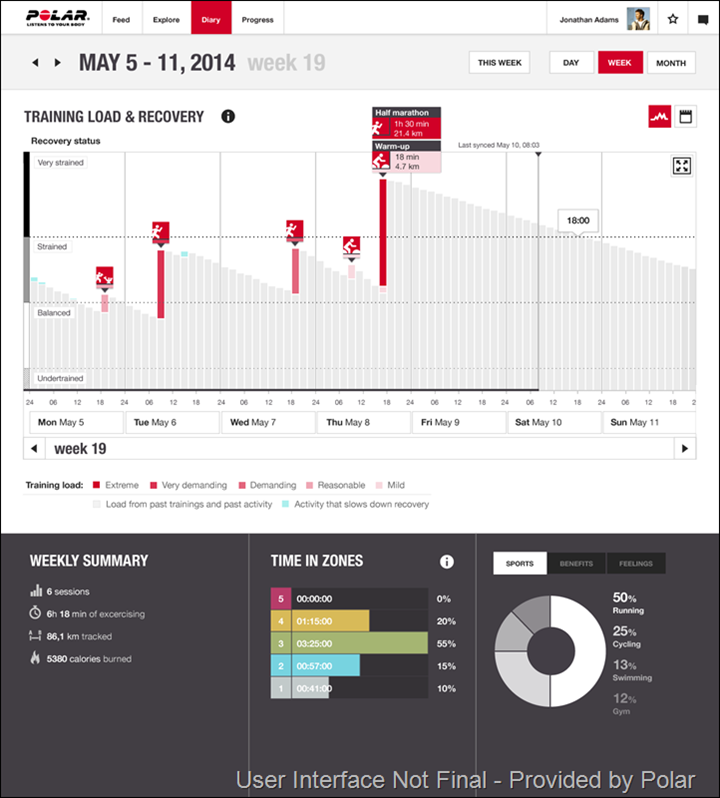 Ultimately, this information can be used to better predict not only training load but also the lead-in and taper into a given race.
Routing and Directions: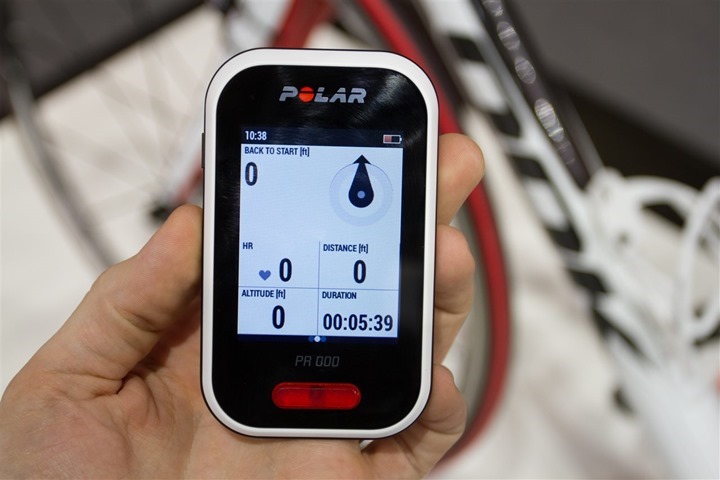 The unit includes route navigation based on routes downloaded from Polar Flow.  [Update: At launch, only route tracking will be available, route guidance will come in a later update]. These routes are either routes shared by others, or past/historical routes.  Note that at launch you will not be able to create your own routes on the site.  Thus, the feature is kinda limiting.  Initially the routes will be downloaded using your PC, but long term you'll be able to do it with the mobile app (in a later release).
On the unit the routes will be shown both as a breadcrumb trail as well as with a little compass.  The compass is GPS based, and not magnetic.  Though, for cycling that tends to be fine.   Below, is a screenshot of what the breadcrumb trail will look like: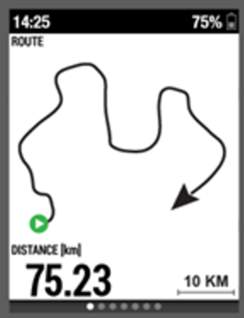 Remember that this is different than 'turn by turn' navigation, it doesn't provide street names, but rather just a little arrow to follow.  This is similar to most other units on the market.
Product Comparison Charts:
I've added the V650 to the Product Comparison Tool, which means you can mix and match it against any other watch/unit that I've ever reviewed for feature comparisons.  While I've validated everything below with the Polar product team in Finland and in the US, do keep in mind that because it's still early in the release cycle things could change (either good or bad changes). For the sake of simplicity, I've just selected the Polar V650, Garmin Edge 500, Edge 810, and O-Synce Navi2Coach in the chart below. It's a bit tricky because feature-wise it's more similar to the Edge 500, but physical unit-wise it's more similar to the Edge 510 & Edge 810 (having a color touch-screen display).
However, you can easily make your own change with any device you want here at this link.
Function/Feature

Polar V650
Garmin Edge 500
Garmin Edge 810
O-Synce Navi2Coach
Copyright DC Rainmaker - Updated April 9th, 2021 @ 10:29 am New Window
Price
$253/€220
$199
$399
$249
Product Announcement Date
January 26, 2014
SEP 1, 2009
Jan 7, 2013
AUG 31, 2012
Actual Availability/Shipping Date
March 2015
Dec 2009
Jan 2013
OCT 2012
GPS Recording Functionality
Yes
Yes
Yes
Yes
Data Transfer
USB
USB
USB & Bluetooth
USB
Waterproofing
IPX7
IPX7
IPX7
IPX7
Battery Life (GPS)
10 Hours
18 hours
17 hours
16 hours
Recording Interval
1-second
1-Second or Smart
1-Second or Smart
1s, 5s, 10s, 20s, 30s, 60s
Alerts
Sound/Visual
Sound/Visual
Sound/Visual
Audio/Visual
Backlight Greatness
Great
Good
Great
Great
Ability to download custom apps to unit/device
No
No
No
No
Acts as daily activity monitor (steps, etc...)
No
No
No
No

Connectivity

Polar V650
Garmin Edge 500
Garmin Edge 810
O-Synce Navi2Coach
Bluetooth Smart to Phone Uploading
Not yet
No
No
No
Phone Notifications to unit (i.e. texts/calls/etc...)
TBA
No
No
No
Live Tracking (streaming location to website)
No
No
Yes
No
Emergency/SOS Message Notification (from watch to contacts)
No
No
No
No
Built-in cellular chip (no phone required)
No
No
No
no

Cycling

Polar V650
Garmin Edge 500
Garmin Edge 810
O-Synce Navi2Coach
Designed for cycling
Yes
Yes
Yes
Yes
Power Meter Capable
Yes
Yes
Yes
Yes
Power Meter Configuration/Calibration Options
Yes
Yes
Yes
Yes
Power Meter TSS/NP/IF
Yes
Yes
Yes
Yes
Speed/Cadence Sensor Capable
Yes
Yes
Yes
Yes
Strava segments live on device
No
No
Q3 2015

Running

Polar V650
Garmin Edge 500
Garmin Edge 810
O-Synce Navi2Coach
Designed for running
No
No
No
No

Swimming

Polar V650
Garmin Edge 500
Garmin Edge 810
O-Synce Navi2Coach
Designed for swimming
No
No
No
No

Triathlon

Polar V650
Garmin Edge 500
Garmin Edge 810
O-Synce Navi2Coach
Designed for triathlon
No
No
No
No

Workouts

Polar V650
Garmin Edge 500
Garmin Edge 810
O-Synce Navi2Coach
Create/Follow custom workouts
Yes
Yes
Yes
Yes
On-unit interval Feature
No
Yes
Yes
No
Training Calendar Functionality
No
No
Yes
No

Functions

Polar V650
Garmin Edge 500
Garmin Edge 810
O-Synce Navi2Coach
Auto Start/Stop
Yes
Yes
Yes
Yes
Virtual Partner Feature
No
Yes
Yes
No
Virtual Racer Feature
No
No
Yes
No
Records PR's - Personal Records (diff than history)
No
No
Yes
No
Tidal Tables (Tide Information)
No
No
No
No
Weather Display (live data)
No
No
Yes
No

Navigate

Polar V650
Garmin Edge 500
Garmin Edge 810
O-Synce Navi2Coach
Follow GPS Track (Courses/Waypoints)
Planned
Yes
Yes
Yes
Markers/Waypoint Direction
No
Yes
Yes
Yes
Routable/Visual Maps (like car GPS)
Yes
No
Yes
No
Back to start
Yes
Yes
Yes
Yes
Impromptu Round Trip Route Creation
No
No
No
No
Download courses/routes from phone to unit
Planned
No
Yes
No

Sensors

Polar V650
Garmin Edge 500
Garmin Edge 810
O-Synce Navi2Coach
Altimeter Type
Barometric
Barometric
Barometric
Barometric
Compass Type
GPS
GPS
GPS
Magnetic
Optical Heart Rate Sensor internally
N/A
No
N/A
Heart Rate Strap Compatible
Yes
Yes
Yes
Yes
ANT+ Heart Rate Strap Capable
No
Yes
Yes
Yes
ANT+ Speed/Cadence Capable
No
Yes
Yes
Yes
ANT+ Footpod Capable
No
No
No
No
ANT+ Power Meter Capable
No
Yes
Yes
Yes
ANT+ Lighting Control
No
No
Q3 2015
ANT+ Bike Radar Integration
No
No
Q3 2015
ANT+ Trainer Control (FE-C)
No
No
No
ANT+ Remote Control
No
No
Yes
Yes
ANT+ eBike Compatibility
No
No
No
No
Shimano Di2 Shifting
No
No
Yes
Bluetooth Smart HR Strap Capable
Yes
No
No
No
Bluetooth Smart Speed/Cadence Capable
Yes
No
No
No
Bluetooth Smart Footpod Capable
No
No
No
No
Bluetooth Smart Power Meter Capable
Yes
No
No
No
Temp Recording (internal sensor)
Yes
Yes
Yes
Yes
Temp Recording (external sensor)
No
No
No
No

Software

Polar V650
Garmin Edge 500
Garmin Edge 810
O-Synce Navi2Coach
PC Application
Polar Flowsync
Garmin Express
Garmin Express
TrainingLab
Web Application
Polar Flow
Garmin Connect
Garmin Connect
Trainingsplan.com
Phone App
-
Garmin Connect Mobile (not direct to device though)
Garmin Connect (iOS/Android)
No
Ability to Export Settings
No
No
No
Yes

Purchase

Polar V650
Garmin Edge 500
Garmin Edge 810
O-Synce Navi2Coach
Amazon
Link
Link
Link
Link
Backcountry.com
Link
Link
Link
Link
Chain Reaction Cycles
Link
Link
Link
Link
Competitive Cyclist
Link
Link
Link
Link
REI
Link
Link
Link
Link
Wiggle
Link
Link
Link
Link

DCRainmaker

Polar V650
Garmin Edge 500
Garmin Edge 810
O-Synce Navi2Coach
Review Link
Link
Link
Link
Link
Again, remember you can easily make your own change with any device you want here at this link.
My Initial Thoughts on the Polar V650: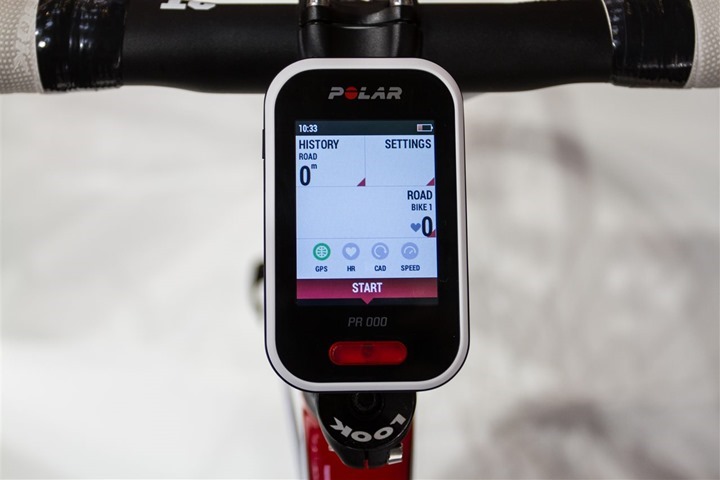 I'm liking what I see from Polar.  Between the V800 a few weeks ago, and now the V650 – they've made a really solid change in direction and seem to be 'getting it'.  The unit, priced at approximately $250 (technically the official pricing is $253US), is a bit on the high side for the functionality at launch (May) – compared to the Edge 500.  The obvious differences being this (Polar V650) has a color display, is touch screen and has phone upload capabilities (later on).  And the V650 also has the front LED light.  All things the Edge 500 lacks.
On the flip side, the Edge 500 has ANT+ support and more power meter functionality around TrainingPeaks metrics (TSS/NP/IF).  Today, in the cycling world ANT+ reigns supreme on accessories.  Some of those 'accessories' costing thousands of dollars (power meters).  Polar states that for things like the power meter metrics, they'll be looking to provide 'similar' metrics that may not have the official Training Peaks branding – but give effectively the same data.  Some other head units do the same thing.
I continue to see a solid market for some form of tiny device that quietly translates ANT+ data to Bluetooth Smart data (like the 4iiii's Viiiiva or their new pods).  Whether or not the V650 supports such a device would remain to be seen.
The V650 will be the first dedicated GPS-integrated cycling-specific computer to support Bluetooth Smart accessories.  While other cycling units have Bluetooth, they don't connect to sensors.  And the units that do connect to sensors, require a phone to operate.  The only 'issue' here that I see is that ultimately, the number of consumers that have such BLE sensors is relatively small compared to those that don't.  And, having to wait till June for power meter support is a bit of a bummer.
I'm really interested in seeing how the phone side of the unit comes into play later this year.  Given that the unit will ship in May without phone connectivity it'll be a bit behind the competition (Edge 510/810).  Polar has promised such connectivity "later in 2014", but it remains to be seen if that means 'June' or 'December'.  Personally I think they should be really clear about what the timelines are (à la what Suunto did a year ago) since if I was looking at a new unit, that'd honestly be one of the single biggest decision points.  I'd be willing to wait a couple months, but not the entire year.
With that, I'm really looking forward to getting some on-bike time with the unit and starting putting it through its paces.  As I noted at the beginning – I'm pretty jazzed about the direction Polar is going in, and I think if we fast forward till this time next year it'll be really interesting to see how far they've moved forward their entire offering (device + phone app + Polar Flow website).  An interesting year it'll be…
Frequently Asked Questions – V650 and Related:
This is my attempt at reducing redundant questions based on common and/or expected questions.  I'll continue to add to this over time as I see repeats.  Thanks!
When will it be available?
Polar is stating May July August September October 2014 for availability.
How much is it?
$253US/€220 without the HR strap, and $310US/€270 with the HR strap.
I'm looking at places online to purchase it, and XYZ store says they'll have it in March!?!
They're lying to get your order.  Yes, really.
When will your in-depth review be posted?
It'll be posted once Polar delivers final hardware and/or software to me.  This is primarily to protect you against making purchasing decisions based on a beta product that could have bugs introduced later after my review (though, that's always a possibility).  Thus, about 1-2 weeks after the final hardware/software is released to me.  At this point, my understanding is the hardware is final, however of course, the software is far from final.
What file format does it export in?
The unit will provide standard Polar .HRM+.GPX files for cycling (like past Polar products).
Will Polar offer an API to access the data from their site?
That is the plan.  Or rather, they plan to do two different things.  First is to offer a way to download the files manually, and second is a way to push activity data to 3rd party services.  A few days ago, Polar released a statement to me about their plans (in relation to the V800, but I've been told it applies to the V650 as well).  I've copied said statement below:
"Polar does indeed plan to allow users of our V800 and other future products to be able to export their training data to other services.

As a first step, they will be able to export individual training files from the Polar Flow service to other training services. Although we do not have an exact timeline for this, we expect to be able to offer this within a few months of the launch of V800, at the latest.

We are also in discussions with some third party services to have an automatic connection, so that training done with a Polar product and stored in the Polar Flow service would automatically appear in another training service. This requires a software layer between the two services – called an API – and we want to be sure we can create and support this properly to ensure it works perfectly. We expect to make more announcements on specific partners and services during this year.

The final step will be to offer inbound data, so that people using other services will be able to combine this with any training data in the Polar Flow service. Again, this will require some software development work and we will offer this with selected partners at a later stage.

We believe that offering our customers a choice of where and how to use their data will greatly enhance the experience they have with our products and services and we are working hard to ensure this happens as soon as possible. Polar Flow is an important part of the Polar ecosystem for our newest devices and all future products. It will also be opened up to selected existing products in due course. We will continue to develop and improve our Flow service to ensure we can deliver on our most important promise – that our customers can meet their training goals with us."
Does it connect to Bluetooth Smart devices?
Yes. Upon release in May July August September 2014 it'll connect to the following Bluetooth Smart device types:
– Bluetooth Smart Heart Rate Strap
– Bluetooth Smart Cycling Speed & Cadence Combo Sensor
– Bluetooth Smart Cycling Speed-Only Sensor
– Bluetooth Smart Cycling Cadence-Only Sensor
Later in 2014, Polar will add support for:
– Bluetooth Smart Cycling Power Meter Sensor
Does it work with non-Bluetooth Smart, Bluetooth devices (i.e. Bluetooth legacy devices)?
No, it does not, only Bluetooth Smart.
Does it work with ANT+ devices?
No, it does not. It connects to Bluetooth Smart devices.  It will NOT connect to any ANT+ power meters.
Does it support existing Polar W.I.N.D. sensors?
No, it does not.  Neither HR nor speed/cadence/power meters.
Does it support power meters?
Polar has stated they will enable Bluetooth Smart power meter support starting later in 2014.  This will be in conjunction with an update to the transmission technology for their Polar/Look Keo power system (today, that system uses POLAR W.I.N.D.).  They have confirmed that they will support the standard Bluetooth Smart power meter spec, which is currently used by Stages Power for their dual ANT+/Bluetooth Smart product, and in the last few weeks, by PowerTap for Bluetooth Smart-only PowerTap hub caps.
C'mon, you must have something else geeky cool that didn't fit?
It's true, I do. For the real geeks in the crowd, the V650 (along with the V800) will include Bluetooth Smart sensor relay/broadcasting.  This means that if you attach a HR strap to the V650, it will actually rebroadcast that transmission as another BLE HR strap.  This is useful for group-based sessions, and for folks who may have secondary apps/devices that want to connect to the same HR strap.  In the case of the V650, they see a scenario where the coach could be in a follow-car and want to follow along on the data.
Does it do 'smart watch' style notifications (calls/text messages/etc…)?
In talking with Polar, they definitely see the potential for this (hardware is designed with it in mind), but at this point they haven't decided if (or when) this would be added to the V650.  But, they noted that should it be added, it'd be a simple firmware update.  Whether that's for free or paid would be TBD.
What is the battery life with GPS on?
The battery life is 10 hours with 1-second recording and GPS enabled.  The LED light on the front impacts the battery only about 2% from their testing, so that's relatively tiny.  The unit gets a "whole lot more" battery life if GPS is disabled, but they didn't have stats available.
Does it have Live Tracking capability like the Garmin FR220/620 and Garmin Edge 510/810?
Polar has stated "that's a possibility" but have not confirmed if and/or when it might be included in the product.  Given the unit won't connect to the phone in May upon launch, I'd suspect it'd be "later in 2014" if (again, a big if) they offer live tracking.
Do you think Garmin, Suunto or Timex will deliver new cycling units this season?
I don't expect Garmin to release a replacement for the Edge 510 or 810 this season.  They were only announced 12 months ago.  Meanwhile, the Edge 200 and Edge 500 are overdue – so those could be potential candidates, but I'm mixed on whether we'll see something there.  I don't expect new cycling units from either Suunto or Timex.  Mostly because Suunto has never entered the cycling-specific market, and while Timex has, they seem semi dis-interested in it at this point
Do you recommend waiting till May?
I tend however to be of the camp to buy what's available now, and start training, rather than waiting.  Which doesn't mean to go out and buy an Edge 500 instead of a V650, but rather, to make decisions based on your events and training schedule.  What if Polar slips to June?  Or if Garmin announces something new in April, but isn't available to June (like usual)?  How do those impact your season and races?  Finally, note that like any other high-demand product, initial capacity orders will fill up quickly.  Thus, if you wait till May to order (3 months from now), I highly doubt you'll get your unit anywhere near May.
Why haven't you answered my question below yet?
In general, it's likely because either I, or Polar, don't know the answer (or they wish to not yet disclose it).  Or, because I hadn't yet slept in days and decided to sleep for an hour or two.
Wait, when did you say your in-depth review will be released?  Why haven't you released your review yet?
My review will be released once they have final software/hardware (currently targeted for May sometime in 2014). I will update this very line item once I have final hardware/software.
–
With that, thanks for reading!
—
Updates as of 1/28/2014: Availability date shifted from April to May, changes to routing/navigation upon launch. 
Update 5/18/2015: Ok, with power meter support now within the unit and them actually shipping, I've started my testing in earnest here. It's currently on all rides that I'm doing (indoor/outdoor).