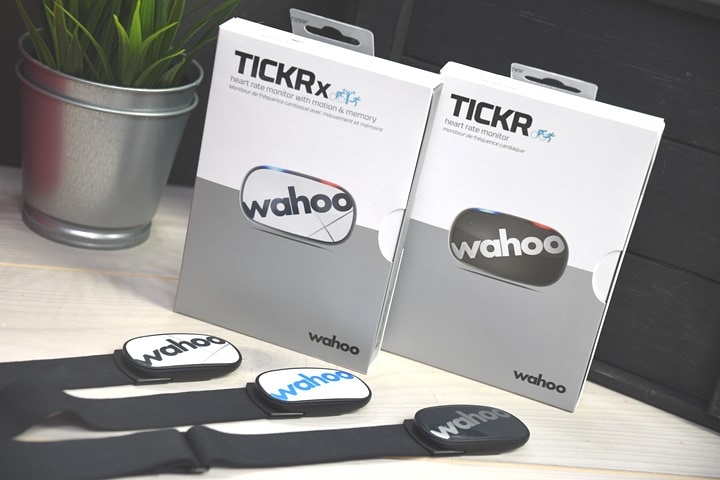 Wahoo has just announced a set of new TICKR & TICKR X heart rate straps that include some modest feature updates, most notably running dynamics support in the TICKR-X, as well as multiple concurrent Bluetooth Smart connections so you can pair to apps like Zwift at the same time as other wearables or bike computers. They've also increased the battery life, added more storage to the TICKR X, made the pods slightly slimmer, and a handful of other tweaks. Oh, and there's multiple colors of the base TICKR unit now.
The new straps maintain the same retail pricing as the previous straps ($49 for the TICKR and $79 for the TICKR X), though both of those straps could often be found for less over the past year or two. The older TICKR RUN edition is not being continued, since those features are basically rolled into the new TICKR X.
I've been using both straps for the last few months – so plenty of time to dig into them with boatloads of data. Now, if you'd like that delivered in witty video form, then look no further than the red play button below:
Else, continue using that swipe/scroll option to move your way through the rest of the article.
Oh, and as usual, these are just media loaners from Wahoo. I'll send them back in a disinfected paper bag or something down the line. After which I'll go out and get my own. If you found this review useful, then feel free to use some of the links at the sidebar, or, sign-up for a DCR Supporter membership, which helps support the site! Thanks!
Unboxing: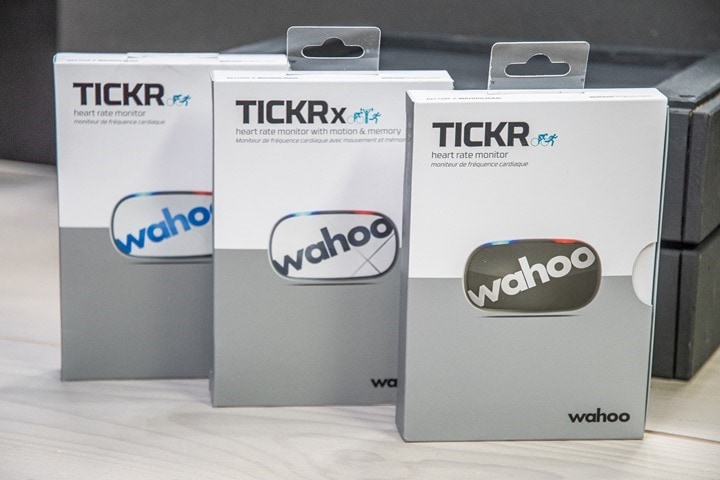 There are three different boxed versions of the Wahoo TICKR: The TICKR X, The TICKR (White), and the TICKR (Stealth). The two regular TICKR's are the same, just different colors. Spoiler: From an unboxing standpoint, all three boxes are identical. Here's the back of the TICKR vs TICKR X: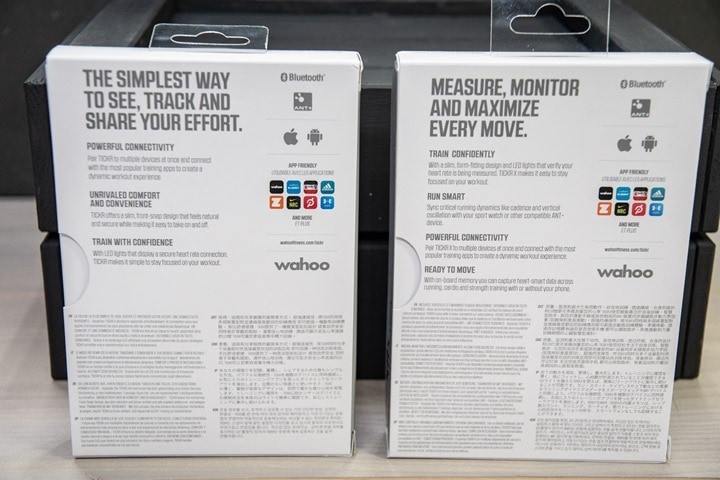 If we slide open the side of the box, you'll find the pod sitting atop the strap: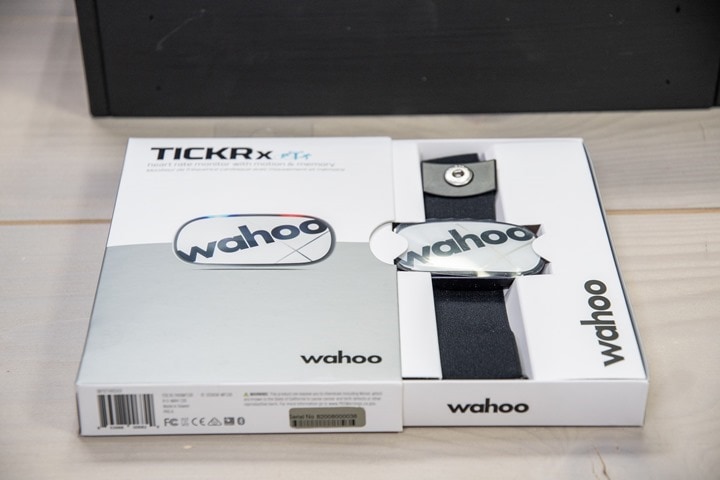 Meanwhile, removing all the inside stuff we've got the strap, pod, some legal paperwork, and then a quick-start guide:
Here's a closer look at the still-plastic-on pod:
Then the strap: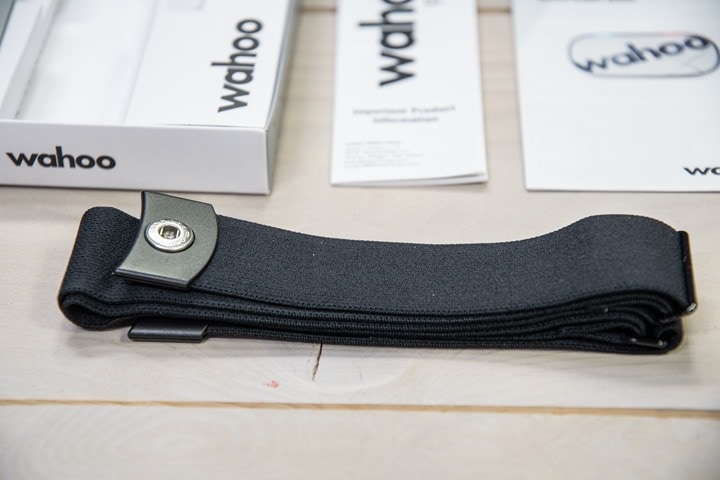 Then the manual you'll pretend to read. You needn't read it after this, it basically says wet your strap and put it around your chest.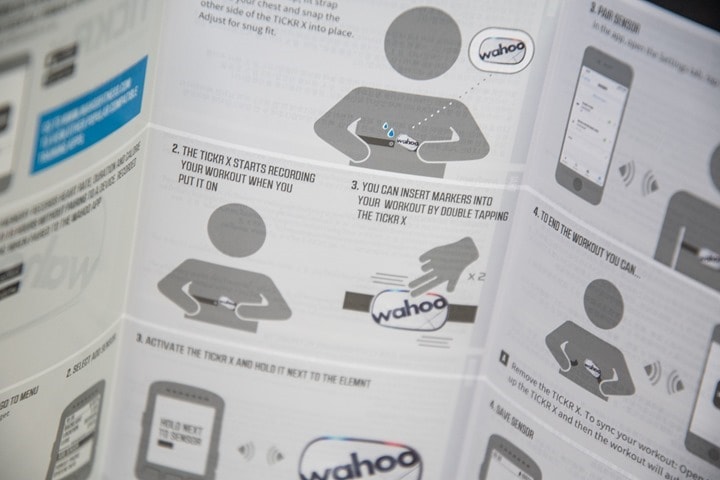 And…that's it! The CR2032 battery is already inside. As far as thinness goes, Wahoo advertises the 2020 TICKR in their PR materials as 10% thinner than the previous TICKR. Except, in my scientific testing – that's clearly not the case. It's actually thicker than their past strap:
I never really had a thick/thinness issue on the previous one, so I'll just assume this makes me faster somehow.
Also it's worth noting that Wahoo claims (in their PR materials) the following:
"A new, slimmer shape and integrated strap design make the latest TICKR and TICKR X the lightest heart rate monitors available at only ​48g/1.7oz​ (pod and strap together)."
Except, this isn't true either. I measured the previous Wahoo TICKR and it came to 44-45g (pod and strap, depending on which TICKR I used). There are boatloads of straps in the 47g ballpark, and the lightest strap I could find was a Timex Bluetooth Smart strap at 39g. Still in production is the Suunto strap at 43g. I demonstrate both of these in the video up above.
The Basics:
I get it, it's "just a heart rate strap". And try as I might to reduce the word count here, I probably won't succeed. Still, I'll try. For example, here's a simple bulleted version of the new features for each unit:
Wahoo TICKR & TICKR X New Features:
– Made pod 10% slimmer
– Allows three concurrent Bluetooth Smart devices, unlimited ANT+ connections
– Shifted LED's to top of strap
– Increased battery life from 350 hours to 500 hours (still CR2032 coin cell)
– Changed strap design to be flush with pod (which typically reduces chaffing for runners)
– Offered in white or grey
Wahoo TICKR X Only New features:
– Added ANT+ Running Dynamics (cadence, vertical oscillation, and ground contact time via official ANT+ HR-RD standard)
– Increased memory from 16 hours to 50 hours
(This is in addition to other TICKR-X only features like indoor cycling cadence, treadmill pace/distance, etc…)
Realistically, the only new things you probably actually care about here are the multiple concurrent Bluetooth Smart connections and ANT+ Running Dynamics if you've got a Garmin watch. The others are all niceties, but hardly game changers if you already own a TICKR (or any other strap for that matter).
For this post, I'll use the straps mostly interchangeably to show them, largely based on which one looks the prettiest – since the others have two months of usage already and aren't as crispy anymore. I discuss the TICKR X-only features specifically in the next section. Starting with the strap/pods, you'll notice that it's now streamlined.
In the below photo, the upper strap is the older design, the lower strap is the sleeker aero-like flush design. Obviously, it's not aero. Or, maybe it is.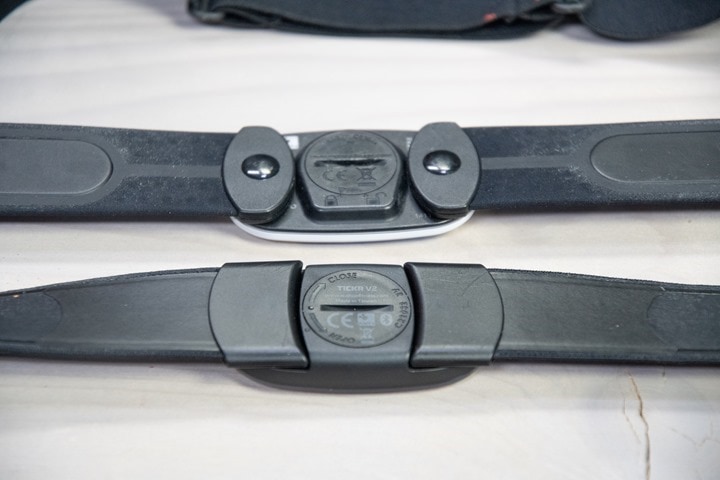 Inside the pod is a single CR2032 coin cell battery. The company says it'll last 500 hours. Seems reasonable.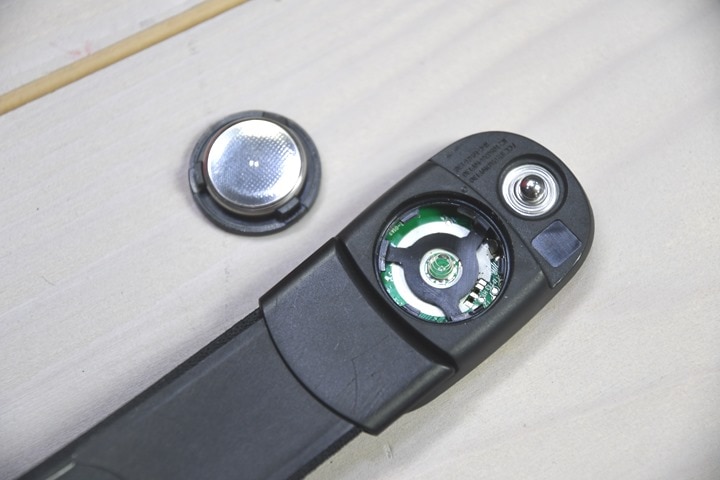 The pod attaches to the strap using dual poles. Once you attach both sides it'll complete the connection and light up. You can ensure it shuts off by detaching one side of the strap for storage, though you don't have to do so, it'll eventually go to sleep either way.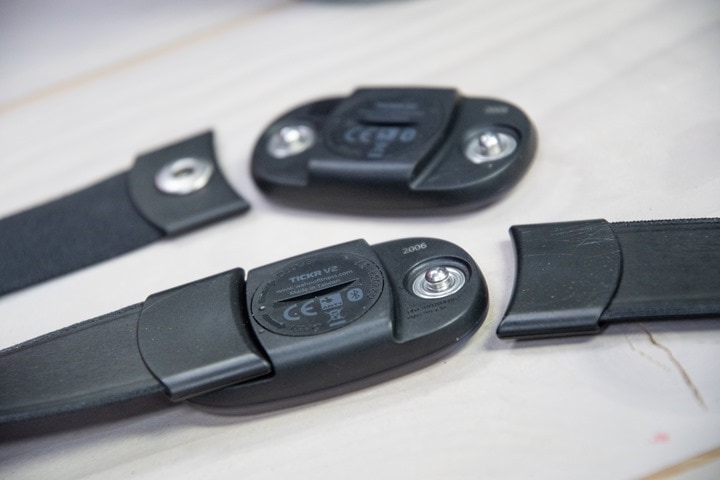 The inside of the strap where the electrode sensors are looks like basically every other strap – nothing special here.
While you don't need to set up the base TICKR strap using the Wahoo App, you can if you want. And you can use that to update the firmware when that occasionally happens. Setting it up is pretty easy. You just crack open the app and choose to add a Wahoo sensor:
After it finds it, it'll give you the 3-second (one-page) tutorial:
Once connected in the app you can see signal strength, the exact name of the TICKR (this is how it will show in apps too), and firmware version.
The 'Workout Profiles' you see in the app above are purely for the Wahoo app if recording a workout in that app – there's no standalone functionality for the TICKR X that has different workout profiles or anything like some optical HR straps have. There's no configuration options for the base TICKR strap or anything else. What you see is what you get (and honestly, that's simplistically great).
The TICKR & TICKR X have two LED's at the top of them, one each red and blue: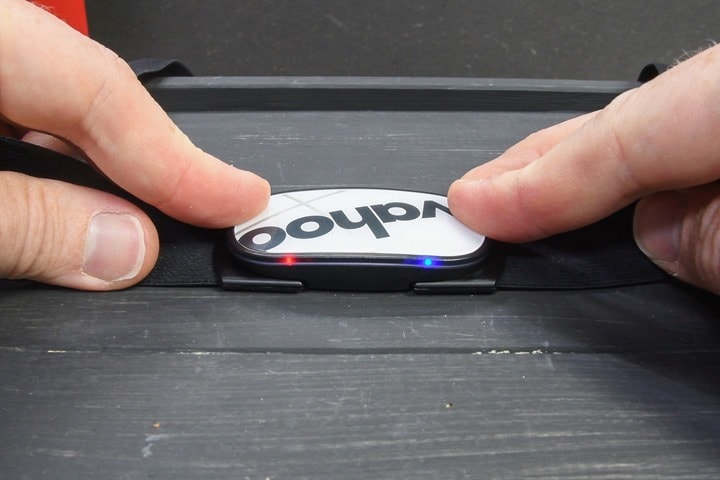 These lights are as follows:
Slow Blue Flashing: TICKR is on and searching
Fast 4x Blue Flashing: A device/app has been found
Fast Blue Flashing: A device/app is now connected to it
Red: Each time a heart beat is detected (you're still alive)
The LED will stop flashing though after 30 seconds. So only if you die in the first 30 seconds will the TICKR visually tell you. The more you know!
If you go to pair the strap you'll see it listed in two different ways, depending on the exact device/app you're using, and whether it's ANT+ or Bluetooth Smart. For example, on a Garmin Edge bike computer you'll see it as via ANT+ first: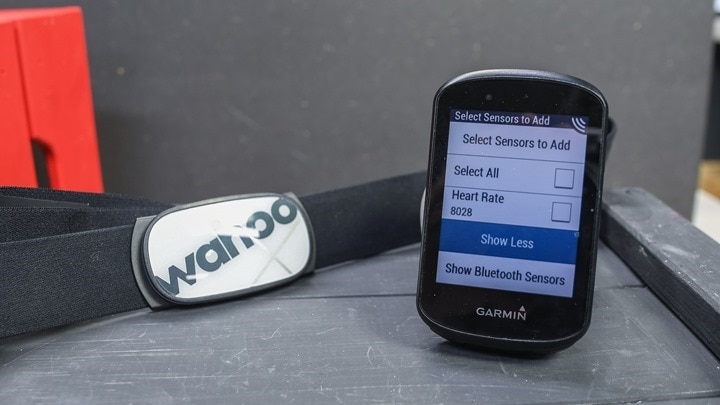 Whereas a Wahoo ELEMNT/ROAM/BOLT bike computer will leverage Bluetooth Smart first: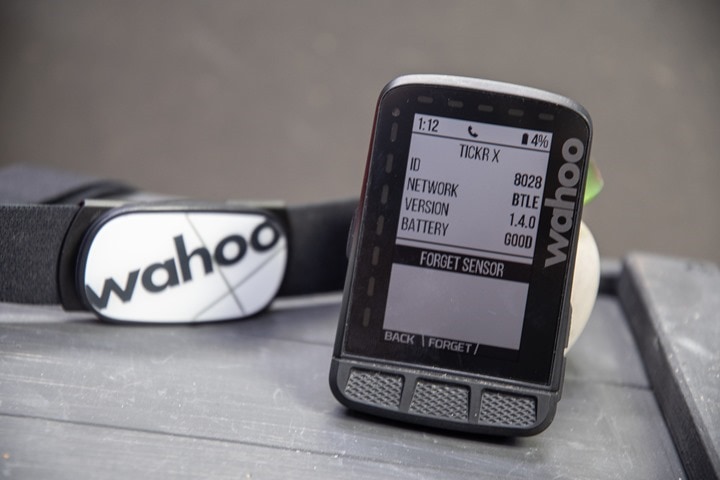 There's pros and cons to either preference. I typically use ANT+ because that means I can connect unlimited devices. Whereas Bluetooth can sometimes (but definitely not always) be slightly less prone to connectivity interference. Also, for me personally, with ANT+ I can enumerate the ANT+ ID's in saved fitness files from most devices, acting as a way to double-check which sensor I recorded something with. Again, that's a me problem – and very unlikely to be a you problem.
If you're on Zwift with Apple TV, then you'll see the Bluetooth Smart connection: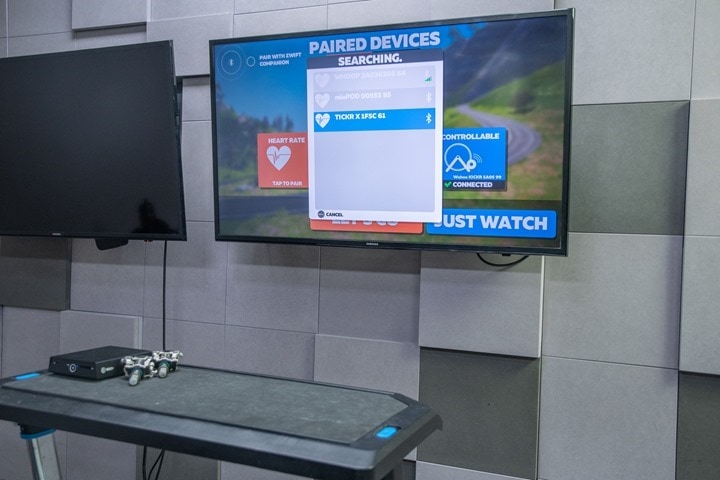 And now, for the real party trick leveraging the new multiple connection option, I'm concurrently on TrainerRoad on an iPad with Bluetooth Smart to the same strap: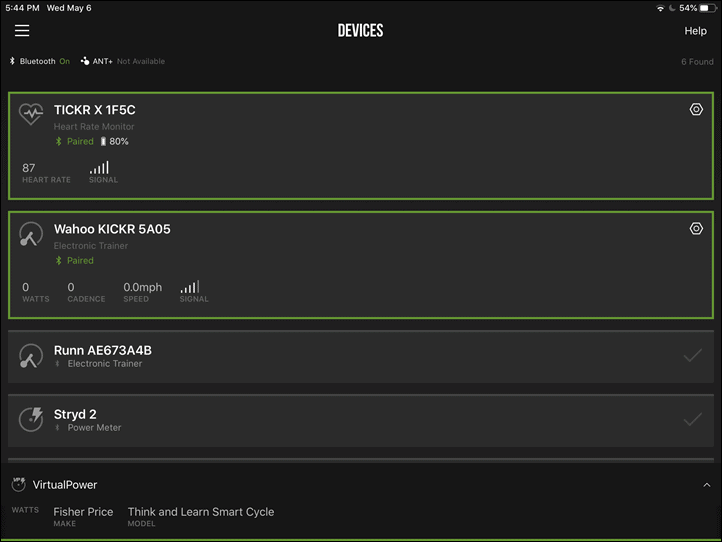 But wait, there's more! Now I'll take my phone and connect to it as well using The Sufferfest App: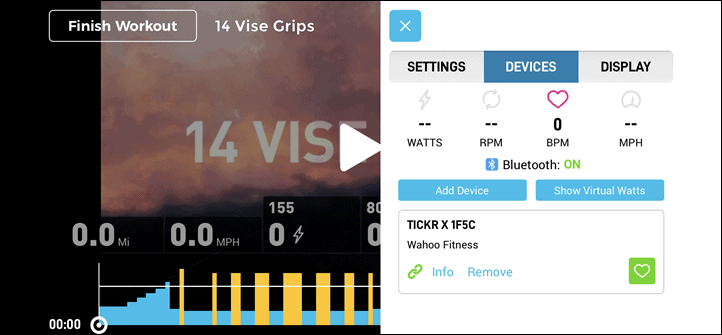 I'm not done yet! And here's the Edge 530 via ANT+. See – mind blown! Or…something: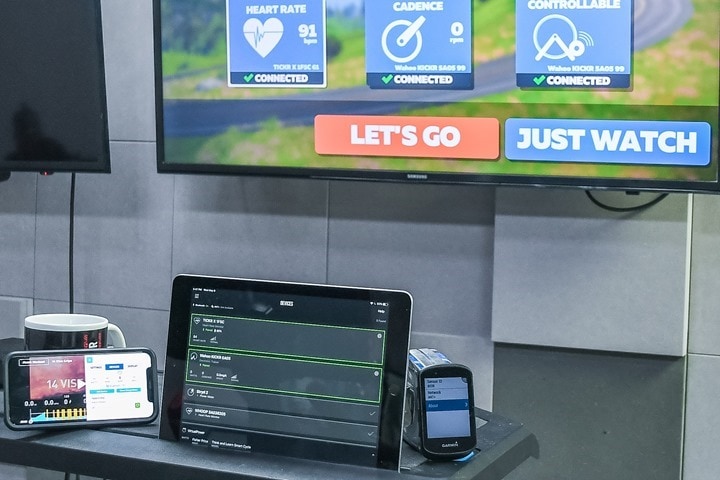 Point being, you've now got that flexibility for multiple connections. It's something that Wahoo added to the KICKR/CORE lineup last fall, and prior to that we see Polar add it to their H10 strap, followed by Garmin to their HRM-DUAL strap.
Beyond that, you'll do your workout as normal, and it'll transmit your heart rate as normal.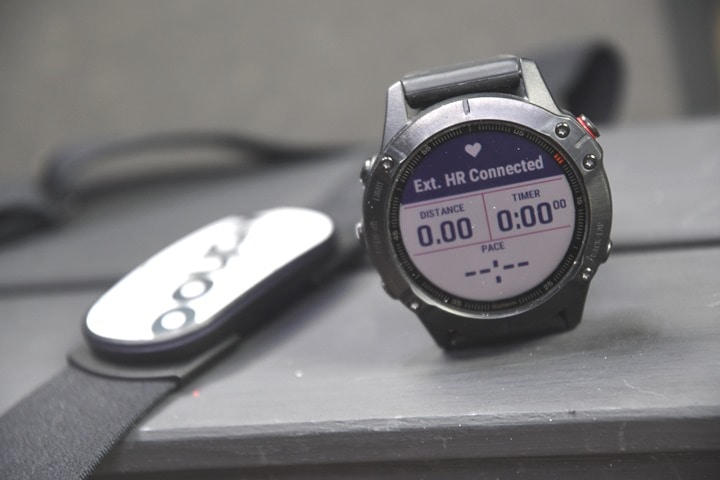 In addition to baseline heart rate (BPM), it's also transmitting HRV data. Here's a chart using the TICKR showing the HRV data (inclusive of RR intervals) with the Elite HRV app, connected via Bluetooth Smart on iOS:
And here's the same for the TICKR X:
And, if you're using a newer Garmin device, you'll even get respiration rate as well. For example, here's my ride the other day with the TICKR X and the Fenix 6 Pro: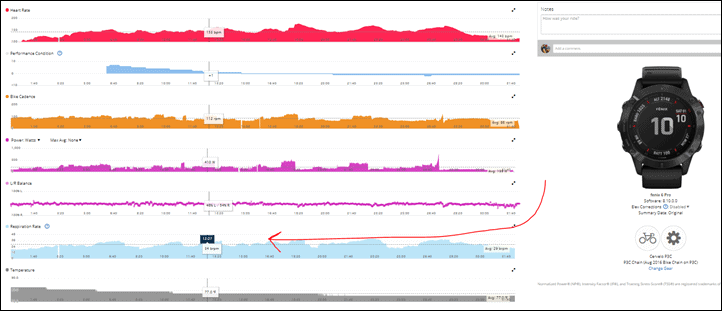 But mostly, you're likely to just use it connected to any app/device you can think of. Given it follows all the ANT+ & Bluetooth Smart standards, it works with everything released in the last decade or so.
TICKR X Only Features: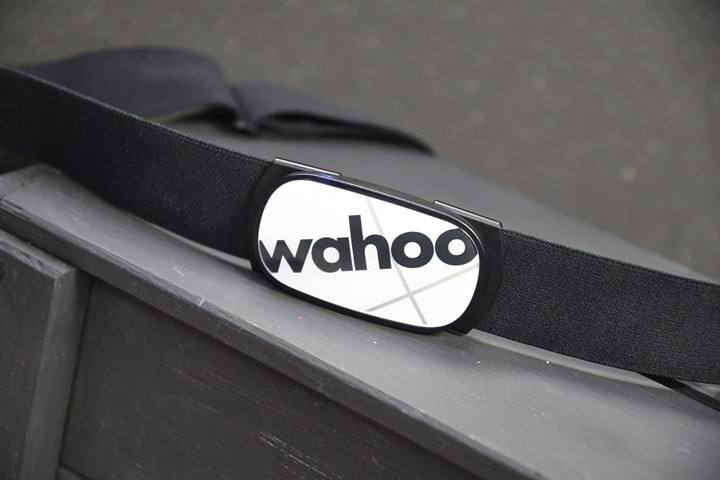 Next, we've got the TICKR X. This is Wahoo's higher-end strap and includes additional features that the baseline TICKR doesn't. Specially, here's what's different:
– [New] Added ANT+ Running Dynamics Support (previously Wahoo did non-standardized running efficiency metrics)
– [New] Expanded storage from 16 hours to 50 hours of memory for workout saving/storage
– Measures indoor cycling cadence
– Measures treadmill pace/distance
– Shows running efficiency metrics in app
– Can set laps via tapping
– Can control the Wahoo app, even your music (when paired with phone and Wahoo app)
– Can upload completed workouts to various 3rd party platforms
To pair up the TICKR X, it's identical to the TICKR pairing process:
Once paired though, you'll see a ton of new menu options:
On the upper portion of the page you'll see current heart rate, as well as running speed/cadence/steps per minute. Realistically it's unlikely you'll be looking at this page on your phone while using the strap normally, but it's a good quick check of things.
Then down lower there's three options. The first is Double Tap. This sets up what happens in a given sport, based on when you double-tap the strap. Each of them basically controls starting/stopping, lap, or music track changes. The music bits is tied to using the app/phone of course.
After that, there's device-free workouts. This is where the TICKR X will automatically record a copy of every workout you do. It's pretty handy, and much better than the Polar H10 implementation (which is a mess to use in reality). The workouts will simply download when you open this page up. The workouts are stored on the strap until it needs space for a new one.
Then from there, if you back out into the history, you'll see the downloaded workouts.  Note that it basically records from when you put on the strap until you took it off. So sometimes that captures more than the legit workout itself (such as time afterwards till you get to the shower/etc).
Note that as you can see above though, it will *not* store any running dynamics, cycling cadence, or anything else in offline mode. It's purely recording heart rate. You can trim the files if you want to get rid of the non-workout bits. Simply tap the pencil icon, and then use the sliders to trim to the actual start/end points. Super-duper easy.
From there you can export out the .FIT file, as well as share/upload it to numerous platforms.
So, let's look at the next TICKR-X feature: ANT+ Running Dynamics
This feature is only available with devices that support the ANT+ Running Dynamics standard, which only Garmin officially supports. COROS kinda went down that road with their pod, and Stryd kinda went down that road, as did RunScribe. But none really finished their journeys. I suppose in this context, given Garmin owns the vast majority of the higher end/endurance running market, that's just fine.
So, to see these you'll need a compatible Garmin watch. There's a boatload of Garmin watches that have supported Running Dynamics since 2015. So, in theory, any of these watches will support it:
– Garmin Fenix 2/2SE/3/5/6 Series
– Garmin Forerunner 245/245M/620/630/635/645/645M Series
– Garmin Forerunner 920XT/935/945 Series
– Garmin Epix (yup, seriously)
– Plus other watches I'm invariably forgetting
All you'll need to do is add it as a normal heart rate monitor: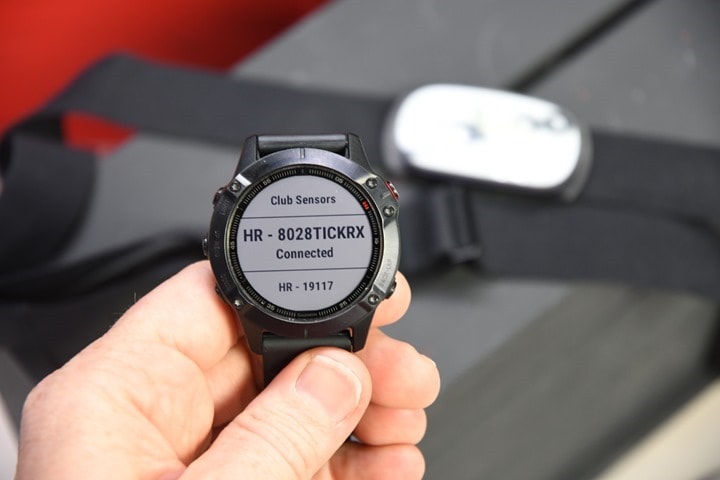 It'll automatically detect the running dynamics data as part of the HR-RD profile, and you can validate that by seeing the Running Dynamics data page show up (if it doesn't automatically show up, you can quickly add it via your activity settings):
With that, you go off for a run and you'll get the following data throughout the run:
– Ground Contact Time (GCT)
– Cadence
– Vertical Ratio
– Stride Length
– Vertical Oscillation
Note: The Wahoo TICKR X does NOT however transmit GCT Balance, whereas Garmin does.
Also as a reminder, the running dynamics profile *DOES NOT* transmit pace or distance (not even on a Garmin device). However, the TICKR-X can be paired as a running footpod instead, since it transmits that running pace data there instead: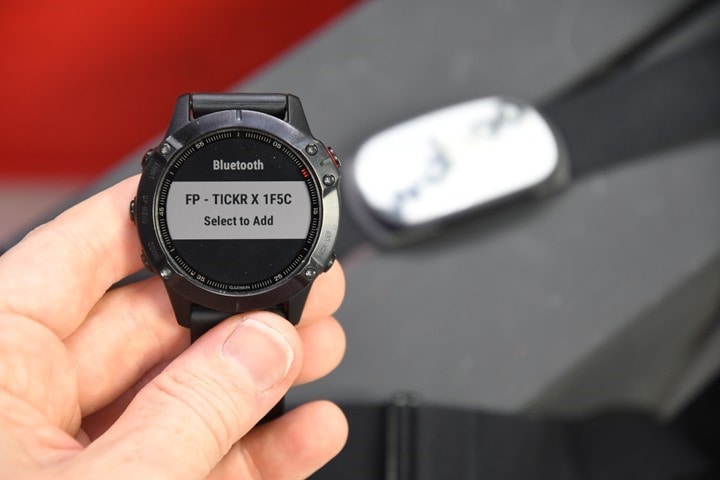 In addition to using a Garmin watch to view the Running Dynamics data, you can also use the Wahoo app. Once the TICKR X is paired up, simply start a run, and it'll show and record your running efficiency metrics there live:
Note that the running dynamics metrics are only recorded to the app if you use the app to start and record the entire time, the workout. You can't use the device-free function to get anything other than heart rate.
The bigger question: How does it compare to Garmin's data? So, I took out the HRM-TRI and ran side by side with the new TICKR-X. Well, I suppose they were atop/bottom. Either way, they were about 1" apart on my chest, and thus recorded the exact same run. Since these specific metrics are more about up/down/bounce/etc – they should be identical no matter the exact location on my chest. I recorded the TICKR-X data to a Garmin Fenix 6 Pro, and the HRM-TRI data to a Garmin FR945 (the HRM-TRI delivers the exact same Running Dynamics data as the HRM-RUN, it's just the first strap I found).
I took this photo while running along. The differences in display brightness are purely due to the super-bright sun and me trying to get them on precisely the same angle/plane while not stopping running. They look identical in real-life. Also, the slight differences in transmission/reception rate causes differences in the exact data shown. Still, I think this basically demonstrates things nicely.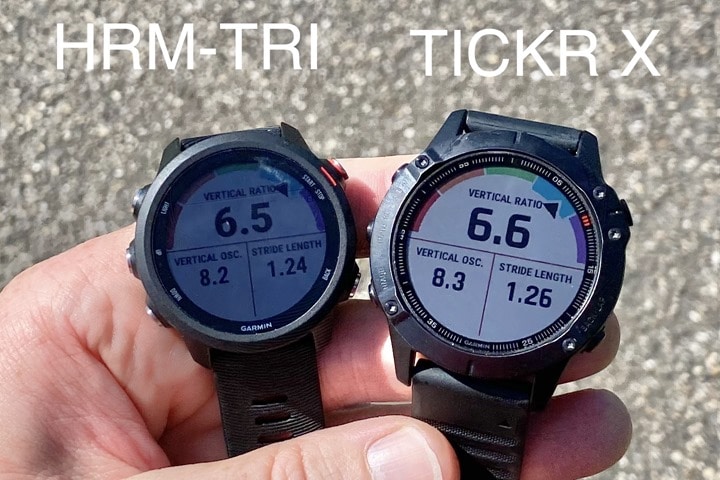 And with that, here's the data overlaid atop each other via the DCR Analyzer (you didn't know it does Running Dynamics too?!?):

You can see the three sets of lines (there's a third set near the very bottom, the scale of the other two messes with it – more on that in a second. Each of those two sets are basically showing the Garmin metrics next to the Wahoo metrics – and the results are very close. There are some moments where the two diverge, but it's hard to know which one exactly is right.
I mean, in order to do that I'd need at least a third source. Oh, right, let me enable the Stryd data I recorded too:

Umm…Ok, I guess.
Look, I'm still waiting for someone – anyone (but really Garmin) to actually put in writing in more than a single marketing-speak paragraph how to use any of these metrics for training and racing. So, until that happens I'm not going to fuss about minor differences of a few percent between them.
But, if you want to – have at it! The full data set with all of them is here. And, on your Garmin Connect account, you'll see all those stats too: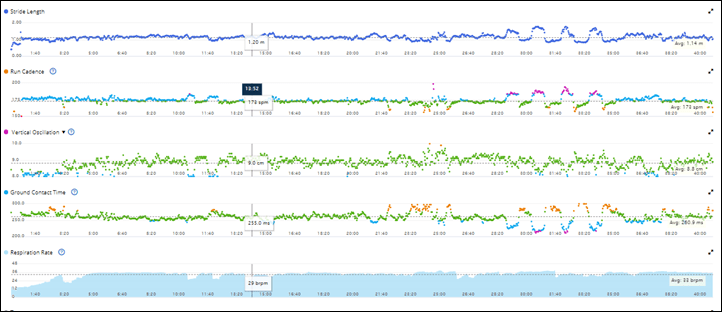 In addition to Running Dynamics, you can use the TICKR X as a simple ANT+ or Bluetooth Smart footpod, including cadence. This means you'll get pace shown from it, as well as heart rate and cadence. This is super useful in Zwift running, because it's an all in one solution. Here you can see the single strap performing triple-duty: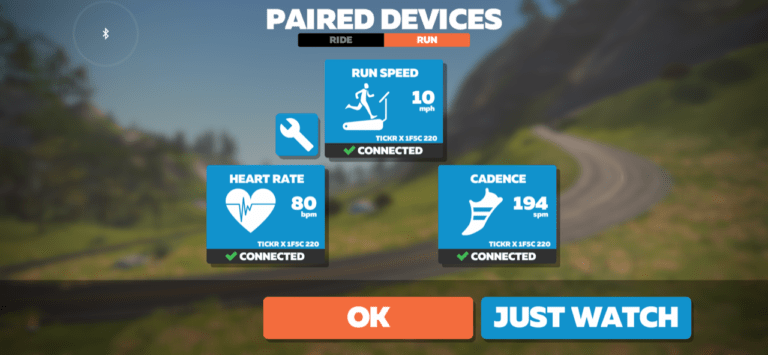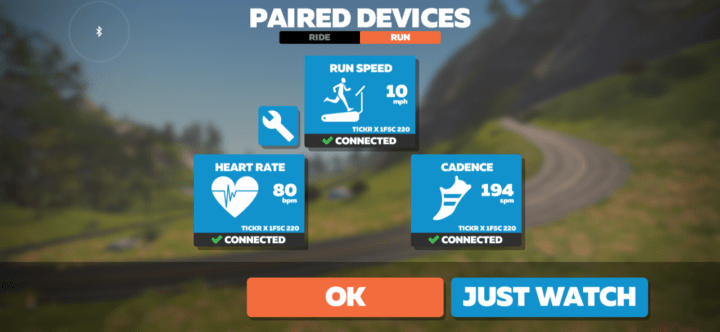 Ok, so what about cycling cadence? How's that? Ask and you shall receive. In my case, I decided to do a simple cadence step test to see where it might work or not work. In short – it was spot on with a pair of Vector 3 power meter pedals. Here's that simple data set:

The only places it dropped out was below about 47RPM, and above about 142RPM. Between those two points, no issues at all – whether on the handlebars, or seated vigorously scrolling through Instagram. I don't know why it momentarily dropped out earlier on, but everything else was otherwise fine.
One slight oddity though is that something like this would be *PERFECT* for someone going to a hotel gym, or using an app like the Peloton app, which allows you to connect to both Bluetooth Smart heart rate sensors and cadence sensors. Except, it didn't work. While I could see the sensor and pair to it, it just showed nothing for cadence despite pedaling away: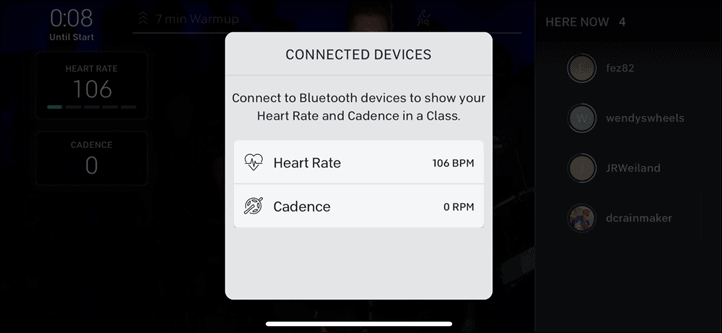 Not sure if that's a Wahoo problem or a Peloton problem, but I'm confident it's technically an easy problem to fix. If either side decides to fix it.
And with that, we've covered just about everything there is to know about the new TICKR X. Given the similarity in data between the TICKR X and the Garmin HR straps, there's virtually no reason to go out and buy an HRM-RUN strap these days since it lacks Bluetooth Smart connectivity (somehow, still). The HRM-TRI however is a trickier duck. That's because that strap has storage for offloading your swim segment to your Garmin watch. Wahoo doesn't play there with offloading to a watch, so you can't offload that data from the TICKR-X to a Garmin watch (or a Polar watch, or a Suunto watch, or any watch). You can only download/save data to the Wahoo app and then sync that to various sites.
As such, for triathletes, the HRM-TRI is still grudgingly the only option if you want chest HR data on your Garmin. Maybe Wahoo can have their TICKR-X show-up correctly to a Garmin watch and we'd all be happy. Or Garmin could just update the HRM-TRI/RUN with Bluetooth and join 2016. Either way makes me happy.
Heart Rate Accuracy: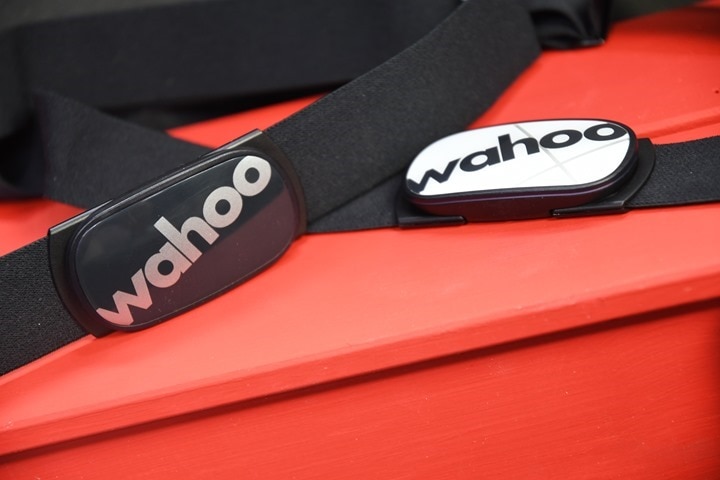 Next we'll look at heart rate accuracy. While it's easy to assume chest straps are always correct, I can easily demonstrate that isn't the case in any given week. The primary reason a chest strap will have issues is around connectivity, usually when the skin contact area is too dry to get good readings. This typically happens more frequently in fall and spring when the weather is right on the edge and you're wearing lighter clothes but in cooler conditions (so you end up having less moisture/sweat). Whereas in winter with multiple layers the sweat tends to stick around and form a nice connectivity layer. And of course in summer you're likely sweating like a water fountain.
Still, it's easy for me to show places that connectivity is the issue. You can solve that via licking the strap at the beginning of the workout (to add moisture), by wetting the strap before you head outside, or by using heart rate strap gel.
In my testing, I'm comparing it against multiple sensors and straps. In the case of another chest strap, I basically situated one strap a bit higher and one a bit lower. Both snug, and neither touching. In doing this for a decade, I've never seen any issues with that (as people often vary the exact placement based on comfort).
For secondary sensors, I'm wearing one optical sensor device per wrist (such as a watch), and then sometimes another one (like a Polar OH1, TICKR FIT, or Whoop strap) up higher on the arm – far enough that it doesn't impact the first sensor. Got all that? Good! Let's dive into it.
First up is a run I just completed. Nothing crazy here, a few sprints tossed in. For this run, here was the arrangement:
A) Wahoo TICKR X (lower chest)
B) Garmin HRM-TRI (upper chest)
C) Garmin FR245 (hand-held, paired to Garmin HRM-TRI)
D) Polar Grit X (left wrist)
E) Garmin Fenix 6 (right wrist, paired to Garmin TICKR X)
F) Whoop band (upper right arm – but data not collected here in usable format)
So in other words, nothing was near anything else. Anyway, here's that data:

So…yeah. It's almost identical…except the first 60 seconds. That's where we see the TICKR X takes a bit longer to lock. Whereas the Garmin HRM-DUAL rises pretty normally over that time period. I wouldn't expect that 45 seconds into a run I'd only be at 110BPM. So the higher value seems more likely. But at 59 seconds in, everything snaps into place.
I do know that I had both straps rather wet, because I did so right before pressing start…pulling up my shirt and licking them as a woman and her baby in a stroller with a child on a scooter rolled past. I got less than desirable looks. Hey…I did it for science!
In any case, after that 60-second marker, there's no difference between them, save the Polar Grit X's spikes.
Next, we'll switch to an interval workout indoors on a trainer. This too will be hideously boring from an analysis standpoint, see, here's the data:

Well, crap, that's easy. The only errors here are from the Whoop strap early on, and some bumbles during recovery sections. The Polar Grit X bumps around a bit here and there too (though, fairly minor for it). This is actually a reasonably good showing from the Whoop for a higher intensity workout. It tends to do better with longer periods of time and slower builds. It doesn't do well with short high-intensity bits.
Ok, so let's go outside instead. Surely that'll produce some TICKR failures that we can grind into? Look – it's even got gravel on the route! Here's that data. This time a Garmin HRM-DUAL strap, a Wahoo TICKR X strap, and a Polar Grit X watch.

The Garmin and Wahoo straps are as identical as can possibly be. Even when they differ – it's just a single beat (BPM) for a second or so, which is completely normal and expected given the transmission/recording rates. The Polar Grit X doesn't have its best showing here.

So, I guess we've gotta find another workout to break the TICKR.
Fine, how about another ride, with even more off-roading? More length, and more chances for vibrations to hose things up! Here's the data. This ride technically only has three sets – the Wahoo TICKR, the Polar OH1 Plus, and the Polar Grit X watch:

As usual, the Polar OH1 is near perfectly aligned to the Wahoo TICKR. That's expected, because, it's virtually always that good. Though, it (the Polar OH1 Plus) did struggle slightly in the first minute to gain lock. Kinda odd for it. Beyond that, you'll see the Polar Grit X GPS watch wobbles a bit in certain sections – missing some power surges. That's normal for it, but it should be noted that in general for a wrist-based optical HR sensor – the above is actually a really darn good set. Considering it's two hours in length and the 'misses' are mostly confined to the first 10ish minutes and some minor mistakes in the last 5-8 mins. In any case, the TICKR X appears perfect here.
Well crap. It keeps working. I know, I'll put it on a Peloton bike! Surely some sort of competitive something or other will cause it to break, right? Here's the data:

Oh snap! That's what I'm talking about baby – look at that…failures! Finally. All it took was a bit of Peloton magic and boom, down goes the strap!

However, one can't exactly blame Peloton for this one…since…umm…I wasn't recording it on a Peloton bike. In fact, I was recording it on a Zwift session next to it, as well as on a Garmin Fenix 6. So yeah, definitely was the Wahoo TICKR here. My guess is this looks like prime 'not-wet-enough' data. Which, is plausible, though not super common indoors. You can see at the 9-minute marker I noticed and probably gave it another lick or three, and it snapped back into action. The flat-line data is a good indicator of that.
One could blame user error here if they wanted, but at the same time – it also shows the benefit in some cases of optical HR sensors. After that point the sensors are all the same, except Whoop of course. It's off marching to its own drum.
But put it back on a Zwift ride and it's like Mac and Cheese – made for each other! This time versus the Whoop strap, and the optical HR sensors of the Polar Grit X and Garmin Fenix 6 Pro. Here's that data set:

The only errors here are those little spikes we see in the Polar Grit X (the norm for it) and a slightly rough start for the Fenix 6 Pro. But hey, in a rare show of correctness – the Whoop strap nailed it. See, sometimes it happens.
I could literally do this all day long. There's nothing wrong with the strap. The only time you see issues is just like any other heart rate strap – when it's not quite wet enough at the beginning of a workout. Simple as that.
Product Comparison:
Now, continuing the great Wahoo (and Apple) tradition of making it confusing to figure out which product is which because the name stays the same, I've dubbed this the 2020 version. Technically this is Wahoo's 3rd heart rate strap (the first was the BlueHR, the second the original TICKR series) – plus there's the TICKR FIT, which is the optical heart rate variant.
Since these are two different straps, I've compared them in two different ways via the product comparison database. First, for the base TICKR, I've compared it to the Polar H9 strap, the original TICKR, and the Garmin HRM-DUAL:
Then, for the TICKR X, I've compared it to the Polar H10 strap, the original TICKR X, 4iiii Viiiiva, and the Garmin HRM-RUN. In theory, I could add the Garmin HRM-DUAL here, but the simple version is that it doesn't have storage (but does have Bluetooth Smart connectivity).
Got all that? Phew! If not, swing over to the product comparison table dedicated to heart rate sensors to make your own chart goodness!
Oh…wait – you wanted some simple advice/comparison? Sure, no prob!
TICKR vs Any Other Strap For Basic HR: If all you need is transmission of ANT+/Bluetooth Smart heart rate data for your app/device, I don't think there's any device that beats the base TICKR at this price point – since everyone else is more expensive and has less Bluetooth Smart channels. It's a no-brainer to me…however, if you don't care about Bluetooth channels, and instead want storage or ANT+ to Bluetooth Smart conversion, then consider the 4iiii Viiiiva for about $10 more.
TICKR X vs Garmin HRM-RUN: If you don't need GCT Balance or Garmin Running Power, then easy – get the TICKR X. No, the TICKR X will *NOT* work with Garmin's Running Power App. This is hard-coded by Garmin to only work with their sensors, since they want to 'preserve the fidelity of their calculations' (summary of a very long conversation). If you don't care about those two things, then easily get the TICKR X.
TICKR X vs Garmin HRM-TRI: This is really the hard one. First off, you've got the same lack of GCT Balance & Garmin Running Power compatibility, but you also don't get any swimming data offloading to the Garmin watch. It's still a bit fuzzy whether this is a Wahoo or Garmin limitation/gap, but the gap is there today. A Garmin watch cannot download data directly from the TICKR X, so you won't get your swim data from it. But most newer Garmin watches support optical wrist HR swimming (albeit, it might suck). Again, this is by far the toughest one, because the lack of Bluetooth Smart in the HRM-TRI (or HRM-RUN) is infuriating.
TICKR X vs 4iiii Viiiiva: If you want device-free workouts, both do the trick, but I think Wahoo tends to do it more cleanly. On the flip-side, the 4iiii has ANT+ to Bluetooth Smart rebroadcasting. So if you've got older ANT+ only sensors, the Viiiiva is really the one to get. Accuracy-wise/etc they're a wash. Though the Viiiiiva doesn't have multi-channel Bluetooth connections, only one connection.
TICKR X vs Polar H10: Both straps are great, I'd probably give a slight edge to Polar on the strap quality aspects. The Polar H10 supports dual Bluetooth Smart and unlimited ANT+, but it also has analog too for gym machines. It has data saving on the strap, but it's a mess to use (you have to start and stop it with the app, and it's clunky AF and doesn't send to all the partners Wahoo has). Also, the Polar strap is more expensive. I think if Polar cleaned up their app/offline piece, it'd be a solid contender again here (even with 'just' two Bluetooth channels), but to me it's just not worth the hassle to use those features on the Polar right now.
Ok – hope this helps!
Summary: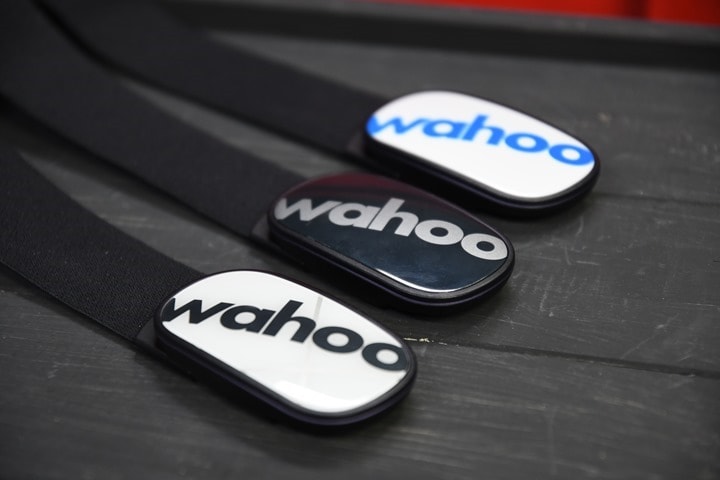 I know, it's just another heart rate strap. But I don't really think that's the case. I think that with these very minor additions, primarily in the TICKR X range, Wahoo has stepped up the bar – and options – for runners specifically. And even more specifically, for runners with Garmin watches. Realistically, I'd struggle to find a reason you'd get the Garmin HRM-RUN strap these days. In the app-driven world, it's antiquated without Bluetooth Smart connectivity. Meanwhile, Wahoo lets you connect three Bluetooth Smart apps at once and unlimited ANT+ connections. I mean, I suppose if you *really* wanted Ground Contact Time Balance (that specific metric), then sure. But I suspect there's no reason why Wahoo can't add that. And I also suspect you've never used that metric anyway.
It's frankly hard to find much fault in either the TICKR or TICKR X. It's been six years since the last refresh, and the heart rate strap product line has been around nearly a decade in total. At this point, it's a well oiled functional beast. These modest upgrades are mostly more mechanical/electronics/protocols in nature rather than pure new features. They took their existing running efficiency metrics that already mirrored what Garmin had (before Garmin had it), and just retransmitted it according to the standard. They then took the updated chipsets used for their other products and put it in here to support multiple concurrent connections. And in the process things thinned out a bit.
One might argue that Wahoo could have added more capabilities akin to the 4iiii Viiiiva, to the $79 TICKR X– such as ANT+ to Bluetooth Smart pass-through/conversion, but I think in 2020 that's becoming less and less of an issue. Most sensors made in the last 4-6 years are dual anyway. Older non-dual sensor tech is being phased out.
Thus, if you're looking for a dual ANT+/Bluetooth Smart strap, the base $49 TICKR is probably the best all-around option right now. No strap has more connections, and it's $10-$20 cheaper than the Garmin HRM-DUAL (which has two Bluetooth connections) – and cheaper yet still compared to Polar's multi-connection straps. Seems a no-brainer to me.
[Review Update: Nov 2021 – Just a very quick note that some 18 months or so later, where I stand with the TICKR & TICKR-X. In general, it works as I saw during my multi-month review period. However, as time has gone on, I've seen more quirks and dropouts, even with brand new straps. This has been mirrored not just by comments in the review section, but also other friends that have picked up the TICKR & TICKR X. So while it floats around the DCR Cave for usage, at the moment it's kinda become a last resort sensor, since I just can't trust it'll work every time. And since I need this type of data for testing to work every single time, it's in the penalty box.]
Found This Post Useful? Support The Site!
Hopefully you found this review useful. At the end of the day, I'm an athlete just like you looking for the most detail possible on a new purchase – so my review is written from the standpoint of how I used the device. The reviews generally take a lot of hours to put together, so it's a fair bit of work (and labor of love). As you probably noticed by looking below, I also take time to answer all the questions posted in the comments – and there's quite a bit of detail in there as well.
If you're shopping for the Wahoo TICKR (2020 Edition) or any other accessory items, please consider using the affiliate links below! As an Amazon Associate I earn from qualifying purchases. It doesn't cost you anything extra, but your purchases help support this website a lot. Even more, if you shop with TPC (The Pro's Closet), you'll save $40 on purchases over $200 with coupon code DCRAIN40! The Pro's Closet has been a long-time partner of the site here - including sponsoring videos like my cargo bike race, as well as just being an awesome Colorado-based company full of good humans. Check them out with the links below and the DCRAIN40 coupon!
Here's a few other variants or sibling products that are worth considering:
And of course – you can always sign-up to be a DCR Supporter! That gets you an ad-free DCR, access to the DCR Quarantine Corner video series packed with behind the scenes tidbits...and it also makes you awesome. And being awesome is what it's all about!
Thanks for reading! And as always, feel free to post comments or questions in the comments section below, I'll be happy to try and answer them as quickly as possible. And lastly, if you felt this review was useful – I always appreciate feedback in the comments below. Thanks!