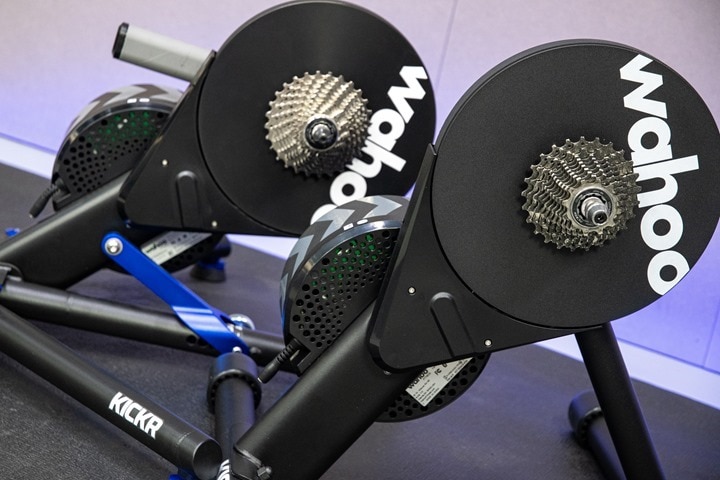 I think this post should be a quick one. As of today, Wahoo is rolling out a firmware update to existing Wahoo KICKR18 & KICKR CORE trainers that will now calculate and broadcast your cadence over ANT+ & Bluetooth Smart. This means that in addition to the broadcasted power and speed, you'll also get your revolutions per minute (RPM) of your cycling cadence.
The reason this matters is more than just marketing. Wahoo had become the last holdout for not transmitting cadence from their trainer. Of course, this is 'estimated' cadence, since there's no magnet on there. But for most people in most conditions it's more than functional enough. But more important than Wahoo becoming the last holdout, was really Apple TV. That device has quickly become one of the most popular ways to get on Zwift, as well as other apps like FulGaz, and as of today – Rouvy.
But Apple TV is limited to two concurrent Bluetooth Smart connections (plus the remote). So in the case of a smart trainer taking up one connect, you'd have one left for a heart rate sensor. But that left none for cadence, in Wahoo's case. Whereas all their competitors would simply transmit the cadence data inside the trainer/power channel (thus only counting as one). But now, that changes.
So, I put it to the test – and no better way to do that than Apple TV itself.
Oh, and atop all that – Wahoo now supports multiple Bluetooth Smart connections to the KICKR18 and CORE trainers, enabling you to connect with up to 3 Bluetooth Smart devices to the KICKR at the same time, such as with a Bluetooth-only watch like a Polar or Suunto unit while also concurrently connected to a phone via Bluetooth Smart (there continues to be no limit on the number of concurrent ANT+ devices). More on that too down below.
The Update & Details:
If you haven't updated your KICKR before, it's super easy. Simply download the Wahoo Fitness app, and then add your KICKR18 or KICKR CORE to the app via the sensors menu. Once added, it'll prompt you for any firmware updates. It won't say beta in your case, because it's not beta as of now.
The entire process will take perhaps 1-2 minutes tops, and then you'll want to toggle your phone's Bluetooth on and off to complete things.
And that's it – you're ready to go.
Now note there are some restrictions as of today:
A) It's *only* transmitting cadence via Bluetooth Smart FTMS
B) It does *not* transmit cadence via normal ANT+ power meter profiles
C) It does *not* transmit cadence via normal Bluetooth Smart power meter profiles
I asked Wahoo why not, and honestly, they quickly agreed it was kinda silly not to send over those profiles. It sounds like they'll update that in a firmware update. There are plenty of people that pair their KICKR's to devices or apps that don't support ANT+ FE-C Bluetooth Smart FTMS trainer control profiles.
Now, switch over to your favorite sensor-limited app (cough, Apple TV), and see how things look. In my case, it's 4:34AM and I'm too tired to dig out the Apple TV and connect it all up, so instead, here's how it looks on another Apple device – the iPhone. You'll see that the KICKR18 now provides a cadence signal. Woot!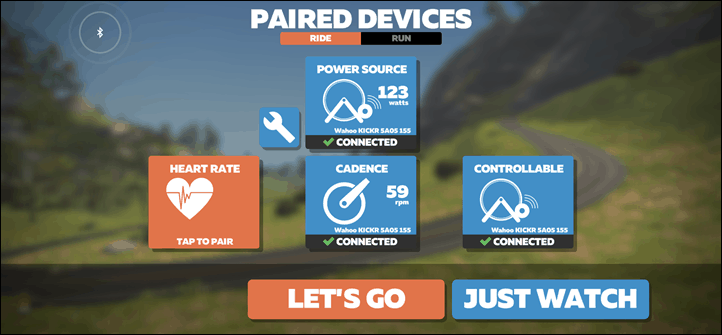 But wait…there's more!
Now let's double-down on Apple products, and concurrently connect my iPad – this time on TrainerRoad. Here you can see the new multi-channeling taking effect. I'm concurrently connected to the KICKR18 twice right now: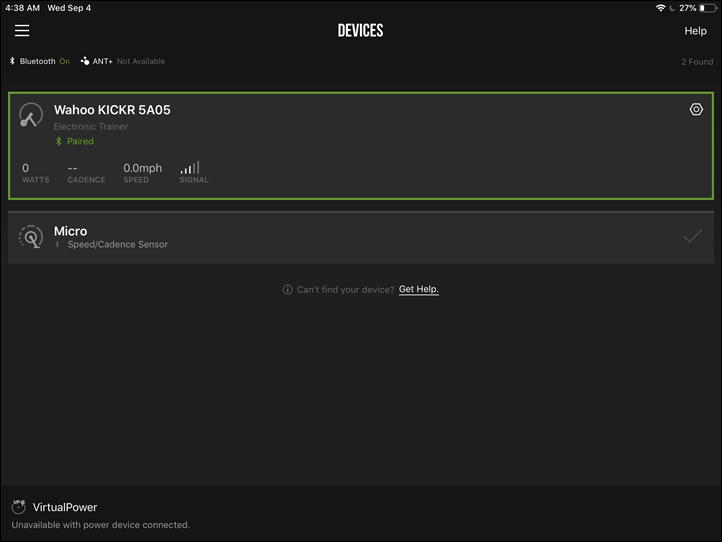 (Though, at the moment cadence is not showing up on the TrainerRoad app, in talking to Wahoo & TrainerRoad, there's an update coming from TrainerRoad that should address this.)
But wait again…there's even more! Watch as I pull out yet another Apple product – my MacBook Pro, and connect there too – this time also over Bluetooth Smart, now making it a third concurrently connected device.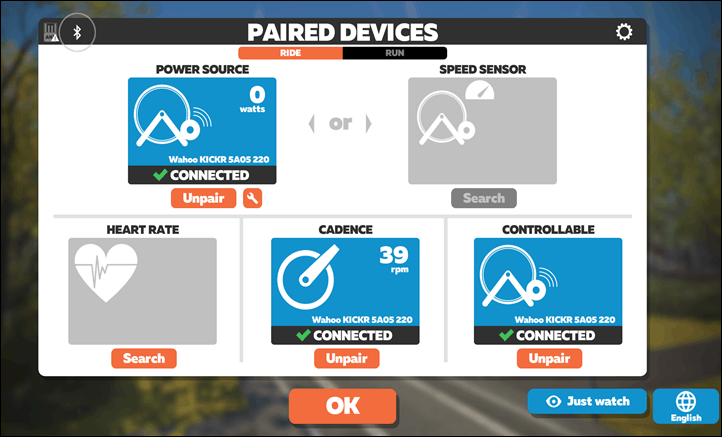 Frankly, I don't know why I need this many things running right now – but hey, I can do it. And damn it, that's what matters here.
Actually, there are some legitimate scenarios. For example, let's say you've got:
A) Apple TV running Zwift
B) A Polar or Suunto watch that you want to capture training load into that ecosystem
C) You need to calibrate the trainer or do some troubleshooting via the Wahoo app
Now, you can do all three. But what is really far more common is just that A & B scenario of having Apple TV running with a secondary device that only works over Bluetooth Smart and can't access the ANT+ signal.
The Data:
So how do things look? An important question I agree!
After all, with estimated cadence data from various trainers sometimes being a bit 'flexible' with the estimated aspect, I'm looking for the data here to be at least passable as usable. It doesn't have to be absolutely perfect in a sprint up to 160RPM (super rare, in case you aren't familiar), but it needs to be within a few RPM's at the most common cadences.
Again, it's estimated – not measured. Rightly or wrongly, I'm not actually looking for perfection here. Just acceptability (there are plenty of other topics I want perfection on).
So, I tried to break it. I wanted to understand the boundaries. In general when I'm testing cadence I'm looking at five rough groupies:
A) Normal cadence ranges (e.g. 70-110RPM)
B) Low cadence ranges (e.g. below 70RPM)
C) High cadence ranges (e.g. above 120RPM)
D) Sprint and sprint-stop reaction time
E) Different gear shifts
In the above list, looking at about a decade's worth of experience, it's usually item D that hoses things up, along with a side dish of item C. For this test I started off at normal cadence ranges and quickly dropped it down over the course of a minute to about 60RPM. No issues tracking, though a little bit behind. Here's the data set:

I then increased my cadence, upwards of about 150RPM's, and it tracked pretty closely, just a bit laggy. I then transitioned into a solid 900w sprint at that point, and you can see just as I dropped my cadence back down to 95RPM, it lost the plot and dropped out (2:52 marker). This is 100% the norm for trainers, because the flywheel in this case basically ran away from the KICKR, and it can't figure out what I'm doing anymore as I'm essentially lightly spinning waiting for it to catch back up.
Next, I slowly crept the cadence back up again. By the way, this was all done in Zwift on just a regular meandering course where the resistance/incline was changing constantly. At the 5:22 marker I did a nice little 500w surge, and as I came down off of that you can see the cadence dropped again.
Otherwise, it tracked fine until my last surge at the 8 minute marker, this time up to 700w or so, and you can see it drops out briefly. If you look at the above cadence graph and compare it to the below power graph, the story is simple: KICKR cadence is perfectly fine, except when I transition from a hard sprint back to easy pedaling. In other words, it's just like almost every other trainer on the market.

For the current state of trainers, I think the KICKR cadence will be adequate for the vast majority of people in the vast majority of scenarios. Perfect? No, but probably good enough for most to avoid putting on a secondary sensor.
Ultimately though, this update is good stuff, even if it's not super sexy stuff. Plus, unlike Wahoo's other announcements today you didn't have to pay $3,500 for access to this portion of the product. So there's a win for ya! And it's great to see them leading the way in terms of multi-peripheral support here within the trainer realm.
Polar was the first to do that for their H10 heart rate strap a while back, and then Garmin joined this past winter/spring on the HRM-DUAL and new speed/cadence sensors. Wahoo now marks the first of the trainer companies to join that fray.
With that – thanks for reading, and stay tuned for plenty more Eurobike coverage. Seriously, I've got a lot more. Just not enough hours in the day to type it all up in the detail you know and love!