(I've long been asked to do app reviews.  And I have done a few here and there, as well as written about them for various publications.  At the moment the number of developers asking for my app reviews far exceeds my time to do them – yes, I know, I need a testing minion – so I decided to make them a bit shorter than my typical in depth review.  I'm also only doing them when an app sufficiently piques my interest or really differentiates itself.  Over time I'll also do some roundup ones as well.  Anyway…onto the app!)
Back about a month ago I was contacted by a developer that had put together a new app that allows you to search for pools both domestically and internationally – right from your phone.  Longtime readers know that I've always recommended SwimmersGuide.com as an awesome (and totally free) way to find a pool.  Since I travel a ton, this has always been great.
But the challenge with SwimmersGuide – especially overseas – is knowing the lay of the land from a nearby city standpoint.  You couldn't just put in an address and have it show you all the nearby pool options.  Instead, you had to specify a city/county.  In some cases, with larger cities – this could mean it gave you a massive list of pools with locations rather far from your actual location.  Making matters worse, when I was travelling overseas I'd often have to try and decode the different ways different countries presented street addresses – even more complex in non-Latin characters.
SwimRadar solves both of those problems.  First off, you can enter a given address and it'll tell you exactly how far you are from the place.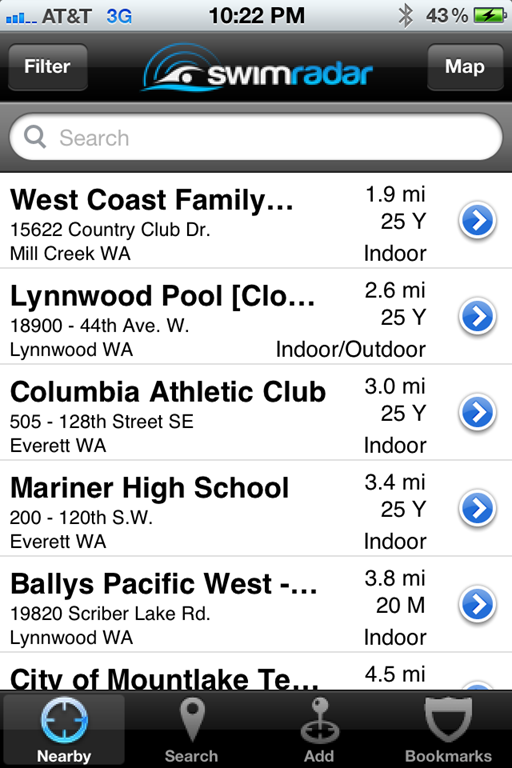 Or, if you don't know your address – you can just use your phone's current location and it'll bring up a cool map of the nearby pools: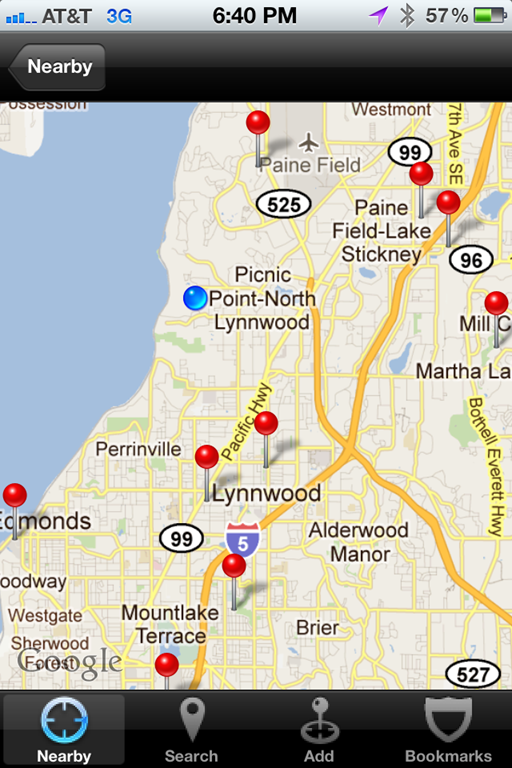 Even cooler is that you can filter the pools by different parameters; including length (in yards/meters) and whether it's indoors/outdoors: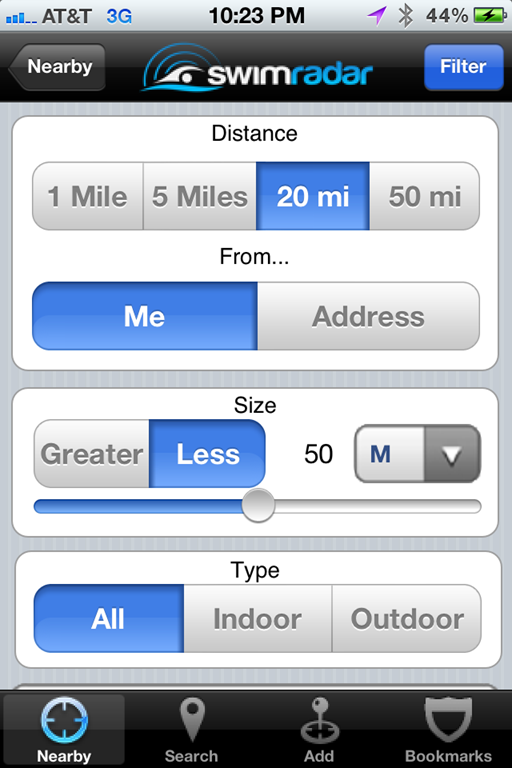 Once you've found a nearby pool it'll list all the details such as contact points and pool information.  Additionally, it'll just route you straight there.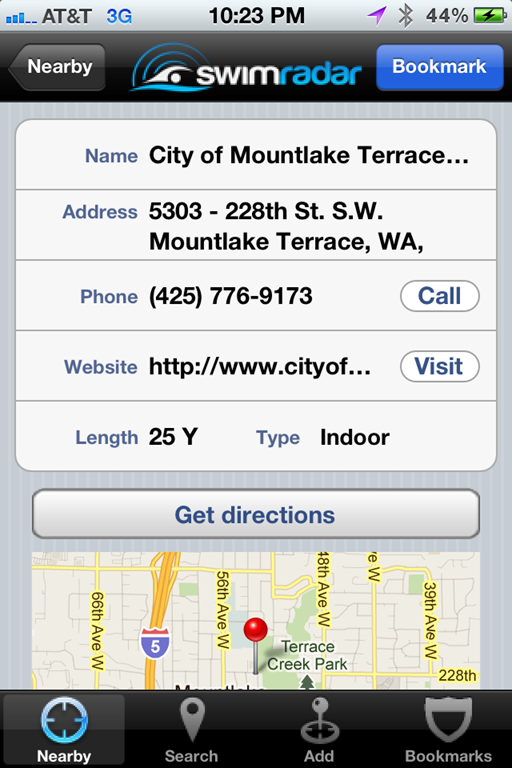 Speaking of routing – one thing I like is being able to change the radius distance and have it find nearby pools within a larger area.  Why would I want this you might ask?  Well, oftentimes at the end of a business trip I'll try and sneak an early morning swim in on the way to the airport.  In most cases, I'm looking for anything in between those two points (me and the airport).  This allows me to easily spot a pool along a given route.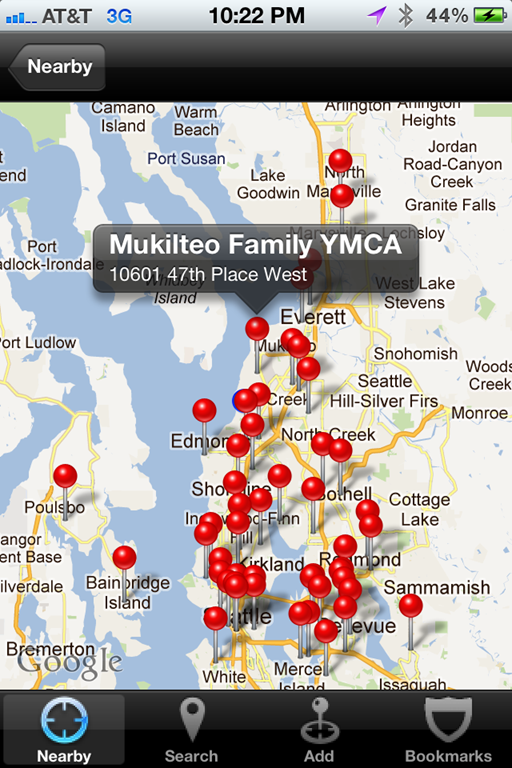 In using the app over the past month during beta it has been super-cool in finding pools in places that I probably would have spent more time that I wanted to trying to lookup.  The database today has 5,000 US pools in it, and about 12,000 internationally.  So while you can always use online resources for trying to stake out pools, I simply find an app a heck of a lot easier.  And, in the event you find a pool that it doesn't know of, you can use the in-app form to get it added to the database:
At this point, I can't really find any negatives about the app.  They took some initial beta feedback I gave when I first started using it last month – and has incorporated those minor changes.  However, since I'm certain they'll probably read this – feel free to toss suggestions down below.  They were very receptive to feedback.
In talking with the developer they noted that they're looking to release an Android version next, followed by a Windows Phone 7 app assuming enough interest.  The app costs $2.99 without ads, and $.99 with ads – and is available to all users in app international app stores.
If you're like me, the app is just in time to work off some of that Turkey and Pumpkin Pie dinner this holiday weekend as you may be travelling for the holidays.  Enjoy!