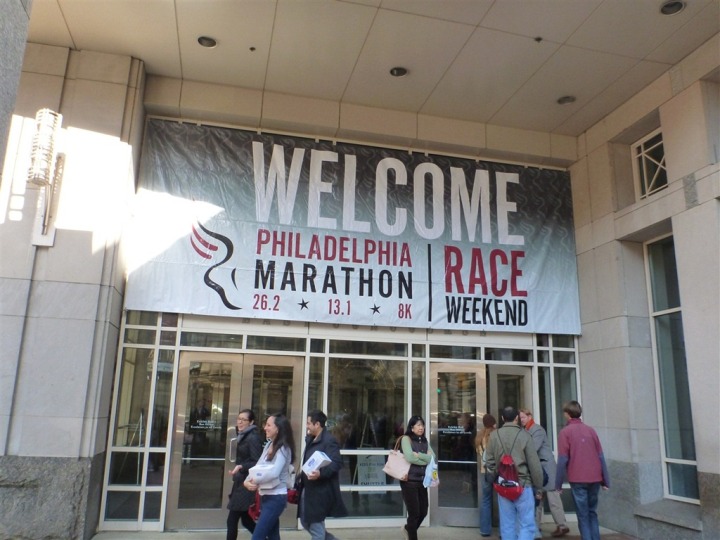 My goals for the Philly Marathon were pretty clear from the start of this year: Break 2:50
In fact, I probably valued the Philly Marathon more than Boise 70.3 back in June.  My previous Philly Marathon time stood at 2:54, and I felt like it was fairly reasonable to try and shave off a few minutes.
But it wouldn't be easy.  My travel schedule threw a wrench in things from the beginning of the year.  With being on the road internationally until the end of February, I was hardly training like I should have been for Boise in June.  And Boise probably showed the impact of that.  In July I essentially took off basically the whole month from training minus a few scattered non-structured runs.  In my mind I did more, but in reality, I lost the majority of my base during this.  Though, I wouldn't exchange the awesome time I had leading into my wedding and afterwards in my honeymoon.
So Philly Marathon training didn't really start until the first week of August – leaving essentially 3 months to try and make things happen.  From a pacing standpoint leading into the races, I was largely on target.  Perhaps a touch high on the HR's on a few runs – but things were looking fairly good a week out.  The problem with a week out was that I was in San Francisco, in the same way that I was in some place other than DC for just about every weekend from September until November.
There was no doubt this was influencing things – I just hoped it wouldn't.  Then I got sick last Tuesday.  Not a bad sick, just a stuffy nose and clogged throat.  But over the counter drugs were working and I had an awesome run Thursday night.  Paces were spot on, HR's were nice and low (not too low though) – and things were looking good.
So by time Saturday night came, I was ready to roll the next morning at the 2011 Philly Marathon.  Oh…and, as a little surprise – The Girl (aka my lovely wife) – was going to run her first marathon.  Here's the night-before prep photo: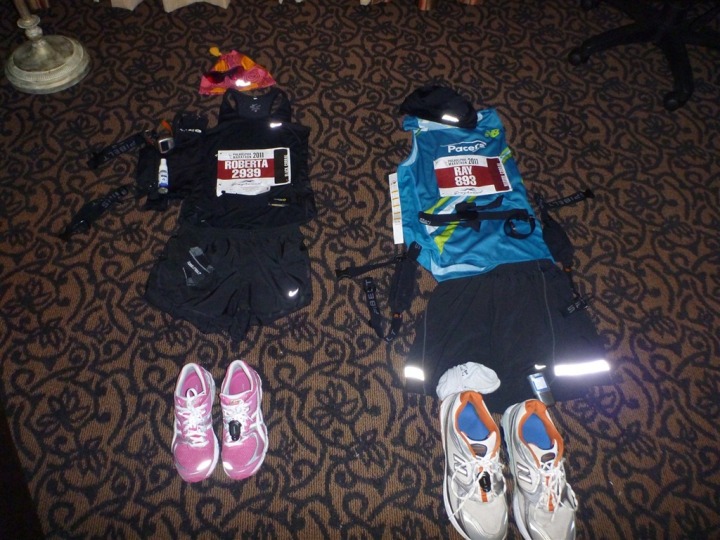 The morning of we easily found parking in a nearby garage and leisurely got ready for the race.  It's so much nicer than a triathlon from a setup standpoint.  I forgot how enjoyable this was!
After dropping off our bags with the UPS truck we got in a nice building 10 minute warm-up.  Not too hard, but enough to be nicely warmed up for the race start at 7AM.
Race:
Finally…the start of the race.  There was a minor delay of game that occurred for a few minutes.  The announcer made a note that something had happened and some city folks really stepped up to get everything all set by race morning.  Though, they noted they couldn't tell us what happened (thus, I'm certainly curious).
But a few minutes after 7AM the gun went off and soon me and 20,000+ of my dearest friends were enjoying a morning run.  I had started in the first non-elite corral, and I placed myself relatively close to the front.  Maybe 10-15 yards back.  Sorta what I guessed would be about the right starting area for the pace I wanted.
The starting position turned out surprisingly good, and even more surprisingly – there actually wasn't a massive surge off the front.  Maybe 10-20 seconds/mile faster than I anticipated, but that got back to normal within half a mile.  Sometimes you get massive surges where folks try and run 1-2/min/mile faster than they can – though I suppose at a 6:27/mile pace, most have probably figured out pacing.
The first few miles I was running at 5-10 seconds fast, mostly due to the semi-downhill nature of those sections.  By the 3rd and 4th mile I was pretty close to my target of 6:27/mile.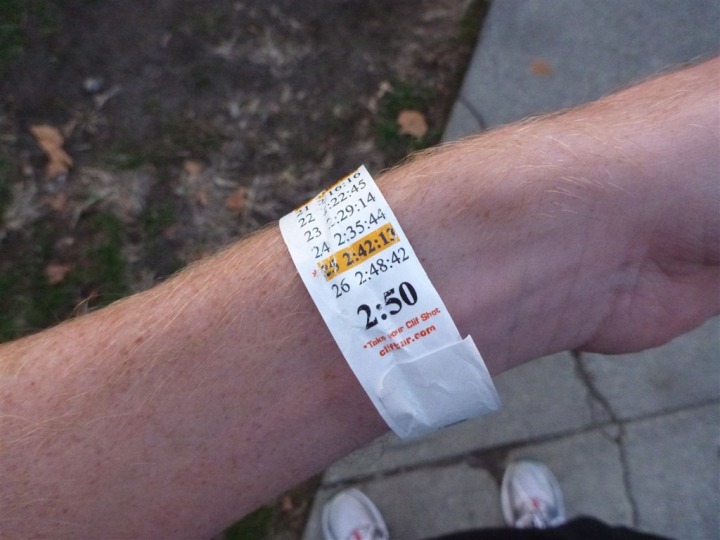 (You know what's the best part of this little band? The fact that it clearly tells you exactly how long it takes to run .2 miles.  Trust me, when you get to those last few miles that's always the most important question that I never seem to have an answer for.  Everyone knows how fast they can run a mile…but .2 miles? Nobody knows that.)
Having run the Philly course a few times (both full and half-marathon), I knew the terrain fairly well.  The only hills of note are really between miles 7 and 9 – with the most substantial in terms of steepness at mile 9.  Mile 7 is a bit longer though, just more shallow.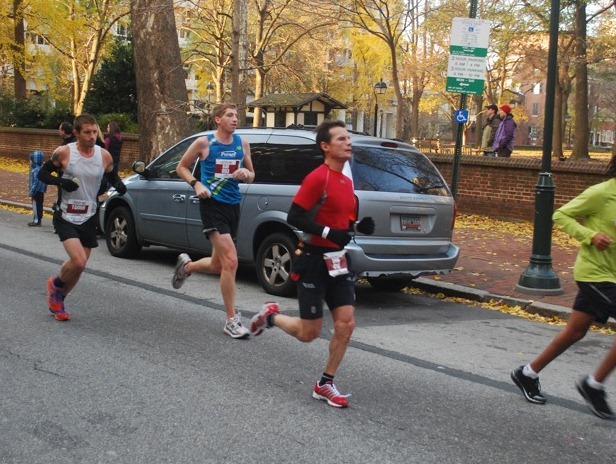 (Thanks Adam for the photo, really awesome! That's me in blue around the 10K marker)
So I carefully paced these and ran the downhill sections off of each one quickly to keep the overall pace just about 6:30-6:40/mile – pretty good given I was going up them a bit slower to keep things under control from an intensity standpoint.
At this point I should point out I was right on nutrition – I was taking a dixie cup of water every aide station, and taking a full Gu packet every other aide station.  Which depending on the spacing meant water every 10-12 minutes, and Gu every 20 minutes.  Right where I wanted to be.  As one who routinely fails at nutrition during races – I was very hardcore about getting it right.
The only thing that was strange to me was my HR.  I mostly train by HR and pace.  In this case, I had a specific pace, with a HR governor (upper limit).  The first few miles I was below the HR limit – so no worries at all.  Then as I crept towards miles 6-8, the HR started to drop significantly.  Not a dropout like a bad HR connection (trust me, an expert in solving those) – but rather, just slowly started dropping 10-20 beats, into a Z1ish HR.  At the time I just sorta brushed it off and decided to ignore HR.  It felt about the same – so onwards I went.
After finishing up the hills around mile 10, I dropped down a steep section and onto the flats along the river.  As I dropped down I was feeling good, things were pretty much on target.

(Note the one with 12:58 was merely me missing the lap marker. During races I always manually press lap based on the pavement markers – otherwise you can see how I'd be pacing against not running a perfect line.)
As I hit around mile 11-12 though, I realized I was slowing some (on the flats no less).  All of a sudden I found myself running 6:40's to 7:00's a mile.  Before I knew it, I was at mile 13 and already down 90 seconds off my goal.
And that's where things pretty much started to fall apart.  My body was saying it was done, and my mind was deflated.  It's one thing to be 90 seconds off at mile 22 – but how was I 90 seconds and sliding off at mile 13?  Doing quick math, that would put me at 3+ minutes by the end of the race, assuming I didn't slow down at all and got right back on pace.
Of course, that was turning out to be difficult to maintain anything with 20s/mile of goal pace.  And from there – things pretty much just unraveled – mostly mentally I think.
In my mind, I didn't really have any drive to keep on going.  I'd missed my goal times, and the desire to finish was pretty limited.  And likely, that's always been my biggest weakness.  Once I realize that my goal is out of sight, I lose interest in it.  Unlike racing for a place where something can always happen – in a marathon nobody grants you an unexpected 3 minute rebate at the finish.
The only thing that kept me at least running forward (when I wasn't walking an occasional aide station) was that my wife was somewhere behind me.  I was optimistic that she'd come along sooner or later, and that I'd run in with her.  She was aiming to run roughly 7:10's – so I figured I had about a 10 minute lead on her.  But I didn't want her to catch me at something like mile 15, cause…well…that would be 11 miles I'd still have to run.  And honestly – I didn't know if I could run 11 miles at that pace.
So I mixed and matched.  I mostly just ran along at 7:30's – something comfortable to get me closer to miles 22-23 and run from there at whatever pace she wanted.  At the turnaround at mile 19-20 (the second half of the race is an out and back) – I saw her and figured she was about 10 minutes back still.  So I started burning more time by slowing down and walking more.
Though, at mile 22 I ran into one of my loyal readers (well, actually, he ran into/by me) and I ended up running with him for two miles to keep him company.  Once I hit mile 24 I decided to walk to mile 25 – where I would wait and run the final 1.2 miles with my wife.  At this point, if I had just kept on going (which I could have done), I probably would have been about a 3:05ish if I kept things as is at a comfortable pace.
I realized that if I flat-out stopped at mile 25 that there was a good chance I'd never get running again.  Unfortunately my mental planning and math estimates were slightly flawed, and I still ended up spending 10-15 minutes standing directly next to the Mile 25 sign watching folks go by.  I did all sorts of stretching, running in place, cheering etc… and surprisingly, I felt pretty good by time I saw her.
And after that – I enjoyed running the next 1.2 miles and finishing with her.  There are few better feelings in the world than that last mile of your first marathon and I was really happy to be able to share that with her. She was pretty excited to see me there, and from my perspective – I can't imagine a better way to turn around an otherwise bad race.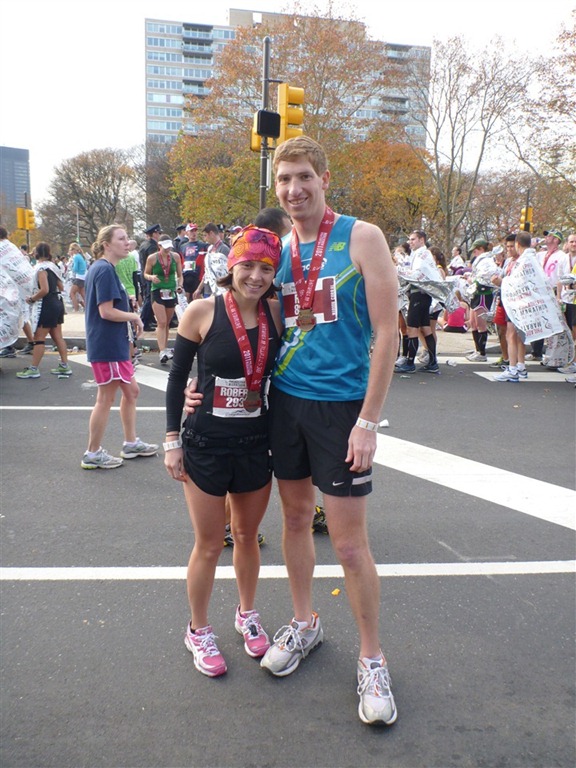 (Me and The Girl; she qualified for Boston on her first try! 3:20:26)
I don't know why precisely my race fell apart.  Perhaps my HR was trying to tell me something early on, perhaps the cold I hoped I could just mask with over the counter drugs was the cause – or perhaps I just gave up too easily.  I'm not sure.  It's something I want to figure out, but I also want to figure out whether or not I enjoy long distance racing.  I know I really enjoy shorter distances (roughly an hour, such as 10-milers) – even if I'm not quite as good at them.  Over the next few weeks and maybe months I'll try and figure out what interests me the most. I'll be sure to let you know.
Finally, I really want to thank everyone for their support and kind words leading into the race, during the race, as well as afterwards.  It was awesome hearing words of encouragement from everyone along the course.  You are of course the primary reason I write here, and why I write so openly.  As you have seen over the last four years, every race I compete in gets posted here – ultimately allowing everyone to learn from my experiences (both good…and bad).  And that's what I believe so many of you find useful about when I write.  It's easy to write about having a great race, it's much harder to write about a race that didn't go as you hoped after months of hard training.
However, over the past year or so there have been some (well, one) who has chosen to take the route of anonymous and thinly comment attacks against my performances, myself, my friends, my family – and even some other readers that have left comments.  As is always the case, anyone is welcome to disagree with how I present product information or my opinions of products.  In fact, out of the 28,549 comments posted to the blog since its inception – I've never deleted a single comment for its content.  However, neither my openness nor this blog is a permissible avenue for personal attacks. Thus, as of yesterday I am simply deleting any such comments going forward.  This isn't the environment I want to have around here – and honestly, I'd prefer if this individual simply found something else on the internet to read.
Thanks everyone for reading, and have a great Thanksgiving!