So the other night I started collecting some of the deal e-mails I was getting from various companies, intending on putting together a bit of a Friday post on Black Friday/Cyber Monday deals relating to endurance sports.  But once I stumbled on this linked post from Michael Hutto, my little list looked like a rather wimpy collection.  In fact, I'm pretty sure it lost 'collection' status next to Michael's massive library of deals.
So instead of duplicating what he's done – I really just suggest you go check his list out instead.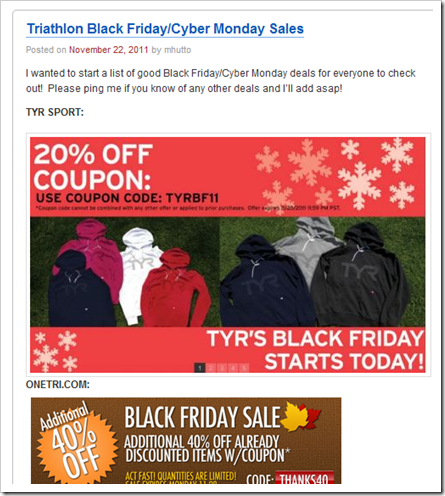 There's also another good pile of options on this Slowtwitch thread as well.
And if you're trying to decide what to buy sports-technology wise, just think of Monday's '2011 Sports Technology Recommendations' post as a gift guide.  Or a cash-spending guide.  Or something to make you feel better about all the turkey you ate on Thursday.
Also watch my Twitter feed, because as unannounced things pop-up that I think are worthy, I'll notate it.  Though, it's gotta be really worthy – not just sorta worthy.  As an example, Garmin.com's BF sales wouldn't even qualify as barely worthy.  Having the price be equal to what others already charge doesn't really count in my book.  To catch my attention – it basically has to be both an awesome product and be the best price I've seen for it.
Finally, I just want to again thank everyone for all the incredible comments on my Philly Race Report post from Wednesday, I really appreciate it.  Your comments and flood of e-mails really mean a lot to me.  You're just awesome people.
Additionally, many folks requested that The Girl (aka, my wife) write up her race report.  So she caved to your pressure cooker and posted her own race report last night – right on her blog.  So now you can read all about her first marathon, and some of our pre and post antics that didn't quite make my post.
Thanks for reading,  and have a great weekend everyone!