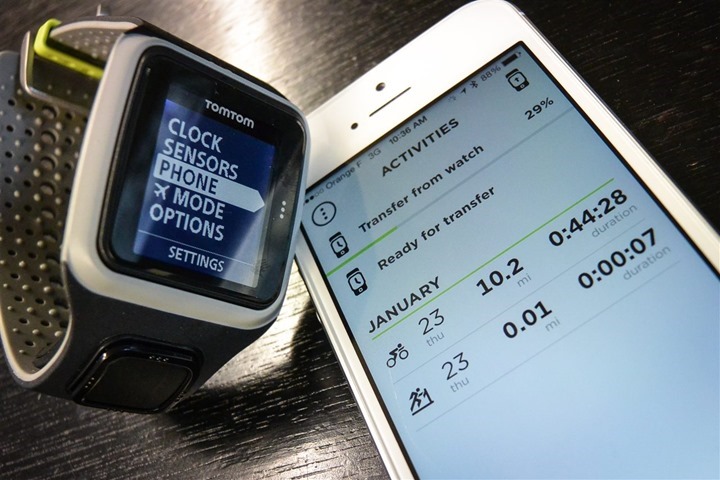 Today, TomTom released their phone app for uploading workouts wirelessly from the TomTom Runner and Multisport units to your phone.  The intention to release such functionality had been announced back in December, though without a specific timeframe attached to it.
I've been using the app for the past week, giving it a bit of a whirl after recent runs and rides.  I'll do a quick walk-through of how it works.  Note that this makes for the second company to introduce GPS watch workout to phone synchronization (the first being Garmin, Polar would make for the third upon release of their V800 in April).  As I've noted previously, this will pretty much become the norm for companies by the end of the year.  I'd say that anyone releasing a new device after this summer that doesn't have this functionality, won't have terribly successful sales.
With that, let's dive into the basics.
First, your TomTom unit will need a firmware update to enable this functionality.  To get that you'll simply plug it into your computer and let the TomTom MySports Connect application find the watch and then find the firmware update from TomTom's servers: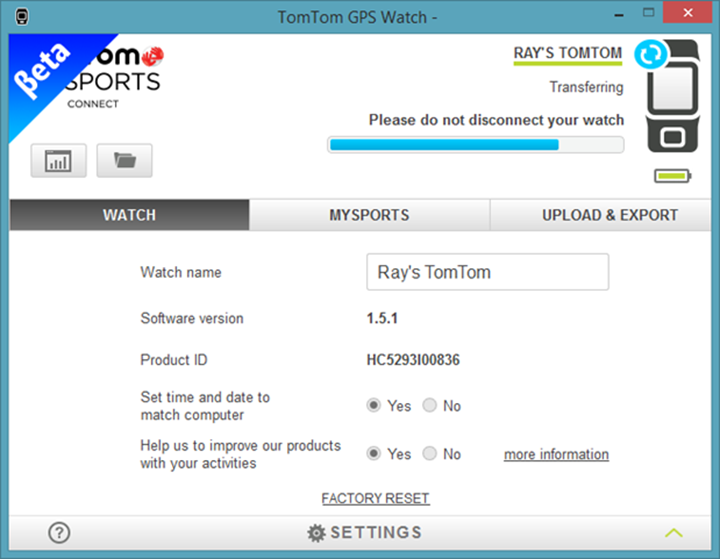 The update process only takes a couple minutes to complete.  All your settings are saved, so it's a pretty non-intrusive update.
Once the update is done you'll be able to use the device just like normal.  In order to demonstrate things, I went out and got a few workouts on the device first – a blend of runs and bikes, though no swims (because let's be honest, voluntary non-training-plan pool time was not on my high priority list).
With a few workouts completed, it was back into the device I went.  On the device if you scroll down into what is normally the settings area, you'll see the new 'Phone' option.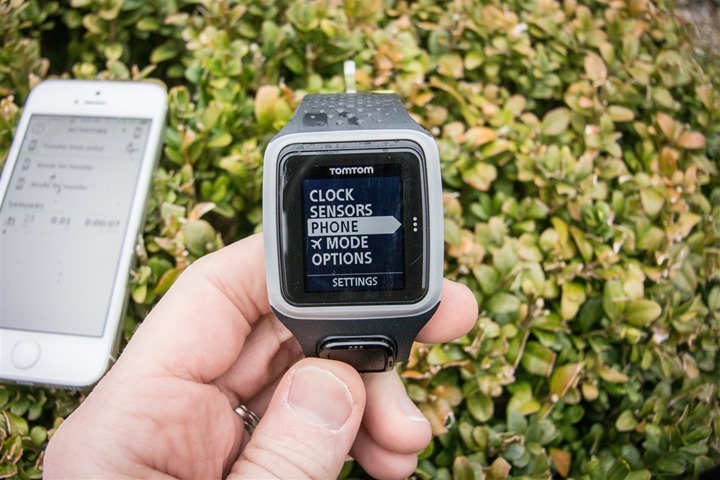 (In case you're wondering why my unit looks so dirty, it was raining out, and thus I was fighting a constant battle of the drops and wiping them away.)
It's within here that you'll pair your phone.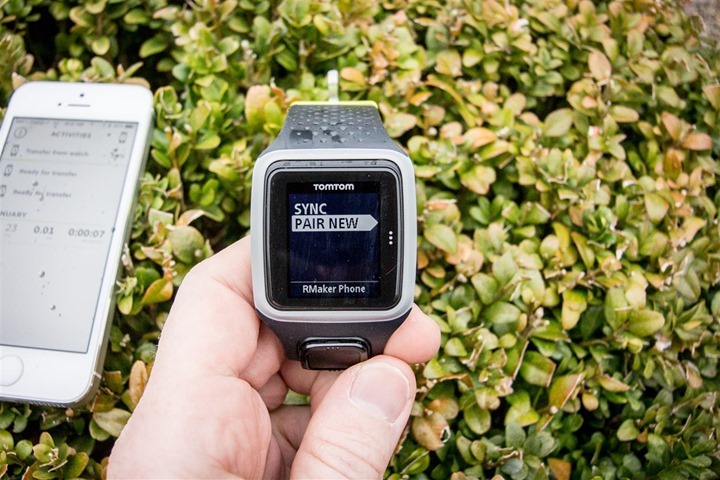 In this case the pairing process happens solely within the TomTom app, and doesn't require you dive into the Bluetooth control panel on your phone.  To pair, you'll let the app search for your TomTom unit, and then on the phone you'll confirm that by entering in a pin number that the TomTom unit displays.
(Note: On my first round of screenshots above, the watch names were cutoff – fear not, on final release, they are not cutoff, I just didn't re-screenshot it.)
With that complete the TomTom unit will automatically start downloading any workouts upon completion if the phone is within range and the app is opened up.  The TomTom unit does not have to be in any sort of special sync mode.  The 'Sync' option you see below merely controls whether or not it syncs at all (On/Off).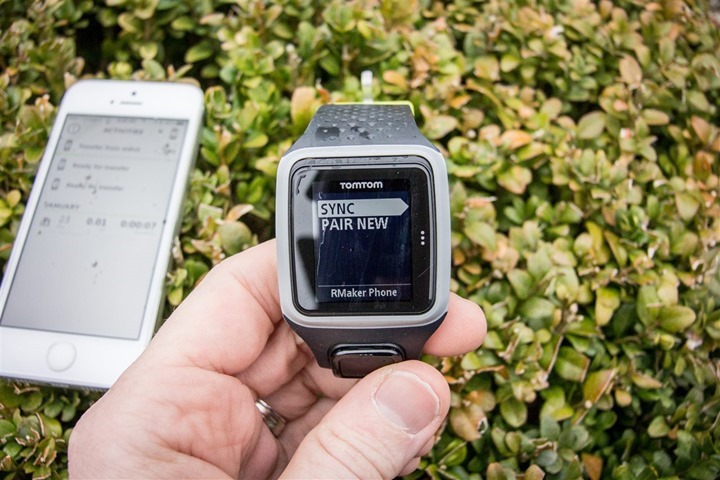 In my case, I had my small pile of workouts that were backlogged to complete on my initial sync.  I found that shorter workouts went reasonably quick.  For example, a 40 minute workout took about 45-60 seconds to sync.  Whereas a longer 2hr workout took a few minutes to sync.  The slowness here is primarily Bluetooth Smart transfer throughput speeds, and is a pain point that I've heard from numerous companies about.  Over time we'll probably see that improve with hardware changes, but nothing near-term that I've heard about.  And ultimately, an extra minute or so after a multi-hour workout isn't that big of a deal.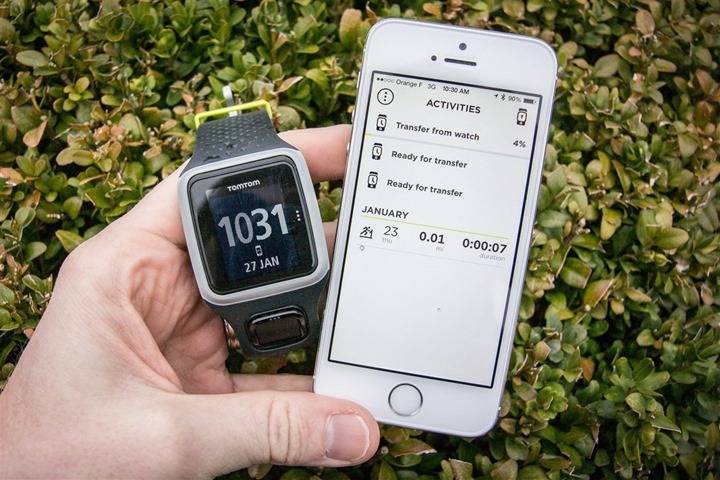 Note above you'll see the little phone icon on the front of the TomTom unit indicating that the phone is within range and ready to upload.
Once a given workout has finished transferring to the phone, it'll go ahead and upload the workout to TomTom's site where you can access it there just like normal.  That process takes mere seconds – it's very quick.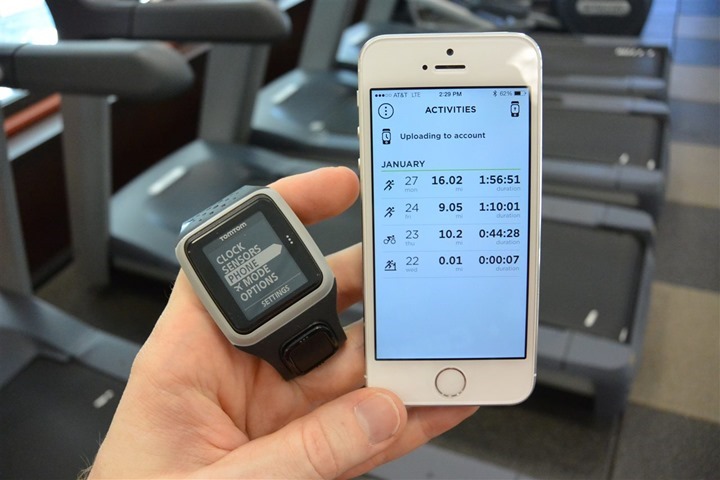 Below, upon completion, you can see that my first activity is immediately available on TomTom's site:
Now, the app does have a few tiny options in it.  First you can log into your account and see the workout from the app itself.
The only catch here is that it's basically just enumerating a web page within the app window.  So it's not quite as polished as an app showing the data natively.  So while it's pulling up a mobile-friendly website, it's a bit chunkier than some implementations.
There's also a handful of settings you can configure within the app.  First, you can choose what data type you'll upload activities on – be it WiFi Only, or both WiFi and Mobile Data.  Next, you can select the same option for the satellite pre-caching data.  This is the data that produces super-quick satellite lock times by pre-downloading satellite location data.
Finally, you can tweak your online TomTom account settings, as well as view info about the watch itself.  Interestingly I was able to pair multiple watches into the app – so if you happen to be…well…like me – you're good to go.
Now, there is one downside item to note.  As it stands right now the app only transmits to TomTom's site.  That means that if you traditionally setup the TomTom desktop software to upload to a site like Training Peaks, or if you had it create a .FIT/.TCX file, then you'll need to take a slightly different (additional) step to get that data out and into those formats.  To do so you'll plug in your phone to your computer, which will then act as the conduit to grab the original TomTom file.
In order to grab said file, you'll go ahead and crack open iTunes once the phone is connected.  Then go into your phone within iTunes and select the 'Apps' button.  From there, scroll down and find 'MySports' in the left hand side.  On the right side you'll see the .TTBIN files that are the raw TomTom files.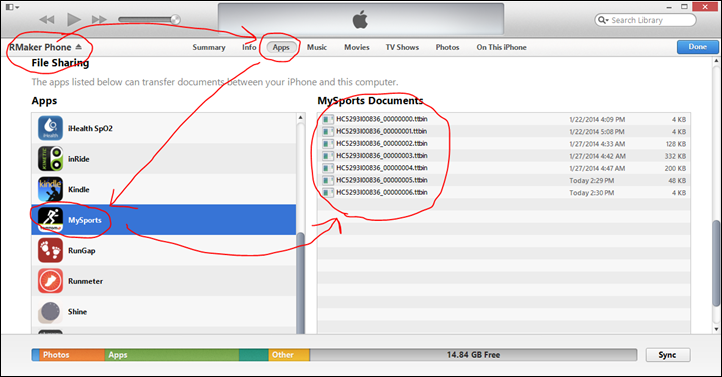 Then, along the bottom click the 'Save to' button, which simply saves these files somewhere.  I'd just create a folder for them somewhere handy.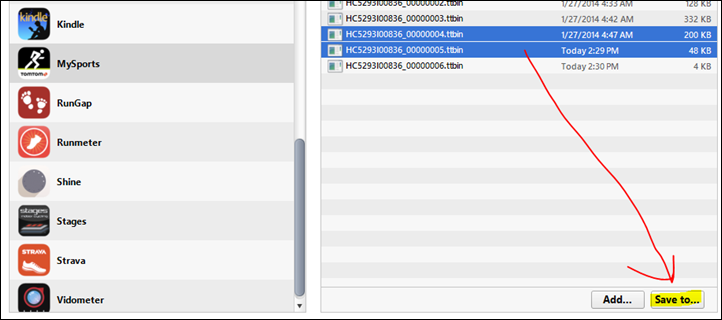 Once you've got it saved somewhere, simply double click on the workout file, which will go ahead and re-process it within the TomTom MySports app and then spit out the usual .FIT/.TCX/etc files like it always did (or upload to sites like Training Peaks).  Unfortunately, you do need to connect the TomTom unit to your computer as well in order for the app to process it.  Kinda a pain, I agree.
It sounds like this process is probably semi-temporary for now.  TomTom is already polling users on their forums for which exporters (connections) they'll add in the next update of the app.  So swing over there to add your feedback.
Now, you can actually get around this by leveraging my post from last month that automatically syncs the files to other services.  That's because below the covers the TomTom service is simply MapMyFitness.  So by using the sync services that support MapMyFitness – you can quickly get the data to other web sites.
Finally, some of you may have noticed I haven't mentioned Android yet.  The TomTom Android app is still forthcoming, a bit down the road. This is pretty much in line with every other sports tech company in having the iOS app version out before the Android app version, as many companies are still struggling with inconsistencies of the Bluetooth Smart stack on top of Android – even in 4.3.  It's not that companies don't want to release Android apps leveraging Bluetooth Smart, it's just proving more complicated and less stable.
With that – I'm glad to see TomTom taking advantage of the Bluetooth stack in the device.  Given they're one of the few devices on the market today that's purely Bluetooth-only, it's good to see what I hope will be the beginning of lots of new phone connected features.  The implementation thus far of this first step seems quite clean and easy to use – so hopefully that bodes well long term.  And, since my review last summer they've also made lots of improvements to the unit itself – both big ticket items as well as little items.  Good to see.
Thanks for reading!
(Oh, quick note: It may take a few hours for the app to show up in all global iTunes app stores, so hang tight if you don't quite see it yet.)