Please note: My Full Suunto2 R In-Depth Review is now available at this link. Enjoy!
This morning Suunto officially announced their latest GPS unit – the Suunto Ambit2 R.  This unit is targeted specifically at runners, and is essentially a paired down Suunto Ambit 2S – their new watch that was released about 9 months ago.
It does however, have a few unique features that haven't yet been seen on the Ambit 2 or Ambit 2S – all of which will be made available on those units as well via a free firmware update.
I spent a bit of time with the unit during my trip to Suunto a few weeks ago, though I was not able to use it during any runs.  That'll happen soon though, as a unit will be waiting for me when I get back home on Thursday.  So from there I'll aim for a full in-depth review when the unit hits final firmware in March.  Again, this is not a review – it's simply a look at what's new/different.
With that, let's dive into things a little bit.
An overview of key differences: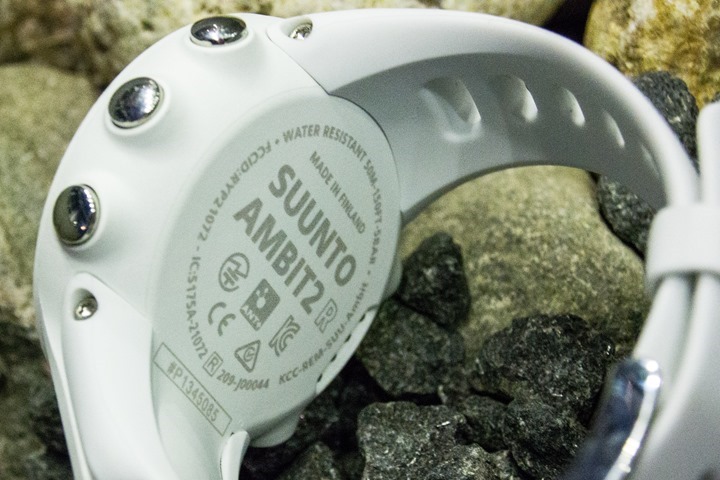 From a form factor standpoint, the Ambit2 R is exactly the same unit as the Ambit2 S.  Physically it weighs the same and shares the same outer shell and internal guts.  And just like the 2S, the white variant has a silicone strap that's a bit more comfortable.  The white variant of both models is aimed at women.
As noted, the unit has been re-focused to the runner crowd, and thus the triathlon/multisport features have been removed.  In line with the de-scoping, some of the advanced navigation features have been removed as well.  In general, you can assume that most features that are in the Ambit2 S that are focused on running, are still there in the Ambit2 R.  I've gone ahead and called out the differences below.  For hiking/navigation features, the core difference is that navigation/compass is only available in exercise mode.  And finally, for cycling and swimming features – those have all been removed.
For example, within the pairing of devices you can still pair both ANT+ heart rate straps as well as ANT+ footpods (and Suunto-ANT variants of those too), but you won't be able to pair cycling sensors (speed/cadence/power):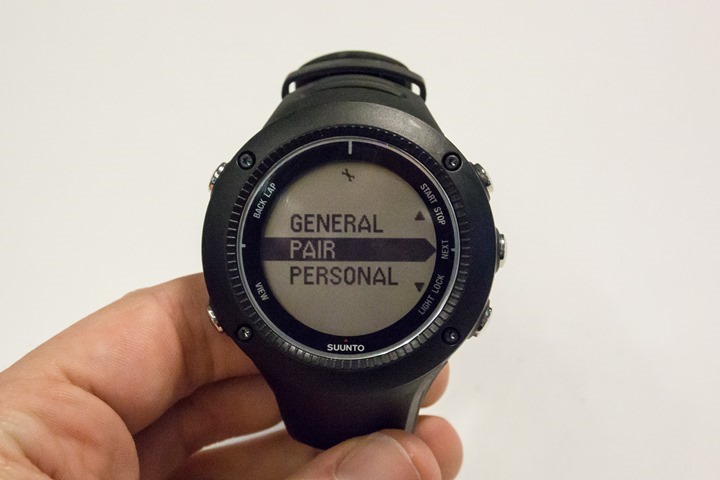 However, interestingly, you don't necessarily need to use a footpod any longer if you just want cadence while running.  That information comes from the unit internally now – in line with what many other companies have introduced in recent months.  The watch uses the internal accelerometer to determine running cadence.  It does not at this time use the internal accelerometer to determine pace indoors though (such as on a treadmill).  But, given my findings across a number of other companies watches that attempt to determine pace indoors, they all kinda suck at it.  So no loss there in my opinion.
When it comes to navigation, the unit retained a portion of the navigational features found on the higher end Ambit 2 & 2S.  For example, you can still track back to your original starting location.  And in addition you can follow a track route that's been downloaded to the unit from Movescount.  The unit retains the magnetic compass.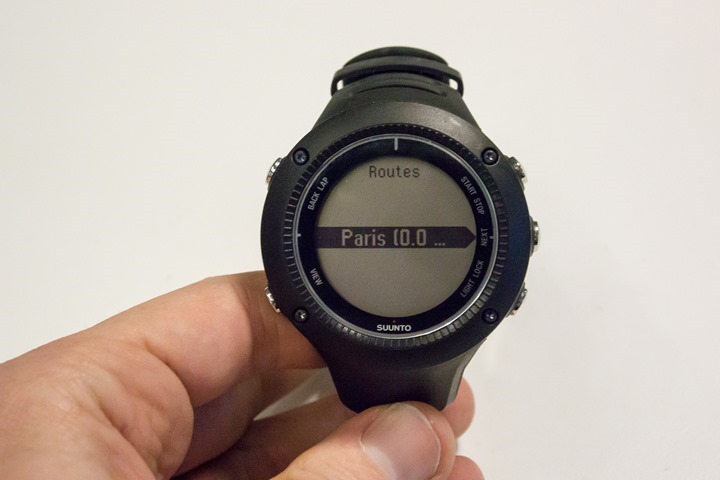 They key difference is that you can't specify a lat/long coordinate (waypoint) like you would have been able to on the Ambit 2/2S.  On the 2R those waypoints need to be defined ahead of time – such as at the start of your run or online with Movescount.  Personally, I think that's fair as most folks in this market won't be randomly navigating to points off in the distance.  Also note that the 2R will only have navigation while in exercise mode, whereas with the 2/2S one could do it in non-exercise mode.
The navigation features are notable in light of their removal (or rather, non-addition) from Garmin's newest high-end running watch (the FR620).  Thus making the 2R a pretty compelling offering for those who want that level of functionality at a significantly reduced price point ($250 vs $400).
When it comes to sport profiles – which are ways you can still create and customize display and sport settings for quick access on the Ambit2 R.  Just like before, you'll create those profiles online using Movescount as always.  The key difference is that for a sport like cycling you won't be able to setup/pair cycling-related sensors (but you can still pair a HR strap).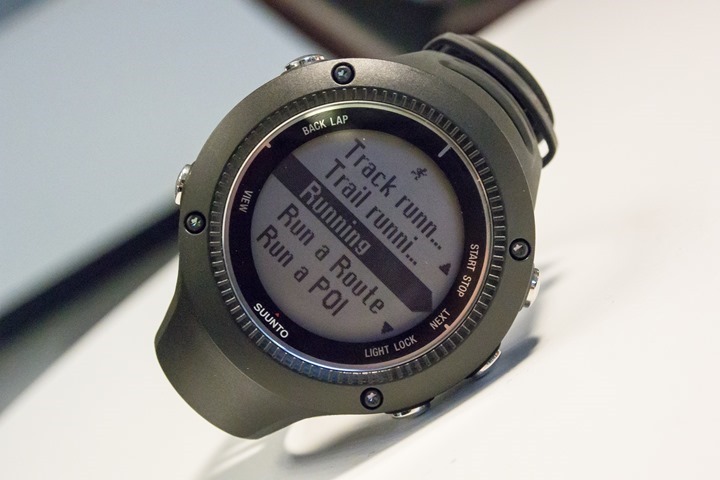 When it comes to wearing the unit as a day to day watch – that's still in-scope.  It'll hang out in watch mode for weeks (GPS disabled) and there's no problems there from a size standpoint, as it's quite normal.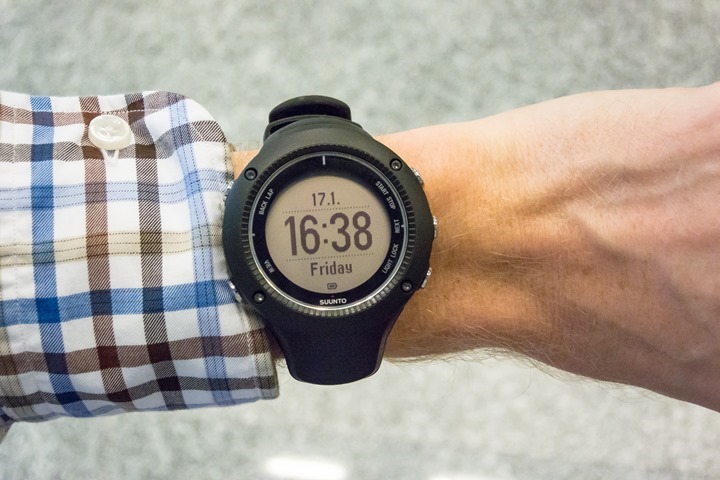 Finally, it's definitely worthwhile pointing out that battery-wise, with GPS enabled, the unit has three options:
8 Hours: GPS recorded at 1-second intervals
12 Hours: GPS recorded at 5-second intervals
25 Hours: GPS recorded at 60-second intervals
In general, for day to day running you'll want to be in the 8-hour mode.  But if you're doing a longer event, you'll want to switch to the mid-range mode.  In general, I don't recommend the 25-hour mode because the spacing between GPS points is so long that the data doesn't tend to be terribly useful unless you're walking.
New & Notable Features: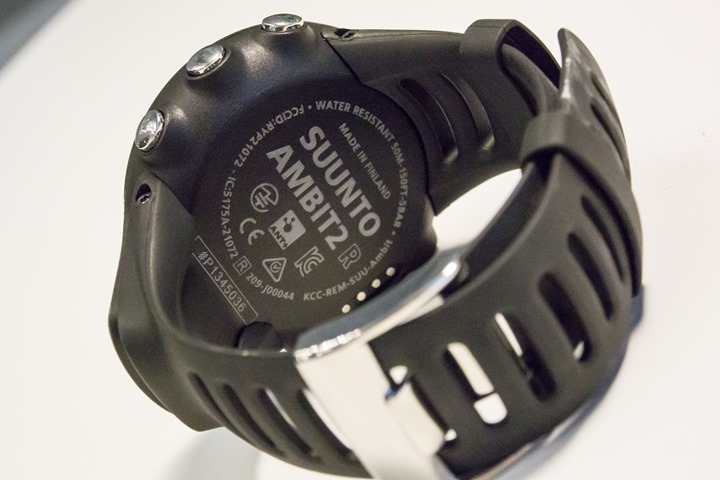 The Ambit2 R also brings with it a few new features.  These features will be pulled over into the other Ambit 2 & 2S units later in the spring (not quite at the same time as the 2R, just a tiny bit later).
First up is the ability to synchronize planned/scheduled workouts (Suunto calls these 'planned moves').  This means that you can create a workout online first (as you always could), schedule it (as you always could), but now you can actually send it to the watch to execute it (new for the Ambit).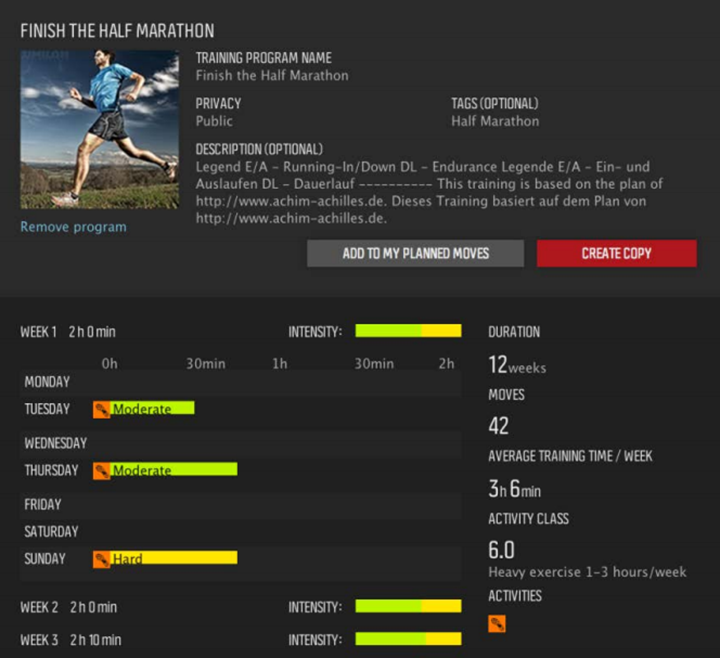 This then includes the ability to offer pace or intensity guidance during the run – such as telling you to go faster or slow down.  Or, telling you to exert less effort (heart rate based).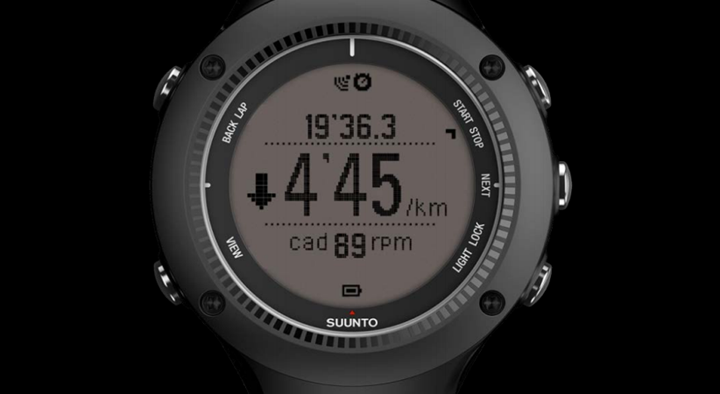 Suunto was the first mainstream company to introduce the concept of apps to the sport watch.  This allowed anyone to create generally simple apps that ran on the watch and provided an extension of functionality.  This ranged from apps that predicted power on trainers to apps that determined how many cupcakes you could eat.
Since the release there's been thousands of apps developed.  Which, has made them somewhat difficult to sort through and find.  In order to resolve that Suunto will be tweaking the App Zone design a bit to make apps more 'findable'.  Effectively offering a Suunto 'Recommended Apps' section as the default landing zone – just like other app stores do.
Further, they'll be releasing over 10 Suunto-made apps at the time of the Ambit2 R's release, some of these are previewed below.  Again, these apps will be made available to existing Suunto Ambit 2/2S users as well.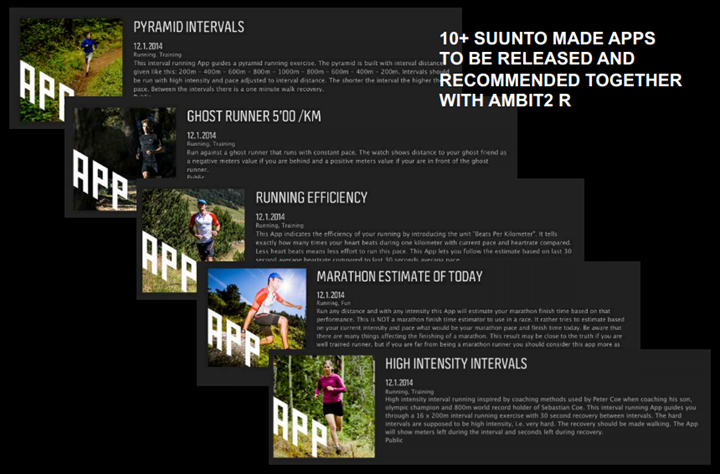 For example, the Virtual Coach app will guide you through a workout using the new intensity guidance functionality.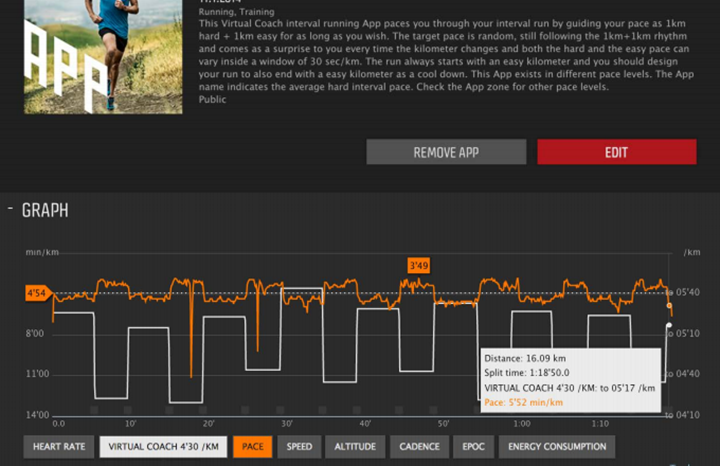 And an orthostatic test app they're releasing will allow you gauge your recovery state using heart rate variability.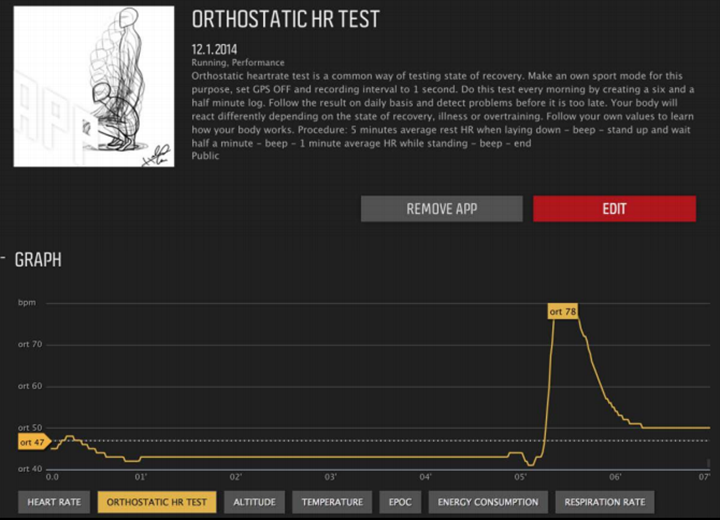 All the Suunto apps (like other apps) will be 'open-source' in that they will be encouraging folks to re-use the apps and build upon them in their own custom apps.
In addition to these apps, Suunto will be expanding the app API pieces as well in the upcoming release.  More details on that as they get closer.
Finally, there's a few other smaller but 'nice touch' features in the 2R:
– Automatic foot pod calibration from GPS while running.  Now you don't have to manually calibrate it – it'll simply do it anytime you're out running from GPS.
– Watch history/summary will now display lap information
– Within log summary, you'll get the fastest kilometer and mile that you've completed (think PR's)
– New compass calibration procedure designed to simplify things a bit
With that, that covers all the new stuff.
Product Comparison Charts:
I've added the Ambit2 R to the Product Comparison Tool, which means you can mix and match it against any other watch/unit that I've ever reviewed for feature comparisons.  Note that there are some features that are on the Ambit2 R at launch that will be added to the Ambit 2/2S down the road.  So in general, if it says 'Yes' within the Ambit2 R table, but no in the Ambit 2/2S, it'll be there eventually in the 2/2S.  But I didn't want to set them as 'yes' now, because then folks buying the device between now and April/May might think the unit has that functionality.
For now, I just added the Ambit 2/2S/2R into the tables.  However, you can easily make your own change with any device you want here at this link.
Function/Feature

Suunto Ambit2
Suunto Ambit2 S
Suunto Ambit2 R
Copyright DC Rainmaker - Updated November 15th, 2015 @ 11:37 am New Window
Price
$319
$219
$250
Product Announcement Date
APR 29, 2013
APR 29, 2013
JAN 28, 2014
Actual Availability/Shipping Date
May 2013
May 2013
MAR 2014
GPS Recording Functionality
Yes
Yes
Yes
Data Transfer
USB
USB
USB
Waterproofing
Yes - 100m
Yes - 50m
Yes - 50m
Battery Life (GPS)
50 hours
25 hours
25 hours
Recording Interval
Variable
Variable
Variable
Alerts
Sound/Visual
Sound/Visual
Sound/Visual
Backlight Greatness
Great
Great
Great
Ability to download custom apps to unit/device
Yes
Yes
Yes
Acts as daily activity monitor (steps, etc...)
No
No
No

Connectivity

Suunto Ambit2
Suunto Ambit2 S
Suunto Ambit2 R
Bluetooth Smart to Phone Uploading
No
No
No
Phone Notifications to unit (i.e. texts/calls/etc...)
No
No
No
Live Tracking (streaming location to website)
No
No
No
Emergency/SOS Message Notification (from watch to contacts)
No
No
No
Built-in cellular chip (no phone required)
No
No
No

Cycling

Suunto Ambit2
Suunto Ambit2 S
Suunto Ambit2 R
Designed for cycling
Yes
Yes
No (but can show speed)
Power Meter Capable
Yes
Yes
N/A
Power Meter Configuration/Calibration Options
Yes
Yes
N/A
Power Meter TSS/NP/IF
No
No
N/A
Speed/Cadence Sensor Capable
Yes
Yes
No

Running

Suunto Ambit2
Suunto Ambit2 S
Suunto Ambit2 R
Designed for running
Yes
Yes
Yes
Footpod Capable (For treadmills)
Yes (internal accelerometer)
Yes (internal accelerometer)
Yes (internal accelerometer)
Running Dynamics (vertical oscillation, ground contact time, etc...)
No
No
No
VO2Max Estimation
Yes
Yes
Yes
Race Predictor
No
No
No
Recovery Advisor
Yes
Yes
Yes
Run/Walk Mode
No
No
No

Swimming

Suunto Ambit2
Suunto Ambit2 S
Suunto Ambit2 R
Designed for swimming
Yes
Yes
No
Openwater swimming mode
Yes
Yes
N/A
Lap/Indoor Distance Tracking
Yes
Yes
N/A
Record HR underwater
No
No
N/A
Openwater Metrics (Stroke/etc.)
Yes
Yes
N/A
Indoor Metrics (Stroke/etc.)
Yes
Yes
N/A
Indoor Drill Mode
Yes
Yes
N/A
Indoor auto-pause feature
No
No
N/A
Change pool size
Yes
Yes
N/A
Indoor Min/Max Pool Lengths
15m/y to 1,200m/y
15m/y to 1,200m/y
N/A
Ability to customize data fields
Yes
Yes
N/A
Captures per length data - indoors
Yes
Yes
N/A
Indoor Alerts
No
No
N/A

Triathlon

Suunto Ambit2
Suunto Ambit2 S
Suunto Ambit2 R
Designed for triathlon
Yes
Yes
No
Multisport mode
Yes
Yes
N/A

Workouts

Suunto Ambit2
Suunto Ambit2 S
Suunto Ambit2 R
Create/Follow custom workouts
No
No
Sorta (via Suunto Apps)
On-unit interval Feature
Barely
Barely
Barely
Training Calendar Functionality
No
No
Yes

Functions

Suunto Ambit2
Suunto Ambit2 S
Suunto Ambit2 R
Auto Start/Stop
Yes
Yes
Yes
Virtual Partner Feature
No
No
Sorta (specify intensity)
Virtual Racer Feature
No
No
No
Records PR's - Personal Records (diff than history)
No
No
No
Tidal Tables (Tide Information)
No
No
No
Weather Display (live data)
No
No
No

Navigate

Suunto Ambit2
Suunto Ambit2 S
Suunto Ambit2 R
Follow GPS Track (Courses/Waypoints)
Yes
Yes
Yes
Markers/Waypoint Direction
Yes
Yes
Yes
Routable/Visual Maps (like car GPS)
No
No
No
Back to start
Yes (added Aug 30, 2013)
Yes (added Aug 30, 2013)
Yes
Impromptu Round Trip Route Creation
No
No
No
Download courses/routes from phone to unit
No
No
No

Sensors

Suunto Ambit2
Suunto Ambit2 S
Suunto Ambit2 R
Altimeter Type
Barometric, GPS (FusedAlti)
GPS
GPS
Compass Type
Magnetic
Magnetic
Magnetic
Heart Rate Strap Compatible
Yes
Yes
Yes
ANT+ Heart Rate Strap Capable
Yes
Yes
Yes
ANT+ Speed/Cadence Capable
Yes
Yes
No
ANT+ Footpod Capable
Yes
Yes
Yes
ANT+ Power Meter Capable
Yes
Yes
No
ANT+ Remote Control
No
No
No
ANT+ eBike Compatibility
No
No
No
Shimano Di2 Shifting
No
No
Bluetooth Smart HR Strap Capable
No
No
No
Bluetooth Smart Speed/Cadence Capable
No
No
No
Bluetooth Smart Footpod Capable
No
No
No
Bluetooth Smart Power Meter Capable
No
No
No
Temp Recording (internal sensor)
Yes
No
No
Temp Recording (external sensor)
No
No
No

Software

Suunto Ambit2
Suunto Ambit2 S
Suunto Ambit2 R
PC Application
Moveslink Agent
Moveslink Agent
Moveslink Agent
Web Application
Movescount
Movescount
Movescount
Phone App
Suunto Movescount
Movescount
Movescount (does not connect from watch to phone)
Ability to Export Settings
Yes (online)
Yes (online)
Yes (online)

Purchase

Suunto Ambit2
Suunto Ambit2 S
Suunto Ambit2 R
Amazon
Link
Link
Link

DCRainmaker

Suunto Ambit2
Suunto Ambit2 S
Suunto Ambit2 R
Review Link
Link
Link
Link
Again, remember you can easily make your own change with any device you want here at this link.
My Initial Thoughts: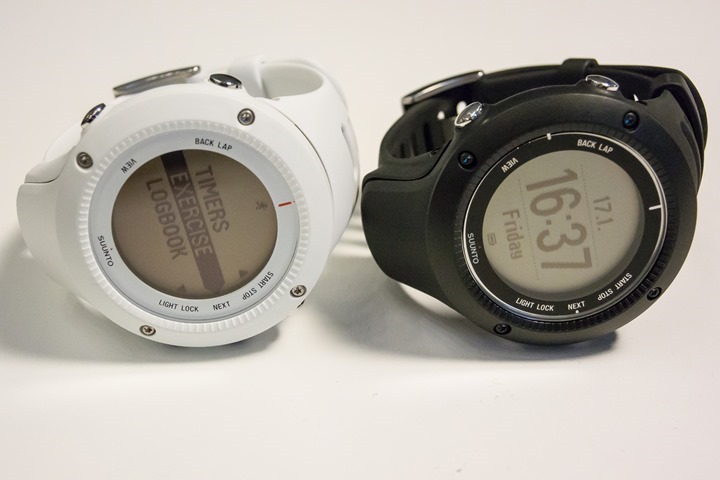 In general I like what Suunto has done here with the mid-range running-specific unit.  It offers more customization and flexibility than other competitive units.  For example, the ability to create multiple sport profiles with different settings isn't really found on competitive units in that price range.  The same goes for the navigation functionality – which also isn't found on other units in that price range (or even many at a higher price range), Suunto has a distinct advantage there.
On the flip side, the lack of Bluetooth connectivity to the phone will be seen as a significant drawback for some.  Whether it's uploading completed workouts via your phone (such as on the Garmin FR220, Adidas Smart Run GPS, and upcoming as previously announced on the TomTom units), or live tracking capabilities.  The Ambit2 R simply doesn't have a Bluetooth chipset within it, and thus won't be capable of having such functionality.
Thus, the price point may be a tiny bit high given there tends to be more mainstream interest in smartphone integration than navigation.  Still, for those looking for some of those navigation features but don't need the full set of swimming and cycling components found in Suunto's higher end Ambit 2/2S units, then the 2R represents a great deal, coming in at a heck of  a lot less than either the Ambit 2/2S or the Garmin Fenix/Tactix.
The addition of the new training calendar and scheduled workout type functionality pushing to the unit will really help to close the gap to other units as well – and I'm really looking forward to diving into that more with my test unit.  Keep in mind that functionality will be added to existing Ambit 2/2S units later this spring.
With that – I'll next loop back when I get my full in-depth review published sometime in March upon product release.  I'll be adding in the Suunto Ambit2 R here shortly into the product comparison database/tool as well – hopefully within a day or so.  Allowing you to get a bit more crisp picture of the functionality between the three Suunto Ambit 2 units (2/2S/2R).
Thanks for reading!