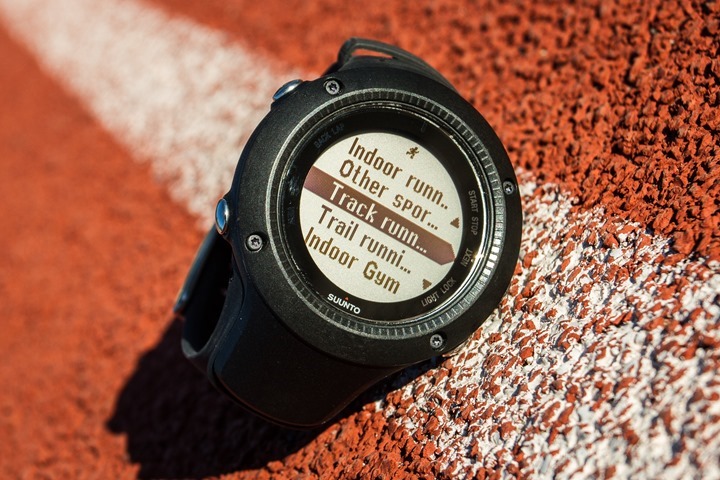 Back in late January Suunto announced their Ambit2 R running-focused watch, which comes as a derivative of the Ambit2 line that was introduced last spring. The 2R aimed to offer a lower price point than the higher end Ambit2 and 2S units, which were focused heavily on triathlon, ultra runners, and hiking/navigation.
But, is the lower price enough to compete with the glut of new GPS running units in the same price category? I've been using the unit for the last 6-8 weeks now on my runs, attempting to find the answer to that.
Because I want to be transparent about my reviews – Suunto sent me two final retail units to try out (white and black). Once I'm complete here, I'll send these back to Finland and then go out and buy my own (to be able to support y'all in the comments section down the road). Simple as that. Sorta like hiking in wilderness trails – leave only footprints. If you find my review useful, you can use any of the Amazon or Clever Training links from this page to help support future reviews.
Lastly, at the end of the day keep in mind I'm just like any other regular triathlete out there. I write these reviews because I'm inherently a curious person with a technology background (my day job), and thus I try and be as complete as I can. But, if I've missed something or if you spot something that doesn't quite jive – just let me know and I'll be happy to get it all sorted out. Also, because the technology world constantly changes, I try and go back and update these reviews as new features and functionality are added – or if bugs are fixed.
So – with that intro, let's get into things.
Unboxing: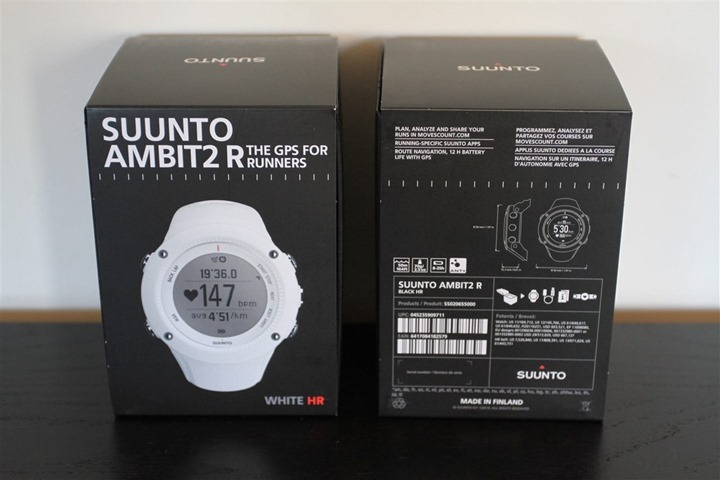 The Ambit2 R comes in two basic versions: With the heart rate strap, and without the heart rate strap.
Then, within that there are currently two color offers: black and white. The black bundle as you'll see in a bit means the band is slightly longer and made of a slightly different material. Roughly speaking Suunto believes more women will go for the white bundle, and thus, the smaller band.
In any case, as far as unboxing goes – it's the same contents for both units.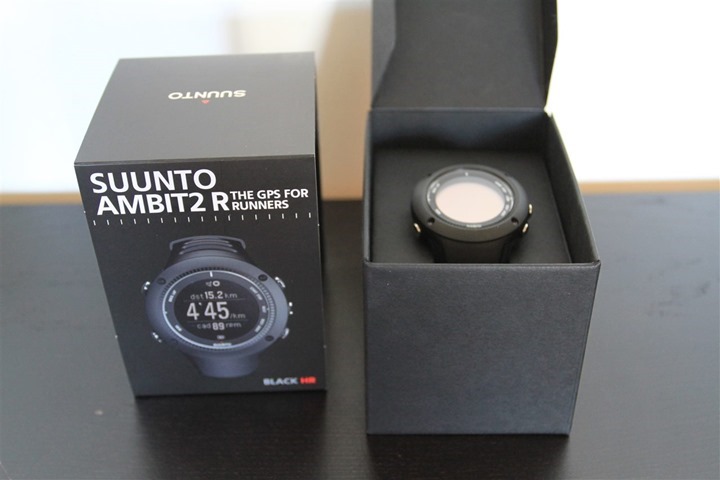 Inside, the box is actually pretty slim on random accessories. It's simply the watch, the USB charging cable, and a little packet of papers for the manual. If you have the heart rate bundle, then it comes with the Suunto ANT strap.
Starting with that, we've got the heart rate strap. This is the Suunto ANT version (not ANT+), which means it only works with Suunto devices. If you have an ANT+ strap however, that will work just fine with the Suunto Ambit series, as ANT+ support was added to the whole series about 16 months ago.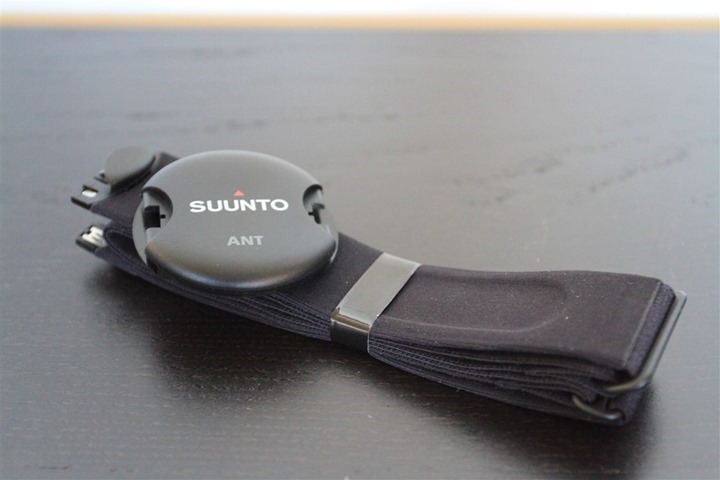 Next, we've got the USB charging cable. This cable plugs into any USB port on the planet, from your computer to your phone's USB port. It's all the same for the purposes of this unit.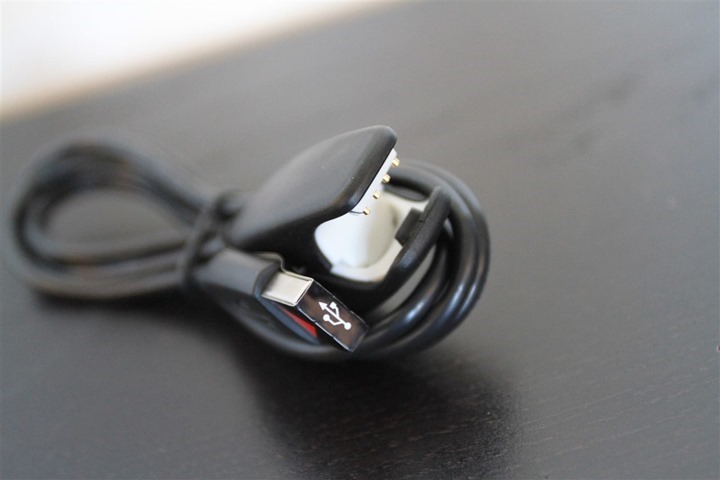 The clip simply attaches to the side of the unit. It's not the most secure clip in the world, but once attached on a desk it stays put.
Then we've got the quick start guide, offered in 98 languages. Don't worry, by the end of this review you'll have all the concepts down.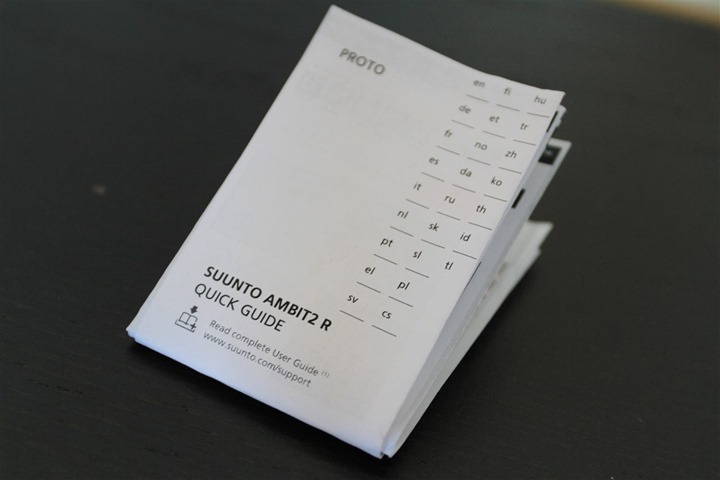 With that, we've finally got the watches themselves: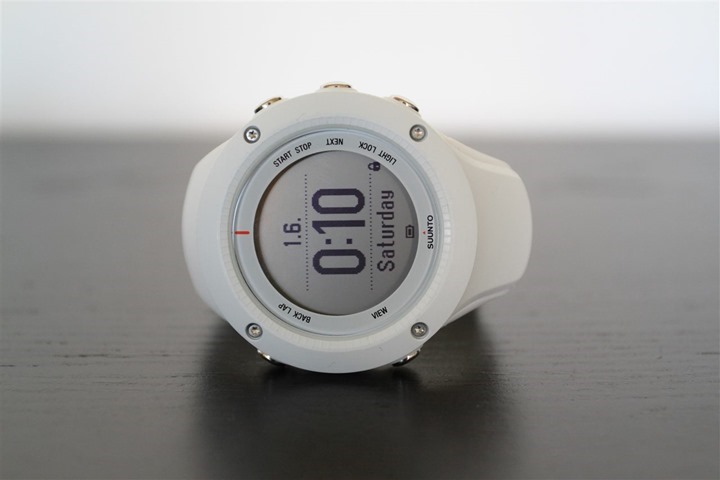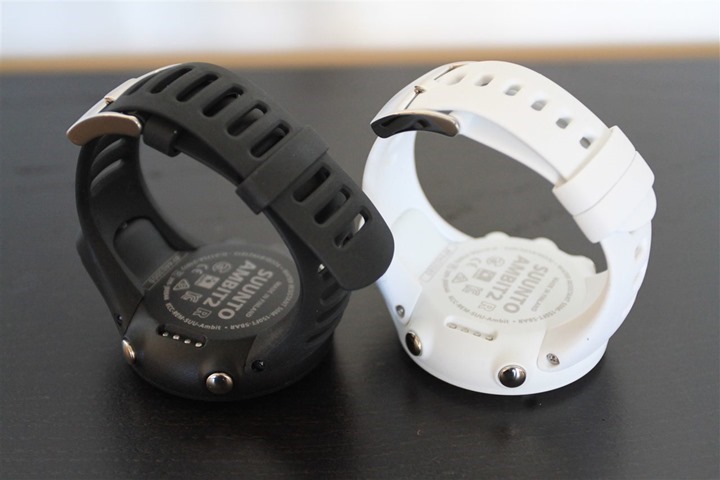 The units are waterproofed to 50-meters (150ft in Americana units), which is why it doesn't use a standard mini-USB port on the side of the watch, but rather uses the connector to the watch and a USB portion on your computer.
You'll also notice that the unit has two little straps on the bands to ensure the longer strap doesn't float around. Personally, I've never much liked the dual-holder design, as it's kinda cumbersome, but for those that do – it's there for ya. I've been kinda tempted to simply just snip one off. Perhaps someday…
Size and Weight Comparisons: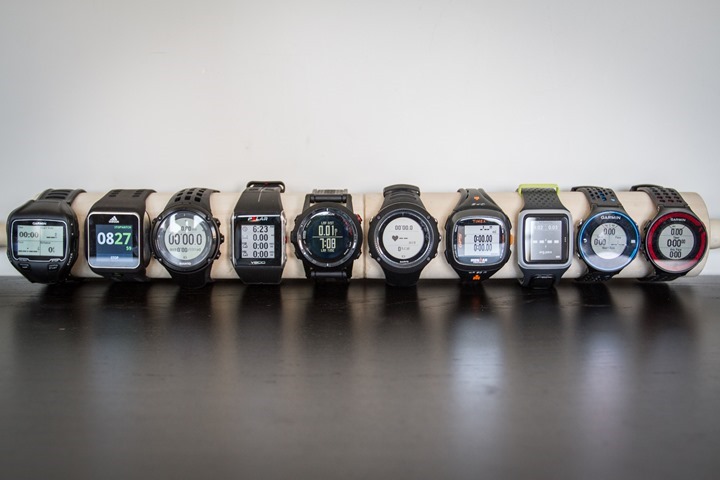 Above is the jail cell lineup of current generation running watches today on the market, with the ones most competitive to the Ambit2 R on the right hand side. You'll see the Ambit2 R sitting just to the right of the seam in the middle. In this case, to the right of it is the Timex Run Trainer 2.0, then the TomTom Runner, followed by the Garmin FR620 and then FR220.
To the left of the seam is the Garmin Fenix2, then the Polar V800, followed by the Suunto Ambit 2, the Adidas Smart Run GPS, and then the Garmin FR910XT. Everything to the left of the seam is $400+. And with the exception of the blue FR620 on the right ($400), everything in that bracket is $200-$250.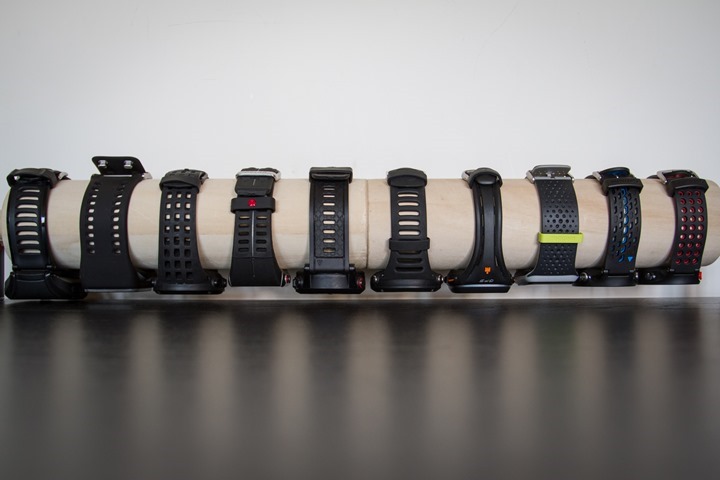 Above, you can see that the Ambit2 R is reasonably slim, not quite as slim as the FR220/620, but still just fine.
Next, looking at the weights of the different units. Since you're likely fully capable of reading the grams displayed on the scale, I've just added the unit names below to the images.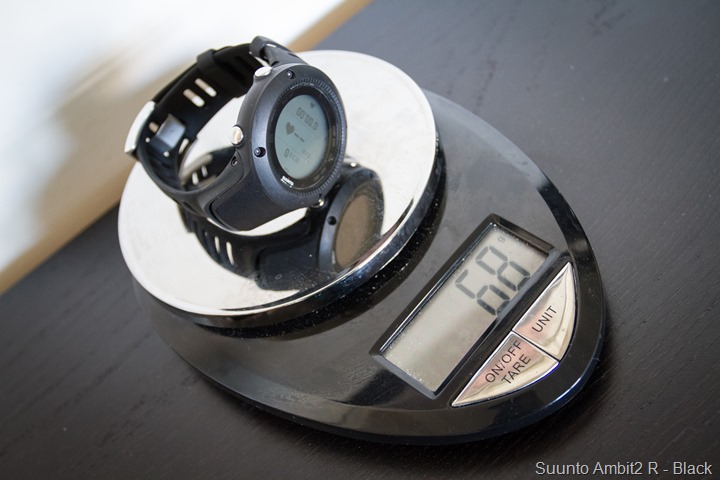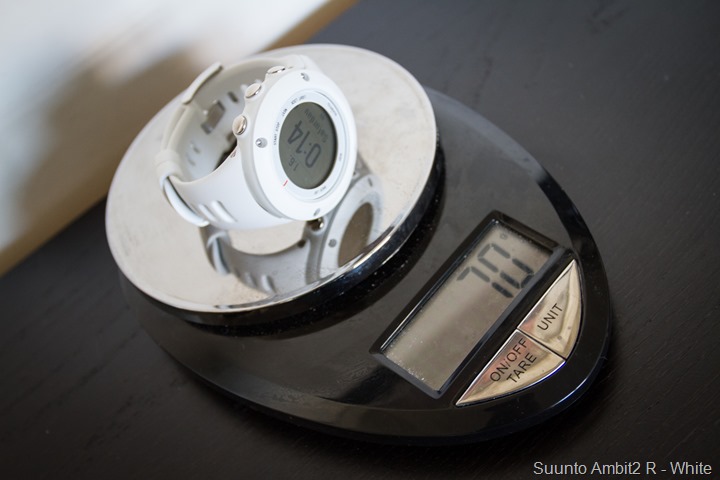 As you can see above, a slight difference between the white and black units due to the strap length and material.
The 2S below weighs in the same as the black 2R, simply because…well…it's the same physical watch.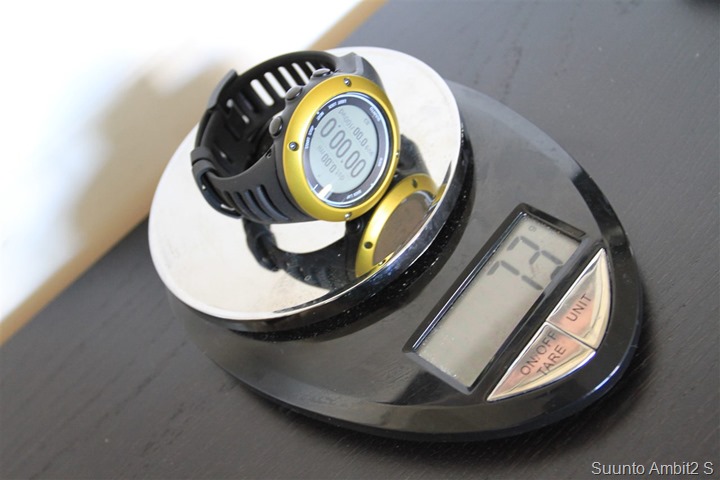 Meanwhile, the Ambit2 (standard) weighs in quite a bit more. And, if you were to look at the Sapphire Ambit2 version, that's even heavier still.
Next, taking a closer look at the three Ambit2 units from left to right: Ambit2, Ambit 2 S, Ambit 2R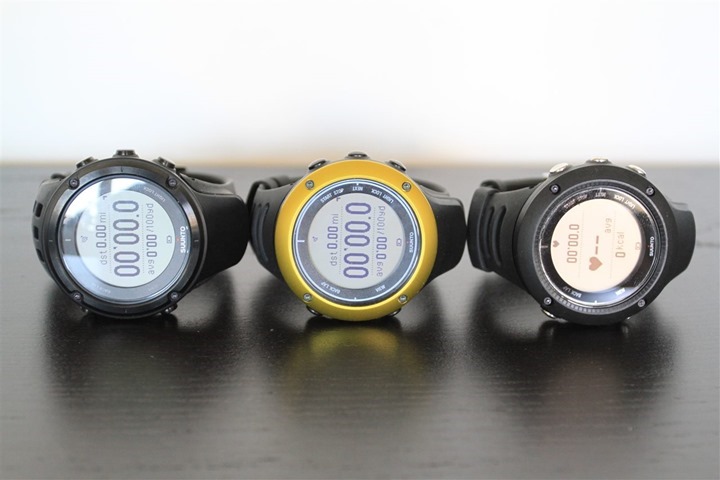 From the front of the units you'll see the display itself is identical in all of them. The core difference is the bezel. The 2R & 2S use a plastic bezel, whereas the Ambit2 uses a metal bezel.
Height wise you'll see the 2S and 2R are identical, with only the Ambit2 being a bit chubbier. Feature-wise the extra chub comes from the longer battery and the barometric altimeter.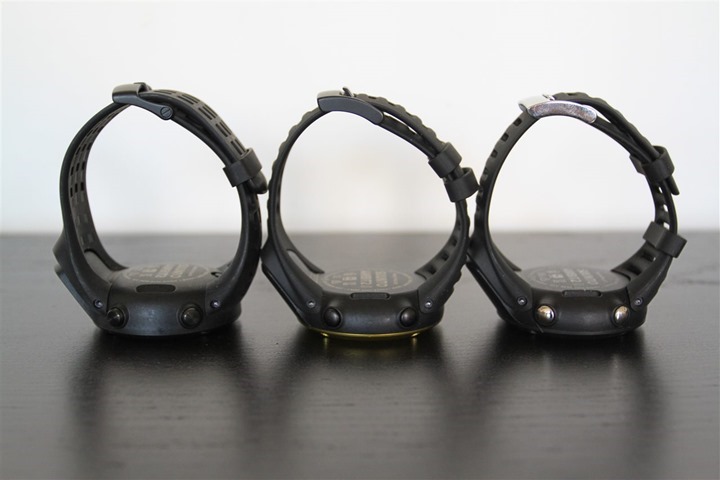 If you look at the two variants of the 2R, they're identical on the display except color.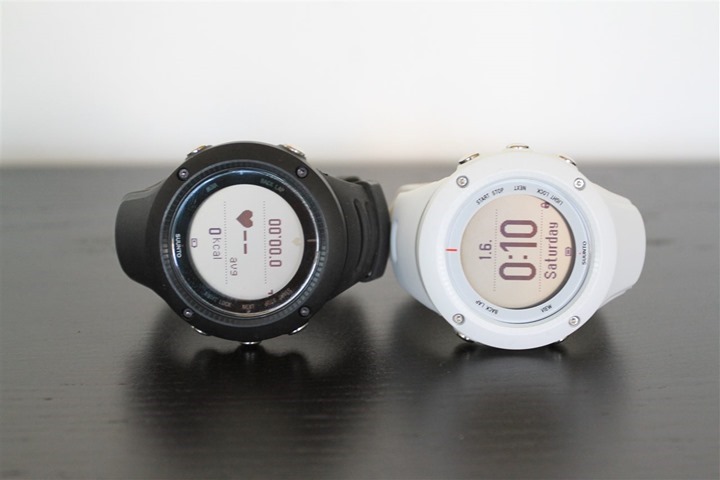 Whereas the bands differ between the two. The white version has a slightly smoother band compared to the black edition. Additionally, the strap is longer on the black edition.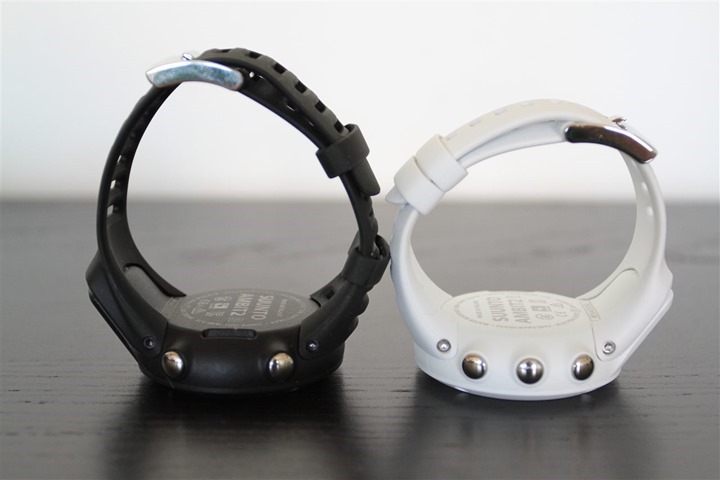 Finally, while you'll see my arm and wrists throughout the review, here's my wife's arm/wrist with the units on her. Her wrist size is 14cm (or 5.5 inches). Here's the white edition first: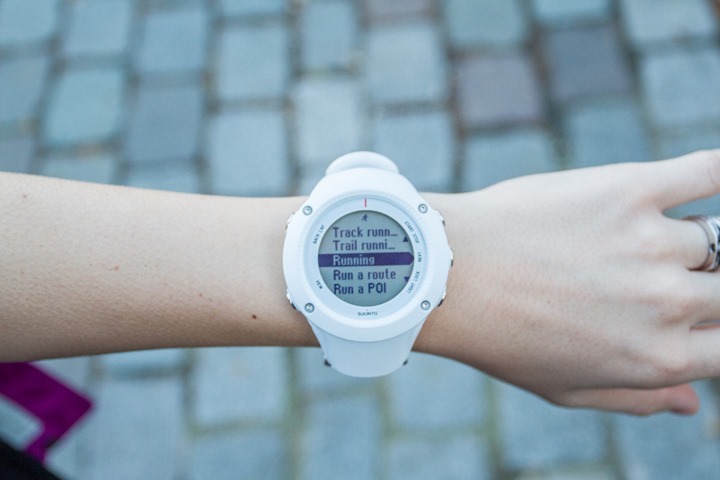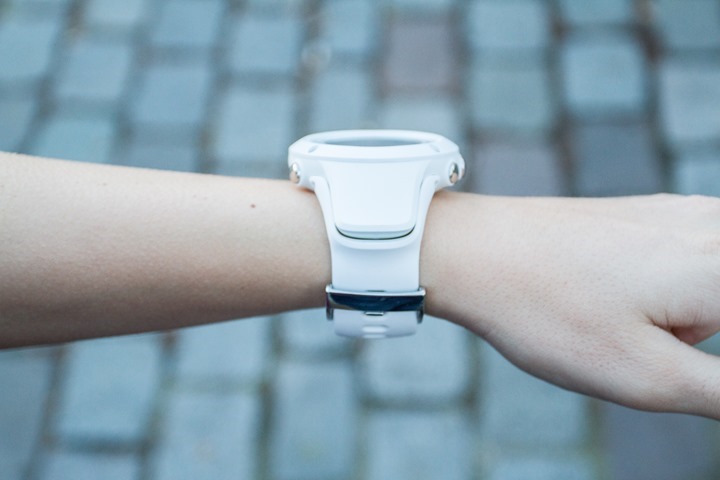 Then the black edition: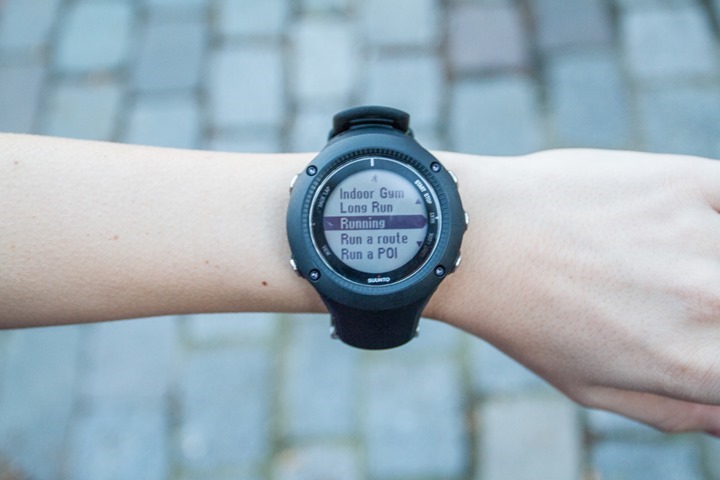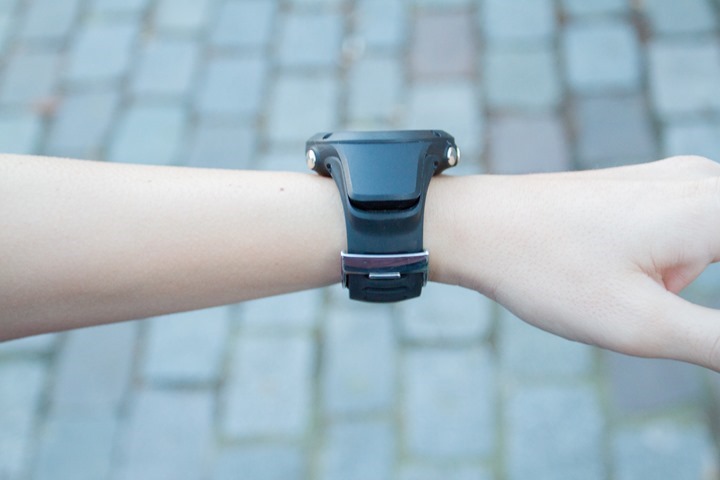 Ok, with all that completed – let's get onto using the thing!
Running (Outdoors):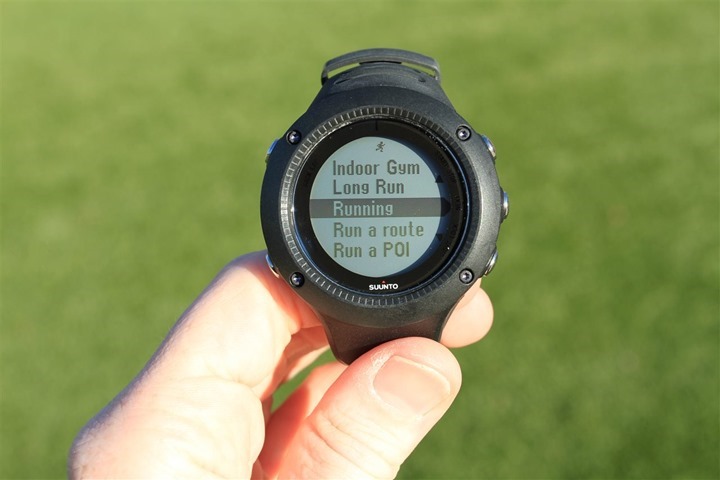 Now that we're ready to head outdoors it's time to start the activity. To do so, we'll go ahead and tap Start and then select Exercise followed by selecting Running (or, any of our custom sports, which I'll cover later).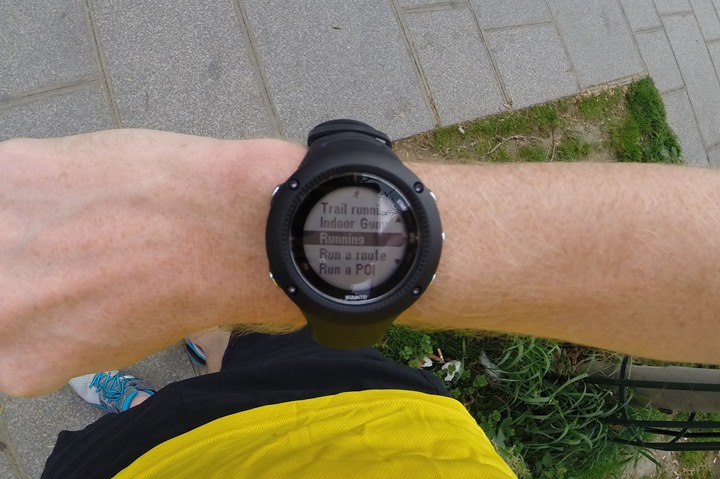 Once you do this, it'll go ahead and search for the heart rate strap (if you have it paired), as well as a footpod (again, if you've paired them).
Note that the 2R can connect to both Suunto ANT heart rate straps, as well as ANT+ heart rate straps (such as those from an older Garmin device). As long as it has a little ANT+ logo on it, you're good to go. It won't however connect to any Bluetooth Straps, nor any Polar straps (or Nike straps).
I've found on all the Ambit devices that initial pairing with ANT+ straps is often rather finicky (just the first time), and many readers comment on it as well. Here's the thing: Just keep retrying. Stick the watch right up against the strap, and make the two do the romance dance. And keep pushing retry. Eventually, it does work. And once you pair it once, it forever remembers it (sorta like having a baby I suppose).
In any case, heart rate strap behind us, it's off to the satellite search. By default the unit will pre-cache satellite data from Movescount when you plug it into your computer. In doing so it will greatly speed up acquisition of satellites while standing outside.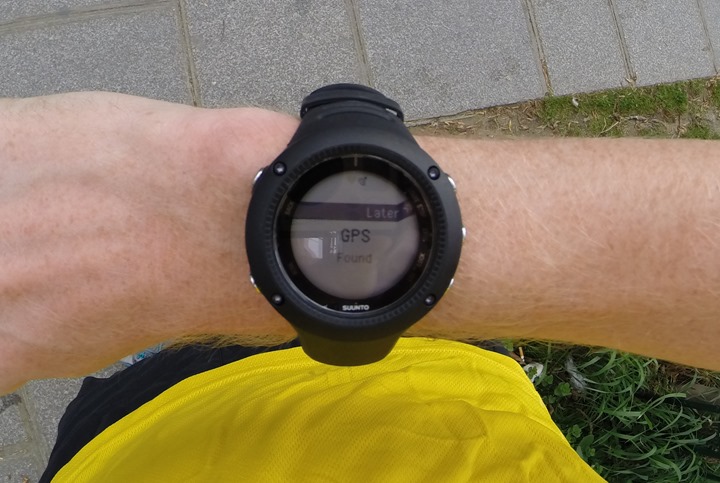 I've been traveling a bunch and have been blown away by how fast it's been. Last week I flew to Mexico City, and then I walked outside and pressed to start finding satellites. It found satellites for the first time in approximately 2 seconds. It may have been 1.8, perhaps 2.2, I'm not entirely sure. I wasn't exactly expecting it to take just two seconds. Fastest satellite acquisition ever after such a long distance away from last turn-on (12hr flight from Europe).
Once you've got satellite, you can go ahead and press start to begin your run. At this point the unit is now recording. And as such, you'll see that the timer is now incrementing, along with distance.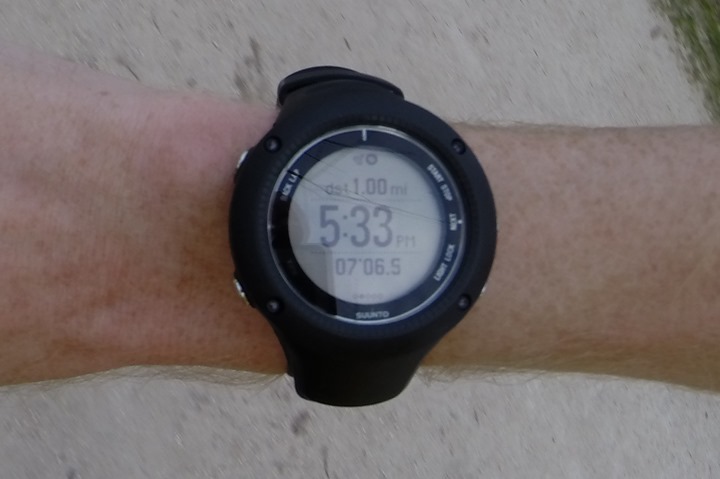 I'll cover all the different fields you can show/configure later on in the review, but here's a quick sampling of a few different fields while running. Below, you can see my distance (2.17mi), my current pace (7:15/mile), and even my cadence (89).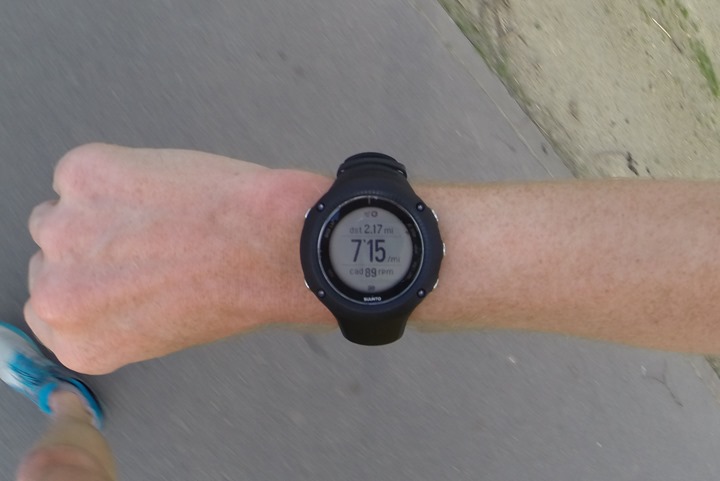 In this view, I've tapped the 'View' button to switch the bottom field to show Average Pace (for the entire run), which is at 6:59/mile. The remainder of the fields remained the same.
Whereas in this instance, I have heart rate shown along the bottom: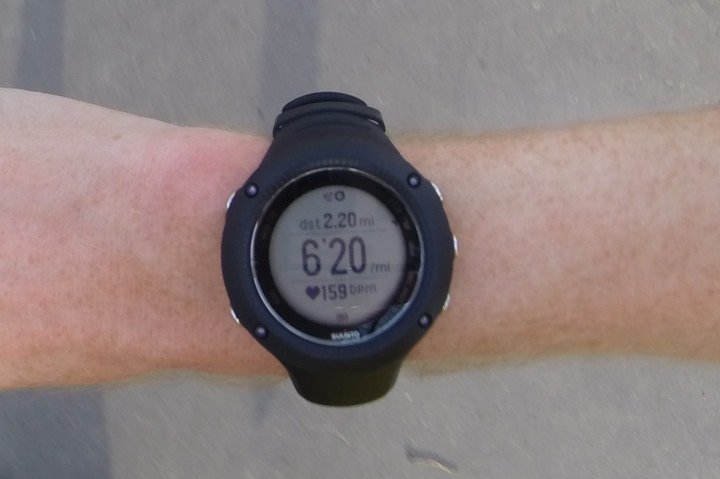 As you're running you can show pace (or speed, if you want), as well as distance and time. If you want to create a lap you can simply press the lap button, which then saves the information for later retrieval.
I use this when I've got a workout with different segments, which allows me to look at those segment's lap times and distances easily. You can see this below later on, within Movescount online:

On the display itself, you can both enable a backlight if needed by pressing the Light/Lock button, which will turn it on for the period you've defined. For example, you can set it to automatically turn off after a specified number of seconds, or you can just have it stay on. I personally prefer to just configure it to stay on for easy viewing during night runs.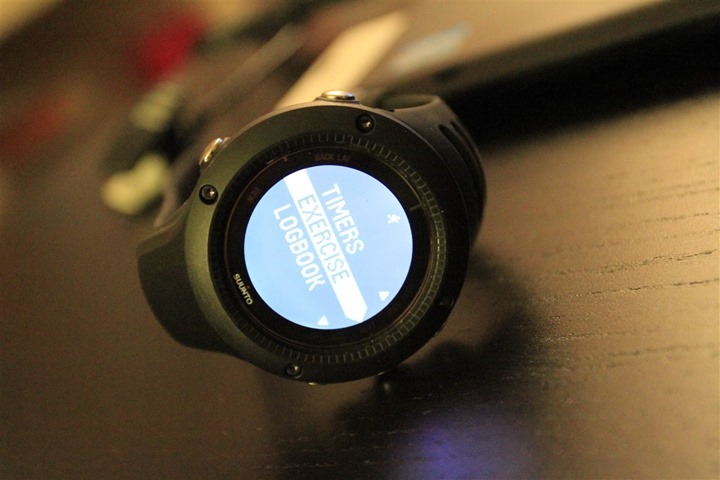 You can also invert the display, so it's white text on black background. To do so, simply hold down the 'View' button for a few seconds and it'll flip over.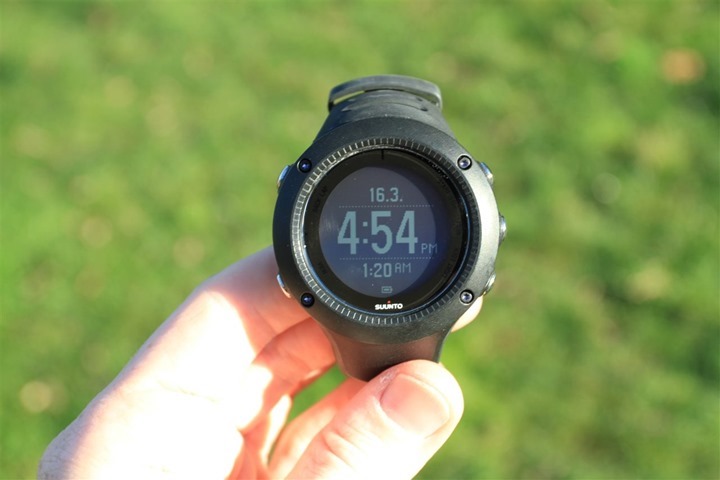 When it comes time to pause a run, you can do that at any time by pressing the 'stop' button. This is like pausing on your VCR…err…YouTube, and you can always resume the run without losing any data (for example, to stop and eat a crepe).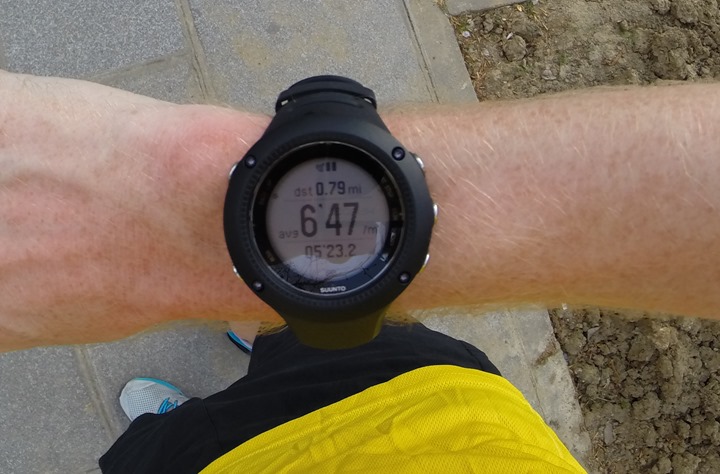 When you're done for real, then you can press pause to pause it, and then press the back button once to access a menu asking if you'd like to stop the run and then save it.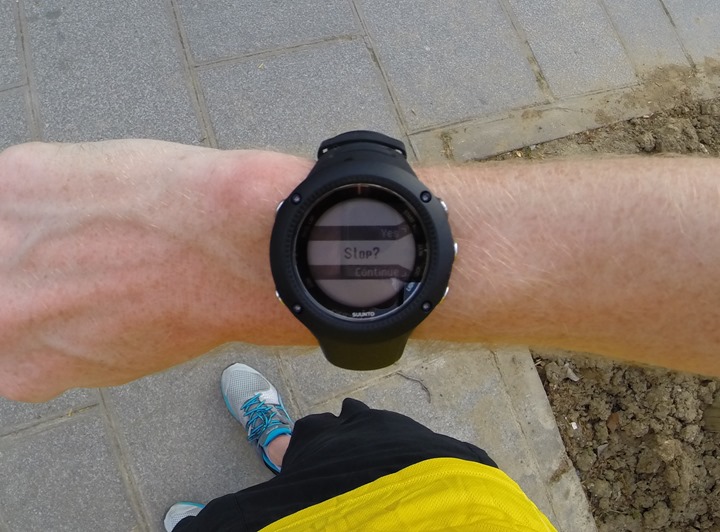 Once that's completed, the unit will then show you a handful of summary pages including totals (i.e distance/time), as well as paces and splits for laps.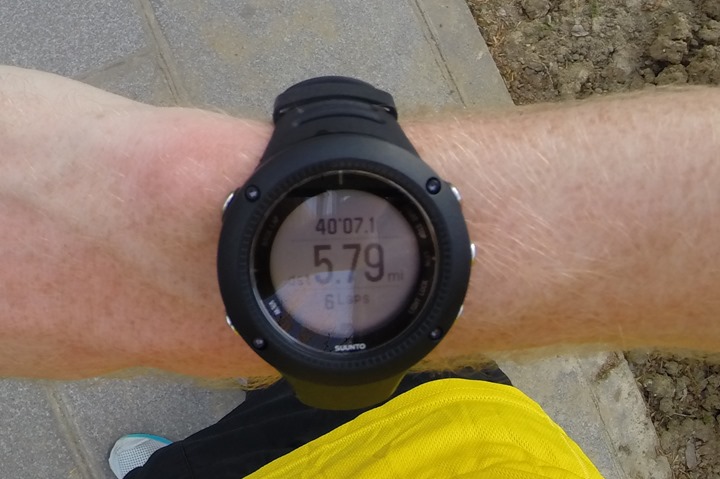 You'll also get your fastest mile and kilometer displayed as well: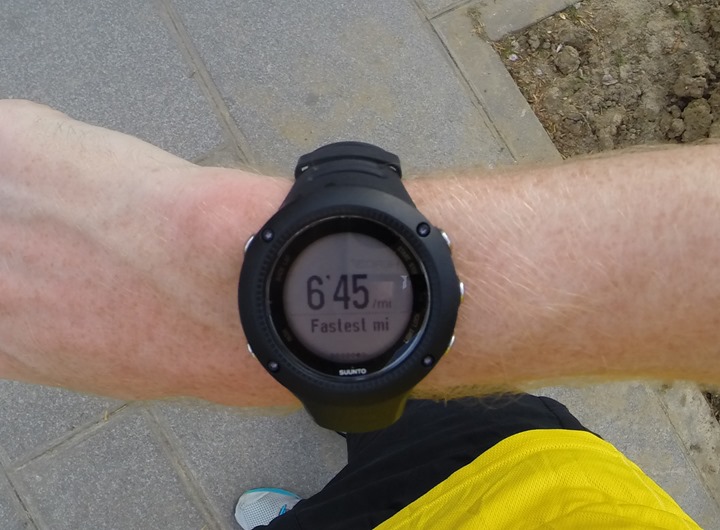 Finally, you'll get recovery time displayed. This value is shown in hours, and is general guidance on how long you should wait till your next hard run. I found this value was generally pretty close to what I was getting on Garmin devices that supported a similar metric. In some cases, this value was slightly higher than theirs, but in the rough ballpark.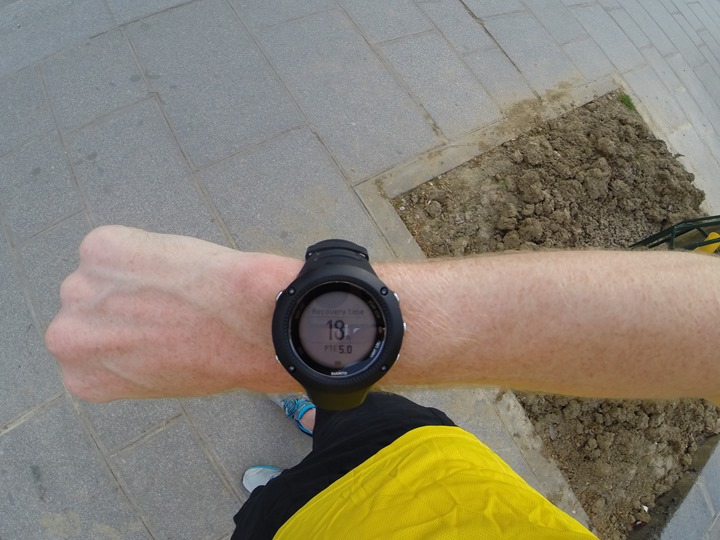 This value is also then shown on Movescount as well along with other similar metrics like your measured VO2Max and your Peak Training Effect (PTE)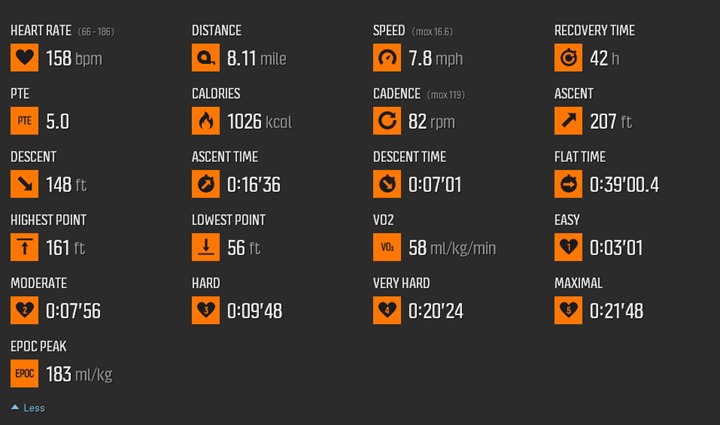 Note however that some of these metrics depend on having the correct Maximum Heart Rate defined within the Movescount settings. For example, below, my MHR is set at 178, which is far too low for me – it should be closer to about 188-190bpm, based on what I've seen. As a result, some of my runs were showing a PTE too high (5.0), when they weren't terribly hard runs.
The same goes for your activity class and resting heart rate, which can drive a number of calorie related metrics.
Running (Indoors):
Next, we'll take a look at the Ambit2 R's ability to track pace and distance indoors without the use of a footpod. This is new to the Ambit2 R lineup, and will be back-ported to the Ambit2/2S units later this spring. In order to enable this you'll simply need to run outdoors first to calibrate the sensors. The more you run at various paces, the more calibrated it is, and thus, the more successful it is.
The term of this feature is FusedSpeed, which actually does two things. First it aims to smooth out the usual GPS jumpiness in pace by matching that with your natural run cadence to determine your pace. Basically, it blends the two together. Then, in cases where GPS is sketchy or drops out entirely, it takes over to show pace/distance. It'll then resume back to primarily GPS based when GPS is good again (such as a tunnel). This has worked flawlessly for me in some long tunnels around the city here (upwards of half a mile).
Having been running at all sorts of paces outdoors, I headed indoors to try it out on a treadmill. I used a simple 10-minute increasing pace ladder to see how things would look. Ideally, it'd match the paces I was going for. Here's the results:

Now, in order to correlate that I recorded the paces of the treadmill at each step (each for 1-minute). I found that the paces were very close to reality. It strayed more at the far end though (as I've seen elsewhere), but in the middle it did quite well. And it wasn't really till the last step that things got out of whack. You can see however that like other units it struggled in that first minute or so.
And those little 'dips' you see at each step? That's because I used that particular hand to increase the treadmill speed, which ultimately impacts the pace. Thus if you're a treadmill-holder, this won't capture data accurately (the 'be honest' person in me says that if you're a treadmill holder you need to slow down the treadmill because you're actually not getting the workout you need).
In the event you'd still like to use a footpod for pace, you can do so. The unit will automatically calibrate the footpod based on the first 1-2KM of each run using GPS, and then the footpod will take-over as the pace and distance keeper for the remainder of that run. This is a bit different than Garmin units, which allow you to generally decide whether GPS or footpod is used (or to just use footpod when GPS is unavailable, such as in a tunnel).
In addition to providing pace indoors, the unit also now provides cadence (both indoors and outdoors). Here's that same look at things from the cadence perspective.

In order to compare the cadence to something, I wore a footpod using another unit, and have that charted below. Because Suunto and Garmin differ these days on how they display cadence, the below graph is simply 'doubled' over the above graph. So if Suunto showed 90SPM, then Garmin would show 180SPM.
In comparing various points between the two, they trend quite well, and are within 1-2SPM across the board, minus a few exceptions. Those exceptions would be cases where I did something with my hands, which impacted cadence (because it's wrist based on the 2R). You can see that above with that random 120SPM spike – which is invalid.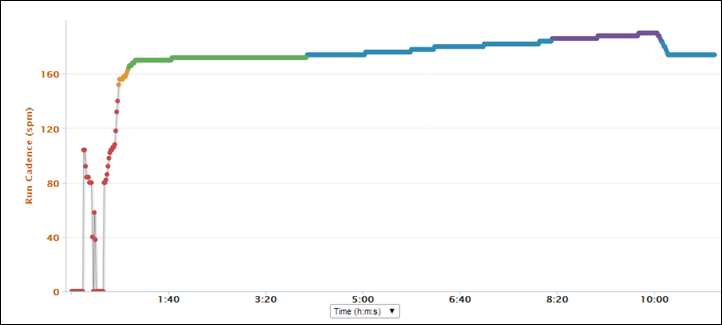 Thus, for most applications, the cadence is more than sufficient to not need getting an additional footpod.
Finally, of note is that the unit will use the heart rate strap to determine calories while indoors even if not running. For example, I rode my bike on a trainer and just used the heart rate strap. The unit was able to calculate my calorie burn despite the distance showing 'zero', and was also able to determine a relatively accurate recovery time for my activity.
The same is true if you're weight lifting or doing yoga – it all applies as long as your personal body metric settings are set correctly on Movescount.
Altitude and Elevation: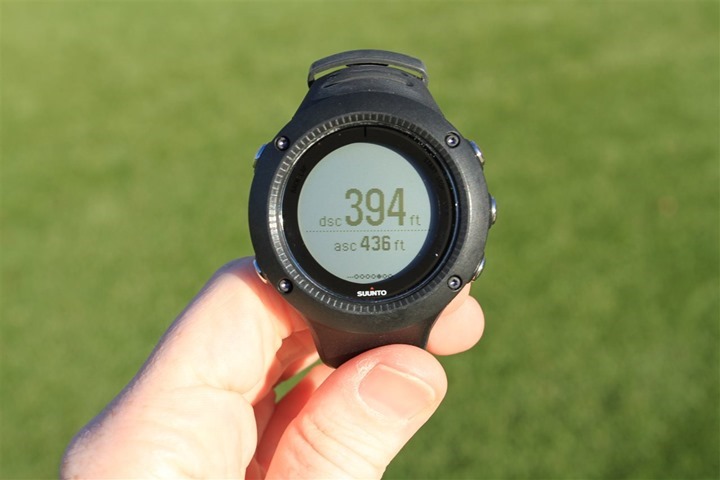 I wanted to very briefly cover this, given it's somewhat unique to this price range to see elevation/altitude displayed.
The Ambit2 R does allow you to display the current elevation of the device. In the case of the 2S and 2R, it's using GPS to do that, and not a barometric altimeter. Generally speaking, barometric altimeters are more accurate than GPS altimeters, but in my testing I've continued to be fairly impressed with how well the Suunto GPS-based altimeter calculations have worked out, usually right on track with barometric altimeters.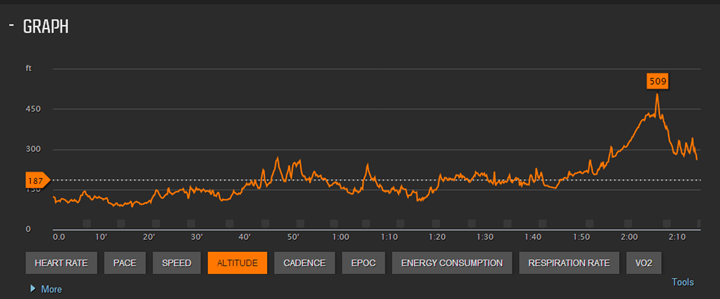 You can add the altimeter (elevation) field onto any data page on any profile you want. You can also show total ascent and total descent as well as vertical speed.
As I noted earlier, none of the other units in the sub-$250 price range show elevation on them, let alone ascent/descent and vertical speed. So if you're looking for that data, the 2R is definitely a contender here.
GPS Accuracy: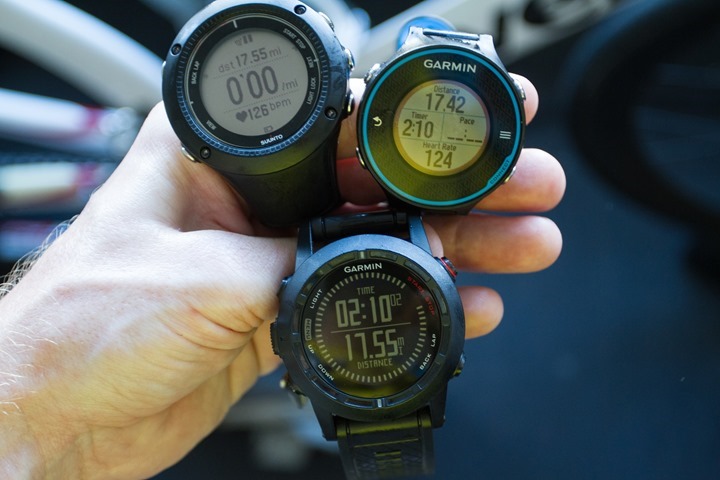 In line with completing multiple GPS unit reviews at once, I'm always looking at GPS accuracy. It's a tricky topic, because everyone on earth believes their current GPS is always the correct one. Thus, any variation to that must be incorrect. Further, there's the incorrect assumption that simply measuring something in Google Maps is the all knowing truth. When in reality, that rarely accounts for all the tiny variations that add up over the course of a run (see this post to understand more there).
For example, while a race may be measured perfectly as 13.1 miles, in reality, you as a participant will generally run between 13.2 and 13.5 miles, depending on how efficient you are. If your GPS comes back and says you ran exactly 13.1 miles, then more than likely the course was short (or, your GPS was enabled for a mode that only updates rarely).
With that said, my job was somewhat easy in the case of the Ambit2 R, because it basically always agreed. At least, agreed within the margin of error that's common for consumer level GPS devices (up to 2.5%). Below, are a random smattering of data points I've taken over the past 6-8 weeks:
Run A:
Fenix2: 18.36mi
Ambit2 R: 18.40mi
Run B:
Fenix2: 5.63mi
Ambit2 R: 5.79mi
Run C:
Fenix2: 7.50mi
Ambit2 R: 7.53mi
Run D:
Ambit2 R: 8.11mi
Garmin FR620: 8.03mi
Run E:
Fenix2: 17.53mi
Ambit2 R: 17.55mi
Garmin FR620: 17.42mi
Run F:
Ambit2 R: 17.59mi
Garmin FR620: 17.46mi
As you can see, they all vary slightly. Conditions changed from route to route, with everything from trees and forests to tall buildings and half-mile long tunnels.
Cycling: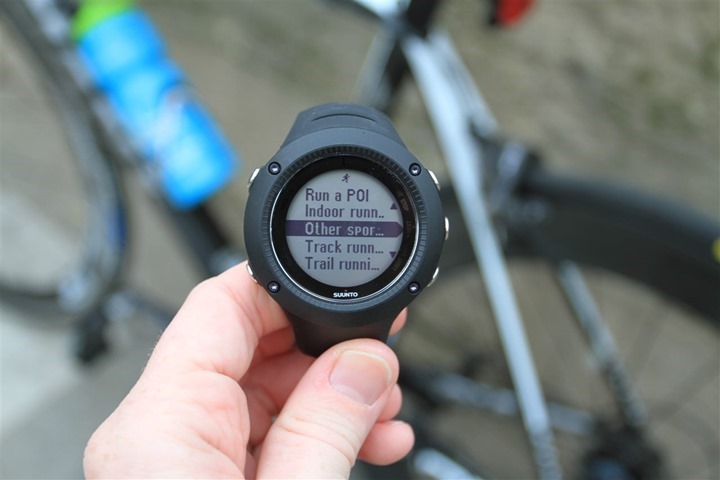 While Ambit2 R is specified as a running watch, it actually works just fine in other sports, such as cycling. Part of that comes from the flexibility of the platform of the watch being able to change metrics. Because all of the modes are defined online, by you, you can easily create your own cycling mode and then customize the display as you see fit.
For example, typically in cycling you'd use speed as a metric (either MPH or KPH), whereas in running you'd use pace. So for your data fields you'd want to select speed-specific fields.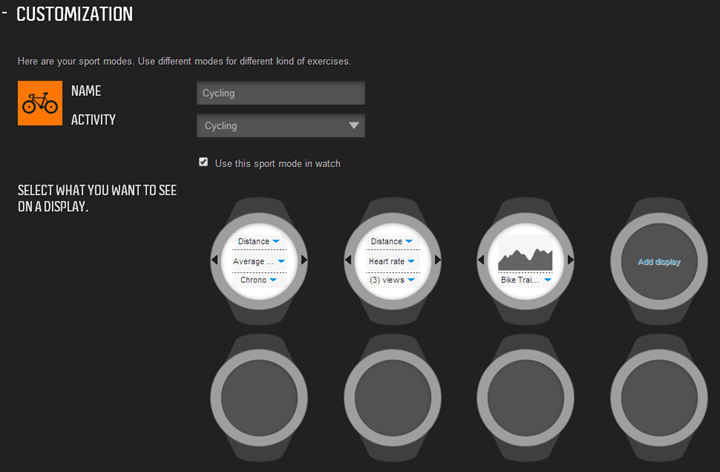 But fields such as distance and heart rate are the same across all sports, making them easy to add to your data pages and fields.
When it comes to mounting the unit, you can either place it on your wrist, or use cheap $9-10 bike mounts. These are readily available on major sites, and Suunto sells one, as does other companies. These little rubber blocks just wrap around your handlebars and then you wrap the watch around it.
Note that the Ambit2 R doesn't connect to ANT+ speed or cadence sensors. It ONLY connects to the ANT+ heart rate strap and ANT+ footpod. And use of the ANT+ footpod while cycling gives you funky and often non-consistent data, usually about half the average value (if you're lucky), but it tends to have a slight correlation with speed. In short, it's junk data.
But, the heart rate portion works just fine while cycling – so no problems there.
Day to Day Watch: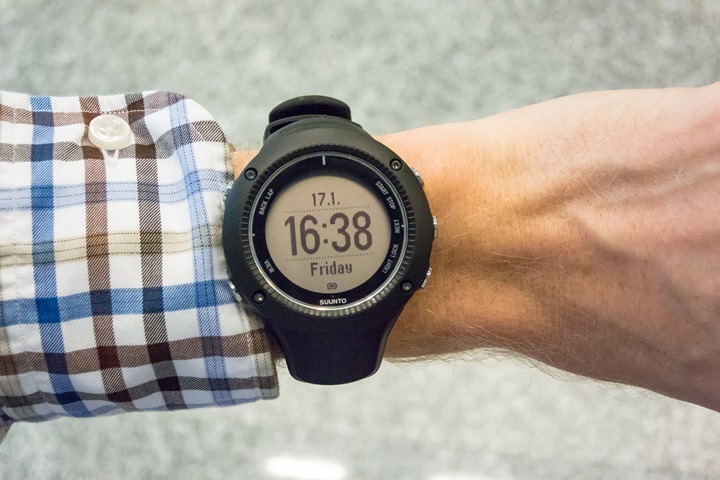 The Ambit2 R can easily be worn as a day to day watch with GPS off. In this mode you'll get approximately 15 days of battery life.
In this mode, you can configure a single alarm that can be setup to audibly beep such as for waking up in the morning. The unit does not contain any vibration functionality however, so there will be no buzzing along with it.
Like most GPS watches on the market, the unit can automatically set its time via GPS, but it does not set the actual offset of hours. Which, is kinda wonky. Said differently, when I flew back this past week from Mexico, the time on the unit was incorrect, because I had to change the hours on the unit to display the current time zone. So it'll basically keep the minutes/seconds correct, but not the hours.
Alternatively, if you just plug it into your computer, it'll match the computer's time.
Navigation and Routing: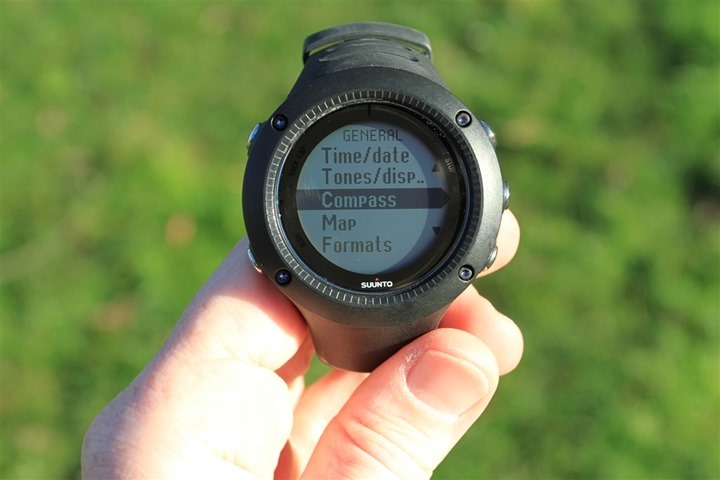 With Ambit's history rooted firmly in the navigation and routing department, it comes as no surprise that's a major selling feature of the Ambit2 R. And in fact, I'd go as far as saying that's the singular reason you'd buy this over competitive units.
So what options does it have? The two primary options are the ability to navigate a course (route), and then navigate to a given waypoint (POI/Point of Interest). Let's start with POI's.
POI's are pre-defined points that you navigate directly to, as the crow would fly. For example, if you saved a POI of your home, or other starting location – and then navigated to it, it would route you directly to that POI as the crow would fly. It would not take into account roads, buildings, bridges, water, etc…
To navigate to a waypoint on the 2R, you'll select Exercise > Run a POI. Then, you'll select the POI that you have pre-defined on Movescount online.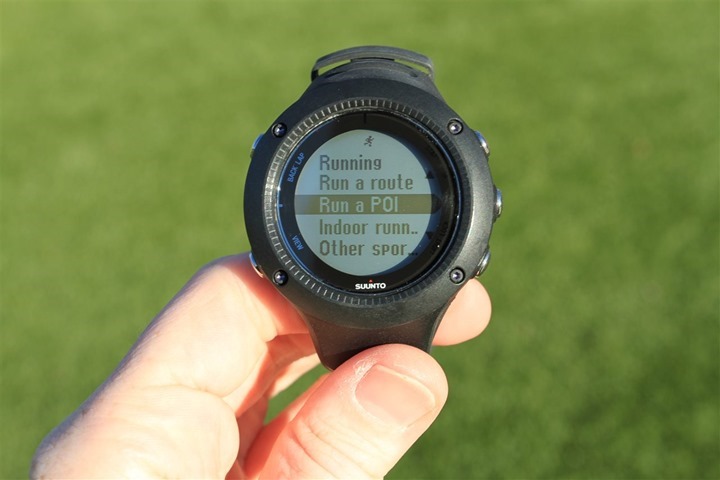 POI's on the 2R must be predefined on the computer for this particular menu. However, later on once in an activity you can both save the current point, as well as define a point based on a set of coordinates.
On Movescount, POI's are defined using the Navigation area under a watch's gear settings. You'll create POI's and Waypoints separately, but be aware that waypoints defined within a route do appear to count against your total number of POI's available.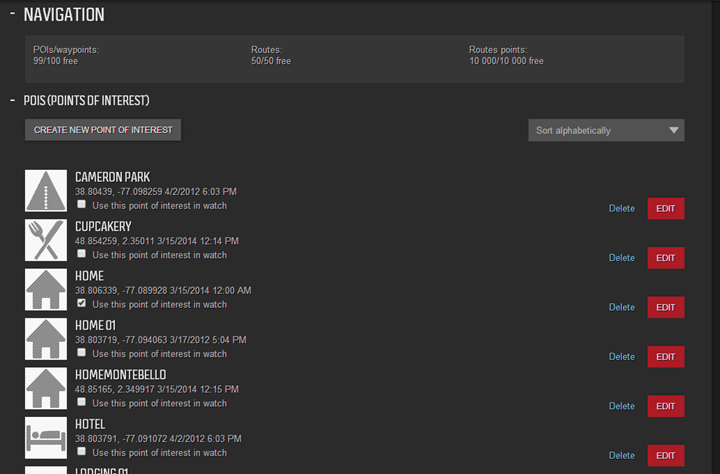 To create a POI, you're simply going to use a Google Map in either satellite or mapping mode and zoom/drag your way around until you find the spot you like, and then save it. You can give it a few different categories (with various icons, like the forest/tree one below), and then a custom name. Ensure the box is checked to transmit it to this particular watch.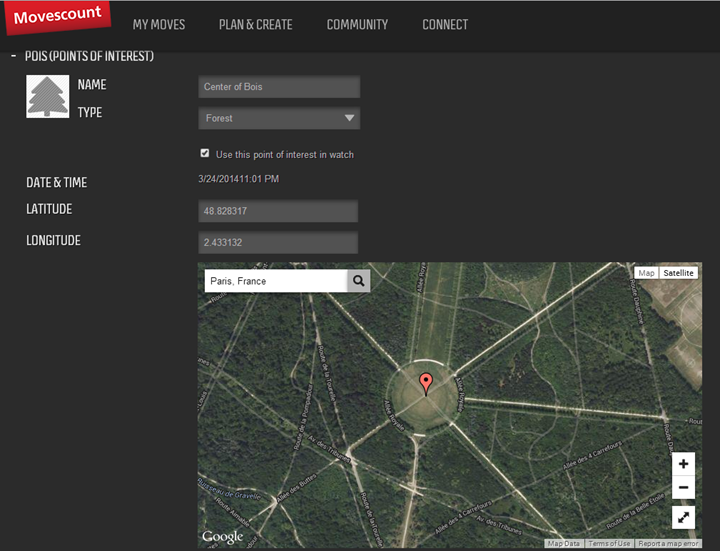 Back on the watch once you've selected the POI, it'll then go ahead and search for any ANT+ sensors you've previously setup (just like it would on a run). Following that, it'll search for GPS signal. Once that's done, you'll be brought to any screens you've configured as part of the sport profile online. For example, by default, here's what the 'Run a POI' profile looks like: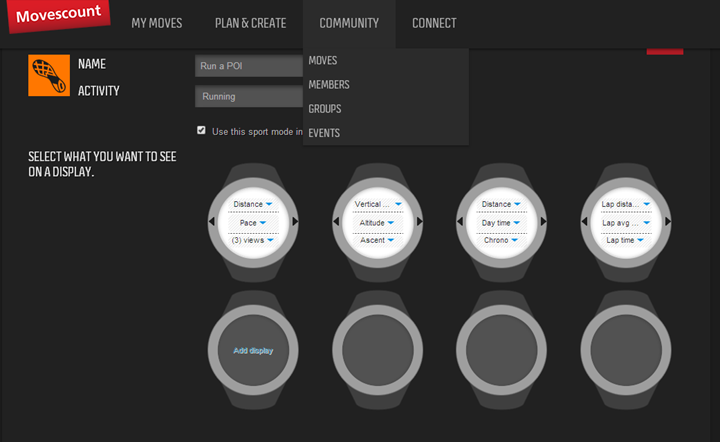 You can customize these fields to anything you'd like. So realistically, you could make any sport navigation-capable, or you could just access the navigation menu and trigger them from any other sport.

In any event, the key field that you'll be looking at is below, which shows you how far you are from the POI, as well as the direction to travel: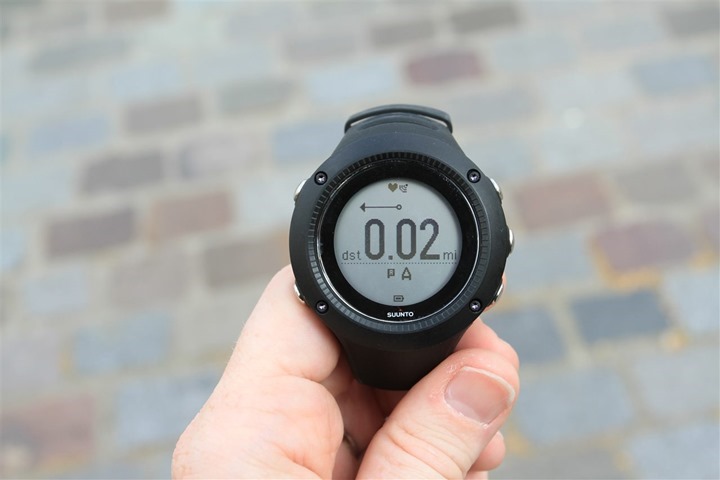 The direction is dictated by the magnetic compass within the unit, which you'll calibrate by flipping the unit around a bunch (twirling, if you will):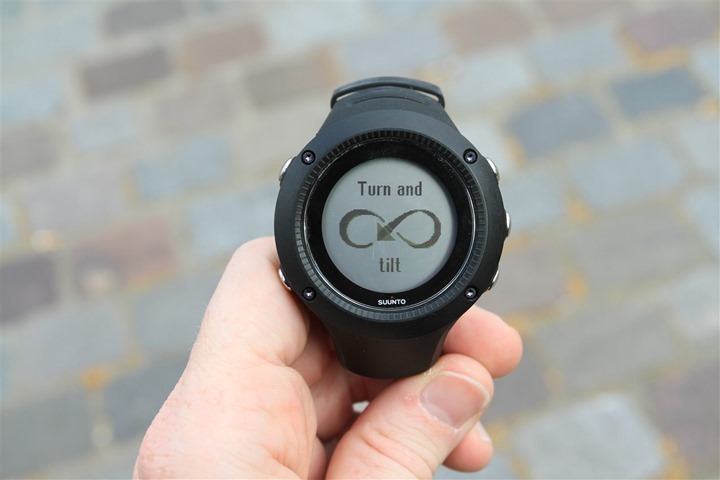 The reason a magnetic compass is important is because it doesn't require you to be moving. Whereas a digital compass uses movement and the direction from a GPS to determine which way you're facing.
Now that I've covered POI's, we'll step it up to Routes. Routes are defined on Movescount, and can include multiple waypoints, as well as a general track between the waypoints. You'll use a map just like defining POI's, except this time you can connect the dots. Note there's a few options along the bottom, specifically the one that in the below screenshot says "Follow roads walking".
This option controls how the map will follow various routes, as opposed to just connecting the dots. In general, I'd recommend it. Note though that while doing this it chews up 'points' in the total allocated points. You've got 10,000 points on the watch to work with (which are different than Waypoints/POI's). In this case, I had 5 waypoints added as well. These are spots I've defined. I can name these spots and give them fancy icons too.
Like the POI option, ensure you check the the 'Use this route in watch' option, otherwise, it won't be transferred to the watch. That transferring, by the way, does require you to connect your watch via USB to the computer. So definitely don't forget to do that before you head outside to navigate (been there, done that).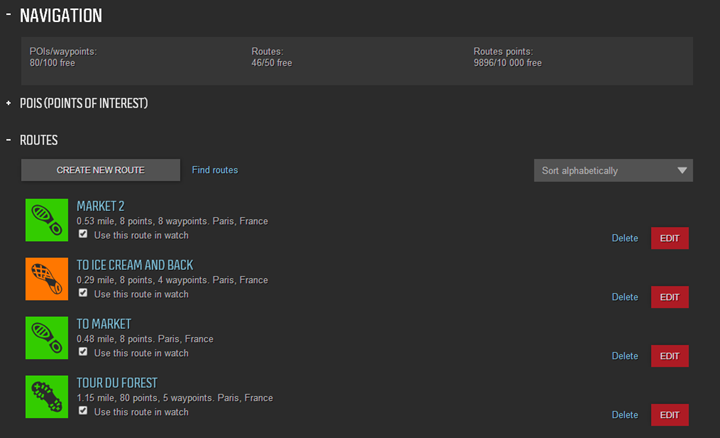 Ok, so fast forwarding to outside, we're back on the watch ready to do a route. In this case, you'll go ahead and select either from the main menu to 'Run a Route', or, from the quick settings menu to pull up the waypoints from a given route.
In our case, we'll just go from the main menu: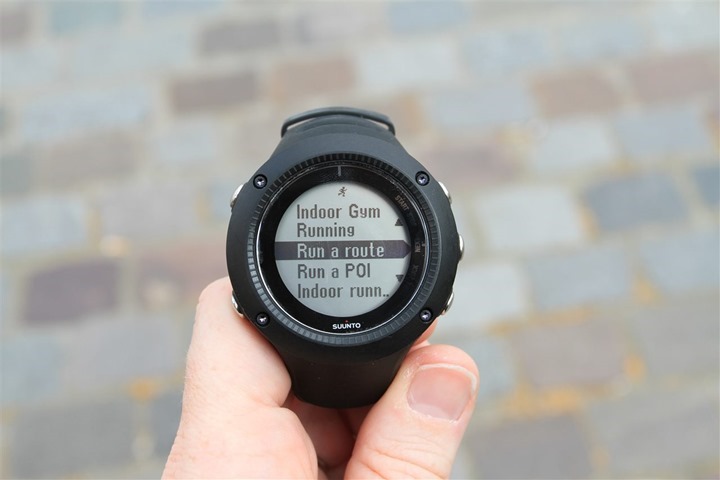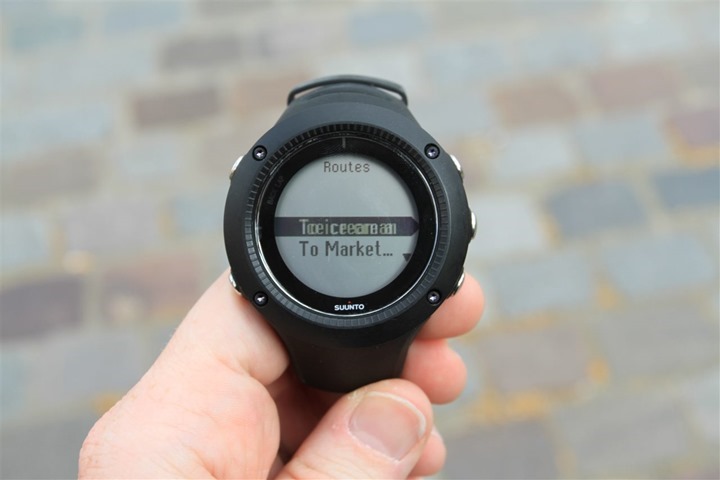 With that, you'll see a map of where we are going. Now, this is again why it's important to ensure there are defined waypoints, as otherwise it'll navigate you directly to the final waypoint along the way (not so ideal).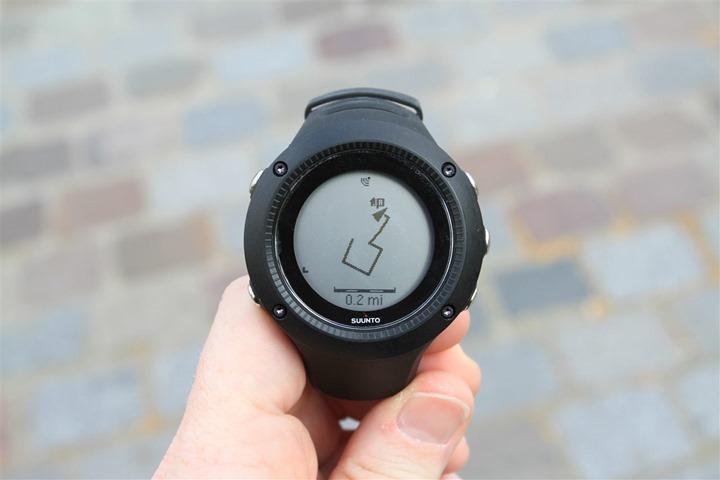 As you near each point the unit will show the watch counting down, and then it'll advance to the next waypoint, ultimately culminating in the finish line.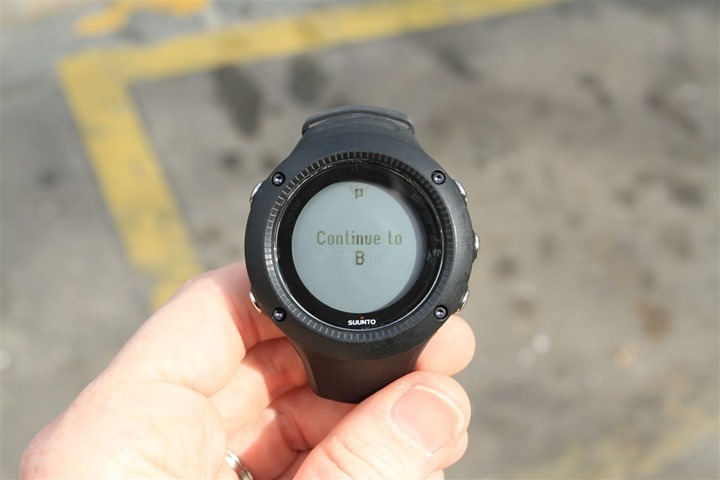 As noted earlier, by holding the 'Next' button down at any time during an activity (of any sort), you can then access the Navigate menu. From this menu, you can: Navigate a Route, Navigate to a POI (waypoint), Save your current location, select 'Find Back', or 'Track Back'
Track Back is the option to re-trace your route back home along the same route you went out. This is ideal for out and backs, or other complex situations where you can't just go line of sight back to the starting point. It's less ideal however if you've made loops or other routes where you might be much closer to the starting point at your current location than reverting back through the entire course. For that, you'll want to just use 'Find Back', which is a straight shot.
Overall, the POI/waypoint creation functionality on the Movescount site exceeds that of competitor Garmin's from a usability standpoint. This is because Garmin doesn't actually offer such functionality on the site, but rather only via phone and some older desktop software. On the flip-side, doing it via phone and transferring via Bluetooth Smart is incredibly quick and easy.
Looking at the routes functionality, both companies are fairly similar and use pretty similar options on the site. So that's less of a deciding factor.
Finally, within the navigation aspect, I again repeat that if navigation isn't of interest to you, I'd really consider other watches. If however, the navigation piece is of interest, then the 2R's functionality is equal to that of what many watches offer at the $400+ price point. And, given it's the same root functionality as the higher-end Suunto Ambit units – there's plenty of known stability there.
Suunto Apps Zone:
Suunto was the first major GPS watch company to introduce the idea of installing miniature 'apps' onto the watch. And to date, nobody of of major significance in the industry has followed them. The apps aren't quite like you'd expect from an iPhone, but rather much more basic. These apps are essentially performing a calculation and then displaying that as a data field. Further, they can store those values to analyze later on Movescount.
Upon the release of the 2R, Suunto introduced a series of apps aimed at the 2R, to go along with the watch. These apps aren't loaded by default, but do appear in the suggested apps listing when you add apps to your watch.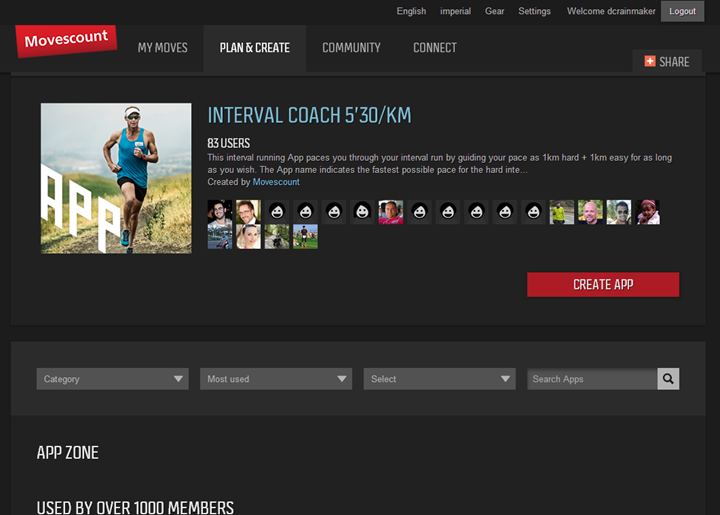 Apps range the gamut from ones that count as a display field how many beers you can consume based on calories, to complex interval workouts. Anyone can design an app, though, it does take some basic math or computer programming knowledge to understand how to do so. Using them is possible for anyone with no such knowledge.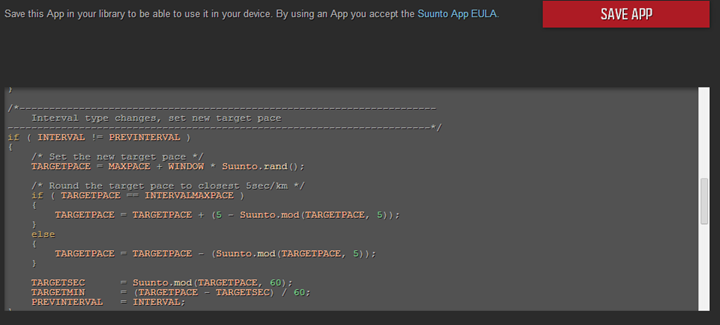 One of the ones introduced (seen above) is one by Suunto to implement interval functions into the watch. This works by pre-defining a slew of apps based on different paces for the intervals. You can then tweak the app to meet various requirements, such as the number of reps that you'd want to do.
In many ways, the sheer quantity of apps makes for tons of solutions to niche problems. You can as a result make a data field for just about anything on earth, in the event that the fields aren't natively available on the watch. This is an area that really sets the Ambit apart from the field. In the case of other companies, if a data field that you want isn't there, the general answer is 'too bad'. Whereas here, you can either create it yourself, or beg (ask nicely) some other person in the community to do it for you. That's pretty awesome.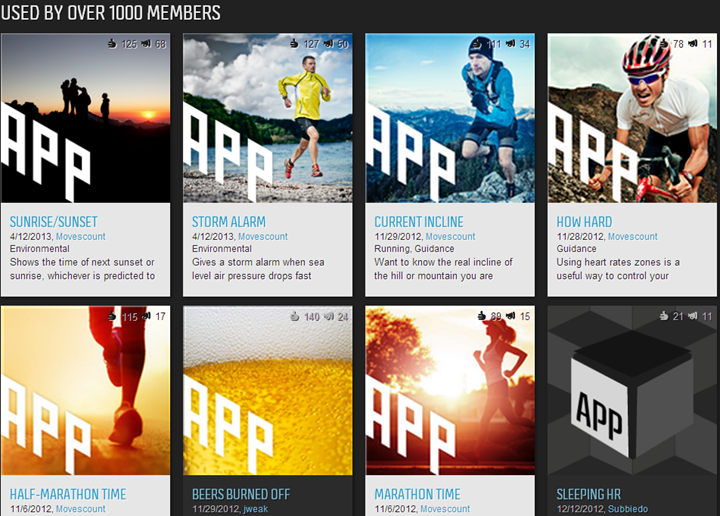 On the flipside however, it also means that Suunto has kinda gotten away with substituting apps for what really should be features and functionality within the watch itself. And a perfect example of that is actually the interval option as seen earlier.
In this case, virtually every other watch on the market has a simple to use interval mode on the device itself that I can quickly define and start running. Here, I have to go online, find the right pace app, save it to my account, then tweak it, then download it to my unit, and then run it. And if I want to change the pace or warm-up? I've got to do that all over again. It's something that I'd barely want to do, let alone asking The Girl to do (and she has way more patience than I).
Which don't get me wrong – I think the App Zone is awesome. I've said that from the beginning. But I think it should be beyond the base features of the watch. It should allow developers to do kick-ass things (which they are), but it shouldn't placate for basic functionality that other units have.
Data Fields, Pages, and Configuration:
The Ambit2 R has considerably more configuration and customization options than any of the other watches in this price range. To start, we'll look at the data pages. Each sport profile you create on the watch can have its own data pages, and each page can have up to three pieces of data on it. These different profiles can be named whatever you'd like, and categorized as any activity you'd like.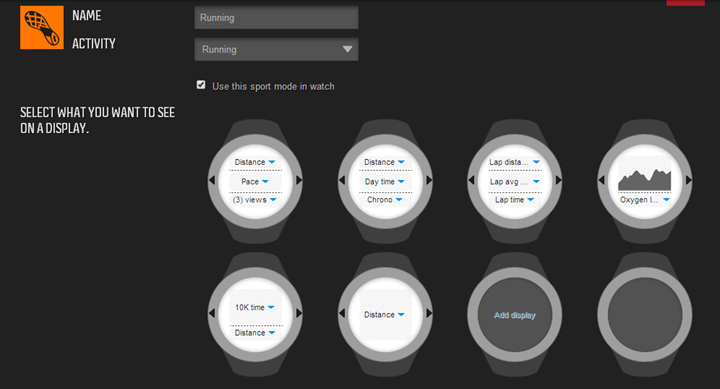 As you can see, you can tweak till your heart's content on the data page layout. Layouts also include apps. So where you see it showing "10K time" above, that's actually an app called "10K Time".
Next, if we click on one of those data fields, I'm given a menu to choose the data fields. They are categorized along the top, and then I can select the button next to the ones I want.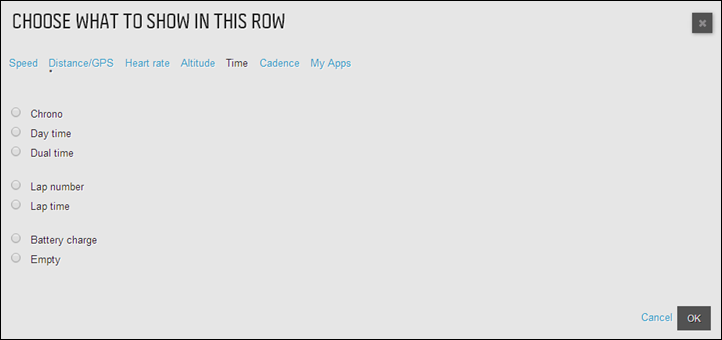 For the bottom fields I can actually choose many different data fields, and then use the 'view' button to switch between the same field along the bottom. That's why in the image two above this, you see a little (3) next to one of the fields, which indicates I've selected multiple data points. For example, I could select 'Time' and 'Pace', but keep the same upper set of fields.
Here are the total set of data fields you can select today:
Speed: Speed (current), Average Speed, Pace (current), Lap Avg Speed, Lap Avg Pace
Distance/GPS: Distance (total), Lap Distance
Heart Rate: Heart Rate (current), Average Heart Rate, Peak Training Effect, Calories
Attitude: Altitude (current), Ascent, Descent, Vertical Speed
Time: Chrono, Day Time, Dual Time, Lap Number, Lap Time, Battery Charge
Cadence: Cadence (current)
This is in addition to any apps that you design/add. So basically, you can generally speaking find a data field for any attribute on the planet from cupcake consumption to oxygen consumption.
Below each activity profile that you've created is the option to select the recording interval and the GPS accuracy (among other options). This is really critical to understand. The recording interval has virtually no impact on battery life, that's more for storage. It's the GPS accuracy that impacts battery life. There are three basic options, which align to the following:
– Best: 8hrs battery (1-second update rate)
– Good: 12hrs battery (5-second update rate)
– OK: 25hrs battery life (60-second update rate)
Then of course, there's GPS off, which lasts a long-ass time. For general conditions, you'll want to leave it on the 8hr battery life option. If however, you plan to go longer than that, switch it up to 12hrs first, and then as a last resort the 'OK' mode. That OK mode isn't that great because it only checks your GPS position once every minute. In twisty conditions, a lot can change in a minute, and a lot gets cut-out.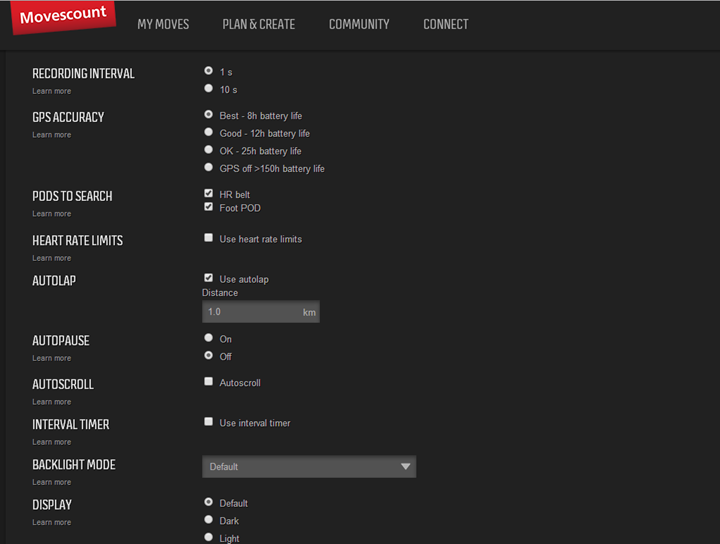 It's also in the above settings (again, for each custom profile you want to tweak), that you can enable features such as auto lap and auto pause, as well as which ANT+ or Suunto ANT sensors to use (heart rate strap or footpod).
Next, looking at additional settings on the the watch, you can change all sorts of display options through the 'General Settings' tab. From how the buttons react, to how the backlight functions.
As I go down further I can specify how the different units are shown – such as kilometers or miles. And the same goes for date and time aligned to different people's preferences. If I were to click the 'Advanced' option next to units, it essentially allows me to split out which way I want to see different metrics for height, weight, distance, and altitude. For example, I could show distances in miles, but height in meters.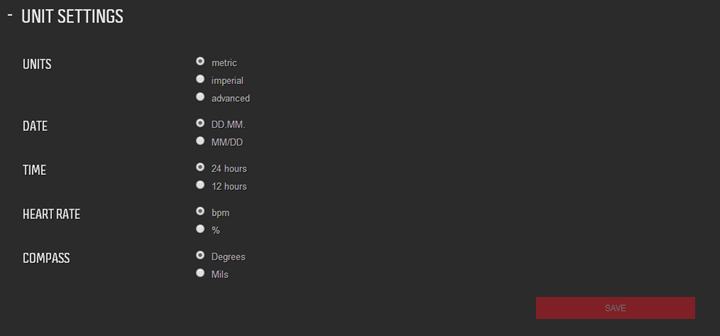 Last but not least on the configuration front I can setup my personal settings, which ultimately drives calorie burn calculations using heart rate data.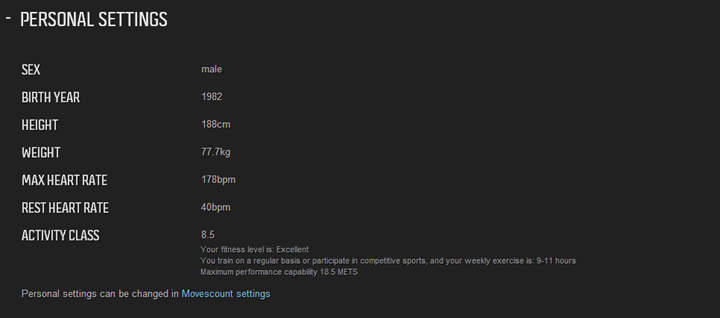 Movescount Online:
In order to get data online to Movescount, you'll need to grab that USB charging cable and plug it into either a PC or Mac. The unit contains no Bluetooth capability, so there's no way to transfer it via your phone. And, since I've received a number of questions on it, none of the Ambit lineup will transfer files via ANT+ (such as with the little Movescount Mini USB stick). Only via USB cable.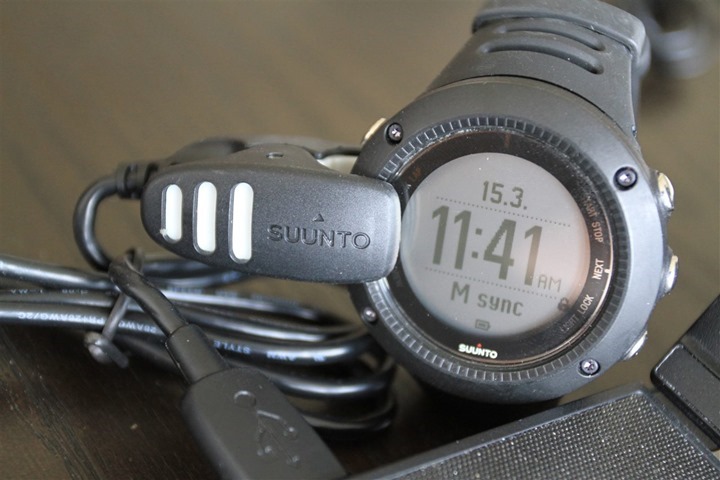 Once that's done, you'll be using the Moveslink software uploader, which is a little device agent that hangs out and grabs files off your computer and uploads them to the Movescount site. Every time you plug in your unit it'll look for new files, upload them, and then look for any settings changes from online to push back down to your watch.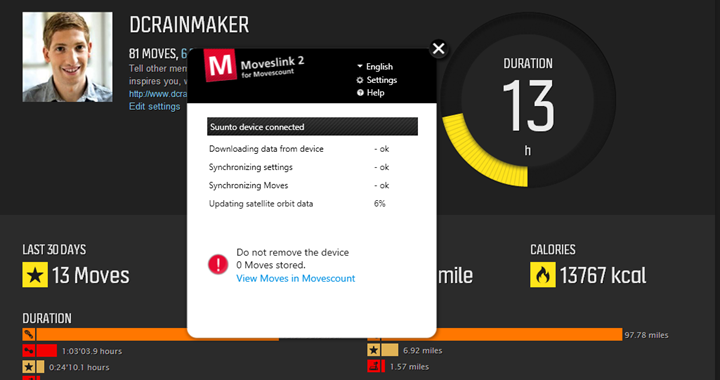 This is also the time when the watch gets it's satellite pre-caching data downloaded to it, which speeds up initial satellite searches and lets them take only a second or two.
Once all that connectivity jazz is done, your completed activities will be up on Movescount ready for you to analyze. Do note that if you've made any changes to the watch while it was plugged in, those usually won't sync until you've unplugged and plugged it again. So if you've added an app or the like, just unclip and reclip the watch to trigger it to download again.
Movescount continues to come a long way since it was introduced, slowly by surely adding in more and more functionality to the site. Upon opening up Movescount and heading to the score you'll be shown a look at your summary for the past 30 days: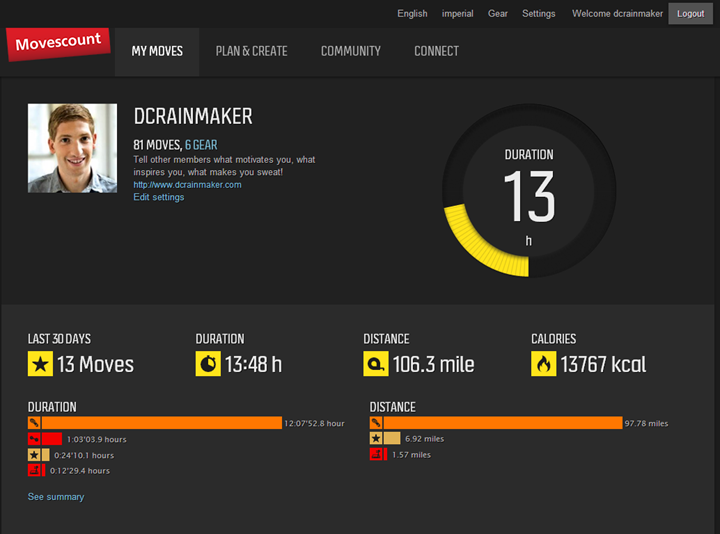 Diving down into my most recent run, we'll start from the top, which has summary information about it, and the ability to export it. You'll see all the top-line stats like average pace, total distance, and recovery time. Note that these can all be shown in either metric (kilometers) or statute (miles) depending on your preferences.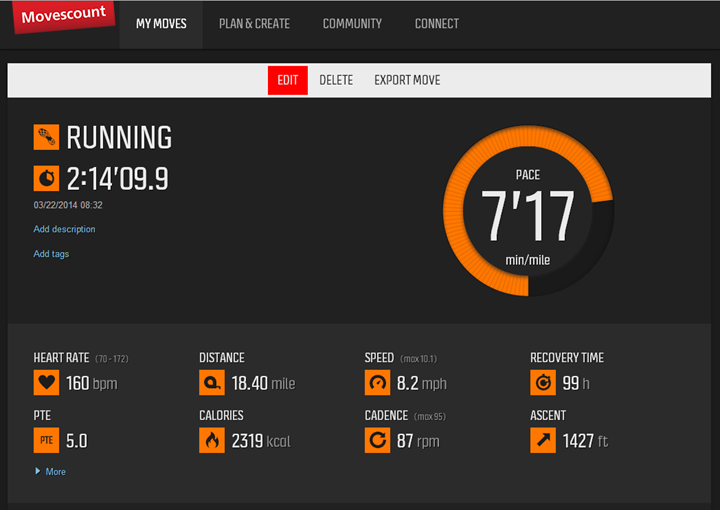 As I scroll down the page, I'm given a map overview. I can zoom in, or change the map to satellite view if I'd like.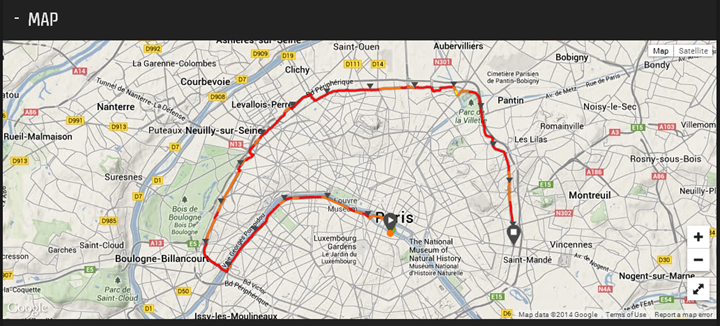 One pretty cool feature is that the coloring on the line is tied to the metrics I'll talk about in the next section. So above, it was tied to my heart rate. Whereas below I've changed it to tied to elevation (altitude):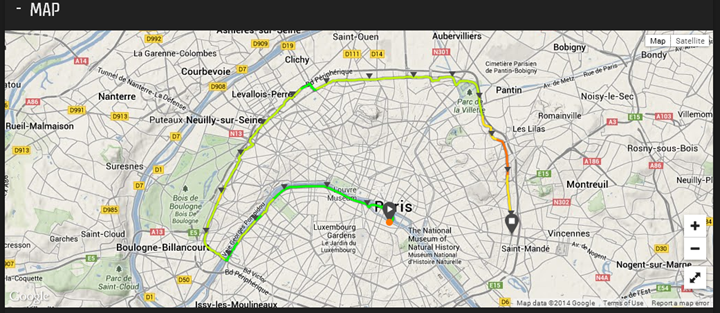 Those metrics are shown on a graph that I can enable/disable any of the different recorded items for this run. In this case, I went ahead and selected heart rate.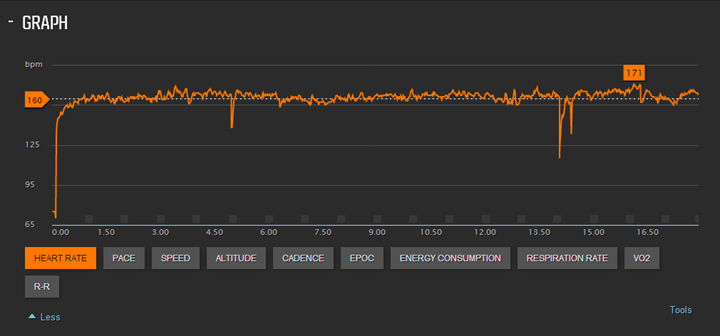 But I can easily select other metrics and add them to the overlay, such as below, with pace.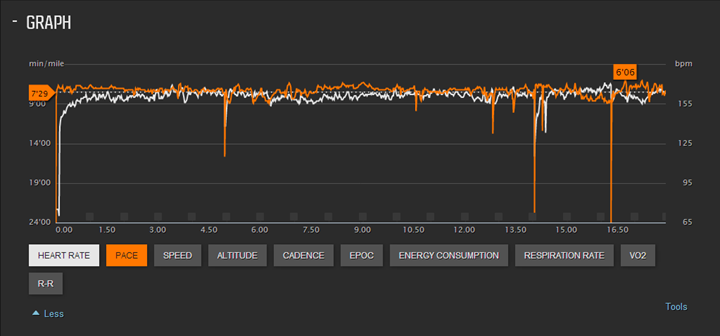 Below that there's a bar chart and curve of my paces. Given this was a pretty steady run, there's very little deviation there. And further down on the page is my lap summary. These are based on me having defined it to auto lap every mile.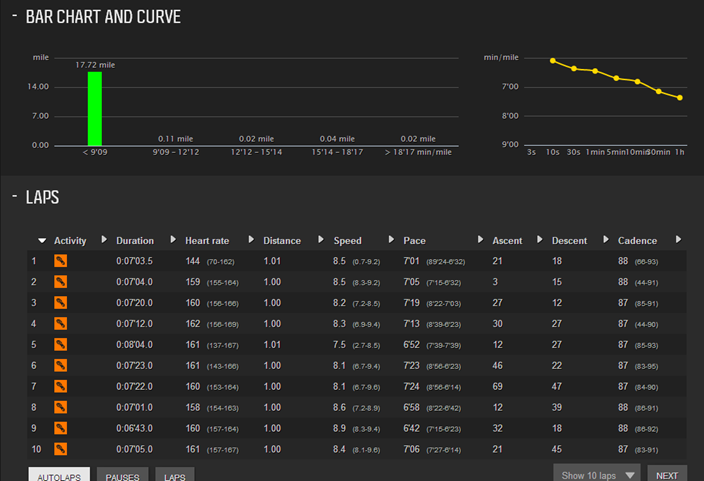 Going back up to the top, you're able to export the run in the file formats of XML, GPX, and XLSX. While .GPX isn't bad for uploading to some sites, and .XLSX isn't bad for doing your own Excel-style analysis, it'd be much better if Suunto outputted into .FIT format, which is widely accepted and understood by every sport platform out there. The challenge with the export formats today is that some sites struggle with the additional data recorded by the Ambit but not exported. For example, if you export out the .GPX file, it doesn't contain the lap data, so sites like Training Peaks can't really do much with more advanced analytics.
Looking briefly at a few other features, the site includes a calendar of your activities that can be accessed from under the 'My Moves' section.
You can also add in activities from various training calendars that are community sourced within the site: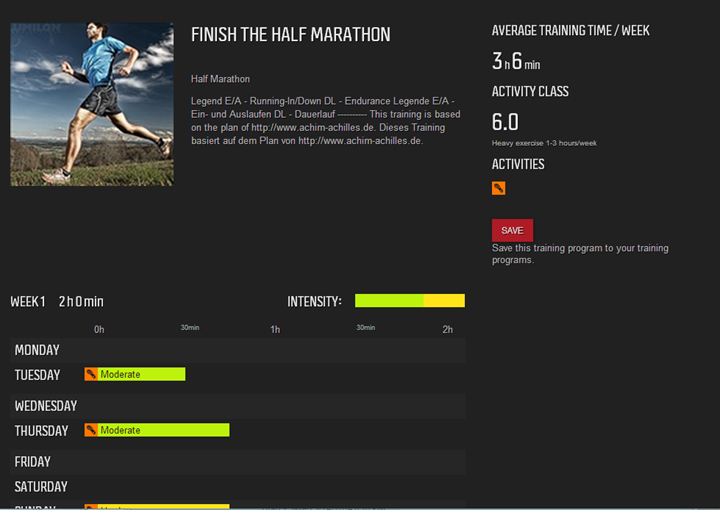 However, these plans don't actually transmit workouts to the unit that can be run, but are rather guidance for you to browse online. So think of it more like a paper plan, than a digital one to follow. On the watch itself it'll tell you what you need to do zone-wise for the day (in terms of time), but it doesn't give you a specific workout to follow. For example, from the home screen you'll see text along the bottom that there's a training day: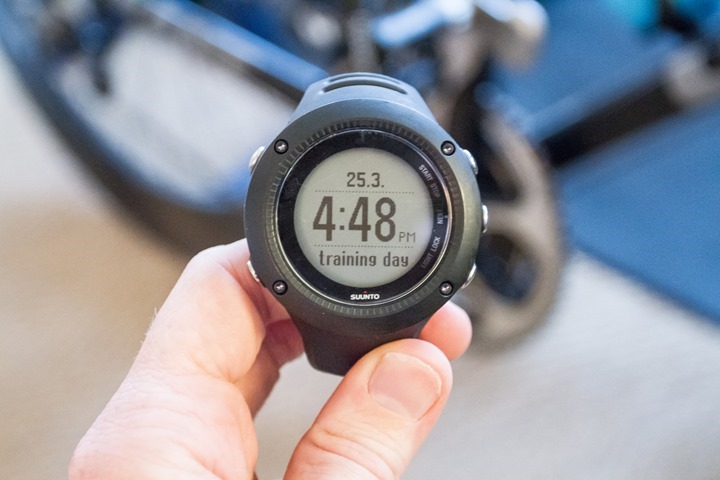 Then, if you tap the 'Next' button, it'll show you what's on tap for the day (which correlates with the 30-minutes on Tuesday you see in the screenshot just before the photo above). But you can't actually execute a workout from there. So it's kinda more sticky-note than executable workout.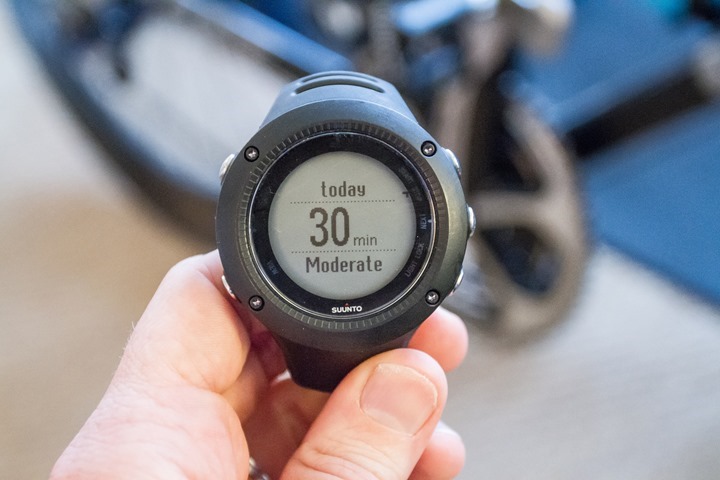 The platform includes many social sharing and following aspects, sorta like Facebook or Twitter. You can follow users, and thus in turn, follow when they complete activities. You can also look at other users' activities (assuming they've allowed you to). And you can make comments on other users' activities (again, assuming they've allowed you to).
Lastly, one lesser known feature is that Suunto has been enabling various partner sites for direct import and upload. This means that when you upload a workout to Suunto's site by plugging in your watch, it'll automatically go to a partner site. Below, are some of those sites available today: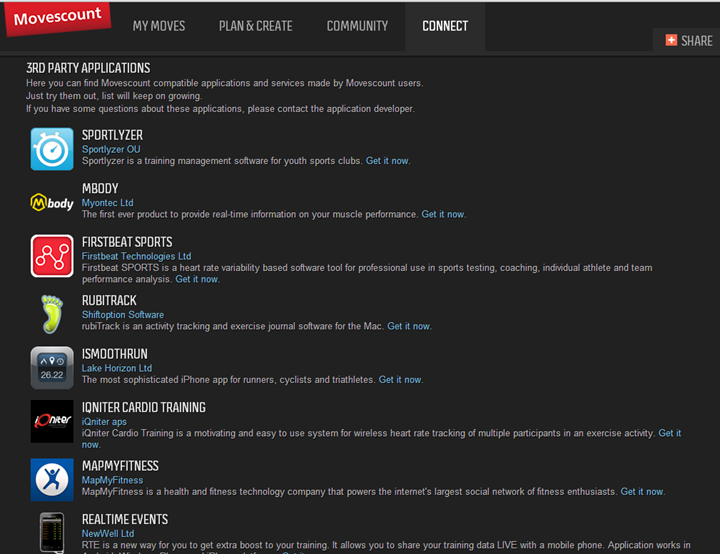 I went ahead and enabled connectivity to MapMyFitness, simply because that's a service I use occasionally. To do so, I just followed the links on this page and then under 'Improve > Device Connect' on the MapMyFitness site, I selected Suunto: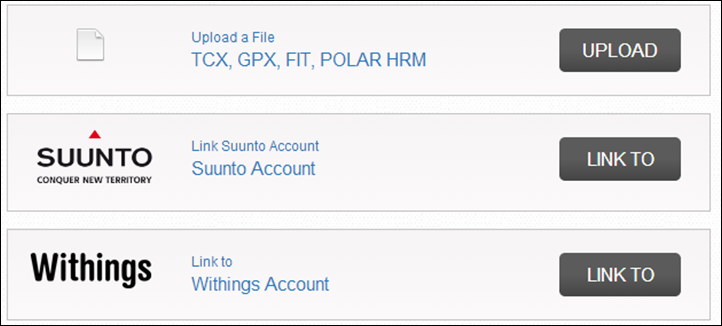 In doing so, it brought up a little notification of how it was going to transfer the data over (the last 30 days worth), and that it would then redirect you to the Movescount page for authorization, which it did, as seen below: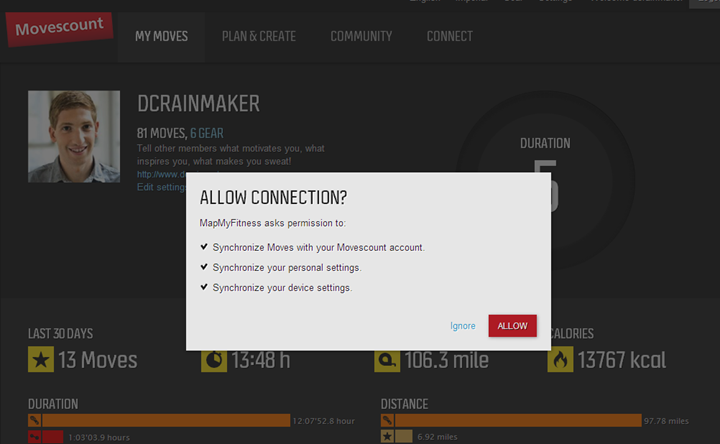 Within about 10 seconds, my workouts for the past month showed up: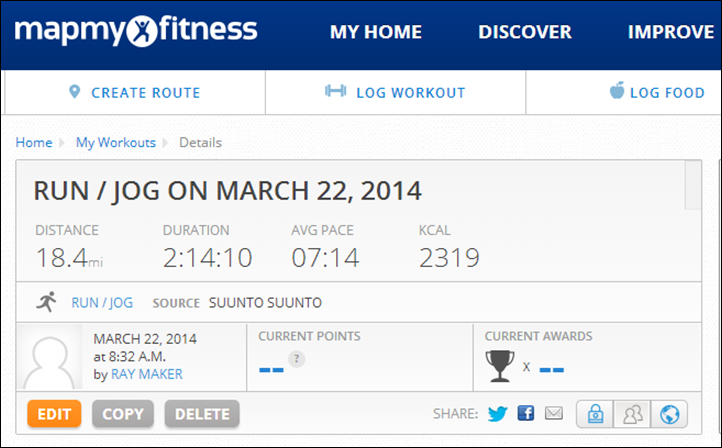 Very cool stuff. Hopefully we'll continue to see the partnerships from Suunto's side expand, especially as they are one of the first GPS device makers to support automatic upload from the device to 3rd party sites.
Bugs and Miscellaneous: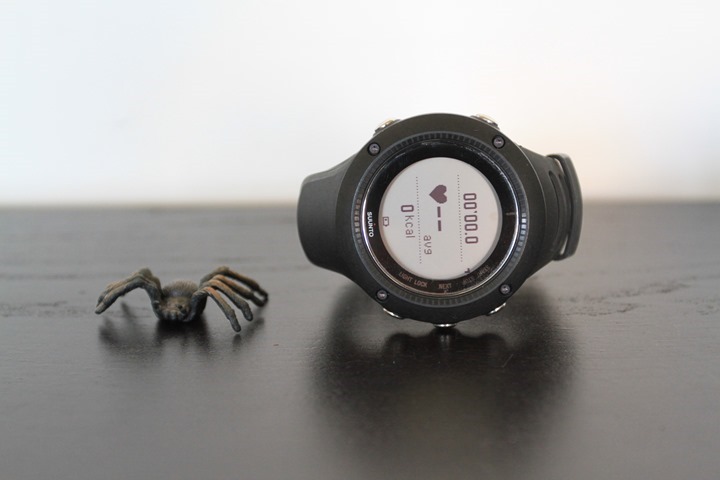 As I've been doing on all reviews over the past year or so, I've been including a section on bugs and/or issues that I've seen within my timeframe using the unit. Do remember that a 'bug' is different than 'by design'. For example, the lack of a feature is something I highlight within a given section is considered 'by design', whereas something not really working right is considered a bug. In the case of the Suunto Ambit 2R, such bugs fall into one of two categories: The device, and the platform (uploader/site).
Within the device itself, it's been incredibly stable. I've seen some oddities in some of the Suunto designed apps while using them, but it's hard to understand what the cause of those issues was (aside from errors on the screens). Thus, it may be a transient app item, or a watch item. In cases where I wasn't using apps, I saw zero firmware-level issues with the watch itself.
And to that end, that's generally true of what I see of Suunto devices (hardware and firmware). They really tend to hold up quite well. And I generally think we see fairly equal hardware across the board from the major players (Garmin/Suunto/Polar), sure, you can always find a case of someone breaking something on hardware – but from what I can see, they're fairly equal. When I look at the software running the hardware, I think we see less buggy firmware from Suunto than others. Some would argue however, that by implementing less features, they're able to increase quality. Whether or not that's the appropriate tradeoff either company has to make, it appears to be the case.
On the website side, my day to day usage hasn't brought me across any showstopper bugs that have prevented me from completing tasks. I still do have a beef with the lack of proper export file formats for sport-related data from Movescount, but hopefully in time that'll be resolved (at least, it sounds like that's on the radar).
Product Comparison Chart:
I've added the Ambit2 R to the Product Comparison Tool, which means you can mix and match it against any other watch/unit that I've ever reviewed for feature comparisons. Note that there are some features that are on the Ambit2 R at launch that will be added to the Ambit 2/2S down the road. So in general, if it says 'Yes' within the Ambit2 R table, but no in the Ambit 2/2S, it'll be there eventually in the 2/2S. But I didn't want to set them as 'yes' now, because then folks buying the device between now and April/May might think the unit has that functionality.
For now, I just added the Ambit 2/2S/2R into the below chart. However, you can easily make your own change with any device you want here at this link.
Function/Feature

Suunto Ambit2
Suunto Ambit2 S
Suunto Ambit2 R
Copyright DC Rainmaker - Updated November 15th, 2015 @ 11:37 am New Window
Price
$319
$219
$250
Product Announcement Date
APR 29, 2013
APR 29, 2013
JAN 28, 2014
Actual Availability/Shipping Date
May 2013
May 2013
MAR 2014
GPS Recording Functionality
Yes
Yes
Yes
Data Transfer
USB
USB
USB
Waterproofing
Yes - 100m
Yes - 50m
Yes - 50m
Battery Life (GPS)
50 hours
25 hours
25 hours
Recording Interval
Variable
Variable
Variable
Alerts
Sound/Visual
Sound/Visual
Sound/Visual
Backlight Greatness
Great
Great
Great
Ability to download custom apps to unit/device
Yes
Yes
Yes
Acts as daily activity monitor (steps, etc...)
No
No
No

Connectivity

Suunto Ambit2
Suunto Ambit2 S
Suunto Ambit2 R
Bluetooth Smart to Phone Uploading
No
No
No
Phone Notifications to unit (i.e. texts/calls/etc...)
No
No
No
Live Tracking (streaming location to website)
No
No
No
Emergency/SOS Message Notification (from watch to contacts)
No
No
No
Built-in cellular chip (no phone required)
No
No
No

Cycling

Suunto Ambit2
Suunto Ambit2 S
Suunto Ambit2 R
Designed for cycling
Yes
Yes
No (but can show speed)
Power Meter Capable
Yes
Yes
N/A
Power Meter Configuration/Calibration Options
Yes
Yes
N/A
Power Meter TSS/NP/IF
No
No
N/A
Speed/Cadence Sensor Capable
Yes
Yes
No

Running

Suunto Ambit2
Suunto Ambit2 S
Suunto Ambit2 R
Designed for running
Yes
Yes
Yes
Footpod Capable (For treadmills)
Yes (internal accelerometer)
Yes (internal accelerometer)
Yes (internal accelerometer)
Running Dynamics (vertical oscillation, ground contact time, etc...)
No
No
No
VO2Max Estimation
Yes
Yes
Yes
Race Predictor
No
No
No
Recovery Advisor
Yes
Yes
Yes
Run/Walk Mode
No
No
No

Swimming

Suunto Ambit2
Suunto Ambit2 S
Suunto Ambit2 R
Designed for swimming
Yes
Yes
No
Openwater swimming mode
Yes
Yes
N/A
Lap/Indoor Distance Tracking
Yes
Yes
N/A
Record HR underwater
No
No
N/A
Openwater Metrics (Stroke/etc.)
Yes
Yes
N/A
Indoor Metrics (Stroke/etc.)
Yes
Yes
N/A
Indoor Drill Mode
Yes
Yes
N/A
Indoor auto-pause feature
No
No
N/A
Change pool size
Yes
Yes
N/A
Indoor Min/Max Pool Lengths
15m/y to 1,200m/y
15m/y to 1,200m/y
N/A
Ability to customize data fields
Yes
Yes
N/A
Captures per length data - indoors
Yes
Yes
N/A
Indoor Alerts
No
No
N/A

Triathlon

Suunto Ambit2
Suunto Ambit2 S
Suunto Ambit2 R
Designed for triathlon
Yes
Yes
No
Multisport mode
Yes
Yes
N/A

Workouts

Suunto Ambit2
Suunto Ambit2 S
Suunto Ambit2 R
Create/Follow custom workouts
No
No
Sorta (via Suunto Apps)
On-unit interval Feature
Barely
Barely
Barely
Training Calendar Functionality
No
No
Yes

Functions

Suunto Ambit2
Suunto Ambit2 S
Suunto Ambit2 R
Auto Start/Stop
Yes
Yes
Yes
Virtual Partner Feature
No
No
Sorta (specify intensity)
Virtual Racer Feature
No
No
No
Records PR's - Personal Records (diff than history)
No
No
No
Tidal Tables (Tide Information)
No
No
No
Weather Display (live data)
No
No
No

Navigate

Suunto Ambit2
Suunto Ambit2 S
Suunto Ambit2 R
Follow GPS Track (Courses/Waypoints)
Yes
Yes
Yes
Markers/Waypoint Direction
Yes
Yes
Yes
Routable/Visual Maps (like car GPS)
No
No
No
Back to start
Yes (added Aug 30, 2013)
Yes (added Aug 30, 2013)
Yes
Impromptu Round Trip Route Creation
No
No
No
Download courses/routes from phone to unit
No
No
No

Sensors

Suunto Ambit2
Suunto Ambit2 S
Suunto Ambit2 R
Altimeter Type
Barometric, GPS (FusedAlti)
GPS
GPS
Compass Type
Magnetic
Magnetic
Magnetic
Heart Rate Strap Compatible
Yes
Yes
Yes
ANT+ Heart Rate Strap Capable
Yes
Yes
Yes
ANT+ Speed/Cadence Capable
Yes
Yes
No
ANT+ Footpod Capable
Yes
Yes
Yes
ANT+ Power Meter Capable
Yes
Yes
No
ANT+ Remote Control
No
No
No
ANT+ eBike Compatibility
No
No
No
Shimano Di2 Shifting
No
No
Bluetooth Smart HR Strap Capable
No
No
No
Bluetooth Smart Speed/Cadence Capable
No
No
No
Bluetooth Smart Footpod Capable
No
No
No
Bluetooth Smart Power Meter Capable
No
No
No
Temp Recording (internal sensor)
Yes
No
No
Temp Recording (external sensor)
No
No
No

Software

Suunto Ambit2
Suunto Ambit2 S
Suunto Ambit2 R
PC Application
Moveslink Agent
Moveslink Agent
Moveslink Agent
Web Application
Movescount
Movescount
Movescount
Phone App
Suunto Movescount
Movescount
Movescount (does not connect from watch to phone)
Ability to Export Settings
Yes (online)
Yes (online)
Yes (online)

Purchase

Suunto Ambit2
Suunto Ambit2 S
Suunto Ambit2 R
Amazon
Link
Link
Link
Backcountry.com
Link
Link
Link
Chain Reaction Cycles
Link
Link
Link
Competitive Cyclist
Link
Link
Link
REI
Link
Link
Link
Wiggle
Link
Link
Link

DCRainmaker

Suunto Ambit2
Suunto Ambit2 S
Suunto Ambit2 R
Review Link
Link
Link
Link
Again, remember you can easily make your own change with any device you want here at this link.
Which Watch?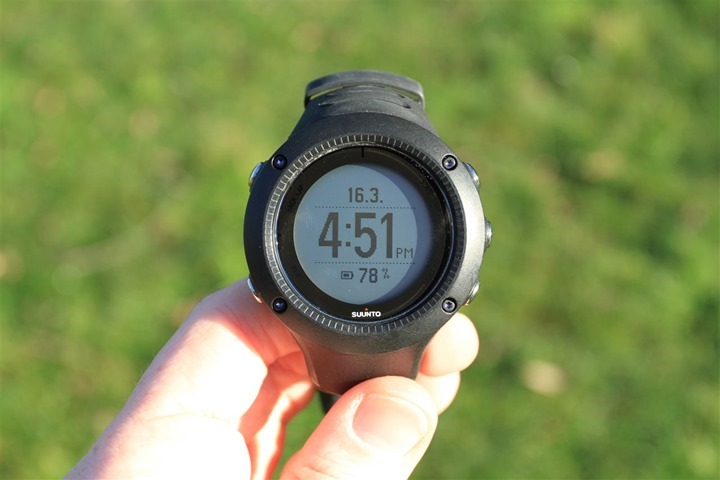 So, you've made it this far, but can't quite decide which watch makes the most sense for you? Well, here's a couple of brief thoughts summarizing what I've sprinkled throughout the post.
The Suunto2 R is really aimed at people who both run and hike (and want navigation capabilities). It's as simple as that. Well, sorta. See, the 2R isn't really the most advanced running watch on the market in terms of connectivity. It lacks things like Bluetooth Smart support for uploading via your phone, and it doesn't have the in-box flexibility of many other units when it comes to either intervals or workout direction. So in that respect, if you're spending your time mostly on asphalt, it might not be the right choice for you.
On the flip side, if you're in the hiking and navigating crowd, that does some running, or potentially some other activities like cycling – this is definitely a better choice. Especially compared to the higher end options costing more than $100 more (like a full Suunto Ambit or Garmin Fenix series watch). Further, unlike the competitive Garmin FR220, the unit can easily be turned into a cycling watch. Whereas the FR220 can display in 'speed', but doesn't recognize cycling workouts, which in turn by default hoses up various metrics when uploaded (like PR's). And for clarity, I confirmed with Garmin last week that the FR220 will not be getting a cycling mode (as the FR620 is getting).
Is it for the triathlete? No. It doesn't track swims at all (except if you put it in your swim cap), and there's no multisport mode, which means that you can't easily switch from sport to sport. Now that said, you could definitely make it work in a pinch. You'd create three sports (swim/bike/run), and then simple end the activity and then start a new one. With a bit of practice you're only talking a few seconds lost doing it. Especially since the satellite pickup is often only 1-3 seconds if in the same place. Plus, the full-on legit waterproofing means the water isn't a water hazard.
Finally, one item to consider (as pointed out by a reader in the comments), is that for a limited time the Fenix1 is now available for $299, just $50 more than the Ambit 2R. So that changes the dynamic quite a bit – especially for folks wanting the higher end features previously only found in the $400 watches. Still, by the same token, it's easy to play the "just $50 more" game, and before you know it you find yourself with a $400 GPS watch.
Summary: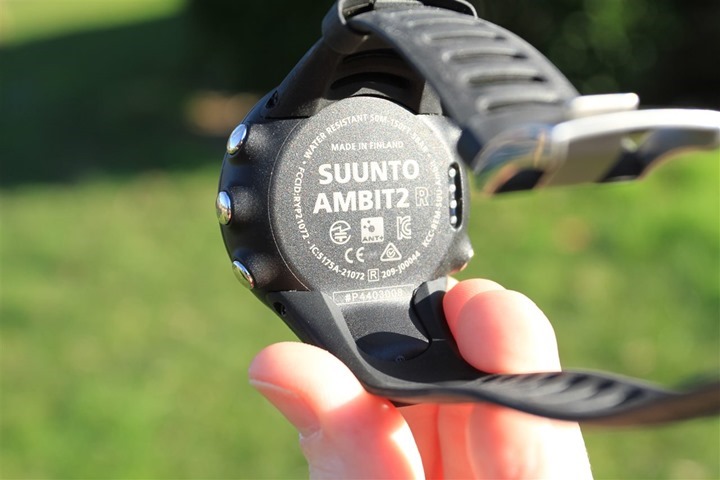 The Suunto2 R aims to bring down the cost barrier of entry for Suunto's line of GPS watches. And to that end, it definitely succeeds, simply because it's cheaper. They kept the two core navigational functions (waypoints/routes) as well as the ability to load apps and the ability to load custom sport profiles. Two major benefits not seen on other units in this price range, and ones that offer massive customization potential – in many ways far beyond what is even offered at the top-end price range on competitive units.
On the flip side, the lack of Bluetooth connectivity to the phone puts it behind many of the other units in this price range such as the TomTom and Garmin watches. This means that any configuration and uploading must take place at a desktop computer. Further, some of the functionality such as intervals and custom workouts should really be in-box at this price point (no, the default interval timer is not sufficient as-is). Suunto is somewhat in a tough spot here in that leveraging an older hardware platform puts them a bit behind the curve in the one market (mid-range) that's actually seeing the most new entrants with the most flexibility in features.
On the online front, Suunto has made good strides there, and their ability to implement integration with major partners like MapMyFitness to have instant workload uploading is a huge step forward. Hopefully we'll see other major players get connected like Strava or Training Peaks, which would greatly appeal to the more serious athlete.
Ultimately, I've covered my recommendations in the 'Which Watch?' section directly above on who this device is targeted at. If you fall into the right target group, it can be a sweet watch at a price below the higher end units but with just the right amount of flexibility and customization.
Found this review useful? Or just want a good deal? Here's how:
Hopefully you found this review useful. At the end of the day, I'm an athlete just like you looking for the most detail possible on a new purchase – so my review is written from the standpoint of how I used the device. The reviews generally take a lot of hours to put together, so it's a fair bit of work (and labor of love). As you probably noticed by looking below, I also take time to answer all the questions posted in the comments – and there's quite a bit of detail in there as well.
I've partnered with Clever Training to offer all DC Rainmaker readers exclusive benefits on all products purchased. You can read more about the benefits of this partnership here. You can pickup the Ambit2 R or accessories through Clever Training using the link below. By doing so, you not only support the site (and all the work I do here) – but you also get to enjoy the significant partnership benefits that are just for DC Rainmaker readers. And, since this item is more than $75, you get free US shipping as well.
Suunto Ambit2 R base unit – white or black (simply select color from dropdown)
Suunto Ambit2 R with the heart rate strap (simply select color from dropdown)
Additionally, you can also use Amazon to purchase the Ambit2 R or accessories (though, no discount). Or, anything else you pickup on Amazon helps support the site as well (socks, laundry detergent, cowbells). If you're outside the US, I've got links to all of the major individual country Amazon stores on the sidebar towards the top.
As you've seen throughout the review there are numerous compatible accessories for the unit. I've consolidated them all into the below chart, with additional information (full posts) available on some of the accessories to the far right. Also, everything here is verified by me – so if it's on the list, you'll know it'll work. And as you can see, I mix and match accessories based on compatibility – so if a compatible accessory is available at a lower price below, you can grab that instead.
Thanks for reading! And as always, feel free to post comments or questions in the comments section below, I'll be happy to try and answer them as quickly as possible.