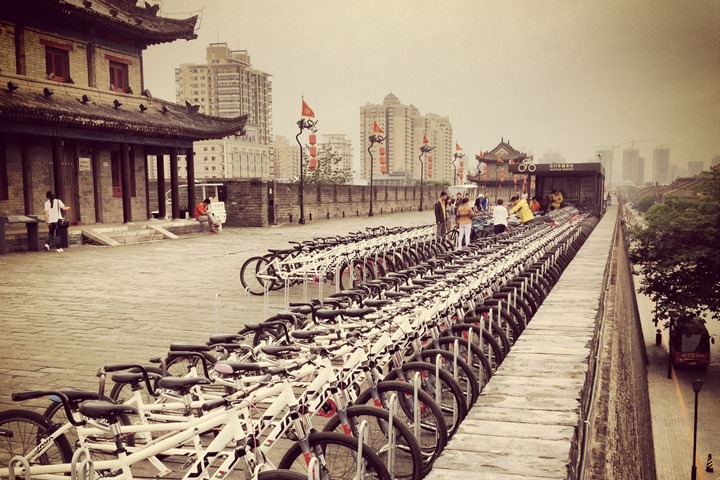 It's funny to think that prior to booking my airline ticket to this city, I'd never heard of it.  In fact, I can't think of the last time I booked any travel to a place I didn't know existed.  I've never heard a mention on TV, in a book, or online – nope, never in my life had I heard of this place.
Yet the city has roughly the same population as New York City (technically it's slightly larger than NYC).  Thus expressing just a tiny bit of the enormity of China.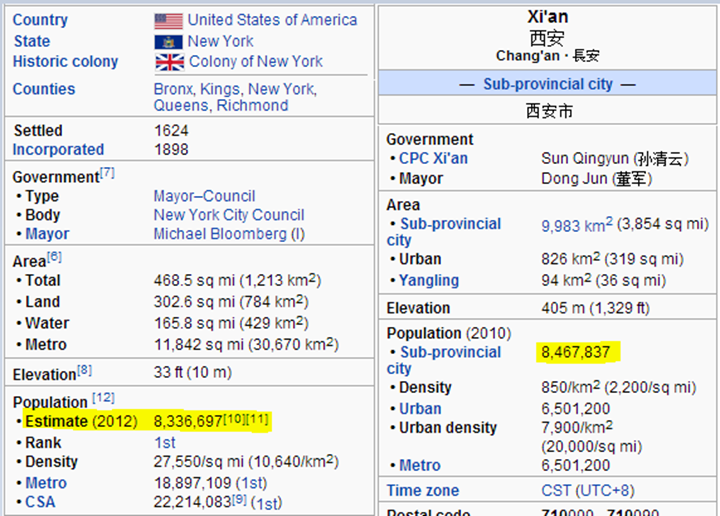 The real kicker is that in China, Xi'an as a city doesn't even hit the top 10 list (by population, only if we include metro catchment area does it barely slide in).  To think that almost every city on that (very long) list is at least bigger, if not multiple times bigger than the second largest city in the US (LA) is mind-boggling.  At any rate, here I am.  Quite literally in the middle of China, but definitely not in the middle of nowhere.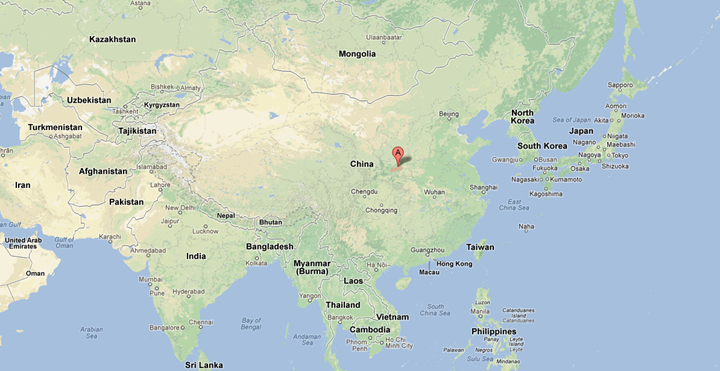 I'm here for a short duration for some meetings. I think technically only 36 hours if my math is right.  Then off to another big city in China.  But for now, the approach into Xi'an.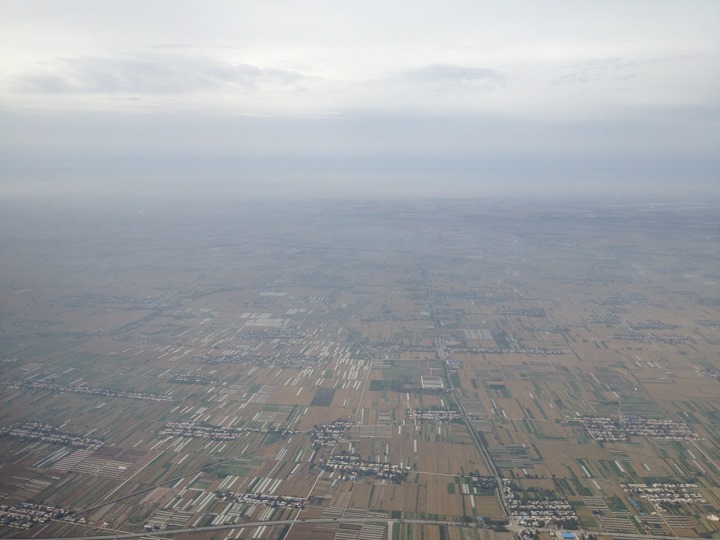 Now despite me (and likely many of you) never hearing of Xi'an, you've probably heard of the Terra Cotta Warriors – which are here.  And, within historical circles, the Xi'an City Wall is well known as well.  Which, brings me to the focus of today's runaround.  Though I actually completed two runs while here – one a little under 8 miles on Thursday evening and then the below, today on Friday.
After having run around a large chunk of the city on Thursday night after arrival, I decided to tackle the one part of the city I was unable to on my first run: Running on the wall itself.
Because I wanted to get the most 'wall time' as possible within my allocated run duration, I took a taxi from the hotel to the south gate of the wall.  Total cost: Roughly $1US.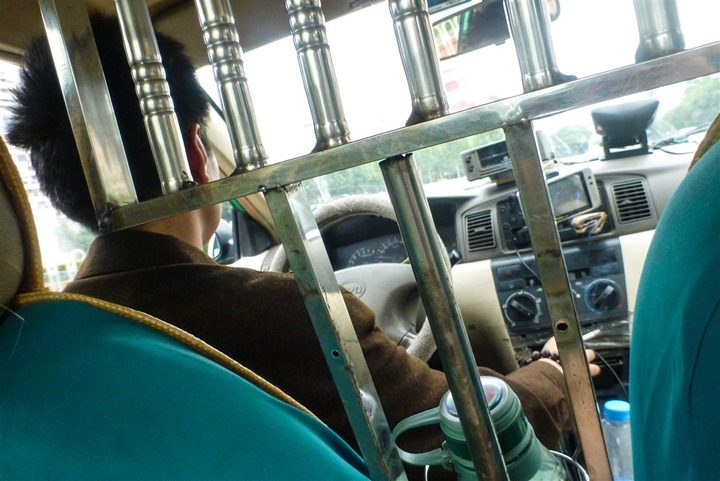 From there I spent a little bit of time trying to figure out how exactly to get in.  Construction in the area meant the entrance wasn't readily visible from my drop-off point.  But after a bit of walking around I figured it out.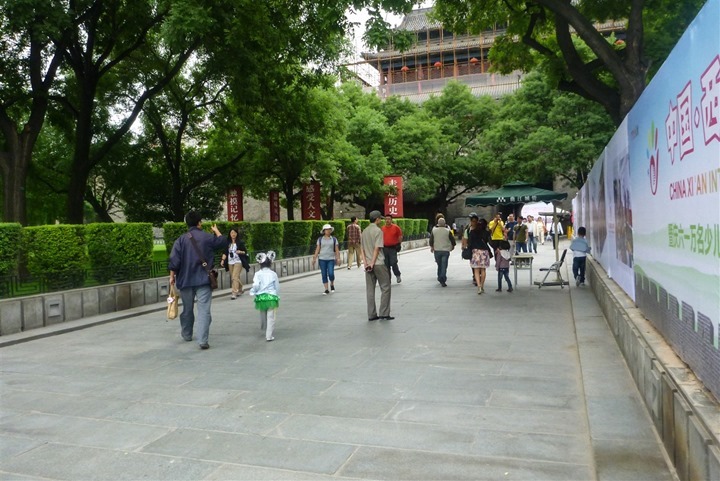 The ticket cost ¥40, which is roughly about $7US to get in.  So a bit pricey if you were going to run regularly on the wall (which people do).  But for a one-time thing, I was down with that.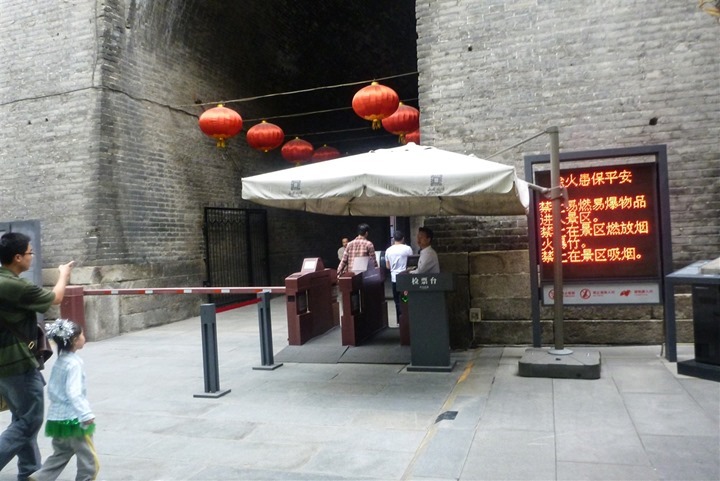 Through a tunnel below the wall I went: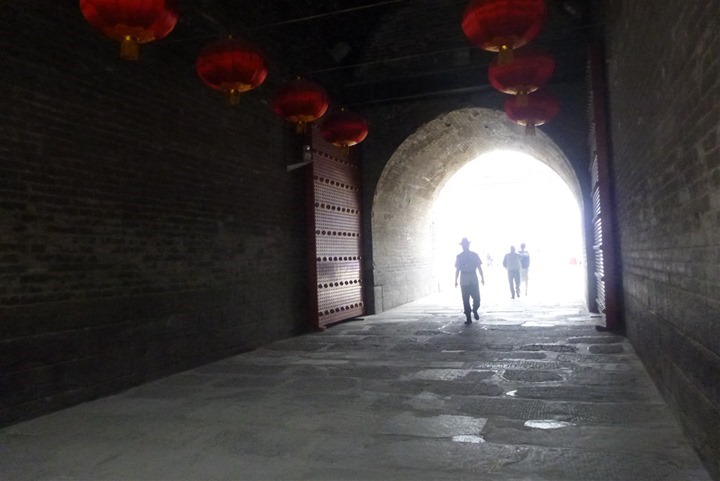 Once inside it was as simple as going up the steep staircase to get up to the top of the wall – 15m high (~45ft).  I was thankful I decided to start running once up top.
Once up top I took a moment to check out the scene.  You can rent bikes here and bike all the way around on top of the city wall – 13.7KM (8.5MI) in total length making a perfect rectangle around the city.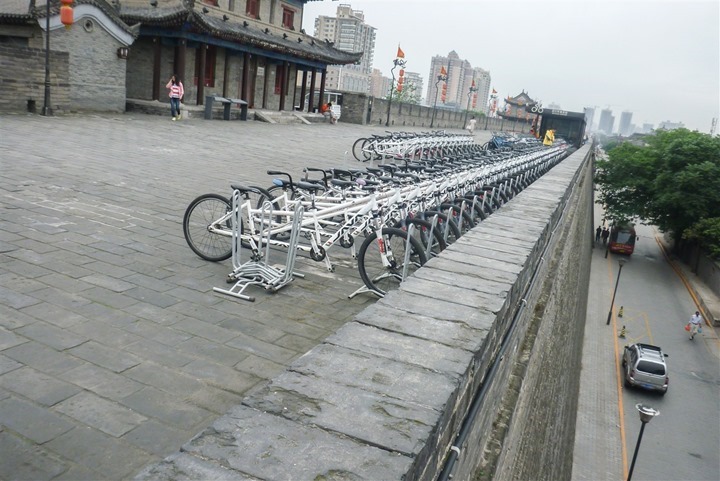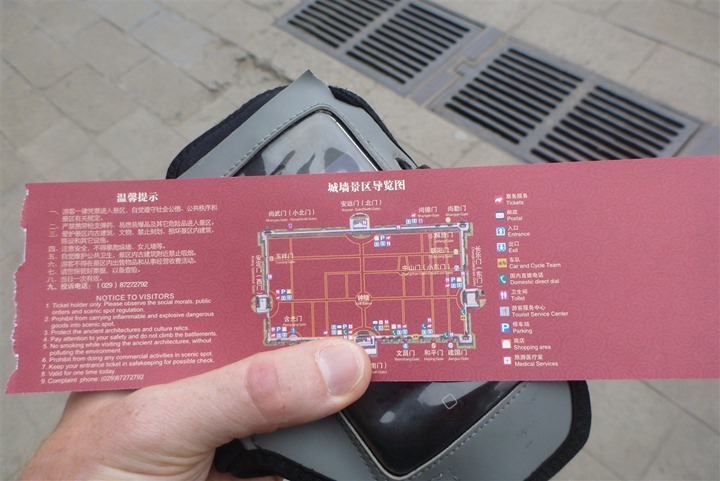 When you think about it – that's really cool.  There are many cities in the world with walls, but very few are as long, or totally complete all the way around.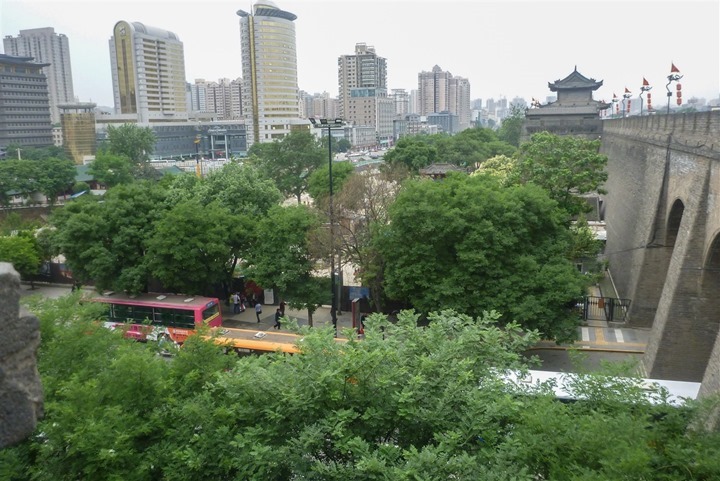 Down below me just outside the wall were kids doing a dress rehearsal for a children's festival.  It was sorta like watching bumblebee soccer as the parents/teachers tried to get the young children in order.  Except instead of bumblebees, they were sunflowers.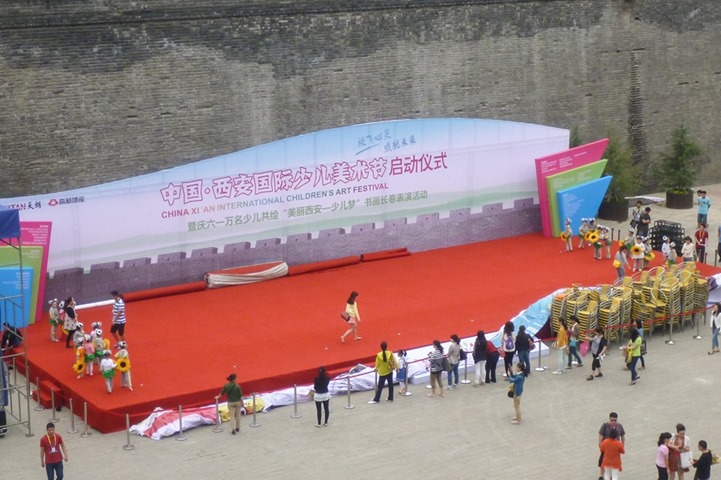 Once I was done there started my watch and set out.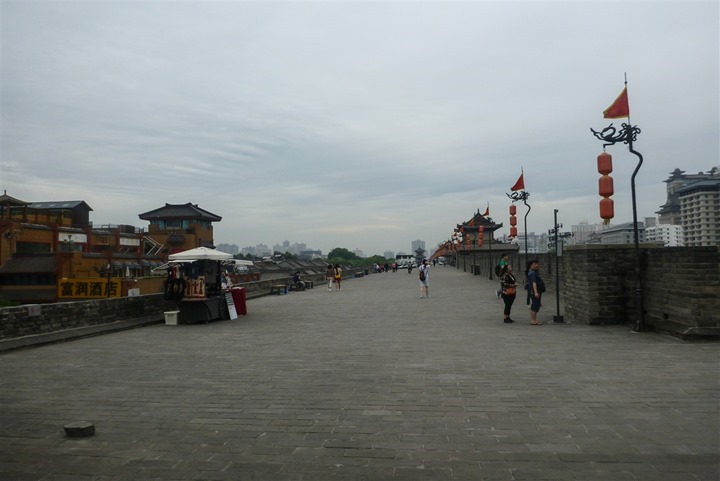 As noted, the wall is about 8.5 miles around – so you can get quite the workout in.  On this day at lunch, the place was basically empty once I got a few hundred meters out: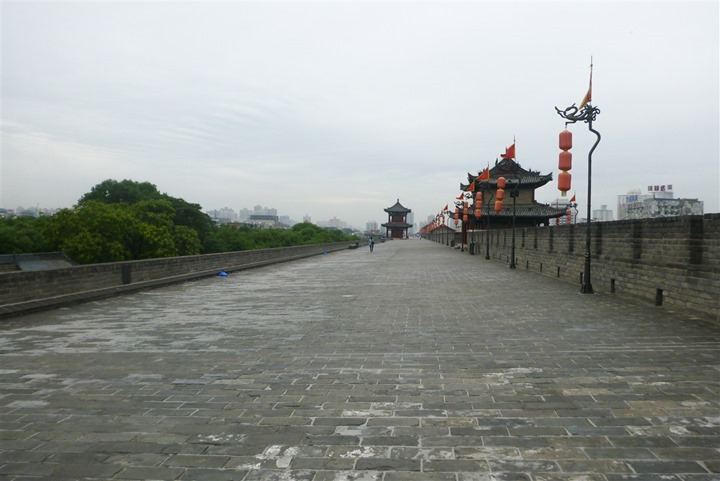 The surface is large stones – arranged essentially as cobbles.  While I saw a few notes online about folks saying the surface wasn't smooth – it seemed pretty smooth to me.  Certainly a heck of a lot better than cobbles at home in Europe anyway.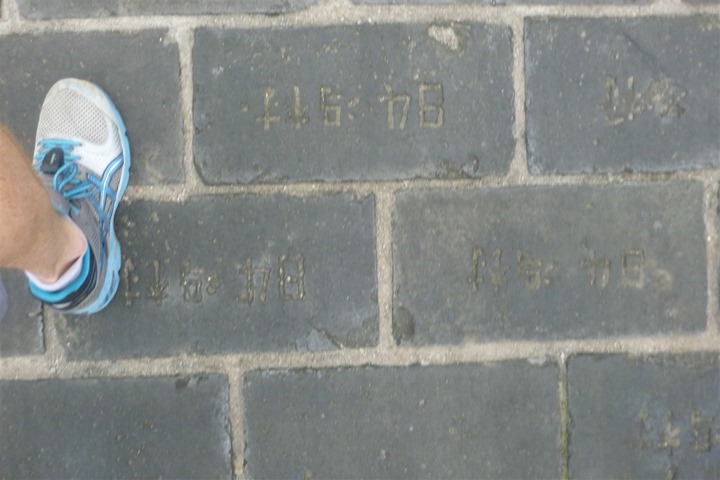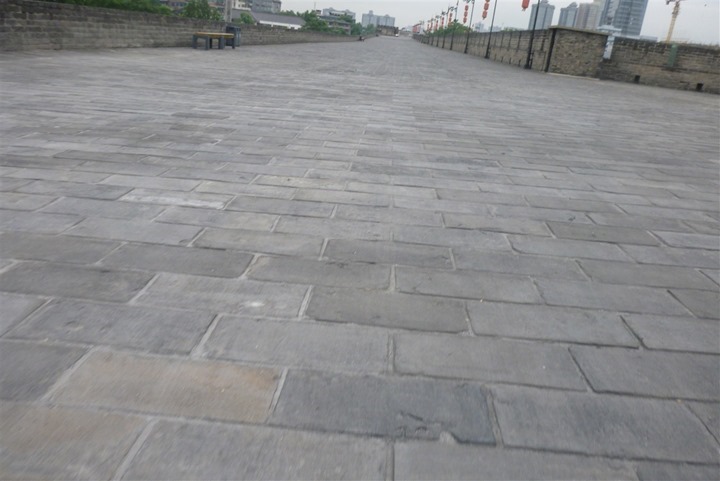 A bit later, I came upon another bike rental/drop-off station.  There seemed to be a couple of these around the length I ran.  You could rent both solo and tandem bikes.  If I had more time, I would have definitely rented a bike and kerplunked some unique Strava segments.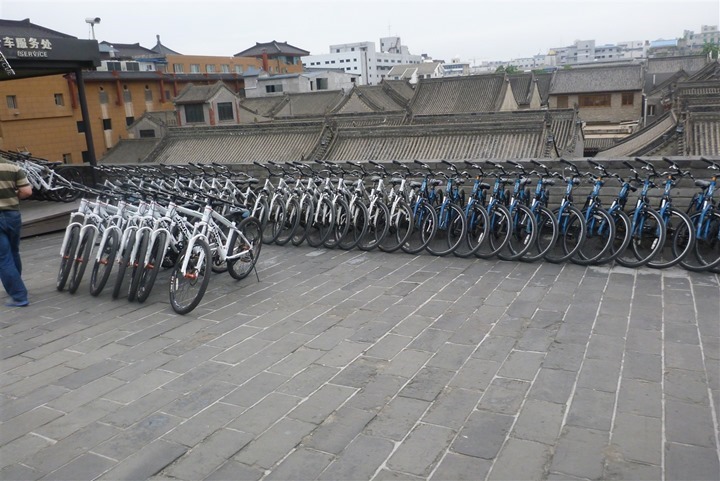 As I ran along I found myself a giant red glass balloon dragon (Edit: apparently, a snake!).  It was rather impressive in length – perhaps ~100 meters long: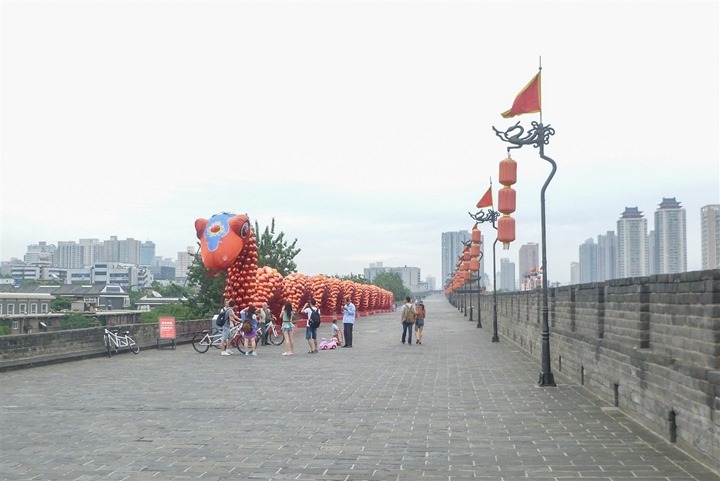 Obviously, it seemed like a good time to take a self-portrait: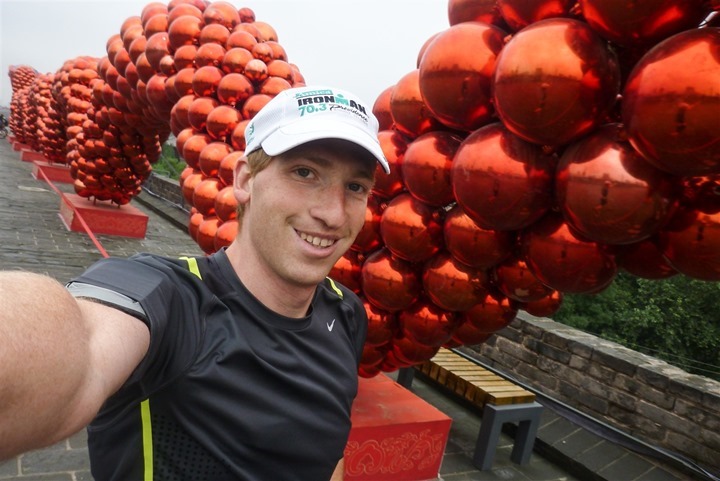 Once I passed the dragon, things got pretty quiet.  I'd go some stretches and not be able to see anyone up ahead on the wall: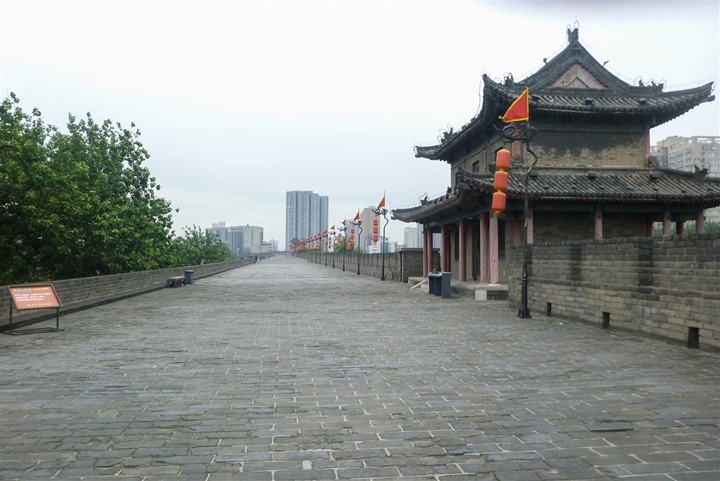 The fact that I could see straight for quite a ways and not see anybody just shows how massive it really is.  Eventually, I'd hit my first corner, and made the turn northbound: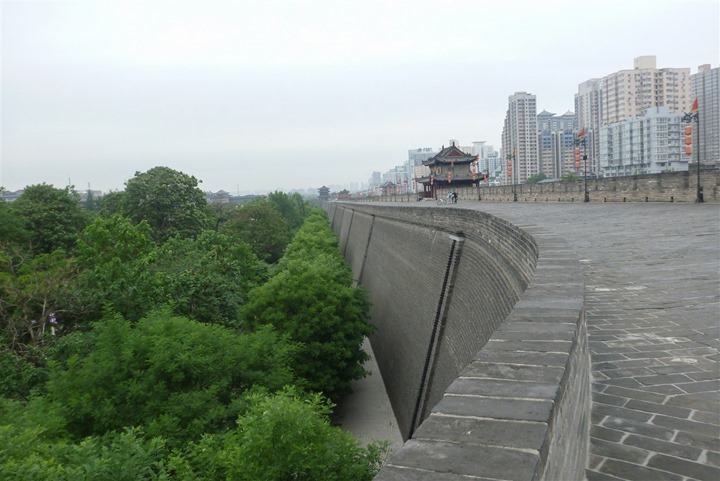 As I did so, a couple rode on by: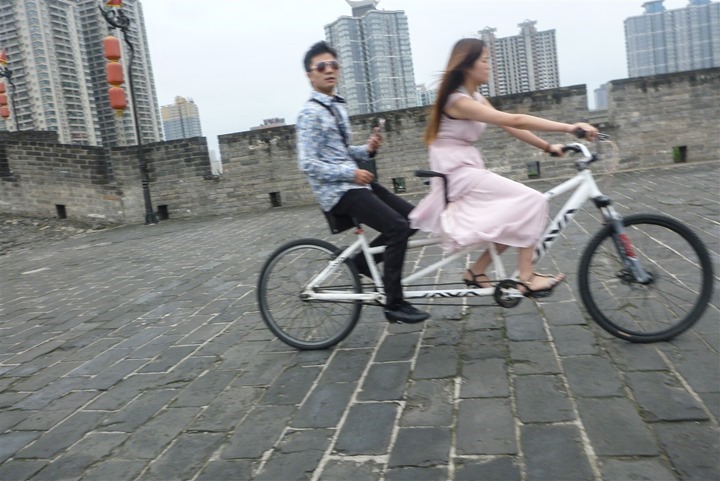 After completing the turn – yet another stretch of nobody: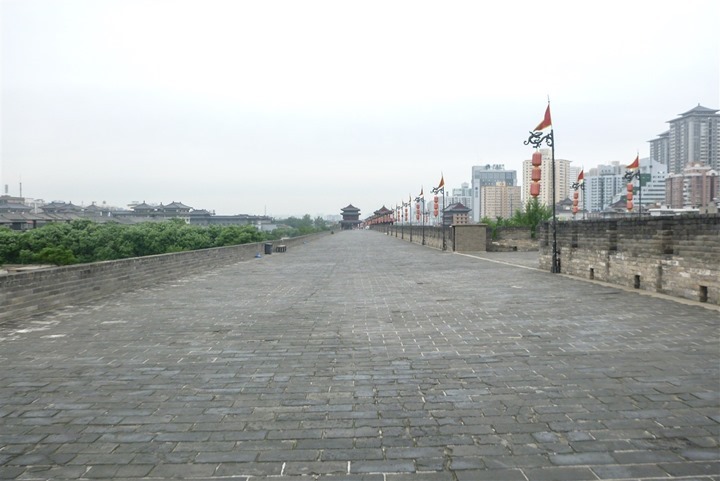 Interestingly, it's during this time that I noticed the smooth instrumental jazz music playing.  On every other post all the way around there are speakers mounted, and for reasons slightly unclear to me, they selected instrumental jazz as the background audio of choice.  Not a Chinese variety.  Just more of the $1 Target CD variety.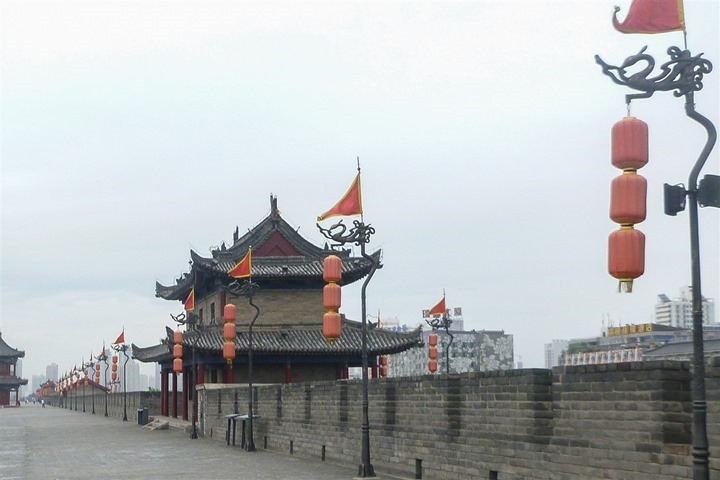 There's both an annual running race up here (a marathon), as well as some cycling events too – there were some signs I ran past earlier describing the cycling scene as well.  Pretty cool.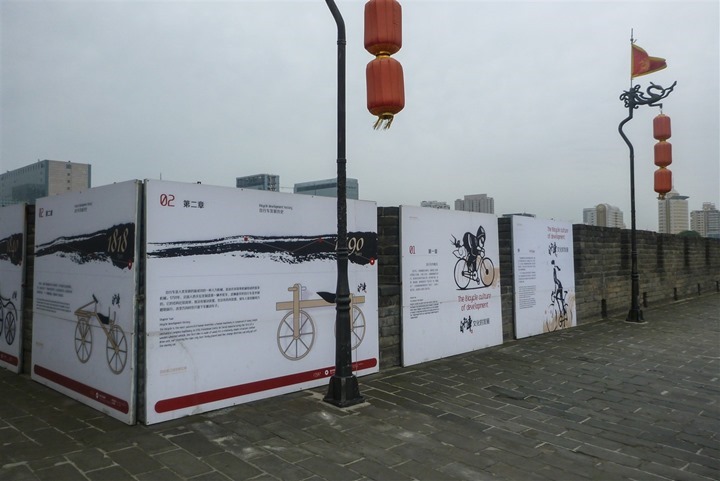 I neared the eastern gate, which was quite big like the South Gate.  It too had temples attached to it: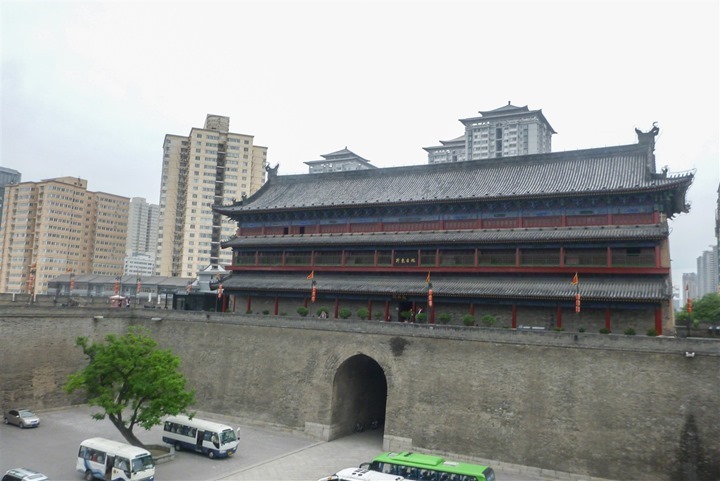 As well as having an assortment of devices that appeared to inflict pain on those attempting to get into the walled city: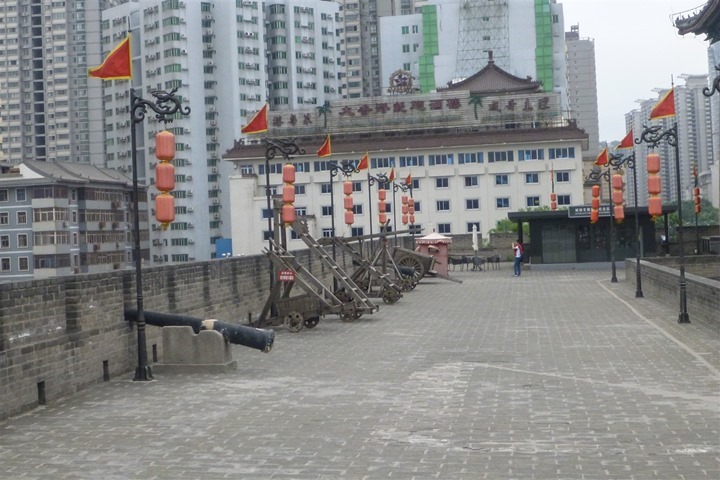 I've gotta hand it to them – I certainly wouldn't have wanted to attack this city.  The wall is actually surrounded by a moat all the way around (could probably qualify for big river status), not to mention how massively thick the wall is (or high).  Nope, I would have moved along and pillaged a different city.
Especially if they had all these dragons on top back then too: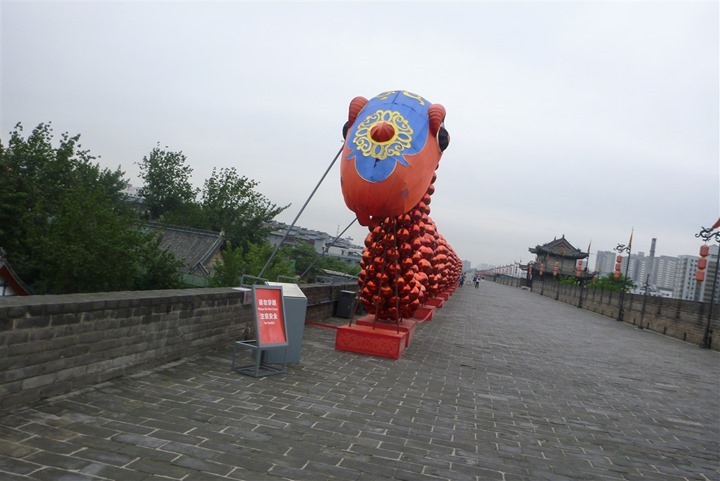 Meanwhile, I kept on cookin'.  My run was essentially a 20-minute chunk at Z2 heart rates, and then another 20 minute chunk of speed-play where I just mixed up intervals generally from 30 seconds to 2 minutes in length at varying paces between 5:30/mile and 6:30/mile.
My goal was to make it to the North Gate, and then cut back down across the city to the hotel.  However, when I got there, I couldn't quite figure out how to get off the wall – as all the entrances/exits were closed (similar to below, which are frequent along the wall).  I would kinda suggest that those one-way turnstiles outbound only would make a nice addition to the gates down below.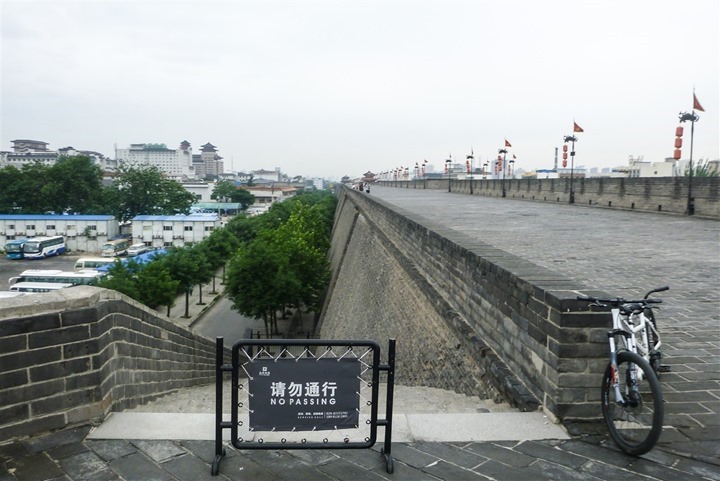 As it would later turn out – it's because I hadn't quite made it yet to the actual North Gate, but rather just another large watch tower structure along the way.  This one in front of the railway station: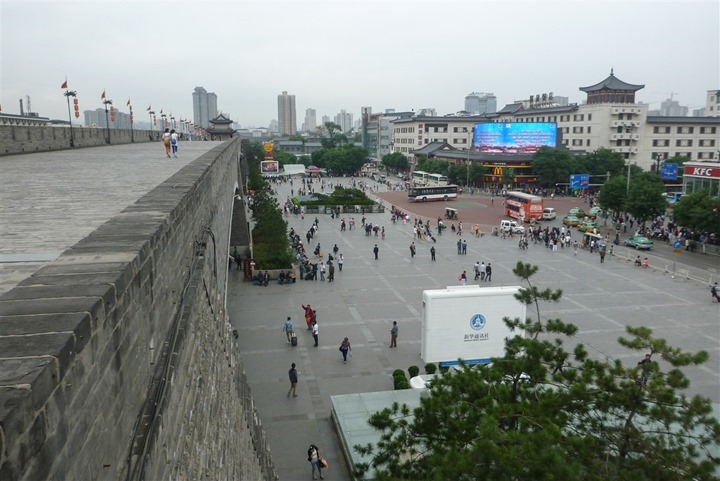 And looking back into the walled city, you can see the hustle and bustle below: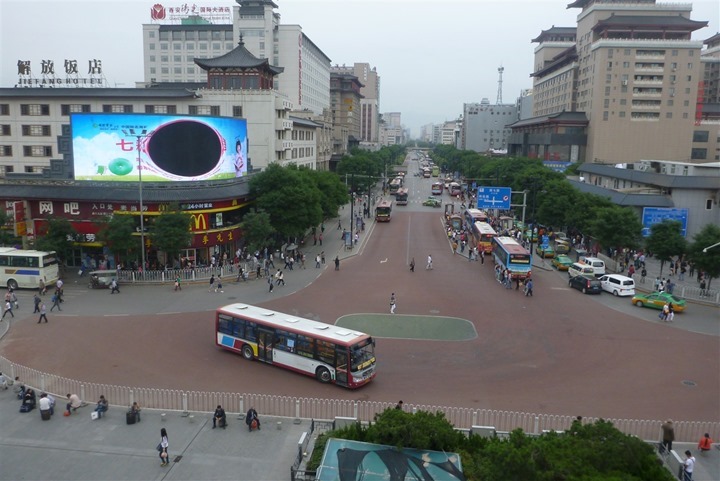 Lacking any way to get out at the North Gate (that wasn't really the North Gate), I turned back around and simply backtracked towards the eastern-most gate where I knew I could get off the wall.  More tranquil running: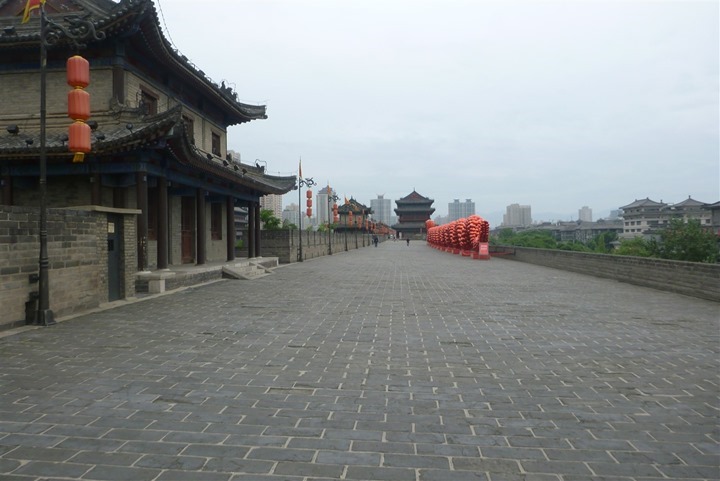 Finally – I found my exit and headed on down the steps in between intervals: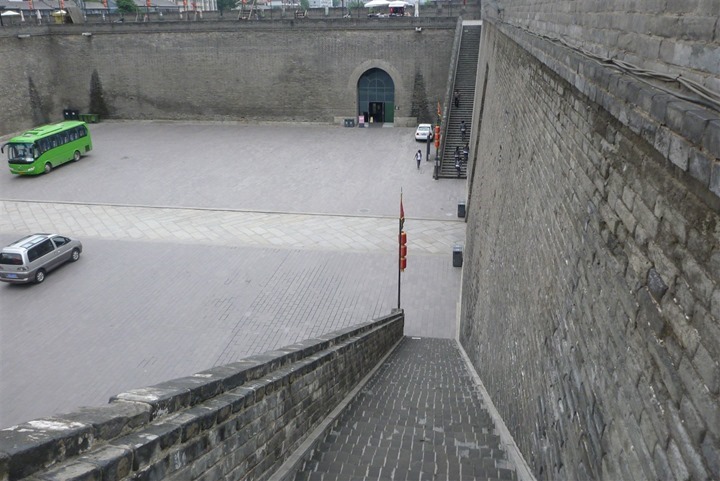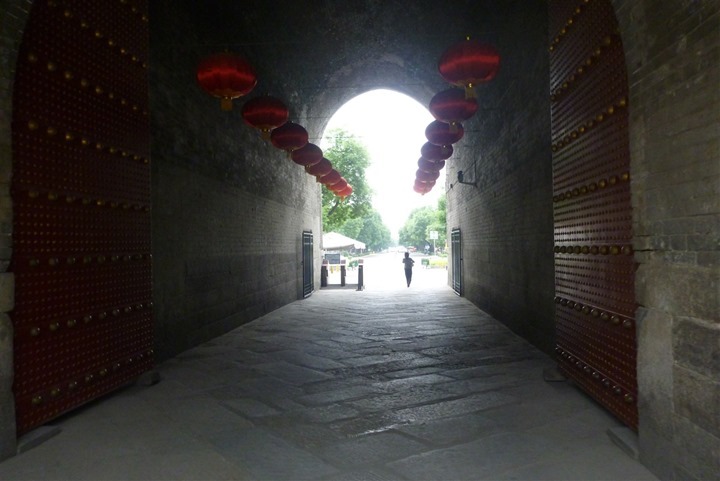 From there, I just needed to cross one of the intersections of death and then continue the last little bit back home within the walled city.  This would actually be much like my run the night before, where I crossed a large chunk of the city.  During that run I had followed along the inside of the wall on the ground (makes for an excellent running path), but then eventually cut across trying to get back to the hotel.  In the case of today, this also took me down smaller side streets lined with shops and market-like activity: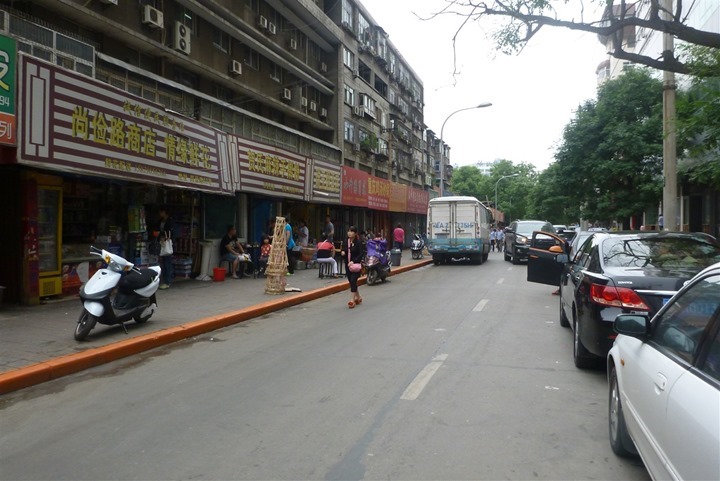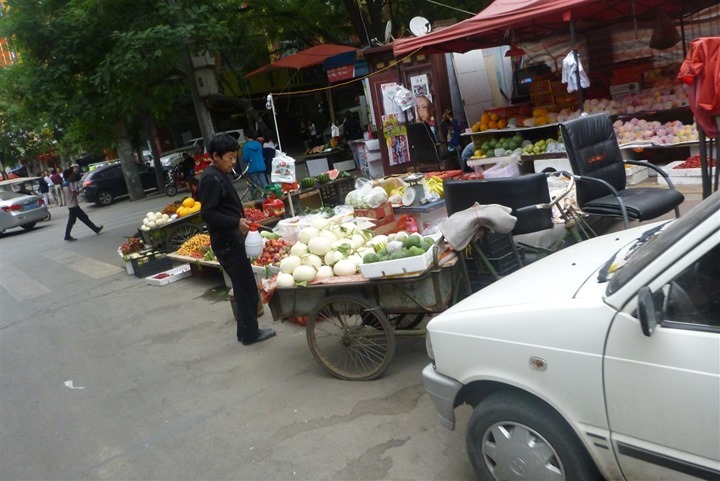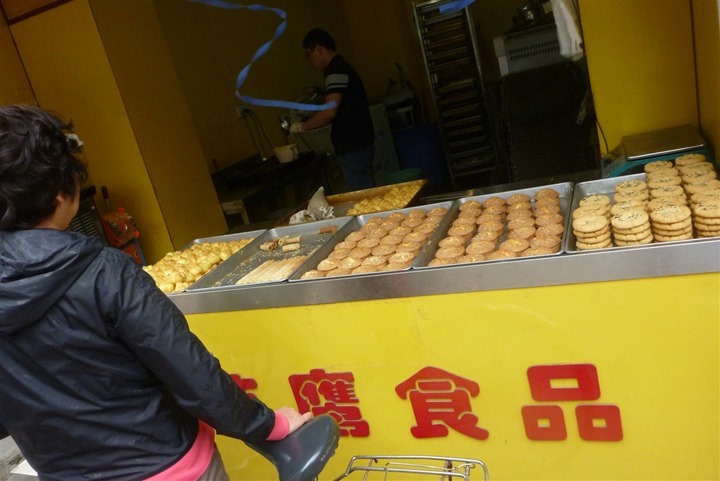 Last night, I went down a very similar street – except it was far crazier. So much so that after running on it a number of minutes, I decided I'd video record a couple minutes of running through it all (at pace – about 7:20/mile).  Thus, enjoy:
Toward the end of that run I also got to see a number of other sights – like the Bell Tower: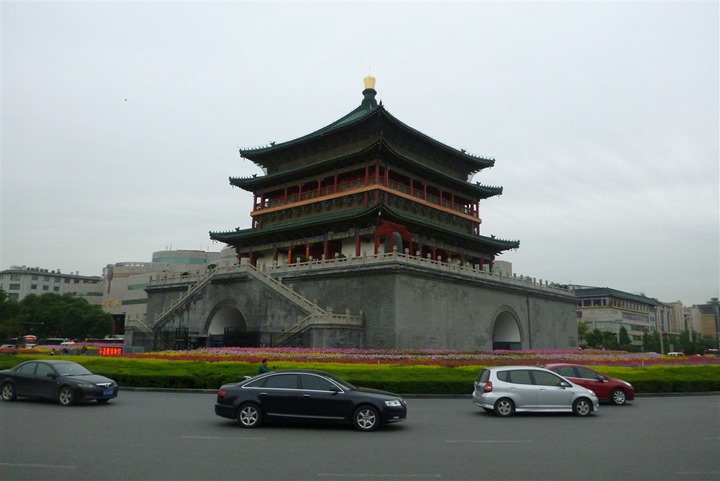 …and the bull rider.  You know, just a random mechanical bull out in the street for folks to ride.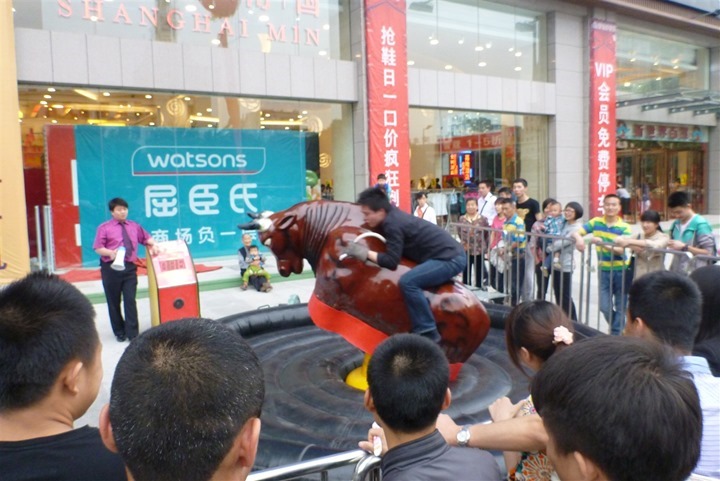 With that, I soon found my hotel and completed today's run – pretty close to spot on my 45 minute time allocation: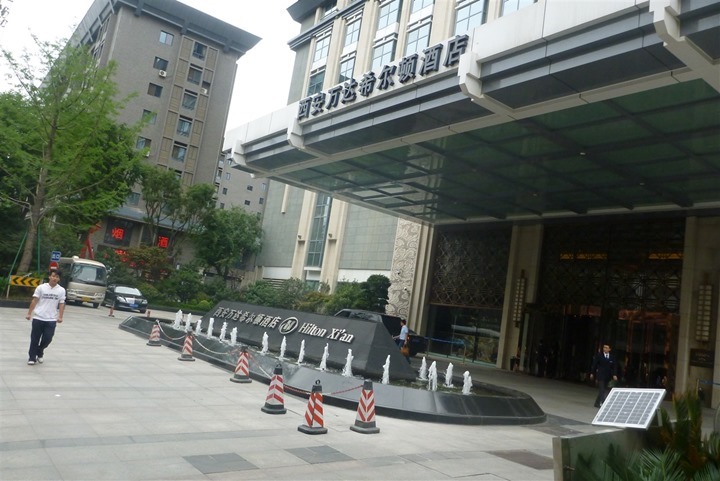 Here's the complete route of today's run – with the wall clearly visible. Keep in mind the city is much bigger than this, this is just the older walled section (built in 1368AD):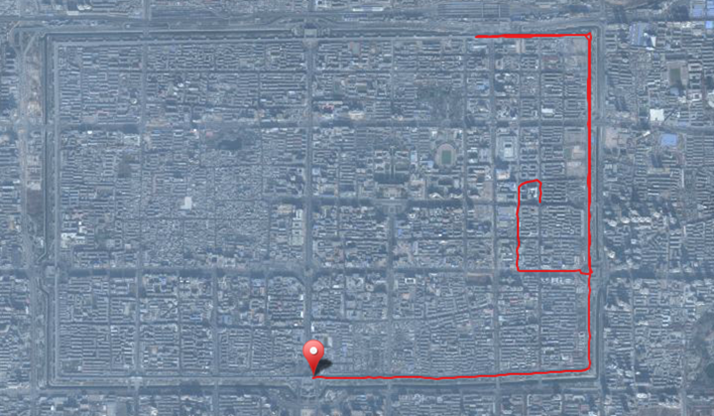 I leave you with one final photo – seen in the last mile of the run.  This being a bicycle street vendor.  And they say triathletes take too much stuff on their bikes…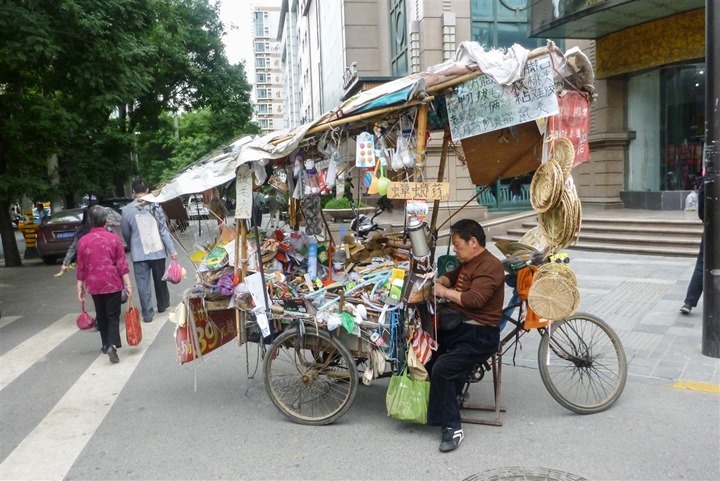 There ya have it – a Xi'an Runaround!  From here I'll be boarding my flight in a few minutes and heading onwards to my next destination in China.
Thanks for reading!
–
Read all my worldly Runarounds here!