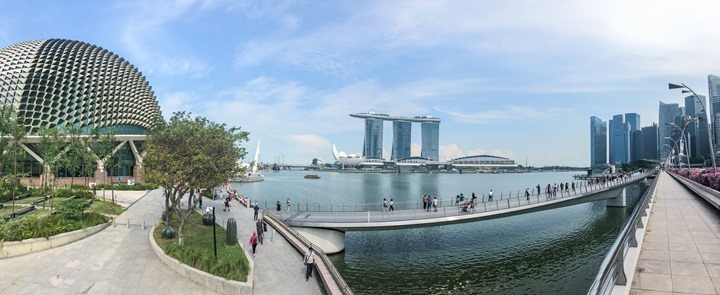 It's been a while since my last official 'runaround' post in the long-standing series.  Not because I haven't been running around all sorts of random cities, but rather, posting about it usually gets knocked down the totem pole of things to write when a stack of review posts are piling up.
Plus, sometimes I've run in a city enough times that it seems silly to write another 'runaround' post, especially if I don't think it'll be terribly interesting to folks.  Sometimes I just run, without it being all that unique of a locale (such as a generic bike path through the forest).  I know…every place is interesting, but we all know that's not exactly the case.
Still, there are definitely some more interesting spots to run – and Singapore is certainly up there!  So let's dive into it.
The Runaround:
In many ways, this runaround fits my usual scheme for them: Highly time-limited slices of a city I'm visiting.  When I was travelling in my IT job, I fit these runarounds in before/after work. Often just before a flight.  So they were rarely more than 45-60 minutes long and in all assortment of places in the world. Middle of China, Tanzania in the dark, Saudi Arabia, and many more (including ones like this that weren't officially tagged as such).
In the case of this run, I had a sliver of time after The Peanut fell asleep for an afternoon.  None of the nuts were feeling well, but thankfully they were at least going down for a nap.  The Girl wanted to rest as well, so with everyone in the hotel room sleeping, I escaped for what I promised would be no more than an hour in total (including waiting for GPS signal and such).
I headed downstairs and began the GPS signal dance.  With three units, that's never a short affair.  In this case I was using a Fitbit Versa (which uses my phone's GPS), a Garmin FR935, and a Suunto Spartan Trainer Wrist HR.  I also had a Wahoo TICKR HR strap on, but I neglected to remember to change the battery the night before…so that lasted about 90 seconds into the run.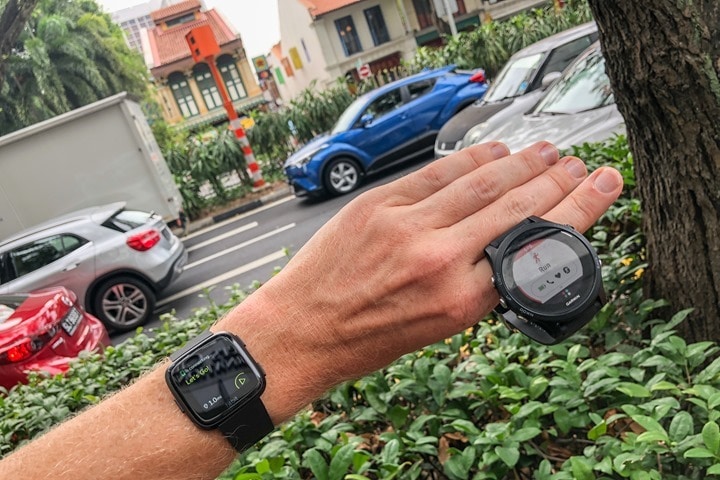 With GPS acquired I headed towards the water, or more specifically the Singapore Flyer wheel.  It was a few blocks across town to get there.  Nothing complex though to navigate, and a route I had done earlier in the day with a two-child stroller.  So I was well versed in the viability of it.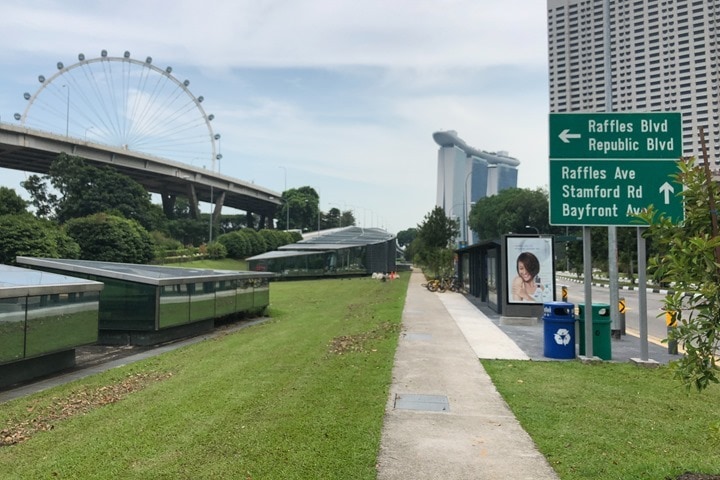 I'd soon find the gigantic Ferris wheel, as well as the Formula 1 race track that loops around it.  You can see the painting on the ground for all the various starting positions as well as the nearby garage.  It's impressive to me that a single couple-day event once a year can cover the costs to build a massive building and all the associated infrastructure with it.  I guess there's (a lot) more money in car racing than cycling or running.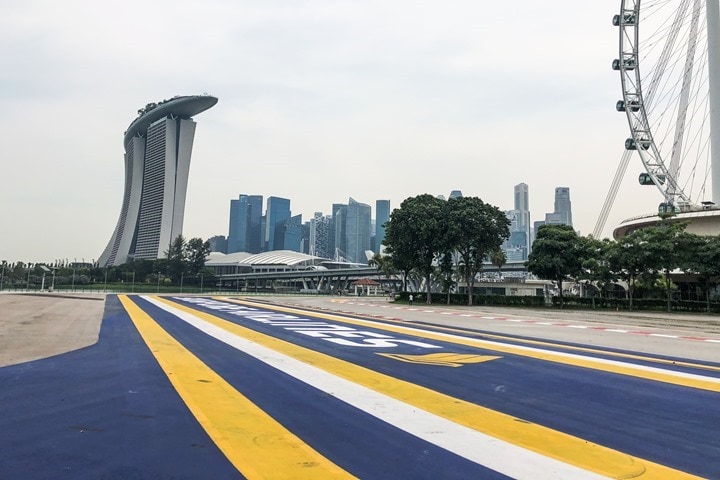 After this, I crossed a pedestrian bridge to the other side of the harbor, now near the Marina Bay Sands hotel.  This is the hotel that has that crazy pool atop it.  We looked at staying there, but the prices were nuts.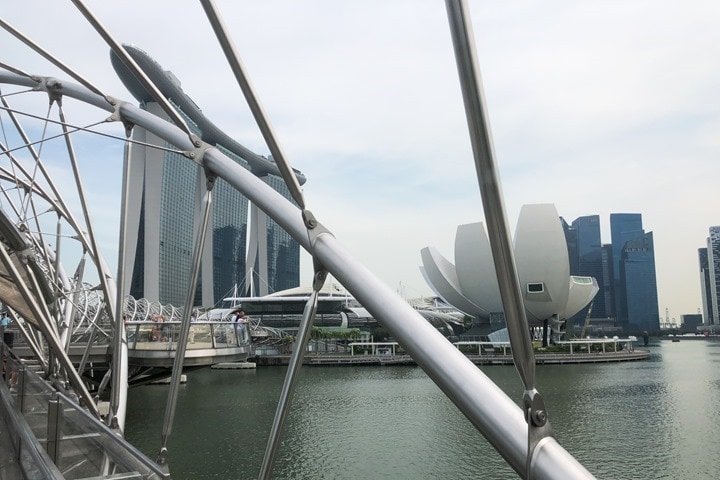 Meanwhile, down on the bay, there was the Art Zoo exhibition for the month. Basically it's a giant park of inflatable jumpy toys that you can go and jump on in the evening. We had planned to bring The Peanut down there one night to enjoy it, but decided that her throwing up every hour combined with jumpy castles probably wasn't the best of choices.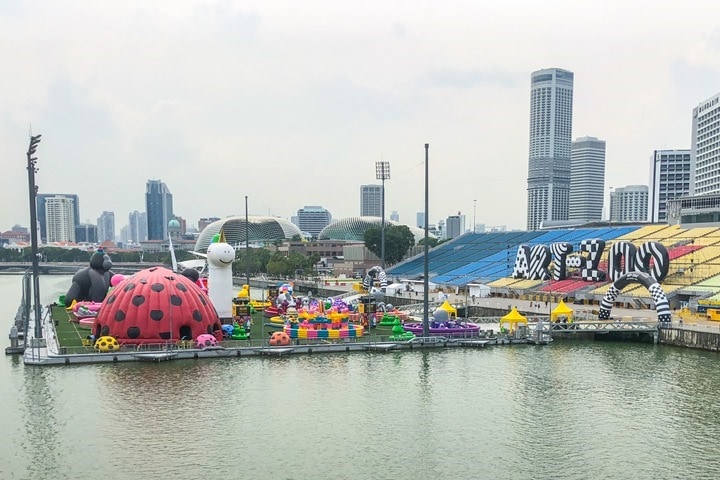 Oh, here's me: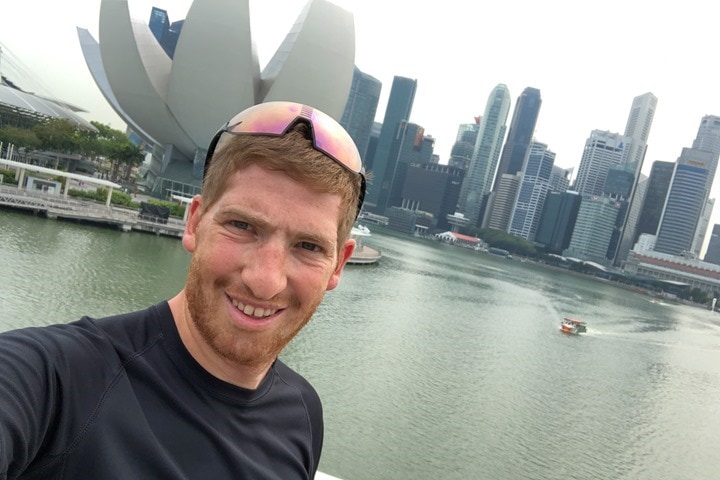 From there it was into The Gardens By The Bay park, which is a lush forest of both real plants…and less than real ones.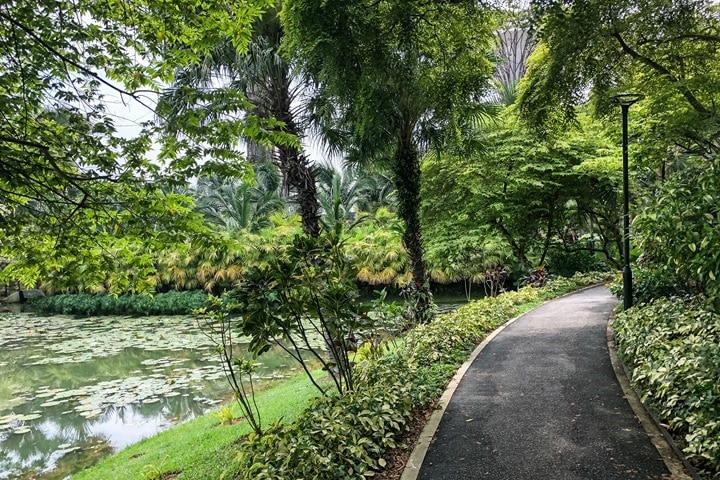 It has these gigantic trees that go upwards of 38m/125ft into the air: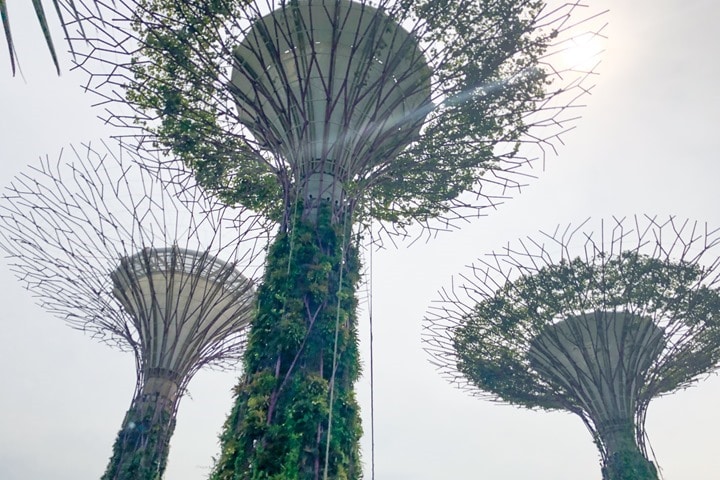 At night there's a light show choreographed to music. It's actually pretty darn cool, and the kiddos were absolutely mesmerized by it: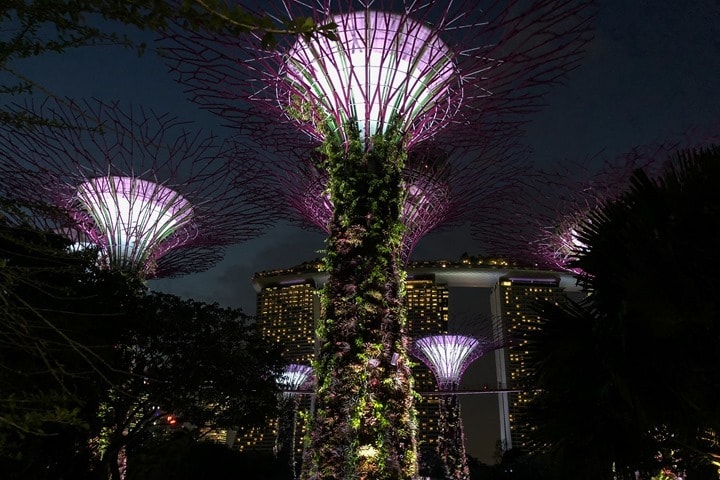 I then exited my way out of the park and continued on a relatively solitary road for a while. Just pedestrians/bikes only – though I saw nobody.  I suppose running at 3:30PM at the hottest and most humid part of the day may be the reason for that.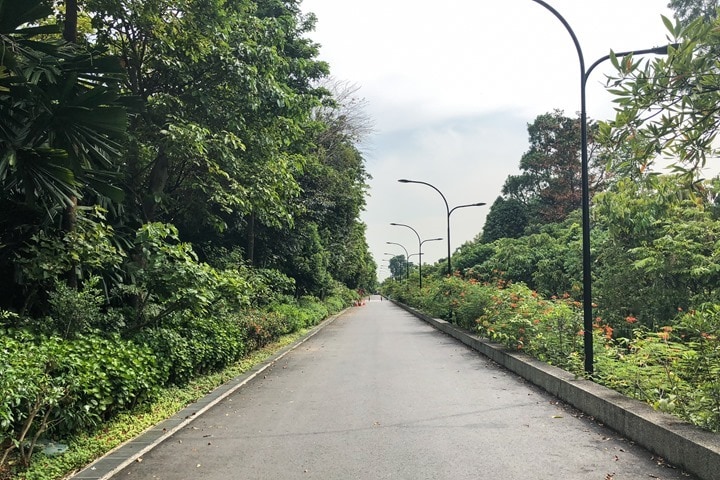 It's around here I decided to get a pile of mid-run watch photos for my upcoming Fitbit Versa review.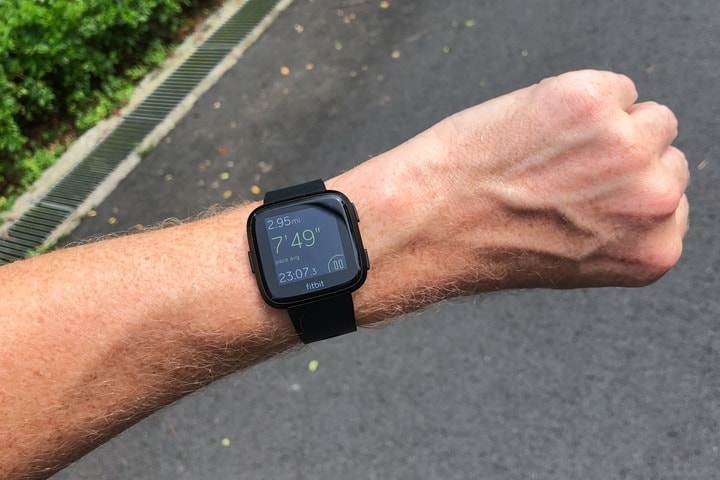 I was soon then back alongside the bay with a view across to that crazy hotel again.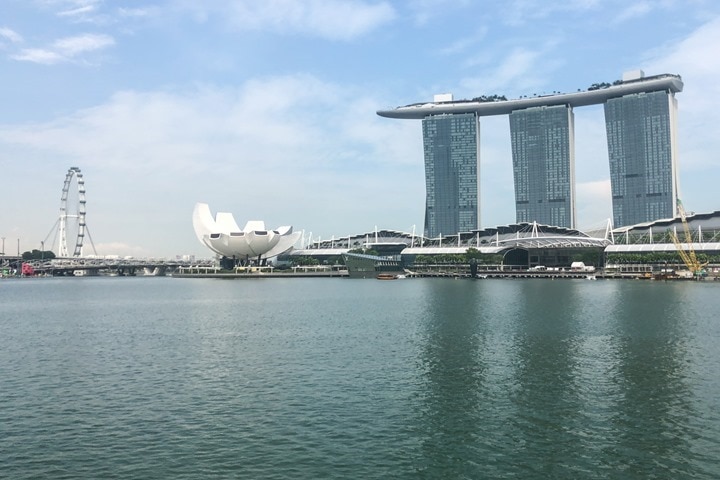 And of course, past the spewing dragon-lion thingy. It was basically re-enacting what The Peanut had been doing all day.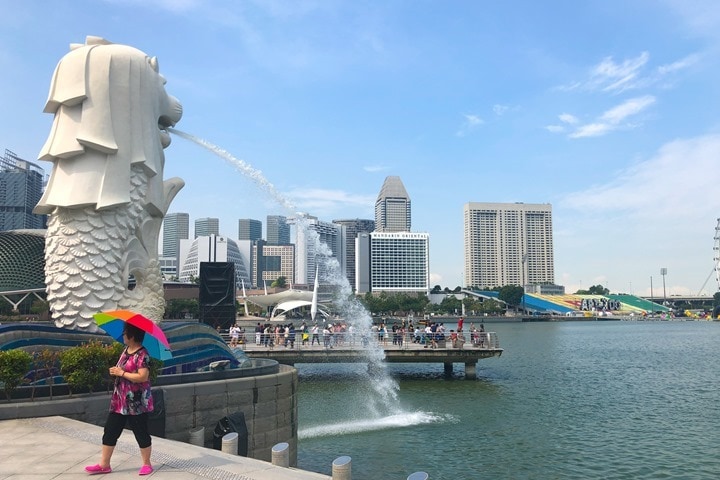 The view really is quite pretty though looking back.  I basically ran a gigantic circle around everything you see in this photo: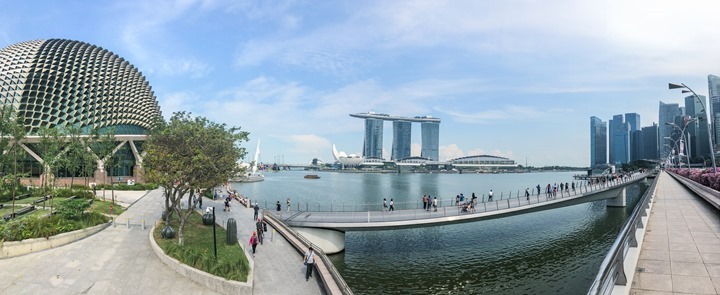 Then it was back through more of the buildings on various paths towards my hotel. You'd see a number of strewn about bike share bikes here and there.  Sometimes upright, but not always.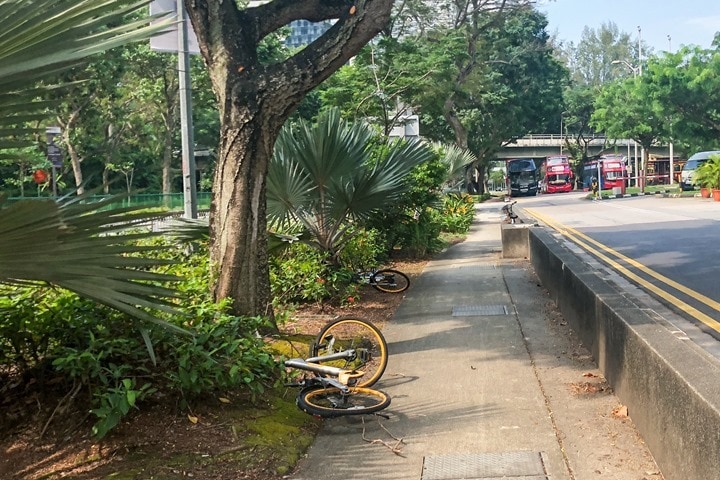 I had tweeted out earlier in the day though that Singapore is at least making attempts to try and prod users into doing the right things:
Cool to see the attempts in Singapore to start putting in place suggested dockless bikeshare parking zones. In the spots that have them, mostly works. Or at least, works in spirit. pic.twitter.com/CXEx93Wjy8

— Ray Maker (@dcrainmakerblog) March 29, 2018
And shortly after that, I wrapped things up: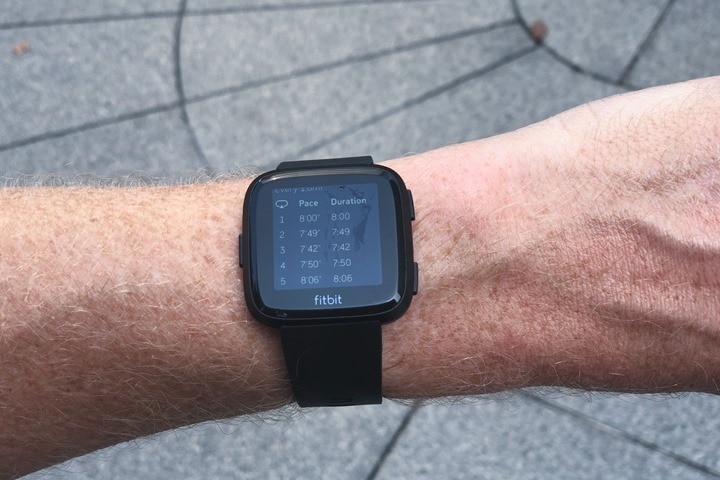 Of course, there was one last thing to do: Cool down!
Thankfully, our hotel had a rooftop pool that overlooked my running route, so I went upstairs for a quick dip in the kinda-cold pool.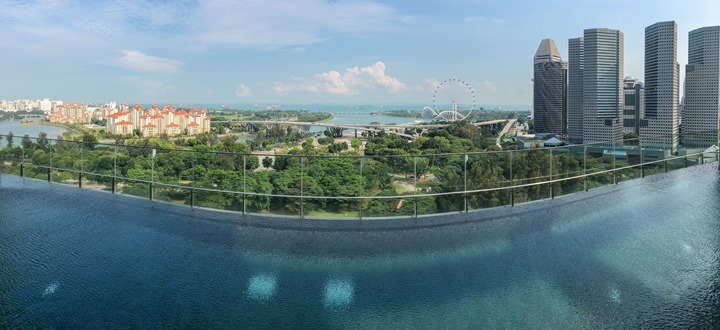 And thus, done.  Here's the map from my Strava upload.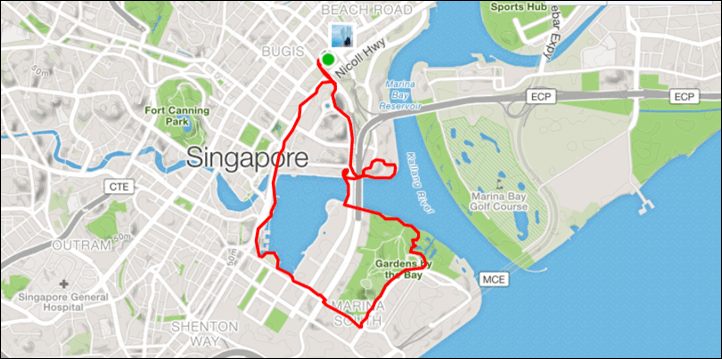 After that, it was just a few more hours left in Singapore until we caught our flight back home to Europe.  In case you're wondering, this is what 3 months of luggage and gear looks like when checking back in at the airline counter.  I suppose it doesn't really do it justice. Precisely 140KG of luggage, excluding baby strollers and car seats.  That does include one bike, a KICKR CLIMB, and enough DCR gadgetry gear for three months of stuff.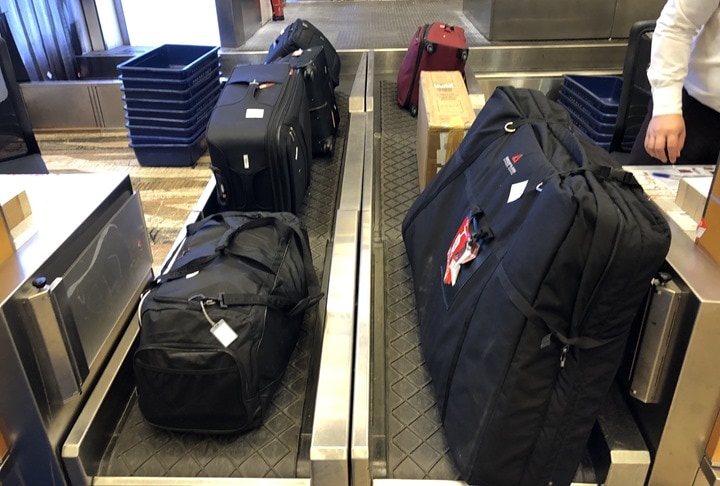 With that – thanks for the short stay Singapore!  I had hoped to do a group run or ride with folks during the few days there, but the schedule just got a bit messy, especially with kids being a bit sick during some of it.  It's challenging committing to a 5AM ride when you're up at 1AM, 3AM, and 4AM with the kids. Next time!
But a huge thanks to all the suggestions people gave for places to eat and things to do.  We were able to fit some things in and had a good time.  Of course, this isn't the first time we've been to Singapore (last time we ran a race) – but still, local suggestions are much appreciated!
Thanks for reading!
—
Oh, and here's some other fun ones in the Runaround series:
An Accra (Ghana, Africa) Runaround
An Esbjerg (Denmark) Runaround
A Doha (Qatar) Nighttime Runaround
A Frozen Sea Helsinki Finland Runaround
…and the entire list is here.
Enjoy!