I'm just about to board my flight back to London after 48 hours here in Accra, Ghana.  I was down here for a smattering of work meetings over the past two days.  As a super-quick African geography refresher, here's where Accra sits within West Africa: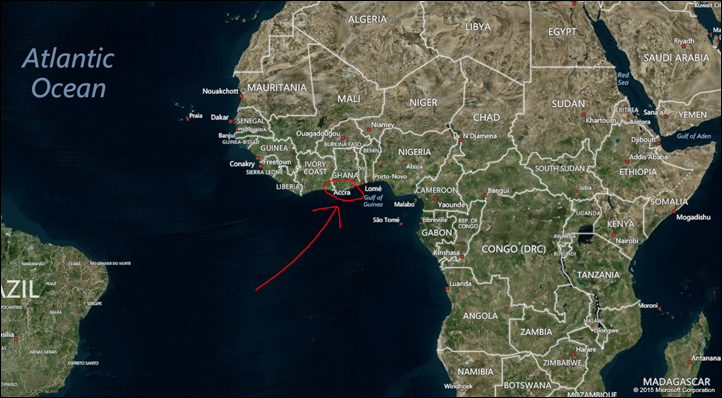 When it comes to run timing, as you know I'm rarely super-brilliant.  Usually my runs are timed in between various meetings or calls, and today was no exception.  About the only free spot in daylight hours was at precisely noon.  No doubt the best time of day to run in a hot and humid city near the equator.
Nonetheless, I set out from the hotel – it's gleaming gardens and lawns quite the contrast to what sits outside the gates.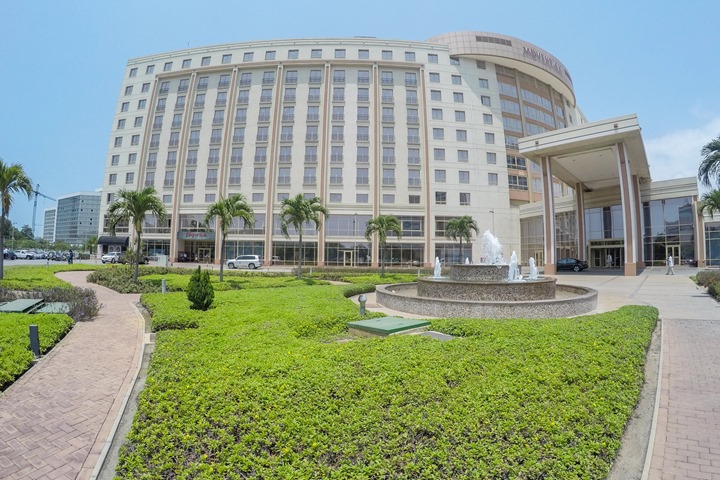 For my run, I had a rough plan of what I wanted to do.  I even mapped it out on Garmin Connect.  But alas, the internet connectivity at the hotel was so bad that I couldn't actually even get it to download and transfer to the Epix.  So instead, I just went fly by night.  On the bright side, while there's no detailed map on my Epix for Ghana, I did at least get the Atlantic Ocean: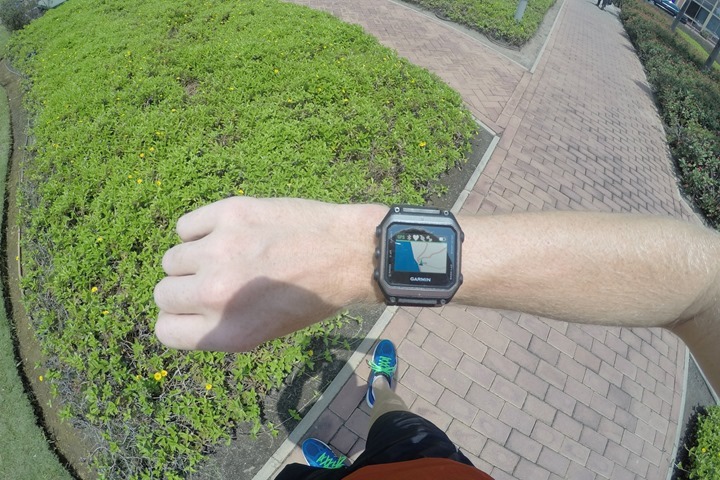 I left the gates behind and picked up the pace.  I was time constrained with a phone conference with my boss less than an hour later, so I figured if I ran faster I'd cover more ground.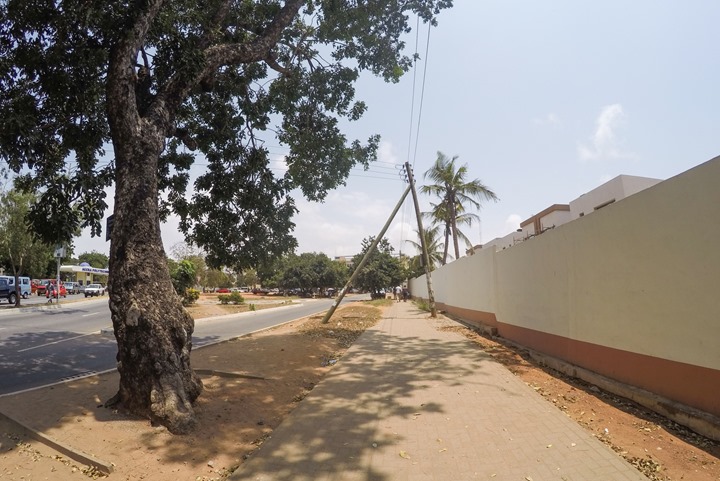 Ultimately, it was sorta exhausting to run faster.  But I tried.  Many of the miles sub-7.
Throughout much of Africa, carrying objects on ones head is fairly normal.  The streets, especially around the market areas, are packed with people carrying various things up top.  Not really much different than a briefcase in other parts of the world.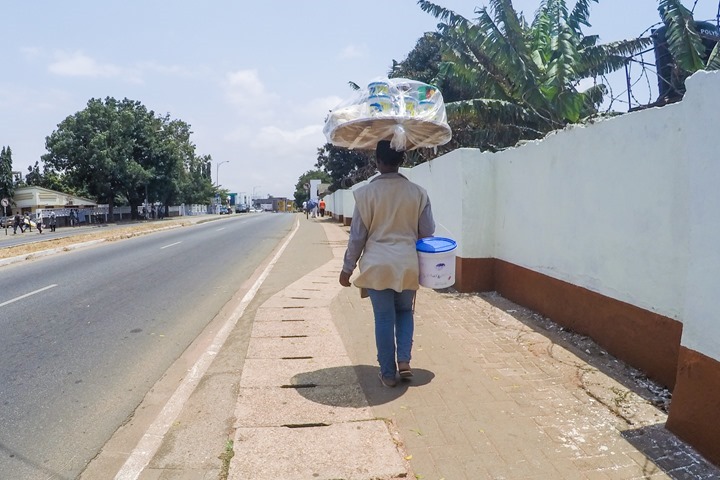 Minus the fact that the objects ranged from buckets of butter (with a side of bread), to full on crates.  The day before while driving across town I saw three woman who had massive shipping pallets/crates situated up there – roughly the size of a bicycle in length, but the full width of the handlebars.  Plus, carrying a child in a pack on their backs.  I shall never complain about dragging wheeled bags through airports ever again.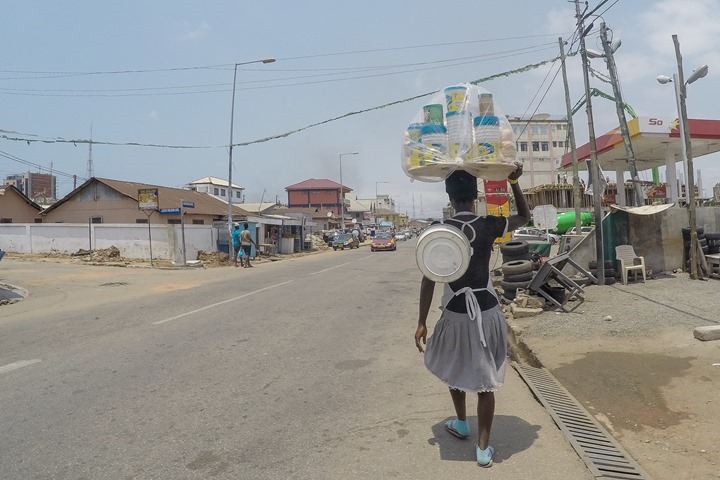 I've been to Accra 2-3 times previously for work over the years, so I'm not exactly a stranger to the city.  I also travel enough to roughly know what cities are safe to run, and roughly what areas to run.  In this case, I was mostly running around the business districts, though it might not quite seem it from the photos.  There are certainly far nicer places in Accra to run – but I lacked the time to get there.
Still, I made the best of my little route.  Most of the time I was running on some variant of a sidewalk.  One of the tricks though is that most roads have a gutter along the edge.  The gutter is in turn covered by flat concrete panels, with about 1' of space below them for water to run.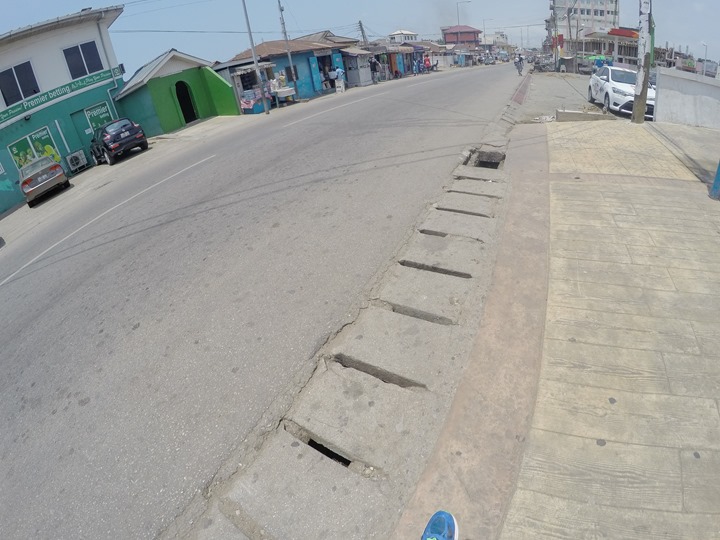 As you see above, things can look quite good.  But there are also many cases where panels were broken, or simply permanently borrowed.  It's here you've gotta be careful not to misstep.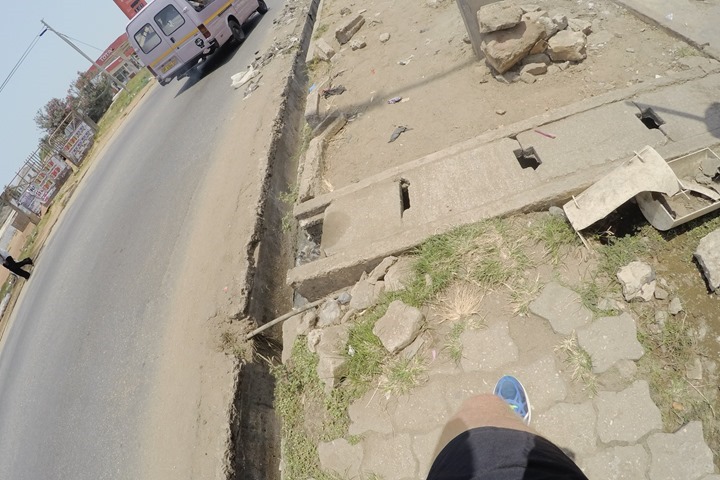 The people of Ghana are generally known for being extraordinarily friendly, and I certainly found that to be the case on my nearly hour-long run around all parts of town.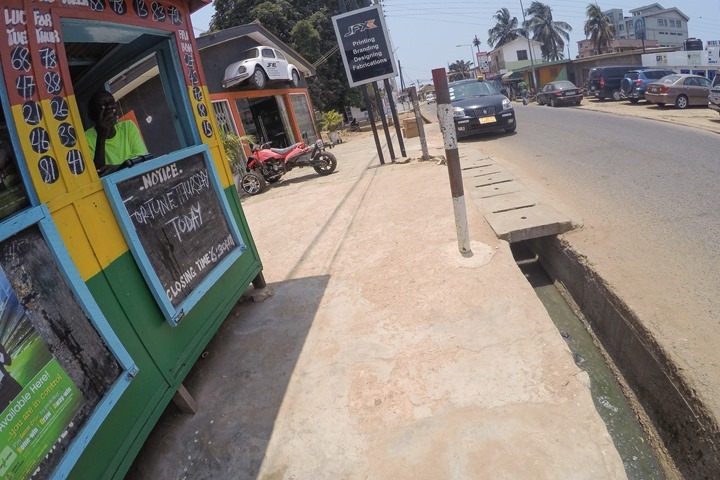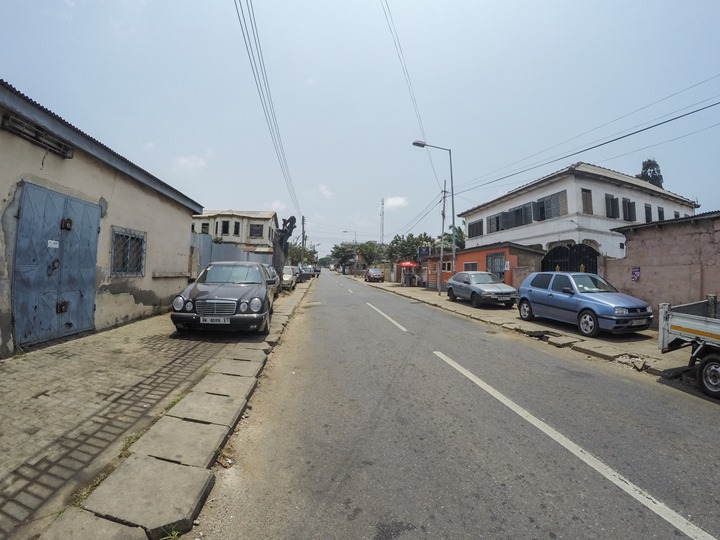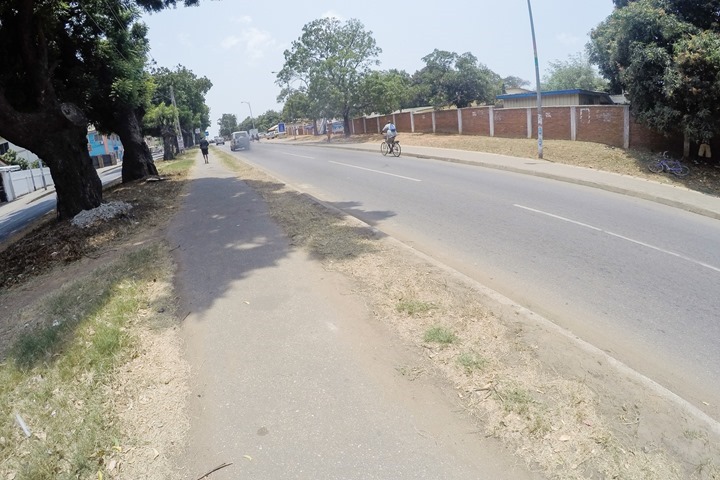 No doubt folks found a tall overly pale dude running through their streets peculiar and certainly watched – but I wasn't heckled or otherwise bothered.  In fact many times in busier sections people actually stepped out of the way to let me continue running without dodging.  Even cars stopped at crosswalks for me (or, perhaps I just forced the issue more than the fruit lady that was waiting forever patiently):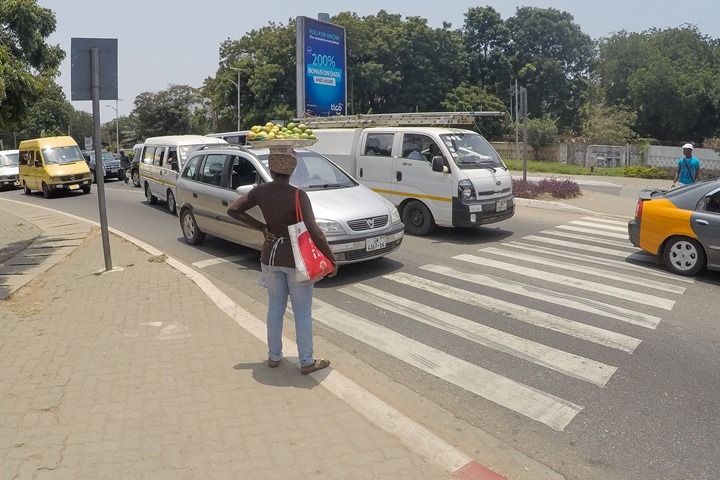 Which isn't to say I went anywhere in the city at will.  My rough plan was to actually run to the ocean, since the Google satellite view seemed to imply that might be interesting down near a castle.  Regrettably, I started running the wrong direction from the get-go and didn't even notice for about 10 minutes.  It was then I remembered the splotch of blue on Epix notating the gigantic ocean, and figured I'd change directions towards there.
While I had memorized as many street names as possible (remember, I couldn't download the exact route to the unit), I ultimately fell a few hundred meters short of where I wanted to be.  This street below stood between me and the ocean, and I figured it was a little beyond where I wanted to go solo (where the street ends is the ocean):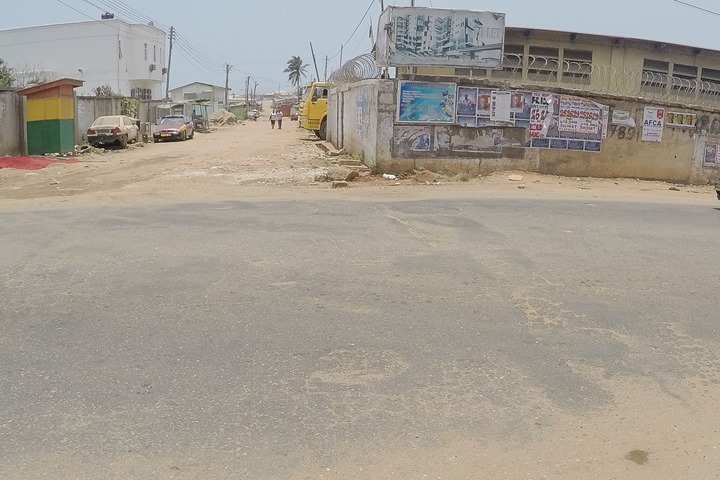 So I turned around from there and headed home.  About the only folks that paid any vocal attention to me were taxis.  Perhaps they thought I looked in need of assistance.  But it was completely normal for any taxi passing to give a quick double-beep, asking if I wanted a ride. (Also note the gigantic sidewalk hole, which I presume is a secret passage to China.)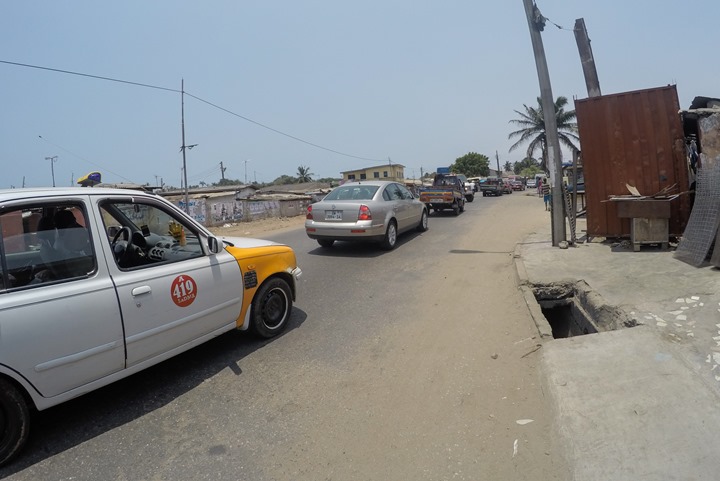 Along the way back I passed a number of interesting locales in a very short timeframe.  First up, was a large field with the Accra Sports Stadium behind it: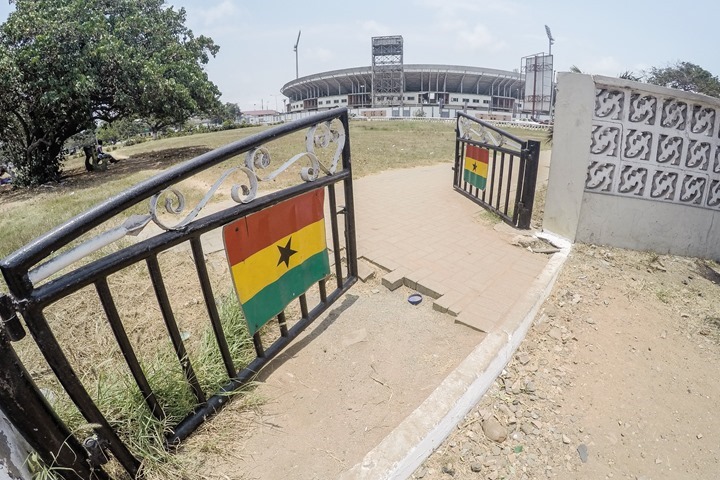 Then I passed the Independence Square, a massive location likely dozens of football fields in size: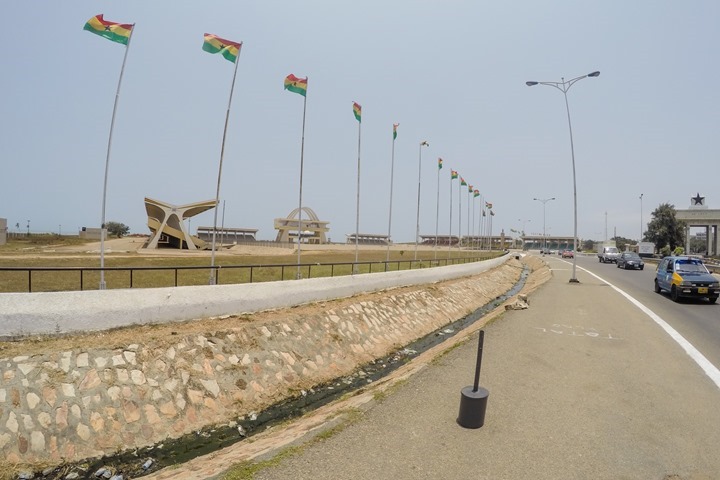 And then across from that was the Black Star Gate.  Somehow, there are virtually no cars in this photo.  Which is ironic since it felt like there were a gazillion cars swirling around the traffic circle.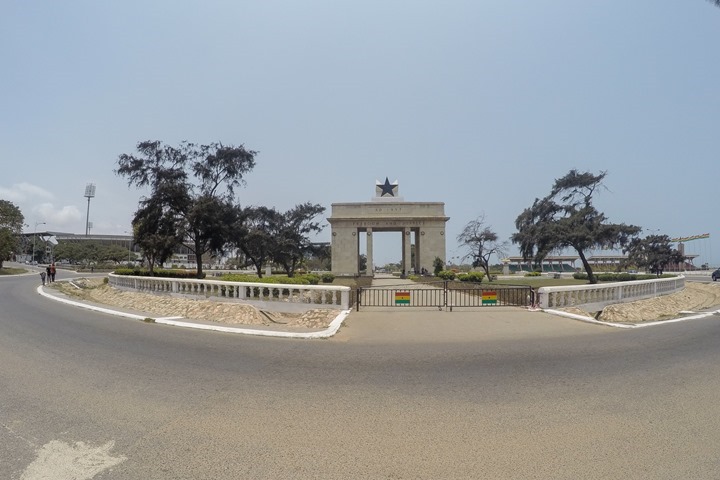 And of course, Beyoncé.  Because even people in Accra are graced with her presence.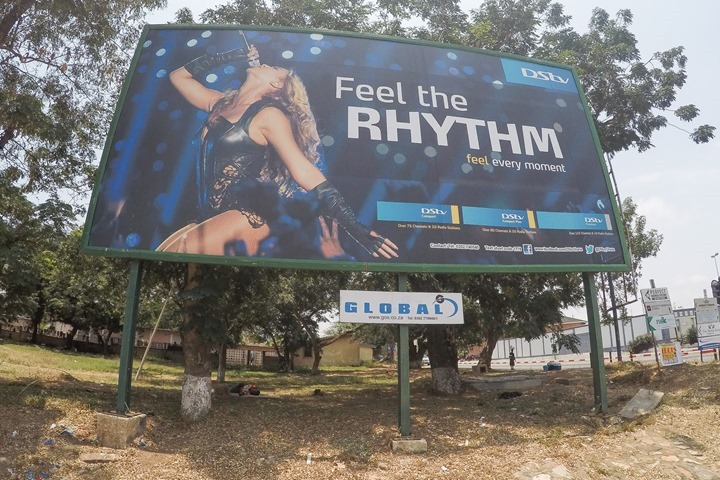 At this point, I was simply using the 'Back to Start' function on the GPS watch to get home, which worked reasonably well, as I just swerved from street to street trying to find my tall hotel building.
Which, I eventually found – just over 7 miles after starting the run: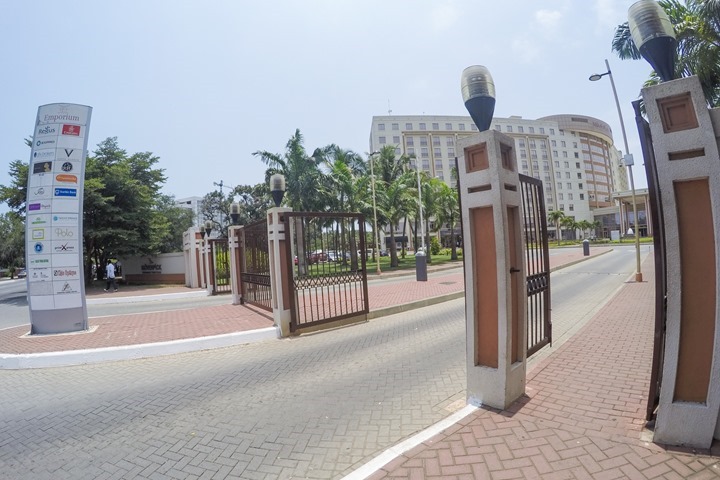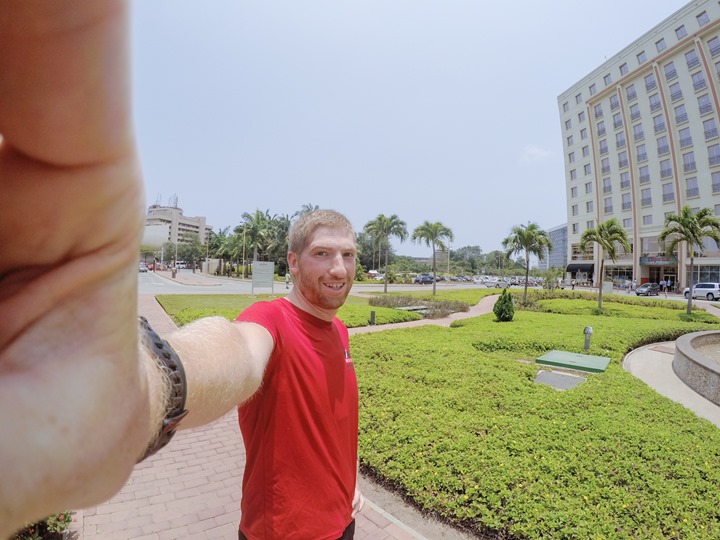 Finally, it should be noted that the hotel had a small note in the guest book that listed an 888m long jogging track around the hotel.  While the definition of 'track' might be a bit stretched, I did make it work.  So later that night around sunset I decided to give it a few loops.  Mostly because there are only a handful of Strava running segments in Accra, and of all the places likely to have Strava runners run – this would be it.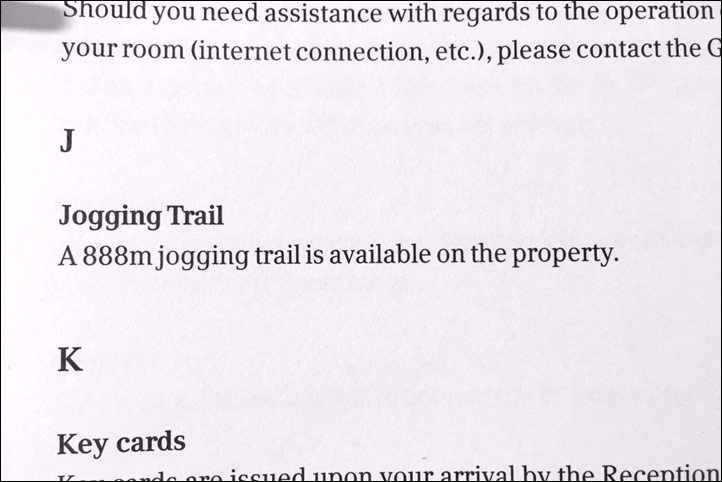 So, around and around I went – on the path that seemed most logical to me.  Though it only netted me .47mi each loop.  On the third lap, I kicked it up a notch and clocked in a 5:40/mile pace (3:31/km pace), figuring that should hold as a nice KOM for a while.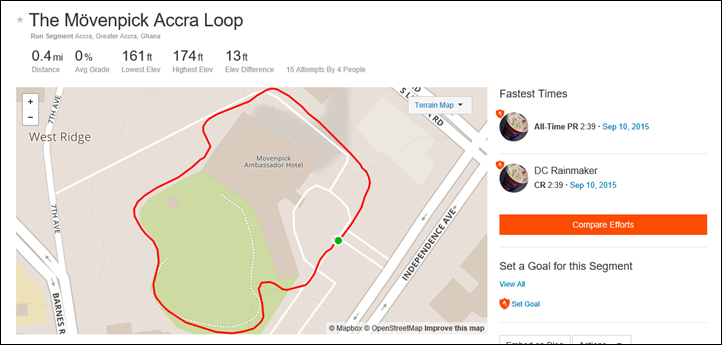 I created the segment after the run (aligned to the route), and found precisely four people have run it previously.  With me kinda-sorta slaughtering it. Thus, I'm the king.  No, not of the jungle – that's Simba's job.  Just of the hotel loop.  Speaking of which, I'm assuming you know that 'Simba' simply means lion in Swahili. Serious.

In any case, it's clear that my only way to getting and holding a KOM (King of the Mountain….err…CR in running) is to pick totally random places that nobody else runs.  And I'm totally OK with that.
With that – thanks for reading!