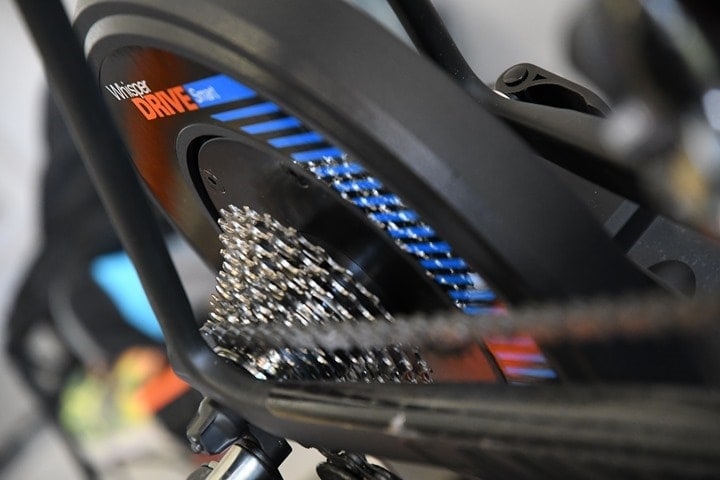 One of the challenges with writing reviews that the whole world will see, especially on products that are in relatively limited supply, is what happens when things aren't finished baking yet.  Not in the sense of a transient bug that you might see on a Garmin/Polar/GoPro product, but rather a pile of issues that just kinda make you step away from the product and say: 'It's not ready yet, maybe some day, but today is not that day.'
In general, I try and balance that as best as possible – especially right after a product releases.  It's why I specifically only release in-depth reviews on final hardware/software.  Everything else gets a label of 'Hands-on' or 'First Look', usually with an additional note in the first couple paragraphs explicitly saying it's not a review.
But this is different.  This is, after all, a final and finished product that you can buy today from various retailers.  It is new, however.  And therein appears to lie the challenge.  But this challenge is somewhat compounded by circumstance. As it is, the company sent me this 50-pound trainer to test while I'm down in Australia, but I have zero desire to add that to my already extensive airline luggage bill when I head back next week.
Unfortunately, at this point, it's just not working yet, and they want to replace my unit to home back in Europe.  Realistically, by the time they do that and troubleshoot issues, it'll probably be late April.  And y'all will be wondering what was up.  So I'm writing what is effectively a placeholder review.
It basically says 'this unit doesn't work well right now, but let's see what it's like by the time we get to summer (June/July/August)'.  It also gives JetBlack a reason to try and improve some of the areas that don't work or are missing.  Which I think is good for the industry.  Even though the trainer market is thriving with competition, more of it is better, especially in the $1,000+ game.
So with that, let's dive into what we're talking about.
The Basics: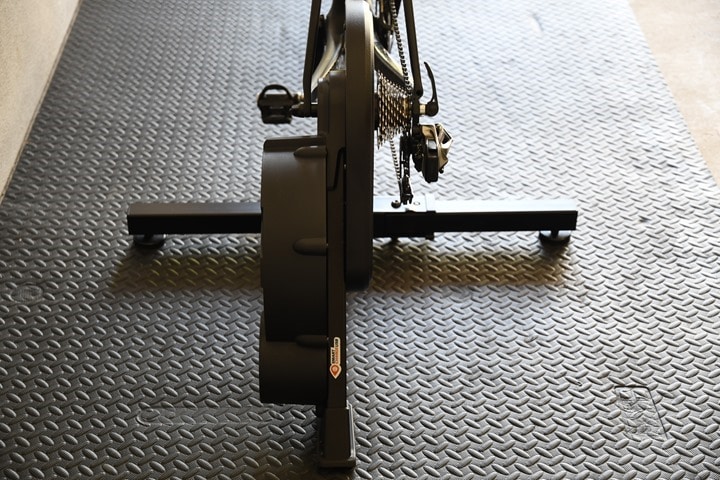 It's important to note that the WhisperDrive Smart is distinctly different from the WhisperDrive (sans-Smart).  The 'Smart' part means that it's controllable by an app – such as Zwift or TrainerRoad.  That means the resistance changes dynamically to match terrain, or that of an ERG (structured) workout.  If you tell the trainer to hold 275 watts, it'll do so.  Or if you tell it to simulate 8% grade, it'll do so.
When it comes to what's in the box – things are nice and simple! It merely has the trainer and two thru-axle adapters. No power cord is included (because it doesn't even have a hole for it, it's totally self-powered).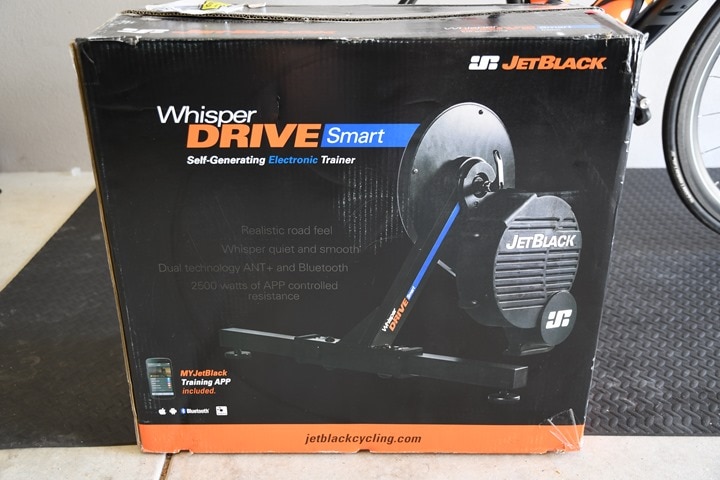 This is the trainer once everything is left sitting there sans-foam: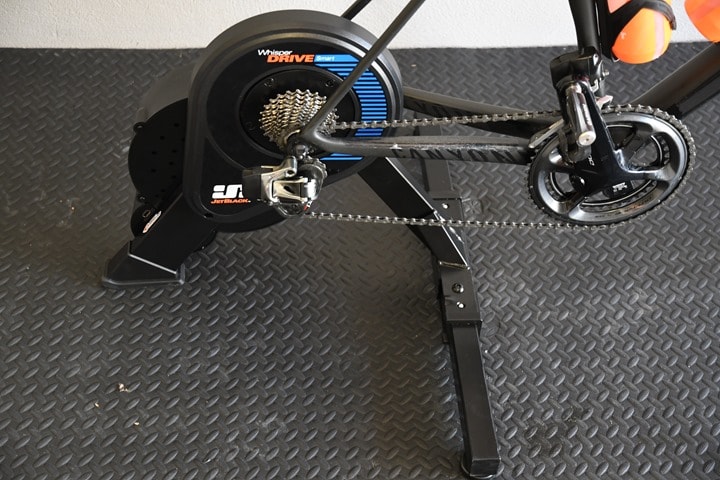 The WhisperDrive trainer is a wheel-off direct drive trainer, which means that you'll remove your rear wheel to put it on the trainer, just like a KICKR or Tacx NEO or Elite Direto or CycleOps Hammer.  Same-same.  It also means you need to buy a cassette for the hub, since it doesn't come with one (only Wahoo ships their direct drive trainers with cassettes).  Roughly speaking, a cassette is about $60, plus $10-$15 in tools if you don't already have them.
The legs on the unit can fold in, to minimize the overall footprint.  The unit isn't necessarily the prettiest one out there in terms of style, but that's OK, neither were many of Elite's trainers, nor the CompuTrainer.
Next, the unit supports thru-axle types of 9×130/125mm, 12x142mm, and a separate adapter you can buy for 148mm/BOOST compatibility.  As well as standard quick release skewers for non-thru-axle setups.  The spare parts were in one of the plastic bags seen in the unboxing setup.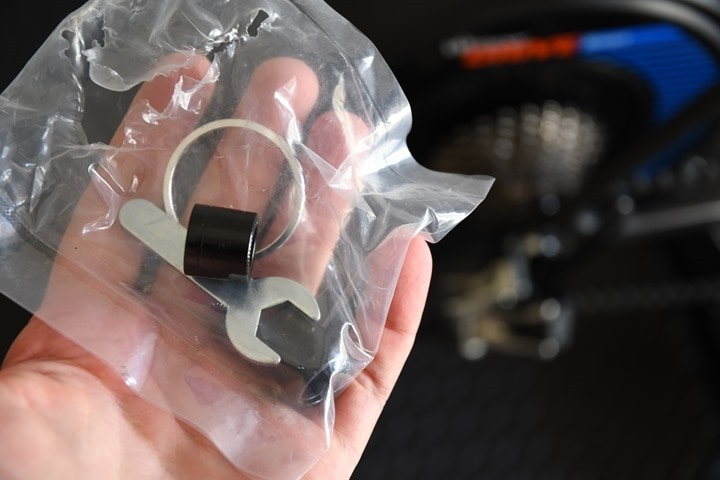 Then you'll have noted there was no power cord. That's because the unit is totally self-powered.  Or rather, you-powered.  As you pedal, it powers itself, similar to the Tacx Bushido trainer.  The only downside here is that for pairing and such you'll need to jump on the bike and pedal to make it show up in sensors menus. Also, that small LED light indicating status will illuminate once you start pedaling.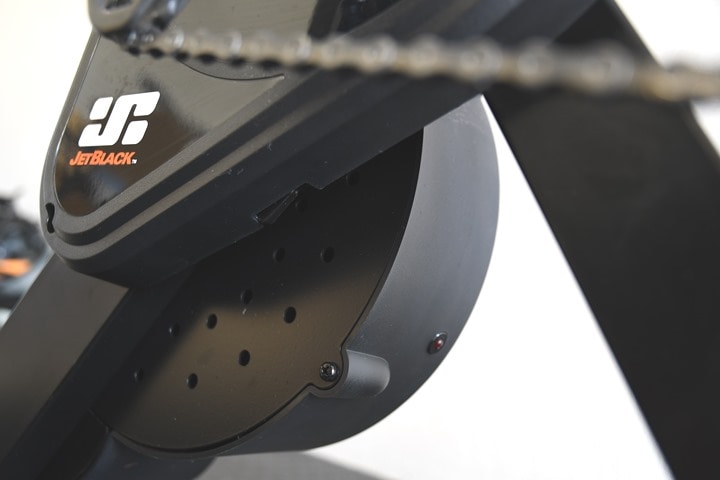 However, perhaps the coolest part of the trainer is the USB port in the back.  As you pedal the USB port will power/charge whatever you plug into it.  For example – a phone.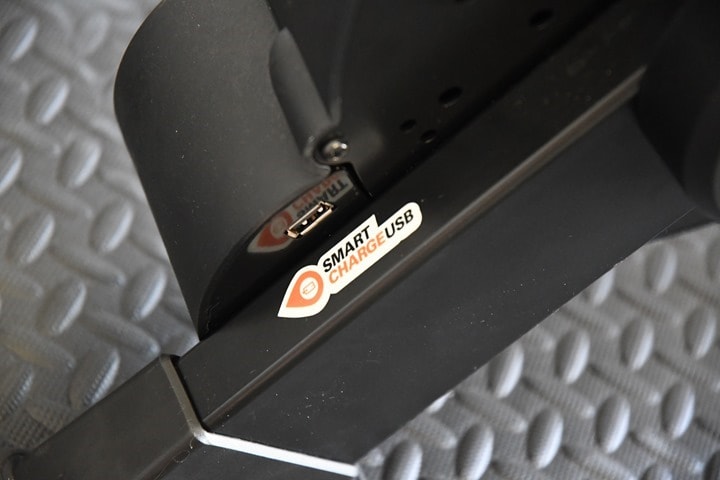 Of course, being where it is, the port isn't exactly in the greatest spot on earth, but it's handy nonetheless. If you had accessories like bike lights, you can leave a cable there and just charge them while they were still on the bike.  In my case, I didn't have a USB-C cable quite long enough to charge my rear Cycliq Fly6 CE light, otherwise it would have been perfect.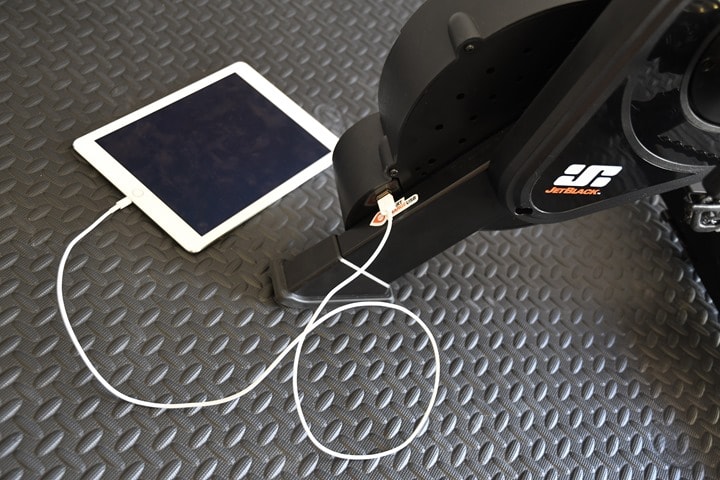 But I did oddly enough charge a Di2 battery for another bike using it. I'm not exactly sure how much it charged it…but it's the thought that counts.
Next, before we talk pairing too much – what about noise levels?  After all, the unit is named the WhisperDrive Smart.  Thus, one might imply it's quiet.  But that's definitely not the case.  The noise coming off the unit is louder than a Wahoo KICKR 3 (2017), not massively so, but certainly not quieter. Here's a really crude noise test I put together on the two of them. Note all the usual caveats in the video itself.
Now a minute back I mentioned pairing, and that's an important area to dive into.  The unit transmits itself as two core items:
1) Bluetooth Smart Trainer (kinda FTMS, but not working yet)
2) ANT+ FE-C trainer
And that's it.  It does NOT transmit as a normal Bluetooth or ANT+ power meter at this point.  That matters if you typically record your rides on secondary devices, or with secondary apps.  For example, I always record my Zwift rides on a Garmin bike computer.  But I can't do that now.  That's because while the Edge could connect via ANT+ FE-C, that would conflict with Zwift controlling it.  Whereas typically I just pair the Edge to the power meter portion and it passively records.
Similarly, if you're one that uses second training apps in addition to Zwift, many will let Zwift connect to their trainer passively via just the standard power meter transmission.  This allows them to use TrainerRoad or what-not for their actual workout, while gathering XP (Experience Points) on Zwift in the background.  You can't do that here.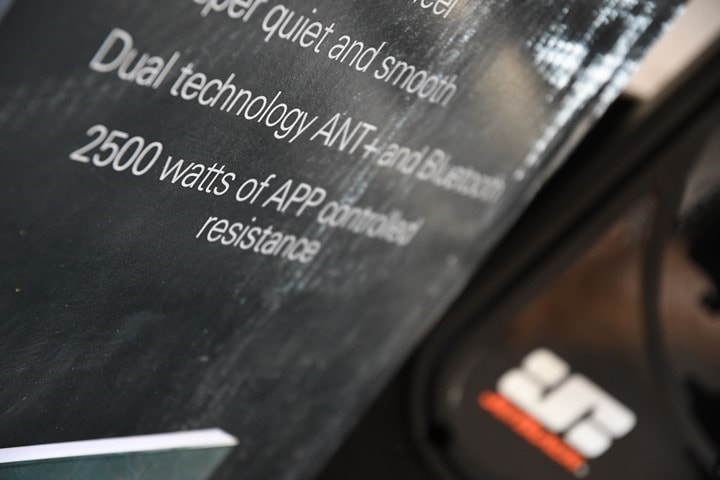 But that's actually not the biggest issue.  That instead comes from Bluetooth Smart, where it simply doesn't work well.  For example, when I went to pair it via Bluetooth Smart to TrainerRoad, it sees it as a cadence sensor (which means it won't control the trainer):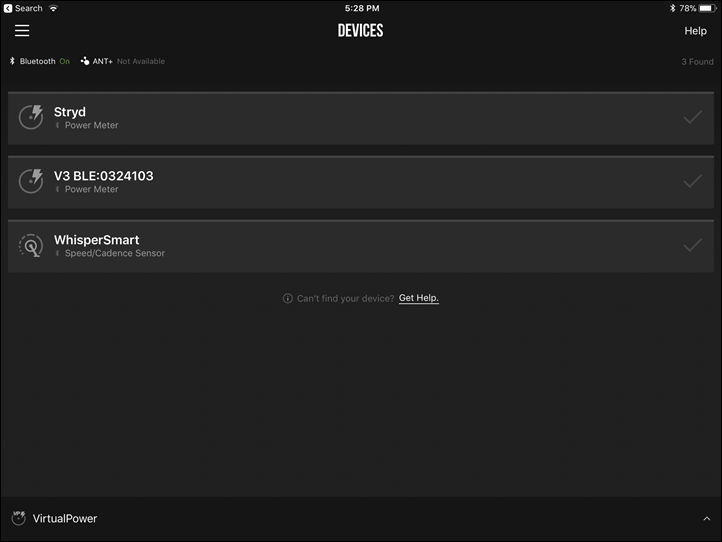 Inversely, I could pair it via Bluetooth Smart in Zwift, but then it stopped working after 2 minutes (every time).  The company says they haven't seen this though, and it may be something wrong with my unit.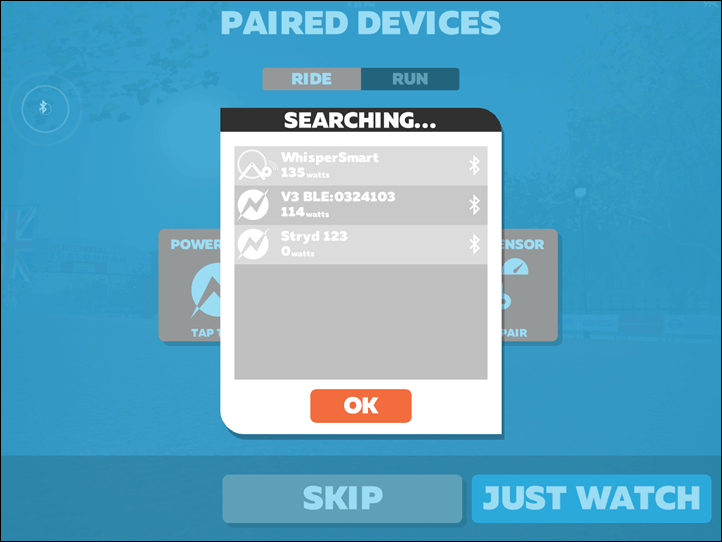 You can see below that my cadence (broadcast from my power meter, but only connect as cadence), shows me pedaling, yet wattage from the trainer is zero: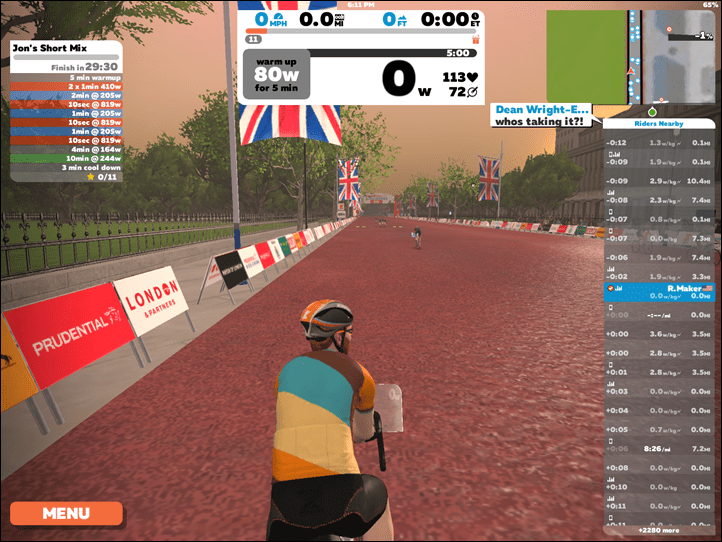 So I switched over to ANT+ on my laptop, first with TrainerRoad, and that paired nicely: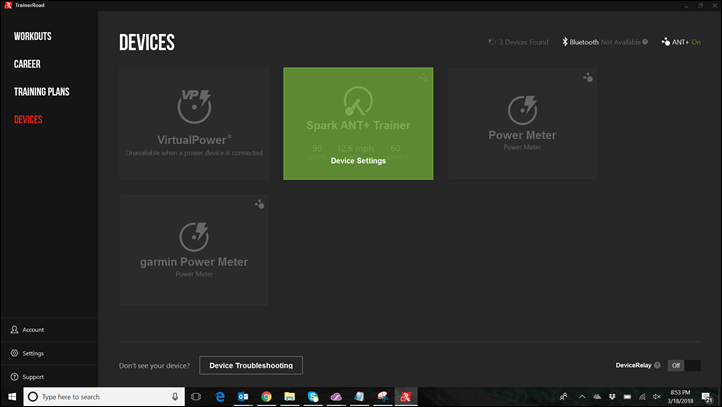 But then I tried to do a calibration of the unit (spindown/rolldown/etc…), and that failed.  It actually disconnected the trainer.
There was no calibration option for this trainer via Bluetooth Smart, and none via their app either.  And as you'll see – that's kinda a problem.
Circling back to the protocols bit, in my mind a trainer in today's world must do four things, and two things perfectly well:
A) Support Bluetooth Smart FTMS
B) Support ANT+ FE-C
C) Broadcast ANT+ power (speed too, cadence optional)
D) Broadcast Bluetooth Smart power (speed too, cadence optional)
These are the two standardized trainer control protocols that everyone uses, plus the two standardized power protocols.  One should implement these properly, and seek out help from trainer app companies to validate their trainer is working properly.  As such, a baseline I test for is the following:
A) Zwift functions on both iOS (Bluetooth Smart) and PC (ANT+)
B) TrainerRoad functions on both iOS (Bluetooth Smart) and PC (ANT+)
Sure, you can swap out Android in place of iOS, and Mac in place of PC – but that's sidestepping the point.  The point is validating that both Zwift and TrainerRoad work on both ANT+ & Bluetooth Smart. End of story.  Plus, TrainerRoad is well known for helping companies navigate some of the trainer standard waters (and Zwift to a degree as well).  After all, they want their platform to work on as many trainers as possible, assuming you color within the FTMS/FE-C lines.
Beyond that though, many companies do actually also transmit other things.  For example, Tacx transmits out each trainer as both ANT+ & Bluetooth Smart Speed and Cadence sensors, which is kinda nice for lesser capable bike computers.  And some trainers also determine and broadcast cadence within the power meter transmission.  Those are all nice to haves, but not required.
Finally, things like protocols may be boring to talk about – but ultimately it's actually almost all you care about.  You just don't know you care about it. Without these protocols your favorite apps won't work with your trainer.  As was the case here, I couldn't use TrainerRoad with my iPad, and on Zwift I couldn't calibrate it either.
Power Accuracy and Responsiveness: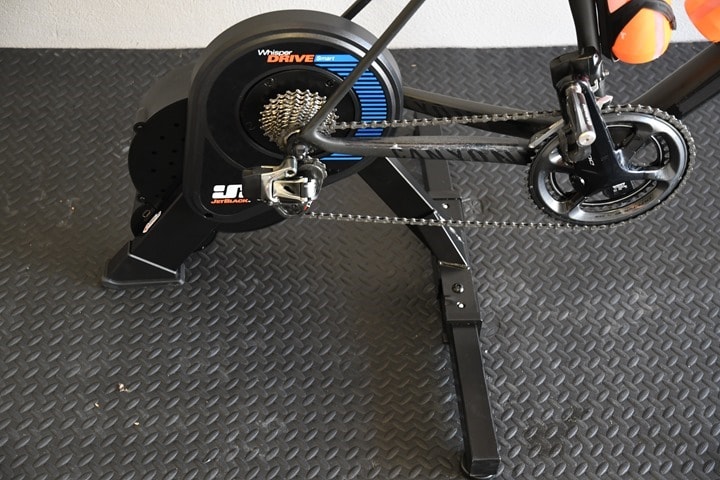 Typically I start this section by detailing quite a bit about how I do accuracy testing on trainers, varying the bikes and power meters involved, as well as the apps and control protocols.  But in this case we're just going to start.  Not because those things don't matter, but in the context of what I (and others) are seeing…well…they honestly don't matter.
First up, my standard 30×30 test using TrainerRoad.  This is a simple but highly effective ERG mode workout I designed that briefly builds the intensity before alternating power hard and easy for 30-second durations, eight times repeated.  It's an abbreviated version of a very standard 30×30 cycling workout.  In this case, the recovery wattage is set at 142, and the interval wattage at 428w (the blue blocks). Here's the result:

As you can see, it's pretty bad (the yellow line is the trainer setting the power).  There's a few core things going on:
A) It is unable to provide the proper resistance below ~200w: This is largely due to gearing, but on most trainers this isn't really an issue until you get down to the 70-90w range (then gearing is more of a problem).
B) The initial responsiveness is 3-7 seconds at start of an interval: This isn't horrible, but it's not awesome. It's just 'meh'.
C) It can't hold the interval wattage (period): You'll notice it oscillates three times for each interval – spikes upwards of 620w and then down to 270w during the interval itself. It should be flat-lined at ~428w.
Even at the end of the workout where it had a minute or so to stabilize, it's still oscillating wildly. So basically, it's not at all the structured workout I've laid out.  Now, less you think I or TrainerRoad are alone here, Shane Miller of GPLama found the exact same thing on ERG mode in Zwift too using the Whisper Drive Smart.
For just random comparison, here's that same 30×30 test conducted on the less expensive Tacx Flux trainer:

You can actually find all my 30×30 tests over on my TrainerRoad here (the ones from 'Ray' are me), for those that are interested (all of them are labeled by trainer).
Next, we went over to Zwift.
[Actually, I did a bunch of rides on Zwift, but usually the trainer would stop responding after 2 minutes, so we'll skip all those.  And I also did rides last month – but those too had accuracy issues on spikes, so we'll skip those too for the moment, and just go with yesterday's ride.]
On Zwift I added the trainer as FE-C and got cooking. This was immediately following the TrainerRoad test above (like, 5 minutes later immediately), so as such the trainer should be nice and warmed up, especially since I did a bunch of aimless testing before the TrainerRoad session.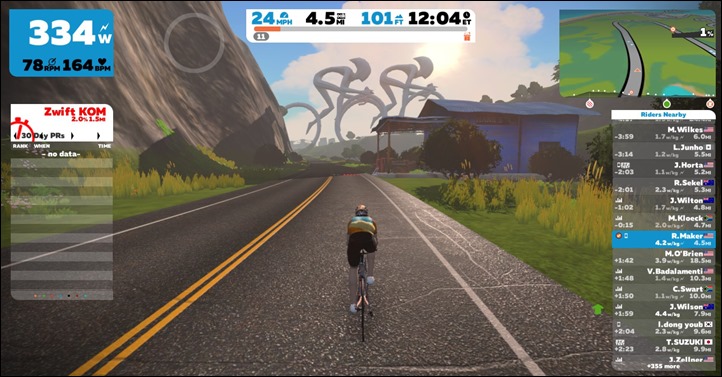 Some thirty minutes later of Watopia, here's what my power graph looked like:

At first glance, it might appear kinda close, but let's add 10-second smoothing to make it easier to see in the graph:

And thus, it's immediately obvious. The JetBlack is drifting higher as the session goes on – upwards of about 50w. Whereas the Vector 3 pedals and Shimano crankset power meter are perfectly together the entire time.
But that doesn't exactly tell the whole story.  Instead, there's a few things you should know:
A) I almost took home a segment leaderboard: Except I didn't, because I stopped pedaling at the top.  That's because my wattage was over 50w higher than reality…while not pedaling hard.  So I slowed down to barely pedaling near the finish line, to not steal that away from someone that might have tried.
B) I tried sprinting: But even in my biggest (hardest) gear combination, I quickly spun-out, which means I ran out of resistance during a short 13-second sprint – you see that around the 24 minute marker.
C) I shouldn't be able to do either A or B: I'm not a cycling powerhouse.  I can't hit above 1,000w unless assisted by a malfunctioning power meter.
D) The trainer stopped responding to incline commands: After about 22-25 minutes, somewhere in there it stopped changing the grade of the trainer – so it just became flat. It was still transmitting power, even cadence (which is often wonky, btw), but was no longer matching the terrain I rode over.  That's why it looks so 'level' in those areas.
And thus at 30 minutes I decided to end things.  With the app no longer controlling my trainer in any meaningful way, and the trainer not accurate, there wasn't much point to continuing.  Plus, I was hungry for lunch. And again, remember this was with the latest firmware after the previous firmware I was testing had numerous power spike issues (allowing me to set personal records close to 2,000w).
Trainer Comparison:
While this review is considered interim until they can sort things out, I did at least load the trainer into the product comparison tool for trainers.  This allows you to see the full lineup of specs, and how it compares to other trainers on the market.  For context, I went ahead and put in ones that I thought were roughly competitors.  This meant the Wahoo KICKR, CycleOps Hammer, Tacx Flux, and the Elite Direto.  Note you can mix and match any trainers I've reviewed or ridden in the product comparison tool here.
Function/Feature

JetBlack WhisperDrive Smart

CycleOps Hammer
Elite Direto (2018)
Tacx Flux 1
Wahoo KICKR V3/2017
Copyright DC Rainmaker - Updated May 11th, 2021 @ 4:00 am New Window
Price for trainer
$1,099
$1,199USD
$849 ($799 for 2017 models)
$799USD/€799
$1,199
Trainer Type
DIRECT DRIVE (NO WHEEL)
Direct Drive (no wheel)
Direct Drive (No Wheel)
Direct Drive (no wheel)
Direct Drive (No Wheel)
Available today (for sale)
Yes
Yes
Yes
YEs
Yes
Availability regions
Global
Global
Global
Global
Global
Wired or Wireless data transmission/control
Wireless
Wireless
Wireless
Wireless
Wireless
Power cord required
No (none at all)
Yes
Yes (no control w/o)
Yes
Yes
Flywheel weight
6.5KG/17.5LBS
20lb/9kg
4.2KG/9.2LBS
6.7kg (simulated 25kg)
12.5lbs/5.7kgs
Includes cassette
No
No
No
Yes (11 Speed SRAM/Shimano)

Resistance

JetBlack WhisperDrive Smart

CycleOps Hammer
Elite Direto (2018)
Tacx Flux 1
Wahoo KICKR V3/2017
Can electronically control resistance (i.e. 200w)
YEs
Yes
Yes
Yes
Yes
Includes motor to drive speed (simulate downhill)
No
No
No
No
No
Maximum wattage capability
2500w
2,000w
1,400w @ 40KPH / 2,200w @ 60KPH
1,500w @ 40KPH
2500w @ 30MPH
Maximum simulated hill incline
16%
20%
14%
10%
20%

Features

JetBlack WhisperDrive Smart

CycleOps Hammer
Elite Direto (2018)
Tacx Flux 1
Wahoo KICKR V3/2017
Ability to update unit firmware
Yes
Yes
Yes
Yes
Yes
Measures/Estimates Left/Right Power
No
No
9EUR one-time fee
No
No
Whole-bike physical gradient simulation
No
No
With KICKR CLIMB accessory
Can directionally steer trainer (left/right)
No
No
No
No
No
Can rock side to side (significantly)
No
No
No
Can simulate road patterns/shaking (i.e. cobblestones)
No
No
No
No
No

Accuracy

JetBlack WhisperDrive Smart

CycleOps Hammer
Elite Direto (2018)
Tacx Flux 1
Wahoo KICKR V3/2017
Includes temperature compensation
N/A
Yes
N/A
Yes
Yes
Support rolldown procedure (for wheel based)
Yes
Yes
Yes
Yes
Yes
Supported accuracy level
+/- 5%
+/- 3%
+/- 2% (Sept 2018 models, +/- 2.5% for earlier models)
+/-3%
+/- 2%

Trainer Control

JetBlack WhisperDrive Smart

CycleOps Hammer
Elite Direto (2018)
Tacx Flux 1
Wahoo KICKR V3/2017
Allows 3rd party trainer control
Yes
Yes
Yes
Yes
Yes
Supports ANT+ FE-C (Trainer Control Standard)
Yes
Yes
Yes
Yes
YEs
Supports Bluetooth Smart FTMS (Trainer Control Standard)
Sorta
Yes
Yes
Yes
YEs

Data Broadcast

JetBlack WhisperDrive Smart

CycleOps Hammer
Elite Direto (2018)
Tacx Flux 1
Wahoo KICKR V3/2017
Transmits power via ANT+
No
Yes
Yes
Yes
Yes
Transmits power via Bluetooth Smart
No
Yes
Yes
Yes
Yes
Supports Multiple Concurrent Bluetooth connections
No, just one
No, just one
No, just one
No, just one
Transmits cadence data
Yes
Yes
No

Purchase

JetBlack WhisperDrive Smart

CycleOps Hammer
Elite Direto (2018)
Tacx Flux 1
Wahoo KICKR V3/2017
Amazon
N/A
Link
Link
Link
Link
Backcountry.com
Link
Link
Link
Link
Link
Chain Reaction Cycles
Link
Link
Link
Link
Link
Competitive Cyclist
Link
Link
Link
Link
Link
REI
Link
Link
Link
Link
Link
Wiggle
Link
Link
Link
Link
Link

DCRainmaker

JetBlack WhisperDrive Smart

CycleOps Hammer
Elite Direto (2018)
Tacx Flux 1
Wahoo KICKR V3/2017
Review Link
Link
Link
Link
Link
Again, remember you can mix and match any trainers I've ridden or reviewed in the product comparison tool.  There's tons of them in there.
Summary: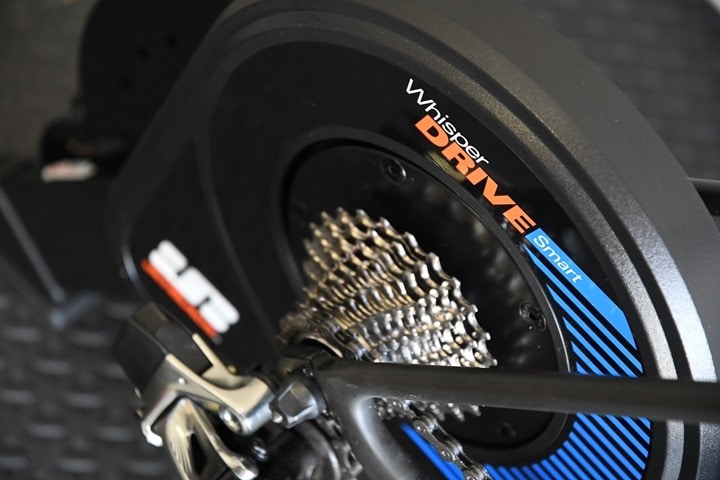 There's no doubt the road for JetBlack has been long with the WhisperDrive. They showed it way back at Interbike 2016, and then it made appearances in 2017 at trade shows, and finally started shipping in early 2018.  But at this point that road isn't yet done being paved, despite the product being out in the wild. I found units in numerous local bike shops during my stay in Australia.
I do think the company can likely address all of these issues with software updates, though I don't think that'll happen overnight (or next week). Realistically I suspect it'll take until May or so to chug through these issues and protocol gaps.  The pricing will also likely be a bit of a challenge going into the 2018 trainer season, especially when competing against both the Tacx Flux and Elite Direto which have higher accuracy claims.  Though, both of those trainers require power and the JetBlack unit doesn't need an outlet, which may be valuable for some folks.
As I noted at the beginning – I'll happily circle back to this unit once they believe these issues are addressed.  They've offered to send out another one to try once that time occurs. I want to see as many competitors in the market as possible, especially ones from other continents that may make trainers more reasonable in certain geographies (read: Australia).
Finally – speaking of trainers, remember that Eurobike is about 45 days earlier this year – now in early July. As such the entire 'new trainer continuum' has been moved up, at least for announcements.  Virtually all announcements for trainers occur at Eurobike, or in the month or so leading up to it.  This year won't likely be any different.
With that – thanks for reading!