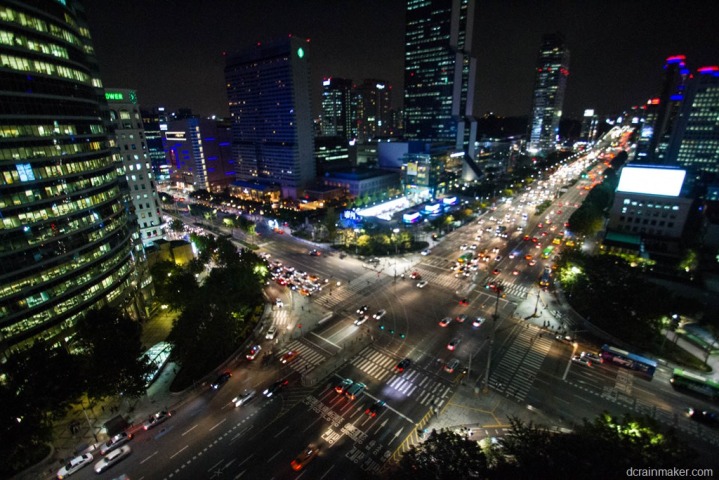 It's roughly midnight, and I've been asleep for two hours.  Well, was asleep.  For reasons unclear to me, my body thinks it's time to to wakeup.  Clearly, it's confused.  Nonetheless, traffic continues to bustle outside – a never ending surge of cars, busses and taxis 14 floors below my room.
I manage to fall asleep though, bringing me to about 4AM.  This was longer than the day before, but by only 30 minutes.
At this time, the streets are largely deserted – a far cry from a few hours before.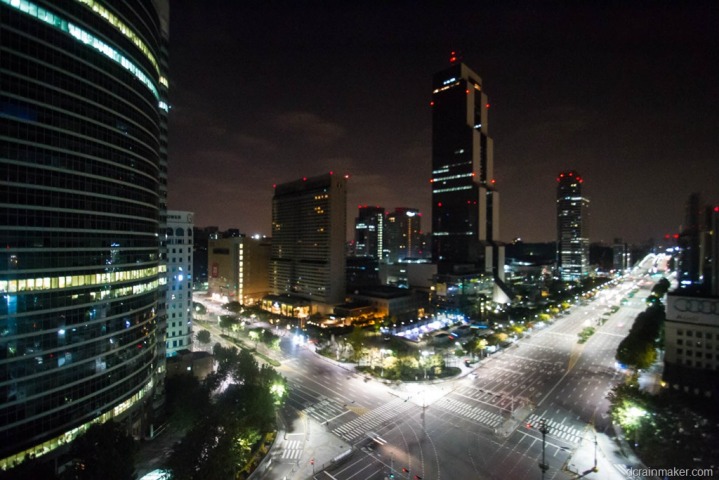 Lacking anything better to do, I plot a run.  On Tuesday morning I went ahead and just went to the hotel gym at 4:45AM.  This time though I wanted to get out and explore the city.  But as much as I wanted to do that, 4AM didn't seem like a wise time to do so.
So instead I watched Gangnam Style YouTube videos (parodies).  After all, the video was specifically about people living in the neighborhood I was now occupying – the Gangnam District.
Eventually the sun started to rise and it was time to hit the road.
The hotel has little runner map cards that show you a couple of easy to follow routes, so I grabbed one and figured I'd give it a shot.
Interestingly, just in front of the hotel lobby was a bike station.  While similar to bike stations I've seen in other cities (like Washington DC), this one actually had full blown all encompassing lockers for your bike.
With the bike station detour complete, I headed out.  Only about half a kilometer later I'm down on a bike and running path.  This particular area isn't terribly scenic – but it is free of traffic and congestion.  Though at 6AM there wasn't much congestion even in the city.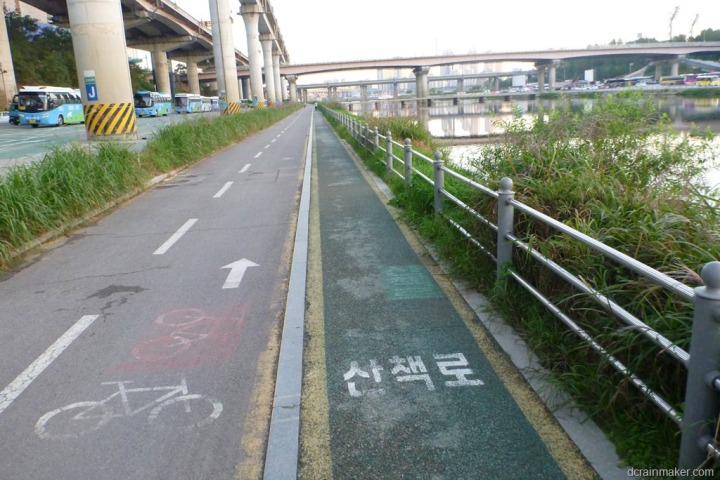 After running along a feeder canal, I hit a bit more open water, and merged onto a far busier bike path.  Based on my various vehicular trips over the past few days, this particular path goes a heck of a long ways.  Like, a gazillion miles or so.
This morning it was packed full of folks bike commuting, as well as plenty of locals out for a walk or jog.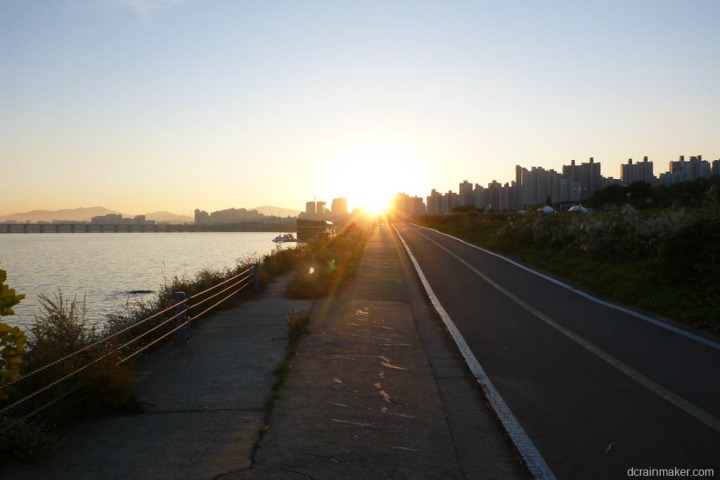 Interestingly, along the path there were numerous little 7-11-like convenience stores.  Some were near other parks, but I saw others that were simply by themselves – including one that was actually a legit mini 7-11 on a bike path nowhere near any parks.
Quite frankly – this is brilliant.  Who wouldn't want a trailside Slurpee on a hot day?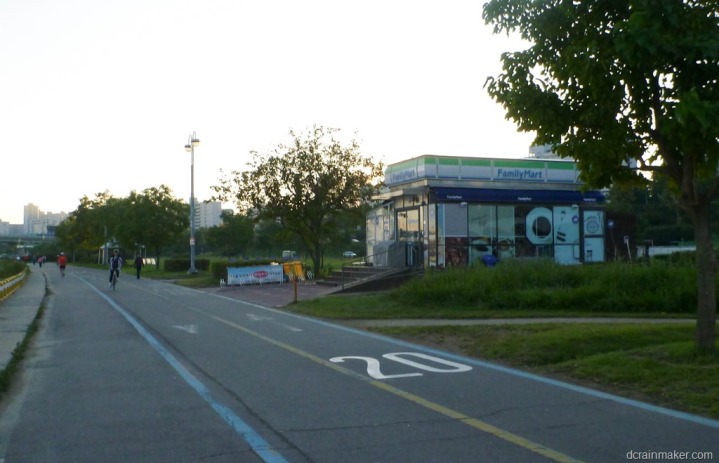 Regrettably, at this time of the morning, it wasn't open.  And even then, it was a bit chilly out – so a Slurpee (or similar) probably wouldn't have been too appropriate.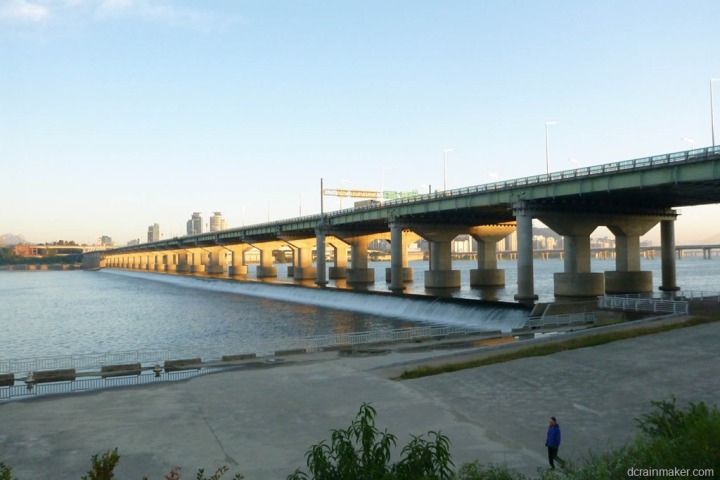 And then I found a giant fish head.
Naturally, it required a photo.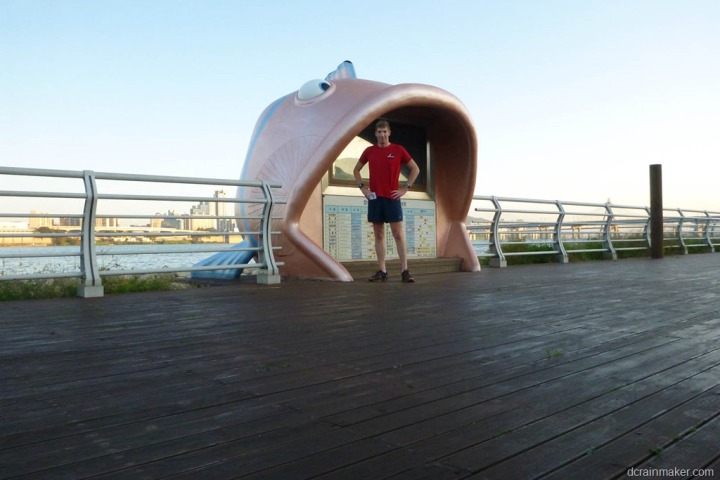 The fish head actually had information about the fishing rules for the area.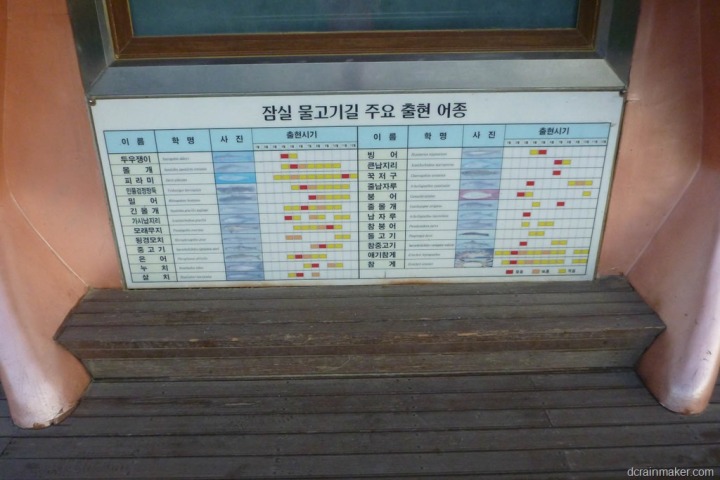 And right behind the fish head was a fish ladder of sorts.  It wasn't clear if folks were actually allowed to fish in the fish ladder, which would seem to be sorta like…uhh…shooting fish a barrel.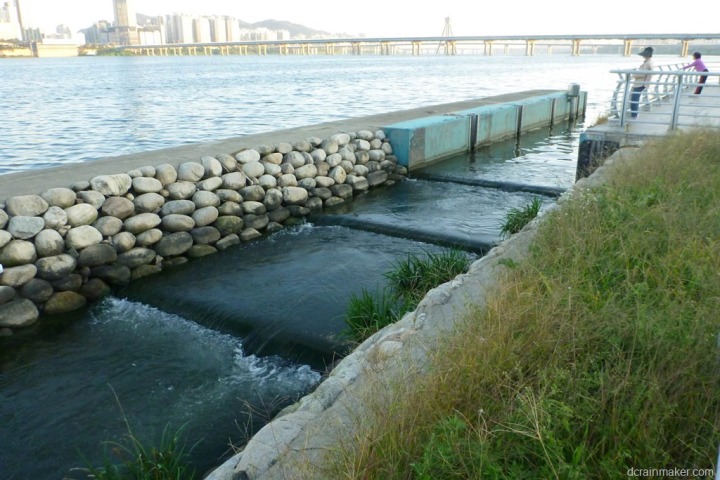 Fish heads behind me, I looped into a rather gardenesque area of the path – which even had flower and plant markers along the way.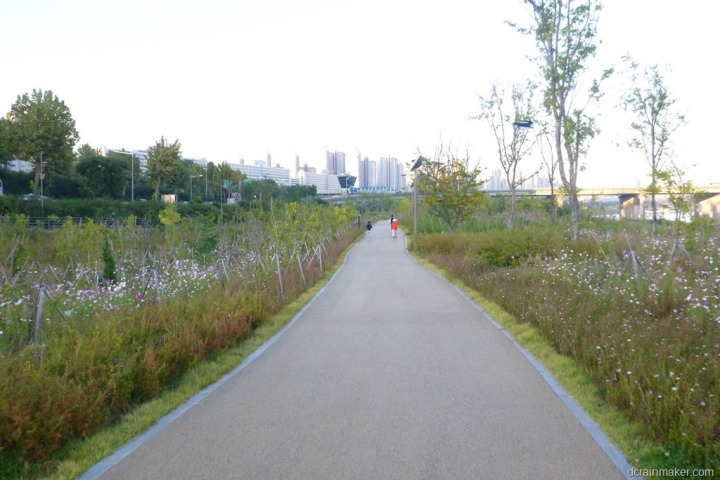 For those curious about technology, I was running with the Alpha optical HR watch, which was transmitting the data via ANT+ to the Garmin Fenix.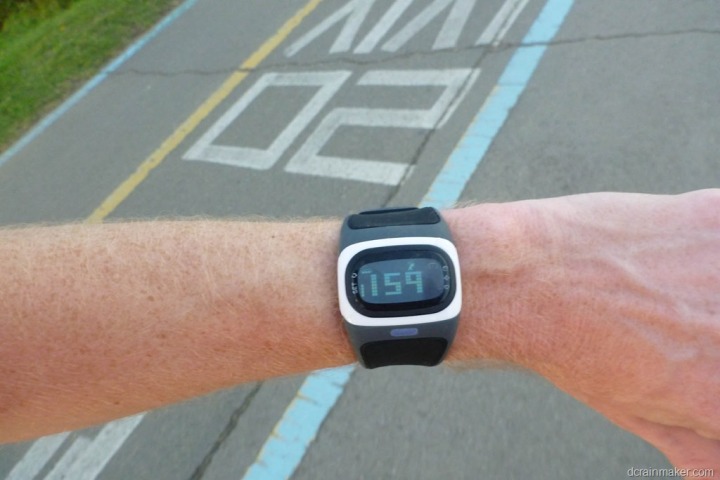 The Alpha worked great the entire time.  The Fenix, not so much.  It randomly crashed twice, causing me to wait for it to wake up again.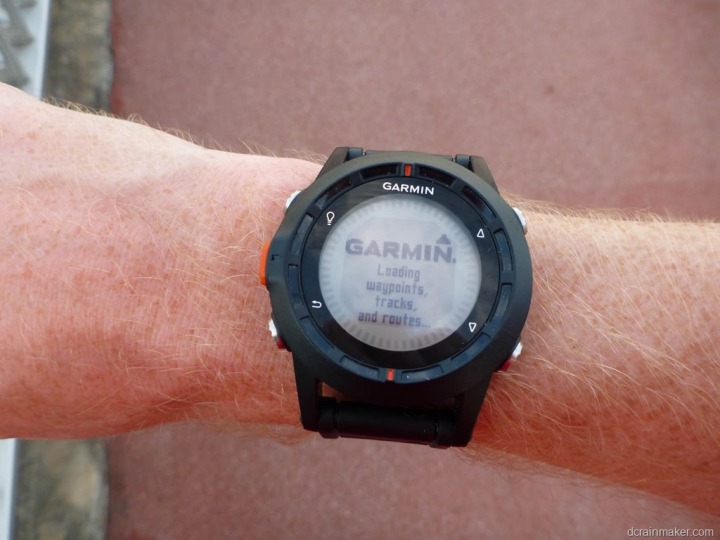 As I made my way back, I decided a change in plan was required.  Anytime you see an Olympic Stadium, a diversion should always be in order.  I dipped through a bit of a tunnel and found my way into the Olympic Park, home of the 1988 Olympic Games.  Inside, the well worn informational map of the park: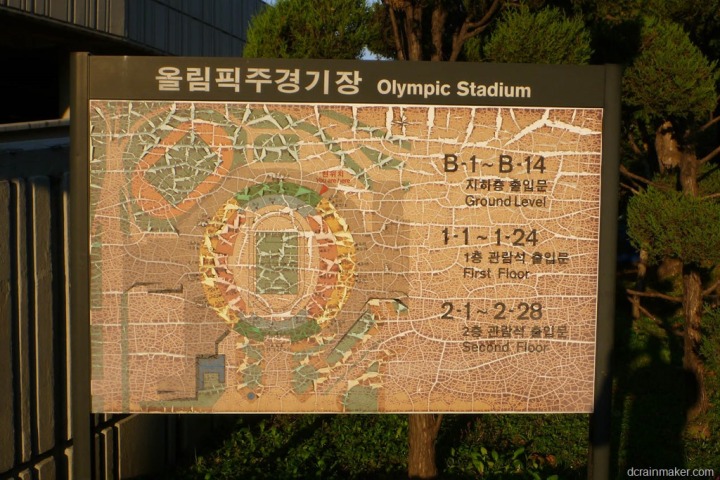 From here I ran up the ramps to the actual stadium.  I was somewhat surprised there weren't any sort of blockers here – but it was pretty cool.
As you can see above, the stadium has a bit of a running path/track looping around the outside of it.  Well, most of the outside of it.  It makes a u-turn at one point where a baseball/softball field seems to have been randomly placed.  They were courteous though enough to make a smooth turnaround rather than just end the path.  Nice touch!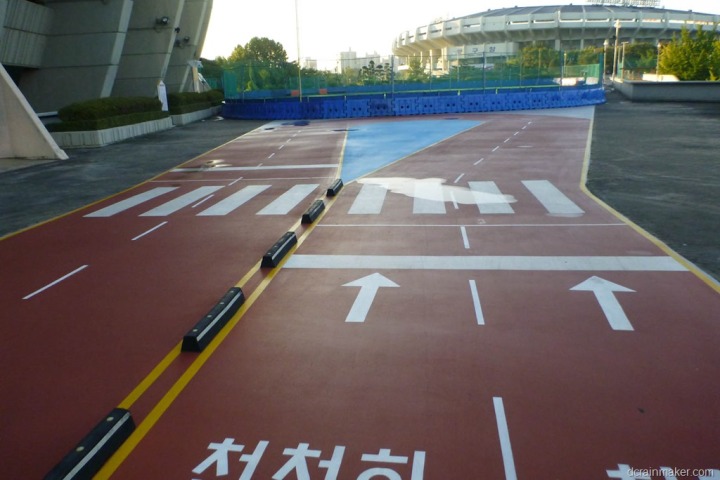 As I thought about my little running route card, it was a bit funny that they didn't include something as important as the Olympic Stadium on the route.  Seems perfect for any runner!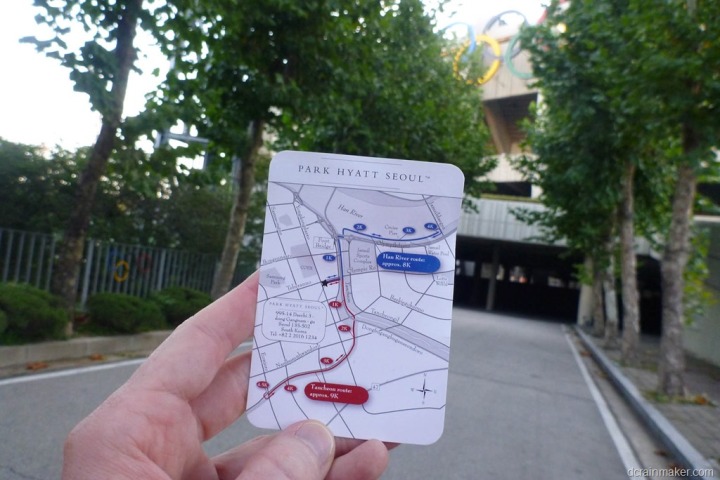 As I wandered around, I ended up below the edge of the stadium (thus below where the photos above were taken).  In doing so, I found the warm-up lanes for both the long jump, as well as four 100m long warm-up lanes.  Pretty cool.  My photo is horrible below, mostly because it was pitch black down there and I had to use my camera's flash.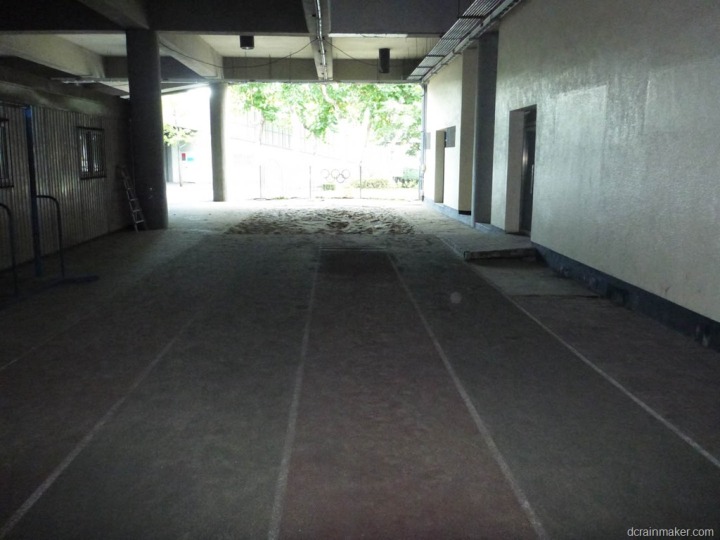 As I exited the under-stadium area, I entered a warm-up/practice track.  You can see the entrance in the stands behind me in the photo below.  This full sized track also included a full sized field inside of it.  I did a single loop simply to say that I likely ran in the same place as virtually all of the Seoul Olympic game runners (doing their warm-ups/pre-event workouts).
I headed back under the bleachers (to where the warm-up lanes were) and found the below.  Clearly, there was no way I wasn't going to take a photo of it.  Those characters were everywhere around the Olympic park.  I believe they were the Olympic mascots that year.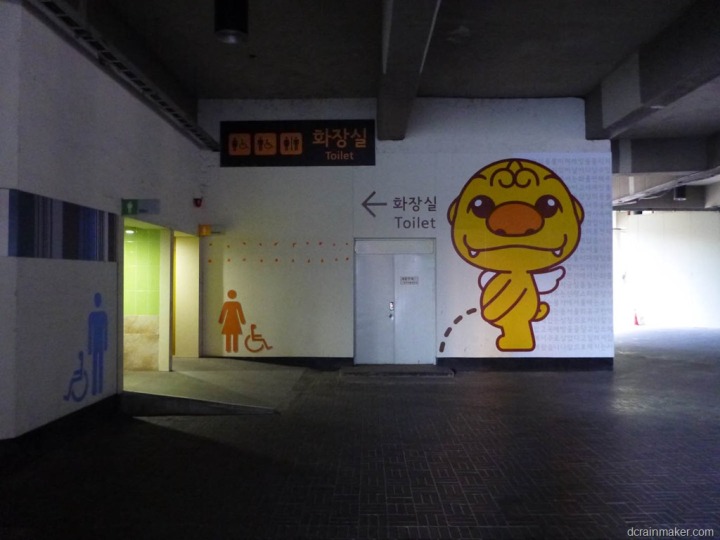 After enough running wandering around (about 10K), I decided to leave the Olympic Park behind and head back to the hotel.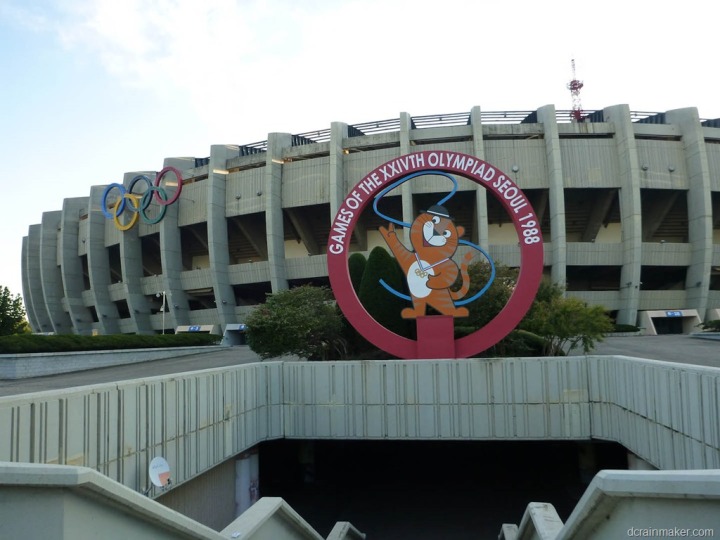 As I crossed one last bridge, it was hard not to notice the mountains to the north bathed in sunlight, and wonder what goes on just a few miles beyond that into North Korea.  One thing's for certain though: I'm guessing they don't have a gigantic Olympic Mascot randomly peeing on a doorway.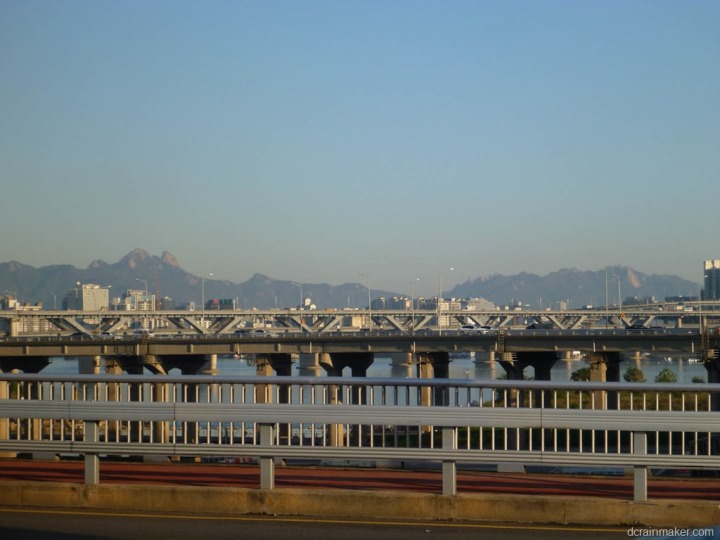 Another short kilometer later and I was back into the city and navigating the busy streets and tall buildings.  My satellite signal held well though.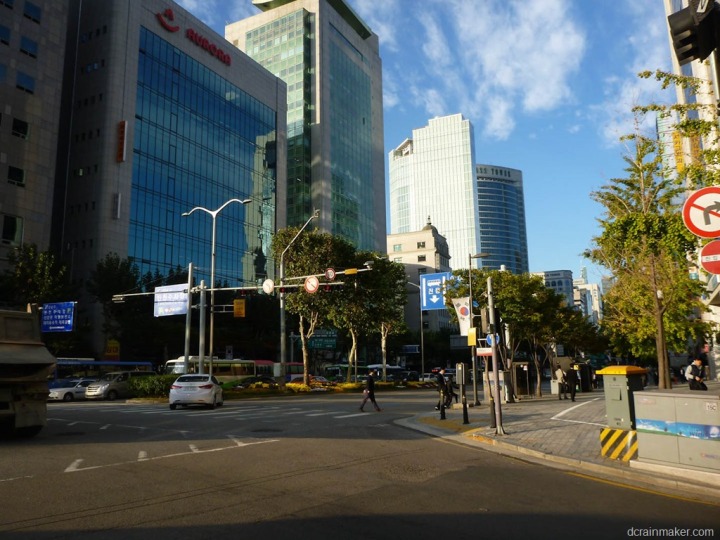 And before I knew it I was back up 14 floors above it all, looking once again on the world flying by below.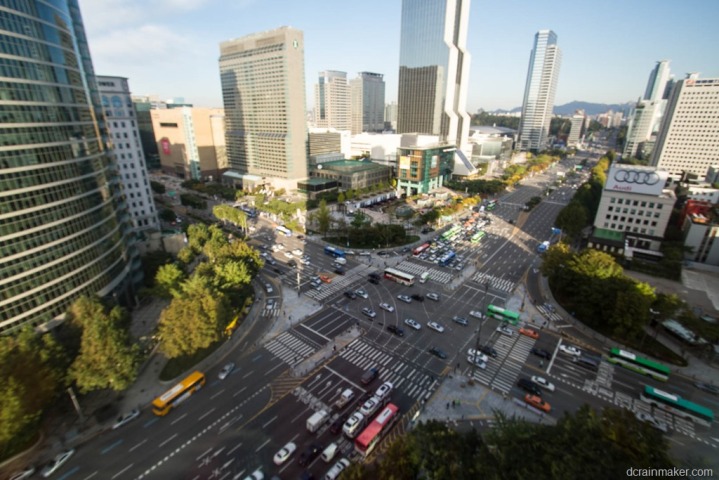 With that, I'm about to fly for 14 hours back to Paris for the weekend.  Thanks for reading all!