This is a super-quick post, merely because I wanted to draw attention to it before this weekend (as doing it afterwards would be silly).
Long-time readers may remember that I've ranted in the past about both the quality and pricing of sports photography at races.  In general, the situation hasn't changed much.  While there's likely an even greater influx of photos being taken on courses now by non-official photographers – it's unlikely that many of those photos are making it to the athlete being photographed.
A reader and friend of a friend reached out to me last week to let me know that he had read my post years ago and finally did something about it, creating 'Crowdpixel' – targeted specifically at endurance events.

The concept is simple: You can signup as a photographer, take photos on the course (or anywhere I suppose, perhaps one of Steve in a Speedo's Portapotty shots), tag the people in the photos, and then folks can later turn up to buy your photos.
The prices seem reasonable looking at one of the pages for a recent half marathon – $4-8 for image download (medium and high resolution) and even the same price for print.  Though while there were 700+ images of this particular event, they do mostly appear to be from one vantage point.  Like the Apple AppStore, Crowdpixel splits the revenue with the photographer.
Ultimately, at an event like Kona with so many folks out there taking photos (many of them with high quality equipment), you could probably get both great photographic quality, as well as diversity in shots.  Though in reality, anyone with a camera could upload (especially useful for Ironman finish line shots, which tend to be more sentimental in nature).
The site allows photographers to group photos into categories like swim/bike/run (customizable), and even specify location/geotagging.  And also contains tools built-in to allow fast tagging of athletes: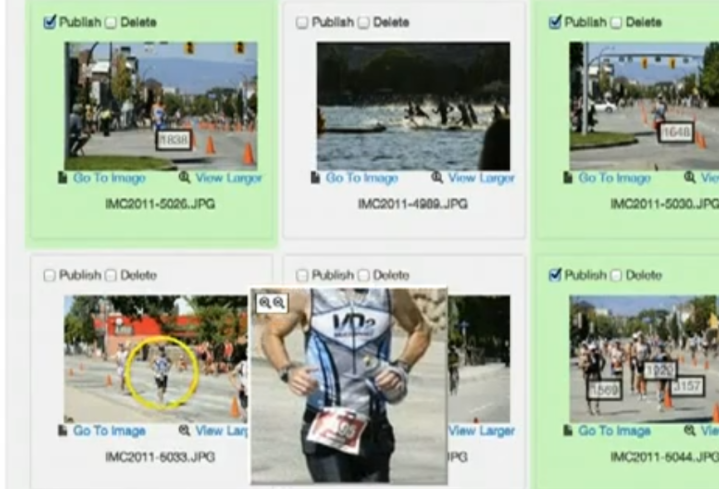 I'd be interested in seeing how this works out, especially for highly populated events like this weekend at Kona.  If you're there, have a camera, and plan to take some photos – swing over to their site and sign-up as a photographer (it's free).  Alternatively, you can do the same as an athlete and be automagically notified when someone tag your bib you in a photo (also free).
I'll check back next week in my Week in Review post and do some random tests on folks that I know are competing and see how things shake out, and if I can find them in photos (and if the photos are worthwhile).
And of course – most importantly – if you're competing this weekend: Good luck!