Yesterday I spent just a touch over 24 hours in Wellington, New Zealand. After landing into Auckland at 4:45AM from Perth (a miserable time for a redeye flight by the way), I then had a quick connection down to Wellington – which is on New Zealand's North Island, but at the Southern tip. I'd be spending the day at work presenting before heading out very early the next morning. I had a 40ish minute run on the schedule, and the day before a reader (Tony) contacted me via e-mail about going for a quick run. After validating paces and trading biometric details, we decided on a 6PM meet-up in front of the hotel. Which, is where this runaround begins.
The hotel was one block away from the waterfront, so we made a beeline for the water and headed on out along the docks.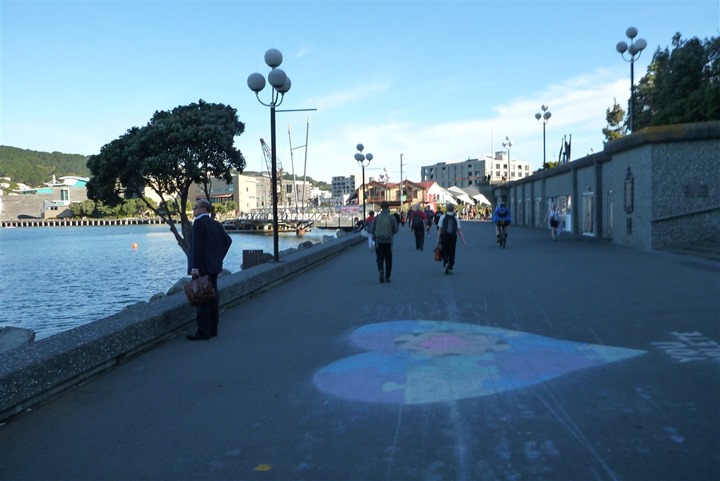 The scene was quite a bit busier an hour or two earlier, likely because not one, but two cruise ships were in port. Including the Queen Mary 2. The other cruise ship, was ironically enough the very ship The Girl and I were on back in November from Dubai to Singapore.
Still, the harbor was full of various boats with people rowing or sailing. And can't blame them – the weather was spectacular!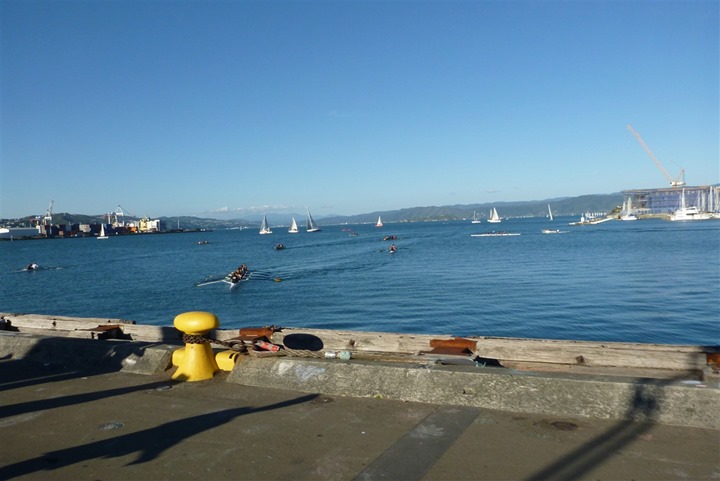 So nice in fact that some people just jumped into the water, no wetsuit at all.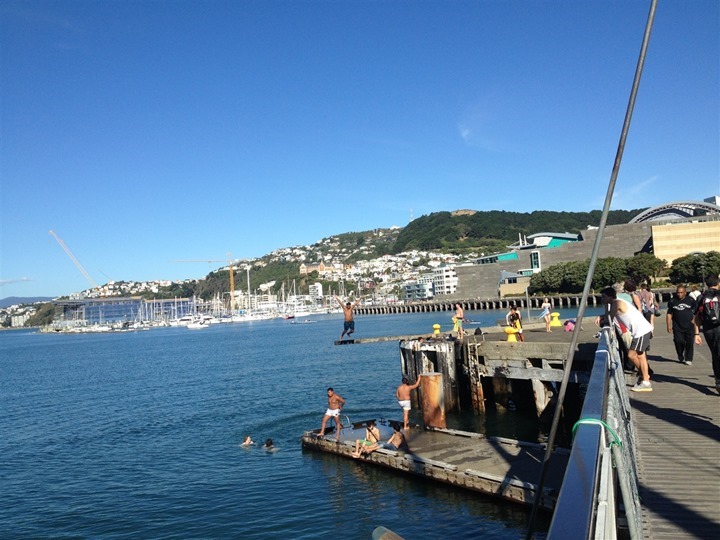 This upcoming weekend is a big race weekend for 'Dragon Boats' – many involving kids and long boats (such as seen below). I noticed from the office building that they were out training quite a bit during the afternoon.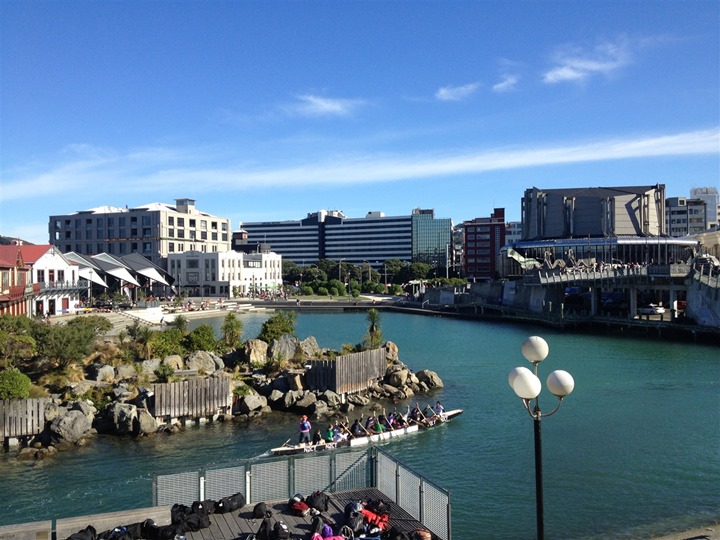 As we rounded the corner there was a gaggle of folks dressed up in wetsuits. This was a splash and dash event of sorts, with a 1,300m swim, and then a short run (sounded like a 5K run). This is a regular occurrence here. Pretty cool especially given we're only talking perhaps 400-600m from the downtown core. Straight from the office to the race.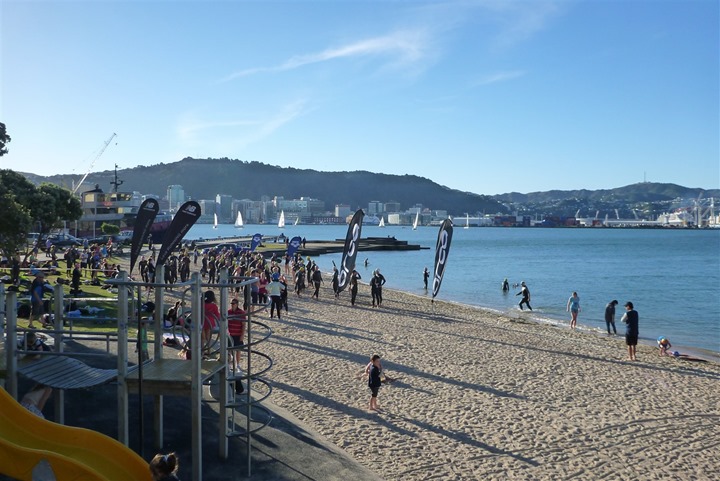 Alternatively, you could just sit on the beach and watch the event. Far less painful I'd say.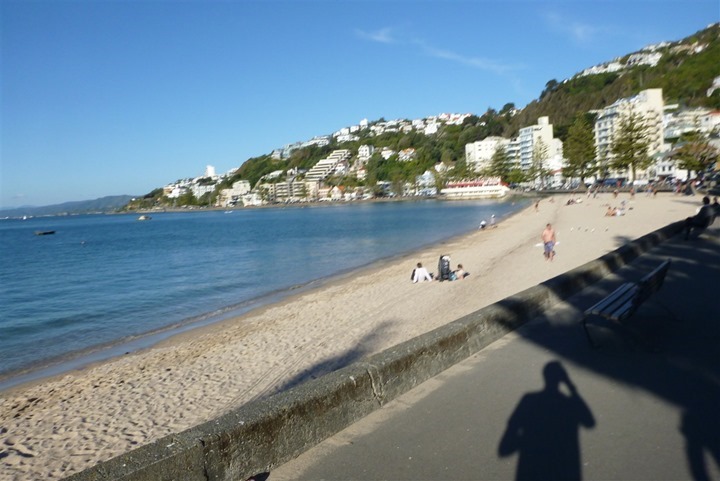 They even had fancy timing mats all setup too – backyard operation this was not. Pretty cool for a weeknight event (Wednesday night).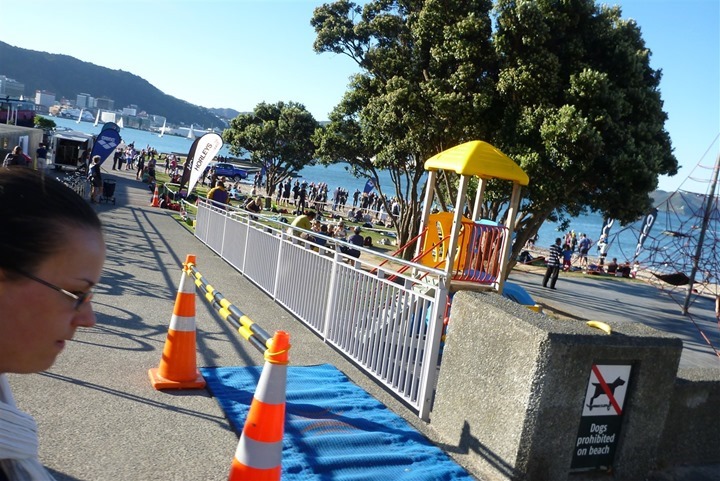 Shortly after seeing the folks in wetsuits Tony led me across the street and over to a small trail. I should have known this was the bad news bears at this point. Here's the situation looking back after just 20-30 seconds of running up this trail.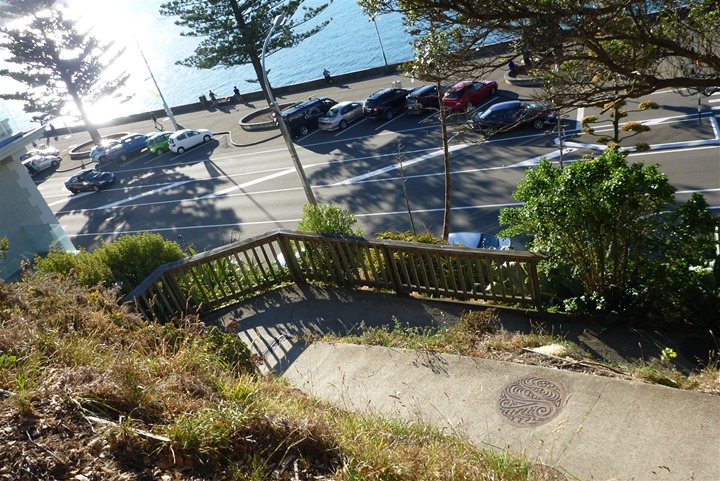 And here's what it looked like looking forward: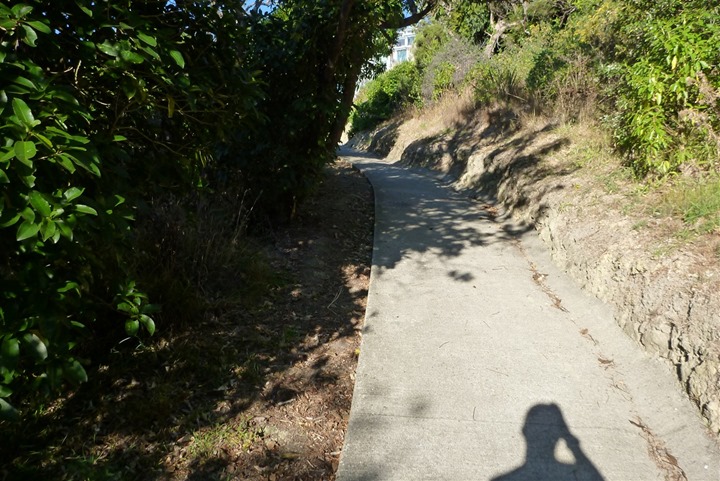 At that incline, it didn't take long to get some nice views though of the harbor:
Though it was sorta hard to notice the views when all I could see was the incline. Of course we both did our best to pretend neither of us was dying as we raced up it. Conversation flowed, but so did air grasping. Up we continued.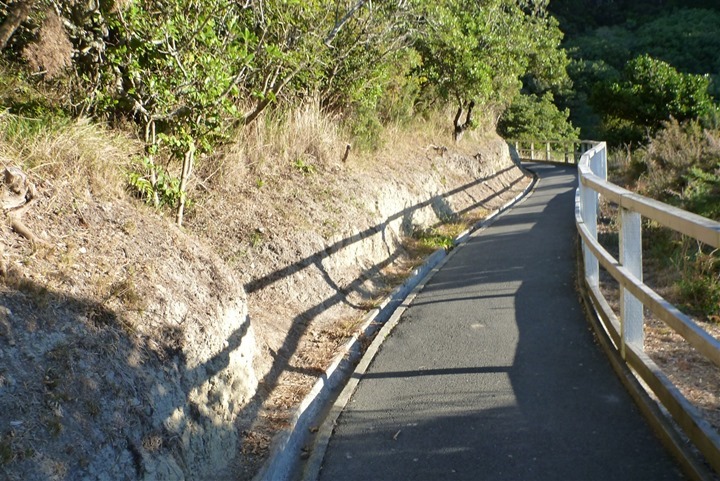 The path was mostly paved, but there were sections with dirt as well. For being so close to downtown, it's really an amazing venue.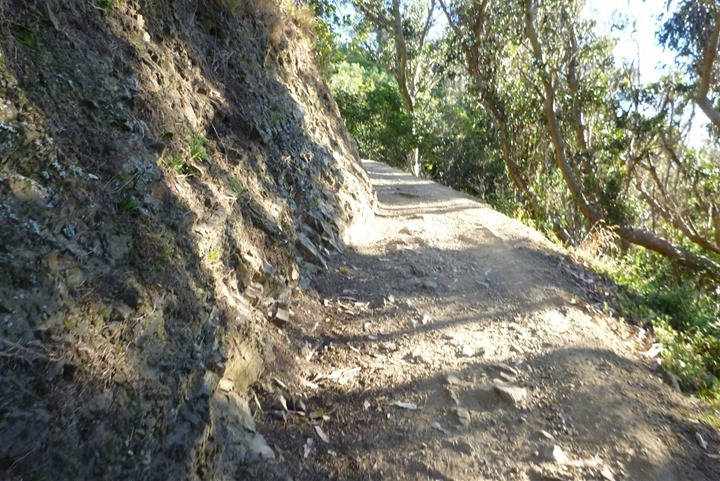 In fact, this might be a good time to introduce the elevation chart. You'll notice that it only takes us 1.5 miles to complete this elevation gain of 600ft (~200m). However, more importantly is that four times during this ascent we actually lose 100ft of elevation gain, thus resulting in repeating our gains again and again. So really, it's like we went up even higher that we did. That's my story and I'm sticking to it.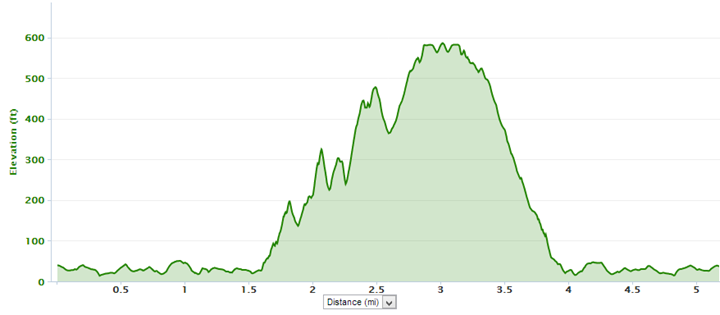 Speaking of going up, fear not, there was more of that. This time, with steps. The steps were brutal to run. And run we did. At a fairly good clip I'd say. Along the flats we were roughly 7/min/mile (roughly a 4:20/km pace). Sometimes a bit faster, but then sometimes a bit slower if crowd avoidance. So while we weren't going that fast uphill, the overall average for the run wasn't too much slower.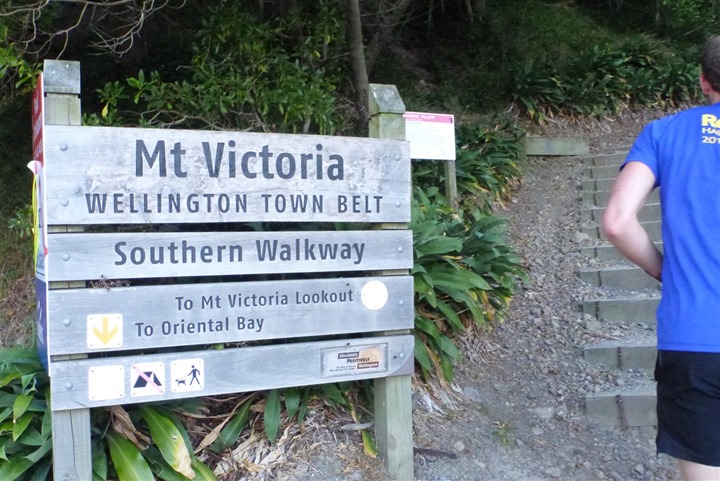 Finally – we found the top!
A rather nice 360* lookout with unobstructed views over the city in every direction. Really cool. You can see the airport out in the distance in between the two splotches of water.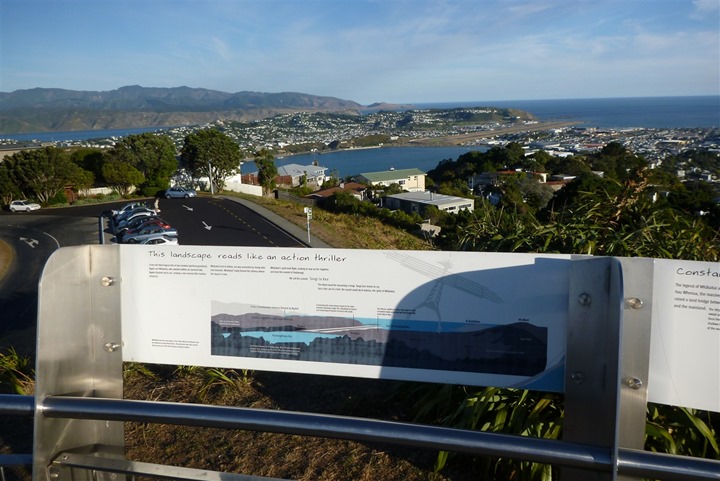 Turning around you can see the city waterfront and the cruise ships to the right. The Celebrity ship is just pulling out of the harbor at this point, and the Queen Mary 2 followed it shortly.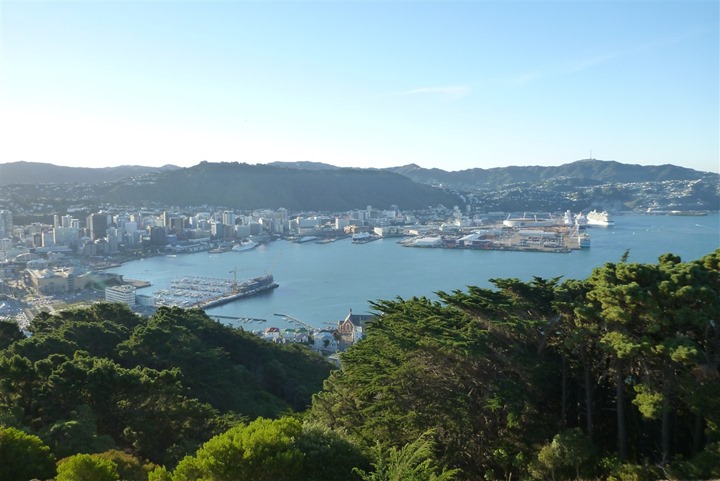 Just to give some context on where we ran, we started at the green dot and worked our way along the coast out a bit and then up the trails to where the red squiggles all bunch together (the peak).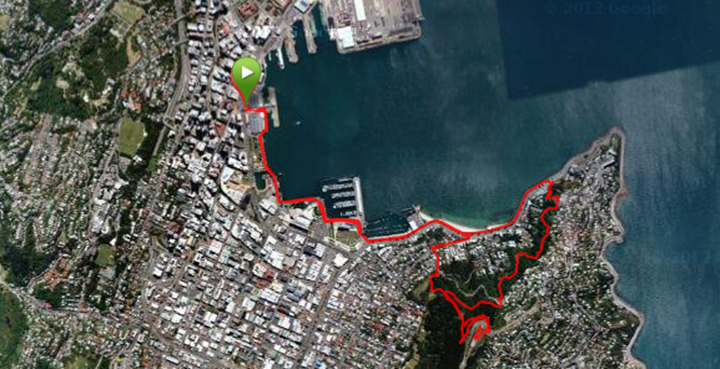 Time to head back down.
We took at different route back down the hill/mountain/thing. This one seemed to drop off the side of a cliff, but then stabilized to normalcy. Apparently the route planners decided that switchbacks were unnecessary for that initial section. Tuck and roll or something. Below, a return to normalcy.
This section did have a handful of mountain bikers on it, but we just stepped out of the way of and gave them space (since they were hauling ass).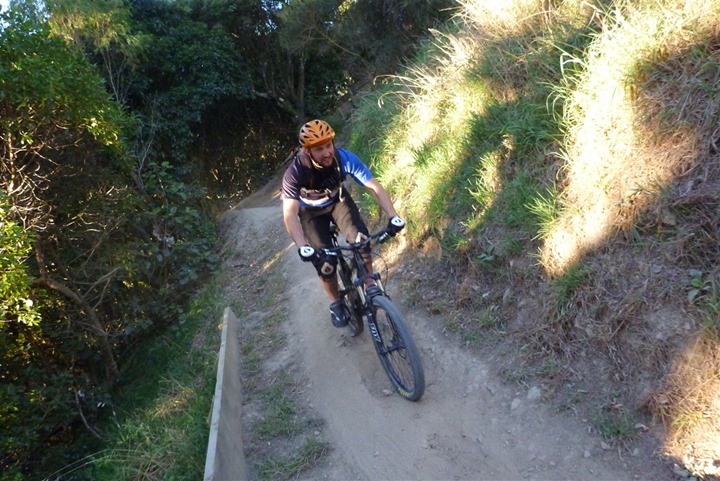 This guy is indeed in the air, and then landing on a rather steep section of dirt. We wouldn't even walk down that ramp it was so steep (just would have slid and fell – and neither of us wanted to look stupid in front of the other).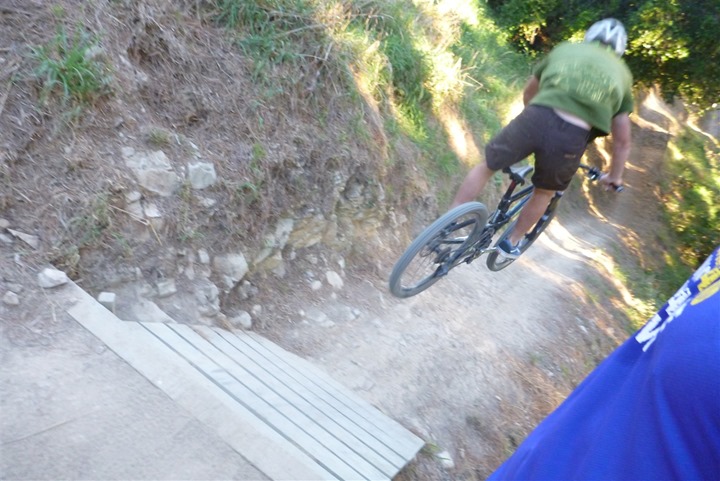 It was far less painful going down the hill than back up (not always the case I might point out). Here's the sign towards the base, pointing poor unsuspecting souls up the hill.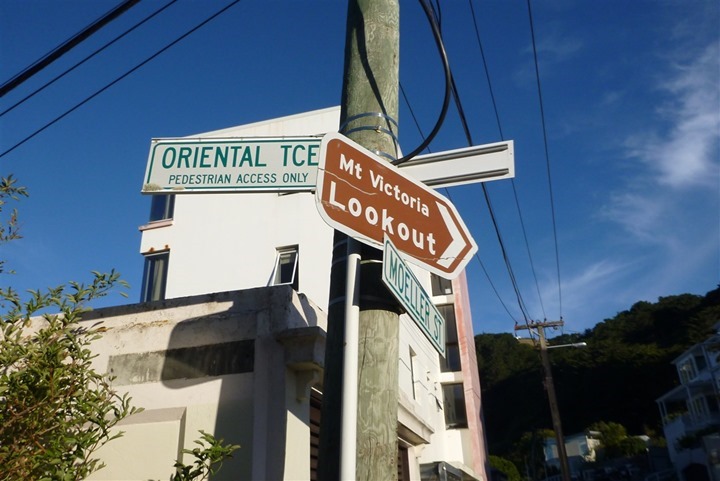 Almost there! Just a quick underpass under some elevated roadway.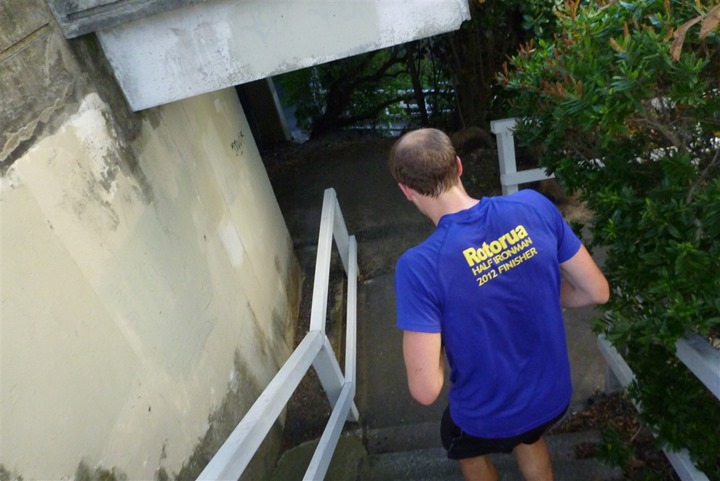 Woot, back along the flats! You can see a few final swimmers still coming in off the swim segment.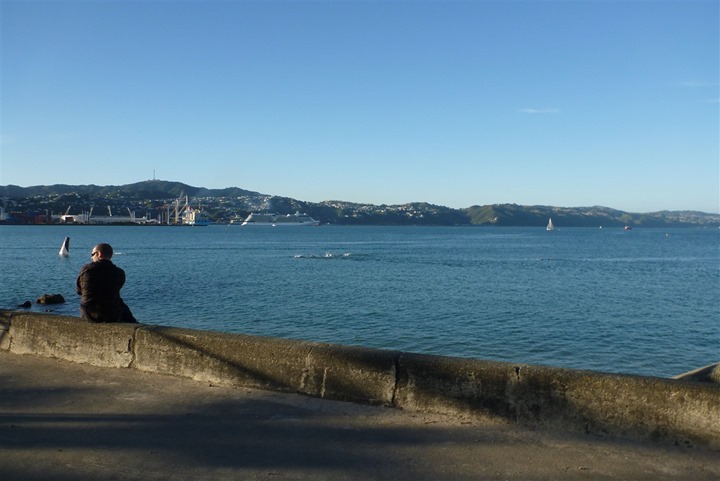 Most folks were on the run already.
Speaking of which, you know when you're in a race and pushing it hard (like want to puke hard) and you see other folks out there enjoying a nice leisurely run? Well I was finally one of those 'other folks'. I've got to say, it was a much better position to be in.
No doubt that the splash and dash events are typically the most painful ones out there. Nothing but balls to the wall for a short period of time. On the flip side, they're also amongst the most fun. And, they do a great job of getting people into the sport, like playground crack.
We were quickly back along the piers working our way towards the hotel.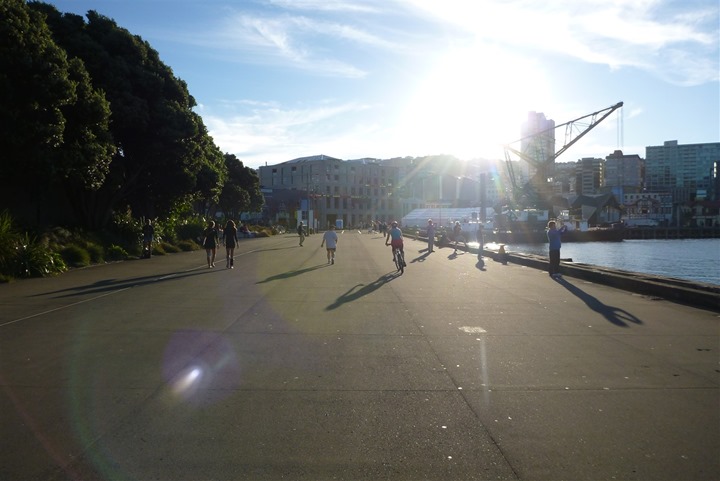 As we neared our finishing area we found more of the high school aged kids out practicing. This time in what appeared to be a practice race against other boats. The 'gun' had just gone off 1-2 seconds prior.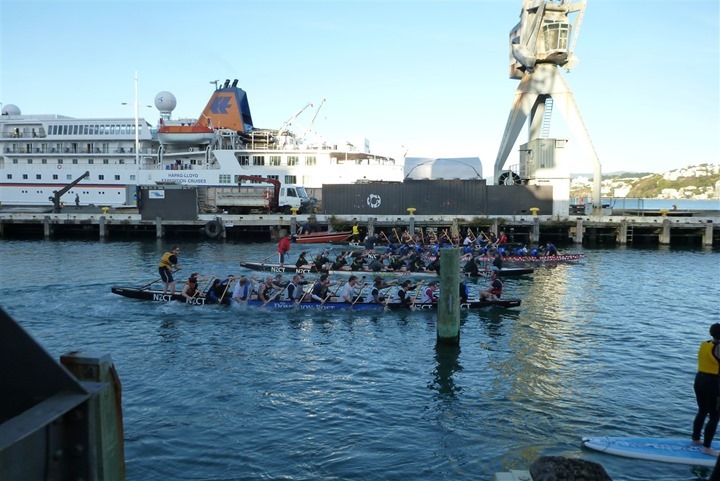 In a bit of an ironic twist, we'd end up completing the run directly in front of the New Zealand Olympic Committee museum. It was already closed for the day, so I didn't get a chance to stop in.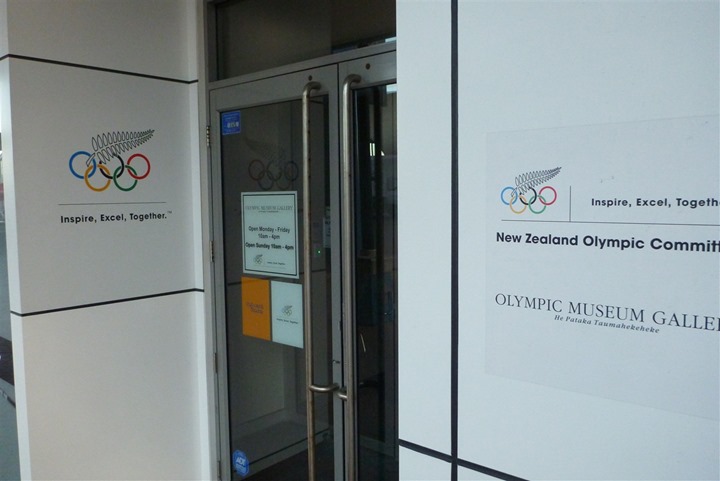 But outside they had big pictures of Olympians, including triathlete Bevan Docherty.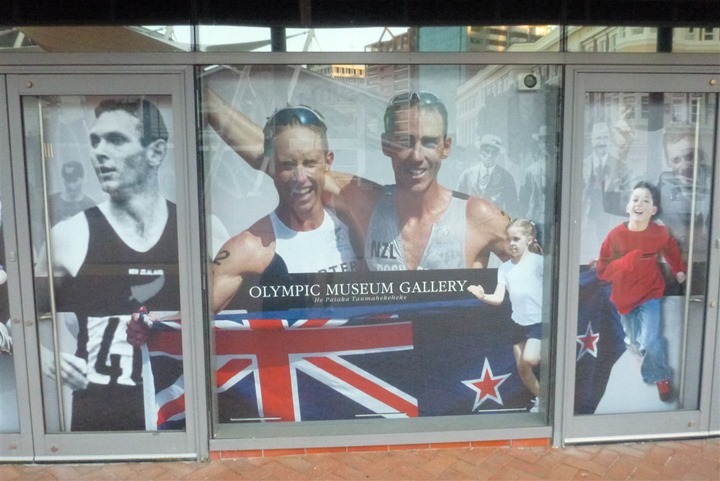 Looking back across the harbor you can see the thing that we climbed up.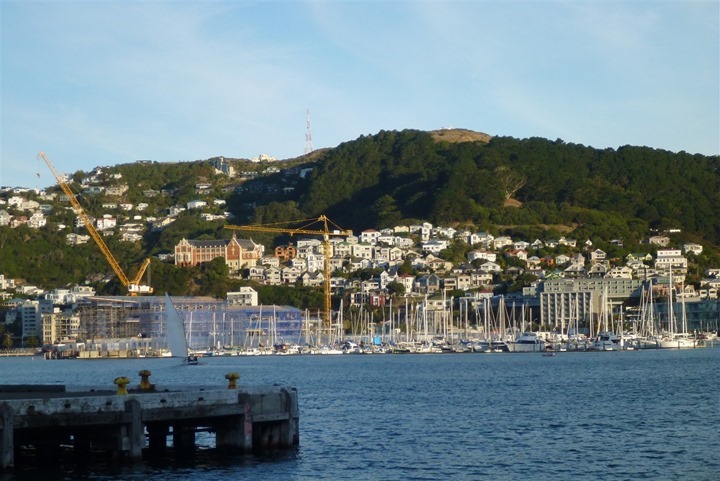 I was also impressed to see that both units (Garmin FR610 and Timex Run Trainer 2.0) showed the exact same distance. The slight time differential of 5 seconds is simply while stopped and waiting for a light remembering to stop/start both units. But for them to be spot-on on both is solid as tree cover and switchbacks usually introduce some variations. Here's the Garmin Connect file for those that are curious.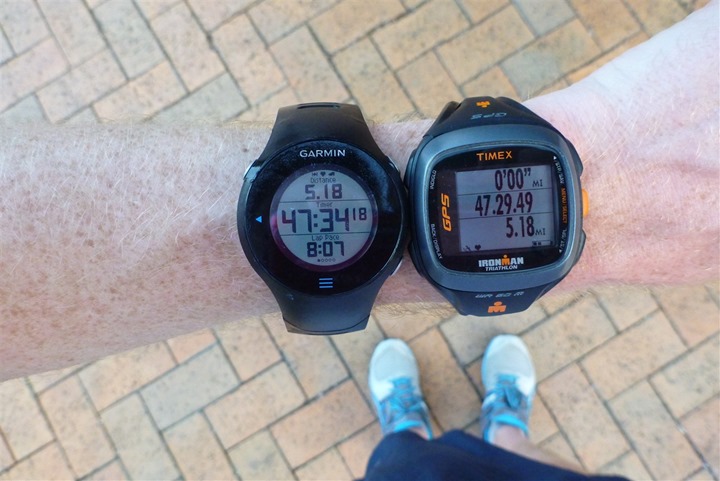 With that, we headed our separate ways. Which for me mostly involved contemplating the newfound burning sensation in my legs. Hills in Paris like this there are not.
A huge thanks to Tony for being the guide on the Runaround. It was great catching up about triathlon, running and the local scene, as well as just throwing down on the mountain. Fun times!
Thanks for reading all!