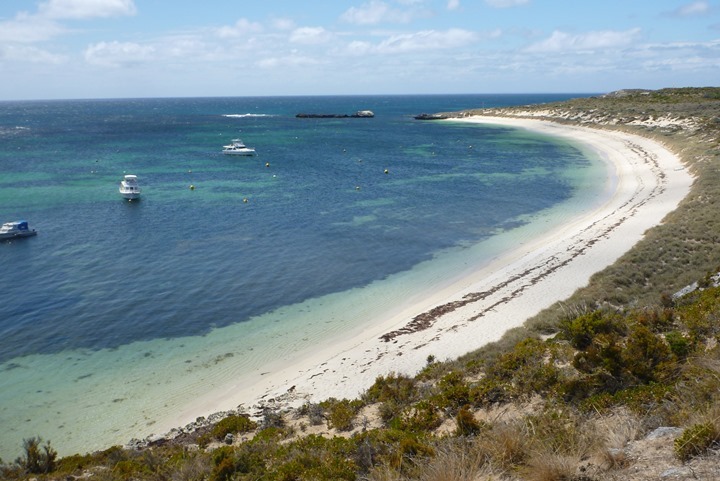 I arrived here in Perth, Australia nearly a week ago – and things have been a wee bit busy since then.  As I noted what seems like ages ago, I'm in the midst of a two-week trip down here to Australia and New Zealand.  Tomorrow I head over to Wellington, before backtracking to Sydney.  Eventually I'll add in Hong Kong and the flight home to France.
In the meantime, I'm loving Perth and the surrounding areas.
Well, actually, we're, loving Perth and the surrounding areas.
Even though I was working last week, The Girl ended up joining me for a portion of the trip down here.  When I took the job and we relocated to France, part of the goal was for both of us to be able to enjoy a portion of the pretty high-travel schedule I have.  Cupcake shop or not.
Now we've been bouncing around the area quite a bit over the weekend, but perhaps our favorite place thus far has turned out to be a small island about 18KM (11 miles) off the coast from Perth – Rottnest Island.  This marine sanctuary of sorts is about 10K long, and about 5K wide.  You take a high speed ferry boat over and you're there in 25 minutes.  Pretty much perfect.
So, we headed over Saturday and ended up loving it.  First off, no cars are allowed.  It's a bike-only place, which is awesome. Second, there's beautiful beaches, and endless roads to ride and run on.  So while that was planned as just a day trip, we ended up coming back the next day and staying the night.  A small vacation within a trip.
It was early this morning that we had a long run on the schedule.  I figured that a loop around the island ought to do the trick.  We woke up at 5:30AM, but turned out it was still dark out there.  And I didn't want to run into any snakes or upset Quokkas.  So, we had a delay of game until about 90 minutes later.
And thus, with that – we began our run.
First though, our water supply.  We had forgotten our CamelBak's back at home, so instead I made due with my little red backpack and then froze six water bottles overnight.  They weren't super-big water bottles, hence the quantity.  I'd put a few bottles in the side pockets, and then the rest inside the bag for later.
Below is a map of our 15 mile run – to help put things into context.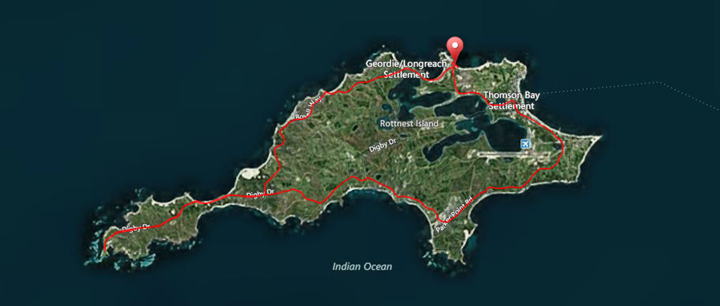 We'll run a loop around the outer edge of the island.  Along most of this loop is bay after bay, some of which have boats moored for folks hanging out for a few days.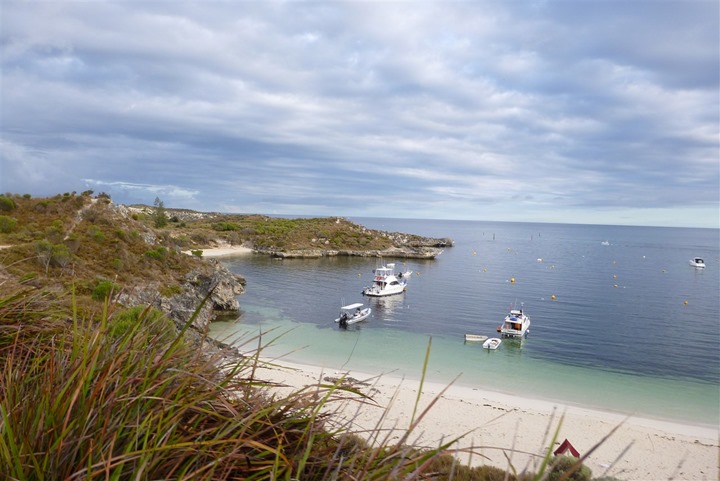 Within just a couple minutes of the start of the run, we get the sharp reminder that this is the end of the road for civilization.  From here on out we're on our own.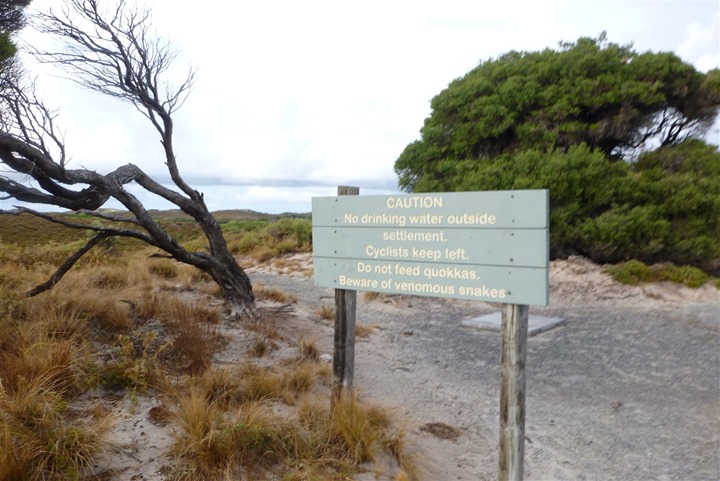 Of course, alone is all relative.  As the side above notes – the quokkas (and the snakes) are out there.  And within the first mile we spot our first of many (many many many) quokkas.  These little creatures are like a cross between a rabbit, a rat, and a kangaroo.  They bounce like a kangaroo, but are smaller like a rabbit.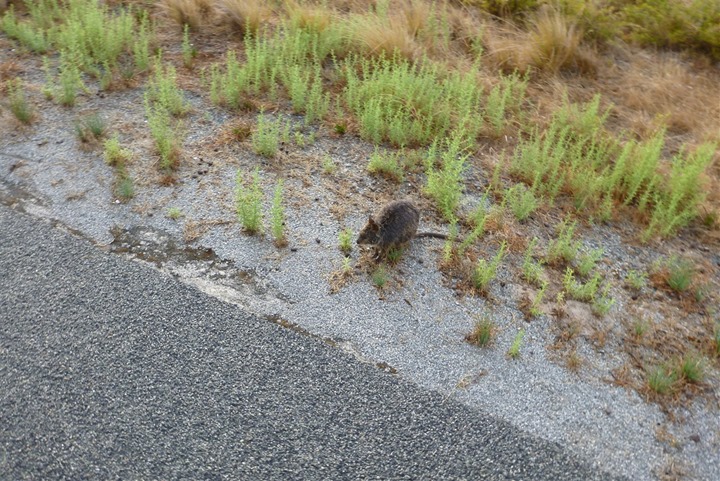 In addition to the exterior water, there are a number of ponds on the interior of the island.  This one, with the lighthouse behind of it, was stock full of birds hanging out on the far side.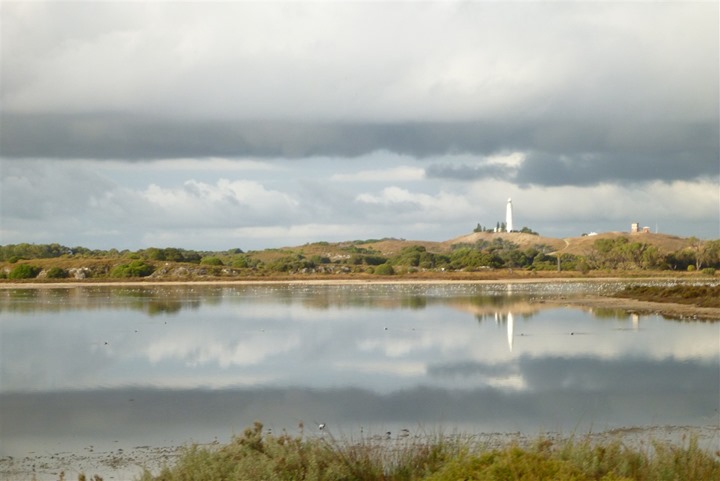 Meanwhile, ahead of us darker clouds lie.  Oh, and that bloody hill.  There are endless hills on the route.  Very little flat ground.
And, the clouds get darker.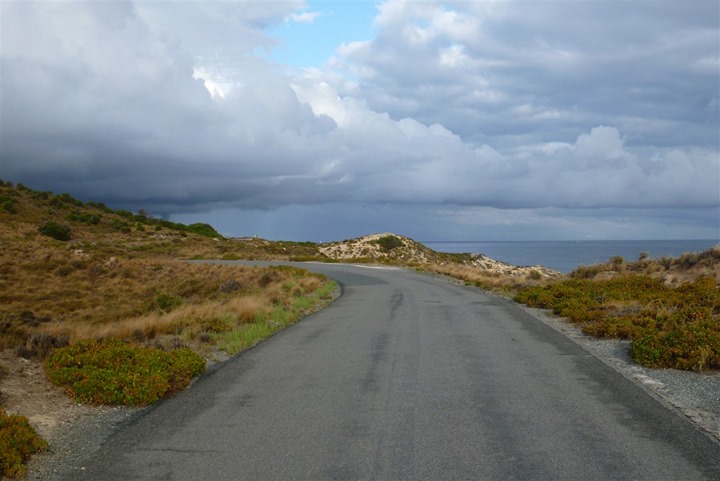 It was about this point that The Girl noticed something off in the distance and chuckled "kinda looks like a tornado!".  So of course, we hurriedly ran up to that little square block on the picture below to get a closer look.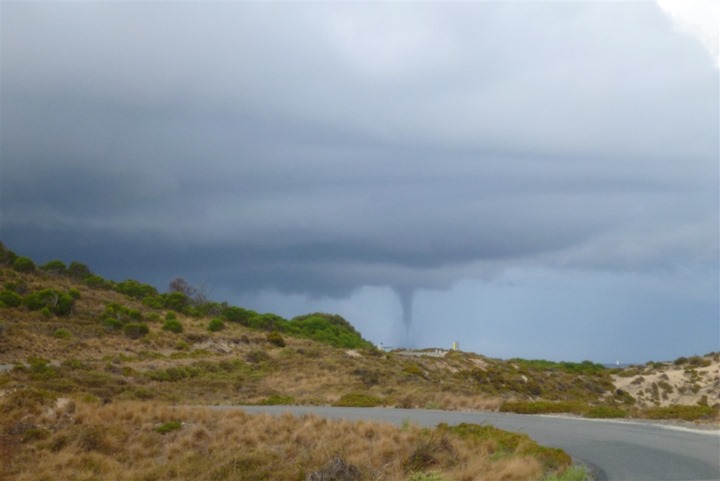 Once there, we could see just how dark the clouds had become.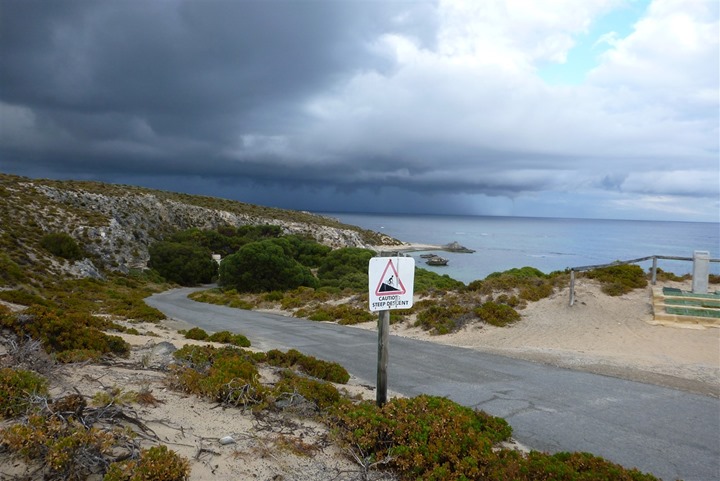 More importantly though, after a touch bit more running around the corner, we could see what we were looking for: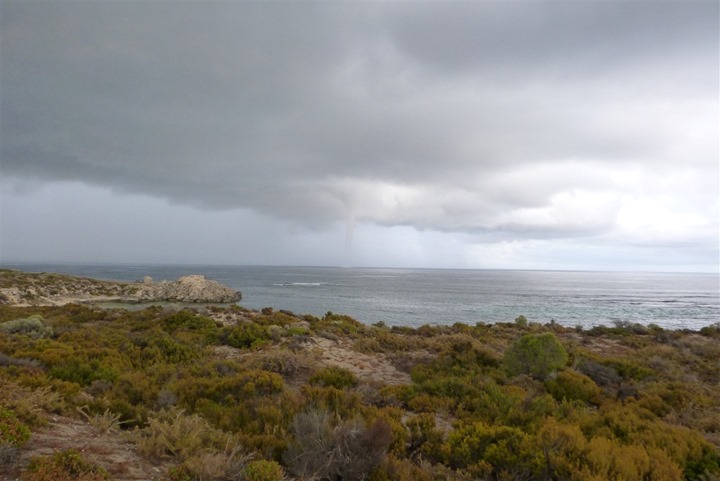 Here, let's just let that get a bit closer to land and then zoom in a bit.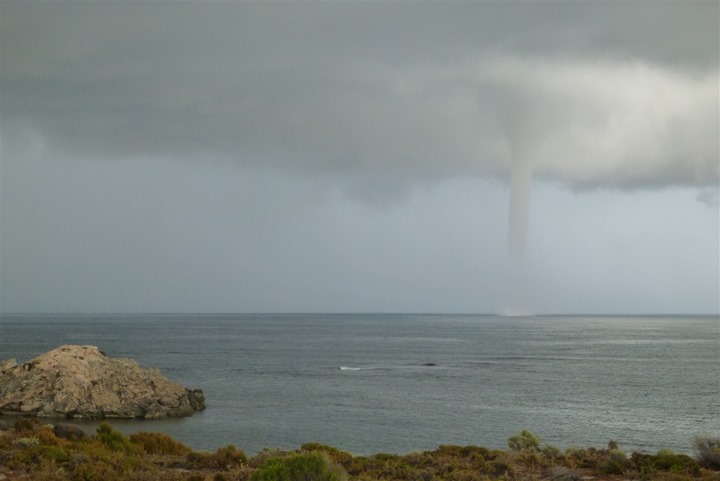 Is this clear enough?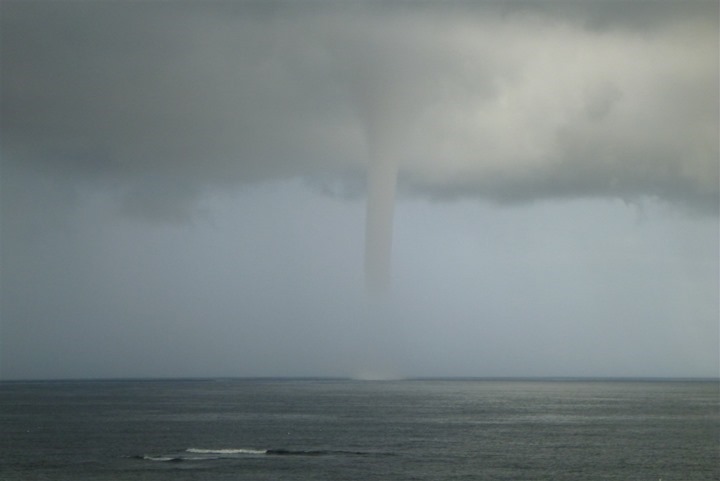 It was massive.  About the height of the Empire State Building (or higher), I'd guess.  We'd end up seeing two of them, but this was the bigger of the two.  It slowly moved along.  You couldn't hear anything from it, perhaps because it was too far away.  Just unreal, I've never seen anything like it before.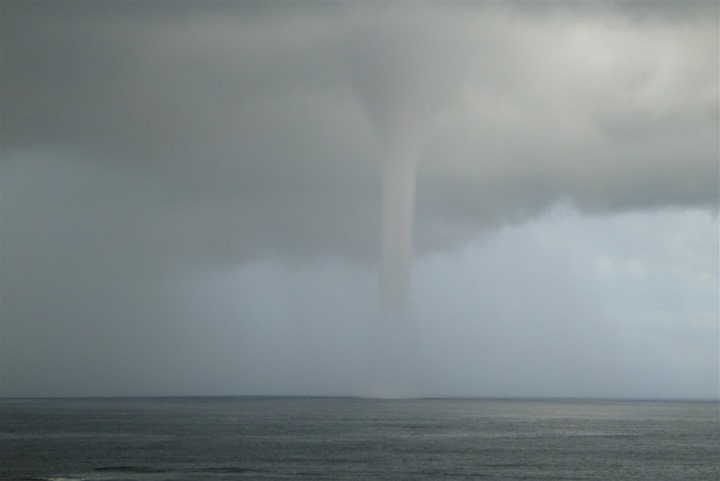 Here's me, and the funnel:
You remember those dark clouds?
Well, they found us about 2 minutes later.
And holy cowbells that rain hurt. A lot.  I've never had rain actually hurt while running before.  Cycling sure, but running, no.  This hurt.
While the rain only lasted about 6 minutes we were left drenched for the remainder of the run!
As we forged onwards we took in all that the island had to offer. At this point, the road just rolls on and on and on.
Fires are not permitted on the island (as started by humans), but the evidence of forest/shrub fires is often seen during our run.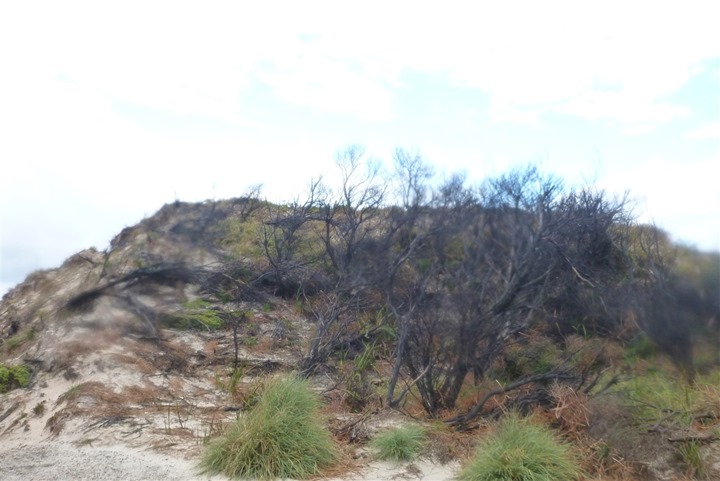 Oh, another of our little furry friends!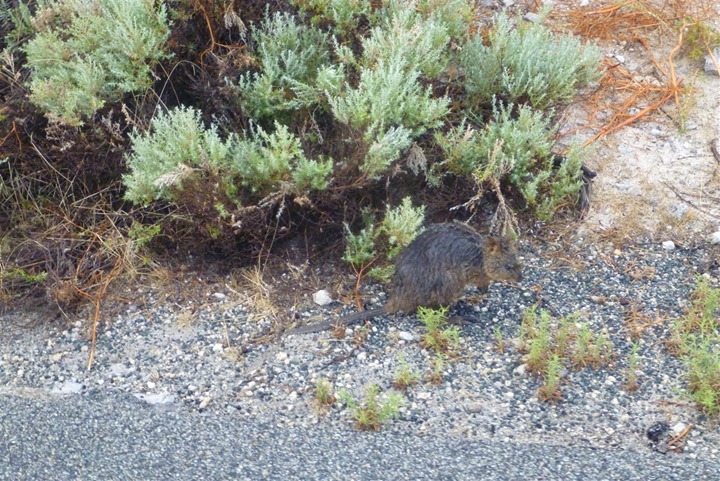 Finally, the Cape!  We've reached the end of the island.  Woot!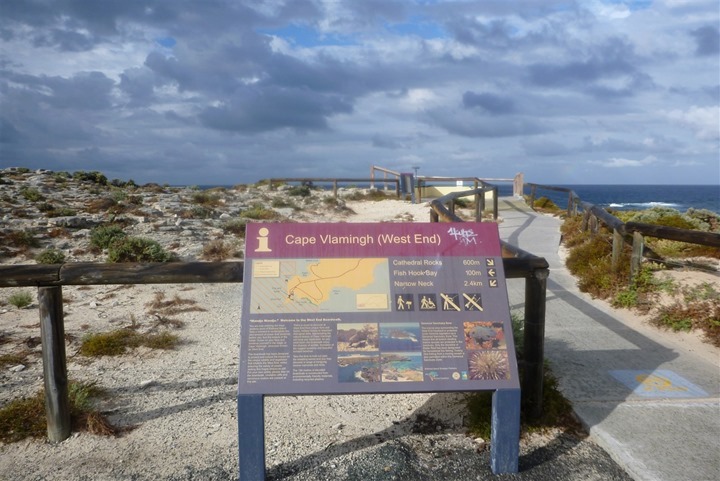 It's rather pretty here. Interestingly, a sign explains that the winds often gust up to 118km/hr (in MPH it's really fast).  We see this throughout the vegetation, given how it's shaped.  That would be brutal to run or bike into during a triathlon (which used to be held here), or the annual marathon.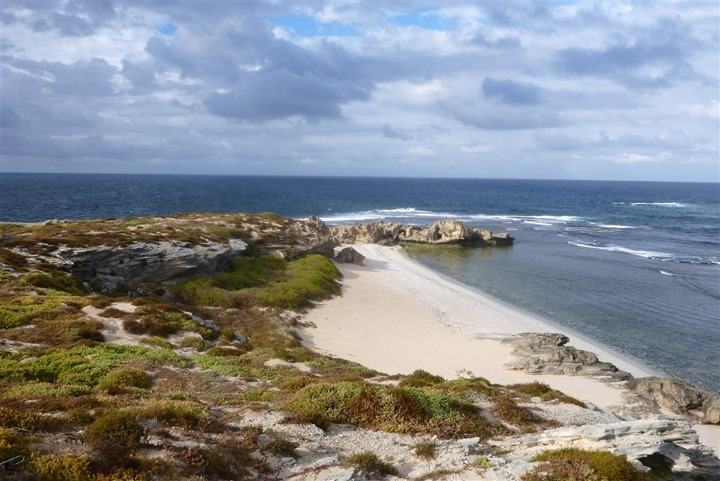 It's a long way back to Europe.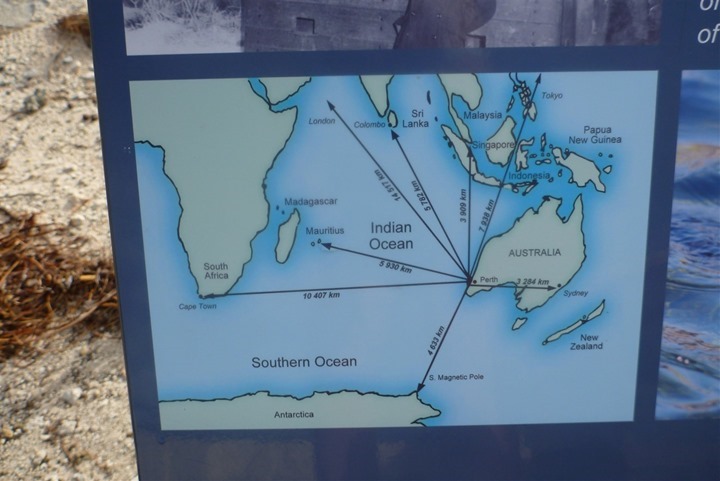 But thankfully, we just have to run to the other side of the island, and not to London.
As I noted earlier, no cars are allowed on the island.  Just dozens upon dozens of miles of roads for only cyclists.  In fact, virtually everyone coming to the island rents a bike – even little kids.  However, there is one exception – there's a single bus.  He does a loop around the island about once per hour.  A handful of folks are usually on it.
There are also a couple vehicles for rangers, police and paramedics – but beyond that, no residential cars or taxi's.  It's awesome.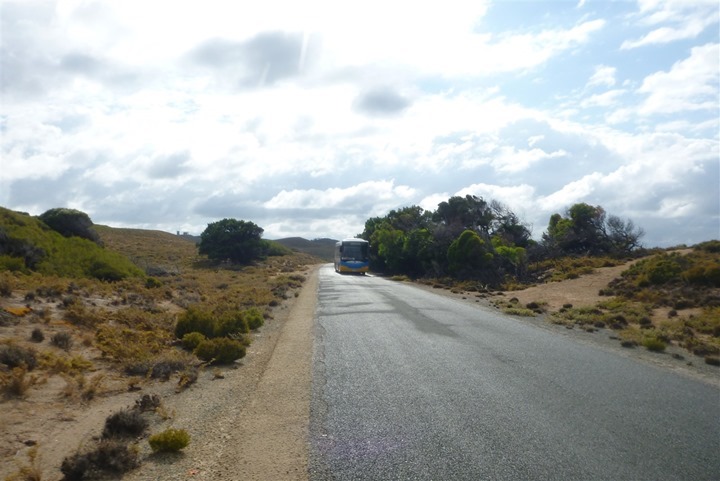 Moment of Zen: There's still ice in one of my water bottles some 1hr 30m later.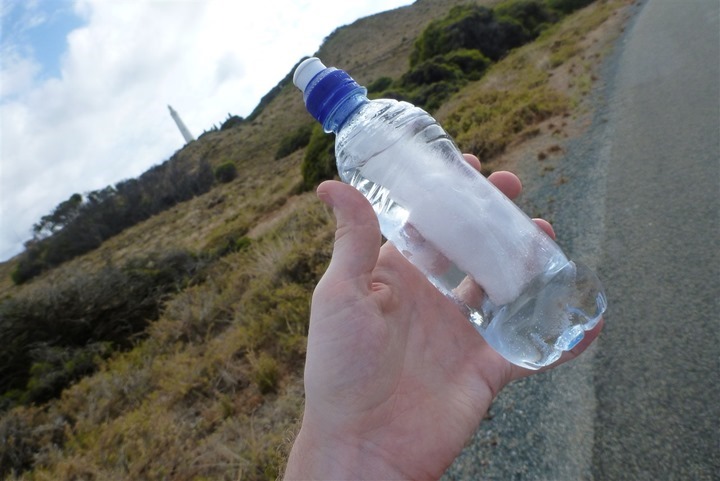 Wildlife!  A little lizard looking thing.  Only about the size of a banana.  It didn't run away, though we kept our distance.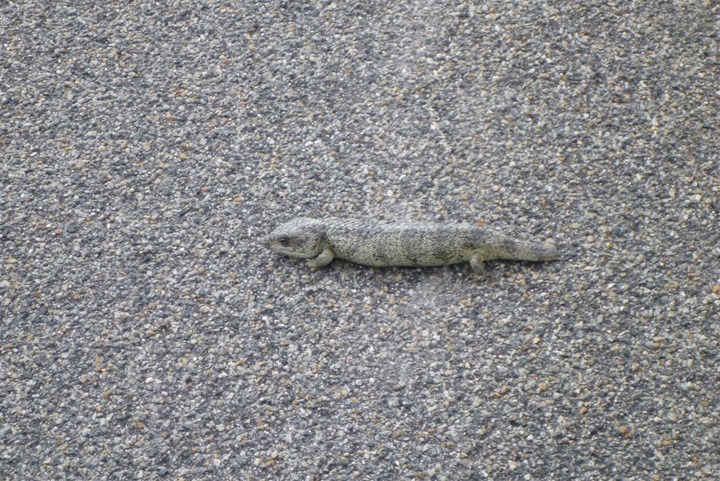 There's been over a dozen shipwrecks just off this one lookout area of the island.  Though the reasons vary from mechanical to alcohol fueled.  Later in the day we'd see folks snorkeling on and around it.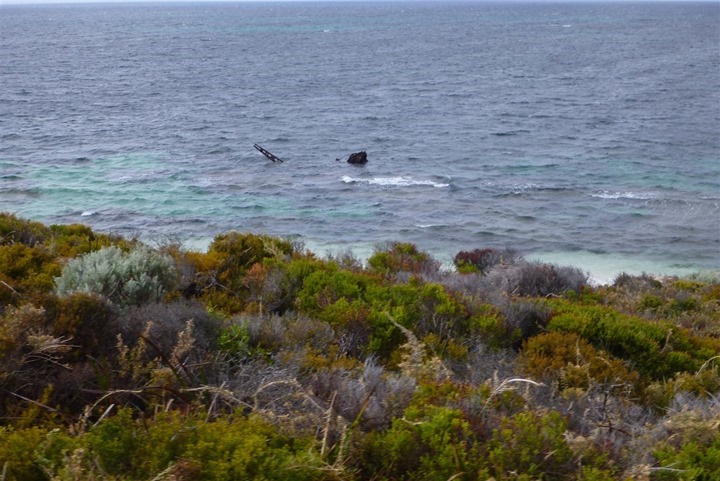 There's a small train route on the island.  Built purely for kids and tourists from what we can tell.  We never saw it.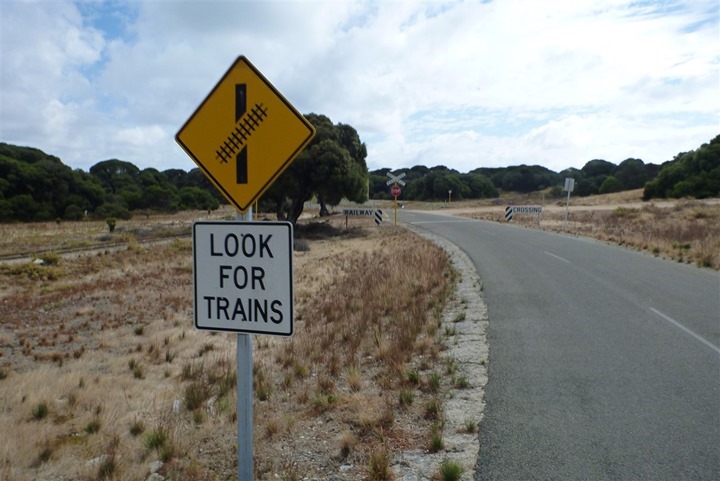 Ahh yes, my favorite sign – this time on the other side of the island.  But, while the placement is different than the earlier sign, the meaning is the same – we're headed back into town this time.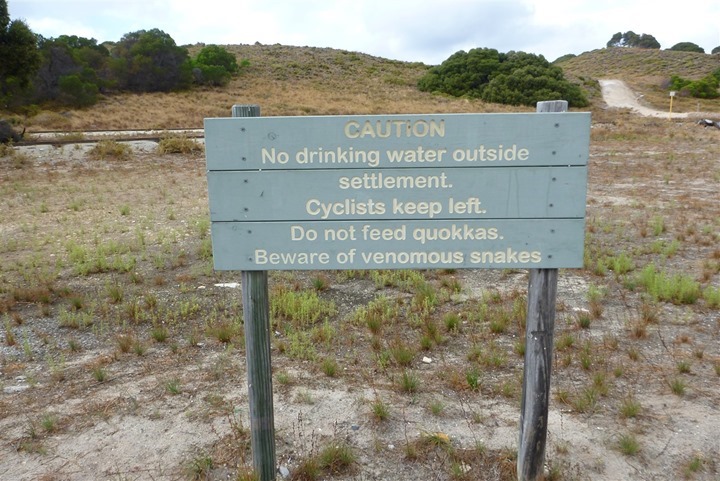 Woot!  The one and only sign that looks like this.  It feels like we're on the Oregon Trail.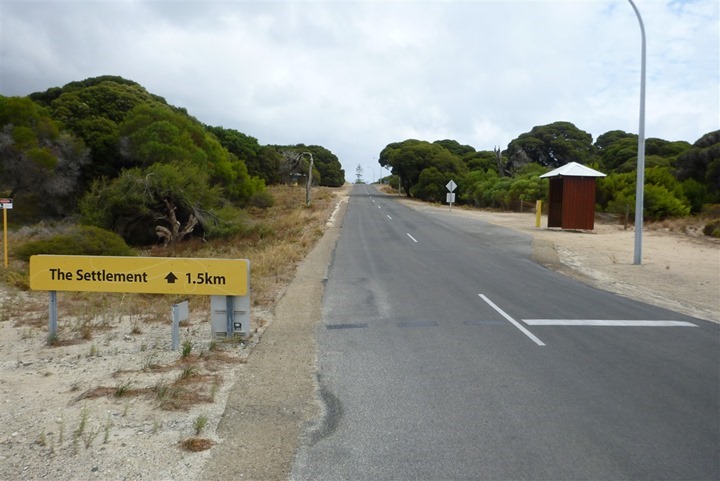 Back in the town.  Or, the outskirts of the town.  We had no desire to run into the proper section of the town.  We just wanted to be done with the run.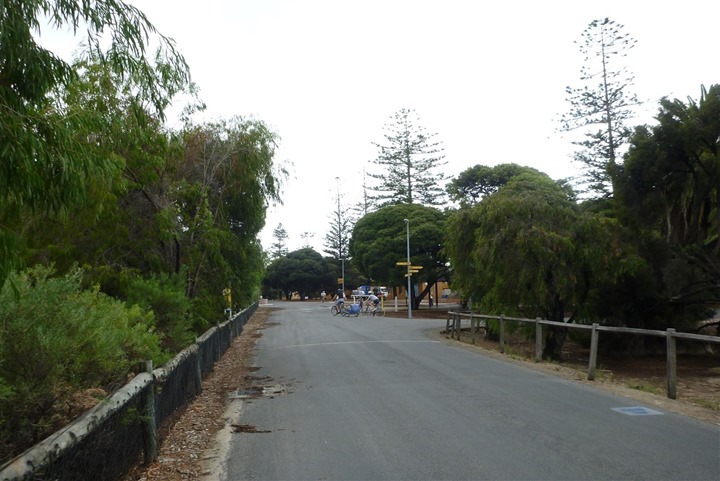 Now we take a turn across the only flats that exist on this island.  From here till roughly the windmill.  That single wind generator accounts for 37% of the islands energy needs.  The rest is handled via a gas generator that relies on shipments from the mainland.
One. Last. Hill.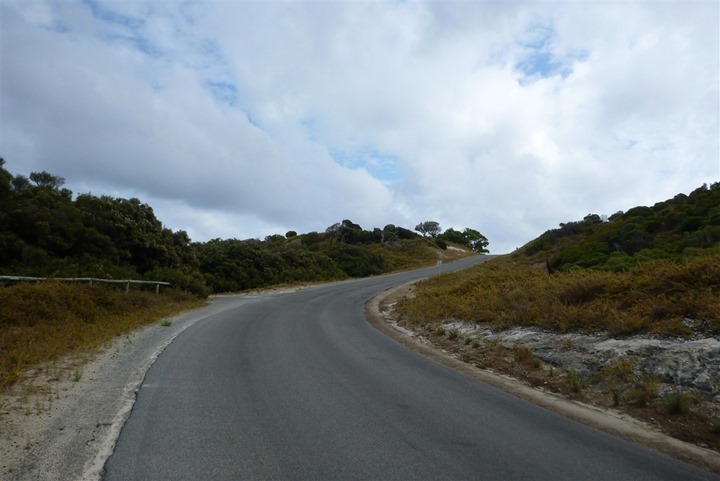 Here's me.  Post-run.  Run done.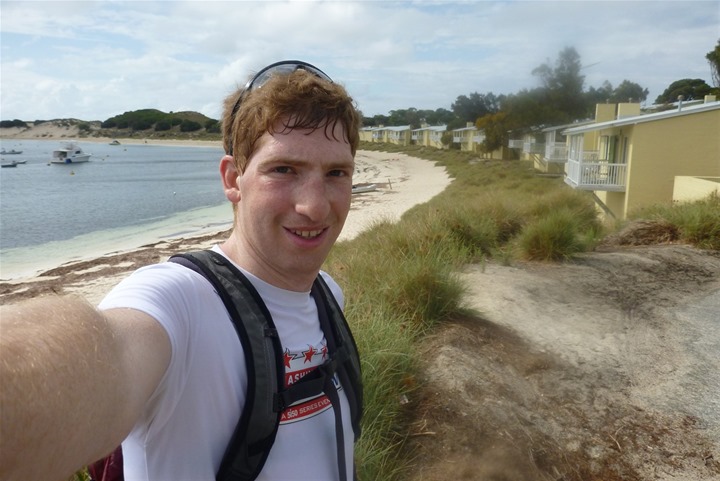 Post-run, we grabbed our rental bikes and went for a short 15-20 minute easy spin.  This tremendously helps after a long/hard run to keep your legs from hurting later.  Plus, how can you not go for an easy ride with conditions like this?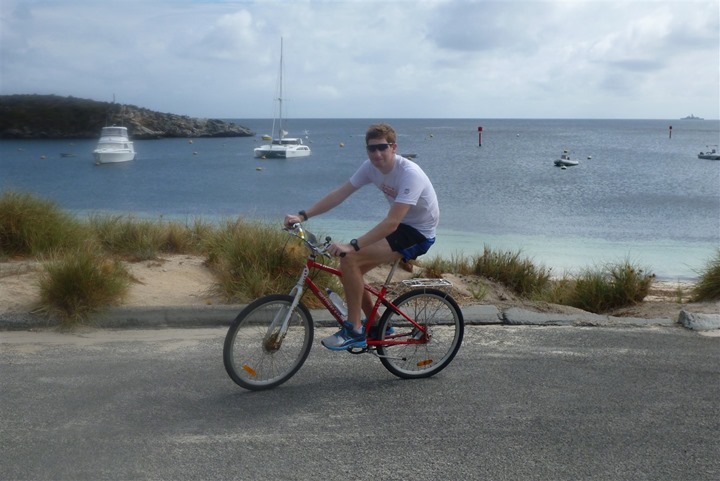 Once we were done running and post-run-cycling, we grabbed our bikes and took another loop around the island back to 'our' beach.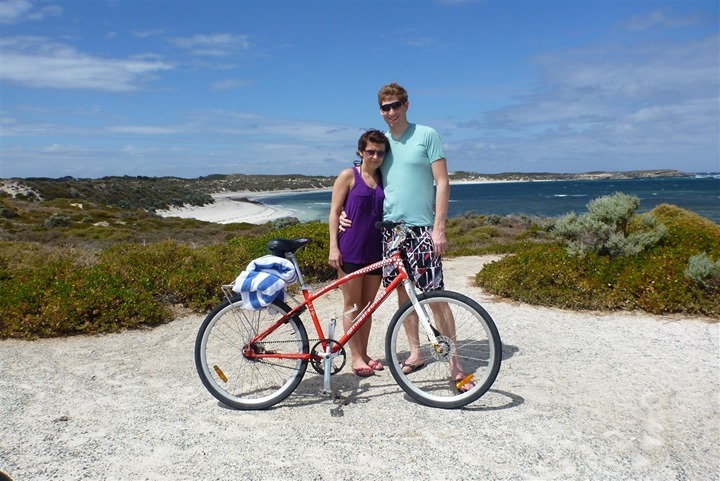 Except, the beach above isn't 'our' beach.  Nope, the beach below, on the complete opposite side of the island is.  Three straight days in a row – nobody else but us.  Pretty awesome (you can click to zoom).
So when do I get to come back to Perth again?
Thanks for reading!