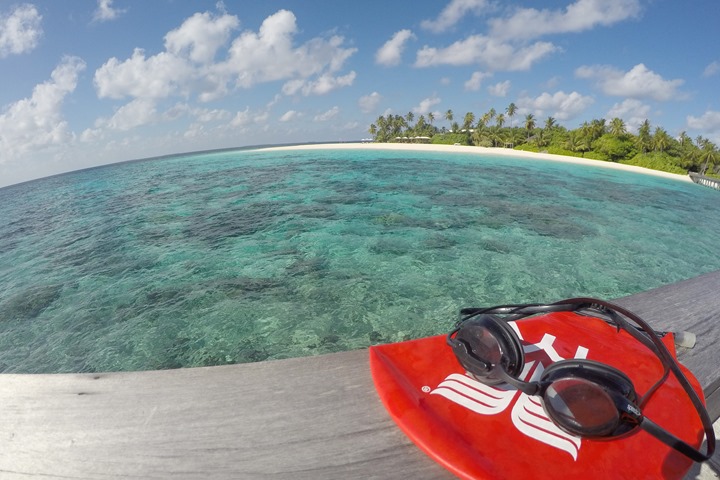 The Girl and I have been taking a long awaited vacation to a place far away from the hustle and bustle of daily life (and our respective jobs).  For that, we burned a bunch of points and flew to the middle of the Indian Ocean to the North Huvadhoo (Gaafu Alifut) Atoll, within the Republic of Maldives.
Aside from a lot of relaxing, we have done some exercise.  Yesterday I swam around the island.  The whole thing isn't terribly big, approximately 450 meters in length for the land portion.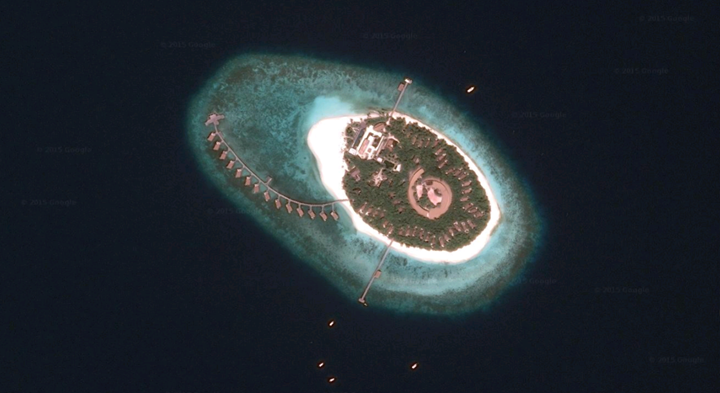 Though, the water is only chest deep around most of it. So you've gotta swim at the reef's edge, out a few hundred yards from the beach at the point the coral reef drops off (the transition from turqois to dark blue above).
So I swam a short distance from the dock out to the reef edge, which you can see in the below photo as the seafloor drops away.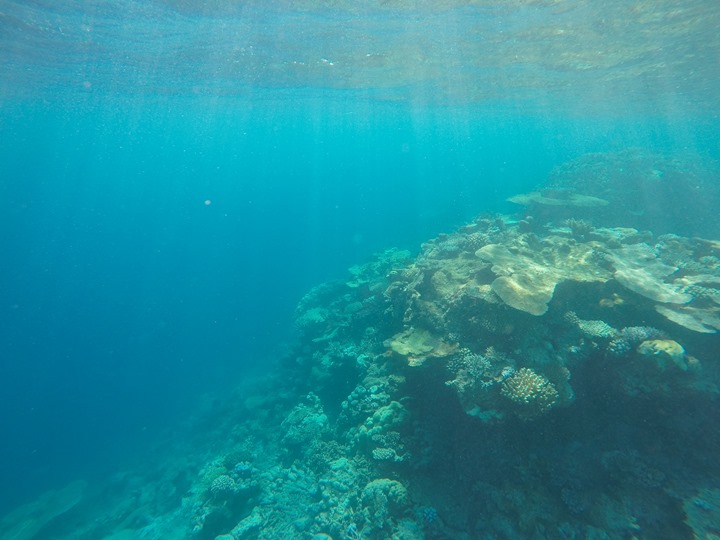 From there I headed south, down-current along the edge of the reef. It's the place you're bound to see the most sea life.  The day prior I saw a turtle here.
On the swim, I'd see plenty of fish, and four sharks.  Including this guy: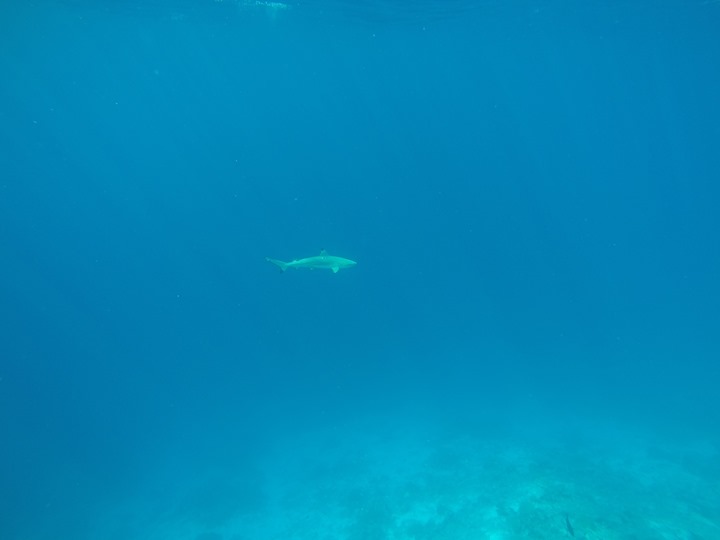 He was probably the biggest of the four I saw.  In this photo he's quite some distance away, but still no more than 4-5ft in length.  As a reef shark he's completely harmless.  Still, I would watch over my shoulder to ensure he kept on going in the right direction.  Or rather, ensure nobody else bigger came along.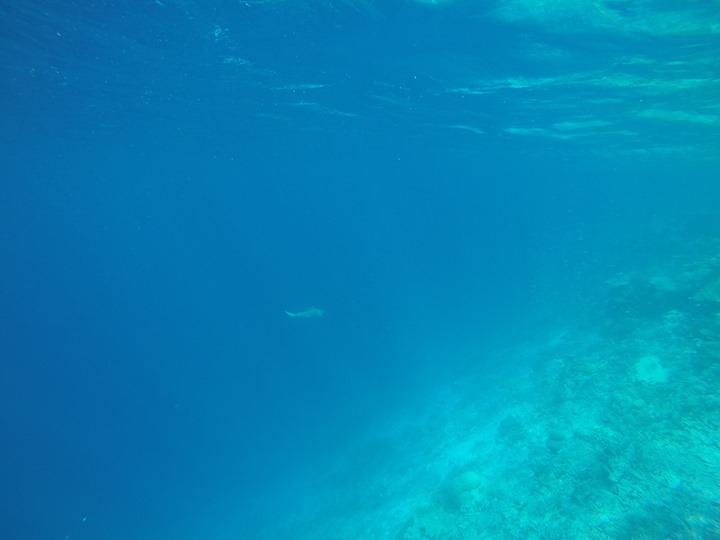 While not watching the sharks and fish swim by, I was watching the island slowly rotate around like a turn-table.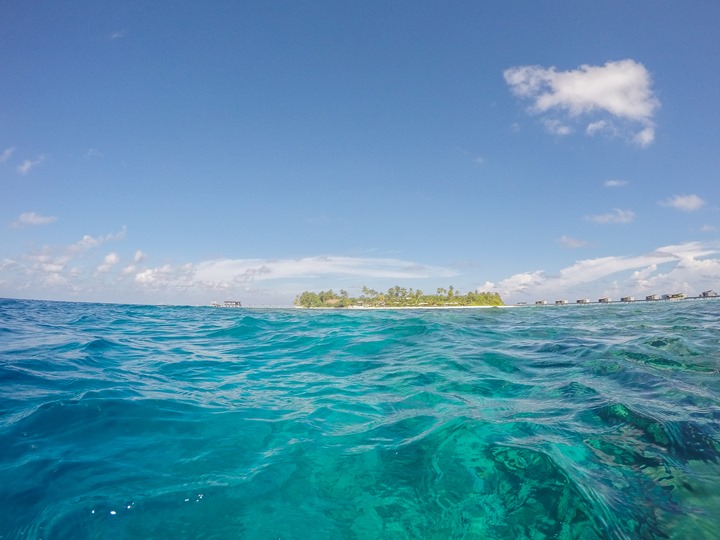 Or, I was overseeing what appeared to be first-time scuba divers down below.
Eventually, I made my way back to my starting point – a little under an hour later.  Going up-current for half the island slowed things down quite a bit.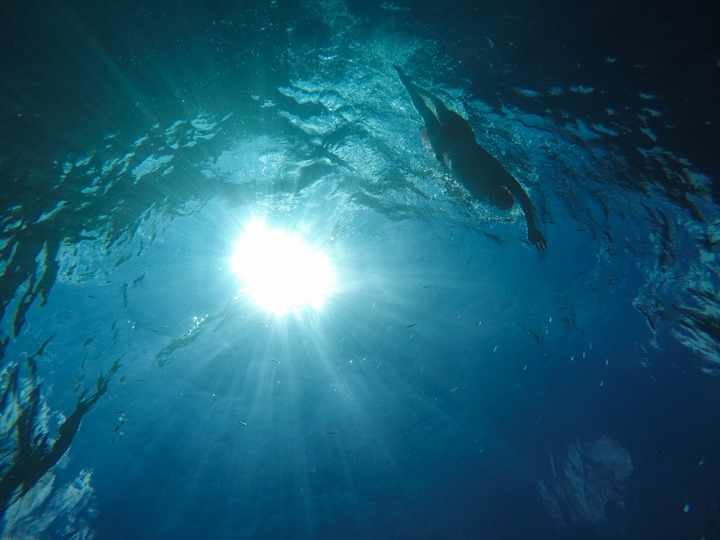 Still, quite happy with the GPS track I made (Fenix3 on my wrist), right along the edge of the coral quite nicely.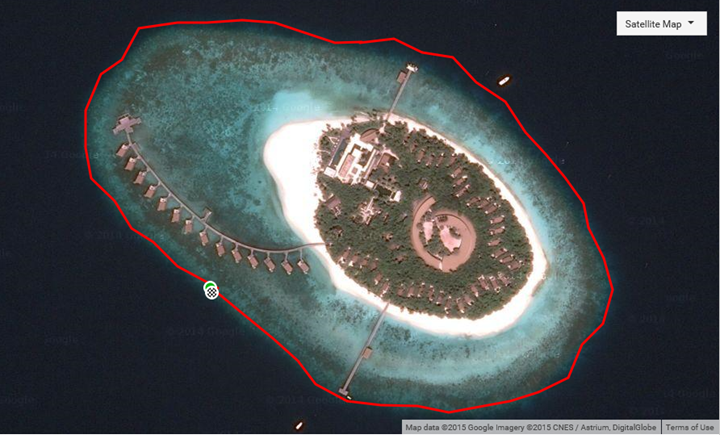 And, even happier that I'm still here to enjoy relaxing on the island with The Girl just a little bit longer.
Thanks for reading!
(For those curious, all photos in this post were taken with a GoPro Hero4 Silver)