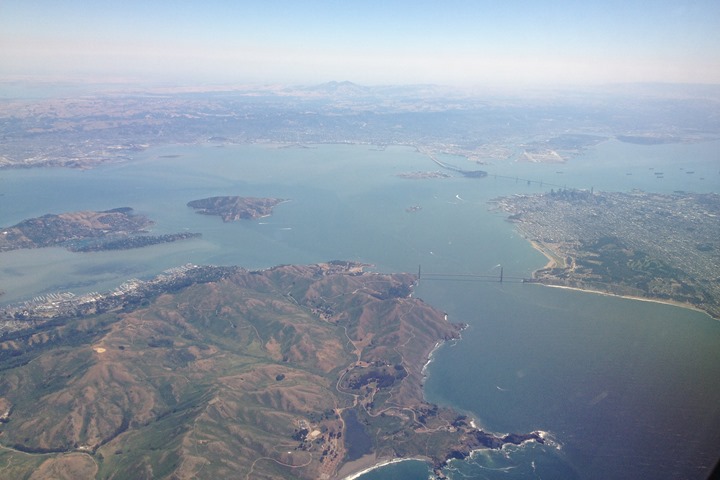 When I booked this particular flight combination a few weeks ago, I wasn't exactly sure what to do with the 5 hour layover.  Additionally, I had mentally thought the flight left at noon, rather than 10AM – meaning that I thought I'd have enough time to swim prior to heading to the airport in Paris.  Unfortunately, neither were true.
But then I had an epiphany!  Why not just do my Sunday swim workout in San Francisco?  It would certainly beat sitting in the airport for five hours, and would provide a bit of fresh air after 11 hours of flying that first leg.  Thus, a plan was hatched!
Thankfully, my flight was not only on-time but actually ahead of schedule.  We descended into San Francisco on a beautiful sunny day (seen above).  Good thing I didn't fly out Saturday instead, as that flight was delayed some 4+ hours.
Once I landed while we made our way to the gate (in the US, you're allowed to use your phone then) I pulled open the SwimRadar app and figured out my options for the closest pool: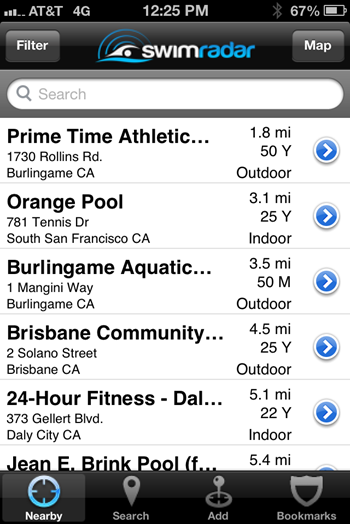 I skimmed the list for outdoor pools and noticed a 50m one was near the top of the list.  A quick check of the site showed they were open for lap swimming.  Perfect!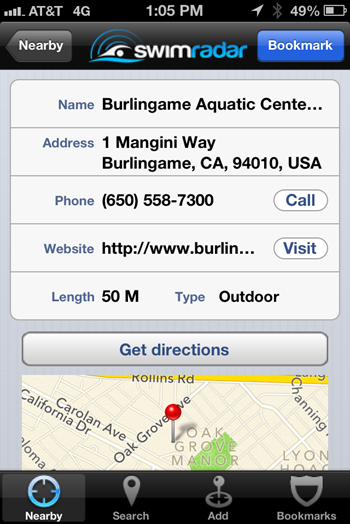 With just carry-on baggage and Global Entry, I was through customs in about 2-3 minutes.  If you travel internationally semi-frequently, Global Entry is your greatest friend.  Otherwise, the lines looked at least 45+ minutes long with all the flights from Asia arriving at the same time as ours.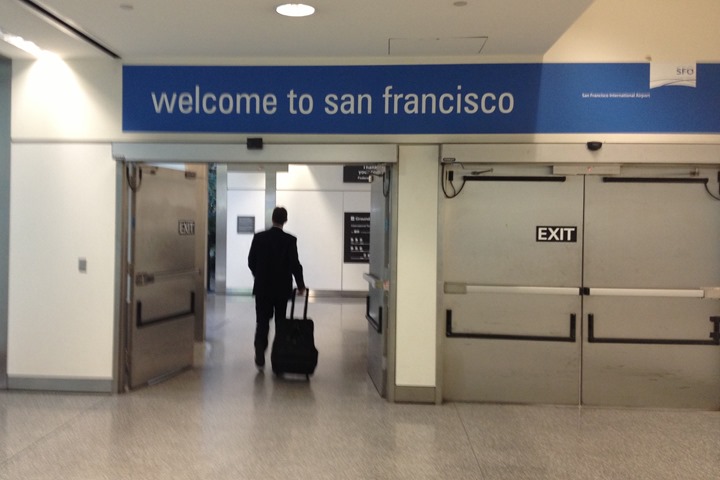 From there I headed up to the Airtran system to get a rental car.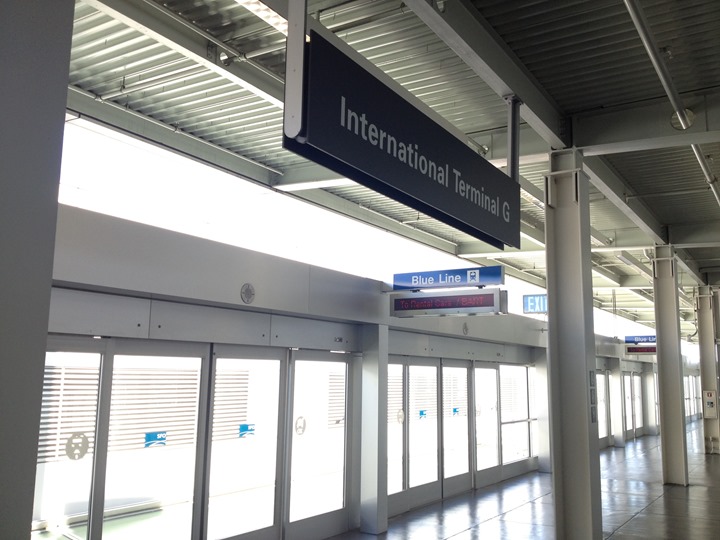 I decided for rental car over taxi because more than likely the rental car was going to be cheaper.  With the discounted rate I had it was under $20, I can't imagine a taxi both ways would be that cheap – even if only a few miles away.  Further, I then had a safe place to store my backpack and roll aboard, and a bit of freedom for grabbing food afterwards. The only downside of course was that San Francisco's airport's off-site car rental facility is amongst the most time-intensive operations in the US.  Quick it is not.  But, I had a fair bit of time.
The drive was only three miles away, though I think I probably drove half of that just getting out of the rental car facility.  I soon arrived at Burlingame High School, which is where the Burlingame Aquatics Center sits.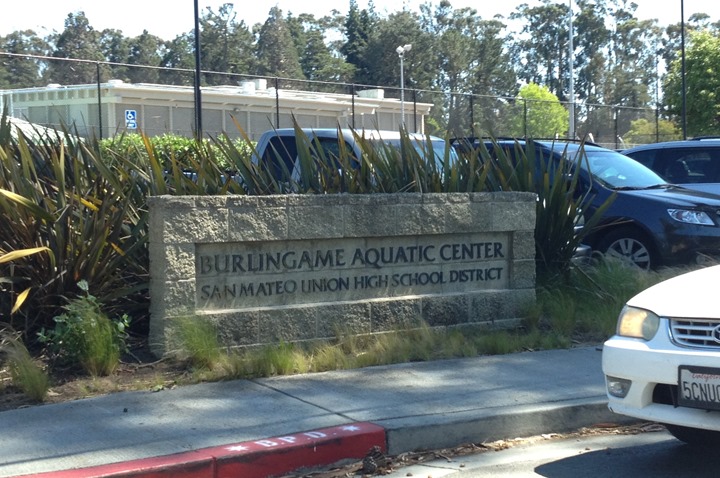 I should point out that this high school appeared to have a pretty sweet setup.  Both field-turf for a dedicated soccer & football field, as well as a separate track (with another football field) and tennis courts off to the side – all looking brand new: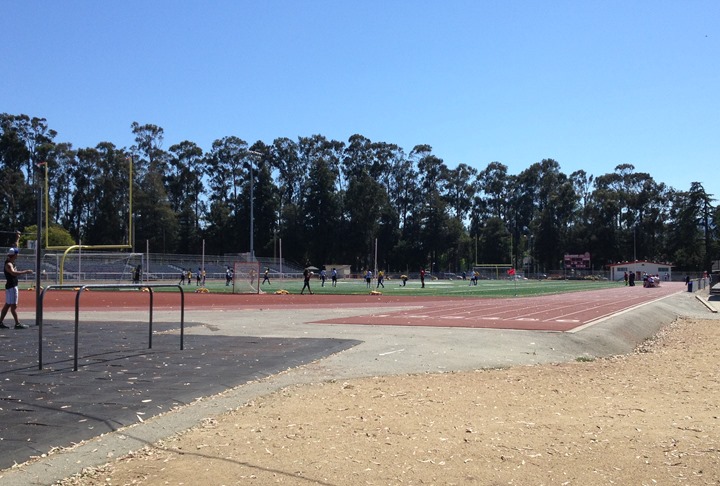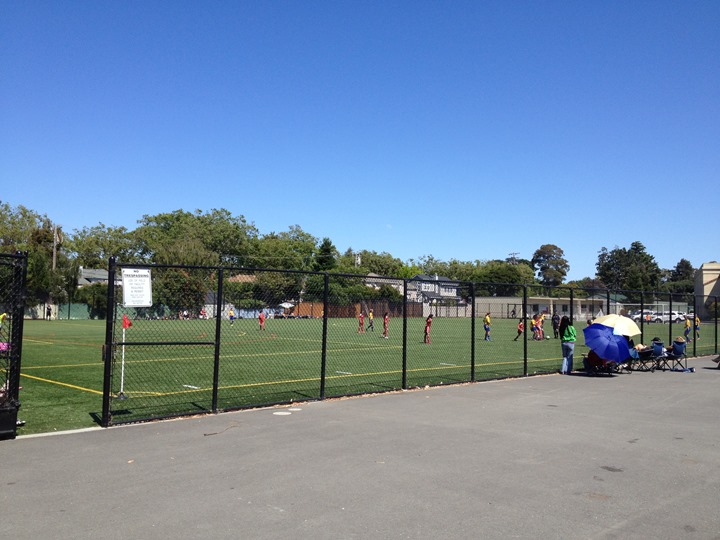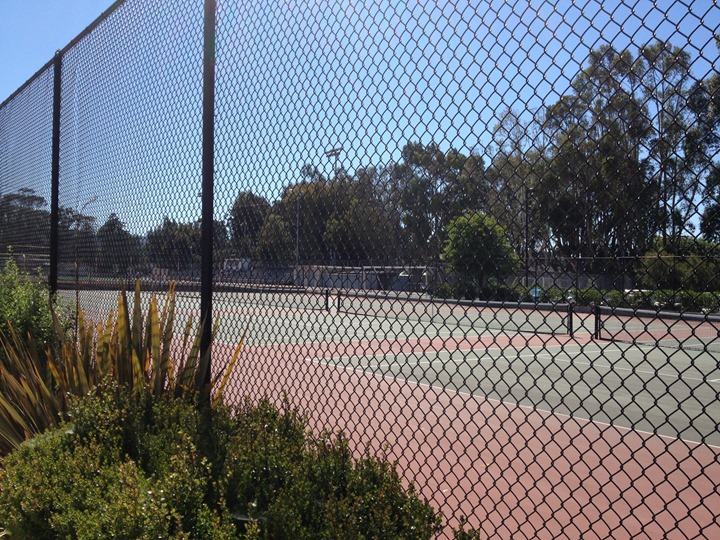 I headed on in towards the Aquatic Center's front door to pay: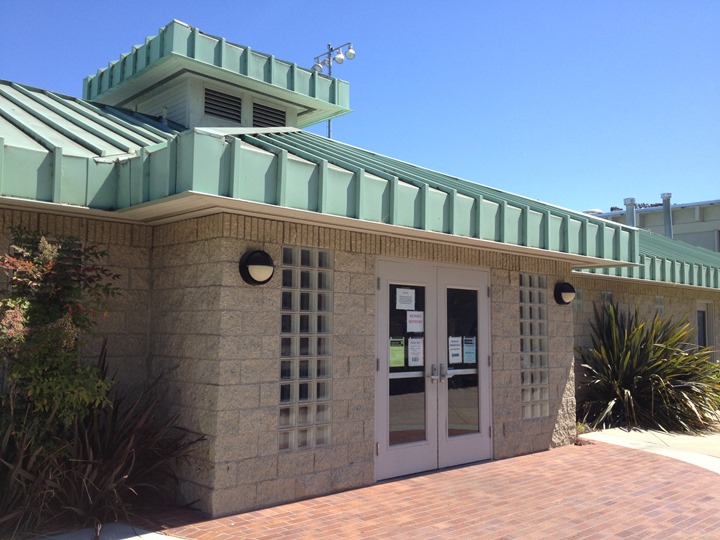 Once inside, I was pretty much in paradise: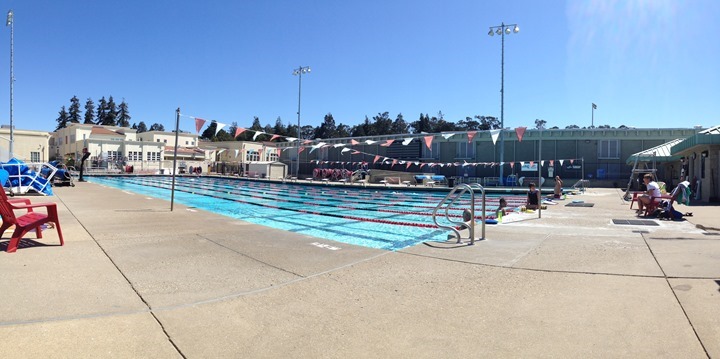 Let me summarize the ways this was awesome (and different than my usual swims):
1) I would have my own lane…oh glorious lane!
2) It was 50 meters long, and setup long course
3) The water was crystal clear
4) I wasn't sharing my lane with the usual 10-20 other people
5) No-one was backstroking down my lane with four pieces of swim equipment at the speed of a one-legged turtle
6) I was outdoors
7) It was sunny
8) People were friendly
This pool alone may have us move to Burlingame someday.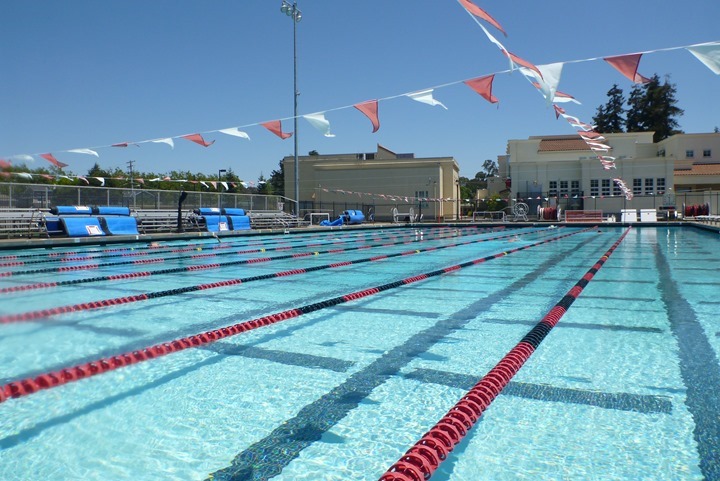 With that, I picked out my lane and setup my water bottle (DC this was not).  Funny, my water bottle was actually from the plane, and thus, from France.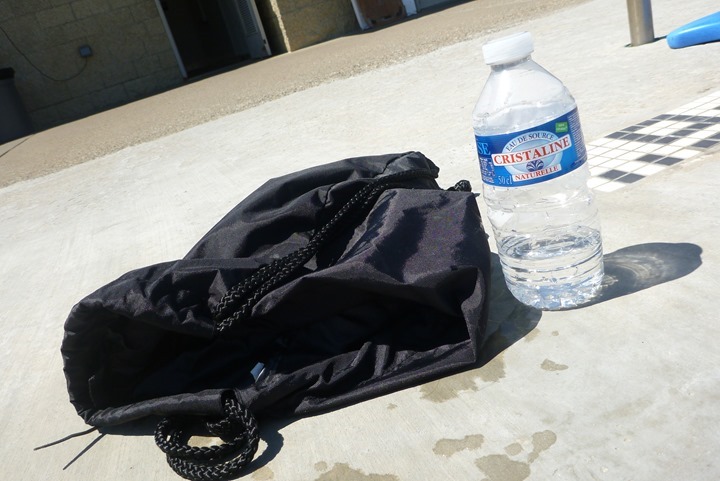 From there I set the watch for a 50m pool and got ready to swim: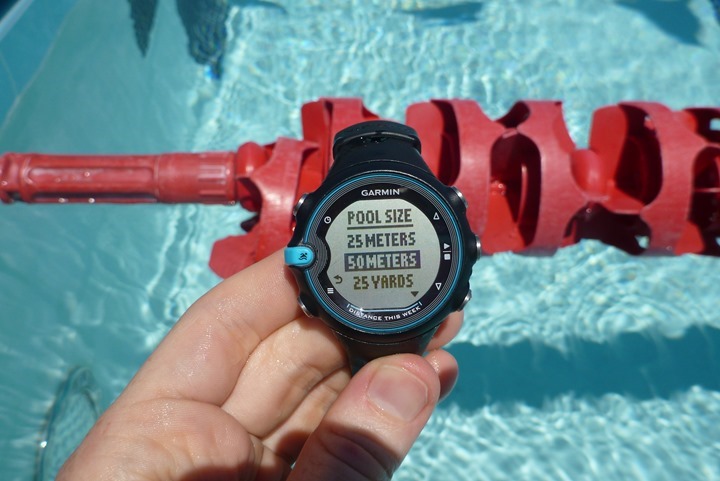 Now to swim! Back and forth I went.  My workout was a descending workout, with the following structure:
1600m
800m
400m
200m
100m
50m
Cool-down
I would increase the intensity as I descended from set to set.  Thus, the first set was more or less a warm-up.  And the final sets were at a pretty hard intensity.
It's funny – while it's rather nice swimming in a 50m long pool (and actually having the lanes setup that way), it's also the slowest I'll be.  I'm fastest of course in a 25y short-course pool, simply because of the walls and turns.  I generally have a fairly quick turn (for a non-competitive swimmer anyway), so the fact that I do half as many turns means I'm a bit slower than I would be on a short-course pool.  And of course, with a meter pool over a yard pool, your times will be approximately 10% longer (i.e. comparing 500m to 500y).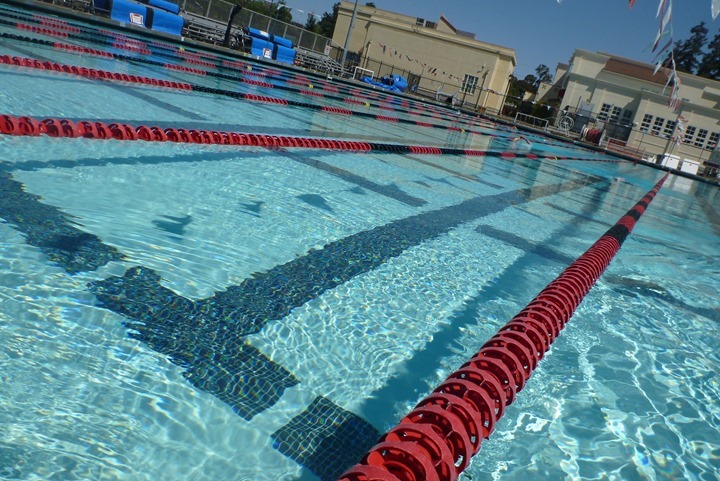 On the bright side, with having the lane to myself it meant that I wasn't having to dodge and weave past another dozen plus people.  Nor did I have a small welcoming committee at the end of each lane blocking any turns off the wall (no way to do that in my usual pool in France):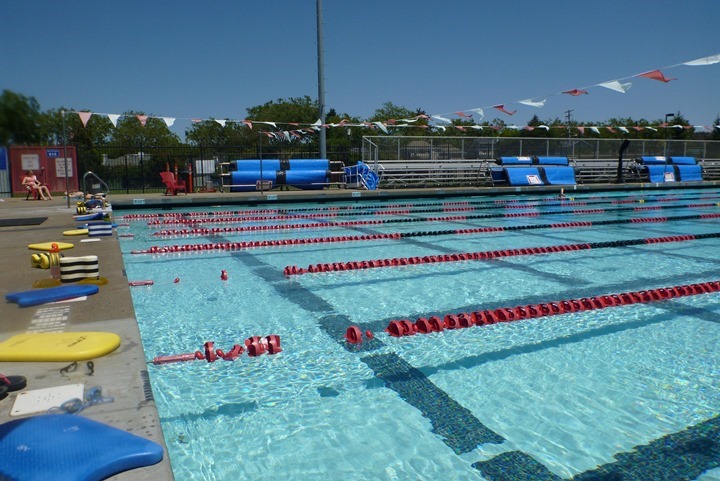 And they had all the pool toys you could need in big bins – complimentary!
The pool had three different depths over the length of it, a shallow depth of perhaps 1m (3ft) deep, then one about 7-8ft deep, and then one much deeper for diving.   There was also a small shallow pool off to the side for kits, though no kids were present.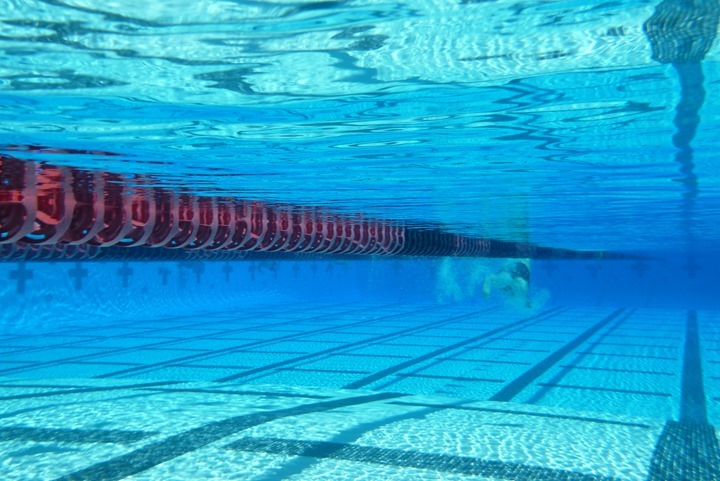 And I still can't get past how clear the water was.  This would make a perfect pool for doing all my underwater product review shots – both because it's fairly empty (I don't like having people around when doing shoots), and because of the water clarity.  And being outdoor I'd get great light, versus some of the indoor pools make it really tough to get good shots.  Oh, and for a preemptive question/answer, all the near/under-water shots in this post were taken with this small camera, though normally for product review shots I use a full underwater DSLR setup.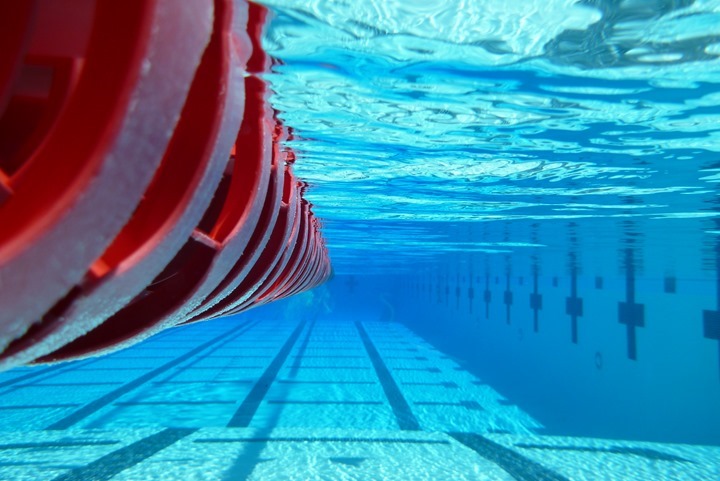 From a swimmers standpoint they also had both a digital timer clock as well as a traditional swim-clock setup at one end of the pool, which wound up actually right at the end of my lane.  There are no clocks setup in the pool I normally swim in (time, timer, or otherwise).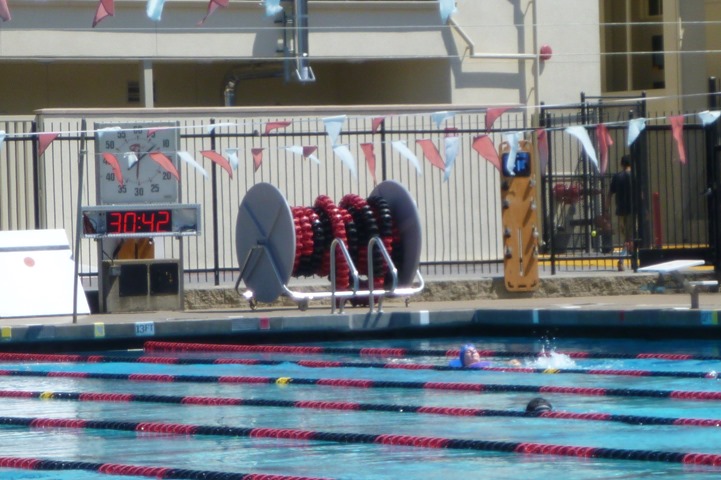 The whole workout took about an hour all-in, including a 2-minutes rest in between sets.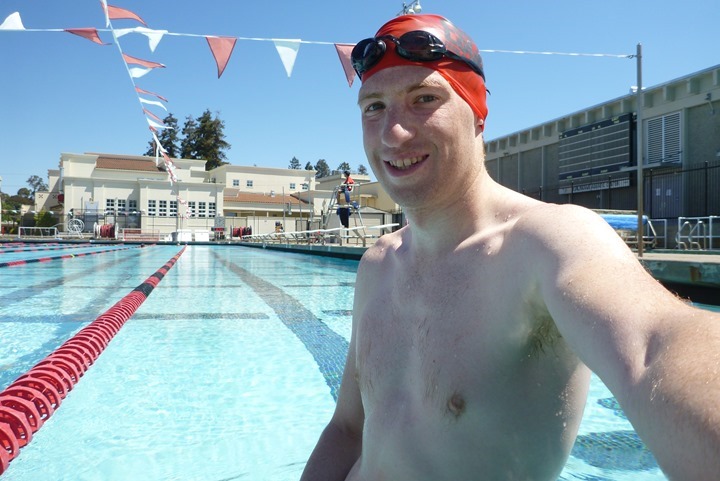 After I was done swimming, I rinsed off using the outdoor showers, and then relaxed a bit on one of the deck chairs.  I did this mostly because I lacked a towel in my bag, so about 5 minutes of air-drying in the sun worked perfectly!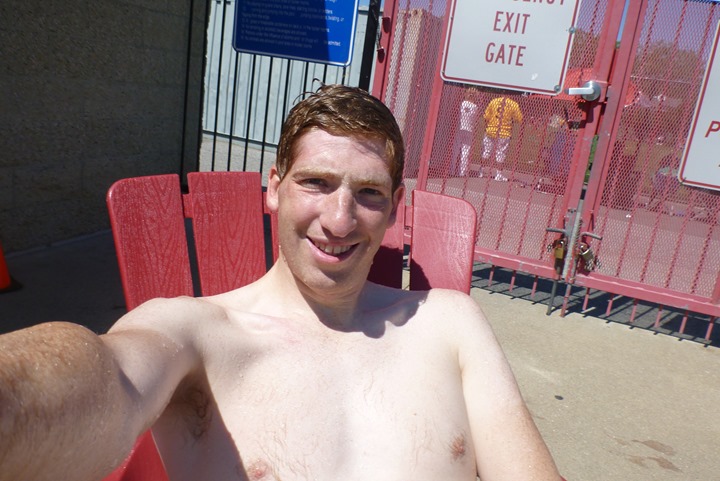 From there it was back out to the car, ready to head back to the airport.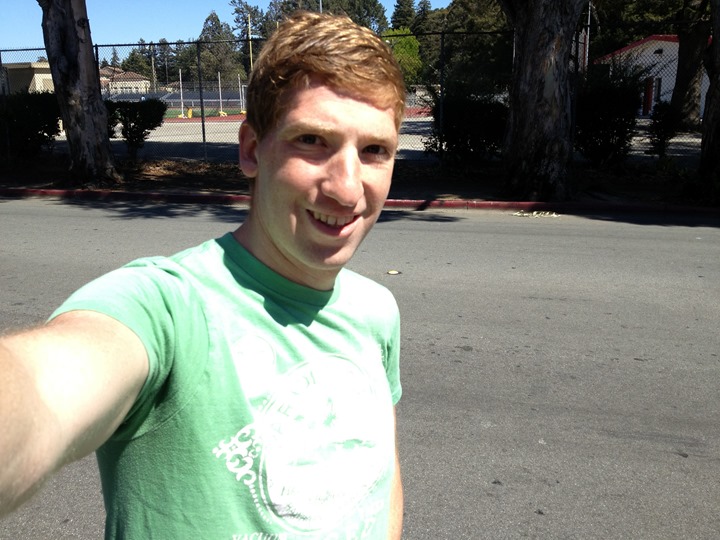 I made a quick swing by Starbucks to grab some food, since I hadn't eaten since somewhere over Utah a number of hours earlier.  The little 'downtown' area of Burlingame is actually rather cute.  Had I had more time I probably would have eaten somewhere local.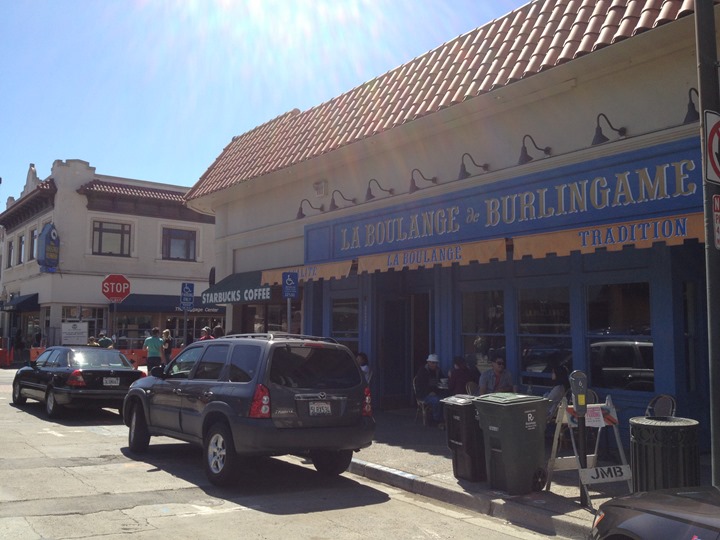 Instead, I went with 'my usual' – a turkey-bacon breakfast sandwich and a Mocha-Lite Frappuccino  – both fairly low calorie options.  Interestingly some portion of this Starbucks is now branded like a French bakery (La Boulange de Burlingame).  I assure you, looking at the options in the Starbucks cabinet, no self-respecting French (or French-transplant) would consider them of Boulangerie status.  Actually, even for a Starbucks they looked pretty rough.  My understanding though is the facility next door was the full-on bakery, though I didn't check it out.
On the flip side, no French bakery has turkey-bacon sandwiches or Mocha-Lite Frappuccino's, so I'll consider it a wash.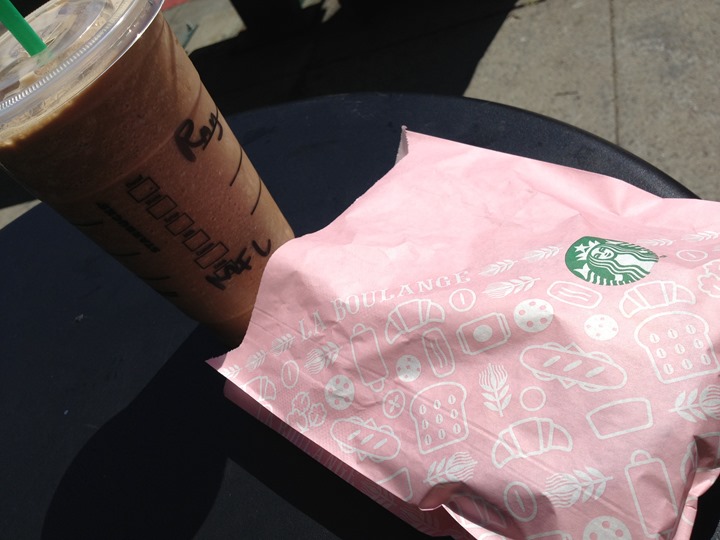 A few minutes later I dropped off my rental car.  A Mustang as it happened to be (look, I just take what they give me, though I generally prefer the absolute smallest possible car).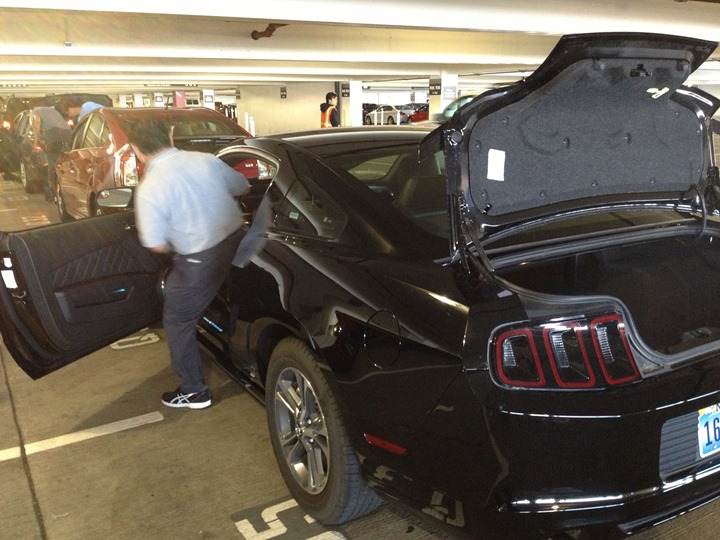 And then back onto the Airtran to the airport: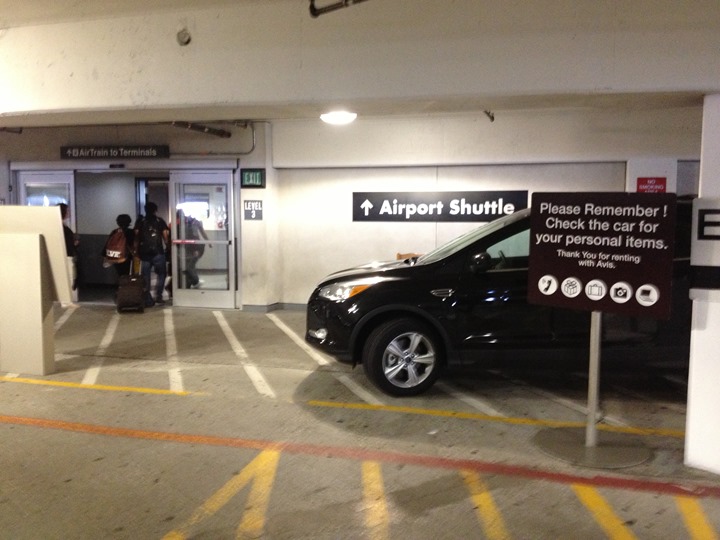 About 2 hours later I was boarding my flight up to Seattle: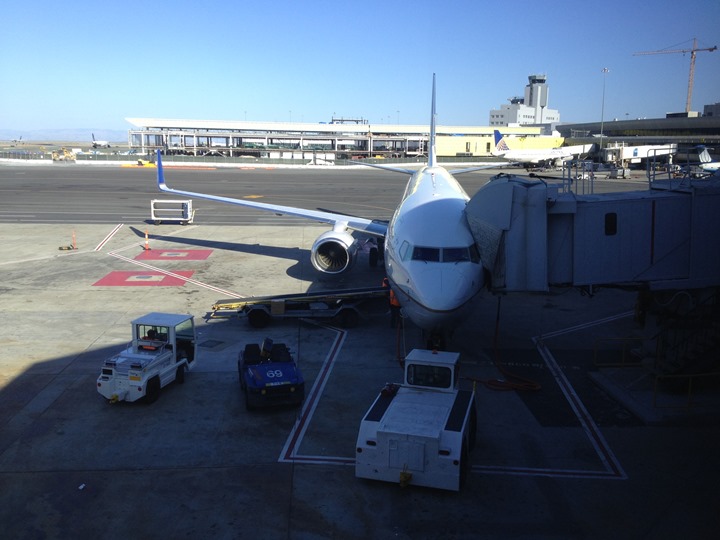 And shortly thereafter that, I was passing back past the Golden Gate Bridge towards 35,000 feet and more airtime.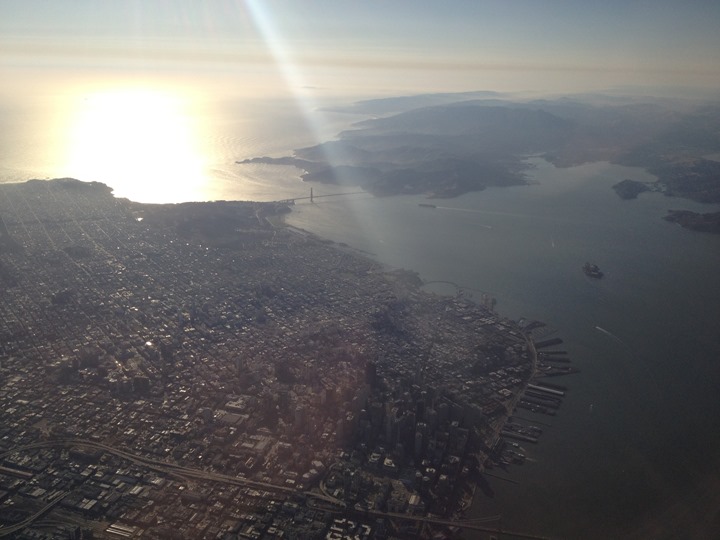 With that I kickoff a week in Seattle for meetings.  Hopefully I'll manage to get some of the same weather I had last time I was there.  Though at present it's not looking terribly likely.  Win some, lose some.
Thanks for reading, and have a great week ahead!