After hearing that Beijing was on my work trip itinerary I immediately did a bunch of research to figure out if you could actually swim in the famous Water Cube from the 2008 Beijing Olympics (officially called the National Aquatics Center).  And sure enough, you could!  Sweet!  Given I had to stay the weekend in Beijing, it seemed like the perfect opportunity to knock out my swim workout in a decidedly unique place.
First up was getting there.  It took three subway trains and about 30-35 minutes until I had arrived at the Olympic Sports Center subway stop: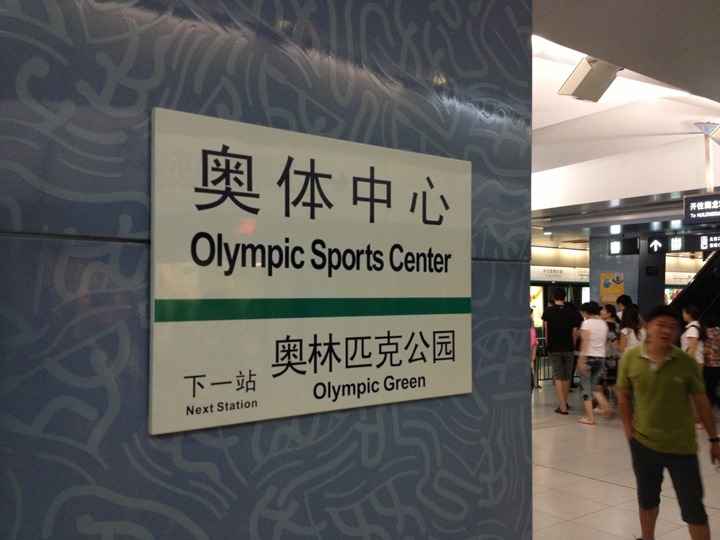 Once there I made my way up onto the vast Olympic Green area that acts as the glue with all the former Olympic venues on both sides.  This was packed with people out enjoying the unusual not-as-smoggy day here in Beijing: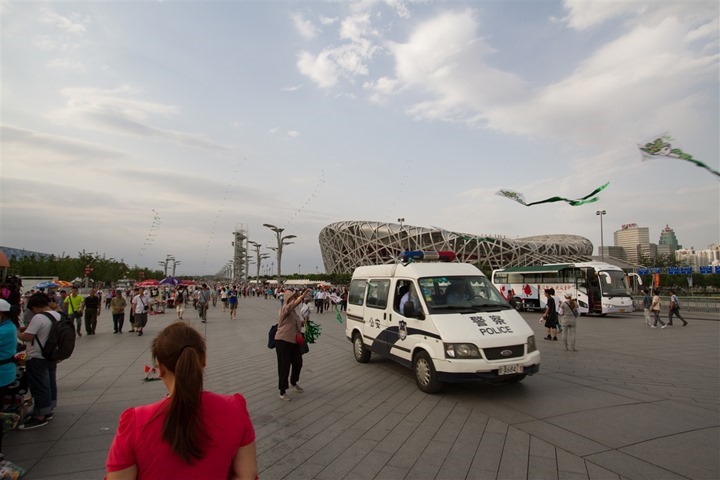 I took a brief detour to go check out the Olympic Stadium, which afforded me a bit better view of the Water Cube.  It's really hard to explain just how big the building is (the Water Cube).  It's probably about the size of two Costco's stuck end to end, and then stacked 2-3 high.  It's massive.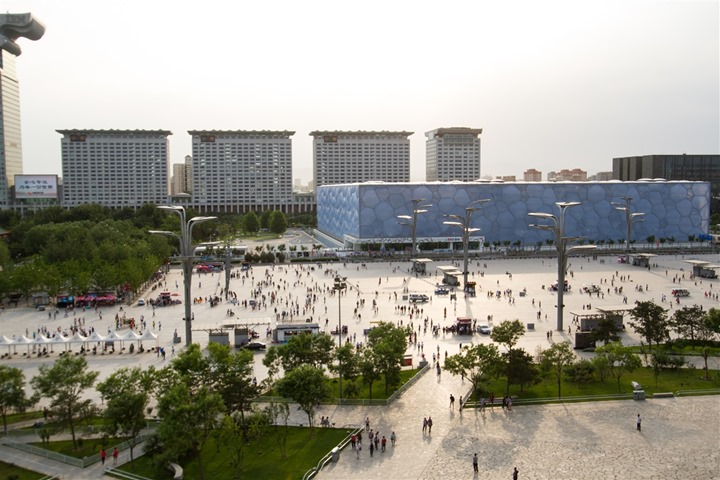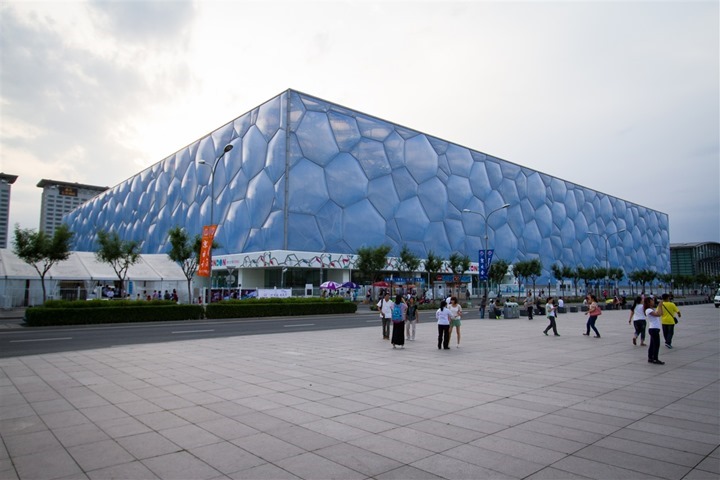 I headed on in to buy my tickets.  The ticket purchasing process was decidedly non-English in nature.  I handed over what I deemed to be 'enough' cash, and she handed back some amount of change and a ticket to go on in.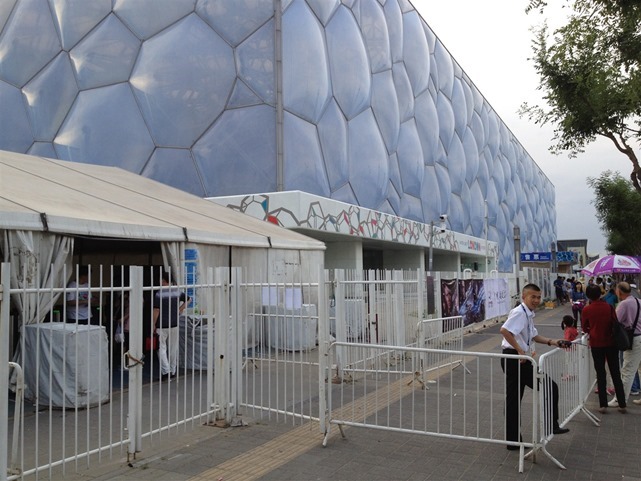 I did enjoy this sign on the fence as I went in: "Your Wish – Our Ways".  Translation:  Burger King this is not.  Their way or the highway.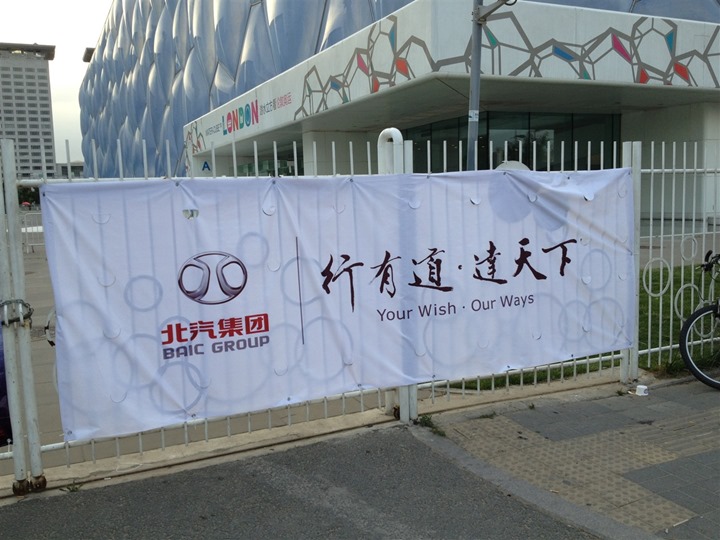 Inside there was a number of vast hallways and spaces.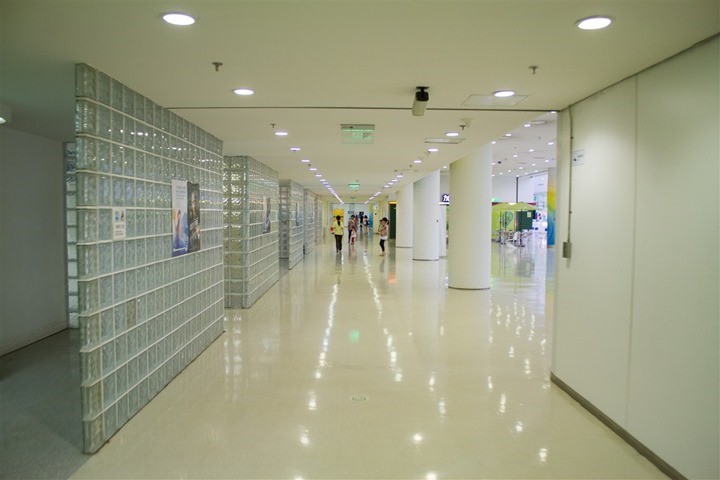 For example, this one had the training pool on one side, and the competition pool on the other: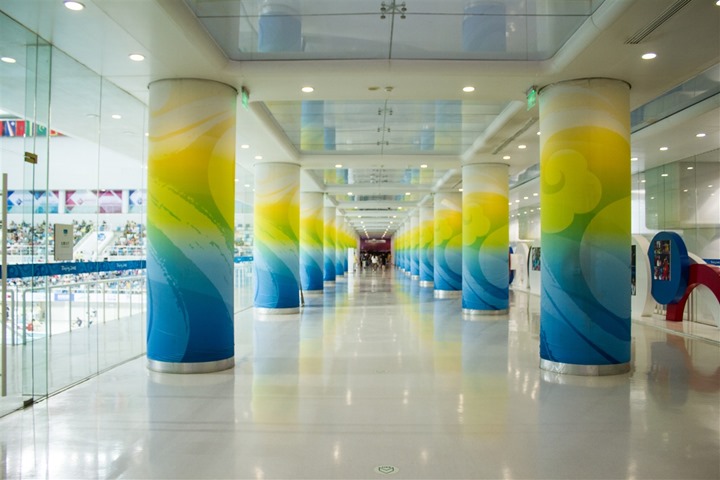 There was also some tie-in with the London Olympics as well: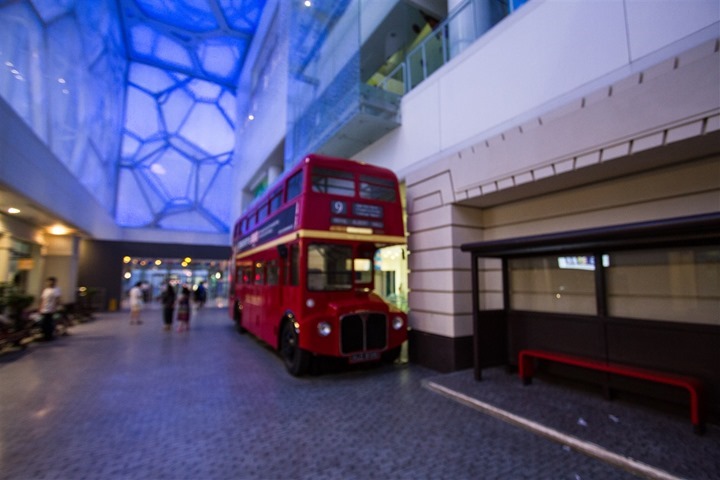 And then even places to eat inside – brilliant if you ask me.  I could transition right from swimming to ice cream and a hot dog: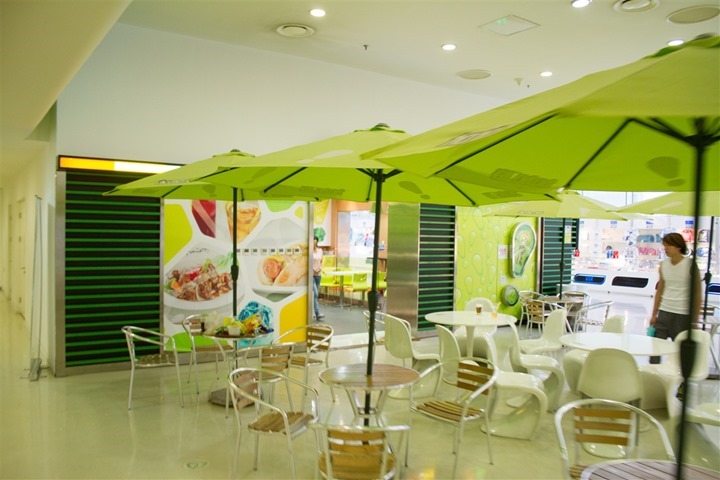 While I found a map, it didn't really help me in my quest to find tickets.  It's interesting here though to pick out which maps/signs are from the Olympics, and which are post-Olympics.  The general trick to telling is if they have French, it's pre-Olympics (since it's required by the IOC):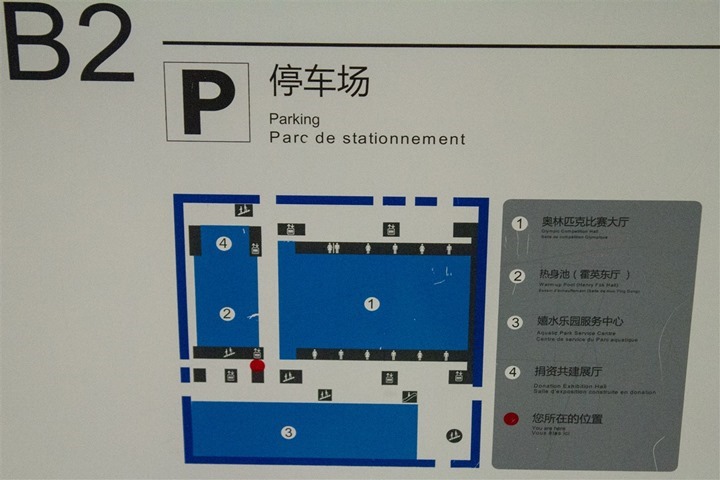 Also of note is that none of the little souvenir shops contained any Olympic branded items.  Everything is branded as "Beijing" or "Water Cube", but no Olympic logo or wording to be found.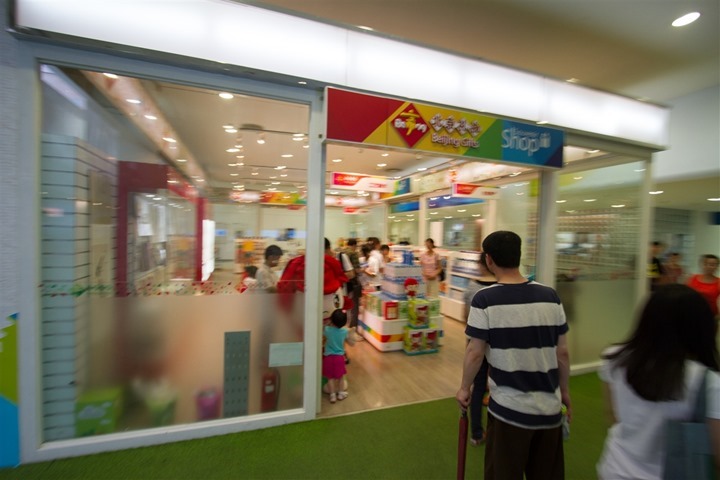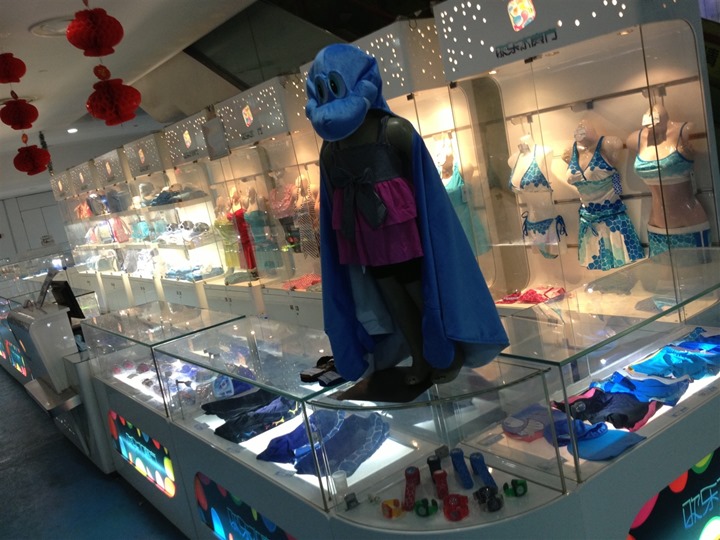 Eventually I did find the next ticket location – this time to buy my pool ticket and then locker ticket.  Apparently the first ticket was for the facility or something.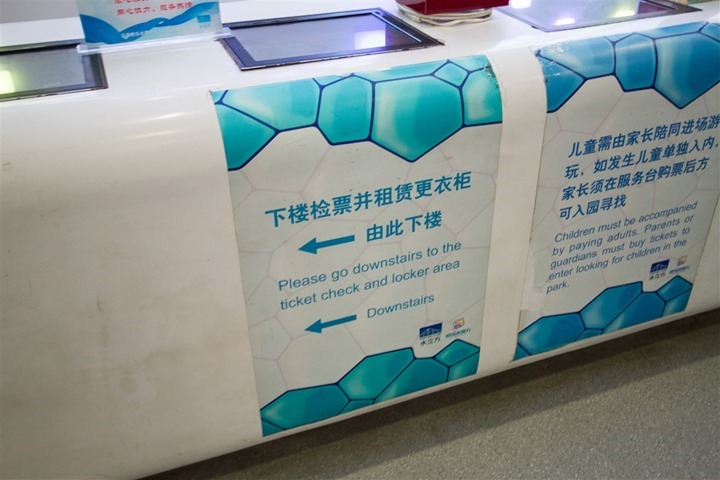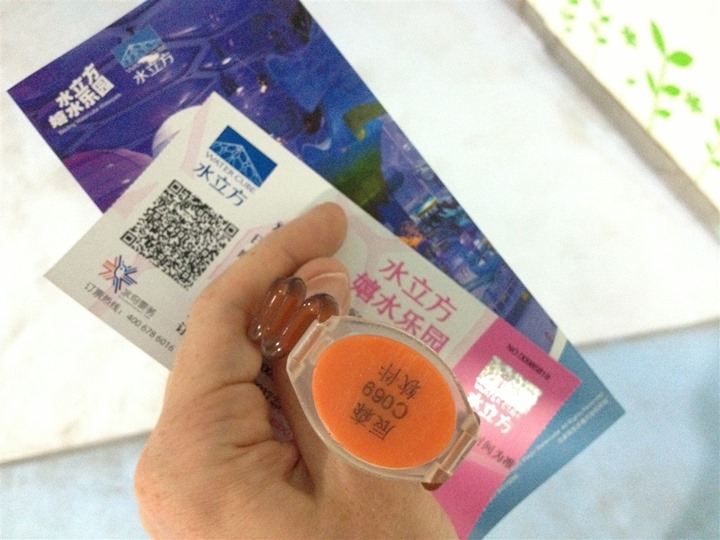 The cost for the warm-up pool was fairly straight forward – and basically about $4US.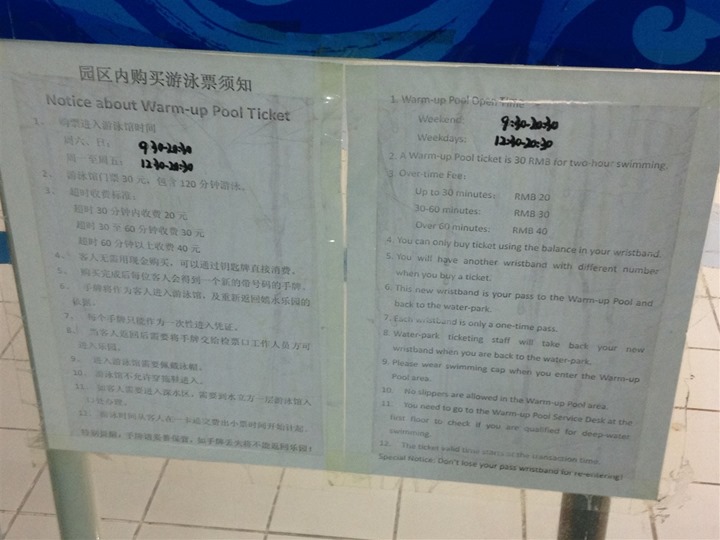 After picking up a locker RFID tag, I headed into the locker area.  You'll note I didn't say locker room, as that wasn't the case.  Instead there were changing/shower rooms, and then locker area was a long giant hall shared by everyone.  Actually, in many ways like it is in France.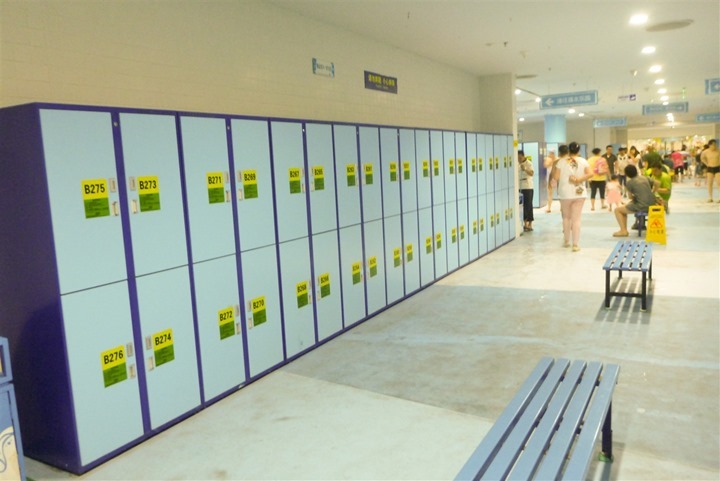 Upon validating my locker worked (you can go into it as many times as you like), I headed through the doors into the actual changing room/shower area.  They were behind the meat freezer looking flaps: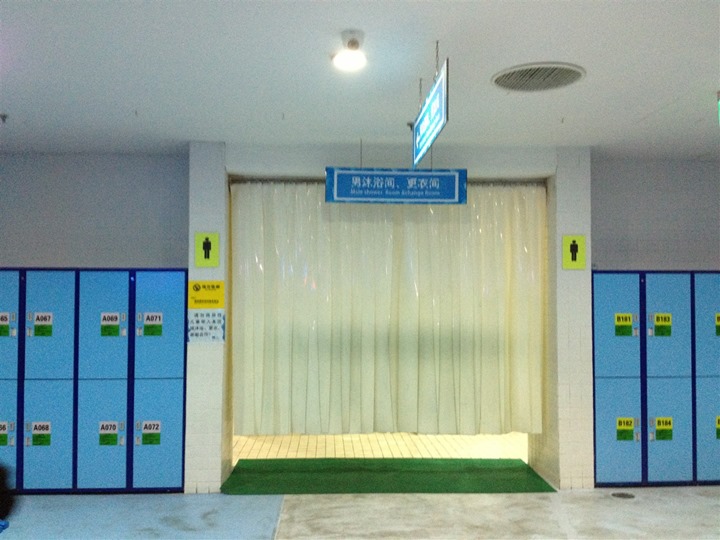 Once done inside, the lockers themselves were actually fairly spacious – I liked the separate levels for shoes: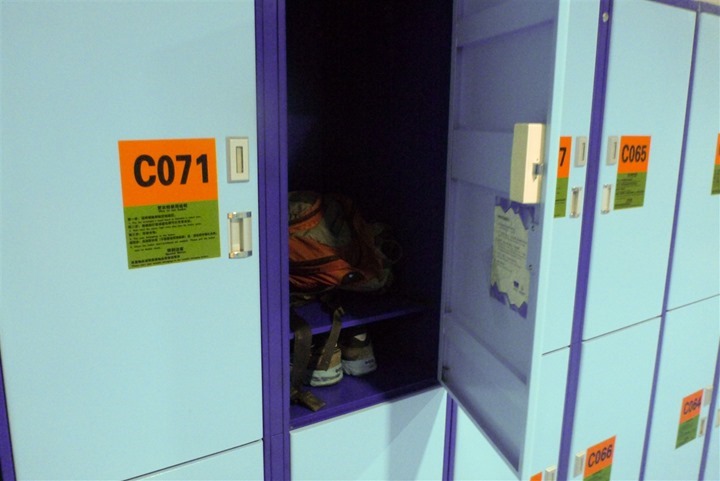 Then it's through the showers into the pool deck: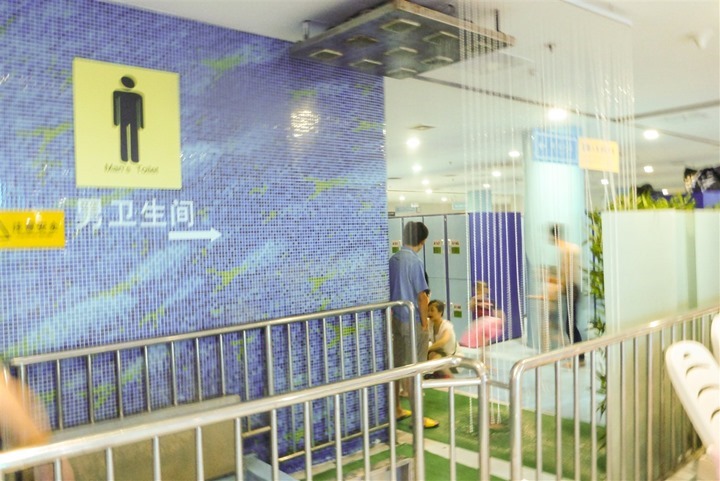 It was here that I fiddled with my watch and changed it from 25m to the 50m pool length: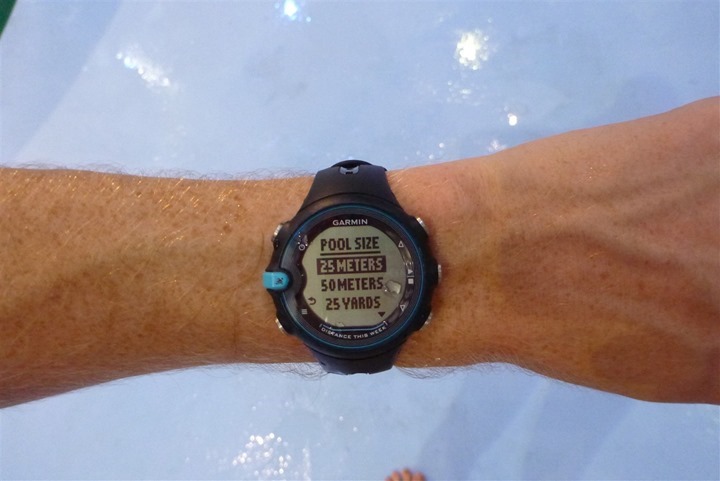 Then I dropped off my sandals at the sandal station: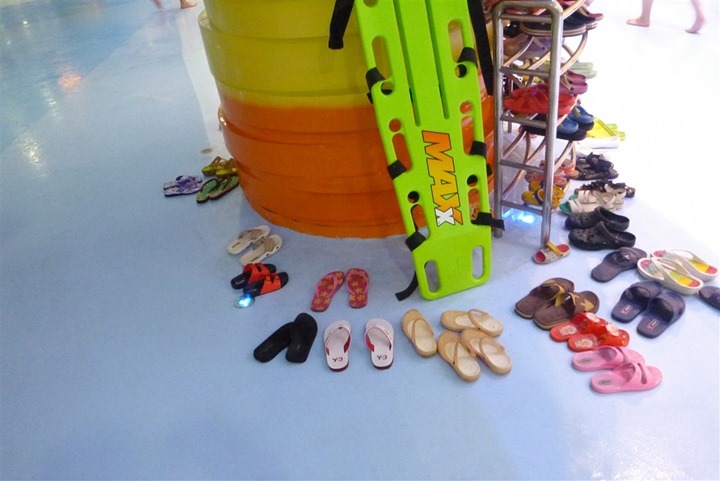 With that, I was ready to go.  Time to swim!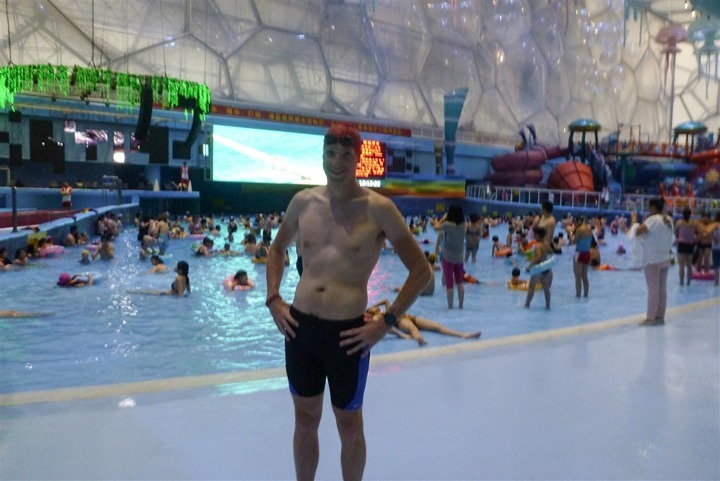 Wait, say what?  A wave pool?
You're damn right it was.  In fact, it's not just a wave pool these days, but also multiple water slides, a rafting river, and even those mushrooms that squirt water.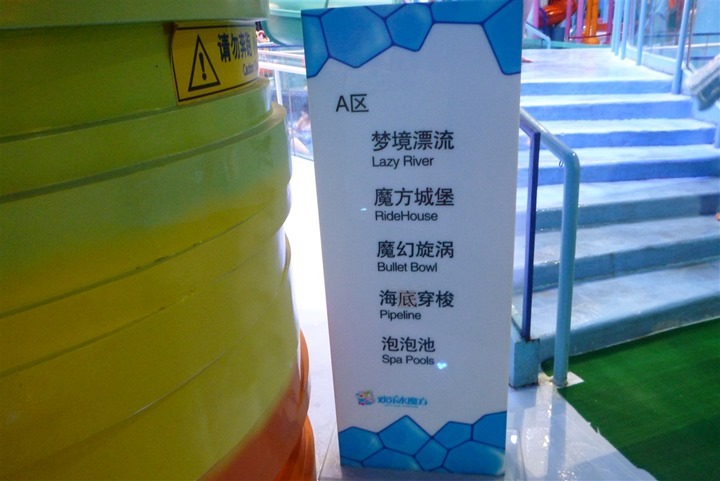 Obviously, this was going to take some time to fully appreciate.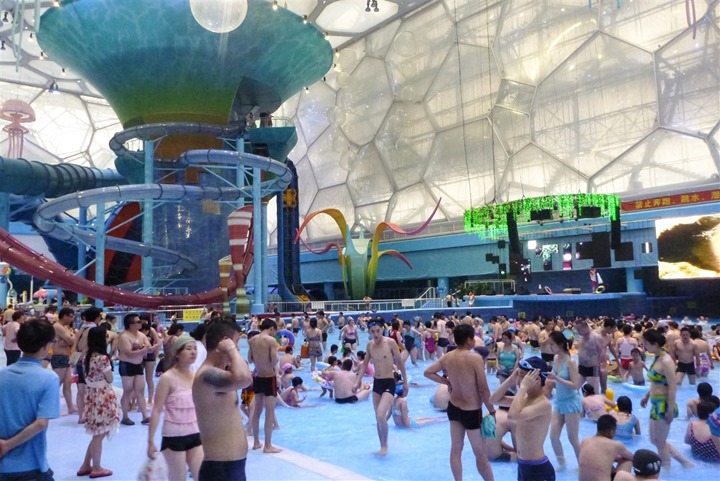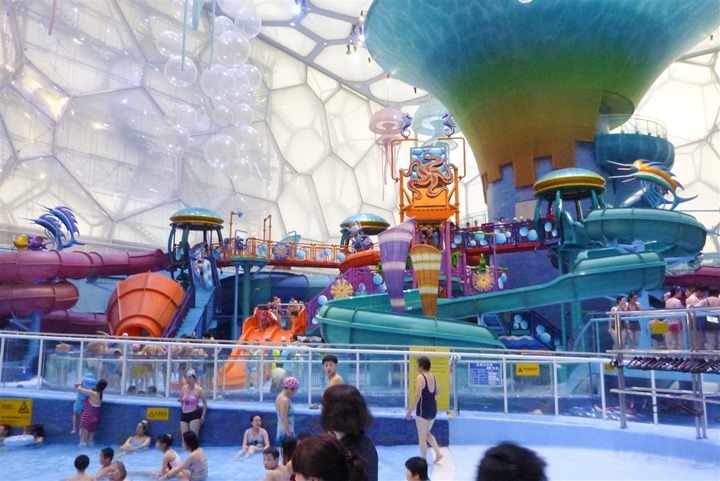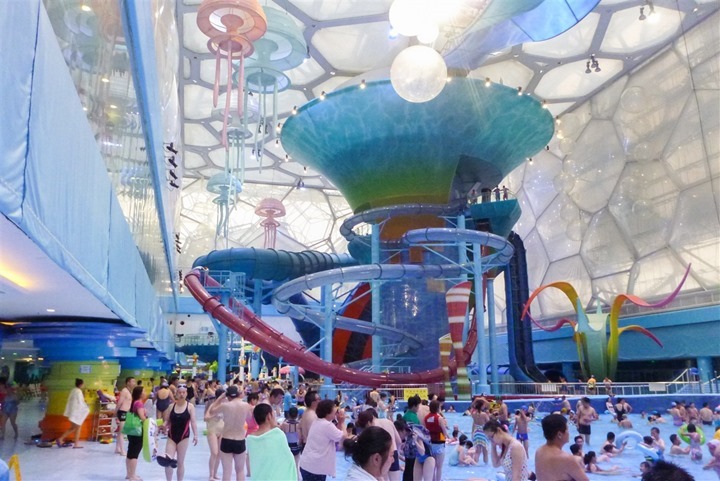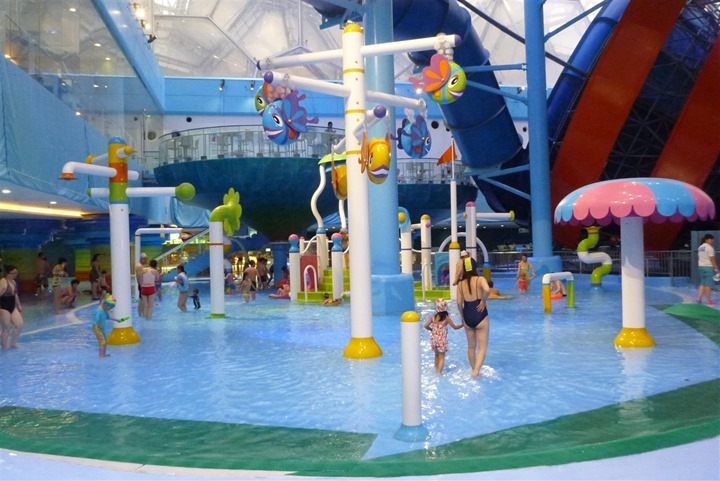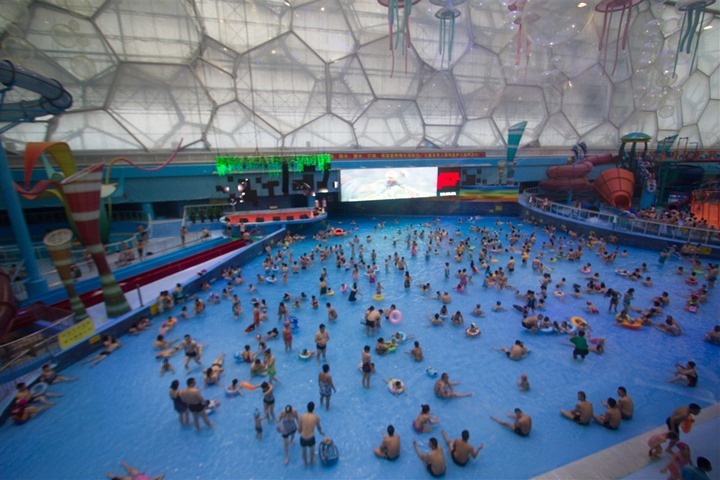 And appreciate I did.  For example, I did a few lengths of the wave pool.  Which, was apparently common.  Folks went out to the very far deep end and "swam" back and forth there.  More akin to doggy-paddle actually.  Fear not, no shame in that.  It'd be just like my first triathlon.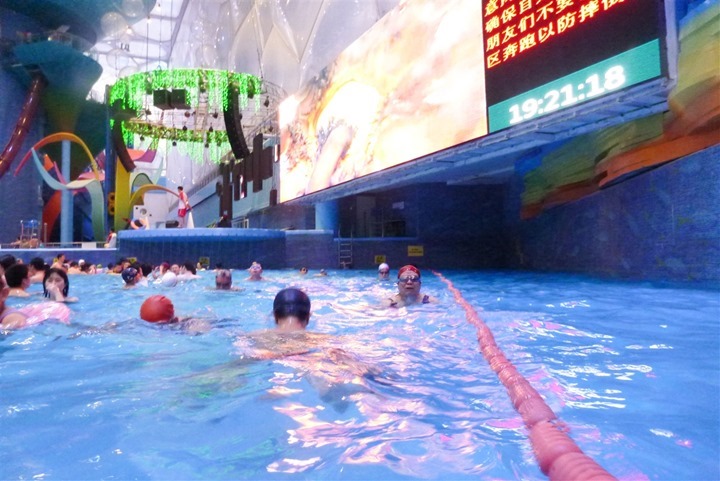 And then there's the water slides.  Check out this one, it actually goes back up again.  That's just crazy talk.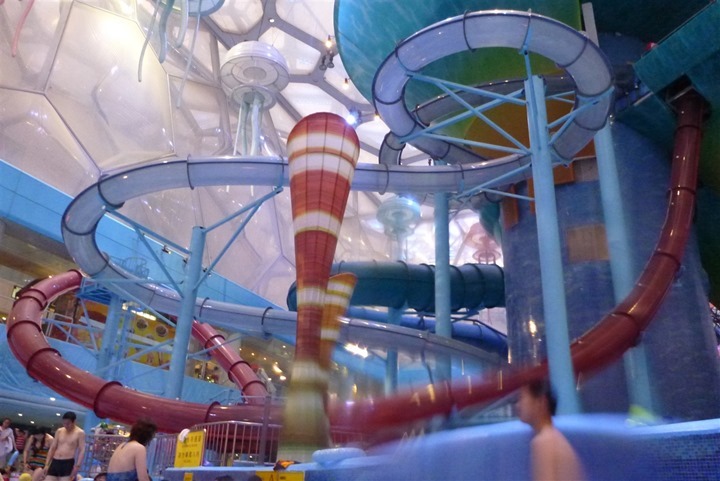 The whole facility is really quite massive: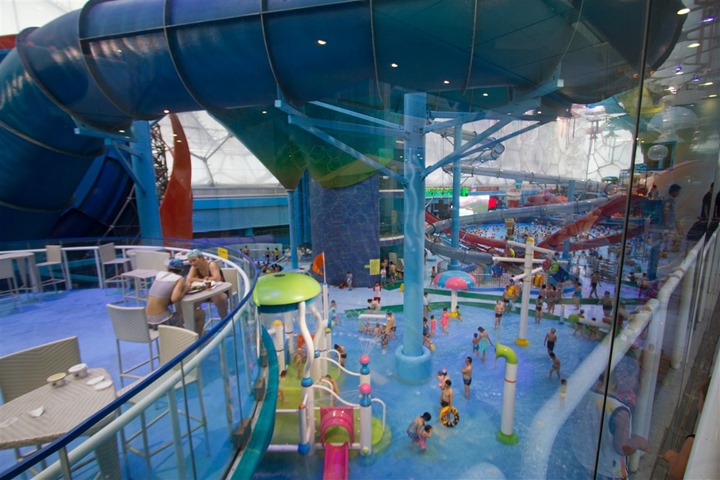 Which may leave you wondering about that competition pool and the warm-up pool.  Well, they were certainly there.  Except, for a few short days that overlapped my stay, they were busy hosting the Water Polo world championships.  So apparently, that ticket I bought outside was actually for the water polo world championships: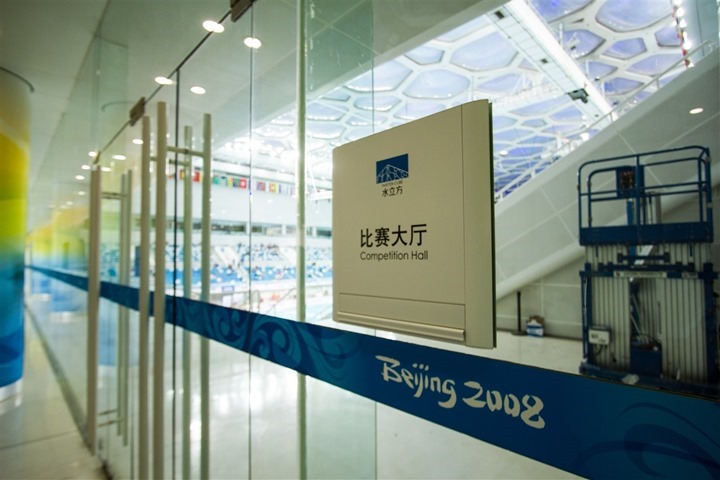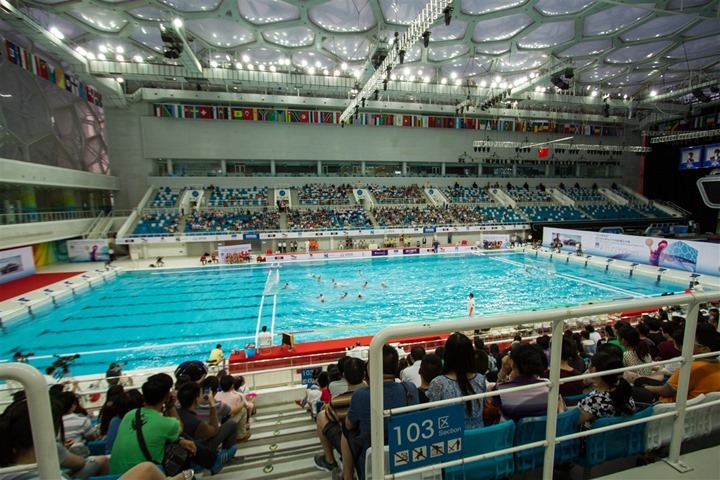 On the bright side, I did get to watch China and USA play for a bit, and then later watched Canada and Australia go at it.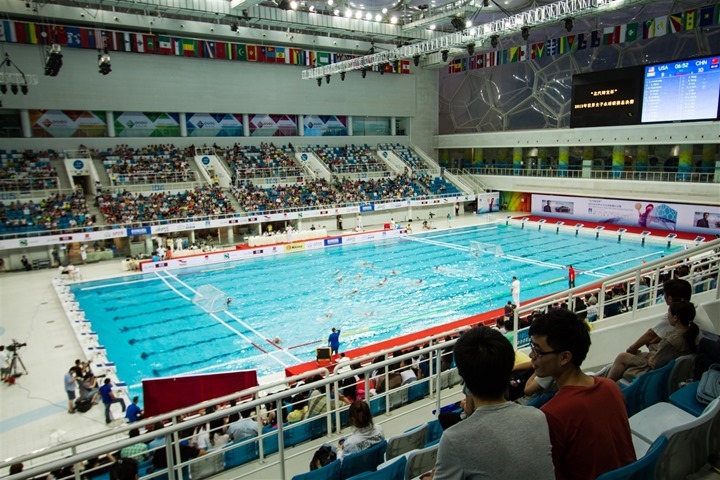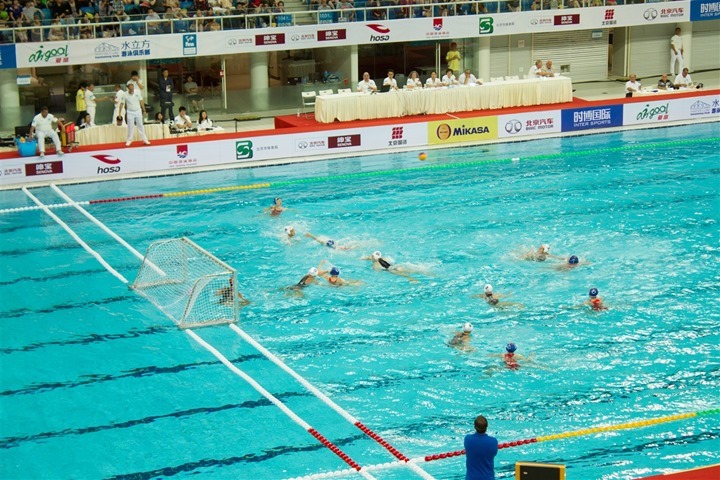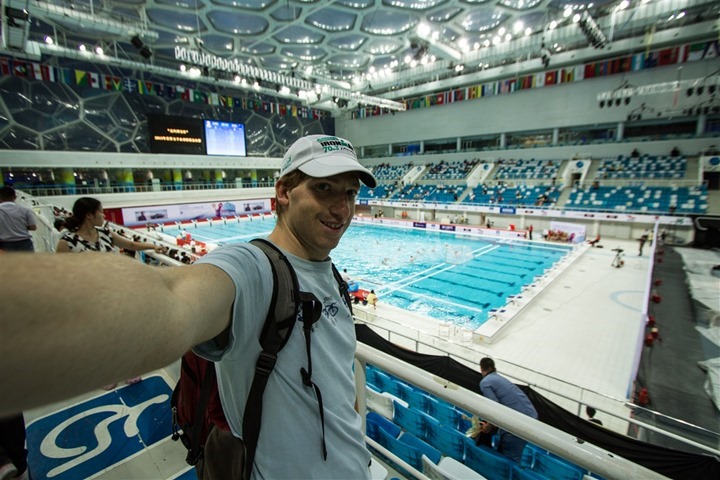 Having never watched water polo before, it seems like a rather tiring sport.  Lots of swimming involved.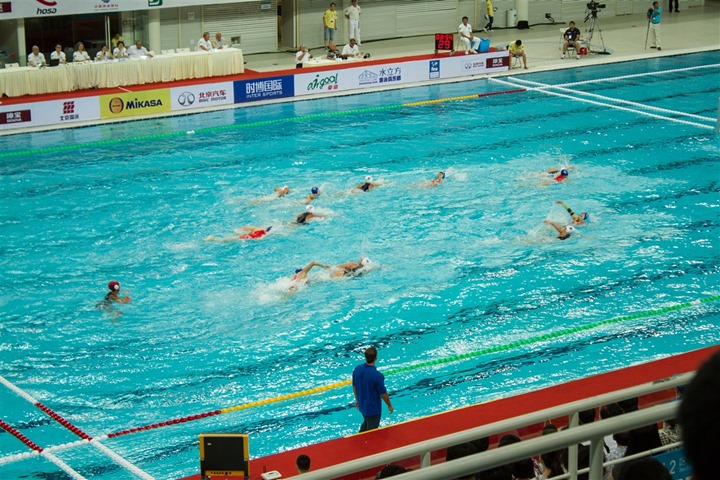 Next to the competition pool was the dive pool.  It wasn't open to swimming, but is apparently host to a reality TV show in China – 'Stars in Danger'.  You can skip around this YouTube clip to see it in action, around 8:20 is a nice concise 60 second or so look at how it works.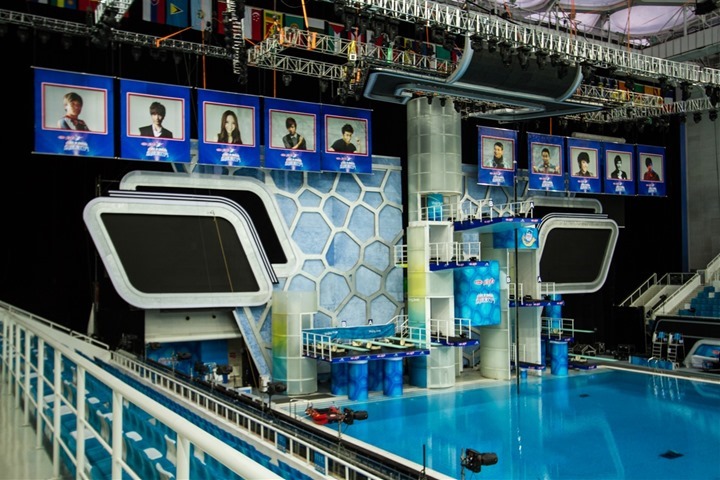 Which leaves the warm-up pool.  Unfortunately, because of the water polo competition it was reserved for their use, and thus closed to the general public: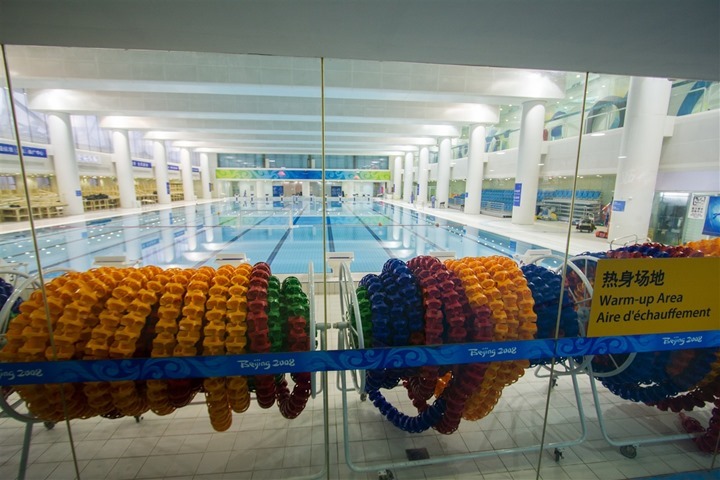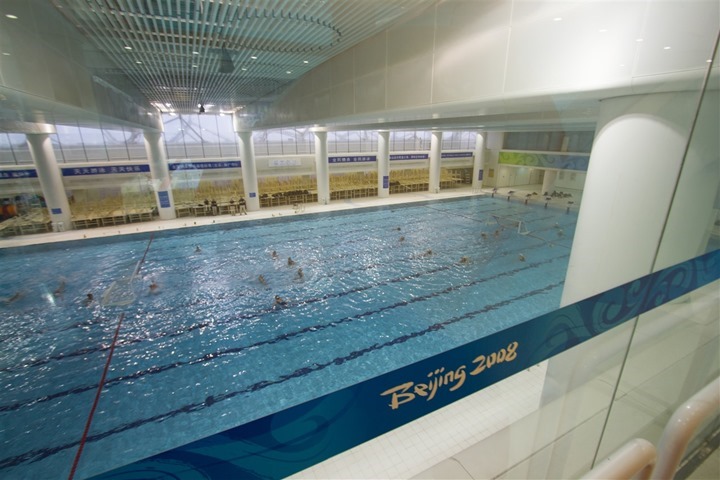 It's really a beautiful pool otherwise though: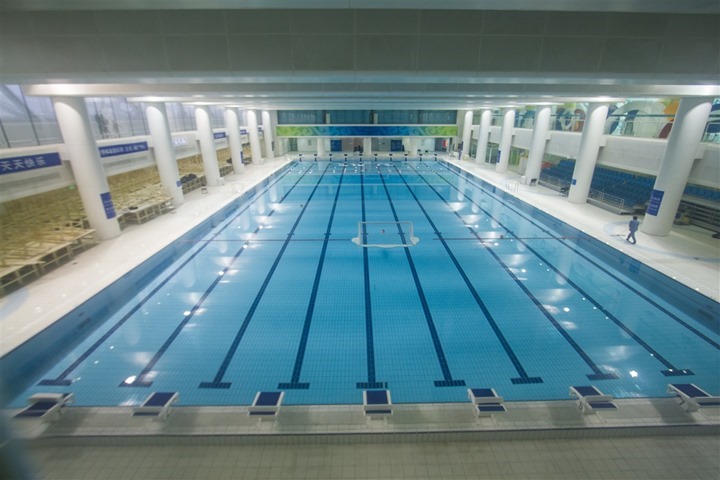 Normally however, they actually fill the bottom of the pool with a raised deck, and then split the pool in half.  One half is for non-swimmers, and the other half for swimmers.  You have to actually pass a 'test' (essentially swimming up and down the length of the pool), and then are even given an ID so they can validate you aren't going to drown.
You can see the 'risers' stacked up to the left (sorry for the slightly fuzzy shots here and there, they don't really clean the glass – so it was pretty dirty):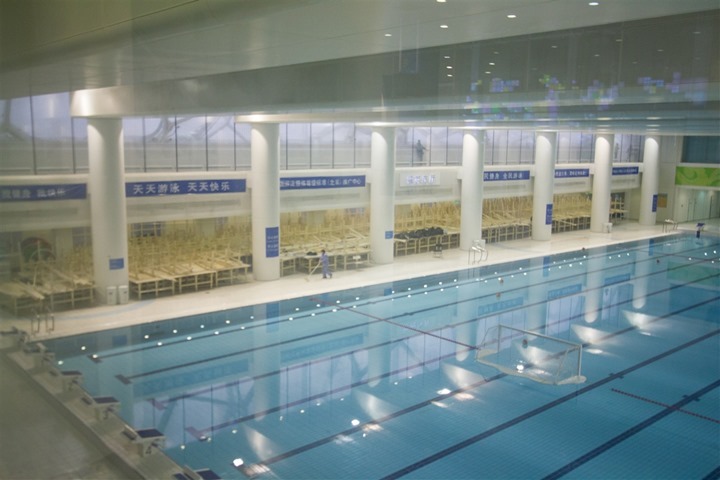 I was really bummed that the pool was closed.  While I've heard it's a pretty mixed experience – it still would have been a fun experience, at least once.  With my swimming fail completed (ok, I can't really count time under a squirting mushroom as a fail – that's always a WIN!), I started working my way back out.  By now, it was dark out.  And from the inside the blue of the cube was clearly visible.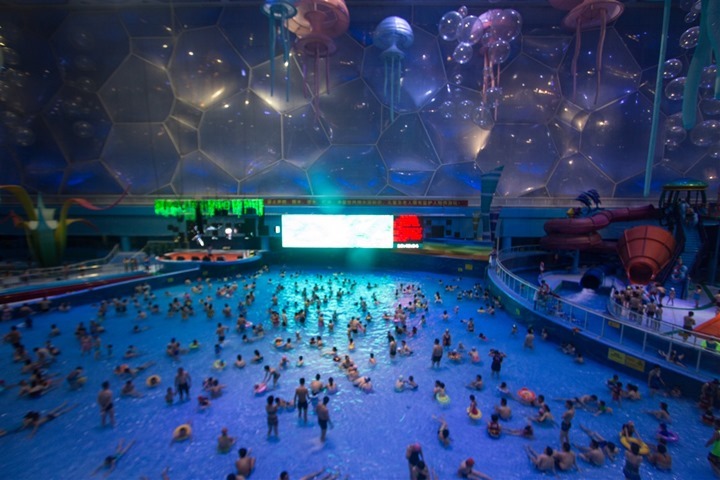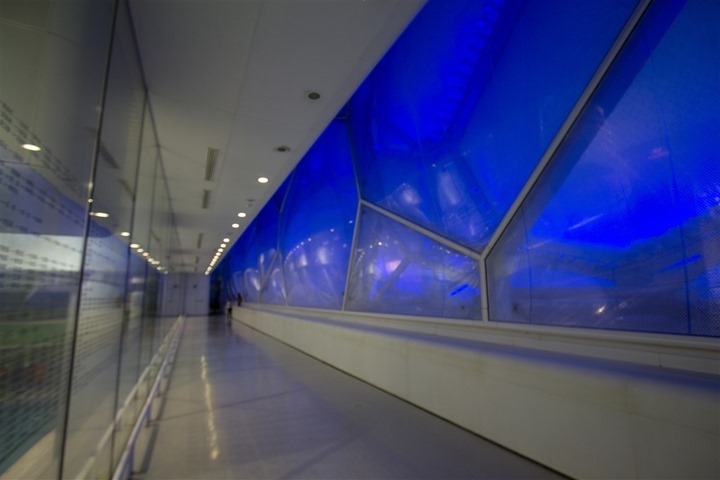 Once you got outside, it was full on blue glory!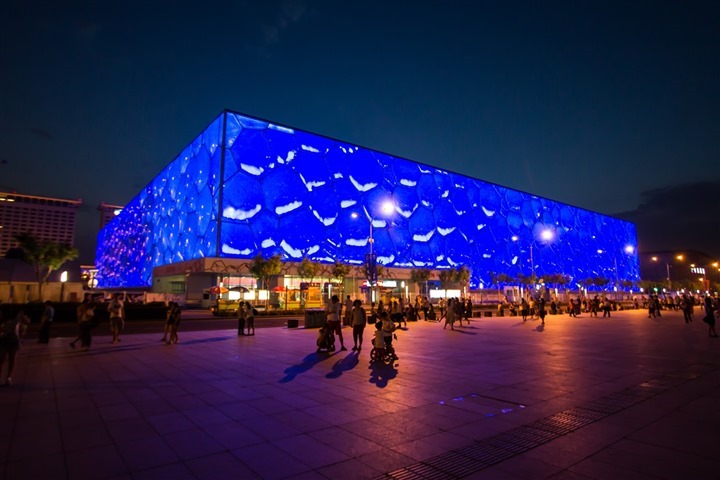 And, across the way the Birds Nest was also glowing away: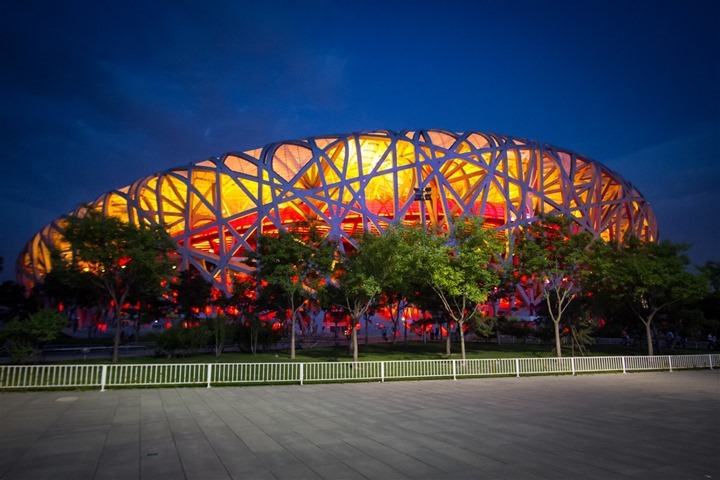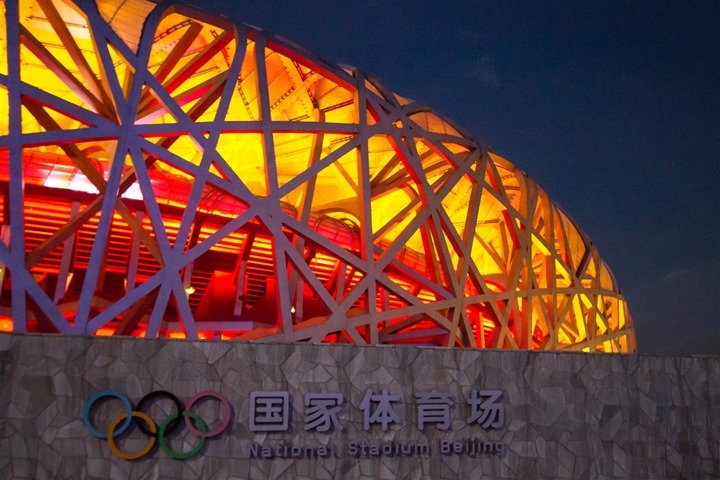 From there I walked the nearly mile back along Olympic Green to the subway and headed back to the hotel.  Mission sorta accomplished.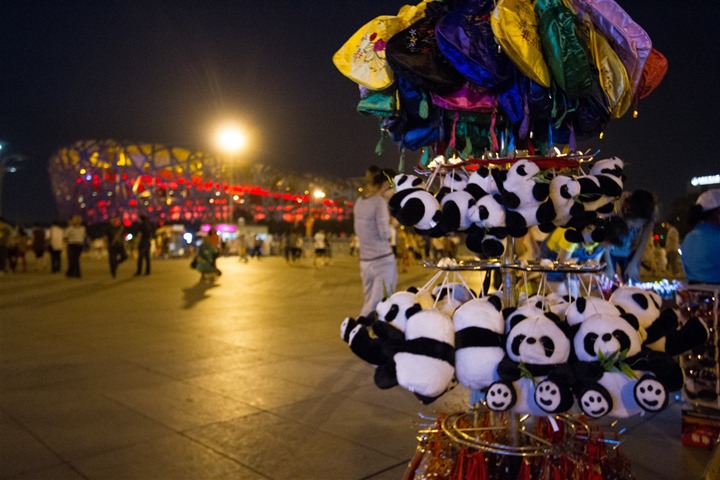 As always, thanks for reading!