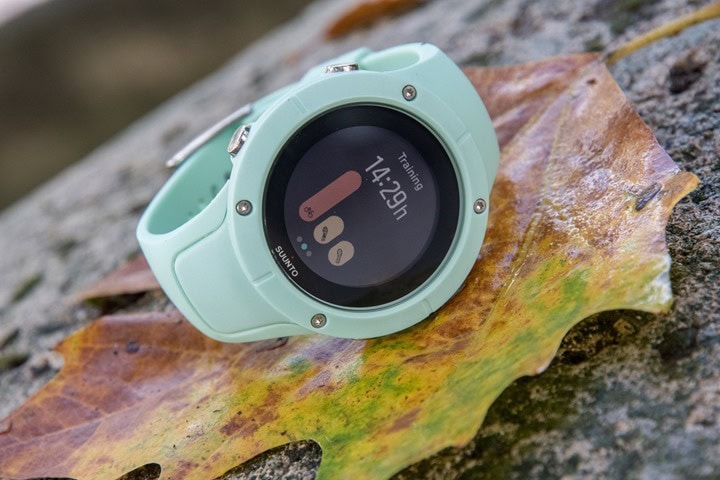 I think Suunto finally got their groove back.  After what I'd argue as 1-2 years of being a bit lost, today they've nailed it with a product that hits the target audience perfectly and does so at an awesome price.  Actually, I think they hit a pretty massive audience with this watch.
The key piece to know: Suunto just released a full-featured triathlon watch for 279USD/EUR.  Oh – and it even has optical heart rate built into it.  Ignore the 19-word  watch model name, the thing you need to know is that they took the full software of their high-end Suunto Spartan Sport series watch, and then shoved it in a smaller and lighter body, then halved the price.  Oh, and then they took an optical heart rate sensor and jammed that in there too just for giggles.
It has power meter support (both running and cycling power meters), navigational support, multisport capabilities, extensive sport configuration, heck – it's even got sleep tracking coming up at the end of the month (you didn't know that was even happening, did you?).  And again, all for $279 – by far the least expensive current-generation triathlon watch on the market.
But let's not get too far ahead of ourselves.  After all, we've gotta pace ourselves given this is an in-depth review.  First up is the usual note that Suunto sent over a turquoise colored Spartan Trainer for me to test out.  I'll send it back once I'm done with the review, as usual.  You can hit up the links at the end of the post if you found this review useful.  And second…let's just start unboxing.
Unboxing: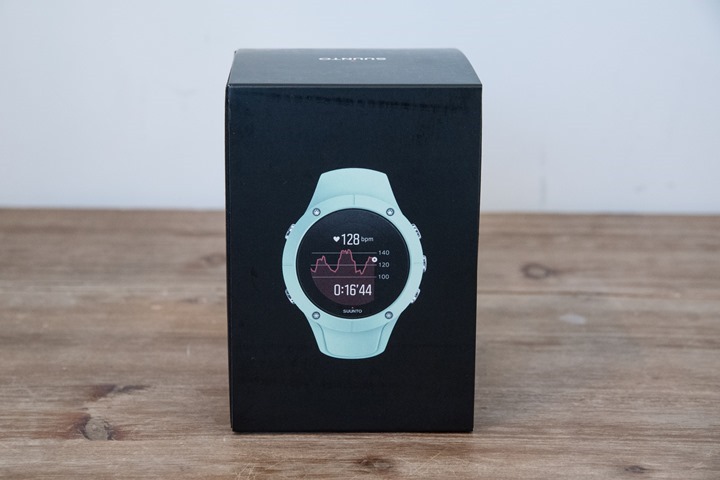 So let's get this box all cracked open.  First up you'll notice it's essentially the same box as the other Suunto Spartan watches.  Do remember that this is one of a number of color choices for the Suunto Trainer, and thus your exact color scheme may differ.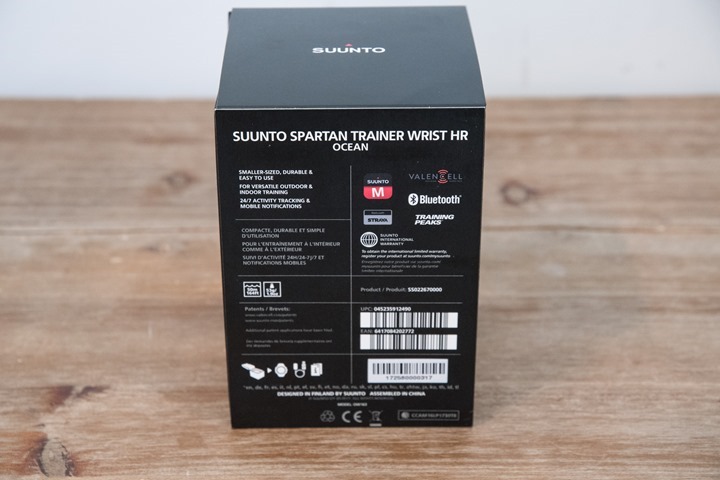 For those wondering on colors, here's the other options.  The ones with the metal bezels cost $329 – so a slight premium. Also, they'll ship a bit later towards mid-September.


Inside, we've got the unit looking up at us: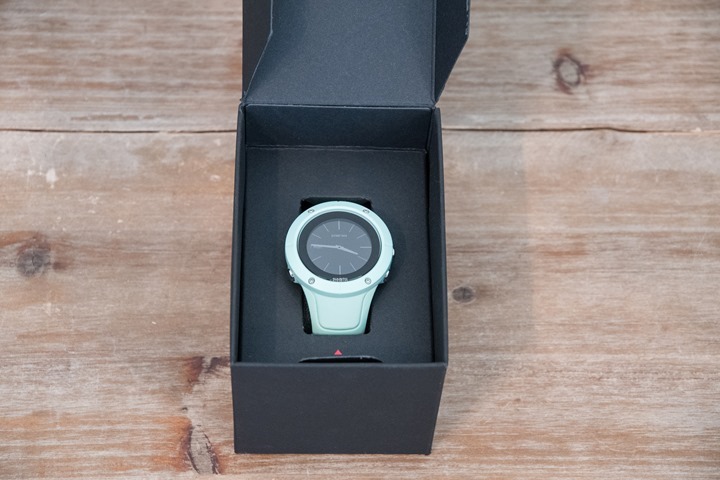 Below decks though we'll find the charging cable and quick start guides/warranty stuffs: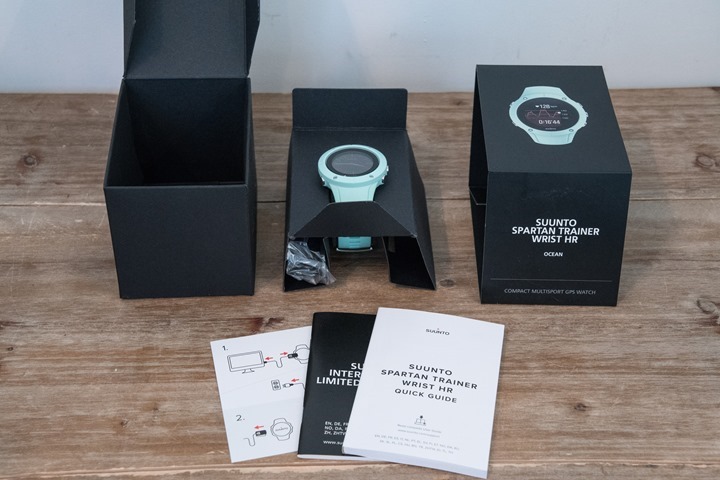 Here's everything out on the table: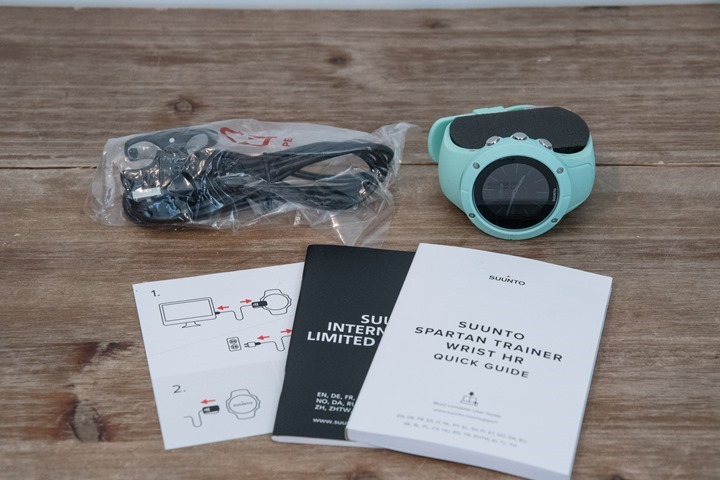 Eagle-eyed Suunto fans may have already noticed something interesting: The charging cable.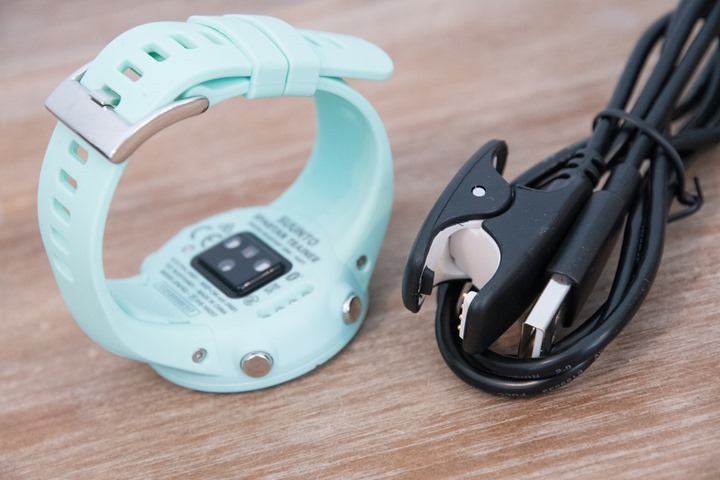 This charging cable matches that of the Suunto Ambit series, and doesn't follow inline with the existing Suunto Spartan series cables (which have a magnetic charging snap).  Side by side: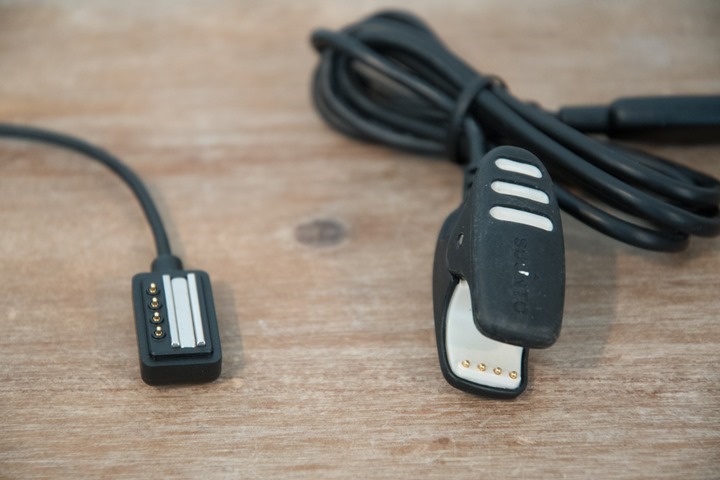 Why's this?  Well, likely because as you'll also soon notice – the Suunto Trainer looks more externally like that of an Ambit series than a Spartan series, specifically with the small satellite bump on the lower portion of the unit.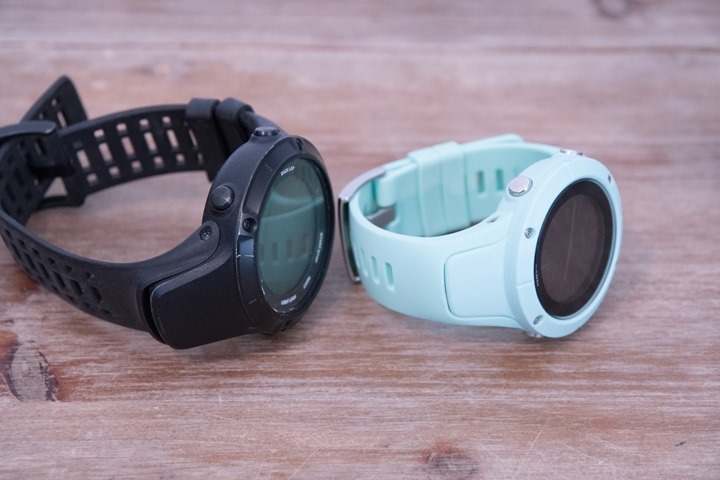 The good news here is that historically speaking we've actually seen better GPS accuracy with the Ambit series units that sport the bump than the Spartan series that have slimmed down.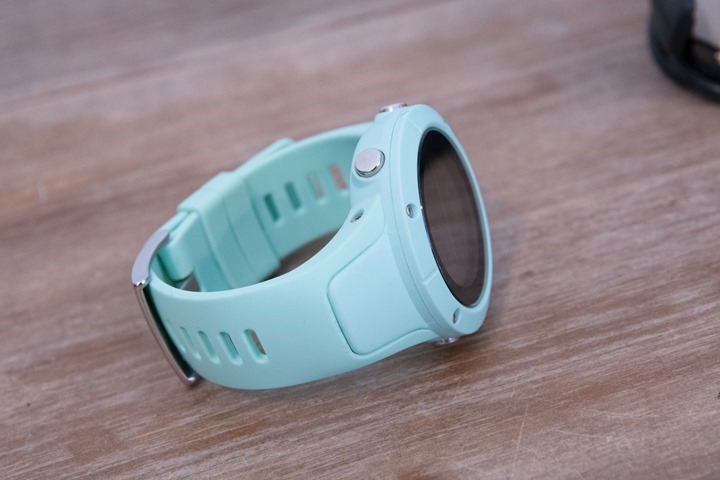 In any event – on the back of the unit you'll of course notice the optical heart rate (HR) sensor, which is made by Valencell.  It's the same sensor as in the Suunto Spartan Sport Wrist HR unit.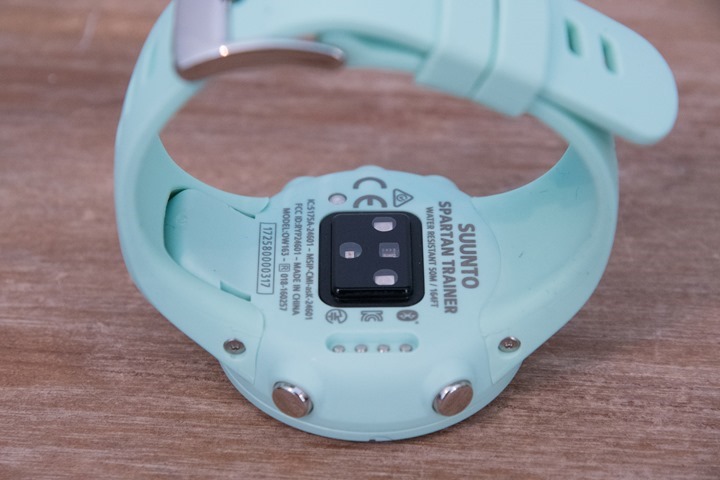 And finally, we've got the paper stuffs, a quick start guide in 84 languages and some warranty goodness: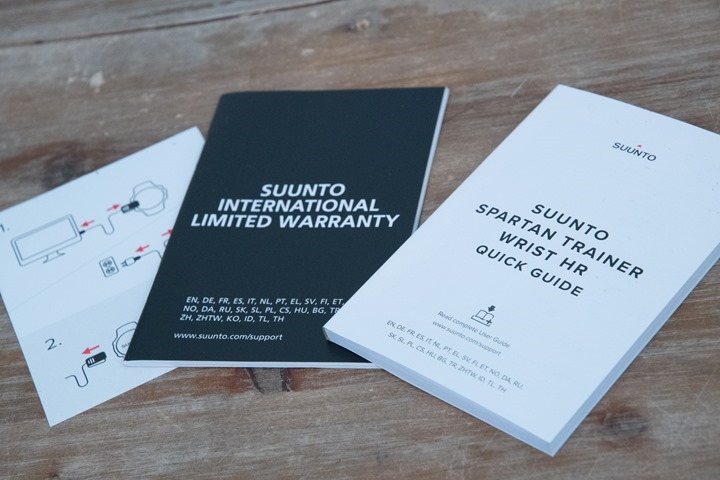 Overall it's a pretty slim box – nice and clean.
Size & Weight Comparisons:
So with the Suunto Trainer being a smaller version of the Spartan series, how does it line up in terms of size and weight?  Ask and you shall receive.  First, let's look at these three models side by side – left to right: Suunto Spartan Trainer Wrist HR, Suunto Spartan Sport Wrist HR, and the Suunto Spartan Ultra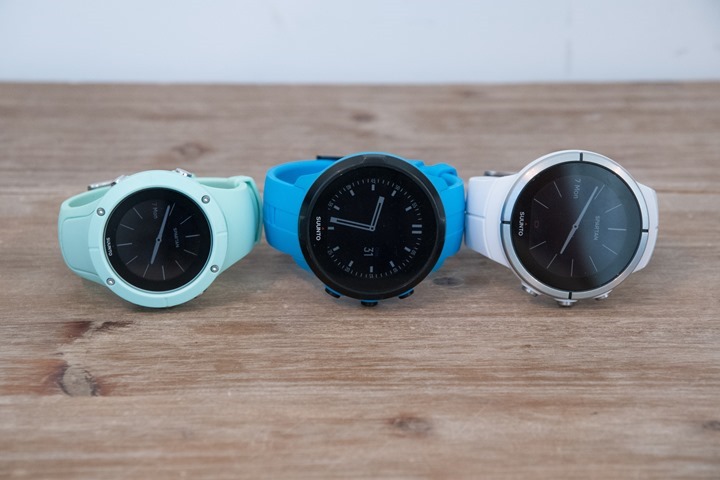 I didn't have my Spartan Sport handy, though from the front it's identical in size to that of the Ultra.  It's only the weight and thickness that differs physically.
Meanwhile, here's how thick they all are: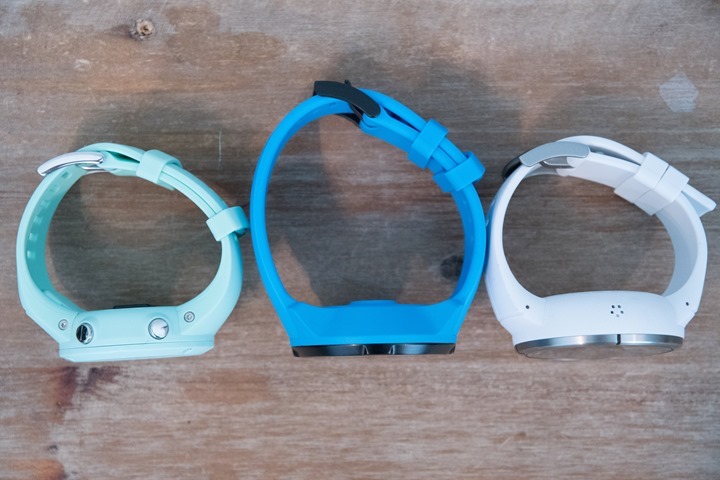 From a wrist-size comparison, here's what it looks like on my wrist, which his 17cm (or about 6.5 inches):
And finally, let's look at some weights:
(Left to right: Spartan Ultra, Spartan Sport Wrist HR, Spartan Trainer Wrist HR, Ambit3 Peak)
As you can see, it's definitely pretty light.  And while some of that is because it's smaller, it's also because it lacks the glass front as well as heavier materials used on the bezel.  All of which contribute to a lower weight than the other units.
The Basics: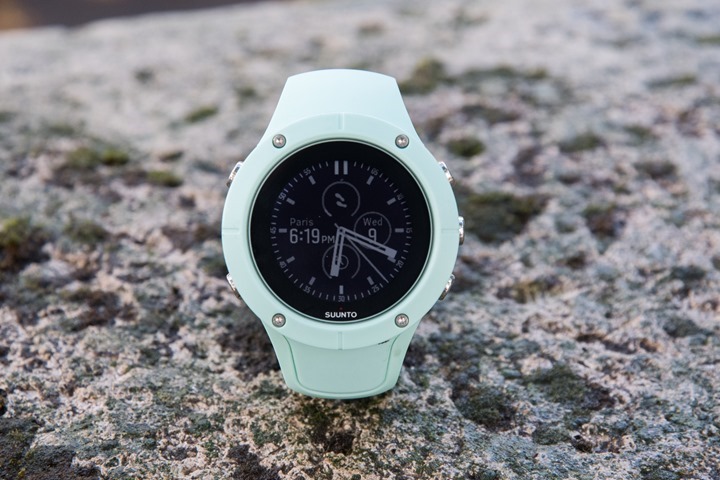 Given I just wrote about this watch's near-identical sibling, the Suunto Spartan Sport Wrist HR, I'm going to try and abbreviate some of this.  Everything you read in that review basically applies to this one (except the HR accuracy, GPS accuracy, and screen related pieces).  And given that's barely two months old – there hasn't been much in the way of changes since then (beyond minor bug fixes).
Still, I do want to cover the basics of how the watch works to serve as a primer for the sport usage section.
First off, is navigating the menus.  While the Spartan Sport and Ultra had a touchscreen on them, the Trainer lacks that.  So instead you'll use the buttons like most any other watch.  And in fact, since the Sport and Ultra had these same buttons – it's really no different than just ignoring the lack of touchscreen.
Wanna understand every menu there is in one handy video? No problem, just watch the below:
The watch starts off on the time screen, which you can lightly customize: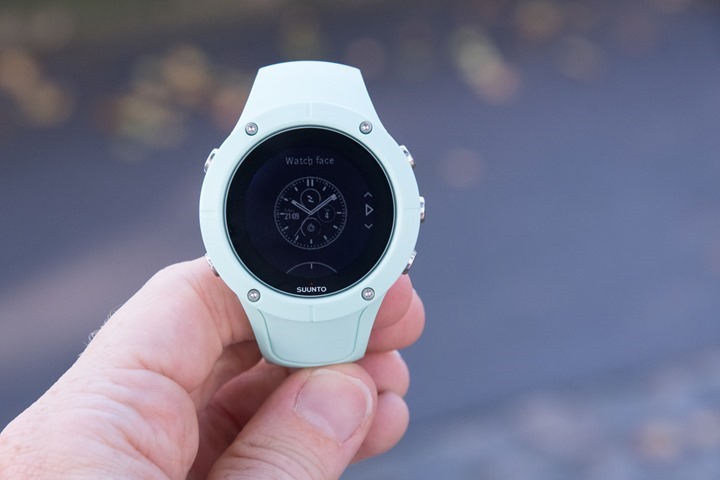 You'll press up or down to navigate to different main portions of the menu.  For example, press down gets into historical stats – things like your recovery status, activity tracking, and even 24×7 HR tracking: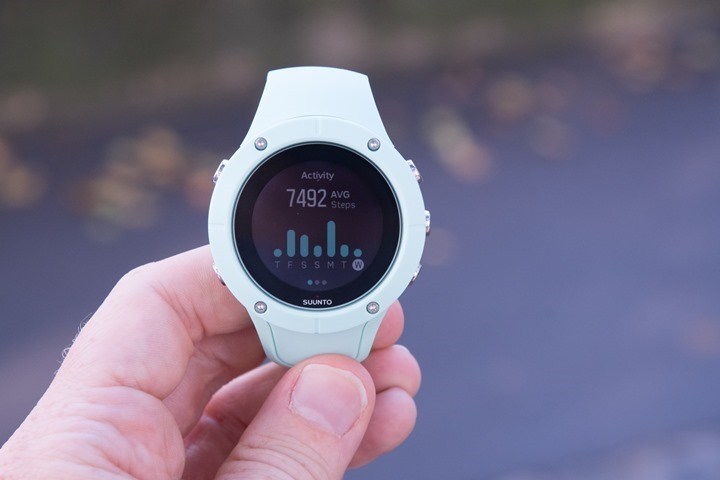 Meanwhile, pressing up goes to areas such the Settings control area, Stopwatch, Navigation, Exercise, and your full sport log.  It's within Exercise that you'd start a workout (but more on that in the 'Sport Usage' section next).
For example, in settings you can pair to sensors (and your phone), as well as change options like activity tracker and notification settings.  It's also where you'll tweak the watch face.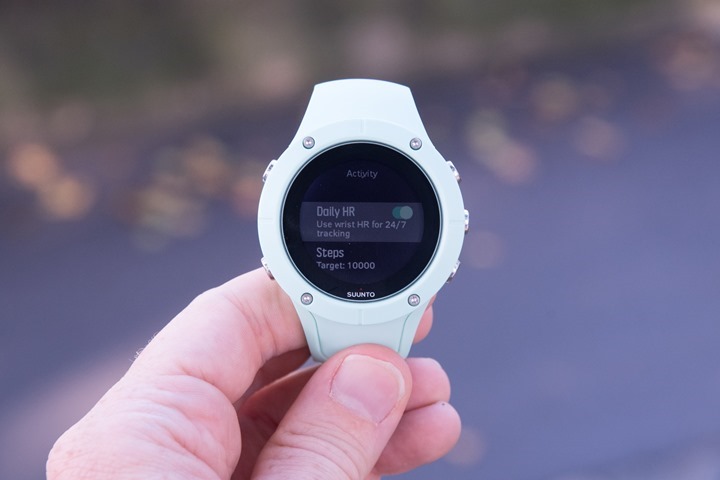 Meanwhile, within Navigation you can select routes that you've synced to your watch.  These routes can be created on Suunto's Movescount website, which is actually pretty full-featured for planning routes.  You can even import routes into it, something that Garmin doesn't permit on their Garmin Connect: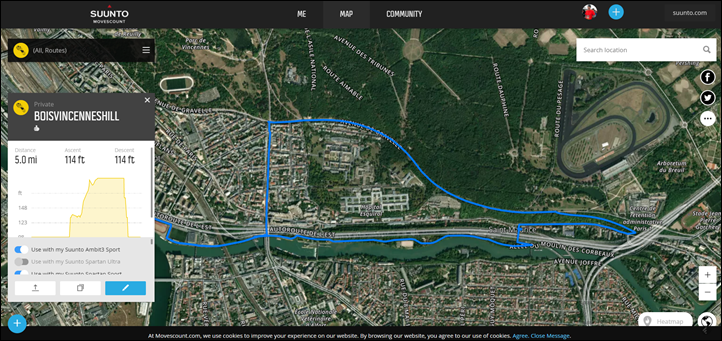 And my favorite feature that I love talking about is the heat maps – which are great for planning, especially in places you don't know.  These heat maps can be filtered by sport – allowing you to get more specific about where you go.  For example if hiking in the Alps near a ski resort in summer, you wouldn't want to see people's ski tracks – as those wouldn't likely match-up to hiking trails.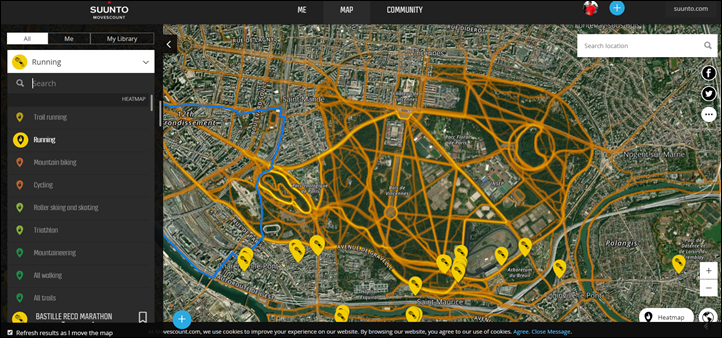 Shifting down to some of the recovery and activity tracking stats, Suunto is still a bit basic here – at least when it comes to the platform as a whole.  On the watch, they're in the right ballpark.  If you press down once you'll see your total steps walked on that day.  You'll also see a halo over it, which is your goal steps for the day (in this case, I exceeded the steps per day goal):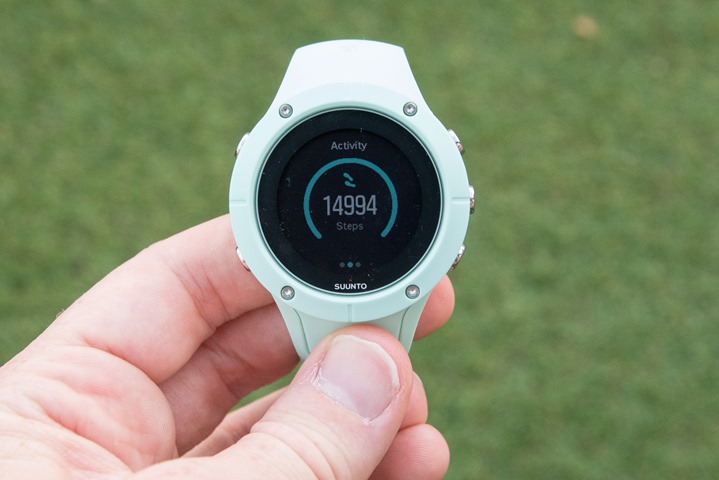 You can tap the upper left button to swap the display metric and instead show calories burned by those steps.  Pro Tip: The watch doesn't appear to track steps very well if you're walking and holding/reading your phone.
You can press the lower-left button to see your daily step totals as well for the past 7 days.  Tapping once more on the upper-left gives you calorie totals:
Meanwhile, you can tap the right-center button to see your heart rate for the last 10 minutes.  This heart rate graph though only starts once you press this button.  So you've gotta wait about 10 minutes to get the full graph: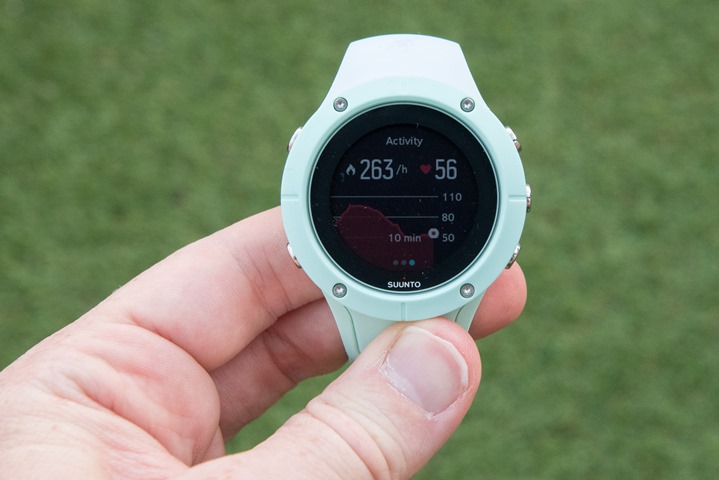 If you press the upper left button though while viewing this graph, you can see the last 12 hours of heart rate data.  This must be turned on in the settings area though, else it won't show up.  This data is sampled once every 10 minutes, with the 'once' part being that it tries for a minute to find a lock on your heart rate.  If it can't, you'll get the gaps you see: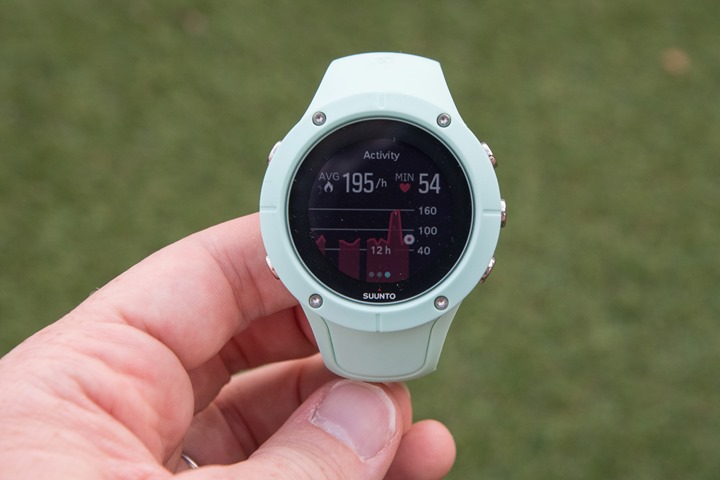 This sampling is significantly lower than most other units on the marketplace, for 24×7 HR.  That in and of itself isn't actually a huge deal, but rather it's that it's just not that reliable.  I'm often missing hours worth of samples, or there's the simple fact that none of this is recorded anywhere.  So while you'll see it on the watch, it's not synced to Movescount (site or app), which is a shame.
Speaking of syncing, the watch can sync via the included USB cable, or to your phone (Android/iOS) via Bluetooth Smart.  The phone app allows you to view completed workouts, sync/change settings, and look at daily stat totals: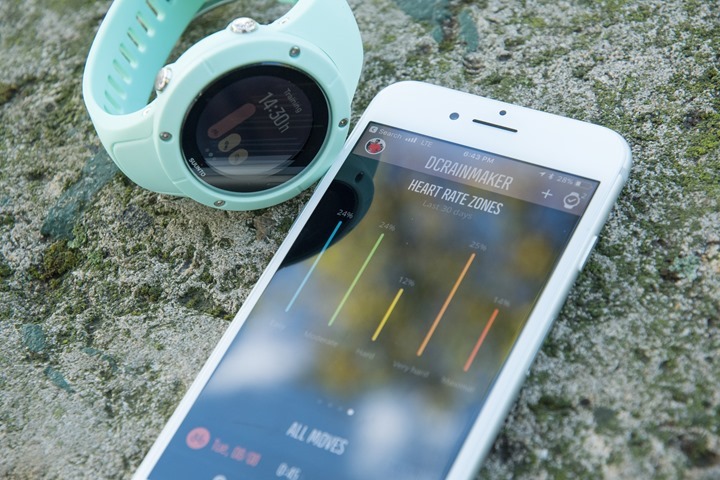 Note that for the daily stat totals, it's pretty basic here.
With that Bluetooth Smart connection to your phone you'll also get smartphone notifications on your wrist from any apps that you'd like.  Unlike some wearables that only show missed calls/texts, the Spartan Trainer leverages the standard notifications center control panels, so apps like Twitter and Facebook can show notifications too.  The notifications work well and show up instantly on my wrist as they do on my phone.
With that, we've covered all the basics of the watch, now we'll dive into the sport-specific aspects of it.
Sport Usage: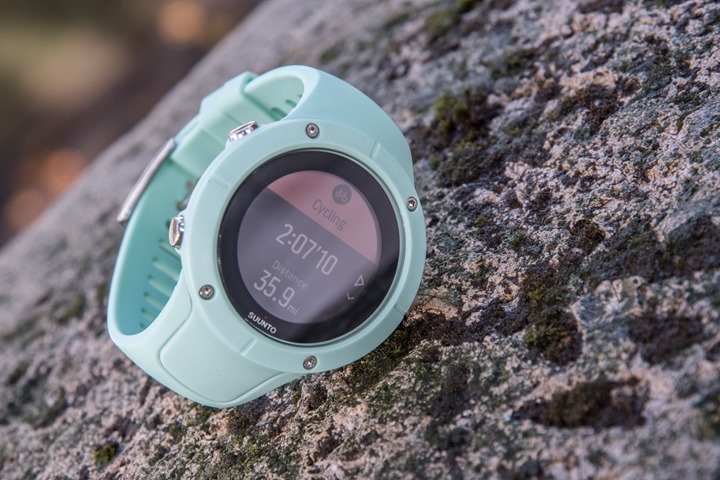 Of course, if you're buying a watch like this – it's likely for the sport usage.  The Suunto Trainer Wrist HR is incredibly capable when it comes to sports, and this really can't be overstated.  Unlike most other $300 GPS watches, this has the same software features as their $600+ GPS watches.  And most critically, it's got a multisport mode and complete sport mode customization.  Most units under $300 don't have legit multisport mode, so you can't really use it in a triathlon (they might support each other individually, but not together as one cohesive event).
But let's not get too far ahead of ourselves.  The watch has a pile of default sports on it, all the common ones you'd expect.  These can be accessed from the 'Exercise' menu, allowing you to select whatever floats your boat:
The watch contains boatloads of sport modes, most of which are hidden by default.  There's a crapton of them.  It's easiest to go online and look at the list on Movescount.  It's also here where you can create new sport modes to your unit.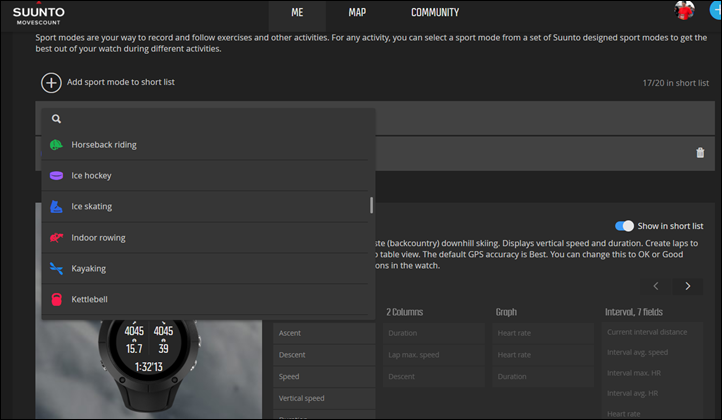 Each of these modes, once selected/added, allows you to select from any number of data fields and pages.  With the Spartan Trainer, you can select up to 5 data fields per page, which is slightly less than that of the larger-screen Sport and Ultra units (Update: apparently you can do 7 fields as well, I just can't/couldn't figure out how to get beyond 5 fields).  The exception to that being the custom interval mode, which gets up to 7 fields still.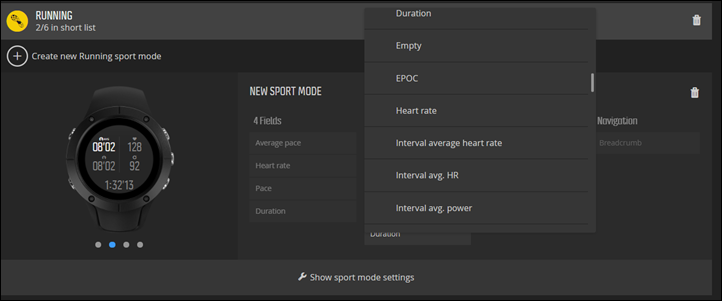 Also in this same area is where you can customize and tweak the watch at large.  So things like what system you display GPS coordinates in, to whether auto-lap is enabled, or just how you prefer the date and time to be displayed.  Also included in here is the GPS accuracy settings, specifically around sampling rates.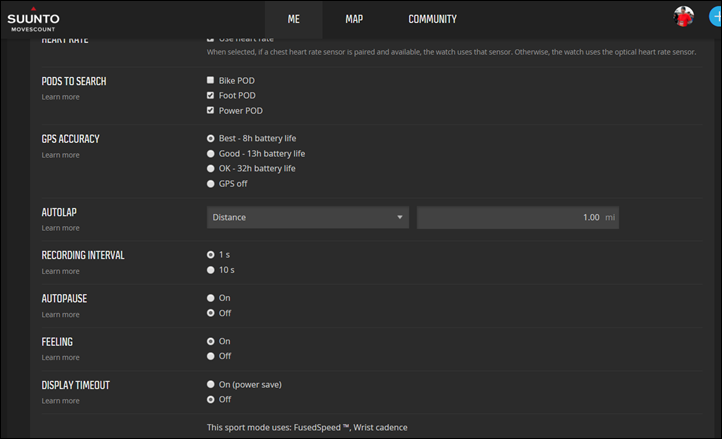 All of this is fairly straightforward, and identical to the other Suunto Spartan watches.  Here are the full settings that you can configure.  Note that this only shows a single sport expanded, as getting a screenshot with all sports expanded didn't really work:

Next, let's head out on the road for a bit of a run.  To do so we'll start by going into the exercise menu and selecting Run: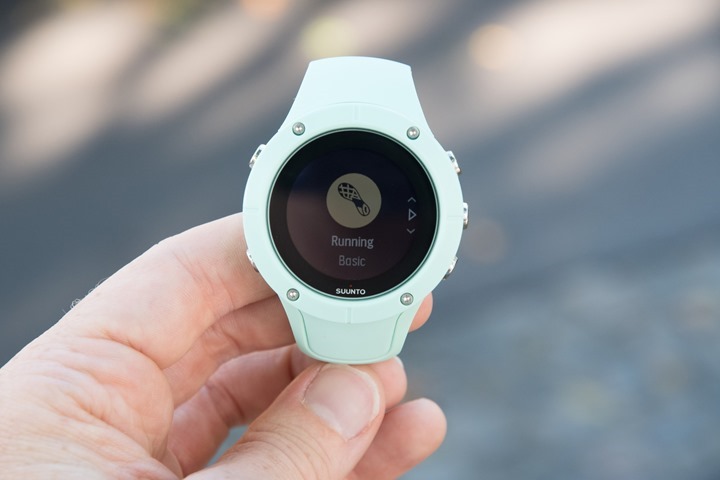 Note that all of the sports more or less act the same way from a structures standpoint.  Obviously things like openwater swim won't have cycling metrics, but the user interface is effectively the same.
By selecting downwards, you can customize different options, such as doing an interval run.  This is pretty basic functionality, but it actually works quite well.  You'll specify duration or distance targets for both work and rest intervals, as well as the number of reps.  You can then trigger this from inside the workout whenever you'd like.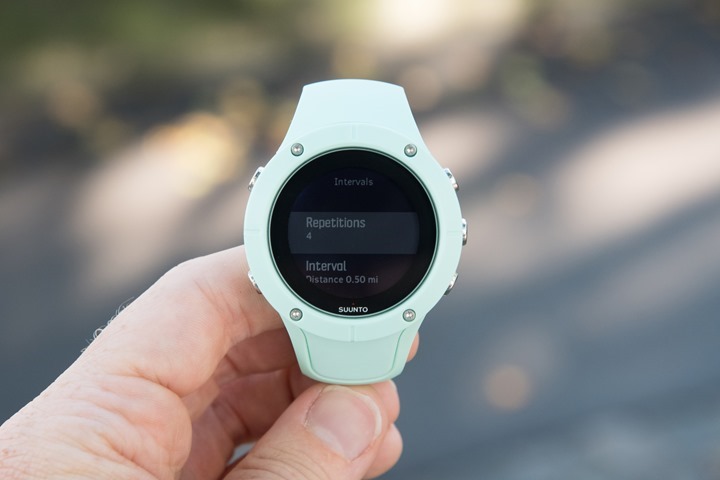 You can also select whether or not you want to set targets (i.e. time goals).  Same goes for if you want to change the GPS accuracy options.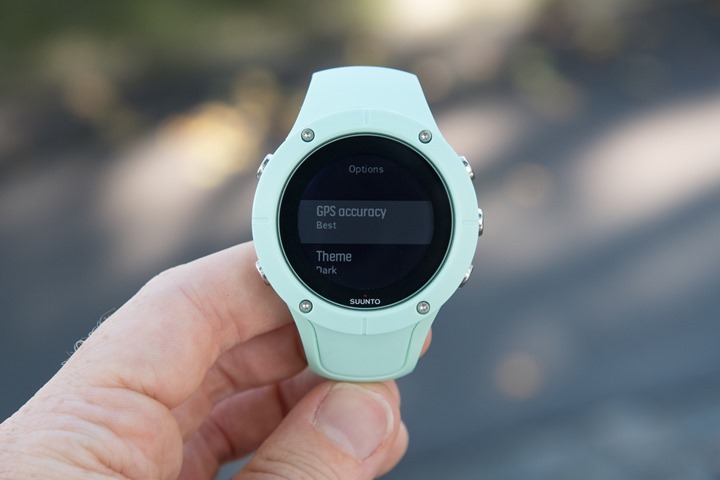 Later on after the workout, you'll see these intervals super-clearly within the site:

In fact, below the summary of your workout you'll also see the exact specs of that interval session, which his pretty cool.

With all that out of the way, you'll see the watch has illuminated the icons for GPS status, any Bluetooth Smart sensors, as well as whether it has HR lock.  I cover sensors in the next section.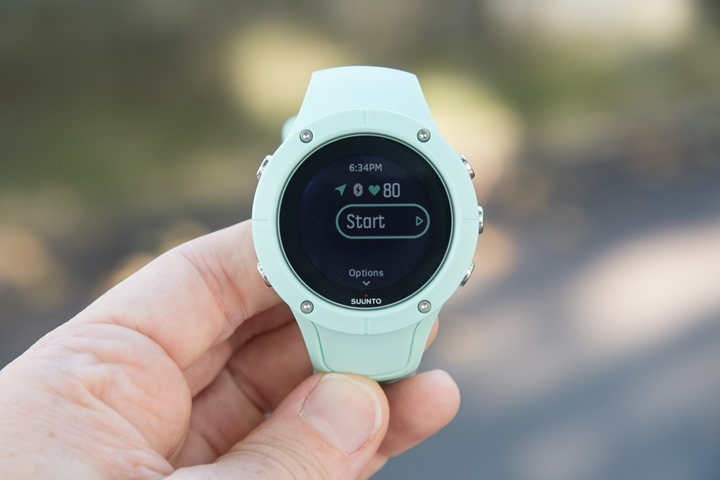 Once you press start, it'll soon show your data fields.  In my unit there's definitely a bit of a delay between pressing start and seeing data pages, though the timer is counting/recording the entire time.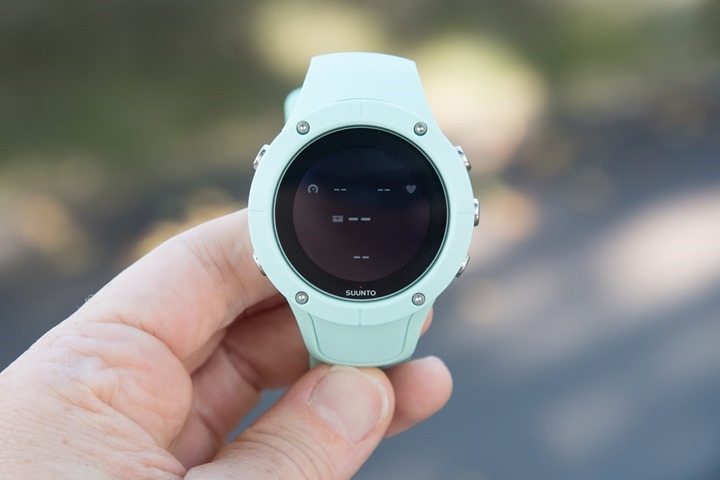 You can press the up/down buttons to scroll through your data pages, for example to the lap summary page – which is one of my favorite features on the Spartan series.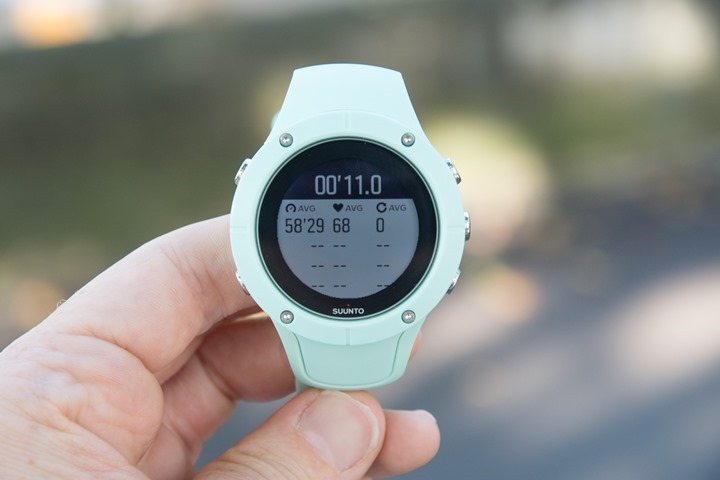 And you can press the lower right button to create a lap, as well as the upper right button to pause.  If in multisport mode, you can use the upper-right button (long-hold) to change sports.
All of this works fairly well, and I had no issues with navigation of data pages or display of data pages.  Here's a little gallery of some of them.
Now as I said before, for the most part, these different sports act the same (in a good way), so when I switch over to cycling, it all works pretty much the same way here as well.  One of the minor downsides to the Suunto series for triathlon is the lack of quick release kit, meaning while on the bike you need to wear it on your wrist (versus having it detached and placed on your aerobars/handlebars).
After your workout is complete, the watch will prompt you to select how good that experience was.  Like rating a partner in bed, you get varying degrees of emoticons to select from: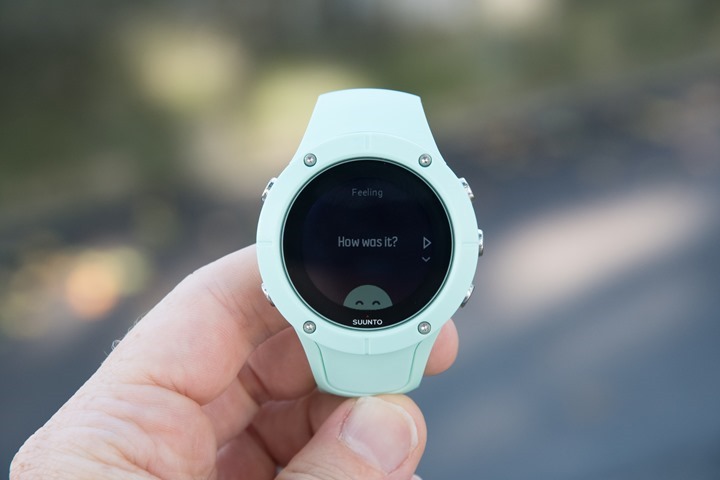 From there it'll show your hardline stats on the workout, things like summaries and averages.
All of this data is, of course, available then on both the smartphone app as well as the site.  The smartphone app gives a similar version to the watch's display, whereas the site gives you far more details.  Here's an example from one of my workouts of all the data expanded out.  In this case, I was using a Stryd running power meter with the Suunto Trainer, thus I also get the power meter data.

In addition, you can setup automatic sync partnerships to other sites, most notably Strava and TrainingPeaks.  These will then send your workouts over to these sites the second Suunto receives them from your watch: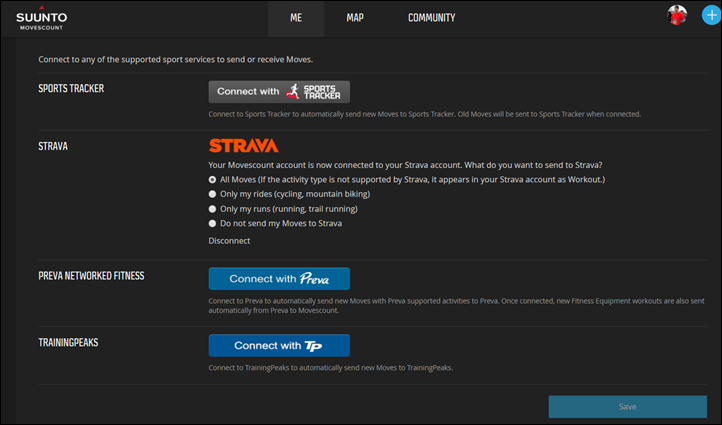 One thing I really like about the Suunto to Strava interface is that I can set all my moves to be private on Strava by default (since my account is private by default).  Whereas Garmin has no such option.
Note that as always, various 3rd party sites treat and process data differently.  For example, Strava reprocesses things like altitude, distance, and even moving time.  They do this for all vendors, so it's not really a Suunto-specific issue – but just something to be generally aware of.
Sensors & Accessories: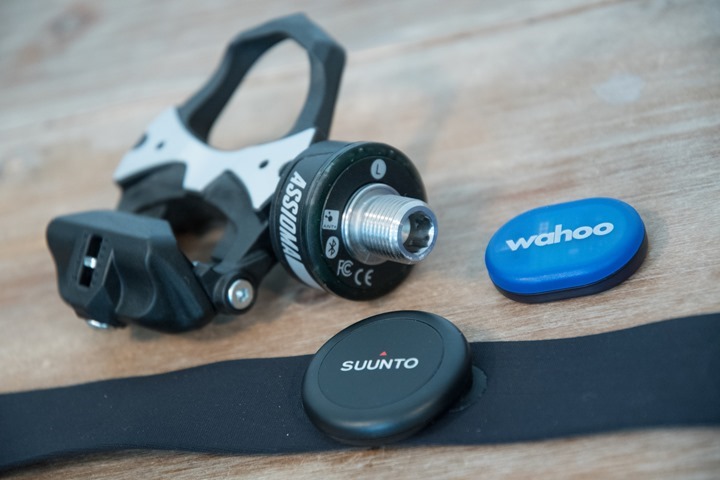 While the Suunto Spartan Trainer has an optical HR sensor within it, it can also pair to external heart rate sensors.  In addition, it can pair to a number of other Bluetooth Smart accessories as well.  In total, here's your list:
Bluetooth Smart Heart Rate Sensors
Bluetooth Smart Cycling Speed Sensors
Bluetooth Smart Cycling Cadence Sensors
Bluetooth Smart Cycling Speed/Cadence Combo Sensors
Bluetooth Smart Cycling Power Meters
Bluetooth Smart Running Footpods
Stryd Bluetooth Smart Running Power Meter
Note that it does not connect to any ANT+ devices, nor does it connect to legacy/older Suunto accessories that used private-ANT.  Only ones with the Bluetooth Smart logo will work.
Now when it comes to sensors, you can only save a single sensor of a given type.  For example, if you have a cycling power meter but also have Stryd, then you actually can't save/pair to both.  This isn't a huge deal in training (albeit rather annoying), but it is a problem in races, since you'd have to decide which one you want power data from (Hint: It's cycling).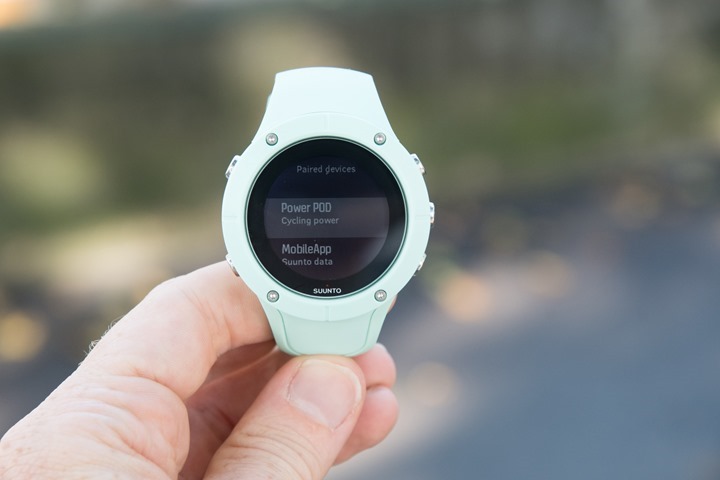 Similarly, for dual-sensing power meters, like the PowerTap P1 or Favero Assioma (among others), it will still only pickup a single side of this.  This results in the power simply being doubled, as opposed to correctly capturing both legs.  This is true of the rest of the Spartan series as well.  And unfortunately, it doesn't identify/list any of the exact sensor ID's so you have no way of knowing which side (of the two) it connects to.  Nor does it even list brands.
One thing that most other companies do when pairing to Bluetooth Smart sensors is to list the enumerated sensor ID name (often like 'PowerTap P1L' or 'Stryd').  This includes Garmin on the FR935/Fenix5, as well as Stages on their Dash head unit.  Same goes for Wahoo on their ELEMNT/BOLT lineups.  It may sound like a trivial detail, but it's actually kinda annoying to use a dual-sided sensor.
In addition to the listed 3rd party sensors above, the Spartan Trainer can also pair to the Suunto Movesense heart rate strap.  While this at its core is a Bluetooth Smart HR strap, it's also capable of storing and recording underwater swim heart rate data.  Sure, the Suunto Trainer can record this data for you using the optical HR sensor on the wrist, but that accuracy can be more variable, depending on the person, in underwater conditions.
Whereas the Movesense HR sensor is usually quite accurate underwater.  Note that with the Movesense sensor, it doesn't display the data in real-time, but will sync the data after the swim.  This is because Bluetooth Smart (like ANT+) is unable of transmitting more than a few centimeters underwater.  Only some analog signals like what Polar uses in certain straps can transmit underwater (none of which are supported outside of Polar).
Heart Rate Accuracy: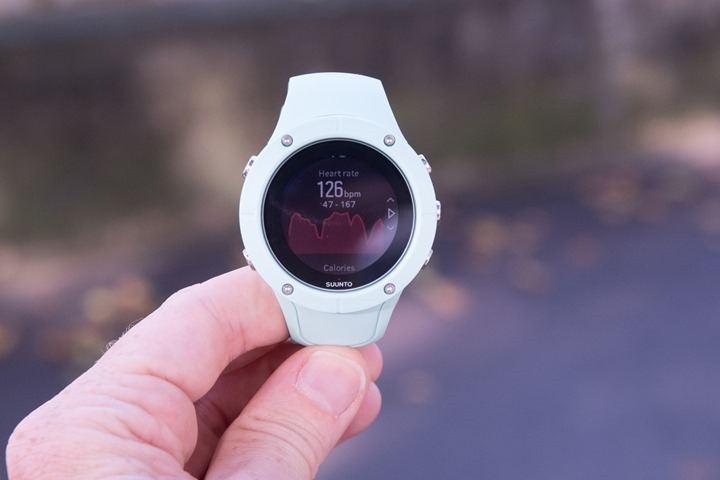 Like the previously released Suunto Spartan Sport Wrist HR, the Trainer Wrist HR  includes Valencell's optical HR sensor built into the bottom of it.  This is notable because Valencell's sensor is found in one device that I tend to consider my most trusted optical HR sensor unit – the Scosche Rhythm+.  And thousands upon thousands of DCR readers have agreed – the accuracy of that unit is amazing.  So when Suunto announced they were going with Valencell, that had the potential to be quite significant.
But when I looked at my data from the earlier Wrist HR model, it wasn't quite as universally awesome as I hoped.  It started off kinda rough, and then over time seemed to get quite a bit better.  Something I have no explanation for (especially since other users had similar experiences), nor did Suunto or Valencell.  So I was interested to see what if anything might be different with the Trainer HR, since it's a much lighter watch.  Weight can cause bounce of the watch on your wrist in workouts, and thus less weight is better for optical HR sensors.
With the Valencell sensor, the Trainer HR samples and records your heart rate data every second during workouts, as other companies in the market do.  However, as noted earlier, they do not record 24×7 data like some other companies do.  Thus, I'm really just going to focus this section on workout HR accuracy.  Mostly because I didn't really see any issues with the spot-check HR accuracy mode when I looked at it (non-workout), it generally matched.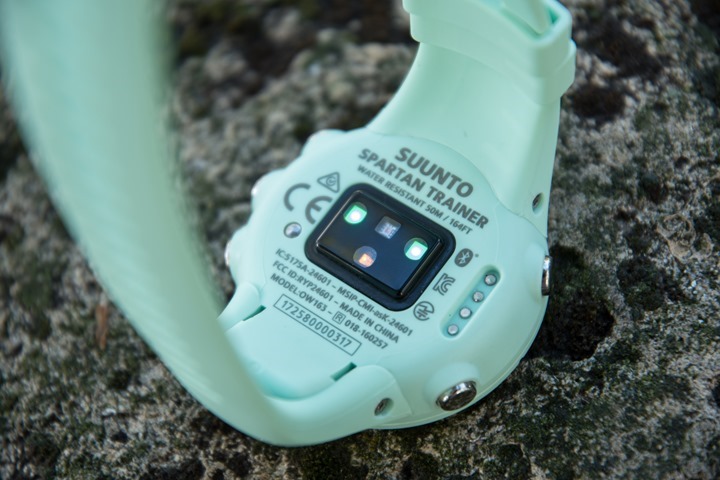 Before we move on to the test results, note that optical HR sensor accuracy is rather varied from individual to individual.  Aspects such as skin color, hair density, and position can impact accuracy.  Position and how the band is worn are *the most important* pieces.  A unit with an optical HR sensor should be snug.  It doesn't need to leave marks, but you shouldn't be able to slide a finger under the band (at least during workouts).  You can wear it a tiny bit looser the rest of the day.
Ok, so in my testing, I simply use the watch throughout my normal workouts.  Those workouts include a wide variety of intensities and conditions, making them great for accuracy testing.  I've got steady runs, interval workouts on both bike and running, as well as tempo runs and rides.
For each test, I'm wearing additional devices, usually 3-4, which capture data from other sensors.  Typically I'd wear a chest strap (usually the HRM-TRI or Wahoo TICKR X), as well as a Forerunner 935 on the other wrist.  Note that the numbers you see in the upper right corner are *not* the averages, but rather just the exact point my mouse is sitting over.  Note all this data is analyzed using the DCR Analyzer, details here.
First, let's take a look at a relatively straightforward run, about an hour long, across town and back.  This was mostly stable, with some slight periods of higher effort/intensity mixed in:

Overall this looks pretty good (just a brief drop in the HR strap of the TICKR when I adjusted it).  The units seem to very closely match each other throughout.  For example, these short bursts of intensity as I went up a hill are all within a beat or two:

Even the very beginning is really good, with both optical HR sensors (Garmin FR935 and Suunto Trainer) matching correctly and picking up slightly faster than the traditional chest HR strap.
There were however two small blips that you'll see around the 4-5 minute marker, where the Suunto Trainer randomly spikes the HR about 10bpm higher.  It's unclear what caused these, though it's something I saw with the early Sport Wrist HR unit.  They only lasted a second or two.

Next, another run, this fairly steady-state.  I only note it because of the small oddities at the beginning with the Spartan Trainer.

After that point, all is well.  But around the 2-3 minute marker it spiked about 15 or so beats higher than the others, without any real explanation.  But again, after that it was great.  This run was a mix of pavement and trails.
This same sort of variability in the first few minutes is visible on another run I did, mostly steady-state but some ups and downs as it was a trail run:

But after that point, it matched really nicely for the remainder of the run.
Finally, let's look at a short interval run – with significant swings in intensities.  Intervals are of course the hardest thing for optical HR sensors to properly track.

What you see above is two things:
A) The Spartan Trainer doing fairly well on the intervals, better than the FR935 easily.
B) The Wahoo TICKR having a rare failure to track on the 4th interval.
Interestingly, I somewhat purposely mixed up the terrain on these short 60" intervals (which start at the 10 minute marker):
#1: Uphill
#2: Mostly flats, slightly down
#3: Mostly perfectly flat
#4: Downhill
As you might expect, it's the downhill one that has the highest variance, in large part because your cadence is higher – so both chest and optical HR sensors alike will 'lock-on' to cadence there.
Next, shifting gears to cycling, how'd it fair there?
This next ride is pretty straight-forward.  The first portion is about 7-10 minutes of me getting to a local park to do loops on the bike.  At which point my intensity stabilizes and I do loops for about 35-40 minutes before returning.

So what do you notice?  Again, in the beginning it's a bit troublesome.  And by 'bit', I mean totally off.  However, a few minutes after I start to ride more normally (not stop/go in traffic), it picks up quite nicely and tracks pretty well the rest of the ride.
Still, there are some lags and drops though.  For example this short sprint I did was delayed on the Spartan Trainer (33min marker).  And then following that at one point the Spartan Trainer seemingly incorrectly thought I reduced intensity, yet at another time totally missed my reduction of intensity.

Here's another ride, this about two hours long.  The first 1hr 40mins was largely steady-state, after which it as a bit stop and go as I crossed the city through some traffic, and around that same time I was using a camera/gimbal to film myself.  Interestingly you can see the impact of that a bit:

Still, there's that gap around the 40-minute marker where the Suunto Trainer struggles quite a bit.  However, for a solid hour after that it's mostly close (save one major oddity around the 1:25 marker):

If you look at the 1hr marker you'll see where both the Garmin FR935 and Suunto Trainer missed a sprint that the traditional chest strap picked up.
Thus, as I've said with other optical HR sensors on your wrist – for cycling I'd recommend having a chest strap (or the Scosche optical HR sensor on your upper arm – which seems to resolve these issues).
So overall, it's somewhat similar to what I saw on the earlier Suunto Spartan Sport Wrist HR – except without all the really bad performance that I saw with that watch initially.  Meaning that in general it's pretty good, but there are still some little quirks.  Namely in the case of the Suunto units, those quirks for running almost always come at the beginning of the run in the first 3-5 minutes.  While normally you might attribute that to warm-up period, with most of my runs the temperature was 80*F, so temperature-related issues with the skin weren't likely the cause.
For cycling, it's about par for what we see with other wrist-based optical HR sensors: Sorta all over the map.  One ride is good, and the next a mess, and the following a total mix.
(Note: I'll put together my full data-set table of the 8-10 or so workouts that I've got here today…just recovering a bit from yesterday's Giveaway Extravaganza…which only ended 3 hour ago.

)
GPS Accuracy: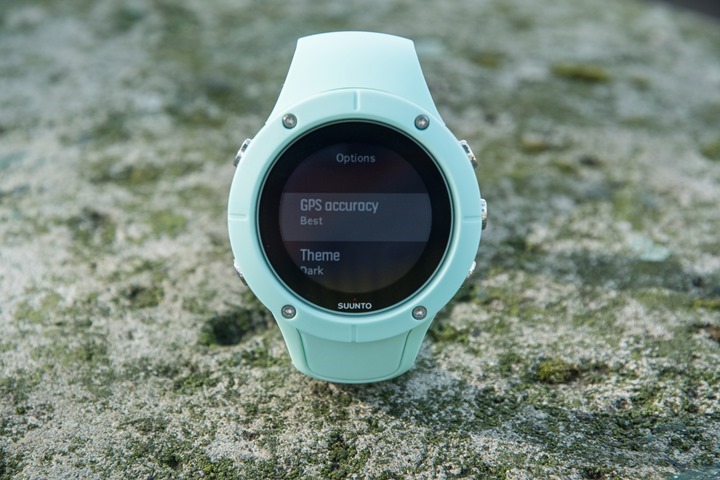 There's likely no topic that stirs as much discussion and passion as GPS accuracy.  A watch could fall apart and give you dire electrical shocks while doing so, but if it shows you on the wrong side of the road?  Oh hell no, bring on the fury of the internet!
GPS accuracy can be looked at in a number of different ways, but I prefer to look at it using a number of devices in real-world scenarios across a vast number of activities.  I use 2-6 other devices at once, trying to get a clear picture of how a given set of devices handles conditions on a certain day.  Conditions include everything from tree/building cover to weather.
Over the years I've continued to tweak my GPS testing methodology.  For example, I try to not place two units next to each other on my wrists, as that can impact signal. If I do so, I'll put a thin fabric spacer of about 1"/3cm between them (I didn't do that on any of my Suunto Spartan Trainer HR runs – I kept the watches on separate wrists).  But often I'll simply carry other units by the straps, or attach them to my shoulder straps of a CamelBak.  Plus, wearing multiple watches on the same wrist is well known to impact optical HR accuracy too.
Next, as noted, I use just my daily training routes.  Using a single route over and over again isn't really indicative of real-world conditions, it's just indicative of one trail.  The workouts you see here are just my normal daily workouts.
Since I've been in/around Paris right now, my runs and rides were a blend of both city running/riding (buildings, tunnels, bridges, etc…), as well as forest running/riding (Bois de Vincennes primarily, also Bois de Boulogne).  I spent a fair bit of time doing trail running routes when able, though I won't hit the Alps till later this month.
First, let's just start off with a run.  Note all this data is analyzed using the DCR Analyzer, a tool you can use as well.  Details here. This first run is a bit 'tough' at the beginning because it's in the trails, but also surrounded by buildings on both sides.  A literal urban canyon.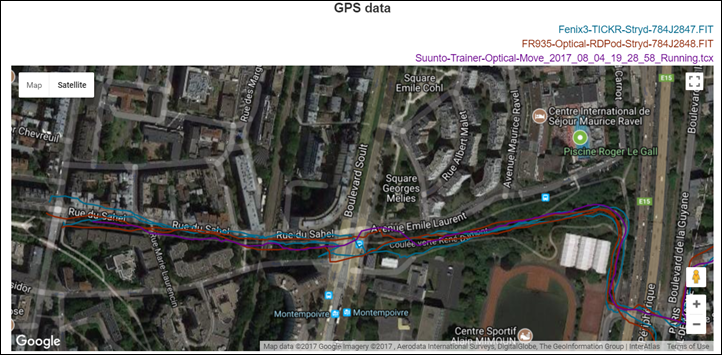 You can see that all units were both close, as well as off at times.  The tunnel under the Boulevard proved equally challenging for everyone, with each unit doing their own funky dance around it.  Beyond that though they all performed somewhat similarly in the challenging conditions (not great, but adequate).
Once I got into the more open parks though, mostly running on wider trails, the units became very close.  Note that I wouldn't 'judge' the Fenix 3 used in this test too heavily here.  That's because I was mainly collecting HR data on it from the HR strap, and thus was hand-holding it.  So it's likely my grip was impacting it from time to time.  The FR935 and Spartan Trainer were very similar though.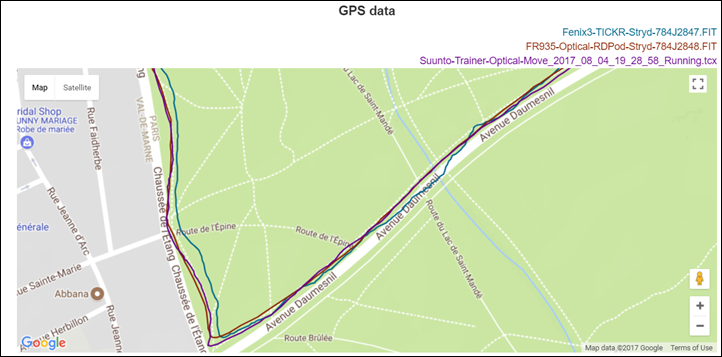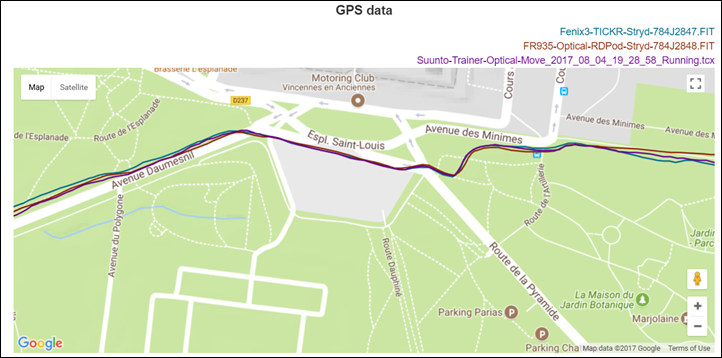 The pattern was much the same for the remainder of that run.
But what if I went into the trails more deeply?  For that I went out for another run – almost all trail-running except getting to/from the trails.  Check out this: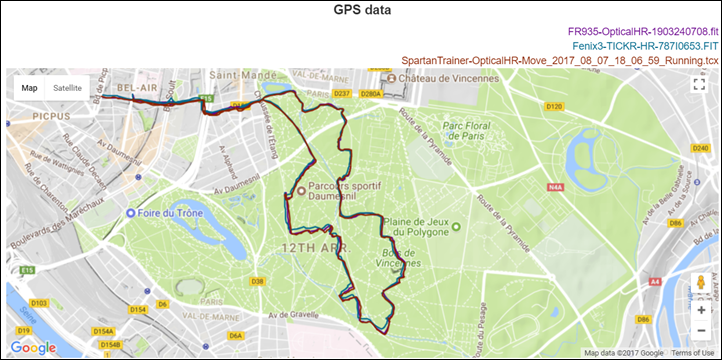 Let's zoom into some sections around the '12th Arr' text, which is where things really differ.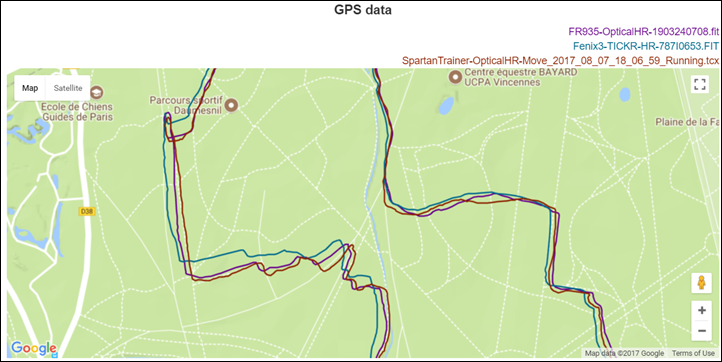 As you can see, things look similar between the FR935 and the Suunto Trainer, but there's that slight offset, sorta like a shadow.  So again, let's zoom even deeper.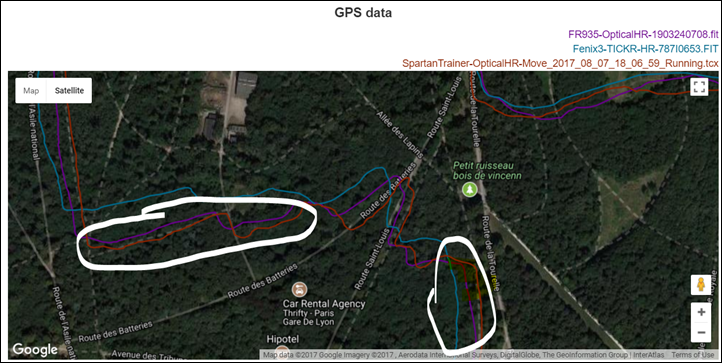 Now this is admittedly pretty darn tricky to figure out.  Since this entire park is mostly just one giant bit of tree-cover, knowing where precisely the trails are is tougher.  Still, the dotted lines help, as do the occasional bits of openness where I can see the trail on satellite view.
Look in particular at the white-circled areas both above.  These are areas where I know my exact path on the trail, and thus can 'determine' a winner.  In these case, the Spartan Trainer more correctly was aligned to my path between the FR935 and Spartan.  It was generally the closest.
Except not always.
For example, check out the below.  In this case it's actually the Fenix 3 that was more correct – nailing exactly where I was.  Whereas the FR935 and Spartan Trainer were offset a bit further in the woods than I actually ran.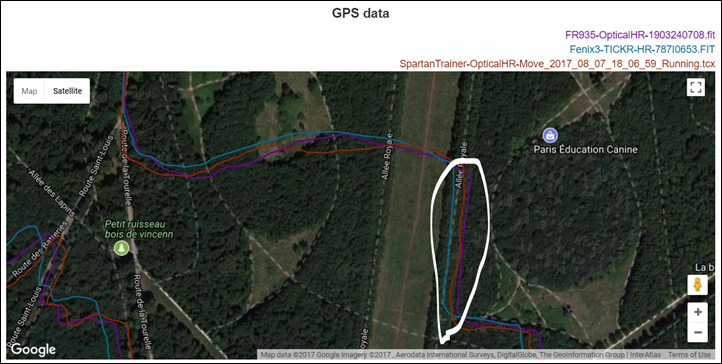 Next, a quick look at a ride.  Within road cycling you don't tend to get much in the way of GPS accuracy issues, as your speed is high enough that short of a total GPS failure, you'll end up with nearly identical results.  For example, look at the high level of this ride.  Things look pretty good, nothing obvious: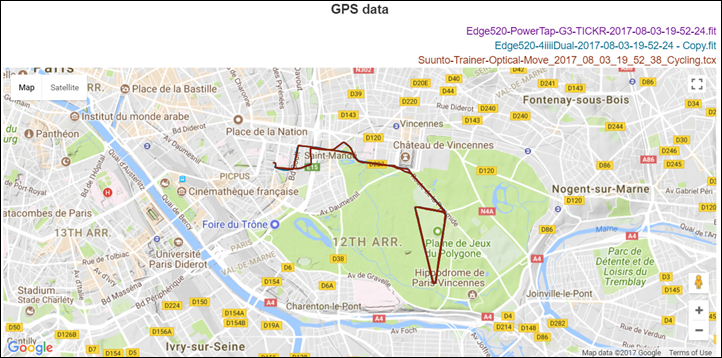 Since this was a numerous-loop ride, it makes it easy to identify GPS shifting or accuracy issues, especially at the turns.  And even more so because this loop is incredibly precise.  As you can see though, no issues here: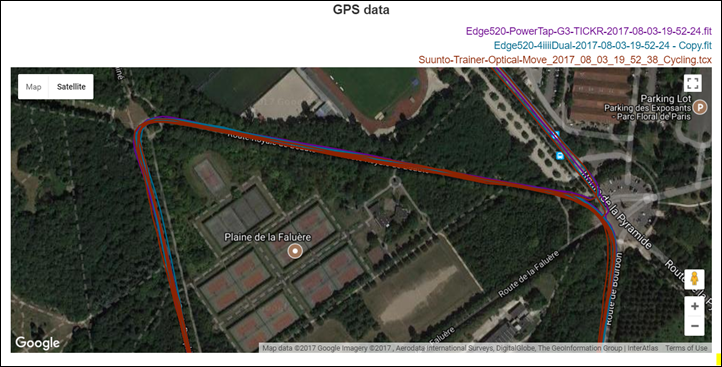 Same goes for the other end of the triangle-loop as well, the pointy part.  All the units within what I'd consider a normal range of GPS accuracy (a couple meters off my actual line):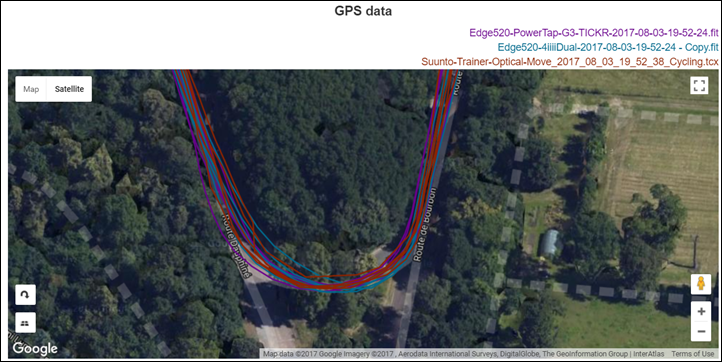 So overall no major issues with GPS accuracy – though a few minor quirks that you almost always see in every GPS unit, but that's not really a big surprise.  With the external satellite bump and similarities to the Ambit3 series (pre-Vertical), we kinda knew GPS was going to be solid.
Of course, that bump may be seen as somewhat uncomfortable for some people, especially those with smaller wrists.  So that's something to consider as well, whether your trading higher GPS accuracy (slightly) for a less slim watch.
(Note: All of the charts in these accuracy sections were created using the DCR Analyzer tool.  It allows you to compare power meters/trainers, heart rate, cadence, speed/pace, GPS tracks and plenty more. You can use it as well, more details here.)
Bugs & Quirks: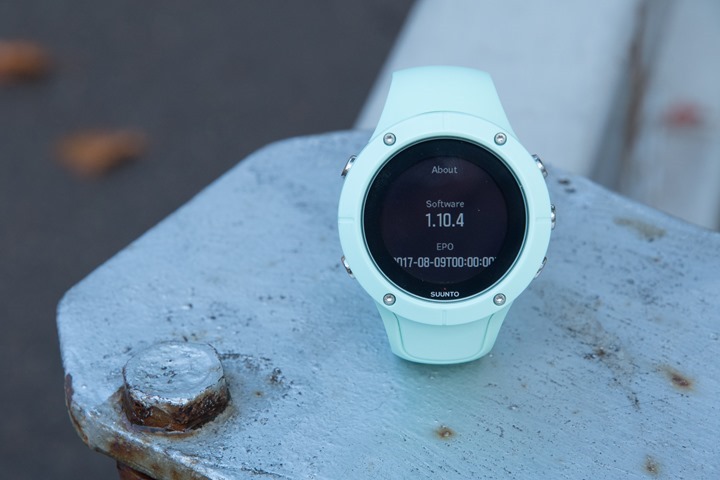 Now typically speaking I like to wait till the products starts shipping for an in-depth review.  Where I usually draw the line is whether a unit has final or near-final software (i.e. release candidate software) – as well as final hardware.  But mostly I'm looking for stability.  In doing this for a while I've got a pretty good feel for how close to release something is, regardless of what the manufacturer says.
In the case of Suunto, they're announcing it today, but they won't start shipping till the end of the month.  Much of this is just the reality of European summer vacations.  So there isn't much happening between now and then other than people being out of the office.  Hence why I'm reasonably comfortable with where things stand to call this an in-depth review.  The unit I have is a final hardware version, though the software will likely see one last revision over the next two weeks.  I'll loop back after those two weeks to see if these issues are addressed, or if anything else pops up.
That said, I saw three minor issues that I'll keep an eye on as it starts shipping to validate they don't appear:
– On a single shorter activity, the unit restarted: I don't really know why, but Suunto is looking into it with my log files.  It just rebooted randomly mid-run.  I've used it on nearly a dozen other workouts (all longer) and not once did it do this.  I'll definitely keep an eye out on this one and post if it does or doesn't occur again.
– When going to start or save a workout it can be slow: Suunto says they're working on addressing this, but I'm not super-confident we'll see this fixed by launch.  This is sorta a carry-over of general slowness we see in the Spartan lineup when interacting with the user interface, primarily NOT in workout mode (workout mode is fine, once started).
– Odd Strava/Stryd cadence doubling bug: When uploading a run to Strava with the Stryd running power meter, it doubles the cadence (i.e. to 360 steps per minute).  Suunto is looking into it and suspects it may be a change in the way Strava is handling things (it's happened previously).
Overall, not too shabby.  Of course, I can only find bugs in the things I'm using in my day to day workouts and scenarios.  A feature that may be my 'mainstay', could be something you never ever use.  And inversely, some specific feature combination you use daily I've potentially never used in my life.
Comparison Charts:
I've added the Suunto Spartan Trainer Wrist HR into the product comparison database.  For the purposes of below, I've compared it against the Suunto Spartan Sport Wrist HR, as well as the Polar V800 and Garmin FR735.  It's not a perfect comparison per se, but it's in the ballpark in terms of pricing and all being triathlon watches.  You can mix and match your own product comparison tables here, using the product comparison tool.
Function/Feature

Suunto Spartan Trainer Wrist HR
Polar V800
Garmin Forerunner 735XT
Suunto Spartan Sport Wrist HR
Copyright DC Rainmaker - Updated November 17th, 2022 @ 10:06 am New Window
Price
$279 ($329 for metal bezels)
$449
$349
$499
Product Announcement Date
August 10th, 2017
Jan 6th, 2014
May 11th, 2016
Jan 4th, 2017
Actual Availability/Shipping Date
August 30th, 2017
May 2014
May 11th, 2016
Mar 31st, 2017
GPS Recording Functionality
Yes
Yes
Yes
Yes
Data Transfer
USB & Bluetooth Smart
USB, BLUETOOTH SMART
USB/Bluetooth Smart
USB & Bluetooth Smart
Waterproofing
Yes - 50 meters
Yes - 30m
Yes - 50m
Yes - 100m
Battery Life (GPS)
Up to 30 hours
Up to 50 hours
14 hours in GPS-on
Up to 50 hours
Recording Interval
Variable
1s
1S OR SMART
Variable
Alerts
Visual/Vibrate
Vibrate/Sound/Visual
Vibrate/Sound/Visual
Sound/Visual/Vibrate
Backlight Greatness
Great
Great
Good
Great
Ability to download custom apps to unit/device
No
No
Yes
No
Acts as daily activity monitor (steps, etc...)
Yes
Yes
Yes
Steps only (not distance/sleep)

Music

Suunto Spartan Trainer Wrist HR
Polar V800
Garmin Forerunner 735XT
Suunto Spartan Sport Wrist HR
Can control phone music
No
No
Yes
No
Has music storage and playback
No
No
No
No
Streaming Services
No

Payments

Suunto Spartan Trainer Wrist HR
Polar V800
Garmin Forerunner 735XT
Suunto Spartan Sport Wrist HR
Contactless-NFC Payments
No

Connectivity

Suunto Spartan Trainer Wrist HR
Polar V800
Garmin Forerunner 735XT
Suunto Spartan Sport Wrist HR
Bluetooth Smart to Phone Uploading
Yes
Yes
Yes
Yes
Phone Notifications to unit (i.e. texts/calls/etc...)
Yes
Yes
YEs
Yes
Live Tracking (streaming location to website)
No
No
Yes
No
Group tracking
No
No
No
Emergency/SOS Message Notification (from watch to contacts)
No
No
No
No
Built-in cellular chip (no phone required)
No
No
No
No

Cycling

Suunto Spartan Trainer Wrist HR
Polar V800
Garmin Forerunner 735XT
Suunto Spartan Sport Wrist HR
Designed for cycling
Yes
Yes
Yes
Yes
Power Meter Capable
Yes
Yes
Yes
Yes
Power Meter Configuration/Calibration Options
Yes
Yes
YEs
Yes
Power Meter TSS/NP/IF
No
NP
Yes
No
Speed/Cadence Sensor Capable
Yes
Yes
Yes
Yes
Strava segments live on device
No
Yes
Yes
No
Crash detection
No
No
No
No

Running

Suunto Spartan Trainer Wrist HR
Polar V800
Garmin Forerunner 735XT
Suunto Spartan Sport Wrist HR
Designed for running
Yes
Yes
Yes
Yes
Footpod Capable (For treadmills)
Yes
Yes
Yes
Yes
Running Dynamics (vertical oscillation, ground contact time, etc...)
No
No
YEs
No
Running Power
With extra sensor
VO2Max Estimation
Yes
Yes
Yes
Yes
Race Predictor
No
Yes, via Race Pace
YEs
No
Recovery Advisor
Yes
Yes
Yes
Yes
Run/Walk Mode
No
Yes, via timers
YEs
No

Swimming

Suunto Spartan Trainer Wrist HR
Polar V800
Garmin Forerunner 735XT
Suunto Spartan Sport Wrist HR
Designed for swimming
Yes
Yes
Yes
Yes
Openwater swimming mode
Yes
Yes
Yes
Yes
Lap/Indoor Distance Tracking
Yes
Yes
Yes
Yes
Record HR underwater
Yes
With Certain Polar Straps
WITH HRM-TRI/HRM-SWIM
Yes
Openwater Metrics (Stroke/etc.)
Yes
Yes
Yes
Yes
Indoor Metrics (Stroke/etc.)
Yes
Yes
Yes
Yes
Indoor Drill Mode
No
No
Yes
No
Indoor auto-pause feature
No
Yes
No
No
Change pool size
YEs
Yes
Yes
Yes
Indoor Min/Max Pool Lengths
15m/y to 1,200m/y
20M/Y to 250 m/y
17M/18Y TO 150Y/M
15m/y to 1,200m/y
Ability to customize data fields
Yes
Yes
Yes
Yes
Captures per length data - indoors
Yes
Yes
YEs
Yes
Indoor Alerts
No
N/A
Yes
No

Triathlon

Suunto Spartan Trainer Wrist HR
Polar V800
Garmin Forerunner 735XT
Suunto Spartan Sport Wrist HR
Designed for triathlon
Yes
Yes
Yes
Yes
Multisport mode
Yes
Yes
Yes
Yes

Workouts

Suunto Spartan Trainer Wrist HR
Polar V800
Garmin Forerunner 735XT
Suunto Spartan Sport Wrist HR
Create/Follow custom workouts
No
Yes
Yes
No
On-unit interval Feature
Yes
Yes
Yes
Yes
Training Calendar Functionality
Yes
Yes
Yes
Yes

Functions

Suunto Spartan Trainer Wrist HR
Polar V800
Garmin Forerunner 735XT
Suunto Spartan Sport Wrist HR
Auto Start/Stop
Yes
Yes
YEs
Yes
Virtual Partner Feature
No
Yes
Yes
No
Virtual Racer Feature
No
No
Yes
No
Records PR's - Personal Records (diff than history)
No
No
Yes
No
Tidal Tables (Tide Information)
No
No
No
No
Weather Display (live data)
No
No
Yes
no

Navigate

Suunto Spartan Trainer Wrist HR
Polar V800
Garmin Forerunner 735XT
Suunto Spartan Sport Wrist HR
Follow GPS Track (Courses/Waypoints)
Yes
Yes
Yes
Yes
Markers/Waypoint Direction
Yes
Yes
Saved locations only
Yes
Routable/Visual Maps (like car GPS)
No
No
No
No
Back to start
Yes
Yes
Yes
Yes
Impromptu Round Trip Route Creation
No
No
No
No
Download courses/routes from phone to unit
Yes
Yes
Yes
Yes

Sensors

Suunto Spartan Trainer Wrist HR
Polar V800
Garmin Forerunner 735XT
Suunto Spartan Sport Wrist HR
Altimeter Type
GPS
Barometric
GPS
GPS
Compass Type
N/A
Magnetic
GPS
Magnetic
Optical Heart Rate Sensor internally
Yes
No
Yes
Yes
Heart Rate Strap Compatible
Yes
Yes
Yes
Yes
ANT+ Heart Rate Strap Capable
No
No
Yes
No
ANT+ Speed/Cadence Capable
No
No
Yes
No
ANT+ Footpod Capable
No
No
Yes
No
ANT+ Power Meter Capable
No
No
Yes
no
ANT+ Lighting Control
No
No
Yes
No
ANT+ Bike Radar Integration
No
No
Yes
No
ANT+ Trainer Control (FE-C)
No
No
No
No
ANT+ Remote Control
No
no (but can control GoPro)
No
No
ANT+ eBike Compatibility
No
No
No
No
ANT+ Gear Shifting (i.e. SRAM ETAP)
No
No
No
Shimano Di2 Shifting
No
No
Yes
No
Bluetooth Smart HR Strap Capable
Yes
Yes
No
Yes
Bluetooth Smart Speed/Cadence Capable
Yes
Yes
NO
Yes
Bluetooth Smart Footpod Capable
Yes (+ Stryd Running Power Meter)
Yes
nO
Yes (+ Stryd Running Power Meter)
Bluetooth Smart Power Meter Capable
Yes
Yes
nO
Yes
Temp Recording (internal sensor)
No
Yes
No
Yes
Temp Recording (external sensor)
No
No
Yes
No

Software

Suunto Spartan Trainer Wrist HR
Polar V800
Garmin Forerunner 735XT
Suunto Spartan Sport Wrist HR
PC Application
PC/Mac
Polar Flowsync - Windows/Mac
Garmin Express
PC/Mac
Web Application
Suunto Movescount
Polar Flow
Garmin Connect
Suunto Movescount
Phone App
iOS/Android
iOS/Android
iOS/Android/Windows Phone
iOS/Android
Ability to Export Settings
No
No
No
No

Purchase

Suunto Spartan Trainer Wrist HR
Polar V800
Garmin Forerunner 735XT
Suunto Spartan Sport Wrist HR
Amazon
Link
Link
Link
Link
REI
Link
Wiggle
Link

DCRainmaker

Suunto Spartan Trainer Wrist HR
Polar V800
Garmin Forerunner 735XT
Suunto Spartan Sport Wrist HR
Review Link
Link
Link
Link
Link
Remember, you can make your own product comparison tables here in the comparison database.
Summary: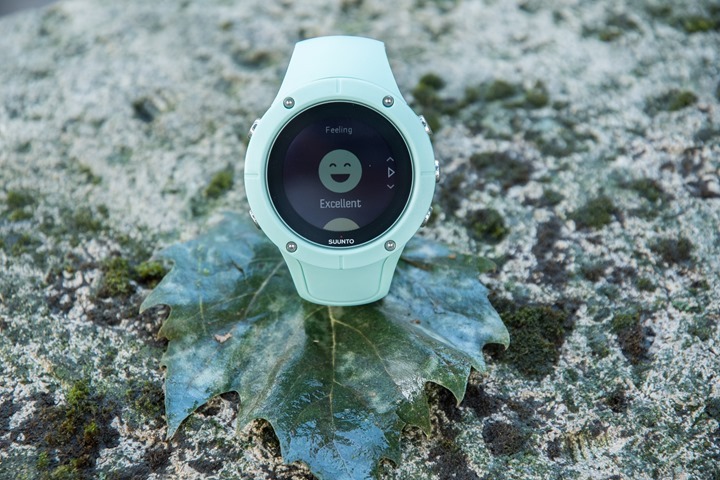 I'm really impressed.  Not only has Suunto come a long way in a year, but more importantly they've identified a gap in the market (full-featured GPS watch at sub-$300), and then went ahead and found the perfect peg to stick in that gap.  The watch works really well and I'd have no issues recommending it.
I think Suunto has effectively done what Polar did when they announced the M400 a few years back: Significantly undercut the competition from a price standpoint, while still delivering a really solid product.
Some might wonder why I think this is such a great watch competitively whereas I'm far less enthusiastic about the Spartan Ultra (or even Sport).  Well, the key word is right there: Competitively.  For $279, this is an awesome unit.  If it were $600-$700 like the Ultra, then I wouldn't be as excited – because that's not competitive with the Garmin Fenix 5 that's in the same price ballpark (or even the Fenix 3HR that's older).  For $279 I can accept that it might be a tiny bit slower than I'd like to respond than a $500-$600+ unit, or that it lacks proper 24×7 HR data.  But that's OK I think, it has far more features than any other units within ~$120 or so.
Value and to whatever extent you want to call 'ratings', are indeed inclusive of price.  A unit that's great at $279 would be uncompetitive at $600.  Further, Suunto's also spent the last year fixing the majority of the issues with the Spartan series, which are included within the Spartan Trainer.  On their higher end units though, they need to go beyond fixing issues and move into innovation.  Still, I think they're getting there.
Which again – is a really round-about way of noting that the Spartan Trainer Wrist HR is a fantastic value.  You get a multisport watch that's quite customizable, that has power meter support including running power support, and you get optical heart rate.  Well done Suunto, well done.
Found this review useful? Or just wanna save a bundle of cash? Here's how:
Hopefully you found this review useful. At the end of the day, I'm an athlete just like you looking for the most detail possible on a new purchase – so my review is written from the standpoint of how I used the device. The reviews generally take a lot of hours to put together, so it's a fair bit of work (and labor of love). As you probably noticed by looking below, I also take time to answer all the questions posted in the comments – and there's quite a bit of detail in there as well.
I've partnered with Clever Training to offer all DC Rainmaker readers an exclusive 10% discount across the board on all products (except clearance items). You can pick up the Suunto Spartan Trainer Wrist HR  variants below. Then receive 10% off of everything in your cart by adding code DCR10BTF at checkout. By doing so, you not only support the site (and all the work I do here) – but you also get a sweet discount. And, since this item is more than $49, you get free US shipping as well.
Suunto Spartan Trainer Wrist HR (select drop-down for variants)
Additionally, you can also use Amazon to purchase the Suunto Spartan and accessories (though, no discount). Or, anything else you pickup on Amazon helps support the site as well (socks, laundry detergent, cowbells). If you're outside the US, I've got links to all of the major individual country Amazon stores on the sidebar towards the top.
Thanks for reading! And as always, feel free to post comments or questions in the comments section below, I'll be happy to try and answer them!