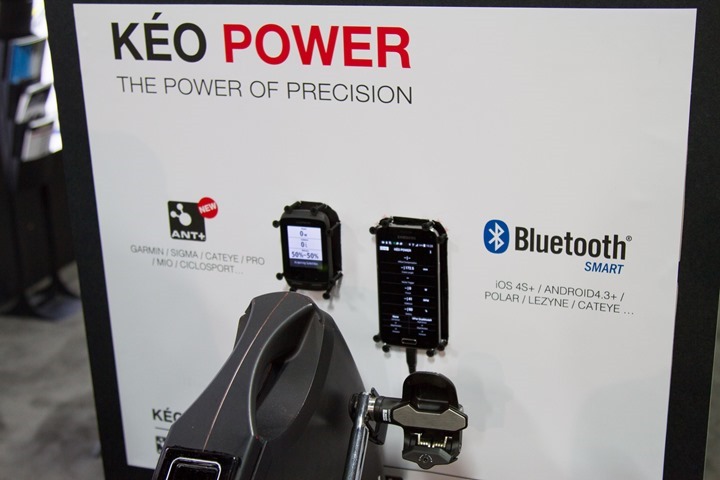 Back at Eurobike, LOOK quietly showed off their new dual ANT+ and BLE pedals, which effectively upstage long-time partner Polar in what used to be a dual venture between the two companies.
These new pedals are physically similar to the ones that they used to sell under the Polar branding as the Polar Keo Power System (and Power Essential left-only option).  However, they are not identical.  For starters, they look different, with the pods taking on a slightly newer design that no longer requires a zip-tie: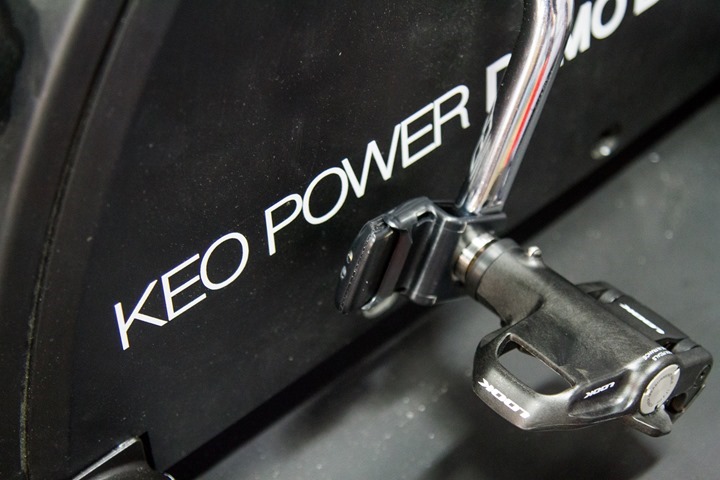 But of course, the most important piece now is that the Keo pedals will transmit dual ANT+ and Bluetooth Smart, whereas the previous generation only transmitted Bluetooth Smart (and Polar W.I.N.D. prior to that).  This would continue to support the overwhelming trend of dual-capable products by various power meter companies.  In fact, nobody except Polar offers a Bluetooth Smart-only option.  Everyone is ANT+, or dual ANT+/Bluetooth Smart.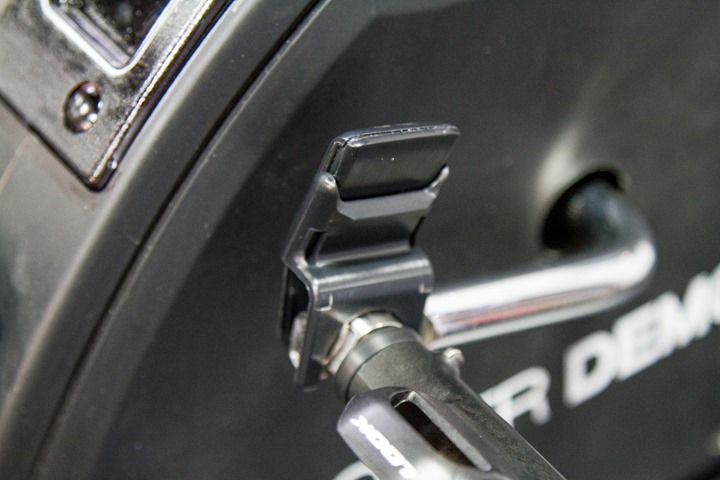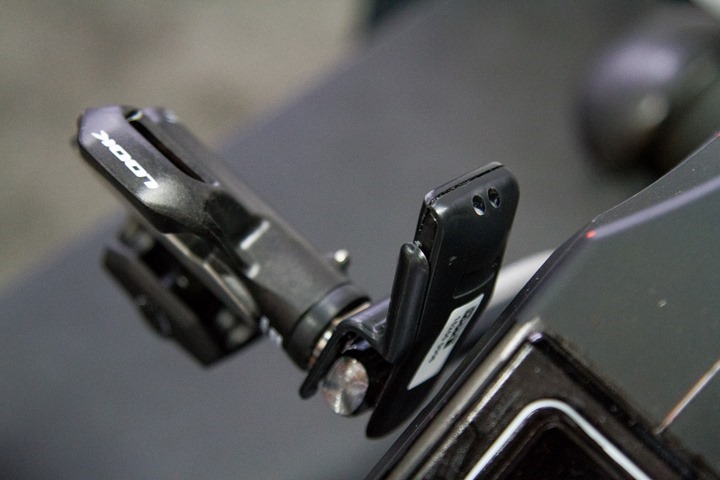 The new product will transmit the standard suite of ANT+ power related balance metrics, including: left/right balance, pedal smoothness, total wattage, and cadence.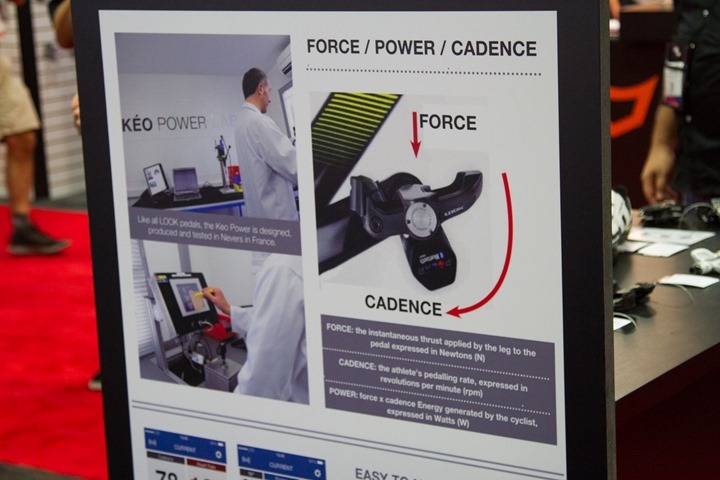 As you can see in LOOK's booth, no Polar products were even on display. Only an Edge 510 (using ANT+), and an iOS app (using Bluetooth Smart).  In years past there were always numerous Polar products used to demonstrate the capabilities.  Of course, sometimes this is simply just a random decision made – but the lack of showing a Polar M450 (for Bluetooth Smart) next to the Garmin Edge 520 is probably a bit telling.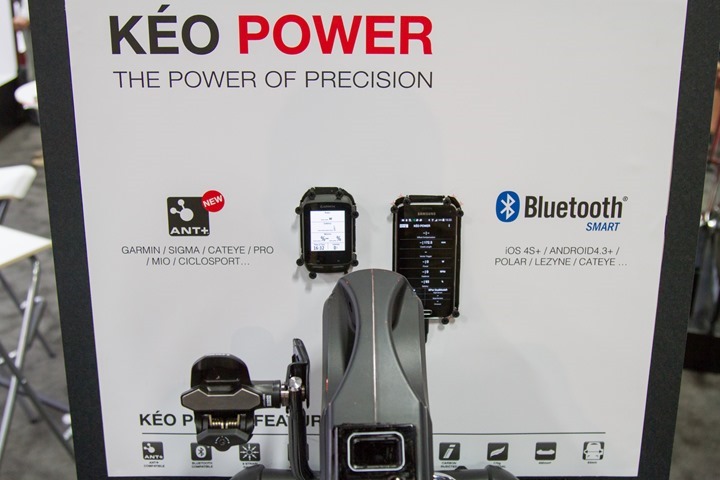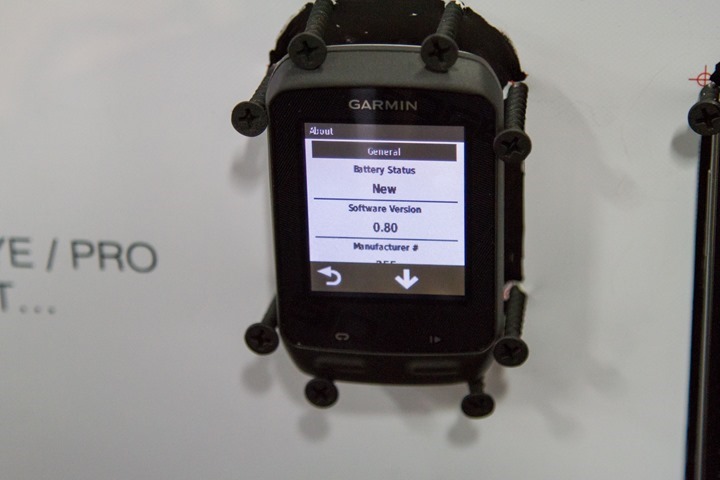 Much of the more juicy bits on this product announcement actually have nothing to do with the product itself, but rather the odd situation Polar finds itself in currently with their pedal set.  Effectively, they've got a lame duck power meter at its current price point (well, it was always oddly high).
Frequently Asked Questions: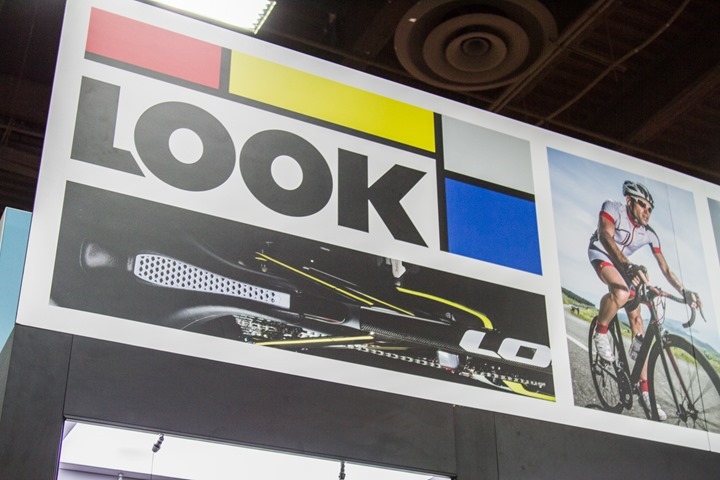 So I went back and forth with both companies over the last two weeks since the initial unveiling to get a bit more clarity on how things will play out moving forward.  Here's the simplified and bulleted version of many e-mails, in FAQ form:
What is the price of the new Keo pedals?
The dual left/right pedals will remain €1,490, while the single leg (left) pedal is €890.  Further, the upgrade option from the single-leg to dual leg is €790. These are the same prices as Polar's current options.  Note that USD pricing isn't yet availabe.
When will the pedals be available?
In January 2016.
Are the new pedals still compatible with the Polar products?
Yes, they are, using the Bluetooth Smart channel.
Are the new Keo pedals now compatible with Garmin products?
Yup, using the ANT+ channel.
Are the old Keo pedals now compatible with ANT+?
No, not without a hardware upgrade, as covered in the next item.
Is there an upgrade option price for existing Polar/LOOK KEO Power owners?
Yes, LOOK will offer an upgrade option.  The exact price of those will be determined in January 2016 as they near release.  But they stated it'll be in the ballpark of the Garmin Vector to Vector2 upgrade pods (which are $150 for the full left/right upgrade kit).  The LOOK folks noted that they see the upgrade as a bit of a "fresh start" (in their words), so as part of that upgrade process the unit will get:
– Sensor firmware upgrade and factory calibration
– New pedal body
– New dual-mode radio pods (ANT+/BLE)
– New packaging with user manual, dock, and torque wrench adapter
– Conversion to the LOOK after-sales service policy
Just to be super-clear, one other publication incorrectly stated the upgrades would be free.  They will not be free, but rather as part of an upgrade package that basically takes your existing pedals and applies the above mentioned magic.
Will Polar then sell the new dual-mode version?
No, Polar will continue to offer their existing Bluetooth Smart pedals.  They will not be using the new pods.
What happened to 'Best Friends Forever (BFF)'?
Apparently they were just friends, not BFF's.  Polar noted:
"originally in 2013 when Polar and LOOK set out together to develop the Polar Kéo Power Bluetooth Smart pedals, they agreed that the arrangement was not be exclusive in the longer term. Polar would continue to pursue compatibility with other third cycling power manufacturers, and LOOK would also eventually launch its own version of the Kéo Power system. As such, this recent launch from LOOK is according to the plan."
So the two had a more 'open' relationship than they let on, Eyes Wide Shut style.
Wait, no zipties are required?
Nope, none.  It just uses the existing force up against the pedal, similar to Garmin.  Yes, ziptie suppliers the world around just screamed out in horror.
A Few Final Thoughts: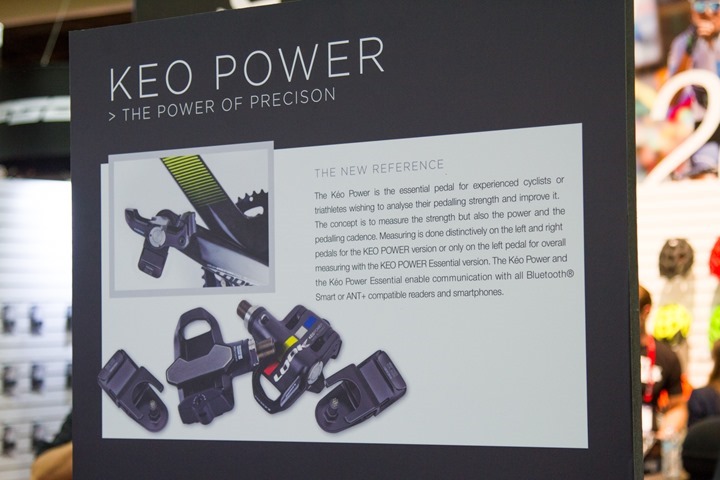 Obviously, I think this is great news for consumers.  I'm a huge fan of dual ANT+/BLE for sensors and head units alike, as it allows you to pick and choose what makes the most sense for your system. LOOK has clearly seen the light here, likely after lack-luster sales of a BLE product in a market that has very few BLE power meter capable head unit options (especially for left/right connectivity over BLE).
Now, I do think the current pricing is simply overpriced.  I could get the full left/right PowerTap P1 pedal set for $1,199 (that's also dual ANT+/BLE), or the bePRO pedals for €750 (albeit only ANT+, but full left/right).  Not to mention other options like Garmin and others that are cheaper.  Hopefully LOOK plans to adjust pricing prior to final launch in January.
As for Polar?  Well, I think they're only realistic option is to dramatically drop prices and hope it gets people to buy the existing units.  If they play their cards right, they could actually drive people to their new Polar M450 and V650.  For example, let's say they dropped the left-only option to $499, an appropriate price given Stages is at $529 (dual ANT+/BLE).  Then I'd say that the full left/right pedal kit could go for $899 and probably sell well for the next few months, since it'd encourage sales of the other Polar products as nobody else supports left/right power over Bluetooth Smart today.  But then again, I'm not a pricing wizard.  Just some random dude that writes on the interwebs.
—
With that, thanks for reading!  If you're looking to burn a bit of time, here's all my Interbike 2015 posts!