It was a year ago this week where we got one of the first public looks at the RacerMate One suite, during Interbike last year.  Since then it's been a long road for the Seattle based company as they've sought to bring the software to reality, but I was happy to learn today that Racermate One is now complete from a software development standpoint.
At this stage, the only item keeping you from having your hands on the software is "some contractual issues that are currently in negotiations" between 3rd party developers that assisted with the project.  This is partially related to distribution.
That said, they did seem optimistic that these would be resolved relatively soon and the software would end up in your (and my) hands.
In the meantime, I asked them to go over a few areas that we didn't get to see last year during Interbike, or that have changed since then.  When you look at the software compared to a year ago you can see there's clearly some significant improvement in the user interface (UI), as well as new features and functionality added.
Let's go ahead and walk through a few of them.
The first thing you'll notice is that the main menu has been changed up quite a bit to be fully consolidated and inclusive of the different modes that previously required different programs.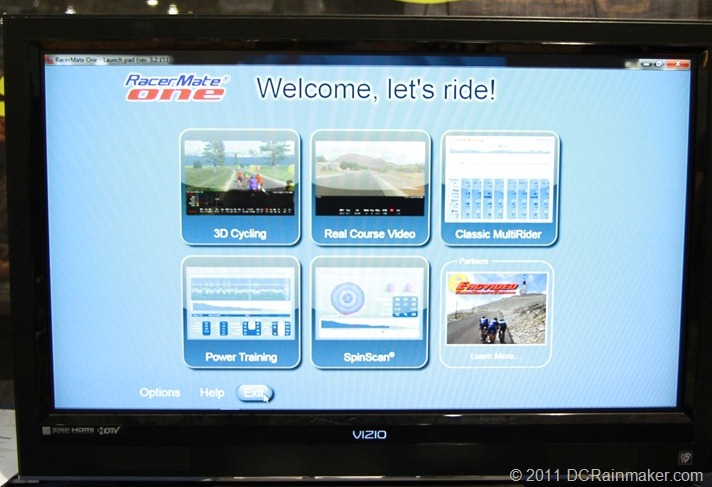 As you go to setup your rider(s), you'll notice a bunch of new customization options from calculating zones and heart rates to color customization of the rider itself.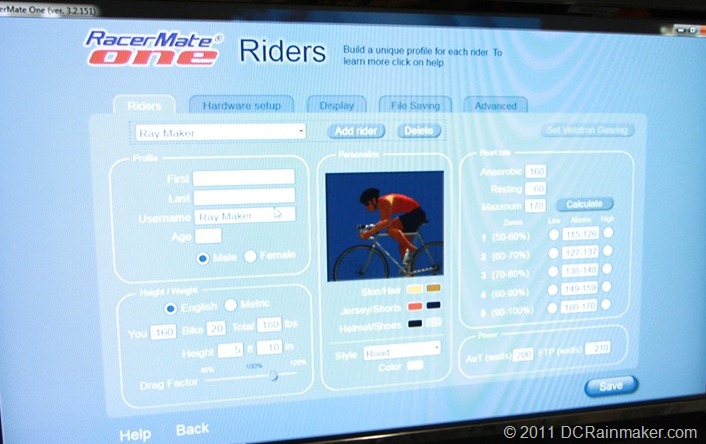 In fact as I noted last year – you can even now choose a triathlon bike.  Glad to see that's still there. Sweetness!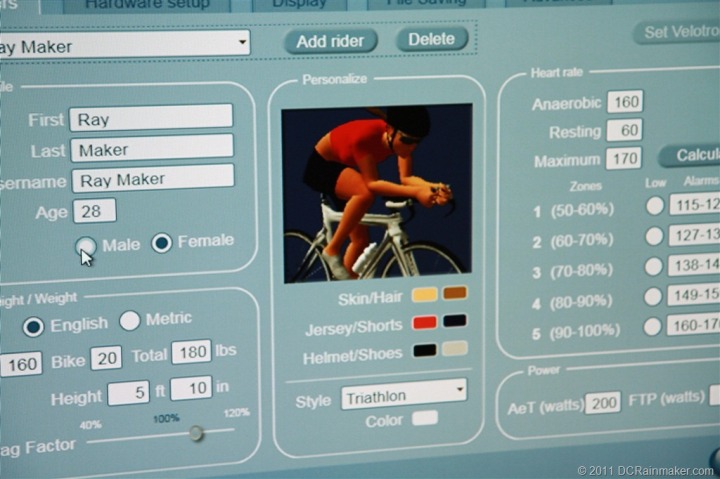 Next as you move through to select riders for a given course/ride you'll see a few changes of note.  First is that you can easily search rider names on the right hand side simply by typing them in.  This is great for places (like a coaching studio) that may have a number or riders 'in the system'.
Then we have a new rider type of "Smart Pacer" – which allows you to specify a computer generated rider that aims to be at a given wattage.  Now historically, if you were doing some form of interval training with a pacer set at 200w (example), he would leave you in the dust during a rest interval (as you would drop in wattage and he would maintain).  Today however, the Smart Pacer recognizes a significant drop in power and will pull back to stay with you.  The goal of the Smart Pacer is to help you pace at a given wattage – not to drop you.  Thus why it'll stick with you.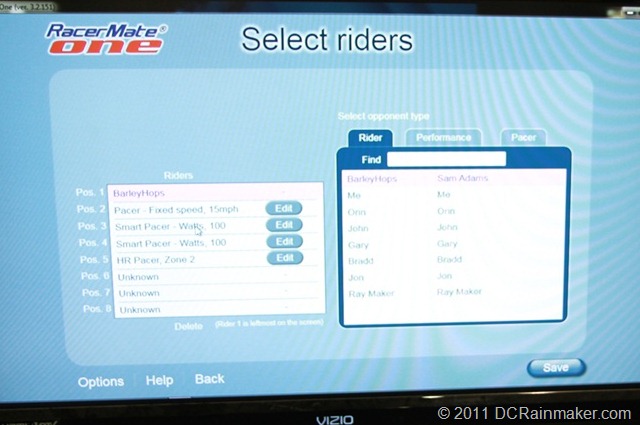 But perhaps some of the coolest changes are in the course selector screen.  In the past choosing courses was basically sifting through a massive list of text file names.  Now however, each course shows details such as Laps, Miles and Elevation.
Then they've got the course selector piece which allows you to drag over the section of the course that you want to ride.  This is useful for something like Ironman training where you may be riding different chunks of the course on different days.  At the same time, if you want to repeat a given section of the course repeatedly, you can simply select the section you want and then use the 'Laps' text box to tell it how many times to repeat.
Additionally, you can combine that with the dropdown to ride that section of the course Forward, in Reverse, and by doing it as an Out and Back.
Because this section is pretty cool I had the RacerMate guys go ahead and show you a walk through of this on a quick video.  I also included a bonus of a few seconds of footage I shot of the 3D piece during a ride so you can see it all moving:
RacerMate One Suite–Course Selector Overview
Finally, now we're ready to actually ride.  As you start up the 3D trainer mode (probably most common for the majority of folks), you'll see the graphics have indeed been significantly improved.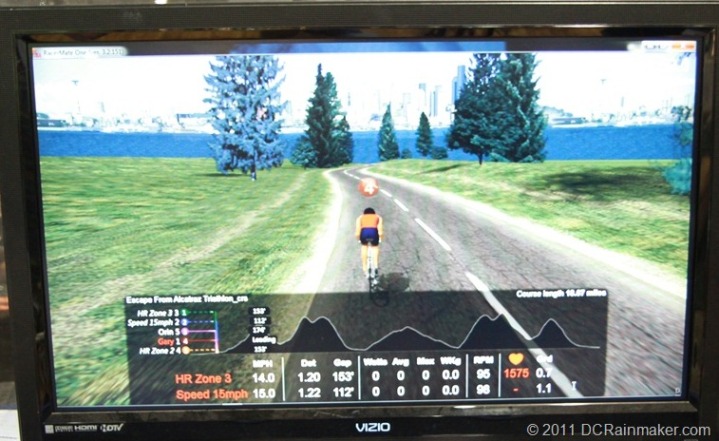 At the bottom you'll see the graph and progress bar have been cleaned up and in general this area is much more visually appealing now.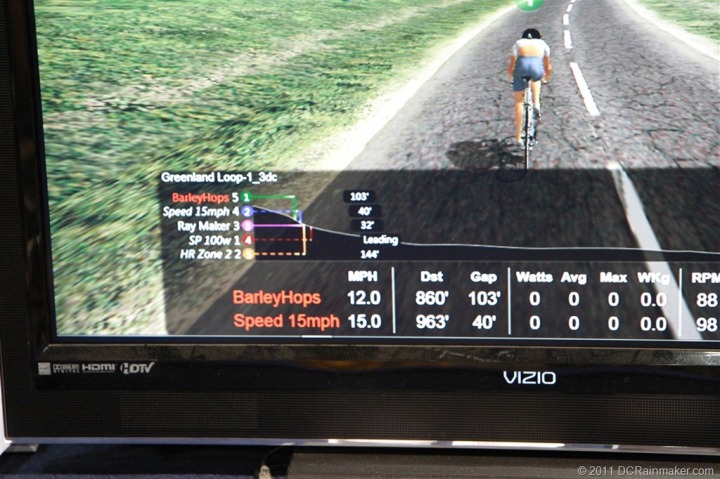 The same goes for two-person mode (which is different than the official Multirider mode).  This mode supports up to 8 concurrent riders, before you have to switch over into the more classic Multirider suite.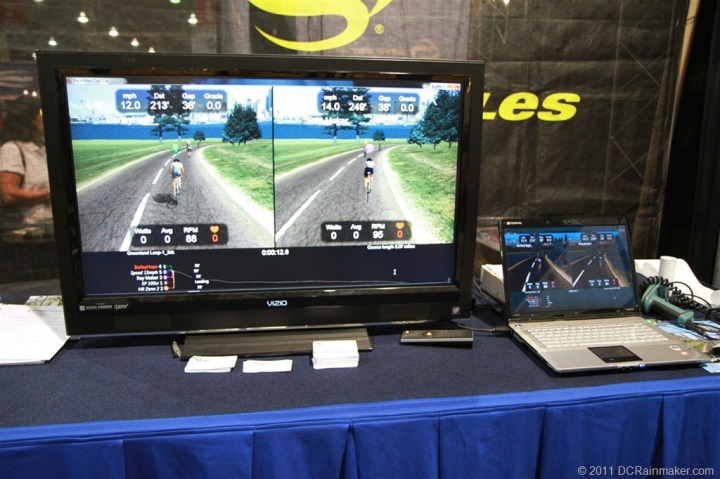 The vast majority of these improvements made their way over into the Real Course Video side as well (some of them didn't apply, like riding backwards – as then the people would be going backwards in the videos).  As a random side note, I asked them which was their favorite RCV release from a quality and overall 'best work' standpoint and they said that Ironman Canada and Ironman St. George were amongst their two favorites.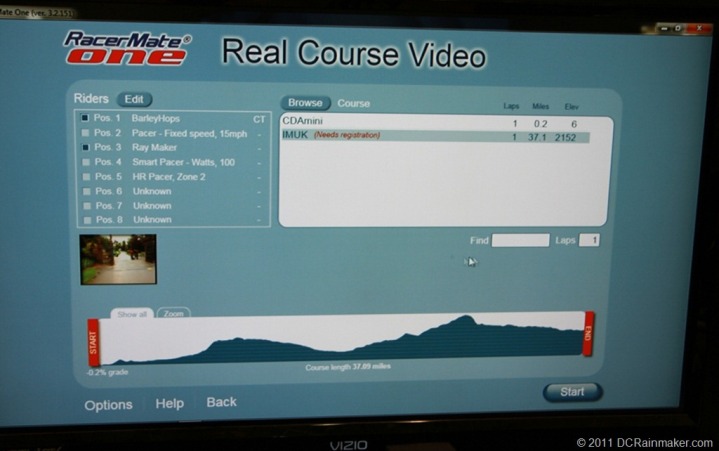 You can re-arrange the video size, but they found that it just looks better stacked one on top of each other.  The below screenshot illustrates how it would look if you had two riders riding the Real Course Video at the same time.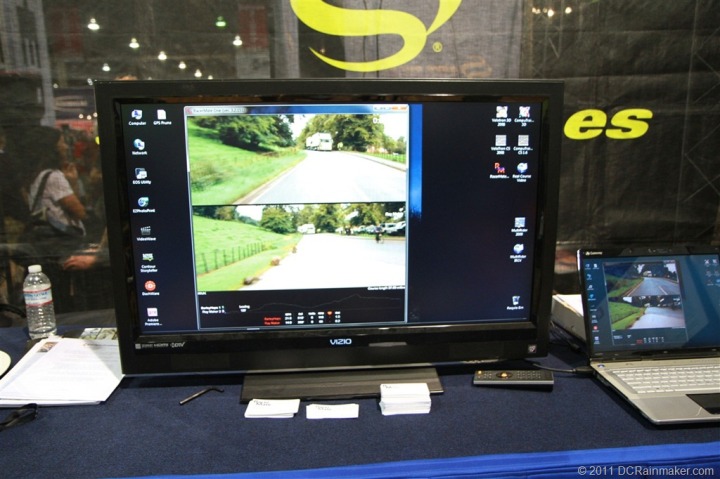 They've also done a lot of work around the ability to resize windows to whatever size you'd like.  This is useful for those folks that may be watching Netflix or Hulu on their computers at the same time (or trying to play Solitaire).  The below photos show just how small you can make it – and it resizes everything quite gracefully.
Look for more detail from me on RacerMate One once I get my hands on it shortly.  As a CompuTrainer owner (two of them in fact) – you can bet that I'll be looking forward to putting it through its paces and letting you know how it all works out.
As always, if you've got any questions (or if you just found this useful), feel free to drop a comment below.  Thanks for reading!
—
For the latest Interbike coverage, remember I'll be tweeting nonstop, so you can catch all the latest action there.  And here on the blog you can use this tag to see all the Interbike 2011 posts. Thanks for reading!