As I've mentioned in the past, I have an eBay alert setup for any time the word 'CompuTrainer' is listed within a description on eBay.  While I'm not really in the market for a 3rd CompuTrainer, I'm always entertained by the eBay listings, so I just let it be and continue to alert me daily.
So back three weeks ago I was somewhat confused when I saw the following pop-up in my e-mail alert: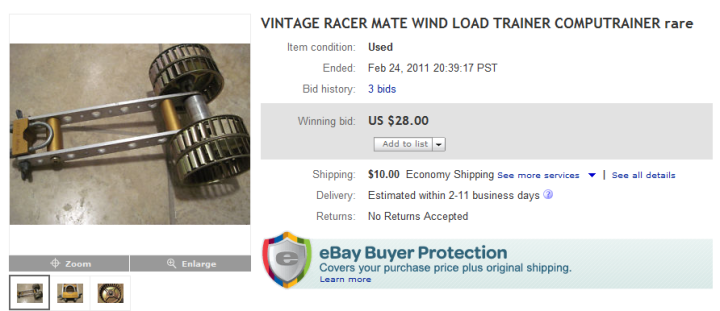 Based on my fairly in depth knowledge of the CompuTrainer's of the past decade, I didn't have any clue what this doohickey was.  The posting included very little information about the actual 'trainer', such as how to use it, or really any other details.  It simply noted it was from 1976.
After a bit more time with the oracle of Google, I found a sum total of two photos of this device…and one patent application.  The problem was the patent application covered some pre-production ideas, and didn't actually have any likeness to the final product.  But it was cool to look at.  The closest thing I could find was this single diagram (yes…that's the maximum resolution I could find):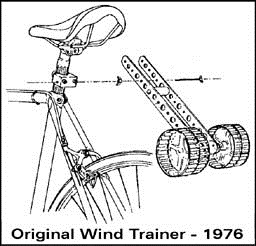 Though, later I'd find a Flickr album with a few more photos of it on a bike, but none in use.  Though, none of this would deter me…I wanted to check this baby out.
So, I tossed out an initial bid of about $11 and waited a couple days.  Given this was the origins of the CompuTrainer, I figured it was probably worth a few Chipotle burritos in cash.
By time the auction closed it was up to $28, plus $10 shipping and handling.  Certainly seemed like a good deal to me.  But then again, I was never very good at predicting prices on those antique shows.  Before I knew it…I had shipping confirmation in my e-mail and it was on the way to me.
When it arrived, I pulled it out and admired it – The Racermate 1976 Wind Trainer: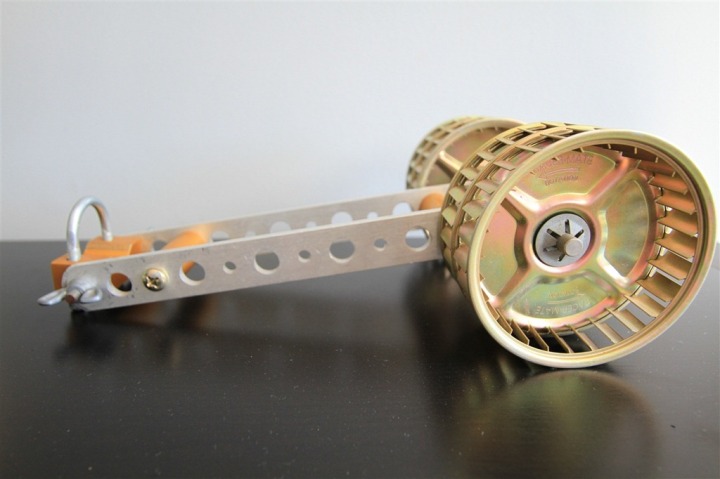 A device of metallic beauty:
What you essentially have is a few key pieces.  On the left side (above, turned towards the camera) is the piece that unscrews and hooks onto your seat post. 
While on the right you have the two fans that generate force as the wheel rotates.  This in turn acts like a propeller and pushes down onto the tire.
So how does it all fit onto the bike?
Well…not terribly well, with today's bike's anyways.
First off – any carbon seat posts that are shaped such as those on a time trial bike are immediately out.  This eliminated half of the house's bikes right there.  I then moved onto my road bike.  But the seat was too high, and resulted in the locking system not making it to my seat post: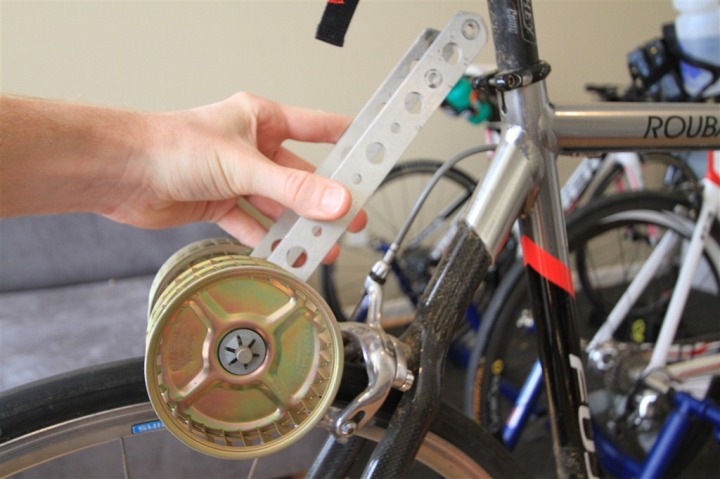 I then tried out a mountain bike, without luck – same basic seat post issue.
So I was down to one bike left: The Girl's older tri bike.  This would be a hail-mary of sorts, as after that I'd have to go around the neighborhood and find someone with a bike that would actually work with this thing.  Thankfully, I was in luck and with a bit of creativity, I had it installed: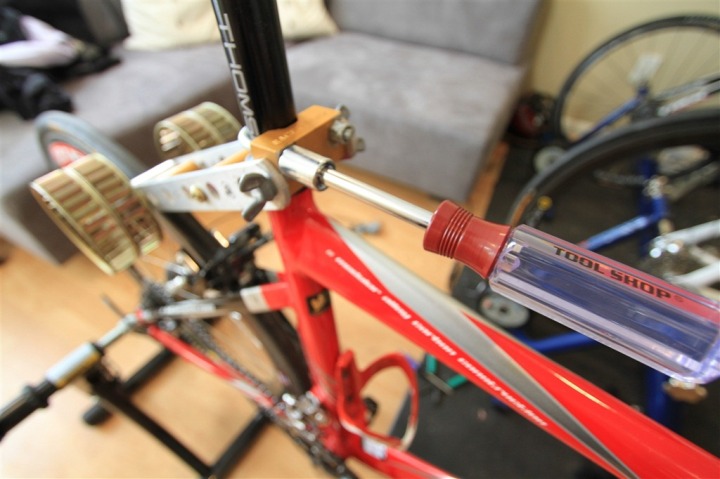 The trick with the Wind Generator is to get enough tightness on the locking system so that it doesn't move laterally, but still moves vertically with wind-generated force.
So, with everything all set, I did a couple of test revolutions before calling down The Girl to get pedaling. 
I should note that while it's sitting on a trainer stand, the rear wheel is fully elevated off the ground.  Based on the diagrams I could find, in the actual trainer stand from 1976, it's basically the same concept with the rear wheel simply being held above the ground.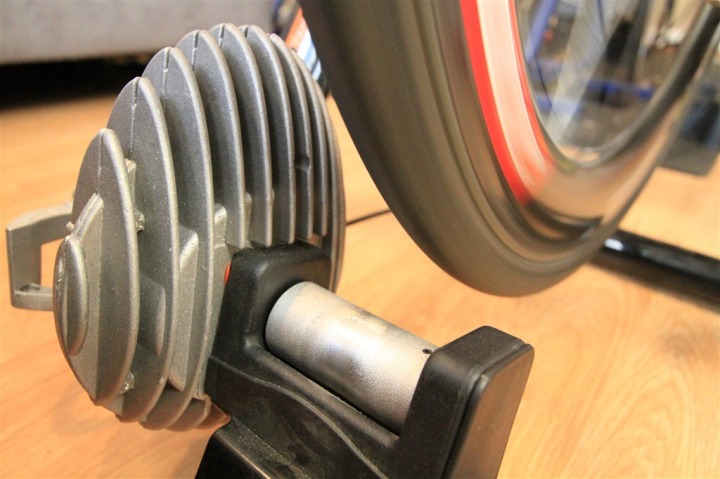 Of course, once she came down the stairs I had to get her past the fact that I had doubled the capacity of the trainer room in a matter of 15 minutes.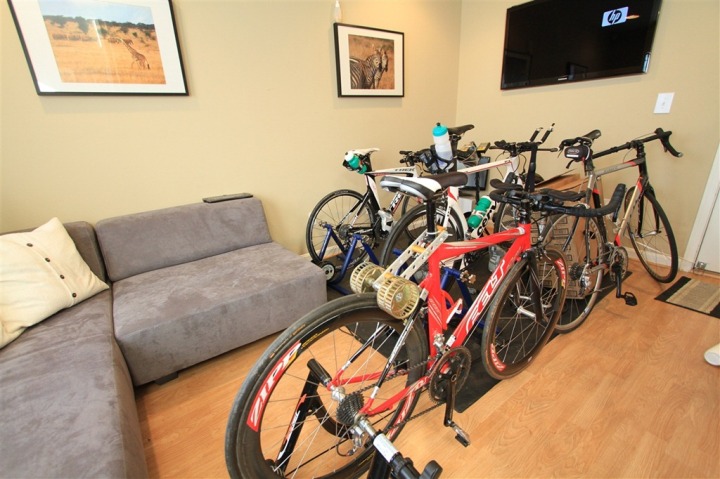 But, once that detail was settled out, it was on to the trainer she went.  Now, because I know you guys want to hear how this thing sounds, I've put up this brief little video.
1976 Wind Trainer–from Racermate Inc, the makers of the CompuTrainer
The biggest thing you notice is that the faster the wheel speed, more pressure is applied towards the wheel – similar to how a resistance unit works on a normal trainer.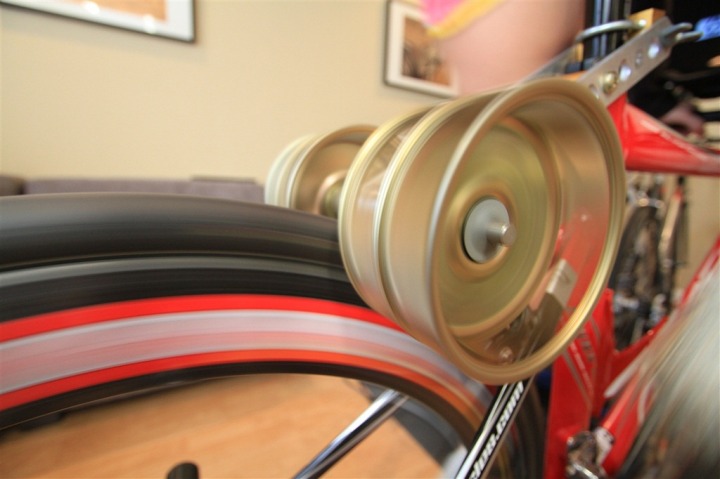 However, based on our playing around with it – the overall resistance is nowhere near what a modern day trainer can provide.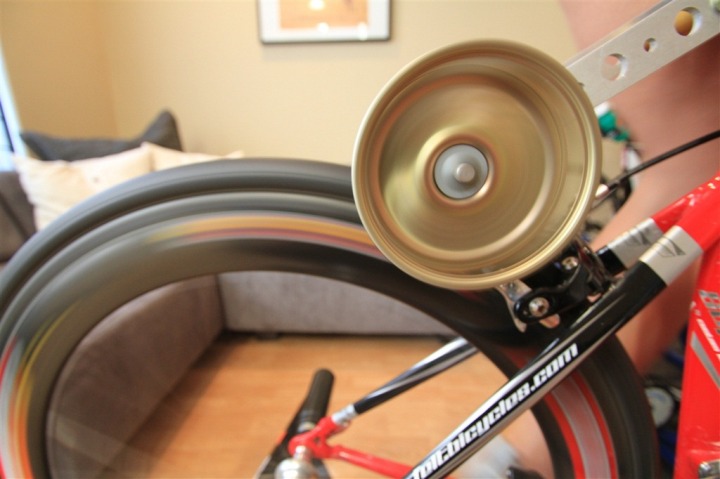 That said, no modern day trainer has this totally cool spinning thing precariously mounted  on top of the wheel.  So, it's a compromise between coolness (tons of awesome factor) and usefulness (no awesomeness factor).  I can say this thing is a keeper, it's just gonna go back in the box for another decade and a half, where I'll bring it back out when it's 50 years old.  Hopefully the seat posts haven't changed even more by then…