I've long since wondered what to do with all the random tidbits of things I collect each week – or the little thoughts that don't quite make for a full post.  But I finally came up with a solution: The Week in Review Post.  This takes the place of my Weekly Mailbag – which is over on Slowtwitch.  These are just quick snippets of things that I've found interesting.  Nice and easy Saturday reading.  Plus, a recap of my Weekly Mailbag post a well.
So with that, let's get into the action!
Weekly Mailbag Over at Slowtwitch.com:
The weekly mailbag is back in action this week – and it went all girly!  Yup, 2/3rds of the questions were related to female stuffs…and…The Girl even stepped in answered a bit of stuff!  Check it out here!
1) Waterproof 'Women's' watch options
2) Footpod on backwards
3) HR strap issues for 'petite' women
You can read all my past weekly mailbags at Slowtwitch here.  Or the pre-Slowtwitch days here.
Posts this past week:
A pretty quiet week around DCRainmaker – but in case you missed anything from the past 7 days, here ya have it.
Saturday: Guest Post – Cold Turkey: Tour De Cleveland
Saturday: Week in Review – December 4th, 2010
Monday: A weekend in Seattle 
Tuesday: How Sports Technology companies could learn from Southwest Airlines
Wednesday: Garmin Forerunner 210 In Depth Review
Thursday: Paratriathletes are real athletes too, and how you can help them before the weekend
Friday: The Elusive Wahoo Fitness iPhone ANT+ Bike Case Giveaway
Stuff that I found interesting around the interwebs: 
As always, here's a sampler platter of some of the interesting articles and posts I found around the Internet this week.
#1) From deathbed to Ironman – A great story about a semi-local athlete who came back from a a nearly deadly bike-car crash, to compete recently in IM Cozumel.  Well worth the read.
#2) Impact of weight loss drugs on performance: This one is somewhat controversial, but I found it interesting to be able to see the impact of what are essentially normal doctor prescribes medications – but are banned substances, on a regular triathlete and his training/weight.  No desire to do it myself, but I'm always interested in understanding what's going on around me.
#3) Anatomy of the Leadout with Mark Renshaw: This is pretty cool, it's basically Pro Cyclist Mark Renshaw talking through out breakouts and leadouts work, awesome breakdown (and little jabs at how other pro teams work).  I just recently started subscribing to the Cycling Tips blog, and they have some really cool stuff.
#4)  Crazy Super Sprint Triathlon Thingy: I was just recently told about this, but essentially it's multiple triathlon's directly back to back.  i.e. – Swim/Bike/Run/Swim/Bike/Run.  Except, pro's are doing it – like real pro's, current IM World Champ pro's.  I need to dig into this more on an upcoming post, but check out the whacky video as well.
#5) Training Peaks adds lots of junk in the trunk: Actually, they added a lot of cool under the cover features that will enable better integration with other folks – like Withings, Zeo, and others.  They've also added a bunch of other improvements, so check out the full listing.  Oh, and yes, I just wanted to say 'junk in the trunk'.
Random Thoughts Section:
CompuTrainers on eBay-
Tis the season for indoor trainers – and despite being close to the time of New Year resolutions, there's tons of people selling them off.  And luckily for you – a fair number of them don't have any idea the actual resell value of a CompuTrainer.
I have an eBay alert that gives me a daily report for all items listed with 'CompuTrainer', and so each day I get to see what people have listed various CT items for.
And in about 30% of the listings – folks heavily underprice items.  In just the last 10-12 days I saw more than one CompuTrainer list a 'Buy now' price of $300-$400 – more than 75% lower than retail price.
A typical used CompuTrainer will normally sell for between $800 and $1100, depending on really no factors at all – since virtually all of them are identical.  And CT's in general hold value extremely well, since they're built like a rock.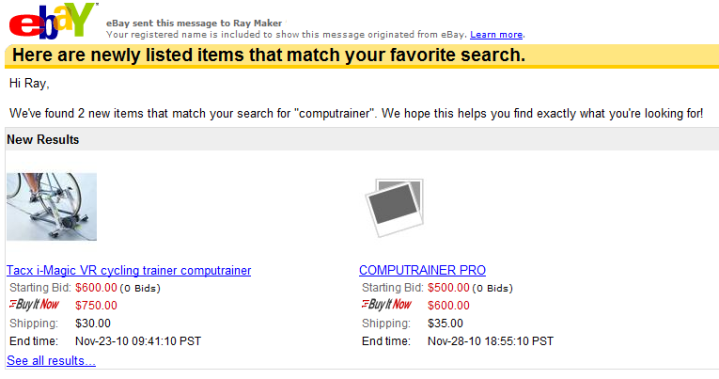 Anyway…food for thought if you're looking for a CT. 😉
Wahoo Fitness ANT+ Bike Case for iPhone Giveaway-
You probably saw this yesterday, but just in case…(no pun intended)…the giveaway only runs till Monday.  I'm giving away the Wahoo Bike case, which isn't even available until sometime in January, except, you get it now.  Like right now.  Oh, and it's Rubber Elephant friendly: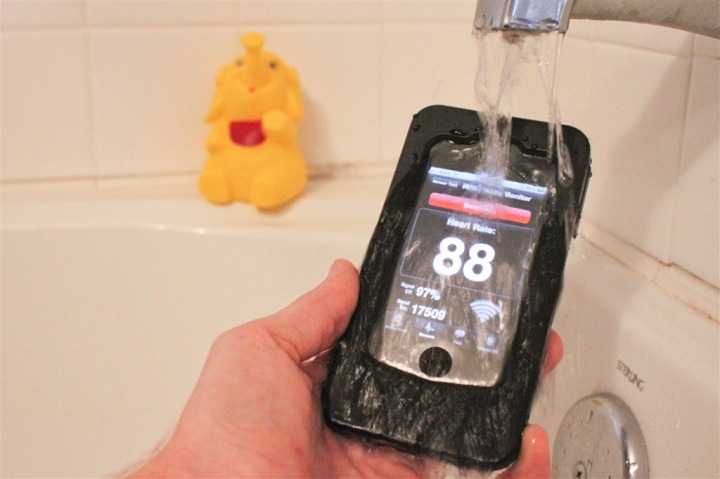 Have a great weekend all!