(Note from Ray: I'd like to introduce you to Lindsey and Carl, two good friends of The Girl and I.  You may remember our early summer training adventures together.  Given I'm out of the country, they offered to maintain a very unique Thanksgiving tradition of mine…and their performance certainly didn't disappoint.  I think you'll love their post and photos.  Thanks guys!)
Loyal blog readers know that it is tradition for Ray to kick off his Thanksgiving celebrations with a Turkey Trot (or two) dressed in his famous turkey costume. Seeing as Ray is crouching for tigers with the Girl in the Far East right now, he offered us—Lindsey and Carl—the opportunity and GREAT honor of donning the turkey costume in his absence. Soon after Ray dropped off the suit with us however, an email appeared in our inboxes with an "offer" to author a guest blog post for Turkey Day. No one says no to Rainmaker, so here's our story!
After a tune-up half marathon last weekend in Philly for Lindsey, we took our turkey trotting talents to Cleveland and ran the 5-mile race held downtown amongst many of Cleveland's most notable sights. To our knowledge, this was the turkey's first trip to Ohio, and we were intent on showing him a good time…
We woke up on race day to a warning from Lindsey's dad that it was "raining like hell" with temperatures in the 30's. What should we do? Should we just go back to sleep and skip the race? Maybe Ray would forget he lent us the turkey suit and the race reporting promises we made. What should we do?
We decided to face the monsoon, turkey-head first and proceeded to the race. Once parked, we tried to get the suit on Carl, armed with Ray's detailed, step-by-step instructions: "you'll figure it out":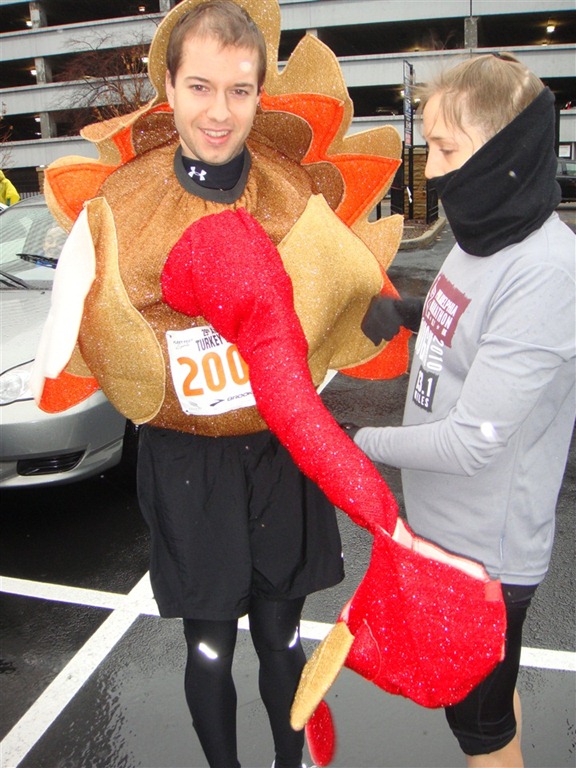 We eventually realized out the "feet-first" method was the best way to enter a turkey.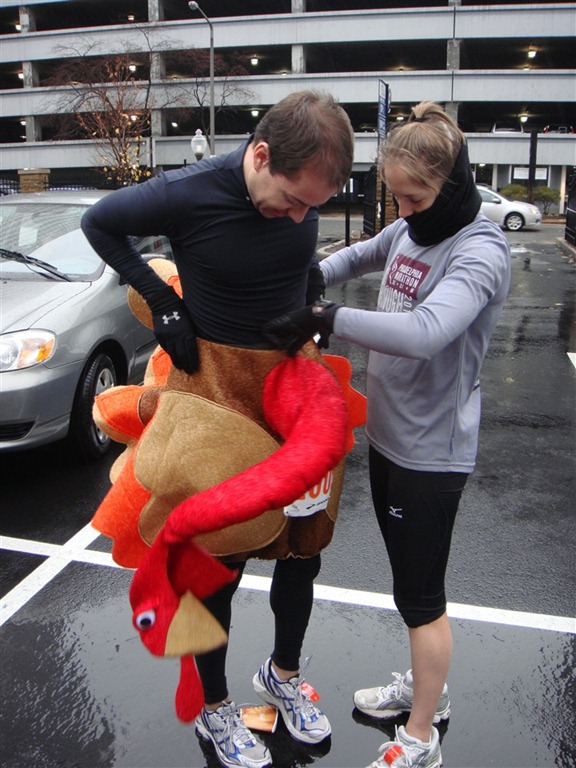 Seeing as Carl has essentially taken a two-month vacation from exercise since his ironman, running with Lindsey was not an option, so Carl focused on the one competition he did have a chance of winning: THE COSTUME CONTEST. Here's Carl eyeing up the competition shortly before the tomahawk-wielding pilgrim guy to his right made a move at his neck—clearly intimidated by his costume. He even met two fellow turkeys from Ray's hometown of Alexandria, VA!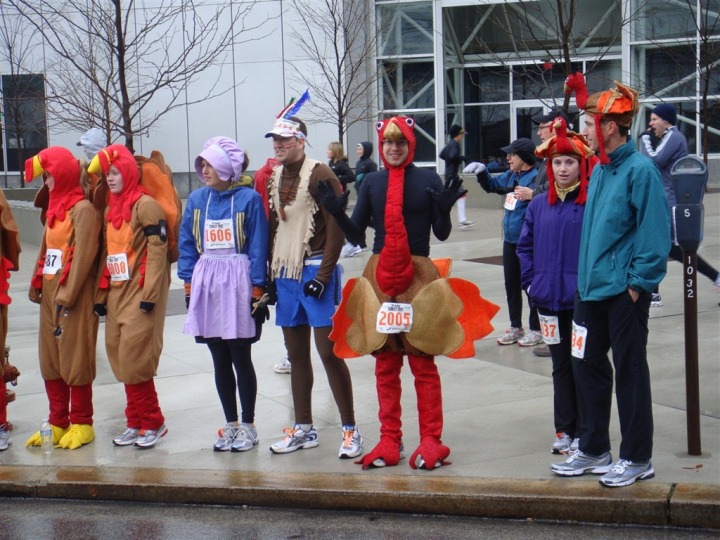 Each contestant had his moment on stage to rile up the crowd with a dance. The winner was decided based on crowd response.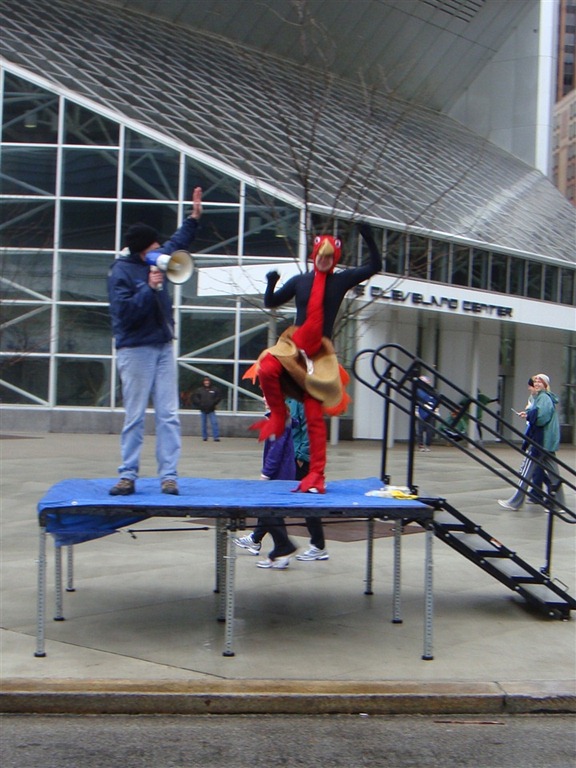 Despite Carl's best efforts, he came in second best to the winner, Buddy the Elf. It's fair to say that many were outraged with this result. Evidently foul play was at work – how else does a CHRISTMAS ELF win a Thanksgiving Day Costume contest? Only in Cleveland…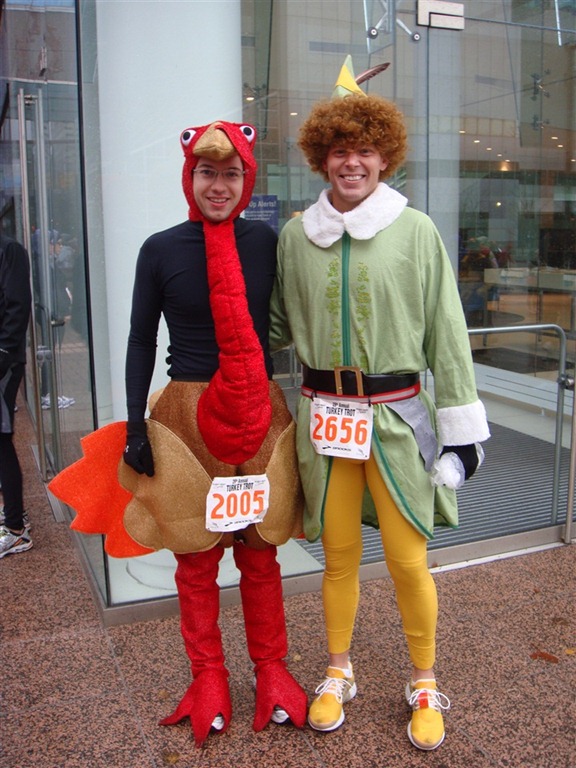 Onto the race! While Lindsey pushed the pace with some Rainmaker-esque 6-minute miles, Carl the turkey trotted at a more pedestrian pace, taking in all Cleveland had to offer. First up, Cleveland Browns Stadium: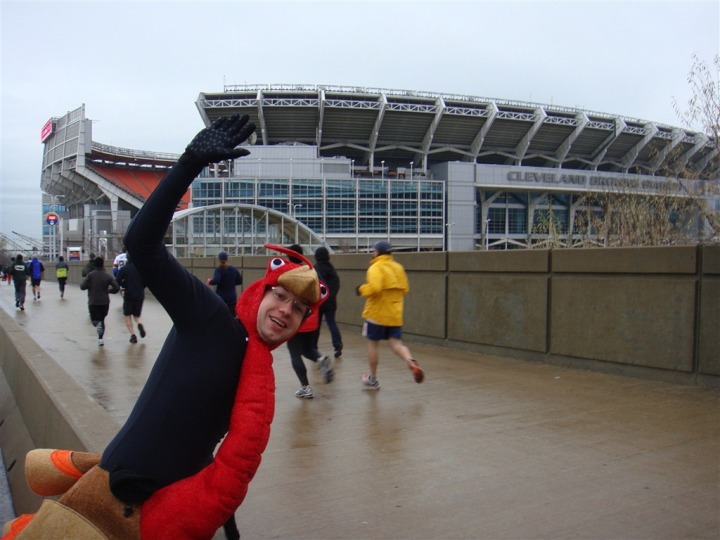 Air guitar in front of The Rock and Roll Hall of Fame: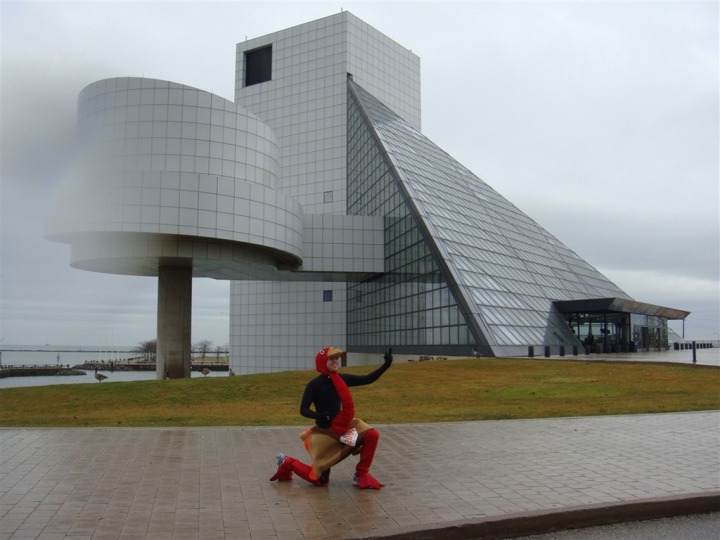 More sights (sorry, no elevation charts, HR graphs, pace charts, etc.):
Turkey's long-lost twin brother FOUND: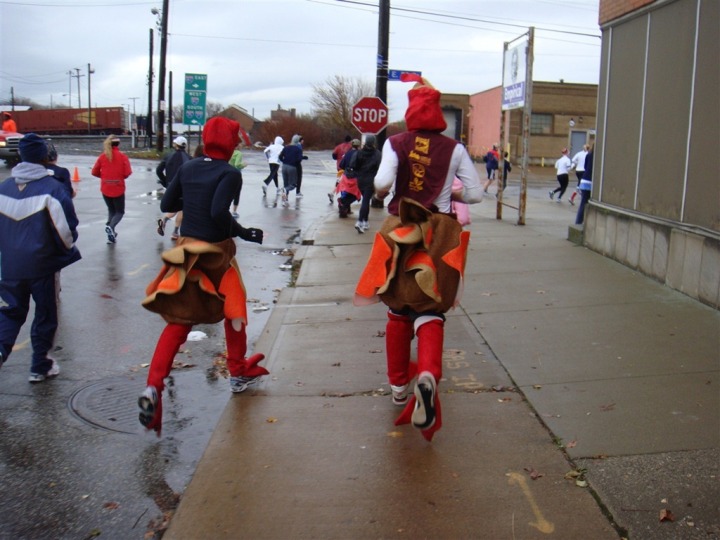 We must thank Lindsey's high school friend, Marisa who served admirably as chief photographer and turkey chaperone!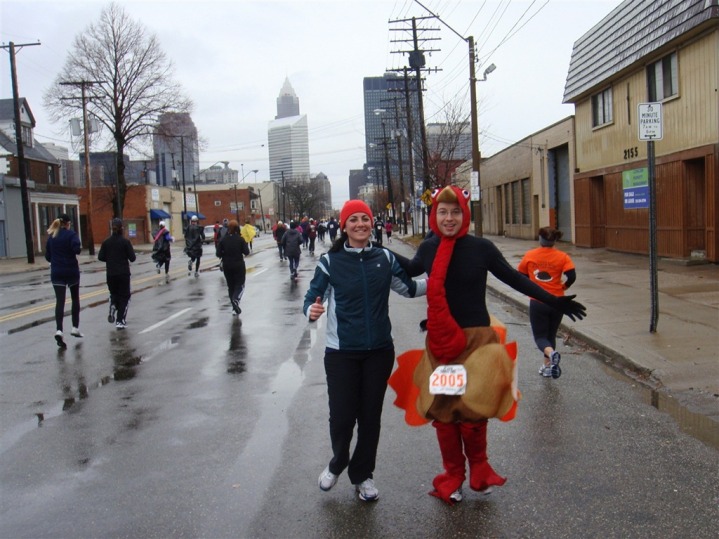 Finishing shots (Lindsey lobbied to have the second omitted, to no avail)
Lindsey had her turn in the turkey suit and was quickly hunted down by local media for post-race interviews.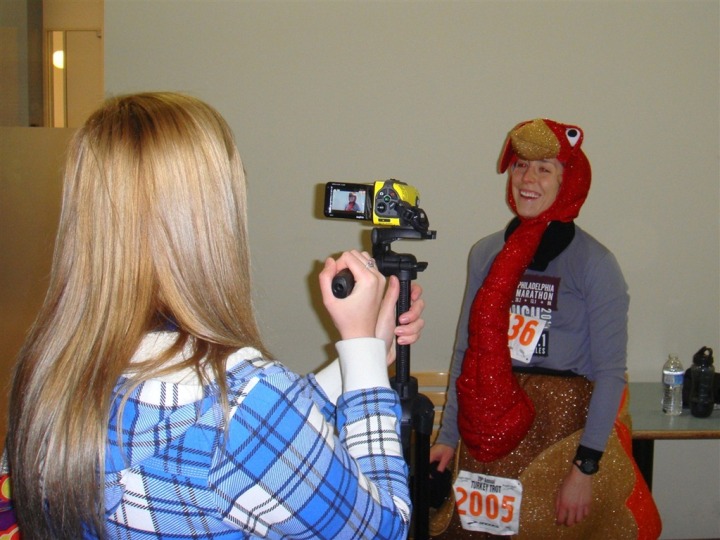 The SIGNATURE Rainmaker self-photo: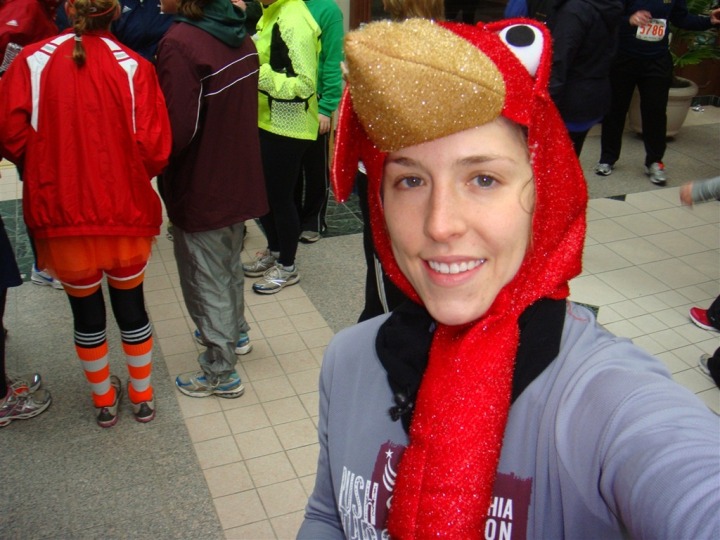 Hungry turkey Lindsey spotted these pies after the race. Sadly they were reserved for raffle winners only and the pie-keepers made no exceptions for well-heeled turkeys, or top finishers (Lindsey was the 5th woman overall with a solid 31:05!)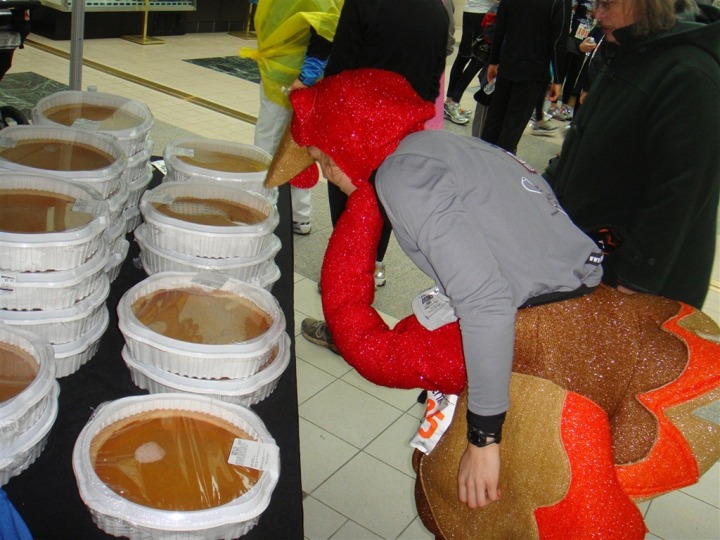 Ray and the Girl aren't the only ones with skills in the kitchen! Lindsey and Carl recovered after the race with a delicious, home made pumpkin pie washed down with a glass of the famous local brew, Great Lakes Christmas Ale. Cheers!