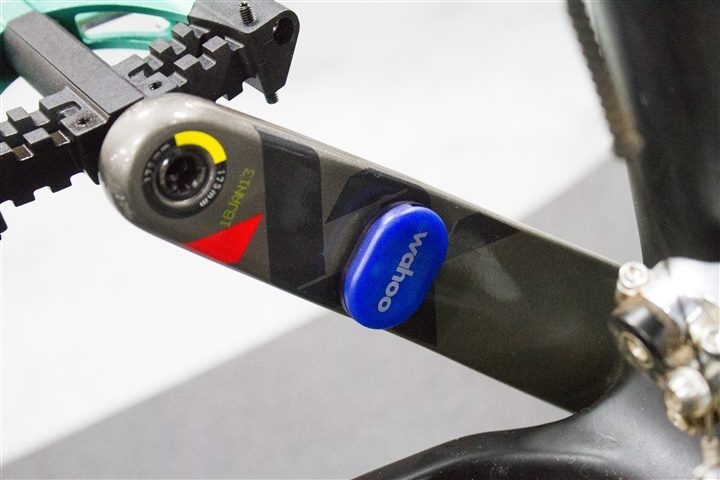 Today at Interbike Wahoo Fitness announced their Wahoo RPM Bluetooth Smart cadence sensor.  This tiny pod attaches to your current crank arm and provides cadence (revolutions per minute) via Bluetooth Smart, to compatible applications.
This is similar to their Blue SC product with both being Bluetooth Smart and providing cadence, but different in that it doesn't also provide speed – nor does it require placement of any other sensors or magnets (like a traditional speed/cadence sensor).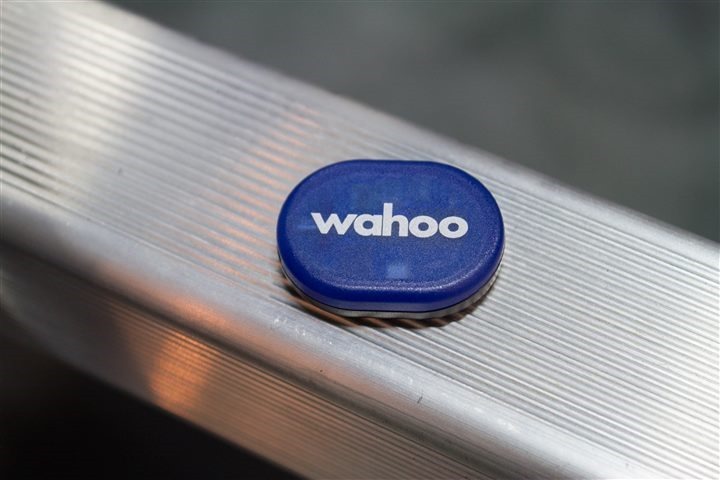 The 7-gram Wahoo RPM uses an internal accelerometer to determine cadence, similar to how many power meters coming onto the market today are using the internal accelerometer to measure cadence.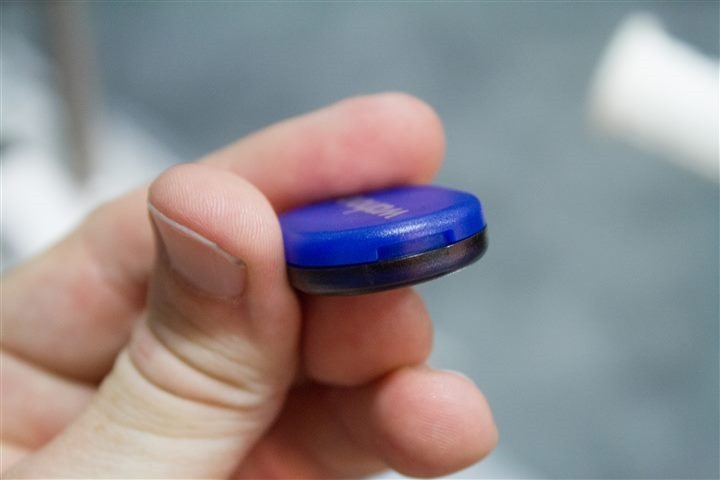 While the Wahoo RPM is currently designed for the cycling market, down the road if there's demand they are considering enabling it to also act as running footpod as well (for treadmill/indoor use).  The physical hardware already exists in the unit to do so, it would just need a firmware update.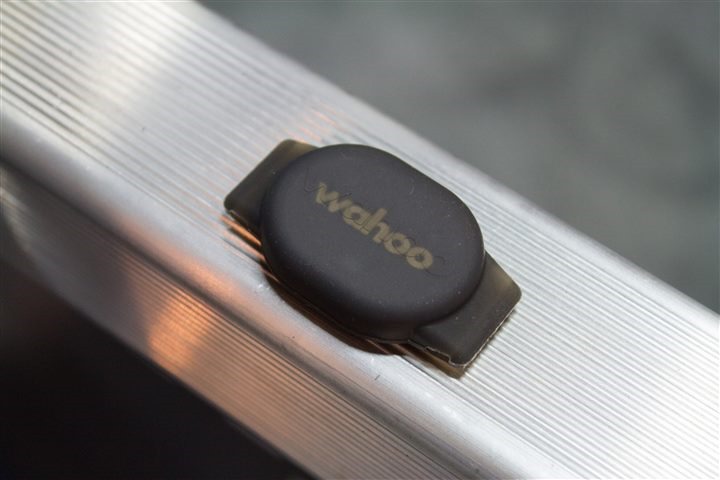 Further, they've also been looking at taking the same pod and extending the physical hardware capabilities to include a barometric altimeter, compass and 9-axis gyroscope, which also would be connected via Bluetooth in the same 'shell'. There isn't however a timeframe for such a product, nor any specific name for it either.  It's more of a 'potential product', likely appealing to hikers and those wanting more accurate altimeter data on their phone.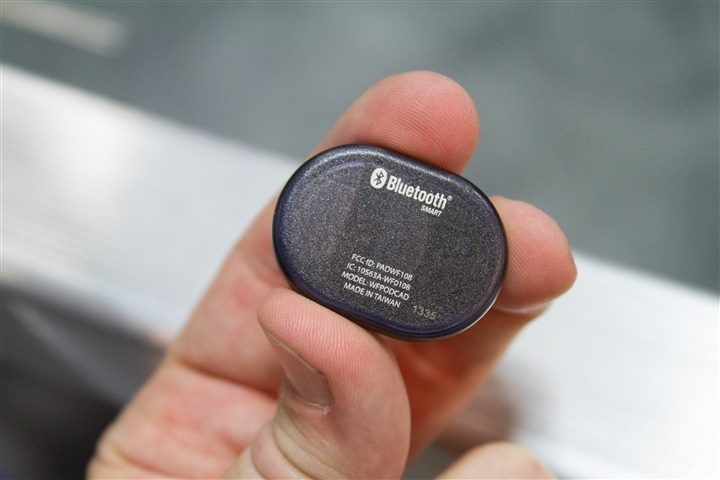 How to
To affix it to a bicycle you've got a few options.  You can use an included Velcro kit, included rubber band kit, or just simply glue (which is how all the ones here were shown).  The unit runs on a simple CR2032 coin-cell battery that should last at least a year.
Timeframe for availability of the Wahoo RPM is mid-October, with pricing at $49US, however they're aiming to offer it as a bundle direct from them.
Tech
Next up I got a sneak peek of Wahoo's work on the Android platform.
I got a quick demo of the new Wahoo Fitness Android app, controlling a Wahoo KICKR trainer using Bluetooth Smart.  Below you can see the pairing screen on the app, with the KICKR just being added and the ability to add further sensors down below.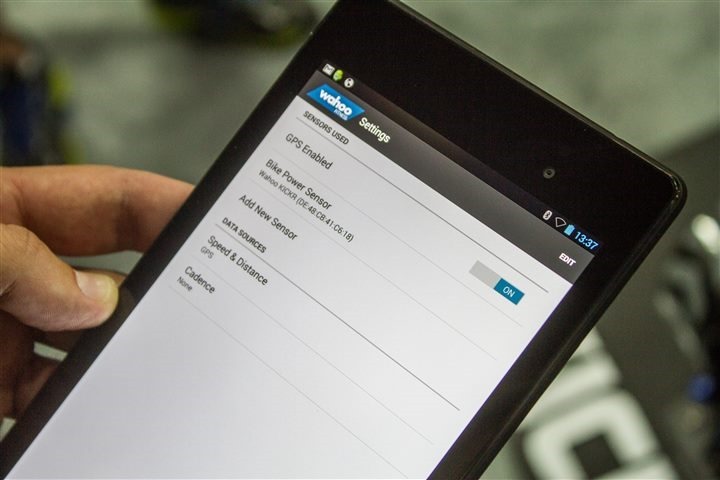 Wahoo Fitness announced a beta program via their Facebook page back a few weeks ago, but this was the first time seeing it in the wild controlling a KICKR via Bluetooth Smart.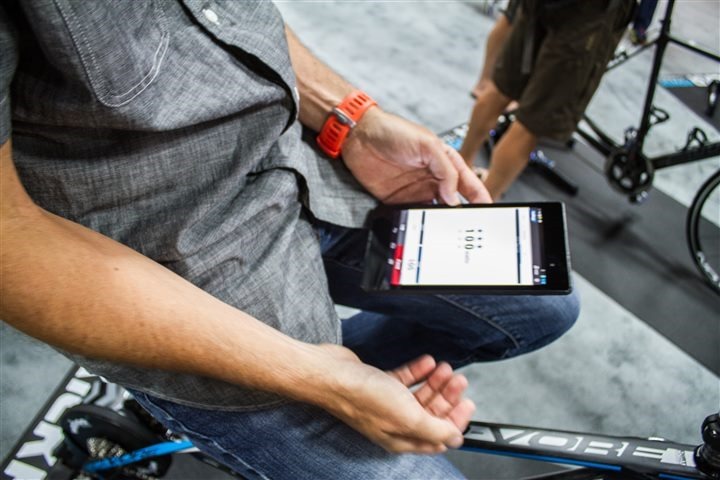 Now of course the central challenge with Bluetooth Smart on Android is still present, so the compatibility of this is highly limited right now to the 3-4 models of Android devices with full Bluetooth Smart support at the OS layer (not just having Bluetooth 4.0 hardware in them).  Within these demos you're seeing it on a Nexus 7 tablet.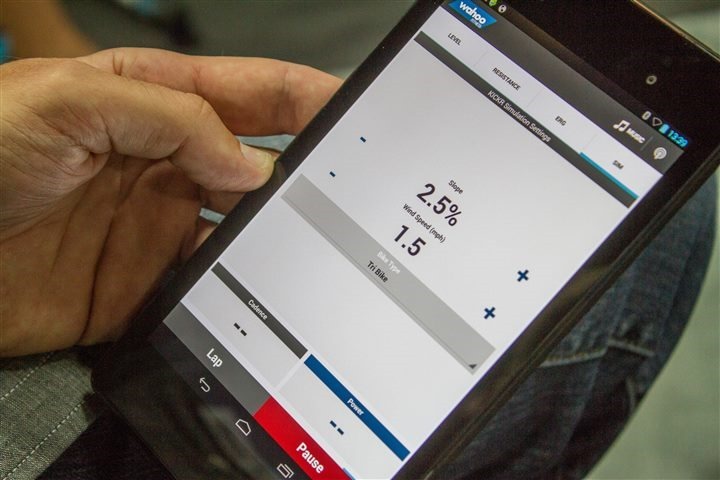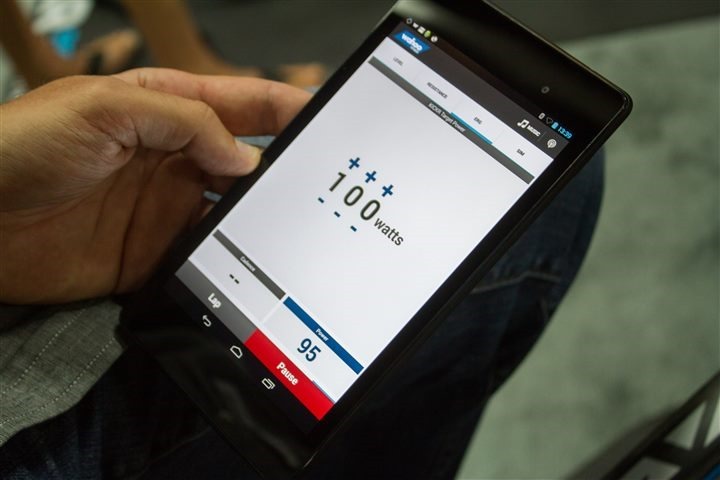 They're optimistic they'll be able to make the Android beta version more widely available (to you, consumers) in the coming weeks, though there's clearly a lot of work to get it to the same point as the iOS versions they have today.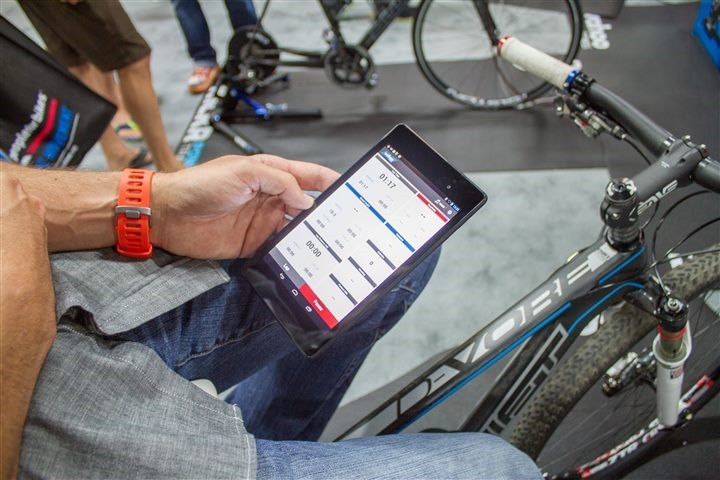 It should of course be noted that the Android app isn't just targeted at the KICKR, but really all their Bluetooth Smart sensors for any sort of fitness activity recording (and sharing to the usual 3rd party platforms).  Additionally, depending on how the ANT+ scene looks (such as on the new Samsung Note tablets), they're looking at that as well for Android.
Finally, it's probably worth noting that earlier today Wahoo Fitness hit their Kickstarter funding goal (with 48 hours to spare) for the RFLKT+ Barometric Altimeter version of their RFLKT cycling computer.
With that, thanks for reading!
Found this post useful?
I've partnered with Clever Training to offer all DC Rainmaker readers exclusive benefits on all products purchased.  By joining the Clever Training VIP Program, you will earn 10% points on this item and 10% off (instantly) on thousands of other fitness products and accessories.  Points can be used on your very next purchase at Clever Training for anything site-wide.  You can read more about the details here.  By joining, you not only support the site (and all the work I do here) – but you also get to enjoy the significant partnership benefits that are just for DC Rainmaker readers.  And, since this item is more than $49, you get free 3-day (or less) US shipping as well.
Wahoo CLIMB
Wahoo KICKR 2018
Wahoo KICKR CORE
–
Welcome to Interbike week! This week during Interbike 2013 I'll be tweeting from the exhibition show floor quite a bit, as well as posting frequently. Here's a quick and handy link to all Interbike-related posts.