This was officially the weekend that never seemed to end, nor one where I stayed in any one place very long.  Here's the run-down.
1) Flew to Mallorca to test out PowerTap P1 & C1 power meters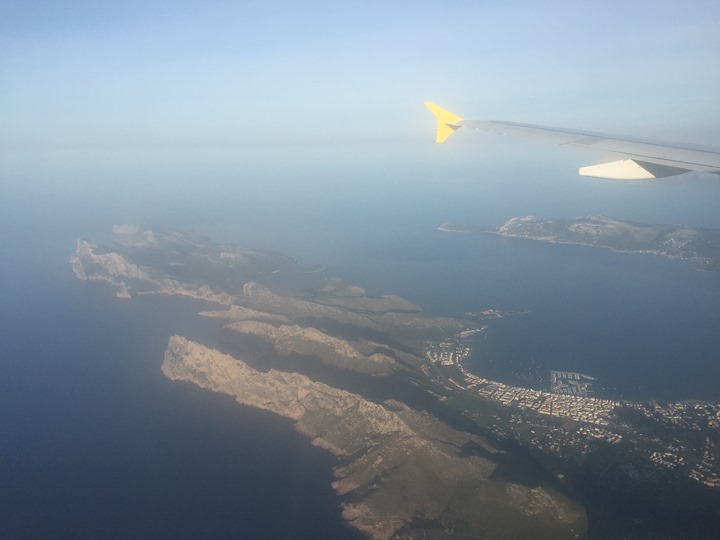 With Friday being a holiday in France (along with some other countries), I flew down to Mallorca Thursday night to meet up with the PowerTap folks.  They'd been down there for the previous week as various media outlets from Europe dropped in to test out the new PowerTap P1 & PowerTap C1 power meters.
You'll remember from my announcement post that the PowerTap P1 is the $1,199 pedal-based power meter, while the PowerTap C1 is the $699 chainring based power meter.  This was really the first time folks outside of PowerTap people have been able to ride units.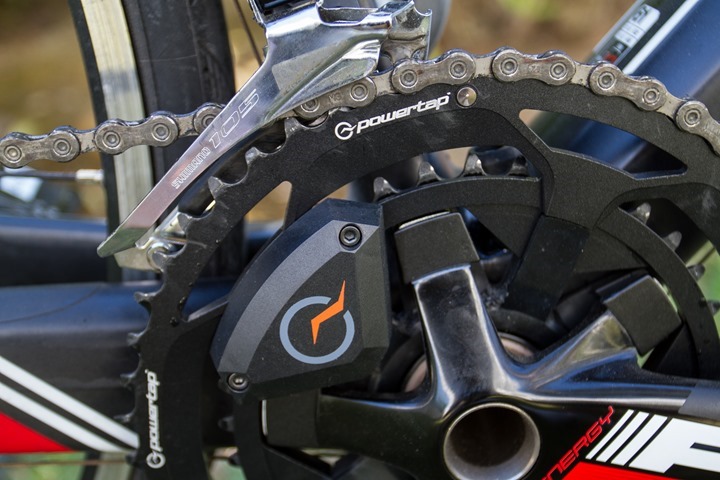 As is always the case, I paid my own travel expenses – and tomorrow you'll see some first impressions of those not-quite-final units (the pedals are closer to finished though).  I've got a few videos lined up and already waiting on YouTube for your love, plus data of course.  Because everyone loves themselves some data. Stay tuned!
2) I did a lot of cycling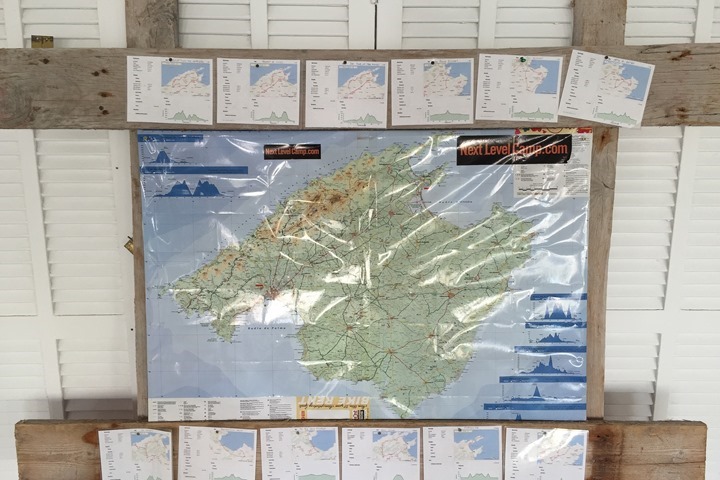 Of course, any time you're at such an event you're going to do cycling.  The amount and intensity of the cycling depends rather heavily on who's in the group.  Most often though, cycling journalists are usually some variant of ex-pro cyclists.  Or at the very least, really damn fast cyclists.  There are some exceptions, mostly if you get someone that's fallen off the cycling rocker a bit – but that's rather rare.
For the two days I was there, there was a group of Spanish journalists, along with one Italian and another from Paris.  Within the group, the Parisian has a profile pic with his UCI Masters World Championship medal/jersey, and the Spanish armada seemed to have equally as impressive legs.
As a result, I basically died.  On the bright side, I managed to not sunburn myself in the sizzling heat.  Nor was I last.
Below is a small gallery of photos from riding around the island for two days.  The gas station was at the top of one of the major climbs, note the incredible number of cyclists there.  The stat I heard was that 8,000 cyclists per week come to Mallorca to ride.  I don't doubt it.  I've never seen so many cyclists riding before while not in a race.
And for those curious, here are two of my Strava ride files.  The first day we rode a variant on the Ironman 70.3 Mallorca course (the event is next weekend).  It was almost the exact course, with a small diversion onto some smaller farm roads for the fun of it.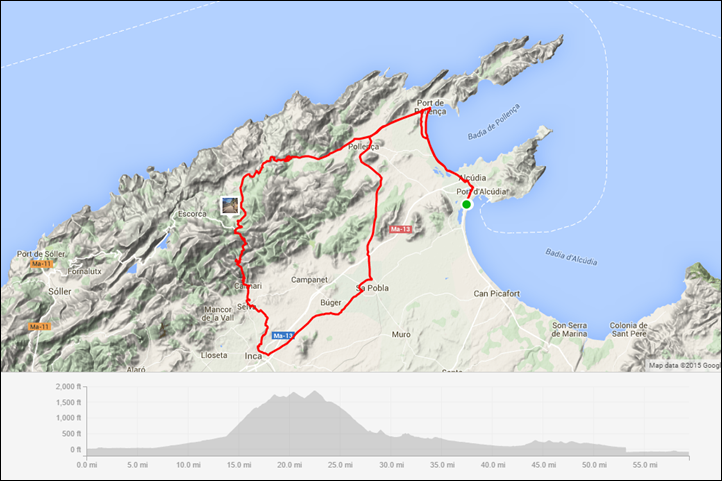 And then the second day was a rolling loop of sorts through vineyards.  Quite a nice route.
3) Flew back home to Paris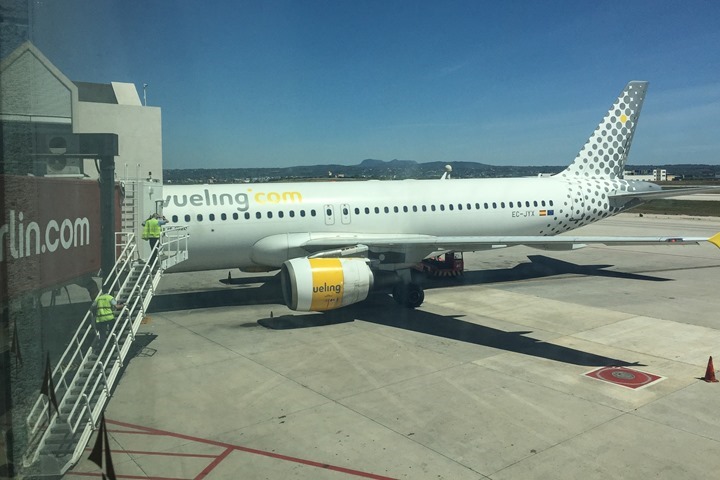 Mid-afternoon on Saturday I headed back to the impressively large airport in Palma (for a small island) for the 90 minute flight back to Paris.  It really is mind-boggling how big this airport is with respect to number of flights per day, given the size of the island.  Virtually all of the flights being low-cost carrier traffic from Europe with beach goers.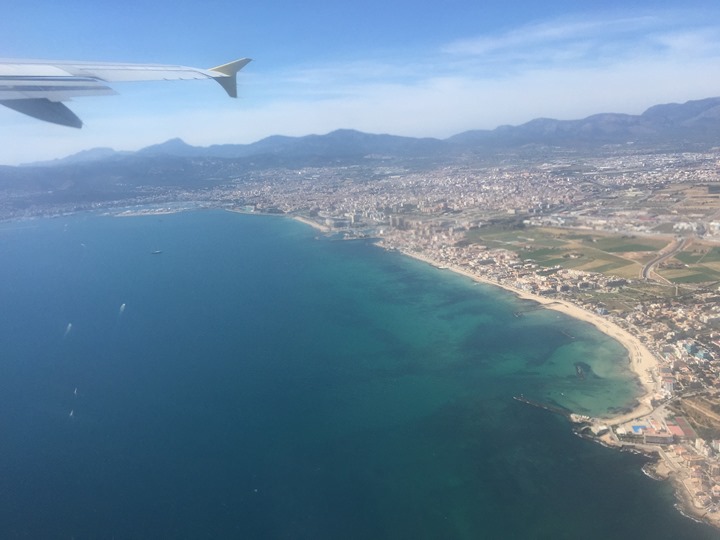 When I landed back in Paris, it was raining, cold, and pretty much miserable.  Somehow my shorts, t-shirt and flip-flops were no longer appropriate (actually, per Parisian dress code flip-flops are never really appropriate for guys).  Still, definitely glad to be home!
4) Went to a Star Wars themed creperie in Paris
For whatever reason on Sunday I was feeling pretty lazy.  Perhaps because it was raining like an elephant peeing outside.  Desolate:
But, by time The Girl wrapped up baking in the morning it was time to head off to lunch.  For that we hit up a semi-new creperie about 2-3 blocks away. We had seen it open some time back, but despite being so close, it was on a street that we didn't traverse much so we always forgot about it.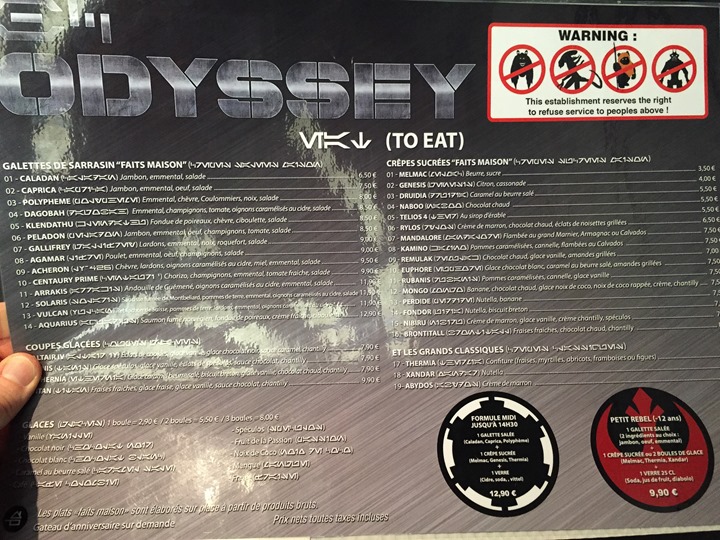 Now, the kicker is this place is themed Star Wars style. Seriously, check it out (above and below):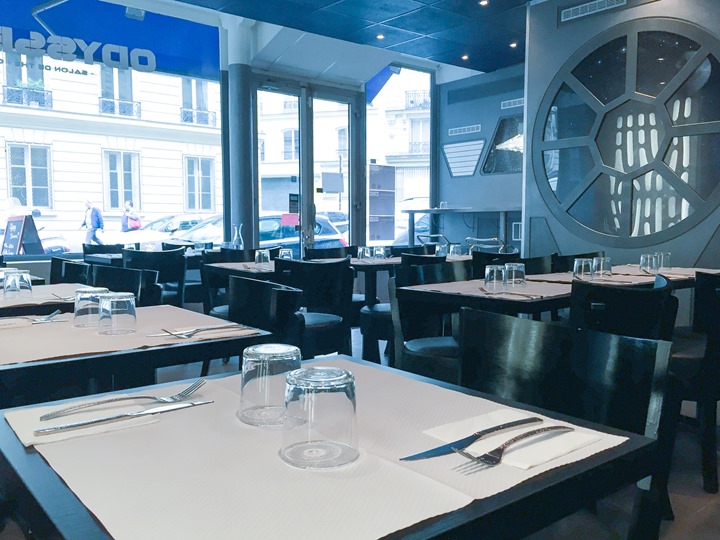 It's always been reasonably packed when we've gone by, despite what my photo above shows.  And by time we left it had gotten a fair bit busier.
Likely, because the crepes were quite good!  My savory crepe below had bacon, chevre, emmental and honey: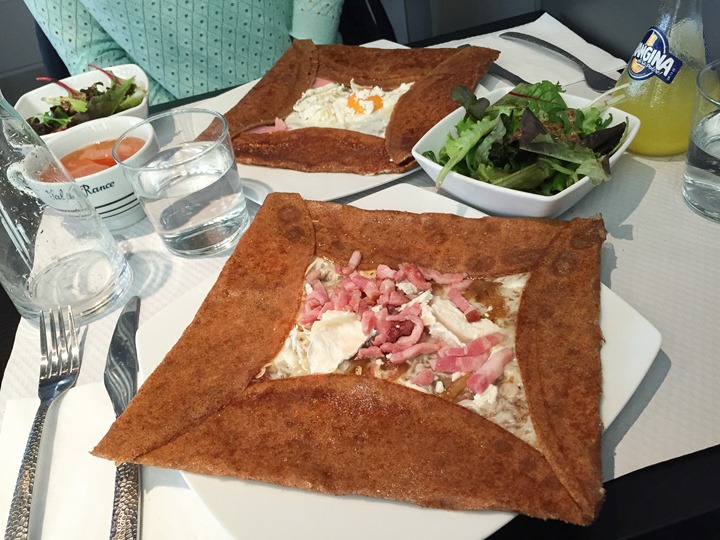 Oh, and there's dessert crepes of course: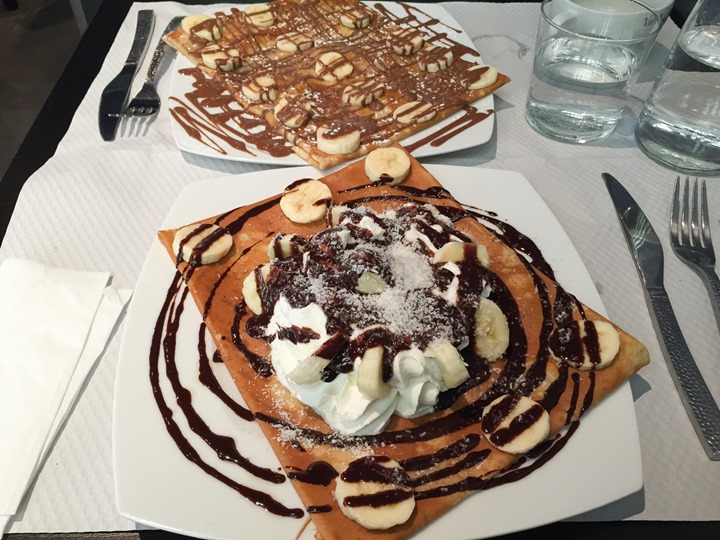 Definitely a solid contender that we'd go back to – with or without the Star Wars movies playing on the big screen behind us.
5) Flew down to Istanbul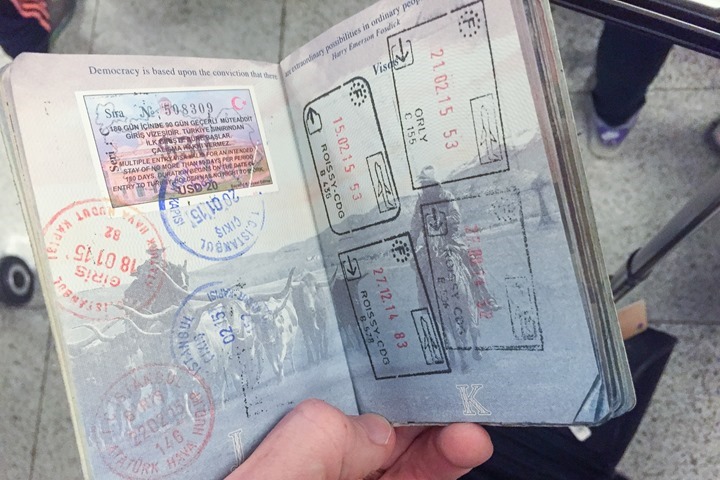 Last but not least, I flew down to Istanbul where I'll spend the week for work stuffs.  My flight was originally at 6:15PM, though just before I headed to the airport it got delayed till 7:10PM.  Kinda sucky, but not the end of the world.  Then, while I was sitting in the lounge waiting for the flight to start boarding it showed a move to 8PM.
So, I kept working away.  The folks in the lounge had said they would announce the flight once it started boarding.  It's worthwhile pointing out at that Charles de Gaulle's Terminal 1 (in Paris), the Star Alliance lounge is pre-security, and, about a 200-300m dash away including a few turns and a tunnel.
Around 7:03PM I figured I'd ask the lounge folks why the Istanbul flight was delayed since the incoming plane came in on time.  As I did that, she asked which flight I was on, to which I noted 'the delayed one'.  She responded: 'Both are delayed'.  A minor moment of 'Oh crap' struck.  Turns out the second flight (the one I'm not on) was delayed till 8PM, not my flight (which was still at 7:10PM).  While monitoring the status boards, from half-way across the room I just saw Istanbul.  And apparently said room was in the 'quiet' section of the lounge that doesn't have announcements. Noted.
No worries, she called the gate and I made the dash in near-record time.  I take no responsibility for the girl on the moving carpet on her phone with her luggage blocking the other half of the lane.  And I wasn't officially the last person to board the 337 seat 777-300ER.  That honor goes to the family with three children in strollers that I passed on the jet bridge itself (like passing someone in the finishing chute).
Anyway, my excitement for the day.