I've been down in Auckland, New Zealand for a few days now for what is about 10 days of a work trip here.  But this past weekend I was able to enjoy what has been some rather nice weather during what is early spring down here.  Here's what I was up to!
1) Friday Night Sunset Ride
After wrapping up a day of work, I returned to the hotel to find my bike had finally decided to join me in New Zealand.  It went off on its own adventure at some point during the four flights I took to get to Auckland.  Thankfully, it arrived unharmed and ready to roll.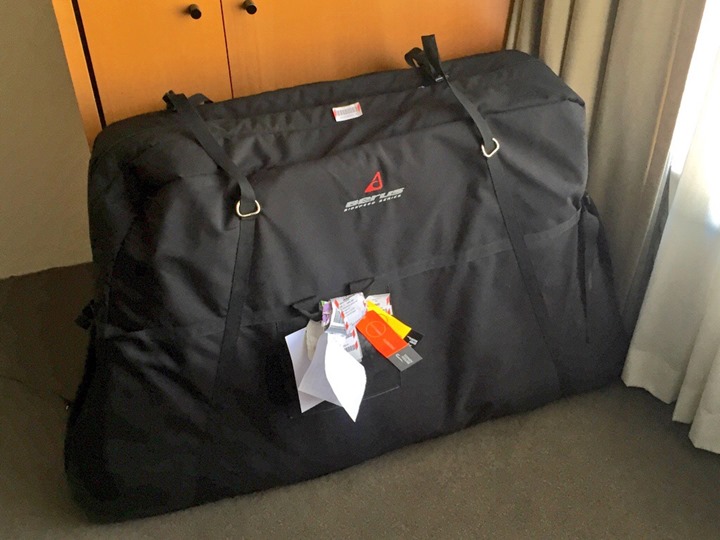 Well, almost ready to roll.  I had to unpack it and build it up – which is a pretty quick affair.  With that completed I figured a 45-60 minute test ride would be good to ensure the bike worked reasonably well.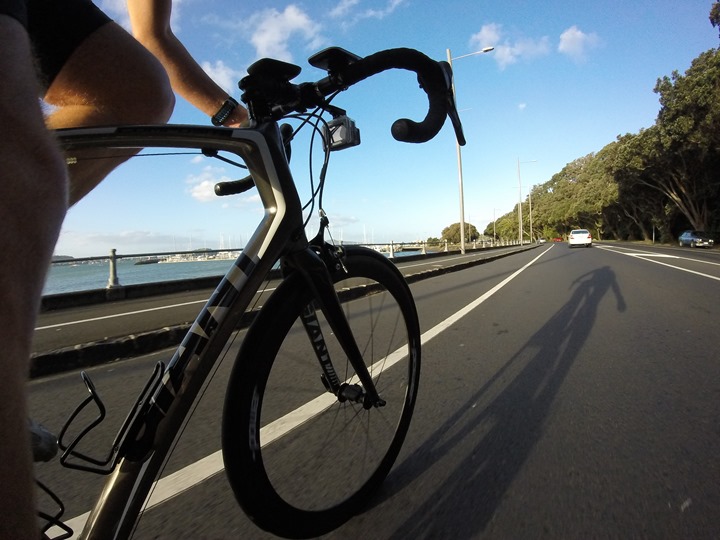 And, for the most part, that was the case.  A few minor tweaks along the way but pretty much good to go.  At my turnaround point I stopped to snap a pic with the city off in the background.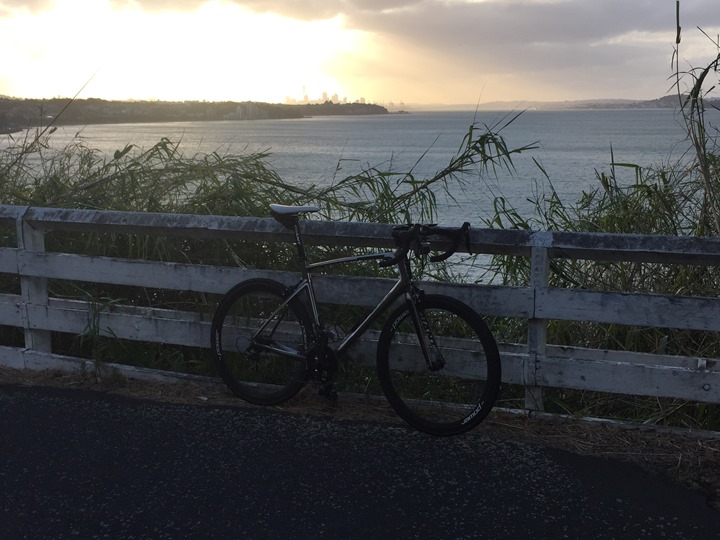 Beautiful evening for it, especially leading into what was a long holiday weekend in New Zealand (though, not for me unfortunately).
2) A black sand & rain forest dune trail run
I got up reasonably early on Saturday and headed out to the west coast to get in a run.  I figured a trail run would be most appropriate here, given it's way easier to do so in New Zealand than it is in Paris.  Further, the options and scenery are just more awesome.
A DCR reader had suggested looking into some of the routes that form a trail race that comes up here shortly, which has distances from 6K to marathon lengths.  So I used those routes as my starting point.  Or, at least, that was my plan.  Ultimately I ended up on totally different trails.  My trail was cooler though, it had black sand dunes.  Really big sand dunes!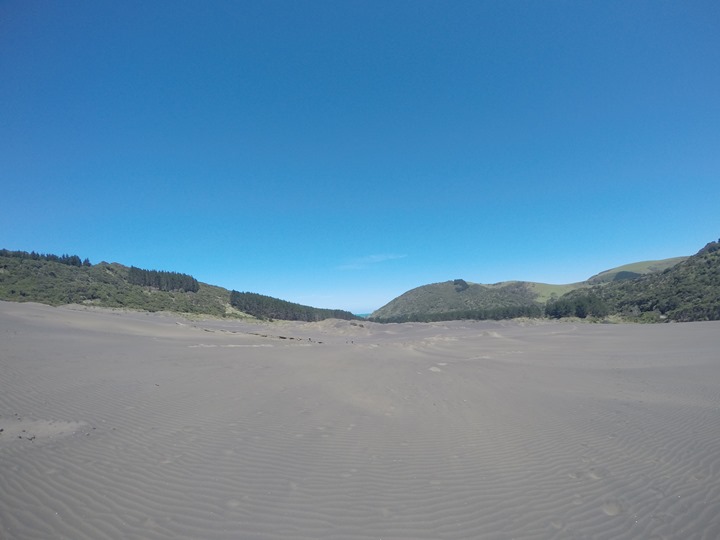 It also had lakes, rivers, and rainforest mountains in it.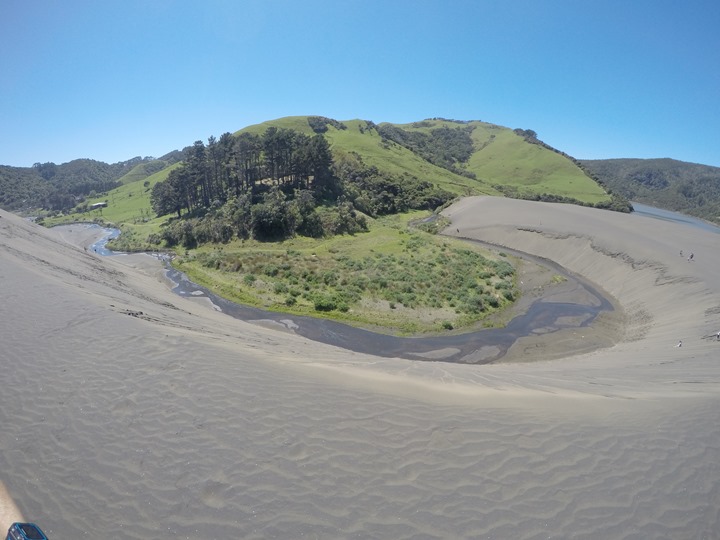 And a nasty steep climb that I (very slowly) went up and back down again.  Below, the elevation profile:

After descending I headed out to the ocean to do a loop on flatter ground before wrapping up the run.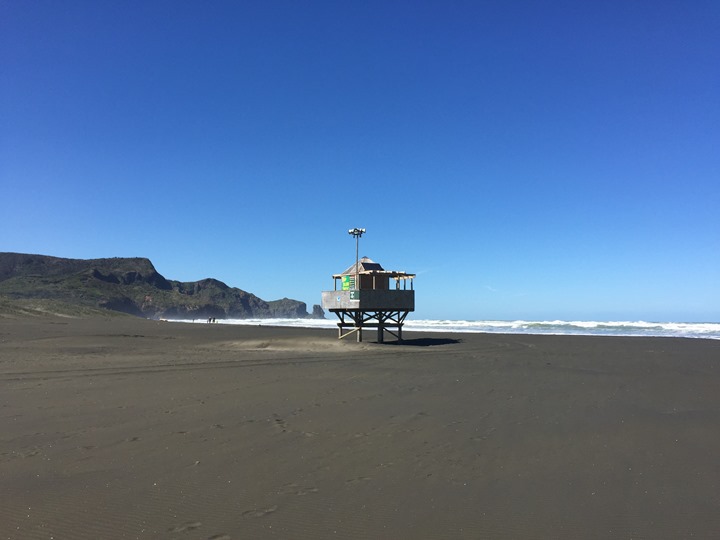 It's been a while since I got in a good 'legit' trail run – so my legs are feeling it in all sorts of unusual places today.  Working a wide assortment of little muscles you don't quite hit on regular road running.
3) More messing around with the GoPro Hero4's
I continue to chug along towards my review of the slew of 2014 GoPro's, including the Hero4 Black, Hero4 Silver, and Hero Base.
I've been mostly riding with the Hero4 Silver, running with the Hero Base, and then swimming and flying with the Hero4 Black.  Yes, flying.  Or at least, the camera was flying.
I took my DJI Phantom 2 down to New Zealand with me.  It easily fits in a nifty little backpack I got for it, which in turn fits into my checked luggage bag.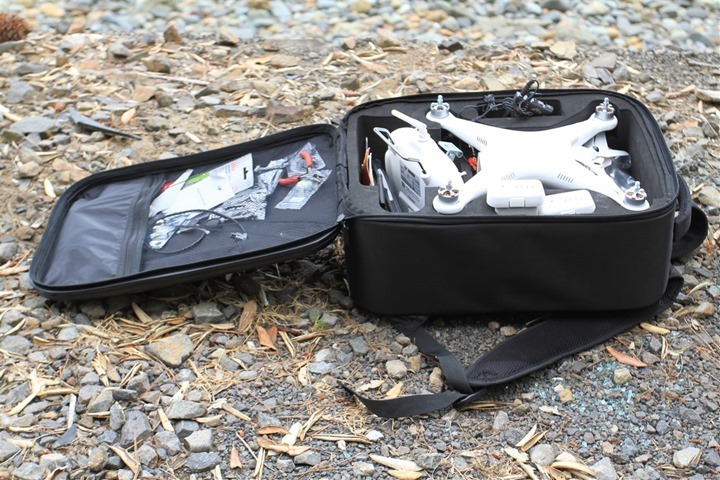 All safe and sound.  Well, at least until it tipped over sitting on a log into the black sand of one of New Zealand's beaches (seriously, it wasn't even powered on yet!).  Turns out black sand is increda-magnetic, which then led me on a multi-hour cluster to figure out how to get it out of the insides of the motors (since it doesn't just wipe/blow away).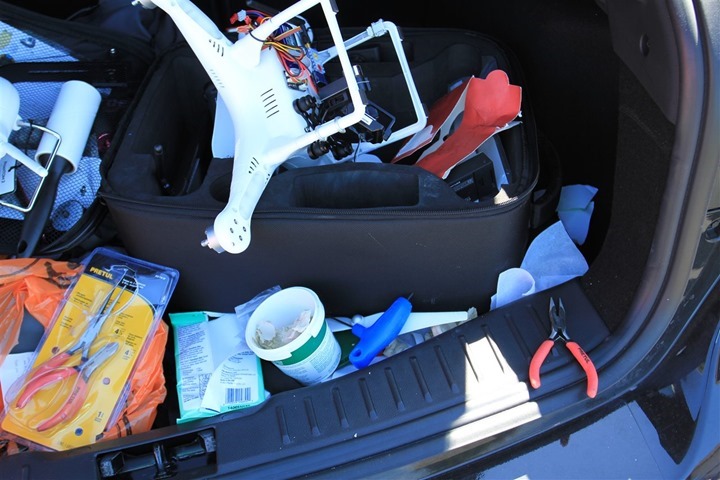 It took a trip to the hardware store where I went all MacGyver on it with some putty (aka play dough), cleansing wipes, and a bunch of other random stuff to get it all out.  A lot of cleaning later, both motors that had hit the sand were all cleaned up – ready to go again.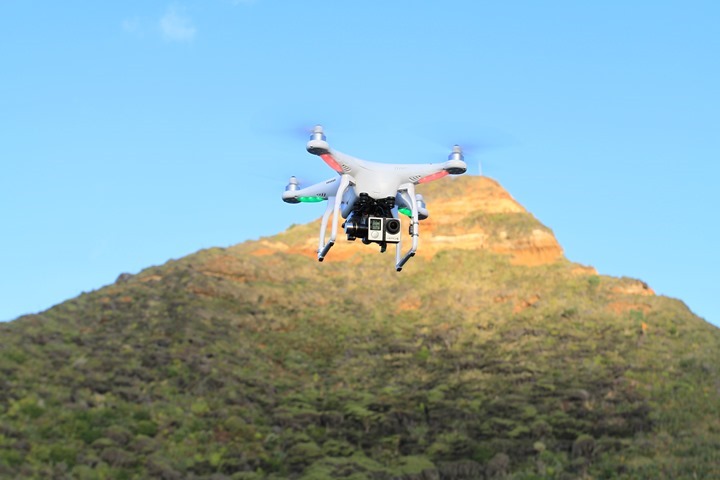 Over the course of the weekend I got a number of sweet shots in locales with nobody around.  Thankfully, there's many such locales in this country.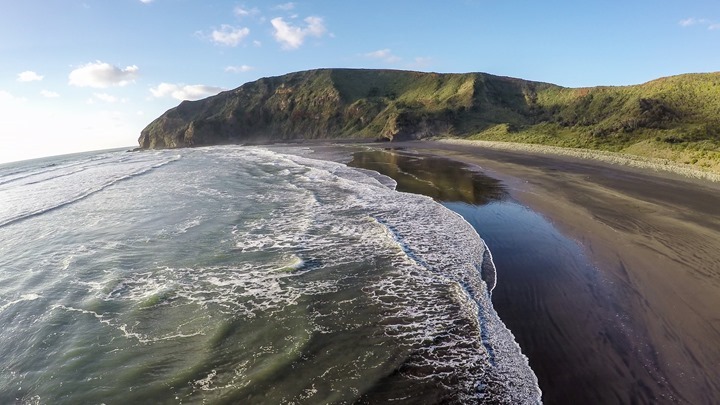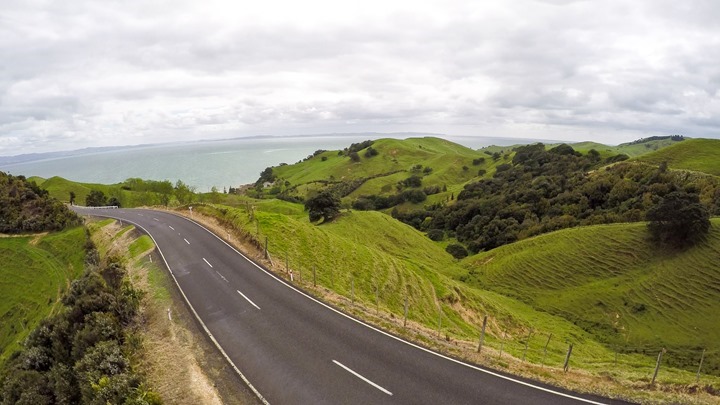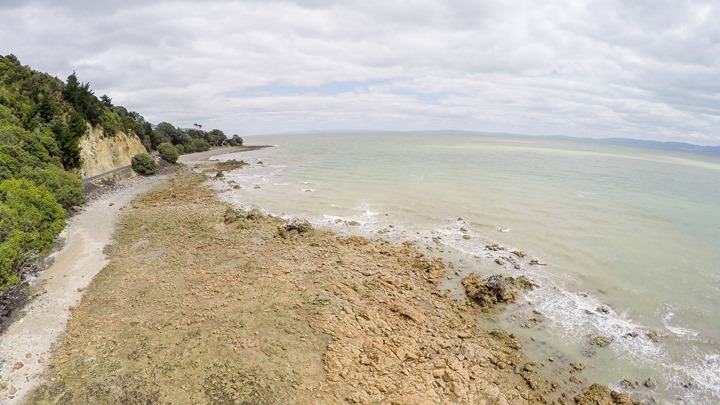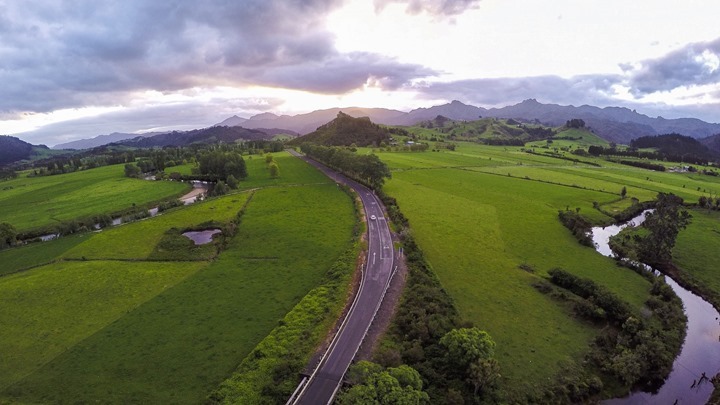 Well, except me, I suppose I'm around: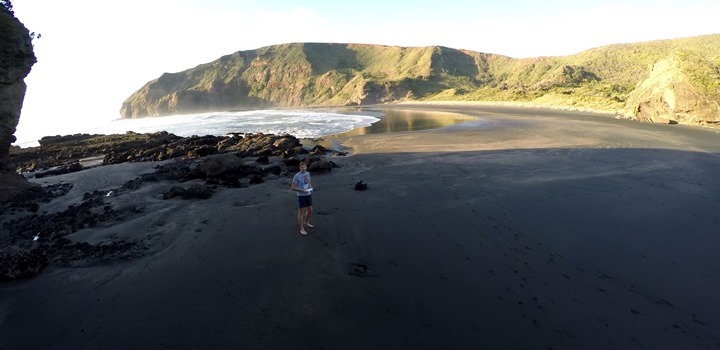 I'll likely pull all the footage together and upload it as part of my Hero4 review.  Most of this is much cooler looking in video being on a gimbal and super smooth action just over ridge tops, waves, and beaches.
Update: Here's one of the videos I shot at the black sands beach.  Enjoy!
4) A drive around the Coromandel Peninsula
I'll just mention that in addition to everything else, on Sunday I did a drive around the Coromandel peninsula.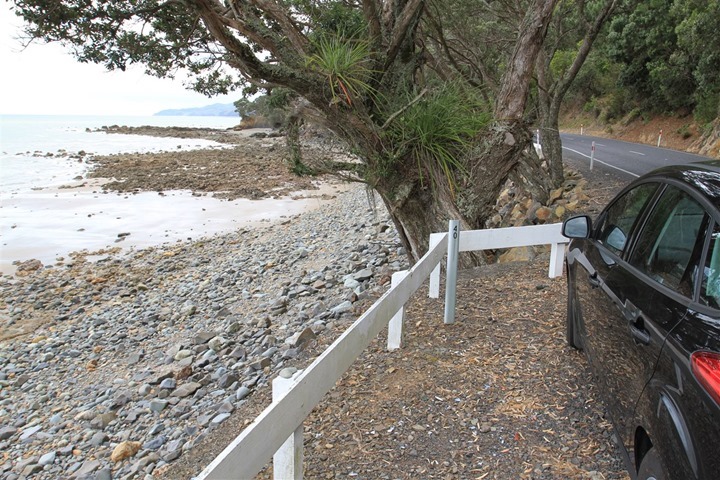 One big ole loop, ultimately culminating in my next activity where I went for a bike ride (below).
5) A bike ride finishing with a ferry boat ride
After many hours of driving I found the perfect spot to start my ride.  I'd been trying to find a route that was a bit of a loop, but not on roads that were too busy or too twisty (blind turns for drivers).  Turns out that Whitianga was perfect though.  I would be able to park my rental car near a small passenger ferry dock and then do a 26 mile loop that would end up finishing about 100 meters away from my starting point.  Albeit, separated by a watery channel requiring a ferry boat.  But that was fine!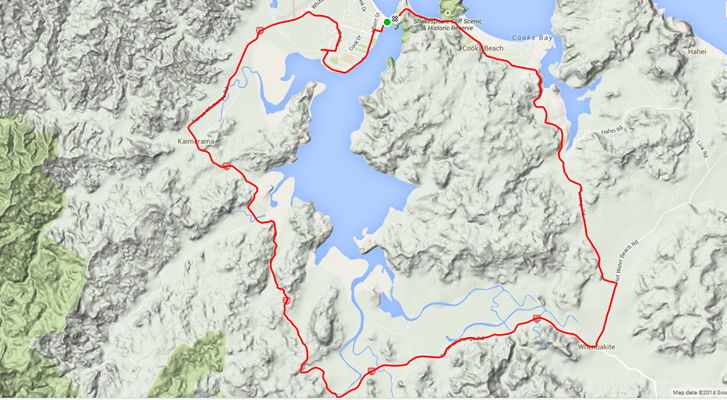 My ride was nice and scenic, though incredibly windy.  The majority of the wind I found in the form of a head wind, but I did get a few sections as a tail wind – which brought me up to a nice 30MPH cruise on flat ground at some points.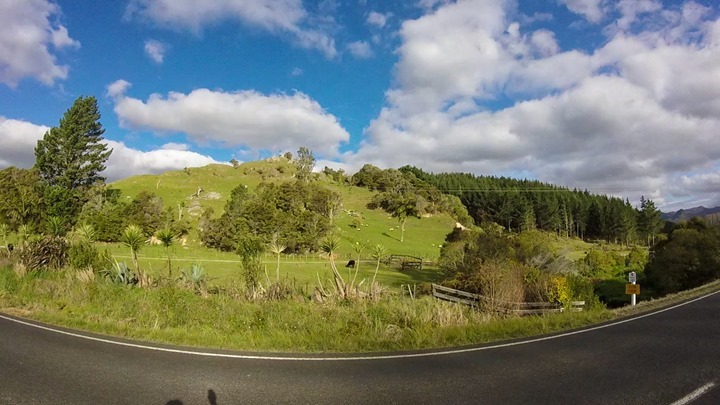 That said, by time I reached the ferry I was more than happy to stop riding into the wind: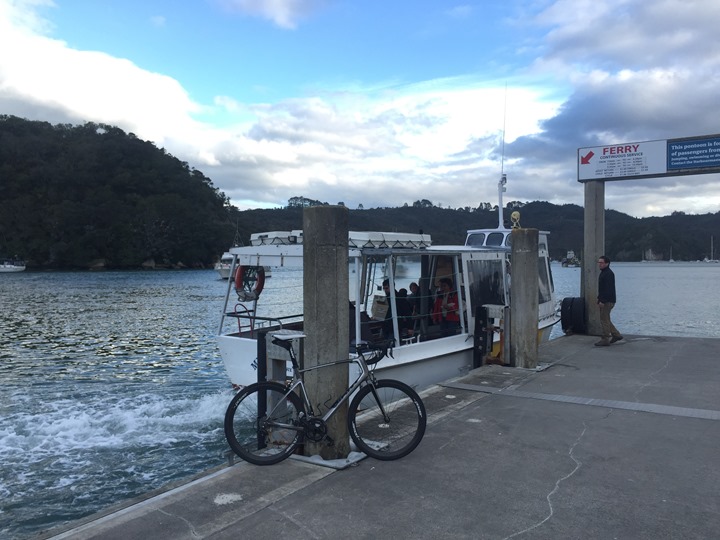 This would also be the second test ride of the Verve Infocrank system, which I installed before I left for the trip.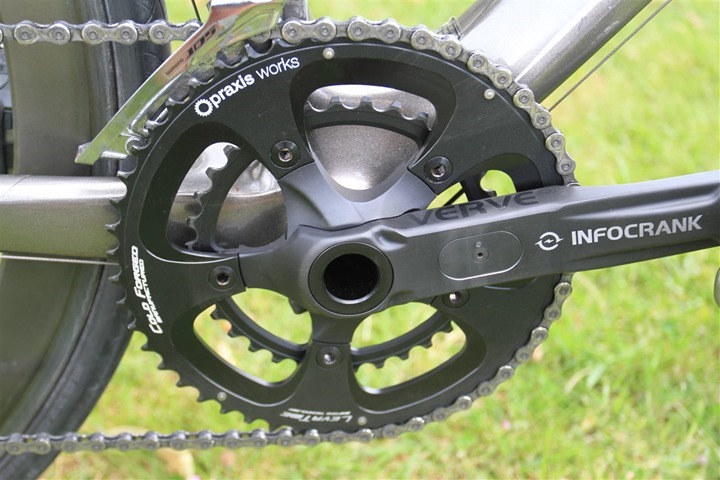 While I haven't yet dug into the data (which is what matters), a cursory look at the 10s and 30s numbers during the ride against other power meters on the bike seems to correlate well, so that's a good start.
I was also trying out SmartBeam's new dual ANT+/Bluetooth Smart helmet with an optical HR sensor in it.  You'll remember I reviewed their ANT+ variant this past spring (and thought it performed very well).  This new version simply concurrently transmits ANT+ and Bluetooth Smart.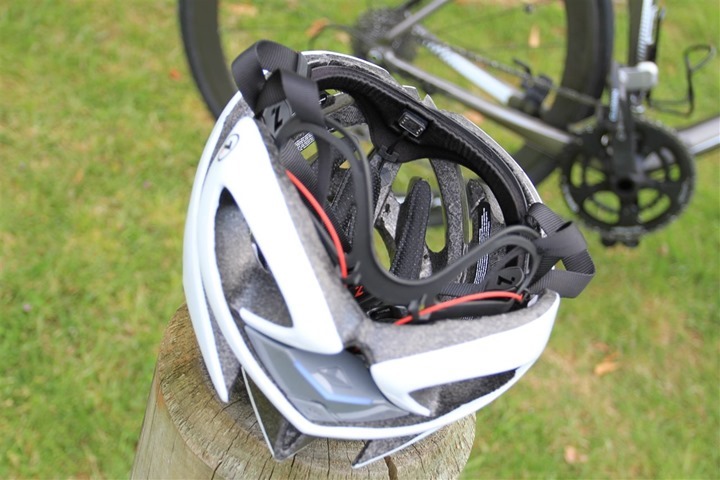 Like its predecessor, I didn't see any obvious issues with the unit at this point in using it, though, I was only recording the ANT+ channel during this ride.  Next time I'll add in the BLE channel to the WASP App to record.
Post ride I merely had a 2-3 hour drive to get back to Auckland.  Of course, I had to stop for cows along the way.  It seems to be a recurring theme for me.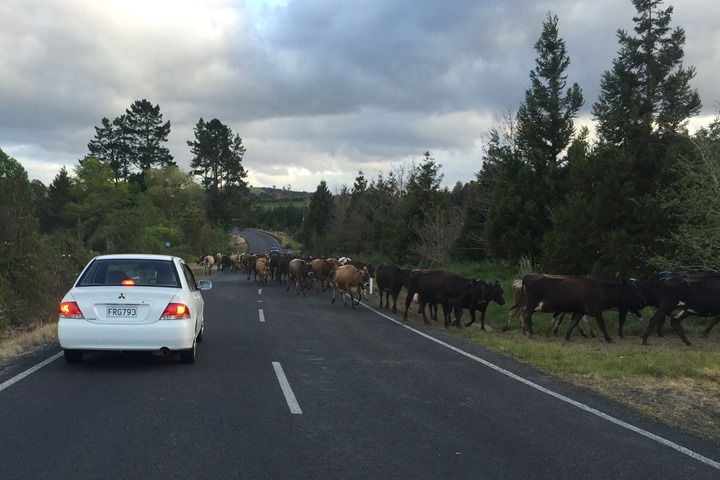 Unfortunately, darkness eventually took over  – blacking out the incredible landscape.  Another day I suppose…
—
With that, thanks for reading!