While I've previously outlined the new Polar/Look power meter, I wanted to touch on it again now that I've had a chance to poke at it first hand.  Also, in order to make this post really awesome for those of you who can't make it to Vegas, I went ahead and recorded the full Polar/Look power meter session from just a little bit ago.  The video is about 10-15 minutes long with sound.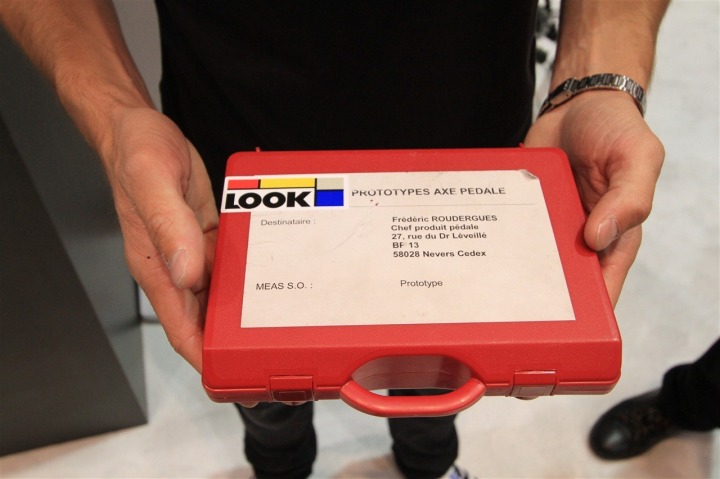 That said, let's get into some of the hands on aspects: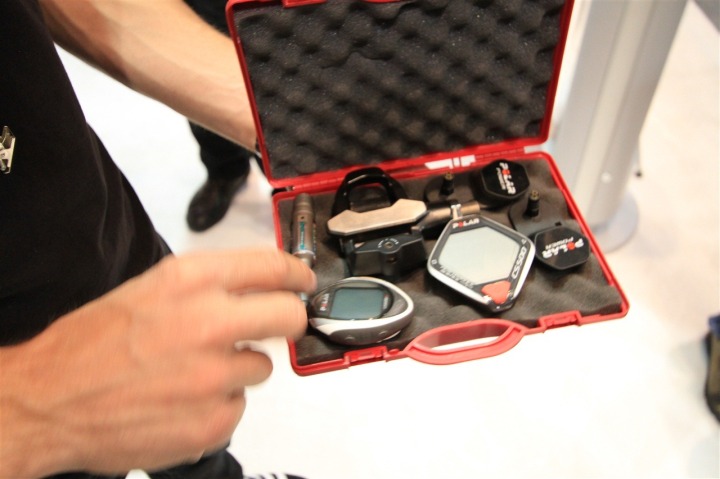 You'll notice there are two components – the pedals, and then the transmitter unit that rides on the back of the crank arm.  You can see the two transmitter units below – one designated left and one designated right: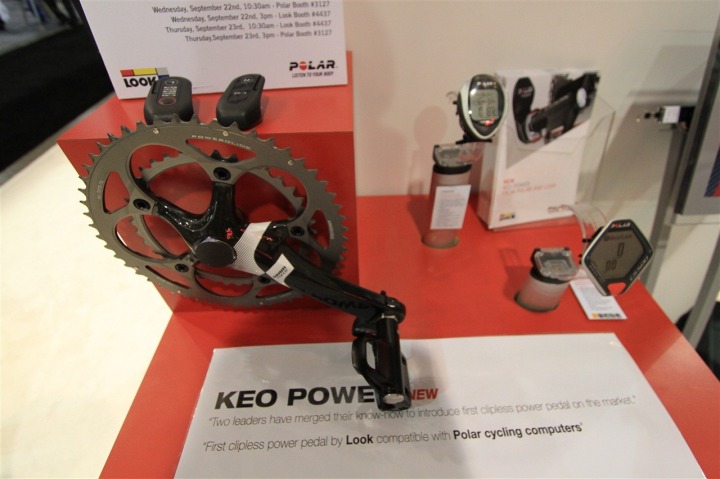 In the case of the Polar/Look combo, each pedal's data is recorded separately, but they are funneled through the left pedal – which acts as the master for the system.  This is also the pedal that you calibrate crank length on, as you can see below: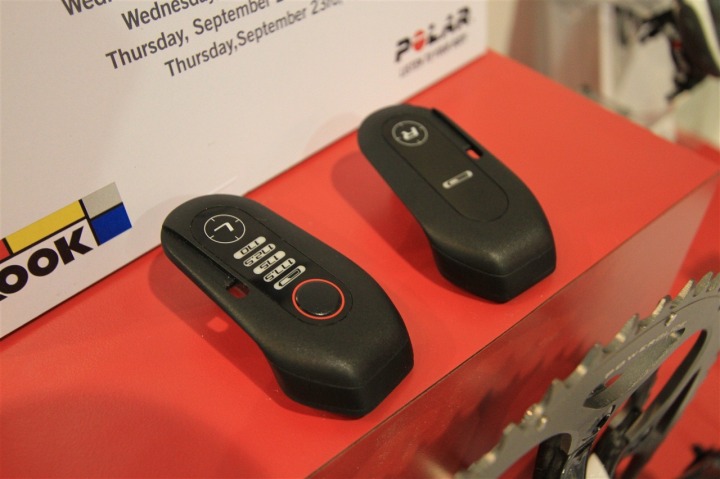 This means that if the non-master right pedal system is damaged – the system will still continue to function.  But if the left pedal system is damaged, it will stop transmitting.  They noted that should damage occur in either component – all components can be replace individually and the system does not need to be replaced in full.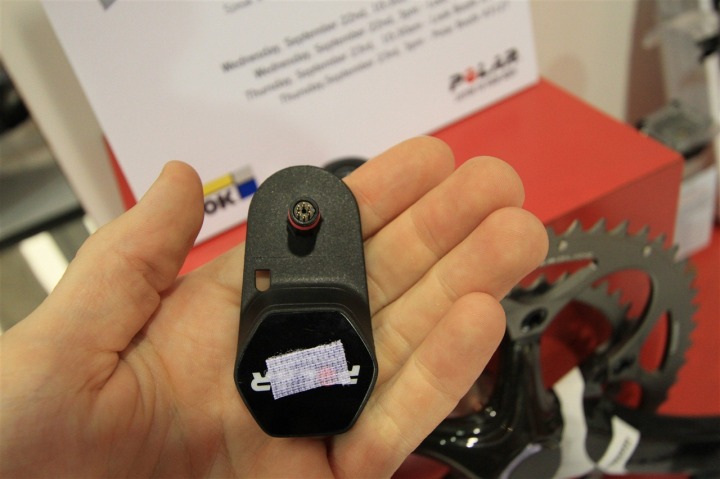 Inside the pedal is the core axel gauges that actually does all the work.  You can see one of the four gauges below on the axel, within the green area: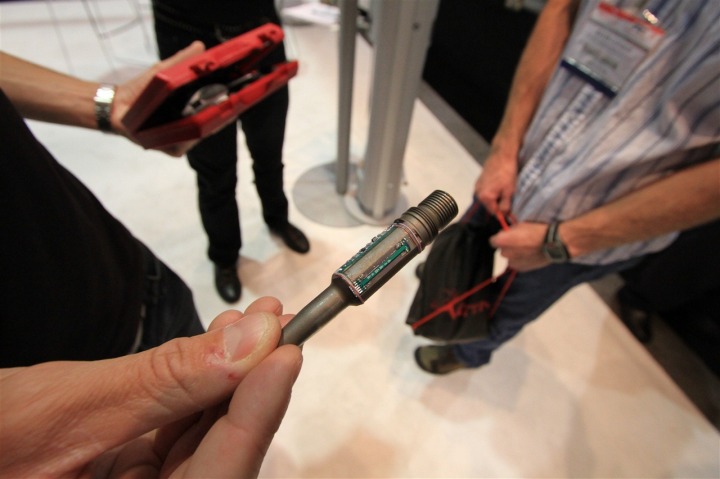 You'll also note on the back of the pedal a small magnet.  This magnet is for measuring cadence.  Now, unlike your traditional cadence magnet which passes a secondary external sensor on the bike – this one is actually passing the axil within the unit (the same axel pictured above).  It's interesting to note however that there is not any planned way to calibrate the system or validate calibration – which is a bit odd.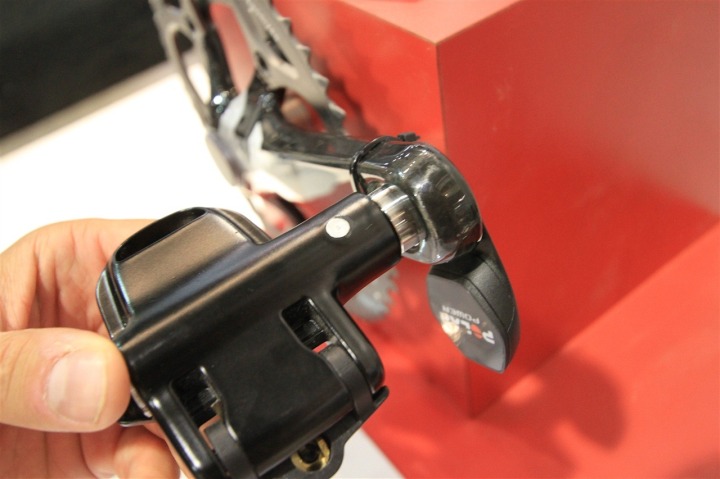 Of course, the top two questions that popped up were price and compatibility.  It was somewhat funny in that an LA Times reporter when he saw the price asked (in complete seriousness) if it was shown in US dollars, and if there was a possible mistake missing a period.  There's not.  As reported previously, the price for US dollars will be between $2,000 and $2,300 for the pedals themselves.  While an additional $300+ must be spent for the Polar Head unit.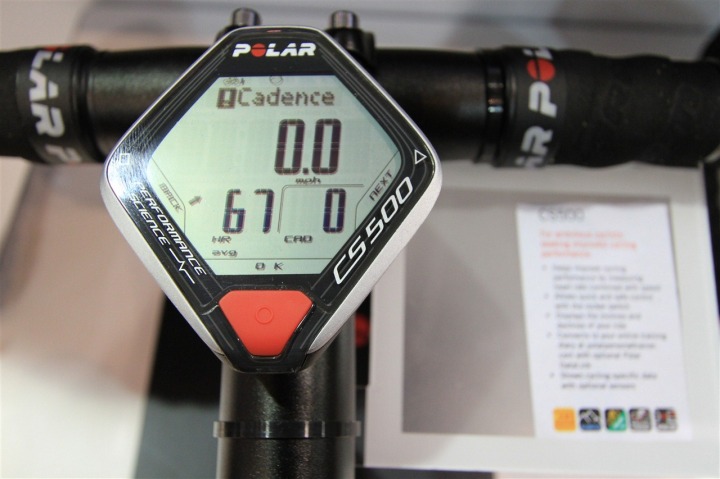 Which brings us to the second point – head unit limitations.  Because the Polar/Look Pedals run on their propriety W.I.N.D. technology, they aren't compatible with the ever growing selection of ANT+ devices.  I first asked what their plans were with respect to BTLE (Bluetooth Lightweight).  They noted that they absolutely want to get the power meter to BTLE as soon as possible.  They're targeting non-power meter products to be supporting BTLE by next Spring, with larger availability of products in the fall (2011).  But they're likely targeting the power meter to not be until after that timeframe – so likely 2012 at the earliest.
I asked both the Polar and Look folks separately as to why they choose WIND over ANT+.  The Look individual noted that they were actually developing the power meter on their own and when they went shopping to find a partner, the two options were essentially Garmin or Polar.  With Garmin they would have gone ANT+, and with Polar they would have gone WIND.  To them, it was sorta an academic discussion that they didn't care a lot about – finding a partner was the primary goal. 
(As an side comment, some folks had wondered whether or not ANT+ is/was capable of recording per-pedal power data – the answer is: Yes…and the spec has already been updated for this.  I'll talk more about that in another post.)
Whereas from the Polar side, they felt that if the protocol wasn't 'fully open standard' (read: Bluetooth), that they wanted to utilize their own protocol instead.  I questioned this a bit noting that numerous (well, all actually) other power meter vendors are utilizing ANT+ today without issue (SRM, Quarq, PowerTap, Metrigear, Power2Max, and even iBike).  But the response in turn was more about staying the course with W.I.N.D. until BTLE became available.  They noted that with cell phones, their potential target market opens dramatically.  Polar is clearly betting the boat that BTLE will work out long term – and I don't necessarily disagree with that actually – the problem is short and medium term (next 18 months).  It really depends on whether ANT+ chips find their way into more cell phones or not.
Finally, I asked at what stage of testing they're in today.  He said that they have functional prototypes on bikes, and that they've got SRM systems on the same bikes as well for all rides their doing – looking at comparative data.  Once the November/December timeframe comes along, they'll be outfitting two Pro cycling times – Quickstep and Mobistar and having the pro riders start to use it.  By January 2011 they'll be sending the 'units off to university for independent analysis compared to other power meters'.  And they're still targeting a Spring 2011 release date.
With that, I'll let you enjoy their video presentation below
Thanks for reading!  Oh, and for those interested in what the other power meter manufactures have to say (SRM, Quarq, Saris, Metrigear-now-Garmin and iBike) – I'll have similar posts later today as I get time to upload them.  Unfortunately, transcoding and uploading 4GB-6GB HD video files isn't a very quick operation.  For realtime coverage of Interbike, be sure to check out my Twitter Feed.