Power Meter manufacturer Quarq made a number of announcements on Wednesday related to power meters, so let's get into the quick recap:
1) Introduction of a mountain bike power meter unit

2) Announced upcoming compatibility of Cinqo's with SRM Power Control 7 head units

3) Announced new iPhone app that will allow shops (and end users) advanced diagnostic and configuration of Quarq Power Meters, as well as allow over the air firmware updates in the future to the power meter, via Wahoo Fitness iPhone app key.

4) Announced they have nothing new to announce with respect to the Qollector (a small pet project that collects any/all ANT+ data around it)
With all of these announcements, I want to briefly touch on the SRM compatibility– and then talk about the iPhone app with Jim from Quarq, who was kind enough to give me a demo of.
First up though is the announcement that they'll be enabling the ability for the Cinqo to dual broadcast to the PCVII head unit, a well as an ANT+ head unit.  For example, the below bike is configured to concurrently update both head units, from a single Quarq power meter.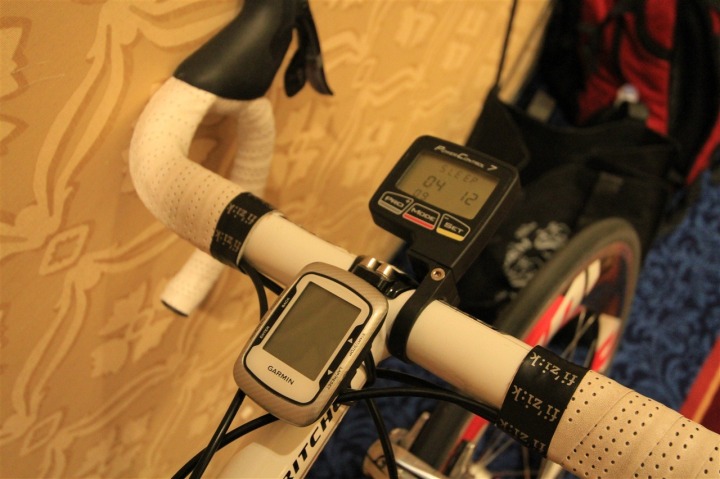 This is achieved through what Jim jokingly called "German Achievement Mode" – in reference to SRM's home country.  This is also in part because SRM doesn't quite exactly follow the ANT+ protocol standards today in the PCVII head unit – thus making the change a bit of a challenge.
This new feature will be enabled using their to-be-released iPhone app which will, among other things, perform diagnostics and calibration.  The feature will allow a user to enable the 'dual-mode' on their Cinqo to transmit to both head units simultaneously, such as a Garmin Edge 500 and the PCVII.  There will be a slight hit on battery with this mode, but considering the battery in the Cinqo lasts just about forever today anyways – this shouldn't really be an issue.  Plus, unlike other power meter unit batteries, the Cinqo can be swapped out in a matter of seconds from the end user.
The iPhone app has been named Qalvin, and Jim gave me a quick hands on demo of some of the key areas.  First off, I should note that the App will require the Wahoo Fitness Sensor key, which I reviewed back in the spring.  The key is available and shipping today.  Because the Quarq's App is still in beta-land, it's entirely possible that some that things may change between now and release.
Once the Fisica key is connected and the app is started, it'll go ahead and do a search for all Cinqo's it can find.  You can alternatively just enter the ID number in and connect to it directly.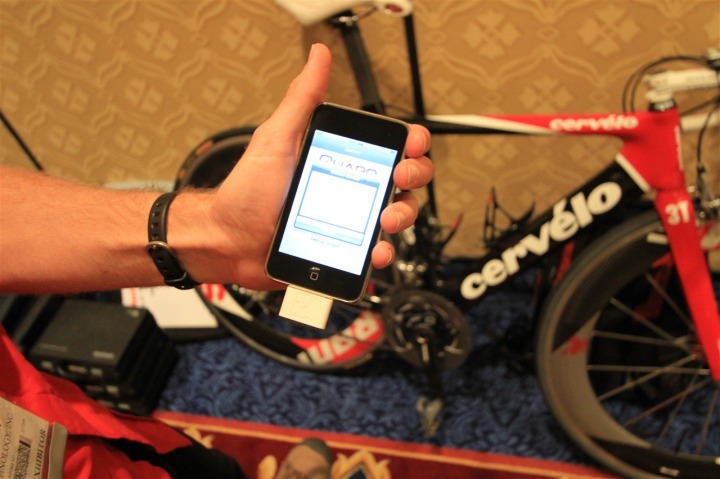 You can see here it'll show the current sensor information – so you can quickly validate basic things like watts outputted and cadence, but down below is the good stuff: Set Zero, Calibrate Slope, Perform Diag.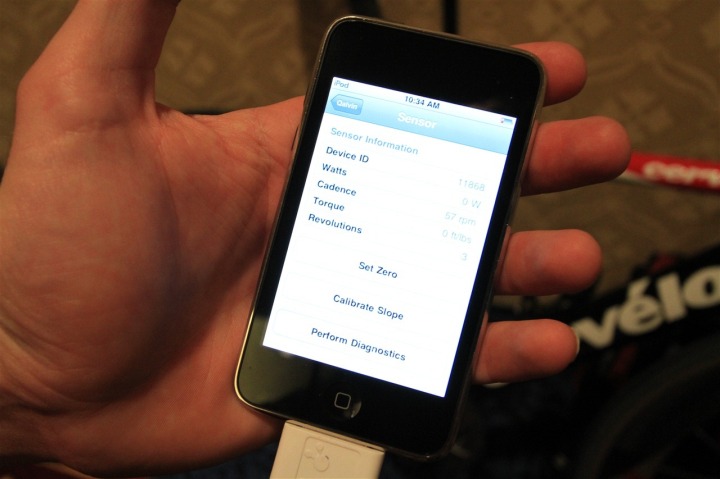 Below is a quick test of zeroing the power meter:
Once connected you have a number of configuration and diagnostic options.  For example, you can perform a full calibration of the units using weights, which it'll walk you through step-by-step: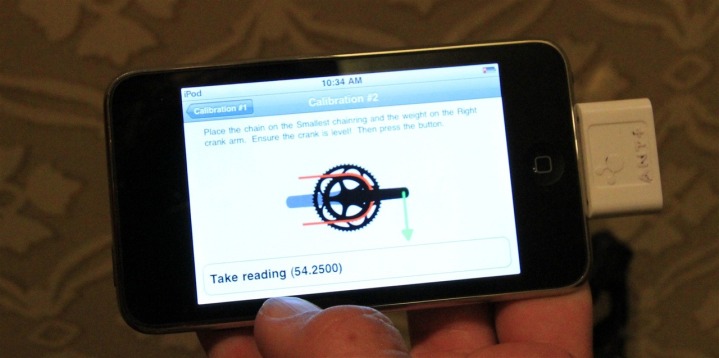 Or, you can check the health of the reed switches inside the unit via the diagnostics section: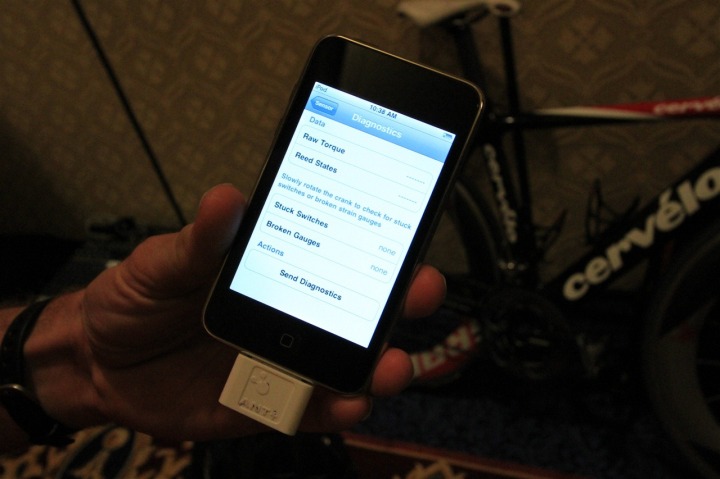 Within this portion you're able to see if any reed switches are stuck, or the state of the switches – which is pretty cool when you sit back and think about it.  Never to my knowledge has a manufacturer given so much information about the internals of the power meter.
In addition, you can display raw torque values should you believe there are issues with the head unit reading data…or if you just have a lot of time on your hands.
In general, you'll find that most of the features here won't be used by 'end users', but rather shop folks (or people on the Wattage Forum) to quickly determine if there's an issue with the Cinqo.  Jim made a point of saying that the entire goal while developing the Cinqo was to make it a 'setup and forget' type of power meter.  And from my perspective as a Cinqo owner for over a year now – that's pretty accurate.
What Qalvin does though is give you more control – and also give more flexibility for troubleshooting.  For example, built into the app is the ability to do diagnostic testing and then simply hit a button to automatically send that Diag info to the Quarq team.  Pretty cool.
Also of use is the ability to now update firmware wirelessly from the iPhone should it become required.  Jim pointed out that they really haven't updated the firmware much, because it's been so stable – but this gives them (and you) flexibility should it be required.
Finally – you may be wondering about availability.  They're targeting public beta availability in the next 6-8 weeks, but no exact dates for final RTM.  It will work on the iPod Touch, iPhone and iPad.  Based on what I saw, I'd guess closer to the beginning of next year, versus the end of next year.  Also, because this is all done via ANT+ today – nothing further will be required for existing Cinqo owners.
And – just for anyone who's interested, I went ahead and recorded his entire 10 minute and 16 second presentation should you wish to watch it.  He didn't have any slides, just that title one shown.  And unfortunately my camera position wasn't perfect – but it's functional and you can hear him speak about it, as well as the challenges they've faced to date in the power meter market.  Here ya go:
Oh – and for those curious about the Qollector – it's still considered a pet project that they're working on and want to get to market – but the state of the project hasn't changed since last Interbike.
Thanks for reading!