I spent a crazy busy 24 hours in Las Vegas on Wednesday, as part of speaking at a session/panel on Wednesday there (which I'll be posting on here shortly).  During that time I talked to just about everyone that I could find that had something in the health, fitness and sports technology realm.  And of course, I also had a chance to check out a critical aspect of ones indoor cycling trainer setup…super-thin flat screen TV's.  After all, I must have holistic coverage of the space!
I've got a slew of products to talk about – some at a higher level, and some in more depth.  This post, and the other roundup post will be at a higher level, whereas the other CES posts I've got sprinkled in will be at a more detailed level on certain products (i.e. Magellan Switch).  My goal is to get all the CES posts out within the next week, which shouldn't be too difficult.
With that – let's get started!  And there's no better place to start than big.  After all, CES is all about big and oversized booths.  And without question – the biggest booth that I saw for a sports and fitness related product was Motorola's for the Motoactv.  It was massive.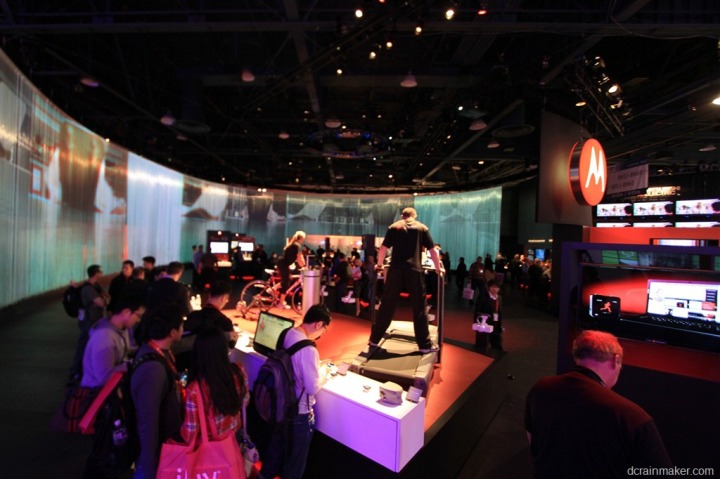 In the middle they had a man and woman on a treadmill and trainer all day long, pumping out ANT+ data that the dozens of Motoactv units spread around the booth could pickup and display data from.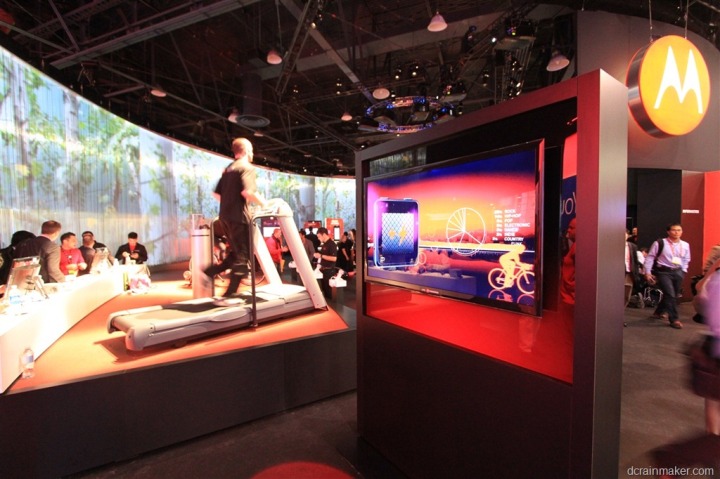 Of note though was the (lack) of wireless Bluetooth Low Energy (Bluetooth Smart) and HR pulse-sensing headphones (via your ears).  These were announced back in October, and there's been virtually no communicated timeline or details been released on them.  The photo below (SF600) is actually of the non-BLE version (classic Bluetooth), without the heart rate sensor.
In talking with a few folks from Motorola in the booth – it sounds an awful lot like the SF500/SF700 product is dead in the water currently.  They had no on-display mention of either product here at CES.  And when I asked about timelines, they have no timelines at all (not even a this month, next month, this year, next year type announcement).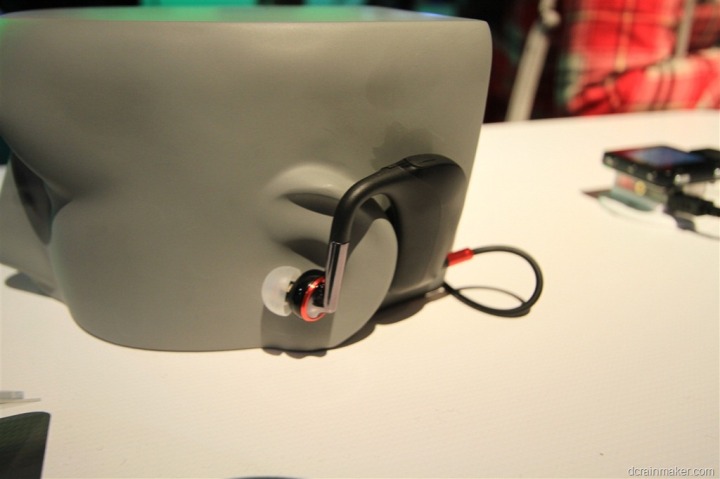 What they did have though is a massive amount of plastic tubing.  The walls of their booth were hallow plastic tubing that they illuminated like a huge big screen TV.  It looked cool, though, and I would have loved to been in on that ordering conversation: "Yes, I'd like to order 5,000 25ft strands of clear plastic tubing…yes, that's correct sir, I want to make a giant projector screen…"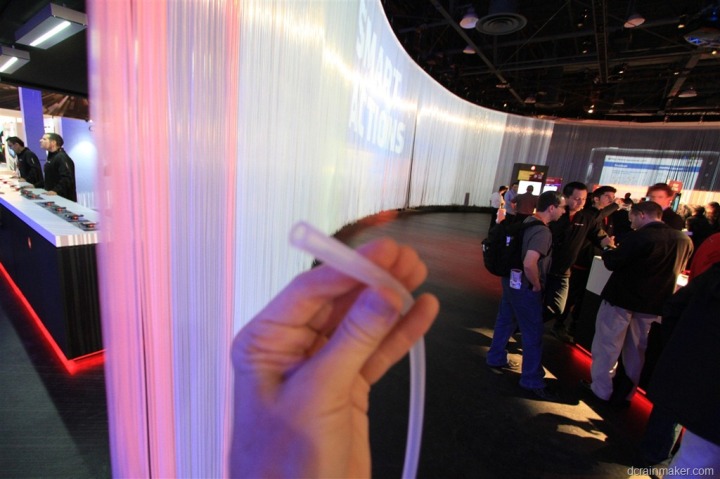 Switching gears slightly to other cell-phone integrated products from another cell related company is this bike mount kit for the Sony Ericsson Xperia Active (waterproof ANT+ enabled cell phone).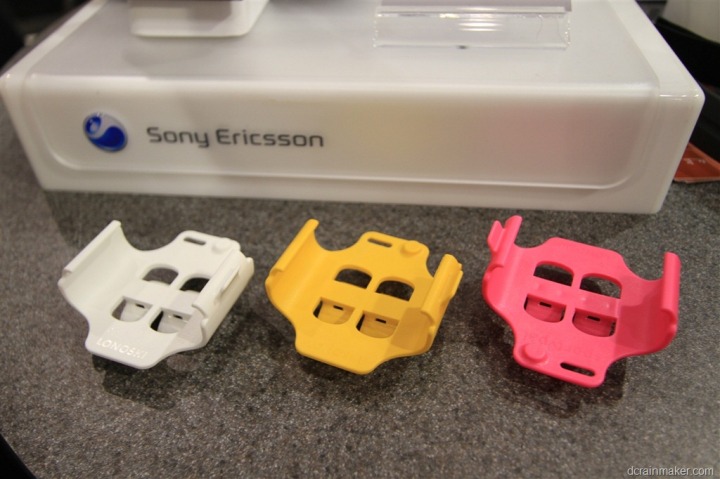 This little bundle of joy secures the heck out of your Xperia Active phone.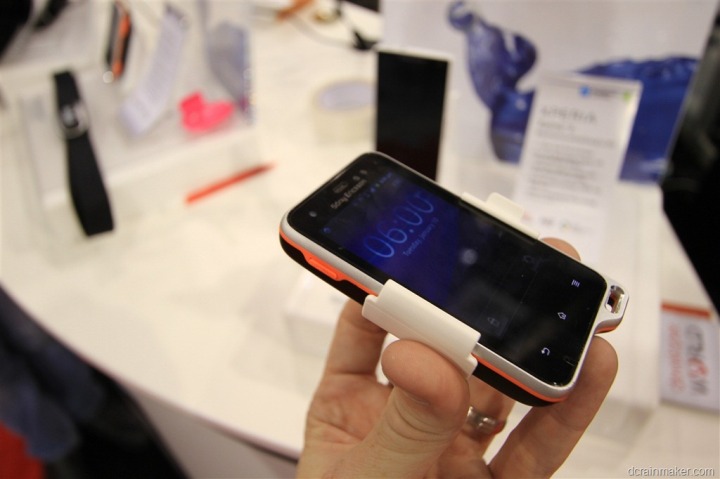 While it may look astoundingly slim and perhaps even fragile, I was talking with a few other guys in the industry that also saw it, and we were all convinced you could throw a bike with the unit attached to the handlebars in front of a truck, and it and the phone would still be attached afterwards.  Impressive.
They gave me one to play with, so I'll give it a try over the weekend and report back afterwards as part of one of the detailed posts next week.  Note that it's not actually from Sony Ericsson directly, but rather from Sporty Pal.  It'll cost $20, and will be available within a month.
There's a few new scales out.  First up is the Aria from FitBit.  This will be $129 and available in April.  Like the Withings WiFi scale it'll be WiFi enabled, and integrate with your existing FitBit account.
The unit is offered in both black and white, with the glossy black being prettier when untouched, but the white one looking prettier after you stomp your feet all over it in the bathroom.
Of note is that the scale measures both weight and body fat, though likely with the same degree of accuracy as other body fat scales (read: low accuracy).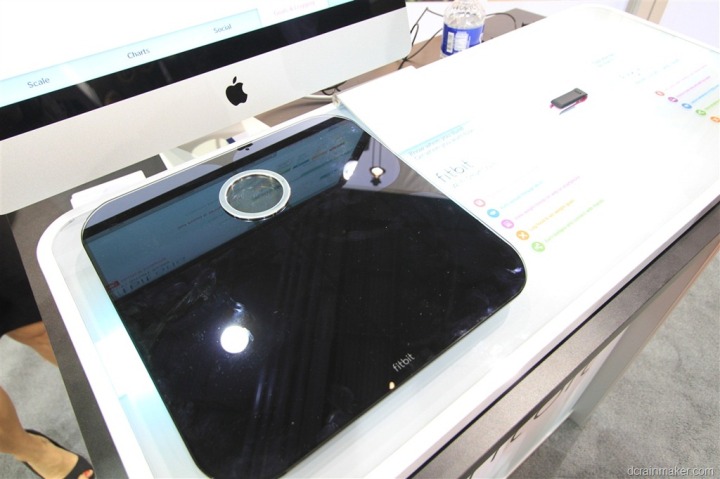 Speaking of scales, we've also got the new Tanita BC-1500, which is ANT+ enabled and measures body fat via segmental technology.  At $500 though, the price is a bit steep, and I'm not quite sure if I'll be able to justify buying it for a review.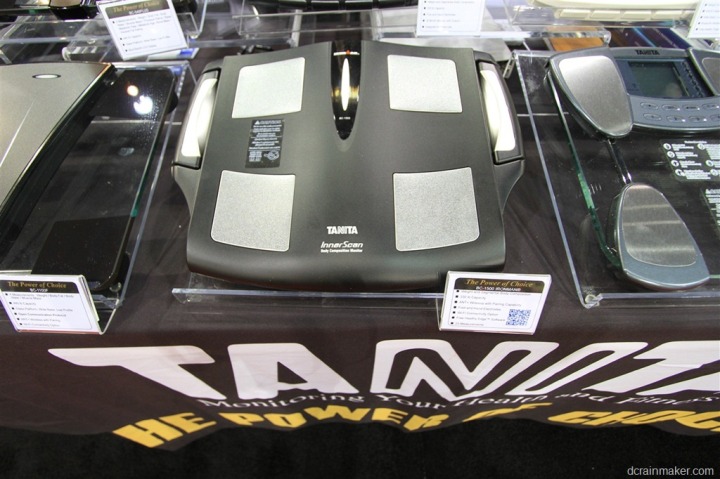 Nearby was the Polar booth, which featured the Polar/Look Keo power meter pedals – this time fashionably upgraded from the demo box we saw at Interbike to the full retail box:
Full scale availability is still TBD, though, they are working as hard as possible to get me a unit to try out for a bit.
We did briefly talk about their upcoming Polar H7 Bluetooth Low Energy Heart Rate strap – and their plans to ultimately offer Bluetooth Low Energy that as the standard platform across the board for all Polar accessories (including eventually the power meter as well), replacing their W.I.N.D platform.  In talking with one of their senior directors, it was clear they recognize that from a competitive standpoint, some of their current products just aren't in the game right now, but it sounds like they're looking to remedy that over the coming year…
Switching gears completely…
…is this: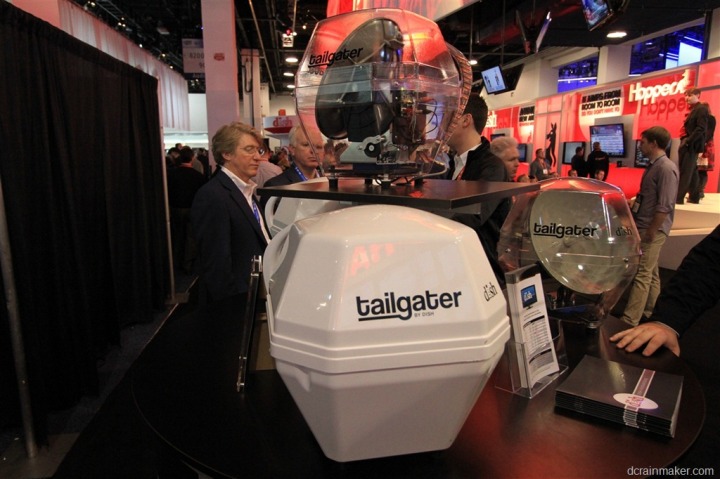 Yes, it's a tailgating satellite radio system.  Why is this important?  Because tailgating is awesome, and in many ways, triathlon events are like giant tailgating parties.  Thus, I thought it was interesting.  We just need to have Kona broadcast earlier in the year, and be able to combine a morning race with a noon TV broadcast, one massive party!
And if our party were to involve a pool, we'd definitely need the below.  It's a floating speaker system that connects wirelessly to your dry-land iPod/iPhone.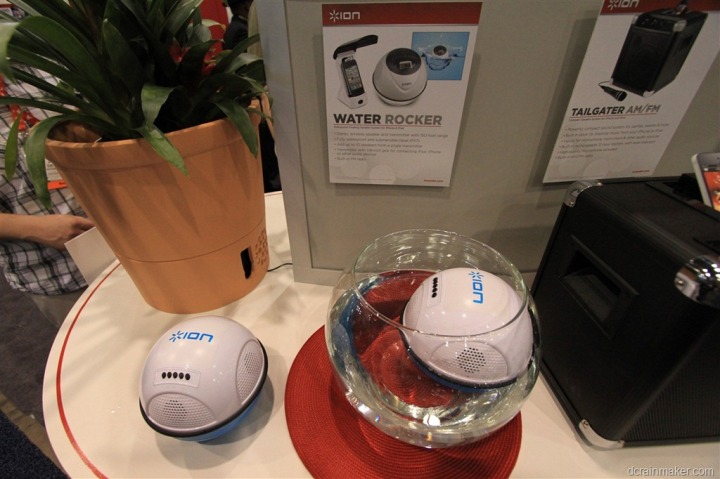 Switching back to sports technology, I had a chance to talk with the Basis folks again.  Their watch unit is unique in that it has a optical blood flow sensor, 3D accelerometer, body temperature sensor, ambient temperature sensor and galvanic skin response temperature sensor – all built right into it – no additional sensors to wear (such as the common heart rate strap).
You may remember my conversation back in November with them.  I had pretty much seen and talked about everything that they presented here at CES, back then, so there's wasn't much new here aside from the dashboard itself – which they demo'd.  Engadget has a really good overview video of that though – so head over there for a quick demonstration of it.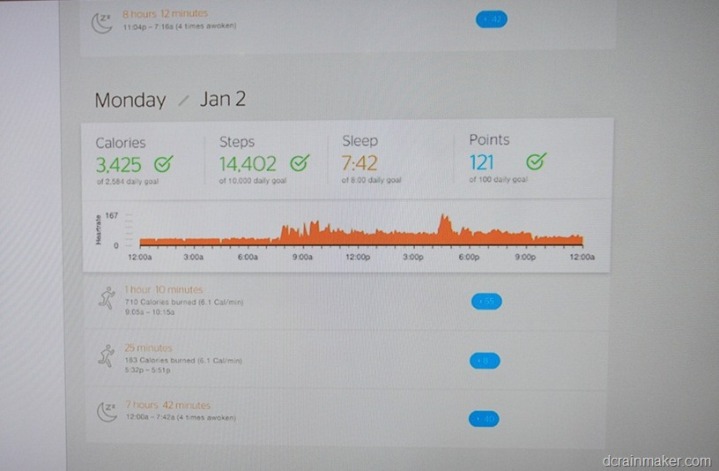 Timeline-wise things have slipped a bit more into 'late spring', and the discussions with the team they were being very hesitant on when more public accessibility to the watch will happen.  Given some of the issues that another fitness product from a different company (Jawbone Up) saw, there's definitely a sense of wanting to get it right before shipping.  So while they're saying 'late spring', I get a feeling it may be a bit after that.  We'll see, it's definitely cool and groundbreaking stuff their doing though.
Next up is two different heads-up display technologies that are basically ready for primetime.  First is 4iiii's, which I gave you the first hands-on demo of back in September.  The unit features a heads-up display lighting system (instead of a screen) which is tied to ANT+ sensors for displaying where your HR, speed, pace, power, and cadence lies within a given zone.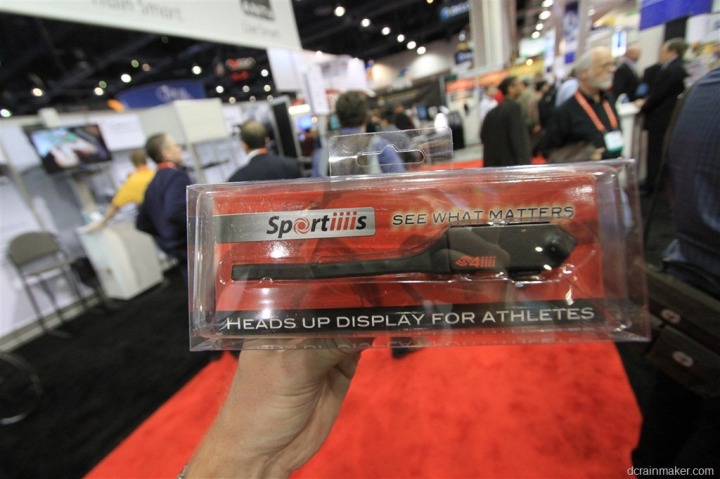 Ian from 4iiii's also showed off their new Android app that can be used to configure the 4iiii's (in addition to the client software).  This app leverages ANT+ on those cell phones that are enabled for it (such as the Sony Ericsson ones):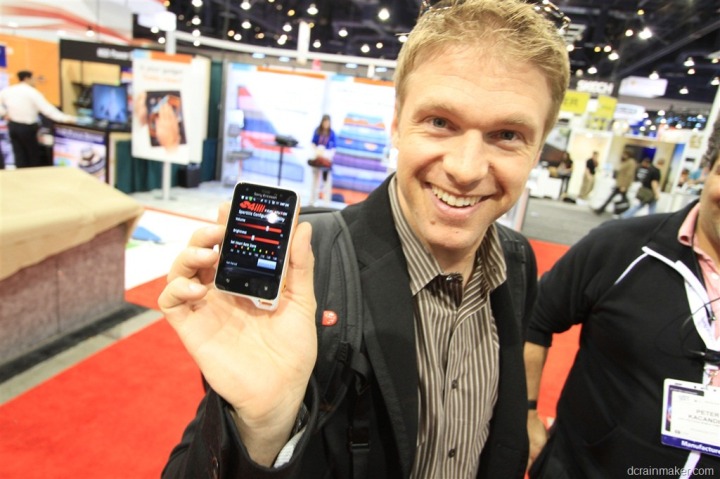 They let me take home for review the above box, so I'll be trying it out over the next little while and then giving you some updated feedback over the previous September trial.
In the same vein, is this system from Recon Instruments.  Their Mod unit is a ski goggle that features a more interactive heads up display system that also records GPS information, including altitude and speed. 
This is then visible in the lower right corner of the goggle.  This is different from the 4iiii system in that the Recon option offers more functionality, but requires you to change focus from what you're seeing ahead of you, to the screen right in front of your eye.  There's nothing wrong with either system, but it'll be interesting to play with both systems over the next little bit and see how they compare and contrast.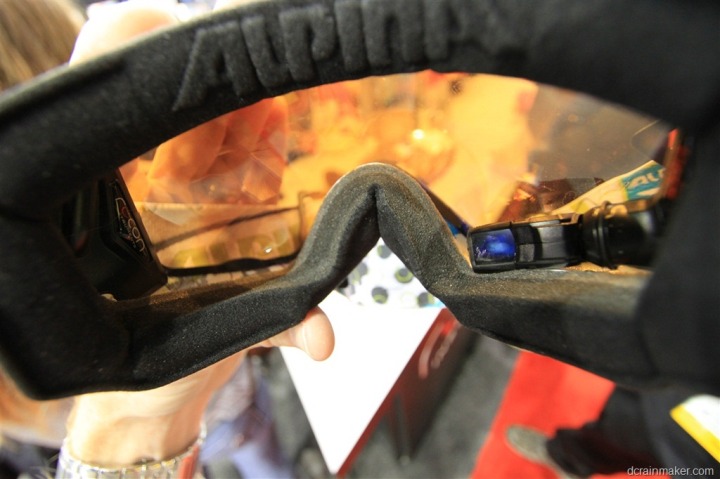 And I'll be able to do that, as I was given a full pair to try out.  And since I might just have an upcoming Seattle ski weekend, there's gonna be some good review time shortly!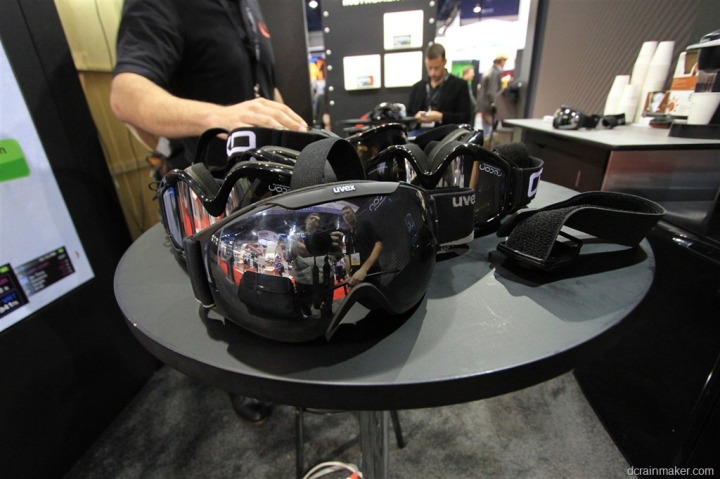 So with that, let's wrap up CES Part I, we've got plenty – and I mean PLENTY – more coming in Part II, and perhaps a Part III, we'll see how packed things get!
For fun, I'll end on this short video that I shot of a bunch of illuminated and music synchronized backlit iPhone cases.  In total, I never considered how many different iPhone cases might be out there – but there's essentially a massive chunk of the show basically dedicated to iPhone cases of every time.  And I believe The Girl managed to somehow secure about one of every type, resulting in her bag looking like the iPhone Case Santa Clause.  Anyway…the video:
Dancing iPhone case
Have a great weekend ahead, and thanks for reading!