Back in August while on a trip to Chicago, I snuck in an early morning VO2Max test – purely for the goal of understanding how the New Leaf Fitness metabolic profile tests worked, in an effort to get more accurate calorie calculations on Garmin devices.
As I've detailed before, there are a slew of ways to have calorie information generated on your Garmin device, ranging from not-terribly-accurate (mass/distance), to fairly accurate (heart rate).  The most accurate however is one based on two tests that measure your specific calorie burn at various levels, and then allow the Garmin unit to replicate that.  The problem is, there's actually very little information on how this all works, so out of pure curiosity – I set out to find out.
So why Chicago?  Well, there isn't too many New Leaf testing centers in the DC area, and the few that there were – were pretty far away and not in terribly convenient locations.  But, after a few calls to some of the Chicago area Equinox's, I found one that indeed had the gear and knew how to use it.  Note, that I paid for the test myself.
So, off I went!
The Tests:
There are two basic tests that you can have done that assist in determining calorie calculations.  The first is test is where they measure your resting heart rate – to help determine your baseline metabolic rate.  To do this, they have you lie down on a bed in a closed door room, hook you up to a machine to monitor your heart rate (wirelessly with a Polar HR strap) and breathing (via a mask, connected to the device).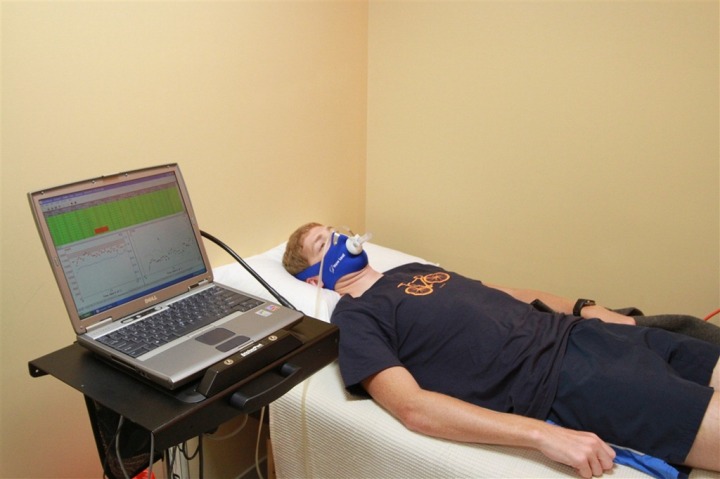 Once the test begins, they leave you alone for about 10-15 minutes (and the lights are turned off), hoping to determine your absolute lowest resting heart rate.  You're told not to move, and to get as relaxed as you can without falling asleep.  This second piece (not falling asleep) – is fairly difficult to do at 7AM, when you're body still wants to sleep.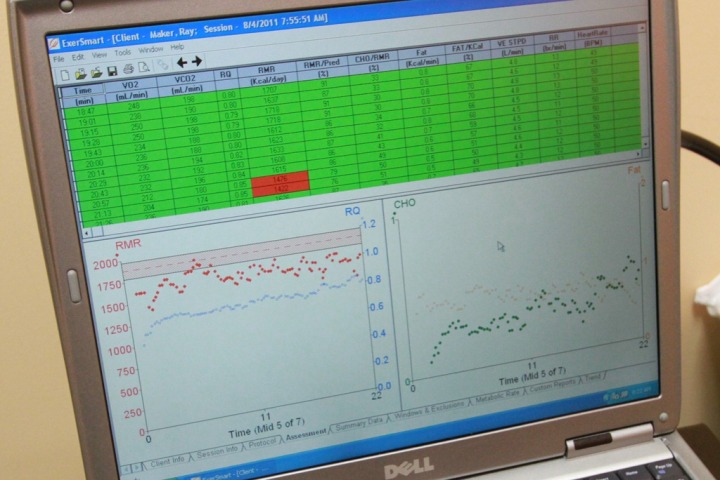 You can see above if you click to expand (sorta difficult on the laptop photo), my heart rate and VO2 consumption during the test.  For example, if you look at the furthest column to the right, at this particular point the HR was 49bpm (kinda high for me, usually I'll get it down to about 40bpm), and at that, I'd be burning about .8 calories per minute – or basically burning about 48 calories an hour doing nothing but lying.  Later on, they'll add in my normal daily workload (i.e. just wandering around) and figure out my total calorie needs per day.  Note that the information from this test is not used within your New Leaf profile imported to the Garmin, it's merely informational (as we'll talk about later)

After the easy test was done, it was time to make life difficult (for me).  This is where a standard VO2Max test comes in.  The goal of a typical VO2Max test is to determine your peak oxygen update capability, or basically the maximum amount of oxygen an individual can utilize during exercise.
The test is typically conducted either on a treadmill, or a bike trainer/machine.  In my case, I went with a treadmill.  Though the New Leaf testing protocol can support either. Also note that within 12 hours of your test you're not to eat or drink anything, except water.  Additionally, during this time period I was told to avoid alcohol, tobacco, and crack.
First up, is using that same mask that I had on earlier in the resting test.  And, the same heart rate strap.  And in fact, that same little laptop was on rolling wheels and rolled down the hallway to us in the gym, right next to the treadmill.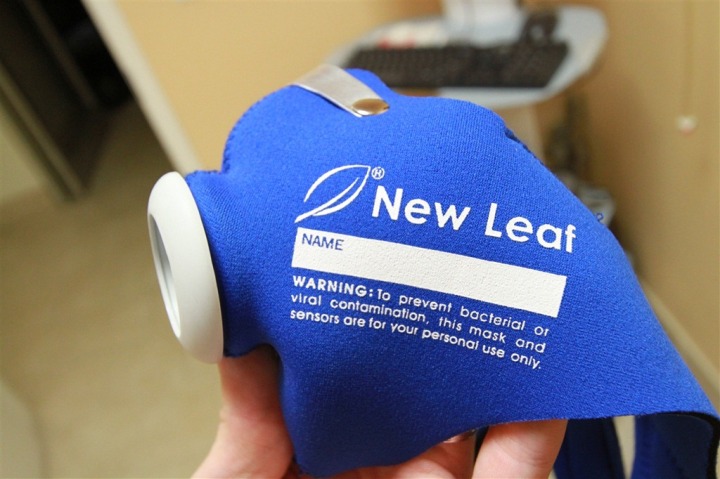 Unfortunately, they would not permit me to take photos in the gym itself – due to the fact that others were there at the time.  But I do instead have a photo from a VO2Max test that I took just two months earlier as part of the Men's Health partnership, so we'll use that instead.  Once everything is all hooked up, it'll look just like this: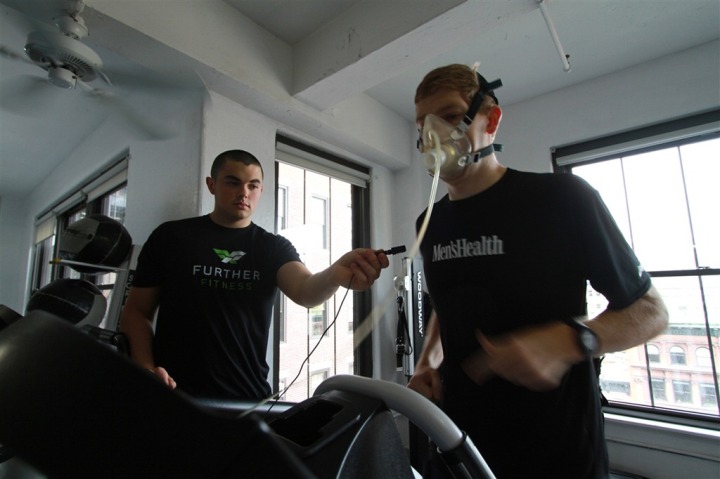 The test administrator asks you to provide a baseline speed to start off at.  This is basically just a 'casual' pace from which to begin.  In my case, I went with 8MPH (7:30/mile).  Having done the test just a few months earlier and having had the test be a failure due to the test being incorrectly administered, I made incredibly clear this time the test should NOT be stopped until I either flew off the back of the treadmill, or told him to stop.
After all, the entire point of such a test is to get to your absolute breaking point.  Stopping the test before that doesn't really help anyone.
Once the test begins, the pace is increased (made faster) every minute.  Once you either max out on the treadmills speed (happens fairly quick for me, usually about 5/min/mile), then incline is added.  You can see my speed decreasing below, and then flat line out – it's at that juncture that the incline is added.

Of course, the general goal here (each minute) is to make it more and more difficult, until you're unable to proceed.  In doing this, you determine not only your likely maximum heart rate, but also your VO2Max number.  The goal isn't for this test to last forever, ideally the tester has you hit that maximum number in about 8-14 minutes.
You can see below, over the course of the test, my rising heart rate (green):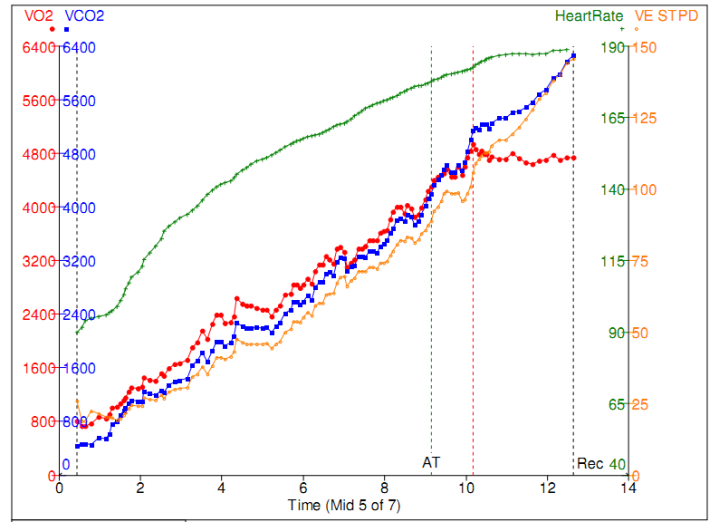 In my case, I finally reached my breaking point at 11 minutes into the test.  At which point, the treadmill is slowed and you're able to walk again.  This has the added benefit of being able to breathe again.  Further, you no longer feel like you're going to die.
I did forget however, just how darn much these tests hurt.  The remainder of the day you definitely have that small reminder of the aerobic pain in your lungs.  Leg-wise I was fine, but my lungs were really burning initially (which again, is the goal).  It probably didn't help that I did this only two weeks after coming off a month long training hiatus (read: my honeymoon).
The Data and Results:
Over the course of my existence on earth, I've done a VO2Max test three times now – and the previous times, getting the full data set has always been difficult.  This time however, I finally got a test administrator that was willing to give me everything he had.  Yup, all this below (see later where you can download everything):

The results started off with an overview, which highlighted my different thresholds: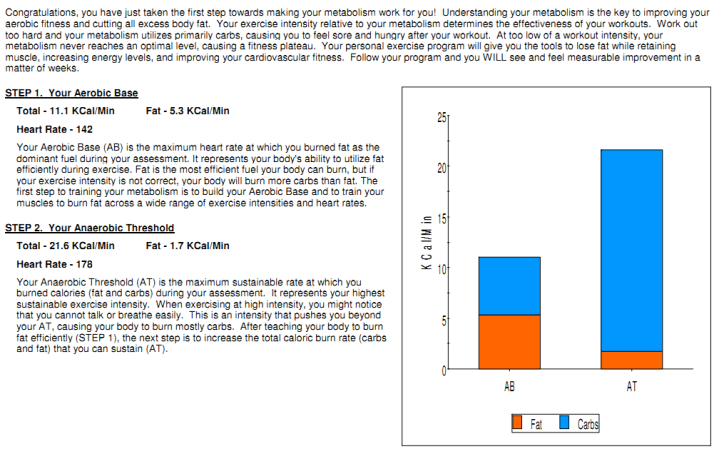 From there, it went into my VO2Max number – 63.6.  Now, in general your VO2Max number won't shift a lot once you've gone from couch potato to active.  Meaning that even if I look back a few years ago to the last time I took the test, it was only about 5% lower.  Of course, if it's done wrong – like it was in June at a different facility, then it'll show incorrect results (too low, since I wasn't allowed to finish).

In addition to the high level overviews, they also gave me about a 4-week training plan, as well as a slew of very detailed charts.  You can see them all in the zip-file at the end.
I do wish however that I could have gotten a CSV file export of the actual data though, for more interesting parsing and analysis.
Next up was the resting piece results, as well as my metabolic profile.  This is the piece that determines how many calories I need to maintain weight on a given day.  In this case, it determined I need 1651 if I were just lying in bed all day.  Then it added another 800ish for a 'light' lifestyle (i.e. going to grocery store/walking around/pressing buttons on the TV remote/etc..).

So why put a 'light' lifestyle?  Well, I'd prefer to track my not-so-light workouts separately, so that I can understand the caloric impact of those individually, rather than in some indefinable lump sum.
The Garmin Device Update:
Finally, the easiest and quickest piece to this whole setup – getting it onto your Garmin device.  At the end of your test, the individual doing the test will be able to e-mail you a file with your calorie data in it.  In theory, this should be done/stored on an online site by New Leaf, but in my case – the testing center didn't have that capability, so instead they just e-mailed me the file.
The XML based file is very small – only 32KB – or about the size of a long text e-mail. Inside it contains your test results, as well as workouts recommended/created by New Leaf.

Once you've got the file, you'll crack open Garmin Training Center, which you can download for free from Garmin.com.  Inside it, you'll go to File > Import New Leaf: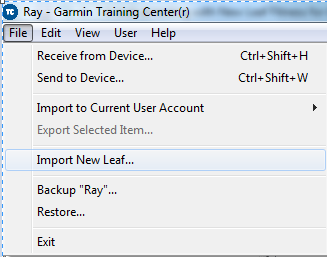 Which, will simply open a dialog box to import your file: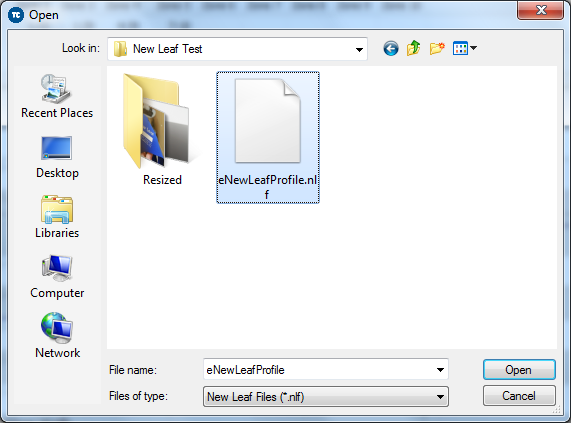 It only takes a second, and once done the file is within Garmin Training Center.

However, you'll still need to send it to the device of your choosing.  So, to do that, you just click to Send to Device, which will give you the below dialog.  In doing so, it will also transfer the New Leaf recommended workouts as well: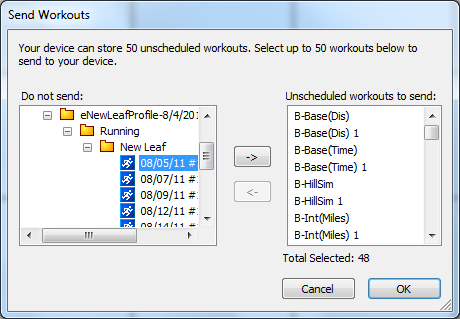 Finally, you'll see this queued up within the ANT Agent to transfer to your Garmin device: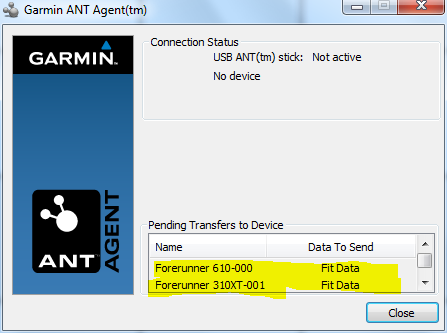 And last but not least, the next time you sync your device and turn it on to use, you'll see that the new Metabolic Profile data has been transferred over to it: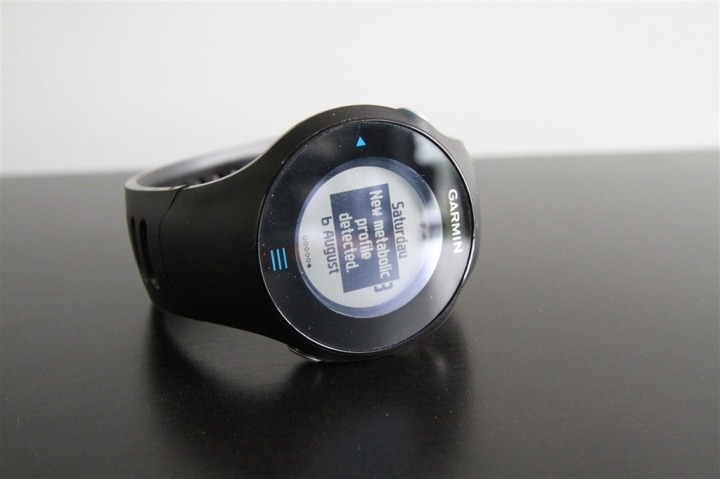 And just like that, you've got nothing else to do – it simply will automatically use the new calorie numbers during your workouts.  Easy as pie!
The unit will now take your given heart rate value (you must use the heart rate strap) and then correspond that with the values from the file (see geek section below) to determine calorie burn at given heart rate values.
Geek Section:
Ok, a quick aside on the file type for those geeks in the crowd.  With the file structure being XML based it's actually fairly simple to edit.  The file contains your test data, split up by sports (Running, Cycling, and Other).  In my case, even though I only did the Running test, the data was populated into all three types.  In also contains recommended workouts that they (New Leaf) put together.  We can ignore these.  The 'Assessments' section below is where the Run/Bike/Other numbers are.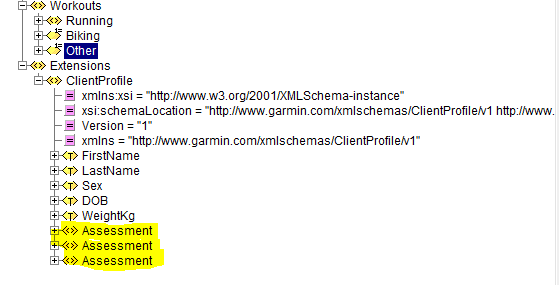 (Note: Screenshots from the free tool XML Marker)
And this Assessment section is the most important part of the file.  It's here that HR ranges are listed in 10bpm blocks, from 30bpm to 240bpm.  Outside of that range, you're likely in the midst of having a medical situation where calorie calculations are unlikely to be relevant in your near future.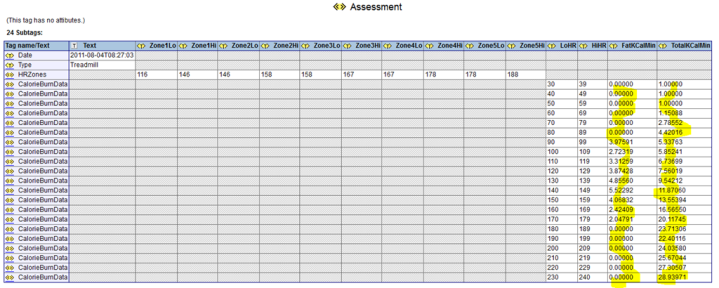 If you zoom into a few chunks on the right side (see below snip), you'll see those zones more clearly.  The far right column is total calories per minute, and the second to right column is fat calories per minute.  The two left columns represent the 10bpm chunks.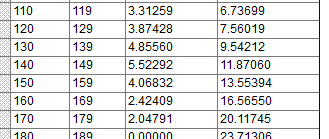 Finally, you'll see the zones defined across that one line above (two images above).  That's merely giving information to the Garmin device and defining your HR zones.  It has nothing to do with calorie burn however.  Different coaching methods utilize zones in different ways, and this is simply New Leaf's methodology.
So why do I mention all this?  Well, I've received a number of questions/requests on whether or not you could just take a standard VO2Max test and get it to import into the Garmin.  By default, the answer is no.  However, as you can clearly see – it wouldn't take too much to make a simple XML parser that would allow you to enter values for the different HR ranges, and enter in the caloric burn numbers that correspond with it.  He/She who does that and offers said download for free, will happily earn themselves a post here down the road.  Or, if you have your own test data, you could take such a sample file, tweak it manually, and create something that's pretty much spot on.
For those that are curious, I've uploaded my test file, along with all the data I got from the test, here.
Summary:
It should come as no surprise that my primary interest in the New Leaf testing program was primarily from a technology curiosity standpoint on how it works, rather than determining my specific exact calorie burn rates.  However, for those individuals that are indeed looking for more accurate and exacting numbers, this represents a more definitive way of doing it, rather than the other estimation methods.  Note that it does require that you have either one of the supported Garmin devices (most of them – PDF), or, use the DigiFit iPhone app (which also supports the import).  Ironically, once I saw how simple the file structure is – it's a bit surprising nobody else supports it.  The calorie math behind it is relatively trivial since you're merely taking time in HR ranges and multiplying it by the calories for each range.  Even something like TrainingPeaks or Sport Tracks could implement this in post-processing without too much difficulty.
The total testing procedure only takes about 45-60 minutes in all, though it does cost a bit (prices range from about $150, depending on the provider/location).  The one item I really liked was that they gave me a ton of data afterwards.  Sometimes out of these tests you won't get much.  Though, I do wish I had a CSV export as well – but the man administering the test even looked in the software with me and we couldn't find such an option, so I can't fault him for that.
Finally, as to the VO2Max piece.  As virtually every online source will tell you, a VO2Max number in and of itself isn't actually terribly useful.  It's an interesting number, sure, but it doesn't mean that you can't do well in sport.  Some will note that it does present a bit of a glass ceiling for high end athletic performance, though, that's typically more applicable in the segment of the sport/sports that require you to push up against that.  It tends to be less applicable for sports or events that don't require you to go all-out for a sustained period of time.  Most coaches, even high performance ones, will tell you a far more important attribute is how much your willing to push yourself, mentally and physically.
As always, if you've got questions – feel free to drop them below, I'd be happy to try and answer them – or get the answers for ya.  Thanks for reading!