Walking down the street where the blue dot on the phone's map was leading me, I started to wonder if I had the right place.  As I neared the address, all I could see was an appliance store trying to hock discounted Emeril Lagasse branded frying pans.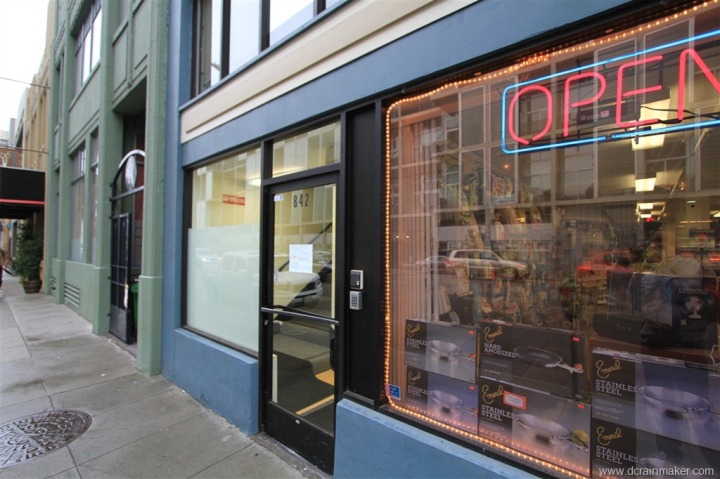 But then, just next door was a tiny little 8"x11" piece of paper with the Basis logo printed on it, taped to an otherwise nondescript entrance.  Fancy corporate entrance and lobby this was not.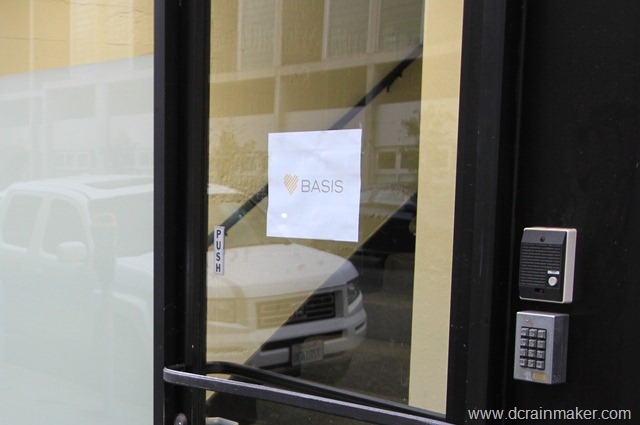 But an over the top entrance wouldn't match this San Francisco startup who aims to monitor and shift your lifestyle – or in the case of the endurance athlete – to give you more information about what you do already.
So who is Basis? Well, as I noted yesterday they're a company that's just about to release their first product, a fitness watch, that tracks a wide assortment of metrics.  In one way, it's part heart rate monitor, part sleep tracker, and part a slew of other things that aren't in the market today.
But while their product may be unlike anything out there – their team of some 25 employees are actually quite a bit like you and I.  In fact, that was no more noticeable than when I walked upstairs to the main entrance/meeting/gathering/bike storage/lobby.
As you can see, there was an assortment of bikes tossed hanging around – and even a treadmill in the corner.  While the day I arrived the weather was wet and dreary – they noted that often up to 15 of the 25 folks commute in via bike.  Pretty impressive.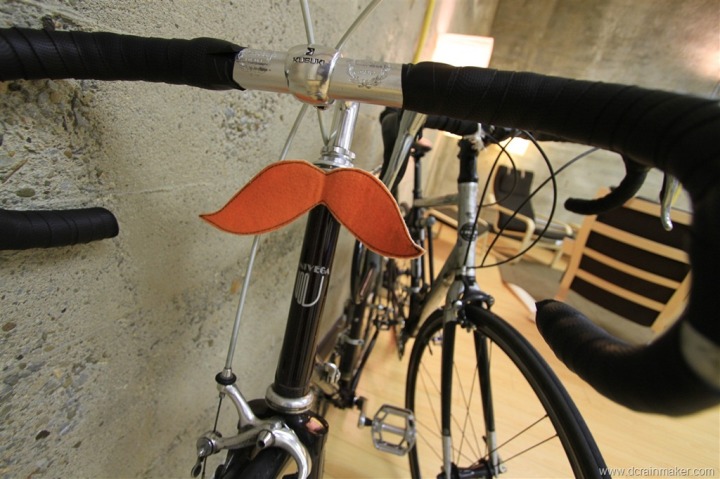 Typical of many startups in the greater San Francisco area the space was Spartan, but functional. Employees merely shared space on long desks, and aside from a few pieces of Ikea looking furniture and a well played Xbox 360 – there wasn't much else in the space.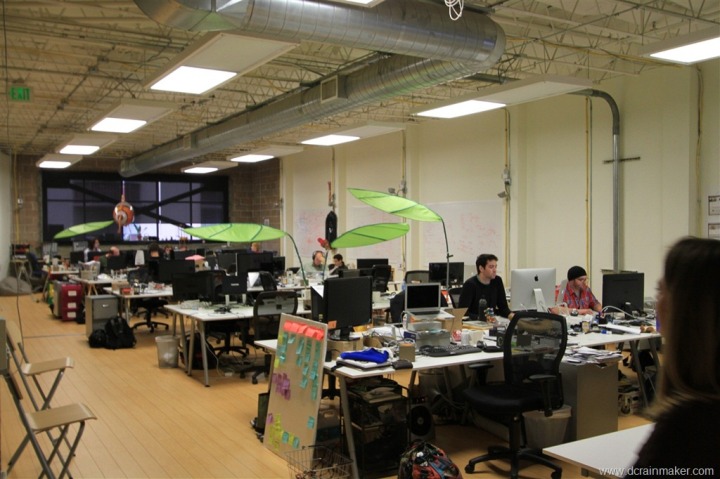 And the fanciest corporate identity marking they had installed in the building (their logo) was made out of orange duct tape a few Friday nights prior: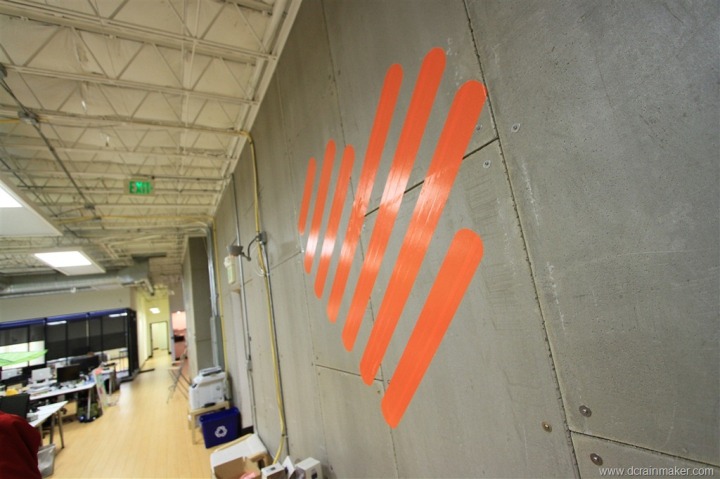 But what about the watch?  Sure, it may look simple on the outside (see below), but inside the guts are tracking a number of very different non-simple metrics. Five core sensor types are contained within the watch:
Optical Blood Flow Sensor: This sensor detects heart rate, through pulse or blood flow, and constantly monitors heart rate.

3D Accelerometer: Highly sensitive, this sensor detects even the smallest movement, regardless of whether users are alert and active or sleeping soundly.

Body Temperature Monitor: By measuring the user's skin surface temperature, this sensor provides a more accurate reading of exertion in an activity state.

Ambient Temperature Monitor: This sensor detects the outside temperature and, in relation to body temperature, can boost the accuracy of caloric burn calculations, as well as providing insights into other environmental effects on the body.

Galvanic Skin Response: By measuring the intensity of the skin's moisture output (or sweat) during any activity, from warm-up to recovery, this sensor provides information particular to an individual's level of exertion when engaged in activity.
When you look at the list, you'll see that only the 3D accelerometer is commonly used on other watches, such as the new Motoactv.  And while the 'optical blood flow sensor' tracks your heart rate – it does so in very different ways than the common heart rate strap of today.  In fact, there's no heart rate strap involved. 
This is it – all those sensors above are fully contained in the below: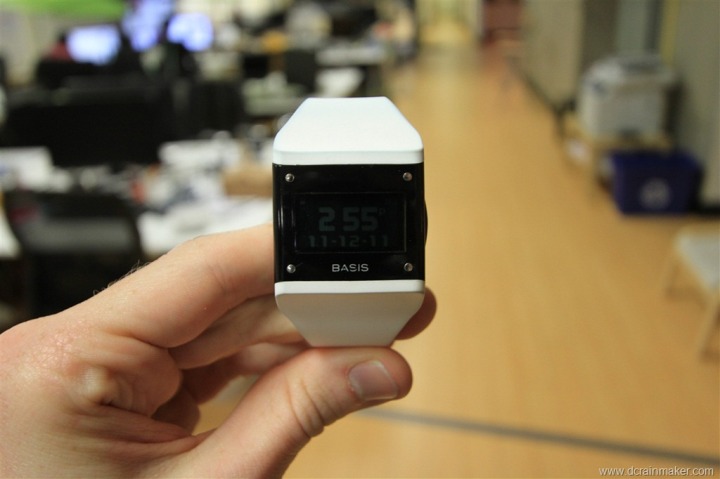 So how does it measure your heart rate 24×7?  Well, instead of measuring heart rate in the traditional EKG method, the Basis system uses light emitters that illuminate through your skin to the capillaries and measures the blood flow.  It does this by "measuring the change in emitted light that is reflected out from the body and that corresponds to the change in blood flow from the pulse caused by each heartbeat. Basis also utilizes optimized light wavelengths in the emitters and a specific sensor and emitter configuration to ensure accuracy throughout the day's activities."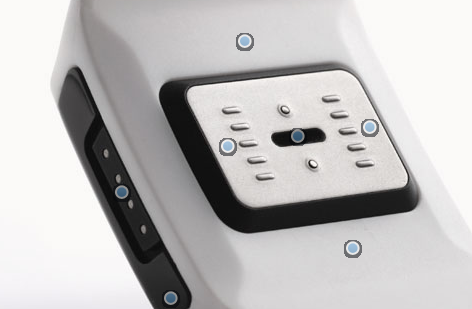 And that's where things start to depart from the norm.  By incorporating the sensor into the watch it moves the monitoring from being activity based (i.e., an hours run) – to being more of a life monitoring device.  Instead of deciding to monitor your heart rate by putting on a strap for an hour run, the watch is actually watching your heart rate 24×7.  This enables you to start to track the impact of events over the course of not only an entire day, but over longer periods as well.
One US Olympian well known for doing this is triathlete Andy Potts – whose talked in the past about doing constant heart rate monitoring and then tailoring his training to adapt to how his body is reacting.  It's well known that heart rate is a great indicator of stress – both emotional and physical.  Of course, how that indicator is interpreted is routinely debated.
For myself, it would be fascinating to see the impact of one of my typical 10-day international work trips involving a handful of countries and 20,000+ miles of flying.  I occasionally tracking resting heart rate as a point in time item – but this would allow me to more easily pick out trends over the course of a trip.  And then to be able to plot that against my athletic performances – both during the trip, as well as afterwards.
And that's a lot of what this is about – identifying trends, and determining what to do about it.  Using the other sensors in the watch they can start to determine how your body reacts to a wide range of different training environments.  For example, in using the skin moisture sensors they could start to help you better plan for what to wear on race day given a specific temperature – based on your own past performance data at that temperature.
In my mind – that's what's cool here – all the interesting things that folks will come up with to take advantage of the data.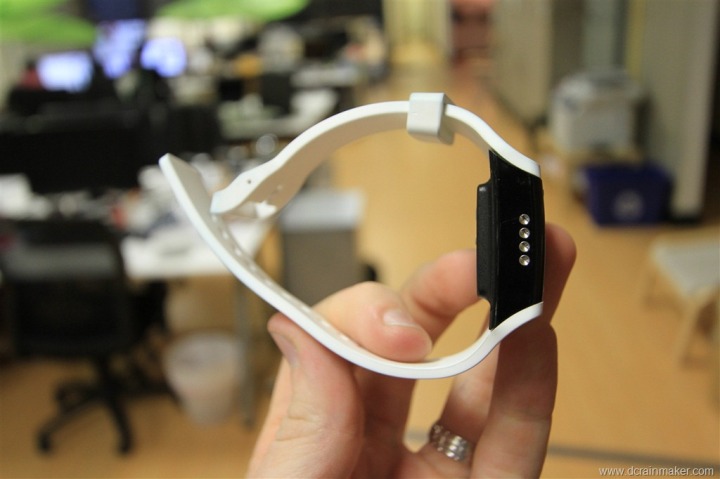 The Basis folks though believe they are different though from a traditional Garmin Forerunner device.  In their words, they "aim to monitor the other 23 hours of the day".  In other words, today you may go out for a run with your Garmin fitness device – but the rest of the day you don't monitor anything.  Perhaps you have a Zeo sleep device, monitoring maybe 8 hours of sleep.  That still leaves 15 hours leftover – the majority of your waking time day to day.
Of course, the Basis device can monitor sleep too – in fact, because it's watching a number of different metrics beyond just movement (like the Fitbit) using the different sensors it can start to generate some pretty interesting data from that.  While it doesn't have access to read brainwave information such as the Zeo, it does have areas the Zeo doesn't – such as skin temperature and the ability to see your heart rate – and how that varies over the course of the night.  And of course, with the 3D accelerometer built in there's some interesting things you can measure…but I'll leave that bit of creativity for down the road.
So where do I see this device going?  Well, a lot of it's going to depend on execution and making sense of the data.  When you divide their work areas up into the three logical areas of hardware (the physical device), algorithms (processing all the data from the sensors), and presentation (the web site) – the tough part at this stage will be that third category.  Much of the work is now complete on the first two stages (though algorithms will of course always see updates over time).  But the third stage requires a careful balance of presenting too little information with too much information.  They have to make the information actionable for the regular consumer, otherwise it's merely just useless data points.
They've also got the challenge that for many folks it's likely hard to justify two separate devices – one that can be used in sport, and one that can be used for the remainder of the day.  While the Basis unit can be used in sport (waterproof and all), the data accuracy for some sensor types just won't be as high.  For example, in sport the optical heart are monitor bounces around a bit too much on your wrist to get highly accurate readings.  In my mind, this is one area where inclusion of an ANT+ receiver would have helped bridge the gap to traditional strap based systems for sport activity (and opened the door up to using it for other sensor types).  The same goes for GPS, which it lacks.
On the flip side, the device contains many other sensors that just aren't there today.  It'll be fascinating to see how people leverage the data across multiple streams.
As for the device itself, their aim is to be available in the early portion of 2012 – with units available to poke at during CES 2012 the second week of January.  The device will retail for $199, and includes the sensors noted above, as well as being Bluetooth enabled.  The battery life will last a long weekend's worth.  Once synchronized the data will upload to a web portal which manages all the data (and will also offer options to export the data).  The goal of the portal is to also encourage a healthier lifestyle through a points system.  Ultimately they said they wanted to "make it engaging without feeling like Farmville for your health".
Speaking of Farmville, I'd be remiss if I didn't end on a note about their own animal collection – specifically Nemo.  It was just a few hours after my post about the Shark Blimp that I bought that I walked into their office – only to find the shark's blimp brother, Nemo, hanging out above their cubes desks: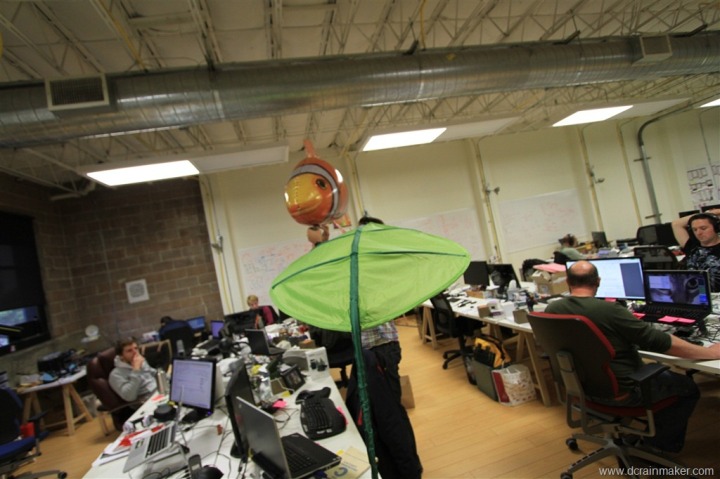 Good to see he's an integral part of the team: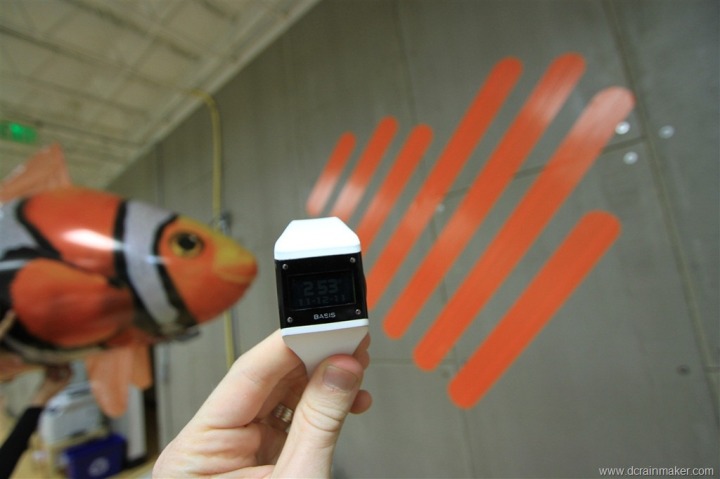 With that, thanks for reading.  I'm looking forward to getting more hands on time with the device as they near launch – and then looking at how to use all of the data that it'll present.
As always, feel free to drop questions or comments below – I'd be happy to try and get answers from the Basis team (or let them answer them).