Yesterday we left off with nine folks getting weighed in on five different consumer body fat scales – all in the quest to compare it against the generally accepted more accurate method of using a Bod Pod.  Some of you have asked why I didn't use DEXA scanning instead – and the answer is simple: It was increasingly more difficult to coordinate and do at a reasonable price (it's essentially like getting an x-ray).  But hey, it saves something for the future, right? (P.S. – If for some strange reason you have a DEXA scanner in your living room and want to host a dozen folks over 'on the house', and are in the DC area – then I'm game!).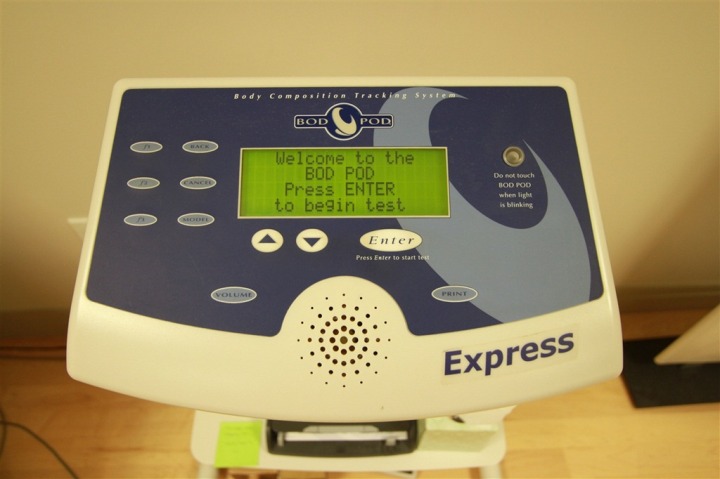 As I mentioned yesterday, the testing methodology was fairly simple.  Each person was wearing a form fitting and as thin as possible fabric bathing suit.  After each person went into the Bod Pod for their couple minutes of fame, they then hit up the lineup of consumer scales.  We went down the line one by one, configuring each scale with the person's height and age – and then recording the subsequent results.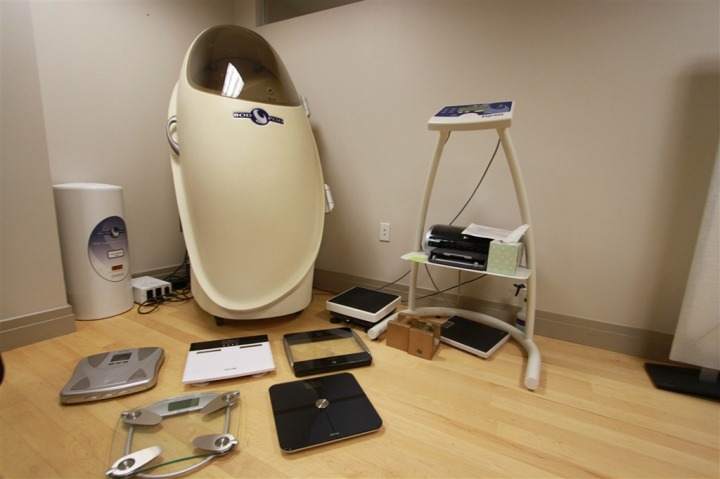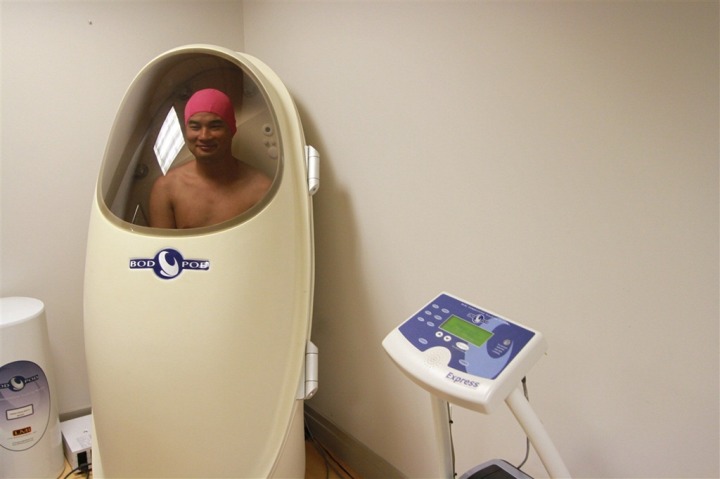 For those scales that support an athlete mode, we did two readings – both in athlete and regular mode.  The only exception to that was the Withings scale, where we did half of the folks with both metrics, but the other half with only one metric.  This was simply due to people having to leave.  I'll show results compared against like types though (i.e. Athlete mode to Athlete mode, etc…). Just as a recap, the scales being tested were as follows:
– Tanita BC1000 ANT+ Scale (Body Fat/Weight – $279) – Withings WiFi Scale (Body Fat/Weight – $149) – Tanita BF-679 Scale (Body Fat/Weight – $50) – Taylor 5599F Scale (Body Fat/Weight – Target $35) – Taylor 5744F Scale (Body Fat/Weight – Target $26)
I think the best way to do this is to go scale by scale and present the results.  I'll also provide a link to the spreadsheet in the end, should you want to check out the numbers.  Finally, I've obscured the names of everyone, and merely left it as User A, B, C, etc… There were two women, both of which were the lightest (120 pounds or less) – so those are easy to pick out.  Everyone else was male between the ages of 25 and 41.
Tanita BC-1000 ANT+ Scale:
Here's the results pane for the ANT+ enabled Tanita BC-1000 – but let me walk you through how the numbers are displayed.  The upper part (in light blue) is the Bod Pod weight and body fat percentage, the lower numbers are the Tanita numbers.  The section with an (A) next to it means "Athlete Mode", and the section with a (N) next to it means "Normal Mode".  Below that we have the 'differences' (Diff %) between the Bod Pod body fat measurement and the scale body fat measurement.

Of course, it's a bit hard to make sense of all those numbers, so let's go ahead and add in the differential summaries for each mode (athlete and normal):

As you can see, on average, the difference when in athlete mode was 4.7%, whereas the median was slightly less at 3.1%.  When you placed the units into normal mode, the average and median nearly flip-flopped, with the average decreasing to 3.84% and the median increasing to 4.10%. Interestingly, from a straight weight perspective – the unit was almost flawless, coming within .3 pounds for every single individual.
Withings WiFi Scale:
As we move onto the second most expensive unit – the $150 Withings WiFi scale, we continue to see similar trends from both an overall average and median standpoint.

The average for both athlete mode and normal mode was very close between 4.5% and 4.6%.  However, the median strayed a bit more with it being between 3.3% and 4.4%. Like the Tanita BC-1000 scale, the Withings WiFi scale got the weight almost spot on every time.  While the furthest gap was .5 pounds, it only did that once – whereas the rest of the times it was far closer for most folks, even occasionally matching the Bod Pod scale precisely.  We'd see this trend across the rest of the scales as well – with almost all of them being very accurate from a weight standpoint.
Tanita BF-679 Scale
This was a generic bathroom scale that I've had around for years.  I believe I also picked it up at a department store for relatively cheap.  It had no athlete mode, it was simply a case of stand on it and get a reading.

You can see that again the average offset was about 3.66%, whereas the median was slightly higher at 4.20%. Like all the other scales, it was pretty darn good with weight measurement – which I was happy to see as I banged the crap out of this scale over the years.  Happy to see that its noggin is still working.
Taylor 5599F Scale
From here we continue to get cheaper and go into the $35 scale that we picked up at Target.  The only difference between this scale and the next scale that's slightly cheaper is that this one has an athlete mode, whereas the other one doesn't.  Oh, and this one is made of pretty glass compared to the other one made of white plastic.

You can see a slight rise in the averages and medians over the previous scales.  For athlete mode the average put it within 4.18%, and a median of 4.80%.  Whereas in normal mode it rose to 5.36% for average, and decreased to 4.00% for the median. This scale was notable in that this was the only scale where the athlete mode was actually more accurate on the whole (both median and average) compared to normal mode.
Taylor Made 5744F Scale
Finally, moving to our cheapest scale at $26, we see that the averages don't really stray much from its slightly more expensive brother.  It should be noted that this scale does not have an athlete mode.

The average difference was 4.76%, and the median came in at 4.0% – interestingly identical to the median for the normal mode of the Taylor 5599F scale that cost $9 more.  You can at least see some similarities between the body fat numbers of the normal mode between the two Taylor scales – though not as close as I would have expected.
The Average of the Averages:
The first thing I want to re-note is that the average and median values are the differences – and NOT the average body fat numbers themselves.  In other words, it's simply the difference between what the Bod Pod says it is and what the consumer scale says it is. Second, the Bod Pod has a generally accepted accuracy of 2.5%.  This means that if the difference between the consumer scale is 4.0% on average, that the consumer scale could be as high as 6.5% off, or as low as 1.5%.  This is a really important point. Sometimes I see people worrying about a very very tiny change – well within the envelope of accuracy – I'd suggest not worrying about such things since you may or may not have changed at all. So I've thrown a lot of numbers at you, but what do they look like stacked up against each other?  Well…here's some more numbers (what did you expect?):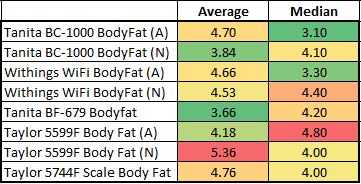 So what do we see?  Well, in general for both the Withings and the Tanita BC-1000 scale if you use the average differences then athlete mode is better, but if you use the median, then normal mode is better. What was more interesting though is that if you look at the case of the BC-1000, you'll find that in everyone's case the athlete mode numbers looked 'better' than the normal mode numbers…except for the two women.  However they weren't any more accurate one way or the other when you looked at averages.
For some people athlete mode was more accurate and for others normal mode.  Virtually everyone tested here would have considered themselves athletes – most training for long events including Ironmans, Marathons, and in the case of the cyclists, century rides. Yet, the trend was that unless your body fat was either in single digits, or approaching single digits (i.e. 10%) – then the athlete mode was largely useless.  For those few folks in single digits or just at the fringe, you saw the closest relationship between Bod Pod and consumer scales.
Furthermore, in the case of the Taylor 5599F scale, The Girl noticed an interesting trend in that when one changed from athlete mode to normal mode, it seemed to just smack on 4% and call it a day – no matter what the difference really was. Finally, if you looked at the differences between the two scales most folks here are interested in – the Withings WiFi Scale and the Tanita BC-1000 – you'll find them fairly similar from an accuracy standpoint, though the BC-1000 does seem to get a slight edge by about 1% in the normal averages and .33% in the median category. They are almost a wash in athlete mode.
The challenge with all these averages and medians is that they don't take into account the large variations on a per athlete basis.  Some athletes had measurements that were off by as much as 11.4% (Tanita BC-1000) for body fat, whereas others were as close to .1% (also Tanita BC-1000).  So there isn't a simple number that I can say "It will be off +/- XYZ percent"- because you just don't know – it could be anywhere within that range of 'awesome accuracy' to 'not useful at all'. I've placed the entire spreadsheet here for your downloading (Excel download, view online instead).  I encourage you to check it out and look at the trends (or find new ones) – it's really interesting.
Summary
Perhaps the most important aspect in this entire two part series is the one I haven't mentioned yet: Consistency is more important than accuracy.  Meaning, if your scale consistently measures your fat at a given level and changes as you do things to affect it (increase or decrease) – that's more important than having a one time scientific measurement that's accurate.  In an ideal world these electrical impedance scales would be more accurate.  But they simply aren't across a wide spectrum of individuals.
So what's my recommendations?  Well, get a scale that you like (be it because of the color of the scale, or its features) – and focus on one of three things: Making the number go up, staying the same, or going down.  Don't focus on the body fat number itself unless you have something more scientific to baseline it against.  Yes it may be great to boast the single-digit body fat, but the reality is out of a room of really dang good-looking fit people – only two people fell in that category (interestingly, one was nearly 200 pounds).
As far as scales go – I still love the fact that the Withings WiFi scale beams my weight (which is what I personally tend to focus on more) and my Body Fat % (whatever it may really be) to TrainingPeaks.  And the same goes for the Tanita BC-1000 to Garmin Connect.  But that's a choice to pay more over simply using the $30 scales from Target and writing it manually. Each person makes their own choices.
What does this mean for body fat percentages?  What's ideal?  Well, it depends.  There's all sorts of metrics you can align yourself to.  But for most of us that are within the healthy range, it really comes down to something more simple: Do we look good, or do we place well on the podium? To put it in perspective: The majority of the room at both ends of the body fat range regularly places on the podium in both overall and age group awards.  And I'd say that everyone in the room is considered 'attractive' – despite having body fat ranges from 5% to 22%.  Yet while all of us found the data interesting, none of us go home every day and strive to make the body fat % displayed on the scale be an exact number.  Things like eating right, training right and getting rest are far more important towards our individual training and racing goals.
Unexpected Part III Here > —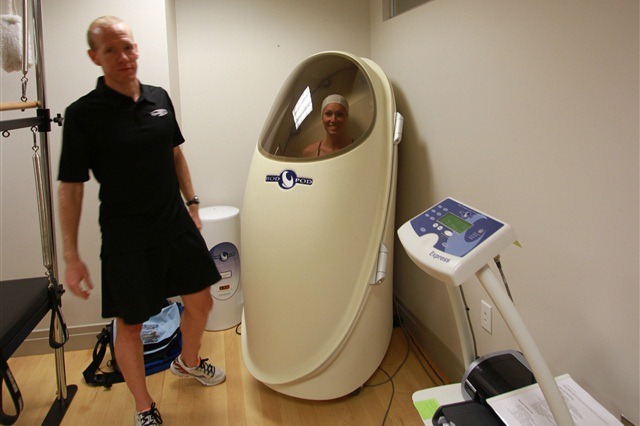 Just want to say a huge thanks again to everyone who came in and got tested.  Additionally, I really want to thank the guys at CycleLife (in particular, Eric) for all the help in testing.  They did this all free of charge. If you're up for getting some tests done – I worked out a deal where if you mention my blog you'll get 25% off their testing (nothing goes to me, it's a simple discount for all my readers).  I love giving exposure to local community bike shops like them, so if you're in the DC area (or just visiting) – give them a shout.
[Update Note, October 27, 2015:  Sadly CycleLifeUSA seems to have gone out of business about a year ago.]