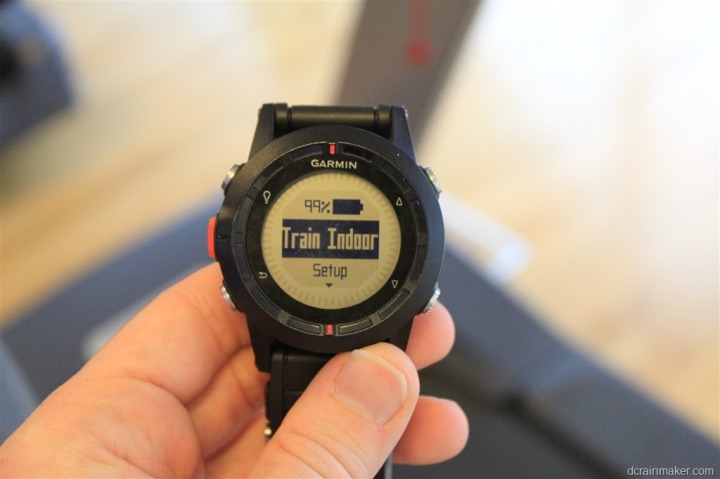 Today Garmin (Nov 1st, 2012) announced and released a new firmware update for the Garmin Fenix watch – which has been primarily targeted at ultra runners and hikers.  This comes in firmware version 2.90.
The watch itself came out over the summer, but wasn't available until this past September.  In my review I was pretty hard on it due to the lack of running features.  It felt like a hiking unit that tried (but failed) to be a running watch.  I noted that numerous running watches 1/4th its price offered more runner functionality.
Since the review, Garmin has been on a bit of a streak with releasing new functionality and features roughly every two weeks.  Quite frankly, we've never seen something like this from Garmin.  Ever.  Someone lit a fire, and it seems to have worked.
As for the features added, I've been using them for a week or so, and will give you a quick rundown of how they work.  Additionally, at the end I'll talk about how this matches up with the Suunto Ambit.
The New Features Overview:
First, they've added a new mode – Indoor – which shuts off the GPS and allows you to record activities while inside.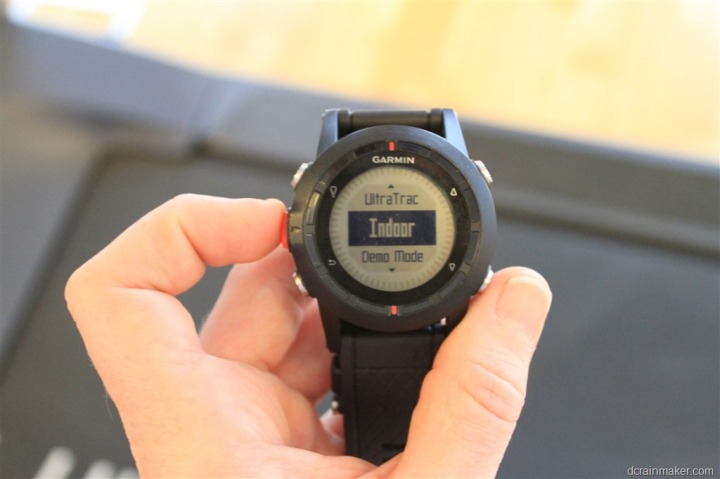 That new mode comes with a new data field and pages configuration set.  Specifically, there's 'Tracking', 'Navigating', and 'Indoor' now.  The indoor data pages are shown when the mode is indoor.
While I understand the logic here, I'm mixed on whether or not I like it.  Personally, I like my data pages as-is, so having to duplicate them is a bit of a PITA (Pain in the ass), but long term this probably makes more sense.
Obviously since they are supporting an indoor mode that means they are supporting the ANT+ footpod.  You can use any ANT+ footpod – Garmin or otherwise (here's all you ever wanted to know about the footpod).  Garmin's tends to be the cheapest these days (and the smallest).  You'll see the little footpod icon displayed while connected: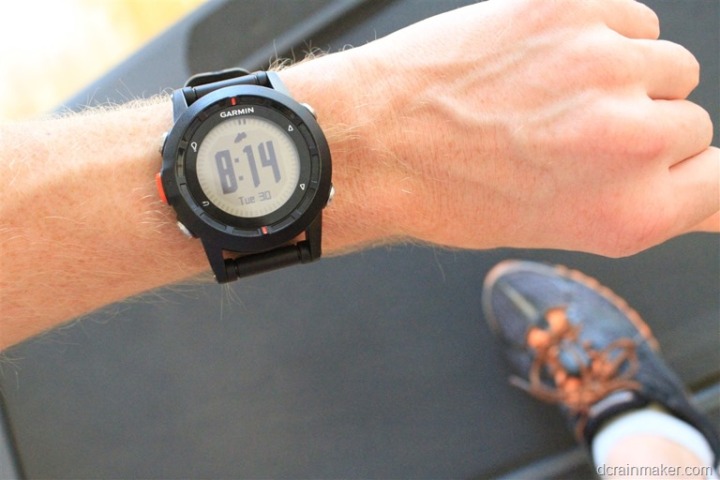 You'll see the ANT+ footpod pairing menu now located along with the other ANT+ sensors in the ANT+ Sensor Menu: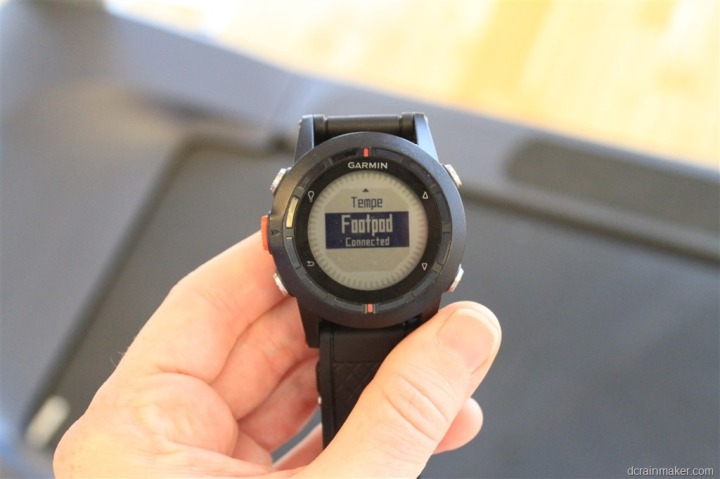 Once you're in there and have it paired, you can go ahead and calibrate it using a treadmill (indoors) or GPS (outdoors).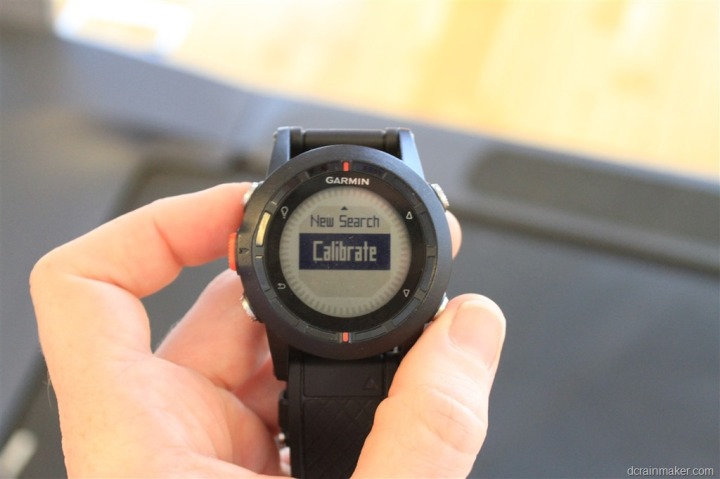 Or, if you know the calibration value you can set that manually.  Note that while I know my calibration value by heart, the calibration value can be impacted by location on the shoe – so it's best to calibrate it any time you change shoe position.
While running (be it indoors or outside), you'll now get cadence information displayed.  Along with 'Steps'. You can choose to display this in a standard data field, or as one of the little mini-graphs: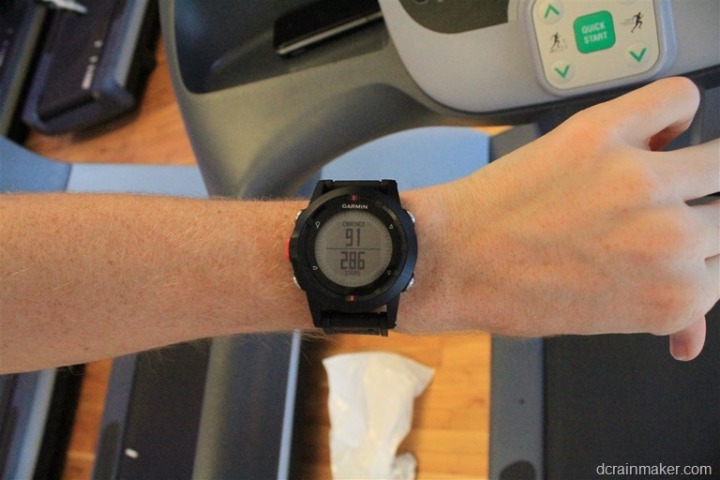 And finally, most importantly – you'll now get pace and distance information while indoors without GPS signal (as well as heart rate of course):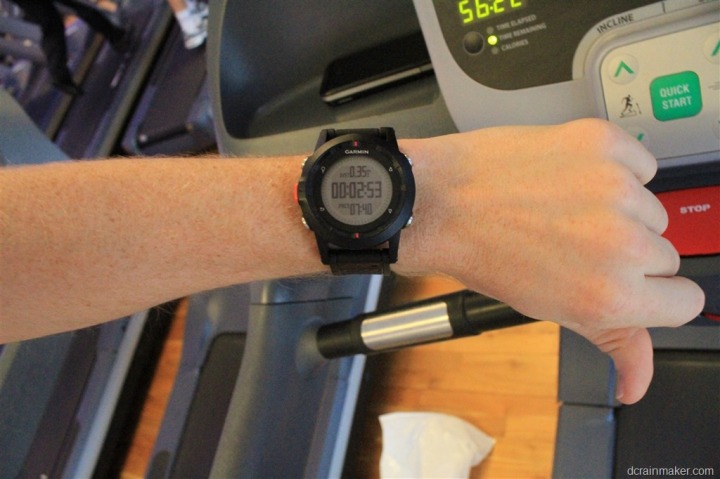 And this is available outdoors too.  Below, at the end of my run you can see my cadence graph: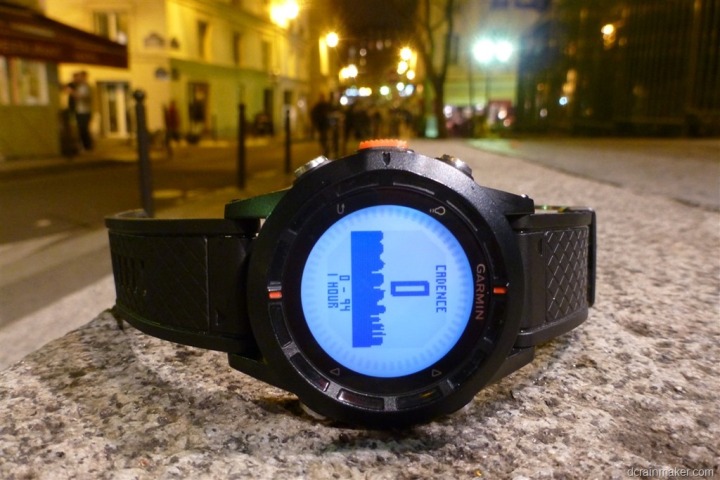 All of this information (speed/cadence/distance) is then shown later in Garmin Connect – be it for an indoor run or an outdoor run.  Or on any other platform you use.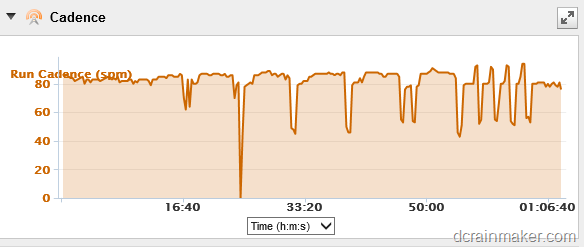 Also of note is that you can specify whether to use the footpod or GPS for speed (indoors or outdoors).  For distance, the Fenix will utilize the footpod while in indoor mode and the GPS while in GPS enabled mode.  There's not a configuration option otherwise.  Additionally, it won't automatically switch from GPS to footpod if you enter a tunnel like the other Garmin units.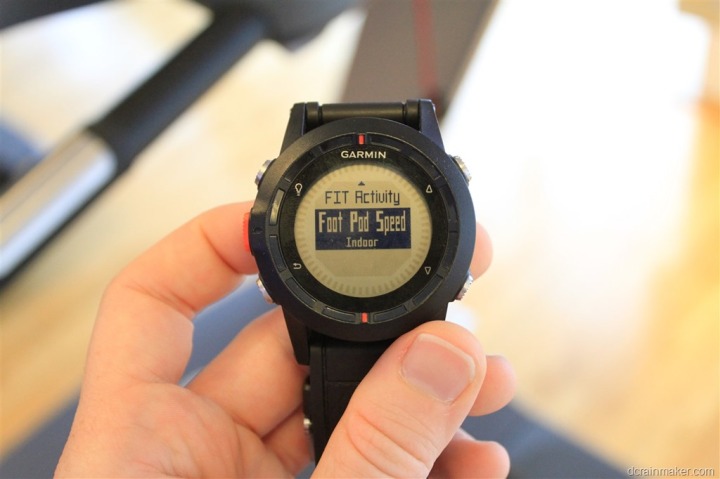 And finally of note is that while the Fenix continues to support the ANT+ Speed/Cadence Combo sensor for cycling, it does not yet have any method to utilize the speed configuration options indoors.  In other words, you still can't really use the Fenix indoors if you want speed or distance on a trainer.  Cadence is fine however.
Garmin Fenix vs Suunto Ambit: Round 2
Obviously these changes are aimed at being more competitive with the Suunto Ambit.  So where do things stand between the two watches as of today? 
Well, I'm not going to measure it as of today – I'm going to measure it as of November 29th, the date that Suunto plans to release their long announced firmware update.  I think that's only fair.  So far they've hit all their dates, and I have no reason to believe they won't hit this.  There's obviously a chance that Garmin may release another update between now and then.  Certainly their development cadence until this point (Fenix team only) supports that theory.  If they do, I'll make note of it here.  Since they don't announce future intentions like Suunto has – that's my only choice.
At present, I generally think that both watches are overpriced compared to competitive offerings in the GPS category.  At least for runners anyway.  For outdoors folk, I see the benefits of an ABC watch (Altimeter, Barometer, Compass), but for most runners I think focusing on one of the existing units is best.
That said, here's where things will stand at the end of the month (again, assuming no additional Garmin changes), with the best value unit out there in for comparison: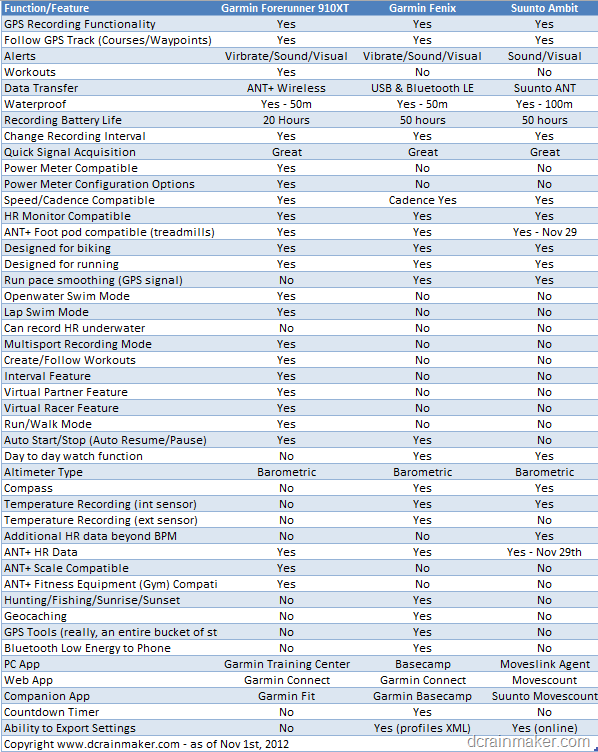 If you look back at my major issues with Fenix in my review, I outlined the following:
– No interval functionality (i.e. creating interval workouts)
– No workout functionality (either creation, or utilizing existing downloaded workouts)
– No Virtual Pacer support
– No Virtual Racer support
– No Autolap by position functionality (for looping repeats, regular distance autolap is supported)
– No Run/Walk mode
Additionally, I had noted the following, which have since been added/fixed (there were actually a few others they've fixed, but these were some of the biggies):
– No ability to use ANT+ running footpod for indoor treadmill use [Added Nov 1st, 2012 in 2.90]
– And once you have those zones manually entered, it won't use the Z#.# convention like other Garmin Fitness units, instead just showing full zone (i.e. Z2 instead of Z2.4) [Added Nov 1, 2012 in 2.90]
– Doesn't support setting/downloading heart rate zones via Garmin Connect (generates error) [Fixed]
– Garmin Connect doesn't know the type or activity class from uploaded files (i.e. Run/Bike/Hike)  [Added Oct 4, 2012 in 2.70]
– Cannot download courses Garmin Connect to the unit  [Added Oct 4, 2012 in 2.70]
– Non-compatible .FIT file formatting (3rd party apps like TrainingPeaks seem to fail on many Fenix .FIT files)  [Fixed Oct 4, 2012 in 2.70]
– In order to set a lap, you must actually HOLD the button down for 2 seconds  [Added/Fixed Oct 4, 2012 in 2.70]
– Inability to simply 'tap to lap' [Added/Fixed Oct 4th, 2012]
Looking at the upper portion of the list, I still think the following three items are the most important ones that still keep it from becoming a great watch:
– No interval functionality (i.e. creating interval workouts)
– No workout functionality (either creation, or utilizing existing downloaded workouts)
– No Virtual Pacer support
I'd probably be alright if they focused on adding workout functionality first, then Virtual Pacer support.  Interval can technically be done via workouts, so that could come later.
Additionally, for folks in triathlon to use it as a full fledged training watch – it's going to need that indoor speed support for trainer workouts.
Looking at the Ambit – the support for ANT+ sensors at the end of the month is HUGE – a major shift for them.  It remains to be seen exactly what the full extent of ANT+ sensors means.  They've committed to foot pod support and heart rate.  But they actually haven't yet committed to which other ANT+ sensors they'll support (and my direct questions to them privately have been skirted on this particular topic).
Overall, I think both watches are improving nicely, but I still think they lack core running features that are offered in cheaper watches.  The simplest example would be things like Virtual Pacer – offered in the $129 Garmin FR10, but not in the $399 Fenix or the $499 Ambit.
But, progress is progress.  And I'm liking the fact that both teams are innovating.  Hopefully, that keeps up.
Thanks for reading!
—
Note, my full in-depth reviews of both units are available here:
Enjoy!