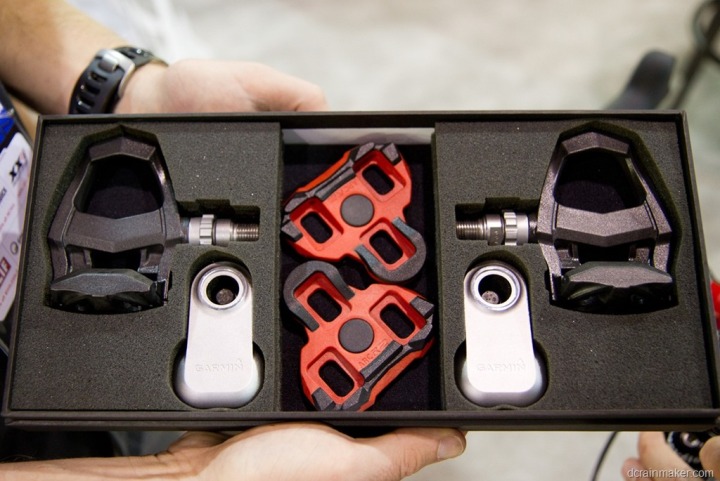 [Please Note: Garmin Vector has been released, you can see my first look at it here.  In the interest of keeping things clean, I've disabled new comments here, and all comments should head over to that post.  Thanks!]
It seems that these days the only way to get solid and updated public information on the Garmin Vector pedal based power meter is to simply listen to the quarterly investor conference call, which was held on Wednesday.  The Garmin executive team usually include a Vector update in their briefing (normally in the fitness segment), but this time it was not included in their prepared presentation.
Instead the update came during the investor/media Q&A period where it was asked what the timeline status looks like on Vector.
The quoted answer from Cliff Pemble, President and Chief Operating Officer of Garmin:
"We are making progress on Vector and we've been evaluating new design changes and we do feel like things are looking promising and are sticking to our early next year first quarter (Q1CY13) or early second quarter (Q2CY13) deliveries."
This roughly aligns with what I've been hearing in other circles, though this is the first time we've heard 2nd quarter mentioned publically.  I suspect we'll likely see more public information following Christmas going into CES2013 (first week of January) – which is a popular time for consumer electronic companies to make announcements concerning the upcoming few months.
(Sidebar: Yes, for those keeping score at home, I do actually spend 43 minutes to listen to each call – usually recorded, solely to see if a new Vector update is made public.)
They do see Vector as a driver in revenue in the upper-end of their fitness category (price is $1,500US), where Cliff specifically noted  that "as we get closer to the Vector release we do believe that's an opportunity for [revenue] growth as we're currently not represented in the power meter market".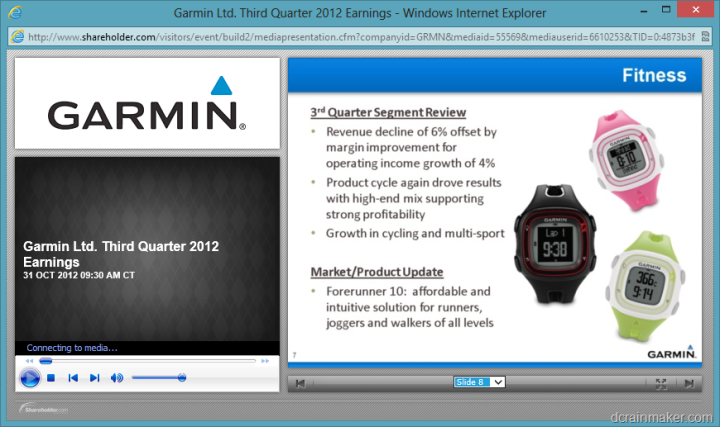 Speaking of other Fitness updates from the call (since I listened for ya, some of you might find this interesting)…
If you were playing drinking games – one would have been passed out drunk if they had to take a drink for each time the "Forerunner 10" (FR10) was mentioned during the investor call.
It seems as though Garmin is betting the fitness revenue farm on this one – as it was mentioned far more times than there are Pringles in a container (snack or Costco sized).  The context was primarily around driving revenue for the Fitness product segment in an area where the FR305 previously drove budget/low-end sales.
In talking about it, they noted "the low end of the market has been left uncovered by us since the exit of the FR305, so we feel like that's an opportunity to expand our sales in that end of the market" (Translation: It's been a year since we had a cheaper Garmin fitness device to offer).  Additionally that "the market has been asking for us to replace those revenues [FR305] on the low end" (Translation: People want cheaper Garmin watches).
They even went as far as noting that their single-digit drop in year over year fitness revenue for the quarter was actually due to the closing out of the FR305 sales last year (2011 being higher) and thus that revenue wasn't there (they also noted the FR610 last year drove higher sales).
Also, when asked about the FR10 margins (remember, it's a $129 device), they noted that: "We have a lower price at a lower cost on that product and that will have some impact on margins." (Translation: We're not making quite as much on the FR10, but we're selling a crapload of them so we think it'll work out).
Ok, that's all I've got on that one.  Everything else was about not-so-exciting things that only financial analysts would find interesting.
Enjoy your weekend ahead!  And thanks for reading!
(P.S. – Yes, that's two Garmin posts in a row.  I don't schedule earnings calls or firmware updates…they happen with they happen.  Both topics (Vector and Fenix) are amongst the most asked about things around these parts these days…).