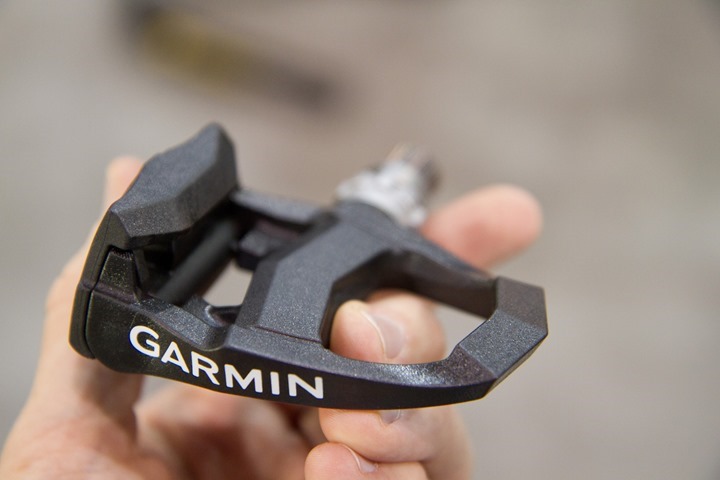 [Please Note: Garmin Vector has been released, you can see my first look at it here.  In the interest of keeping things clean, I've disabled new comments here, and all comments should head over to that post.  Thanks!]
Today, on Garmin's quarterly earnings call (for Q4FY12), they provided an update on the state of $1,500US Garmin Vector power meter, along with a few minor updates on other health and fitness initiatives.  For those just joining this long-running (and rather popular) saga, the Garmin Vector is a pedal-based power meter that had been rebranded from Metrigear after the acquisition of Metrigear in September 2010.  It wasn't until September 2011 that timeline guidance from Garmin was given.  Since then, the release date has been pushed back frequently – though despite frequent external rumors, the project has not been cancelled.  You can read all the Vector technical deals here in this post.
Previously during the October call (Q3FY12 earnings), Cliff Pemble, President and Chief Operating Officer of Garmin, had stated the following:
"We are making progress on Vector and we've been evaluating new design changes and we do feel like things are looking promising and are sticking to our early next year first quarter (Q1CY13) or early second quarter (Q2CY13) deliveries." – October 31st, 2012
The new guidance, as delivered in the presentation portion of the call today is:
"We continue to make progress with our Vector Power Meter, and anticipate it will be made available this year." – February 20th, 2013
As a general reminder about earnings calls, in the US executives can be held criminally liable for knowingly lying in public fiscal statements.
Later during the Q&A portion of the call, an analysts asked a question on cycling computers (very generic), but as part of the answer the statement regarding release of Vector was reiterated.
"When we do come out with our Vector Power meter later in the year, we'll have a total solution for people, a high end head unit with power meter, which is what cyclists really want." – February 20th, 2013
The next analyst followed up with a question regarding some financial aspects of the Garmin Vector, which was answered as such:
"…we would expect the product to be in market in mid-year, but we would expect to catch some sales in the back half of the year." – February 20th, 2013
He continued that due to being late in the cycling season, they didn't expect to see a significant fiscal impact (sales) this season.  Just to re-iterate what they were saying in the last statement, they currently expect for the product to arrive around mid-Summer.  Though, their larger guidance simply says "this year".
Finally, the last analyst to ask a question during the call asked about the delays of Garmin products, and why products such as Vector were delayed and what the organization has done to improve getting products to market:
"While every product has its own story….and Vector is a very complicated and precise instrument.  But we felt like we needed to take more time to meet the expectations of our customers in that particular market." – February 20th, 2013
No additional comments or mentions about Vector was made during the presentation portion of the earnings call.  This availability guidance tracks with what I'm hearing.  I do not expect to see the Vector in consumer hands in significant quantities before Eurobike/Interbike(September).  Once you miss the spring season for cycling, you pretty much re-align marketing to the fall cycling release cycle (driven by , which leads into the holiday buying period.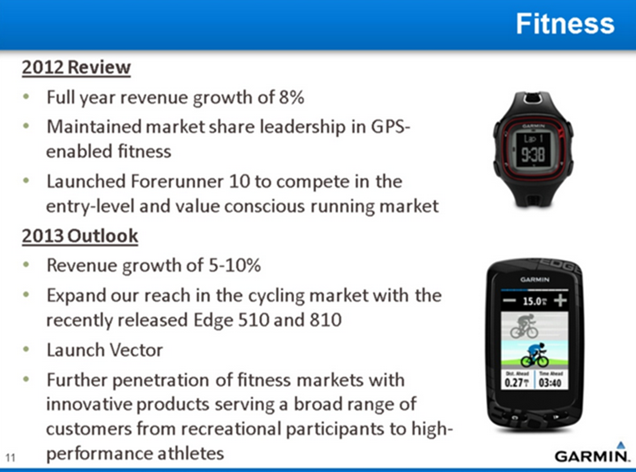 In addition to the small Vector update, they did note that they plan to continue to build out Garmin Connect and introduce more social networking features.  In fact, there was an entire slide deck focused on it – though the narrative provided no additional detail: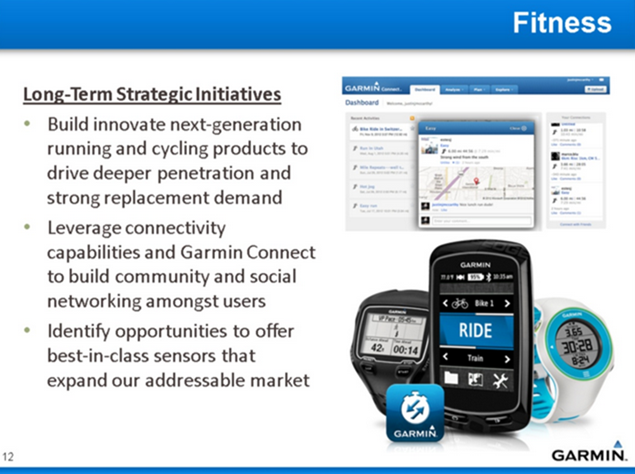 I now return you to your regularly scheduled programming.
Thanks for reading!